Lexus IS review
Current Model
Striking styling and hybrid efficiency help the IS stand out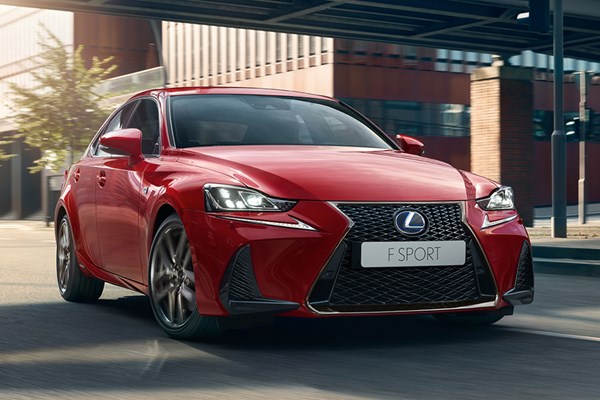 PROS
Hybrid powertrain means low running costs
Quiet and refined drive
Different from the norm
CONS
Petrol engine not very efficient
Poor performance
Doesn't handle as well as rivals
PROS
Hybrid powertrain means low running costs
Quiet and refined drive
Different from the norm
CONS
Petrol engine not very efficient
Poor performance
Doesn't handle as well as rivals
Now in its third generation, the Lexus IS is aimed squarely at the BMW 3 Series Saloon.
Although there is a choice of seven trims as well as a pair of engines, the real sweet spot in the range is the IS 300h F Sport thanks to its blend of equipment, good looks and sharper handling.
The IS as a whole doesn't quite pass muster as a true equal to the likes of the excellent BMW or the Audi A4 Saloon and Mercedes-Benz C-Class Saloon; it's probably a closer rival to the Jaguar XE and Alfa Romeo Giulia.
Bigger and more luxurious
The dimensions of the IS offer an increase in cabin size, with a wider stance and a longer wheelbase providing more rear legroom as well as increased luggage space compared with the outgoing model.
Most versions get 60:40 folding rear seats as well as a driver's seat offering better support and a more comfortable driving position than the previous model's. You sit lower in the cabin and grip a steering wheel inspired by the LFA supercar.
Inside, the interior design uses high-tech display equipment and new materials that are a step-up in terms of quality. There are touch-sensitive switches for the air-conditioning requiring only the lightest brush of a finger to operate.
Extremely low running costs
While the previous-generation IS had plenty of high-tech standard kit and a range of efficient engines that allowed relatively low-cost motoring, CO2 emissions weren't quite as good as the competition's, which meant fleet drivers looked the other way.
This version, gets the option of a hybrid petrol/electric powertrain with very impressive CO2 figures.
It's going to appeal to private buyers thanks to high claimed fuel economy figures, while company car drivers are going to applaud the lower benefit-in-kind taxation offered by a petrol car emitting just 97g/km in IS 300h SE trim.
Great ownership experience
The ownership experience is likely to be fairly flawless. Lexus scores incredibly highly in customer satisfaction surveys and its dealerships are known for good service.
It'll be reliable, too. Lexus is the luxury arm of Toyota, which means you get typical Japanese build quality that should last the length of your ownership period.