Audi A4 review
Current Model
High-quality compact executive is a great all-rounder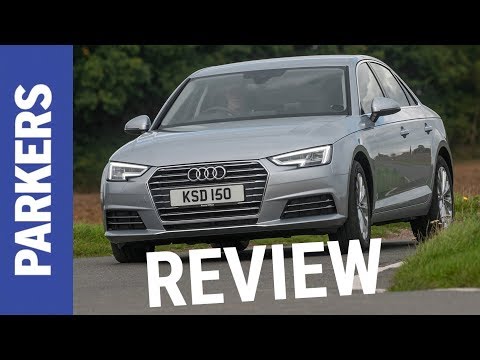 Enlarge
1

videos
Enlarge
111

photos
PROS
Fantastic interior quality
Excellent refinement
Broad engine range
CONS
Some may find it too understated
Facelifted versions lose rotary controller
BMW 3 Series better to drive
PROS
Fantastic interior quality
Excellent refinement
Broad engine range
CONS
Some may find it too understated
Facelifted versions lose rotary controller
BMW 3 Series better to drive
The A4 is Audi's biggest selling model, and has been on sale in this form since 2015, with a mid-life update made in 2019 to keep it fresh and – more importantly – to keep it competitive with latest versions of the BMW 3 Series and Mercedes-Benz C-Class.
In addition to these two, it competes with the Jaguar XE and Lexus IS, as well as the Peugeot 508 and even Kia Stinger to a degree. It's one of the most competitive areas of the new car market, and where profit and loss are concerned, the A4 is make or break – especially as one in every five Audi models sold is an A4.
The tweaks made in 2019 include a sharper-looking front end, neatened styling at the back and some minor changes inside to the trims and standard kit list – including standard-fit Virtual Cockpit and a new widescreen touch display.
Extensive engine range
There's no shortage of choice, with a range of petrol and diesel engines, alongside the option of six-speed manual or seven- and eight-speed automatic gearboxes – the former a dual-clutch system.
Perennial favourites include 2.0-litre TDI units – of which there are two new versions as of 2019 with a choice of 136hp or 163hp outputs – replacing the 150hp that was available previously. If you need more grunt there's a 190hp version that's been around since this car debuted in 2015.
If you'd prefer a petrol A4, units available consist of a 150hp 1.5-litre TFSI and a 2.0-litre TFSI with a choice of 190hp or 245hp.
At the top of the range sits the S4 TDI. Before the car was facelifted this featured a powerful V6 petrol engine, but has since been replaced with a 347hp diesel engine with a whopping 700Nm of torque.
You can read more about the engines previously available in the A4 in the Engines section, as some units have been dropped since the facelift.

Well-equipped at all trim levels
There are several equipment lines available, ranging from Technik to Sport, S Line, Black Edition and Vorsprung, with the S4 TDI sitting as a standalone flagship.
Regardless of which you choose, each A4 is well-equipped, and even the entry-level cars come with 17-inch alloy wheels, LED headlights, Audi Virtual Cockpit and 10.1-inch MMI Navigation Plus infotainment system, reversing camera and sensors, three-zone climate control and cruise control.
As you move up the range the changes become more cosmetic than anything else, with a sportier look to each model as you work your way up, with some extra bits of kit becoming available.
Understated styling works well
There's a subtle aggression about the S4 with its unique bumpers and grilles, a discreet rear diffuser and exterior accents picked out in various shades of matt silver.
Of course, the options list is vast, and your pockets will need to be deep should you wish to personalise your A4 Saloon. Choices include several colour options, various alloy wheel designs and diameters, a choice of suspensions (standard and adaptively damped), differing headlight technologies, seat upholsteries and interior trims, plus a variety of technology and safety packs.
The updates in 2019 gave the A4 a more aggressive look borrowed from the A1, but it's still quite a restrained design overall, while the interior remains largely unchanged.
Exemplary interior quality
There's no change here for Audi, with cabin quality that betters all of its competitors' and sets the new benchmark for materials, fit, finish and restrained design. Elements of the firm's other cars are evident, from the full-length air-vent strip borrowed from the Q7 to the Virtual Cockpit display first seen on the Audi TT.
There are other elements to delight, with the inductive toggle-style switches used to control the climate settings, the driver-focused centre console and the tablet-style screen atop of it – which looks far slicker with a high-quality magnesium surround – than some rival systems.
Is the Audi A4 still a strong contender in its class? Read on to find out in the Parkers full review.