View all Lexus RX reviews


Lexus RX L (2018 - 2018) review
Beautifully built and refined SUV; now capable of seating seven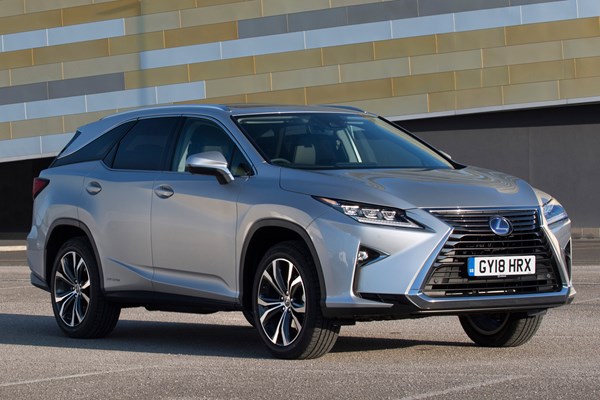 PROS
Very nicely finished cabin
Quiet, refined drive
Should prove reliable

CONS
Woeful infotainment media system
Not much here for keen drivers
Adults will struggle in third row
PROS
Very nicely finished cabin
Quiet, refined drive
Should prove reliable

CONS
Woeful infotainment media system
Not much here for keen drivers
Adults will struggle in third row

The Lexus RX was one of the first premium crossovers, launching 20 years ago around the same time as the pioneering Mercedes-Benz M-Class. Its customer appeal has - until now - been hampered by its provision of five seats, while the market has gradually shifted to seven-seater SUVs. It's aimed at the likes of the bestselling Audi Q7, Volvo XC90, BMW X5 and Range Rover Sport.
In summer 2018 Lexus launched its riposte: the slightly longer RX L, stretched to accommodate a third row of occasional seats, letting buyers choose between a car with five or seven chairs. It is a separate standalone model and the regular RX will continue on sale; Lexus predicts that around a third of customers will pick the L model tested here.
Lexus RX 450hL: the seven-seater SUV
Only one variant is sold in the UK: the RX 450hL, signifying that it's the hybrid petrol-electric version. Other markets elsewhere in Europe offer a petrol-only powertrain, but it's not available here.
The 3.5-litre V6 petrol engine is mated to an electric motor on each axle and the RX L constantly juggles between the three power sources; there is an EV Mode button on the centre console that drivers can select if they want to whirr around town silently for ultimate eco-warrior status. Just be mindful that you can only drive for a couple of miles before the small battery will be depleted and the engine kicks in to take over.
Do I have to plug in my Lexus RX L?
No - it is not a plug-in hybrid electric vehicle, or PHEV. Instead, the V6 petrol provides charge to the nickel metal hydride battery pack under the rear seats and this is why Lexus has started referring to the technology as a self-charging hybrid.
The system works well and there is little complication for drivers to tackle; merely slot the automatic transmission into D for Drive and set off. Electronics constantly shuffle the power supply, the only indication of what's happening being the electronic display between the speedo and power supply dial.
Lexus RX 450hL prices and specs

With only a single engine available, the RX L price structure is very simple. UK prices started at £50,995 in June 2018 - around £2,400 more than a regular five-seat RX.
Choose from three trim levels: SE, Luxury and Premier, which add extra goodies for every spec upgrade:
SE Sat-nav with European mapping, 18-inch alloy wheels, leather upholstery, reversing cameras, electric seat adjustment, keyless entry and ignition and electric tailgate standard on every model
Luxury Larger 12.2-inch central digital display, 20-inch alloy wheels, wireless smartphone charging, LED headlamps
Premier Colour head-up display, Mark Levinson stereo, rear-door sunblinds, adaptive dampers for greater suspension range for different road conditions, sunroof, heated middle-row seats
Lexus UK expects the Luxury model to be the most popular, accounting for nearly 60% of sales here.
Lexus RX L review: what's it like to drive?
It's important to realise that the RX 450hL shares the same wheelbase as the regular RX - the underlying oily bits are the same and there is no change to the distance between the wheels. Instead, the extra space comes from an elongated rear end, stretched by 110mm.
So, it drives in a very similar fashion to the five-seat car. The Lexus RX L is now a long vehicle at precisely five metres and heavy at around 2.2 tonnes, but it never feels unwieldy. Luxury and Premier models get six parking sensors and a camera to help squeeze into spaces.
On the road, the RX 450hL has a laid-back gait: this is an extremely relaxing car to drive, with impeccable refinement, whisper-quiet powertrain and little wind noise (double glazing helps here). At a cruise, it is extremely impressive.
However, that peace is disturbed somewhat if you go for an overtake or drive up a steep hill; the Continuously Variable Transmission (CVT) gearbox sends the revs soaring sky-high as the V6 engine wakes up and provides its thrust. In fairness, the powertrain is much better than earlier iterations and in day-to-day driving, it's much more relaxed.
It is impressive how frequently the car runs on electric power alone; a green EV logo lights up in the dashboard and you simply cruise silently for long stretches in and out of town, virtual halo firmly intact above your head.
If you want a dynamic, more involving drive, we'd look at the more engaging BMW X5 or Range Rover Sport; the RX is somewhat detached and sterile, even in Sport mode. But we commend its focus on chilled-out comfort: it's bang-on for the Lexus family character and SUV buyers favouring comfort and premium luxury over cornering prowess will love it.
Practicality and those seven seats

Accommodation in the front and middle rows is generous. There is no transmission tunnel at all for the second row, making lots of space for feet and headroom is plentiful.
There is an impressive 150mm of fore-aft adjustment of the middle row, letting you juggle space for luggage and limbs. Crucially, it also means you can slide the bench forwards to ease entry to the third row (an easy, one-handed affair).
Seats six and seven fold up and down electrically and are best reserved for children or small adults on short journeys; room for head and legs is tight, though competitive with the class norm, and there's third-row climate control as standard so kids in the back can be as cool or hot as they wish.

Perhaps more impressive than back-row accommodation is luggage space: unlike some seven-seaters, the boot is a decent size at 495 litres when set up as a five-seater. Pop down both rows of rear seats and the cargo bay stretches to an echoing 966 litres. There's room for plenty of luggage, even when all seven pews are in use.
Build quality is exceptional throughout; Lexus has interior quality licked and we have every reason to expect the RX L to be a safe and trouble-free long-term proposition. Just make sure you try the outdated and fiddly sat-nav and infotainment before you commit - we find the mouse-operated multi-controller system that must be controlled by your left hand to be a real pain compared with the class norm nowadays.
Lexus RX 450hL emissions and running costs
This is one of the RX's party tricks: its hybrid powertrain brings with it devilishly attractive tax and running cost advantages, especially if you're a company car driver. There is no diesel option and Lexus has a compelling case as the world, rightly or wrongly, turns against derv.
Claimed CO2 emissions start at 136g/km on the SE grade's 18-inch allow wheels, rising to 138g/km on the bigger-wheeled models. Fuel economy meanwhile is stated at 47mpg. In reality, we expect 40+mpg to be a feasible result in typical driving.
Be warned that service intervals are shorter than the German competition's: you'll have to visit your local Lexus dealership every 10,000 miles or annually. Insurance group rankings vary between group 41 and 43, depending on which spec level you plump for.