View all McLaren 650S Spider reviews


McLaren 650S Spider Convertible (2014 - 2016) review
McLaren convertible promises much and delivers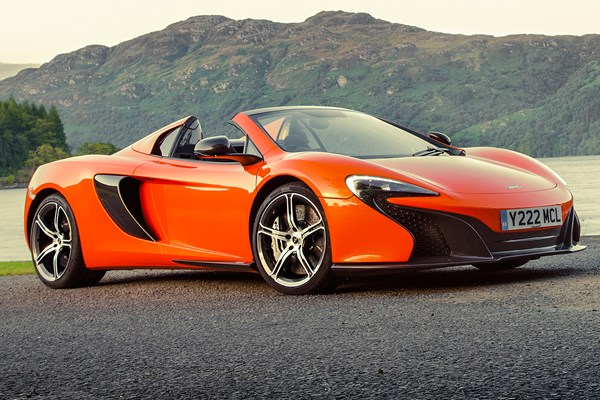 PROS
Enormous pace
Supreme ride comfort
Show-stopping looks
No performance penalty over coupe
CONS
High sill makes entry awkward
Sports Series cars look more modern inside
At a glance

New price:

£218,305 - £218,305
PROS
Enormous pace
Supreme ride comfort
Show-stopping looks
No performance penalty over coupe
CONS
High sill makes entry awkward
Sports Series cars look more modern inside
McLaren 650S Spider rivals
McLaren's description of "luxury, engagement and excitement, on road and track, with an electrically retractable hard top" may sound like its describing a three car garage but in fact it refers to just one.
The 650S Spider, part of the Woking manufacturer's Super Series line up, is seemingly all things to all drivers (or at least the very rich ones) offering many desirable but diametrically-opposite properties in one package.
What's truly remarkable, and worrying for cars like the Porsche 911 Turbo Cabriolet, Ferrari 488 Spider and Lamborghini Huracan Spider, is the depth in which it delivers on that promise.
Takes the best from the P1 and 12C
Previously this model had a slightly less aggressive front end and was called the 12C, an extremely fast yet comfortable car that made similar claims of everyday usability.
The 650S represents more than a mere facelift of the 12C. Although it has inherited the family looks of the P1 hypercar, McLaren claims it has also ploughed tech from that model into its more earthly Super Series line up.
As a consequence of the power hike, the 650S Spider is now faster. It dispatches 0-62mph in three seconds, and races on to a maximum speed of 204mph.