With hundreds of used Mercedes-Benz SLK cars for sale on Parkers, finding a version that suits you is easy using our search filters. If it's a new Mercedes-Benz SLK for sale that you're after, then you're out of luck – as it's no longer sold, a Mercedes-Benz SLC may fit the bill instead. Models are limited to the two-seater Mercedes-Benz SLK Roadster.
Results

1

to

10

of

328

2004/04
115,154 miles
Automatic
Petrol

2009/09
119,000 miles
Automatic
Petrol

Dovercourt Car Sales,

Harwich

2006/56
56,786 miles
Automatic
Petrol

Small Cars Direct,

New Milton

2008/08
42,000 miles
Automatic
Petrol

South West Vehicles Ltd,

Christchurch

2010/10
37,044 miles
Automatic
Petrol

Clifton Car Sales,

Morpeth

2013/63
41,000 miles
Automatic
Petrol

2006/56
48,000 miles
Automatic
Petrol

Riverside Car Sales,

Middlesbrough

2010/10
102,000 miles
Automatic
Petrol

Chepstow Trade Centre Ltd,

Caldicot

2008/08
13,278 miles
Automatic
Petrol

Evans Halshaw Citroen Mansfield,

Mansfield

2012/62
64,000 miles
Automatic
Diesel

Riverside Car Sales,

Middlesbrough
Disclaimer
Telephone numbers starting with 08XX will cost you 7p per minute plus your phone company's access charge. Calls to other telephone numbers will only cost your phone company's access charge.
What is the Mercedes-Benz SLK?
For two decades and three generations of model, the Mercedes-Benz SLK name was synonymous with upmarket-but-dinky roadsters.
Launched in the UK back in 1996 as the Mercedes-Benz SLK-Class, it was the first small, more affordable two-seater convertible from the German carmaker since 1955's 190 SL.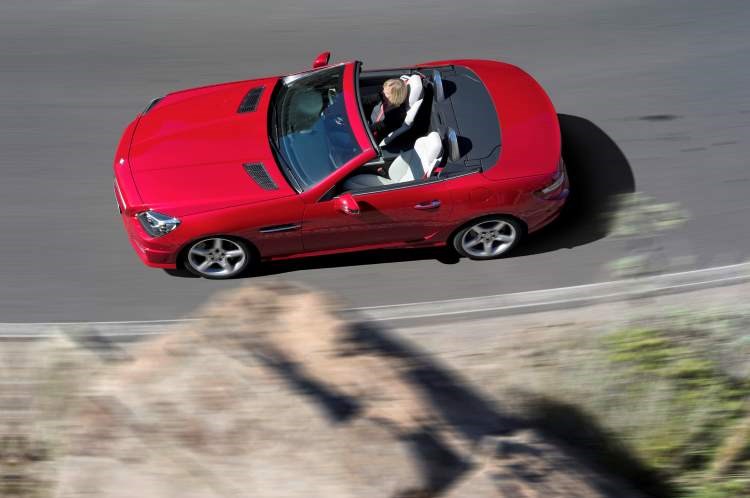 It was an innovative product for the company as it reintroduced - and significantly improved upon earlier iterations of - the concept of the folding hardtop in an era when this technology was still very much in its infancy. This basic layout has been retained for all subsequent SLKs.
Although you can no longer buy a new car badged SLK, the final third-generation version, often known by its R172 development code, was facelifted in 2016 and renamed Mercedes-Benz SLC.
On paper, the SLK's a direct rival for the likes of the Audi TT Roadster, BMW Z4 Roadster and even the mid-engined Porsche Boxster, although in reality it was a different proposition alogether.
0-62mph: 4.5-7.1 seconds
Fuel economy: 33-70 mpg
Emissions: 114-195g/km of CO2
Boot space: 225-335 litres
Which versions of the Mercedes-Benz SLK were available?
Although there were relatively few third-generaton Mercedes-Benz SLK Roadster permutations compared with the brand's other ranges, there was potential confusion as the numerical aspect of the model name rarely coincided with the engine capacity.
Take the petrol-powered SLK 200 and and SLK 250, both of which featured a four-cylinder 1.8-litre supercharged motors in two different states of tune.
Similarly, the diesel-drinking SLK 250 CDI (later renamed SLK 250 d) employed Mercedes' gruff-but-gutsy 2.1-litre turbocharged diesel.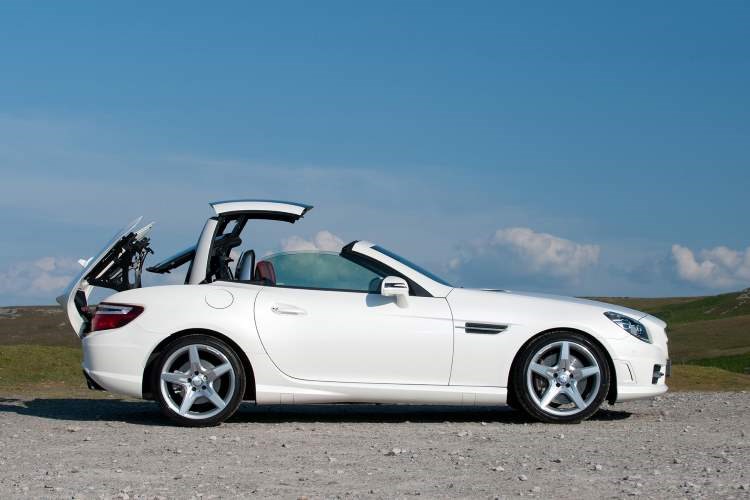 The only model playing ball was the V6-engined, 3.5-litre SLK 350.
All SLKs barring the V6 were available with a six-speed manual gearbox, although the vast majority are equipped with the more desirable seven-speed 7G-Tronic automatic, complete with a steering column-mounted gear selector.
Trim levels are similarly simple: you've either got an entry-level standard level of specification or the gussied-up AMG Sport, the latter being the only one available with the SLK 350.
What is the Mercedes-Benz SLK AMG?
For each generation generation of SLK, the fastest has been fettled by Mercedes-Benz's AMG division. Performance was suitably beefed-up, with the final incarnation of SLK 55 AMG being capable of thrusting from 0-60mph in 4.5 seconds.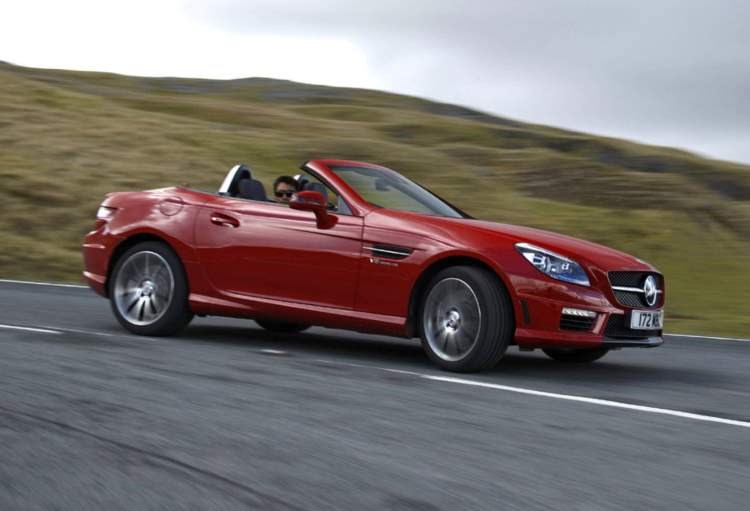 Despite its petite dimensions, AMG shoehorned a 5.5-litre V8 engine under the SLK's bonnet, producing a rudely healthy 421hp and a sonorous exhaust burble.
Although the previous-generation model was also badged SLK 55 AMG, it featured a 360hp 5.4-litre V8, while the first-generation SLK 32 AMG made do with a 354hp 3.2-litre V6.
Mercedes-Benz SLK styling and engineering
Although the SLK's much more than simply the street theatre of its folding roof's contortioning performance, it's not an out-and-out sports car like many two-seater roadsters. This final generation shared many design and engineering elements with the larger Mercedes-Benz SL Roadster, itself long-since evolved from the lightweight sportscar the original was.
Consequently it's heavier and broader than many of its rivals in order to emphasise the car's comfort and everyday usability. After all, roof-up, the SLK's essentially an accomplished two-door coupe, albeit without the convenience of a tailgate.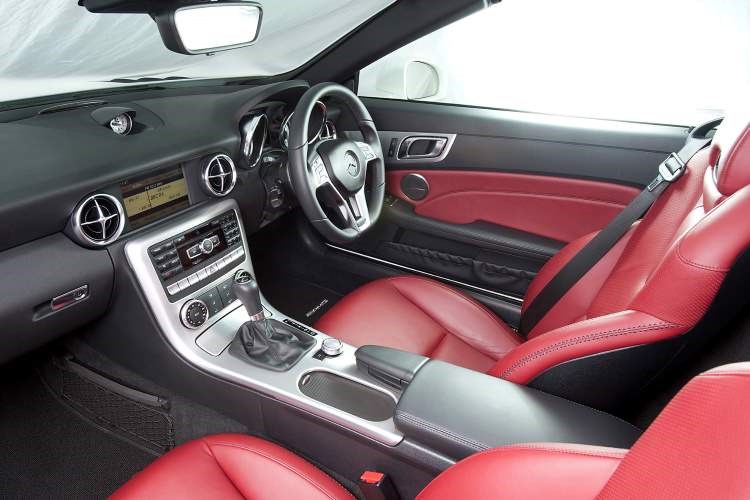 Overall, the platform engineering is sophisticated but traditional: all SLKs have their engines mounted up-front, with the transmissions directing power to the rear wheels.
Was the Mercedes-Benz SLK good to drive?
Don't be fooled by the roadster marketing, the SLK was a comfortable cruiser with a roomy cabin, comfortable seats and on the whole, relaxed steering and supple suspension. Although the third-generation was notably sharper than the two before it, other contemporary sports cars trumped it in the handling stakes.
That's not to say that the SLK wasn't enjoyable - the AMG-badged versions in particular were very lively - but ultimately Porsche's Boxster was the roadster of choice for enthusiasts who wanted to be truly sated.
Not that such a notion held the SLK back as it sold well - there's an undoubted gravitas to having a car with a three-pointed star being parked on your driveway.
How much does the the Mercedes-Benz SLK cost?
On list price alone, the SLK was competitive, but options soon pushed that cost skywards. Popularity with fleets, the age of the car and the relative competitiveness around the roadster market have ensured some impressive incentives were available, and at times the leasing figures for an SLK dipped below £250 per month.
Running costs are very dependent on model. Go for an SLK 350 or SLK 55 AMG and you'll find servicing and consumable prices match the performance: they're high. Regular four-cylinder versions are cheaper to run and as the cars get older Mercedes has a policy of keeping consumables and mechanical spares affordable.
Find out what this generation of roadster is like to live with in our Mercedes-Benz SLK owners' reviews.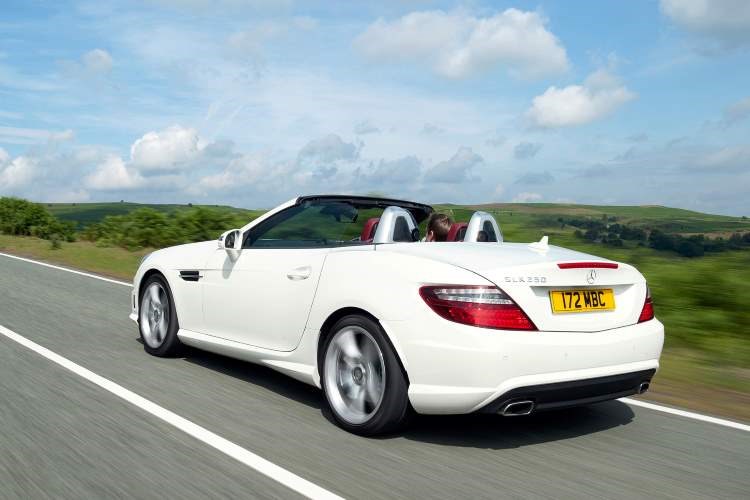 Parkers has thousands of used Mercedes-Benz SLK cars for sale in our classified listings. Find your next secondhand model in our ads – we've everything from family cars and hatchbacks to executive saloons and sports cars.