View all Nissan Juke reviews


Nissan Juke
Review
Current Model
Compact dimensions and quirky eye-catching design for Nissan's smallest SUV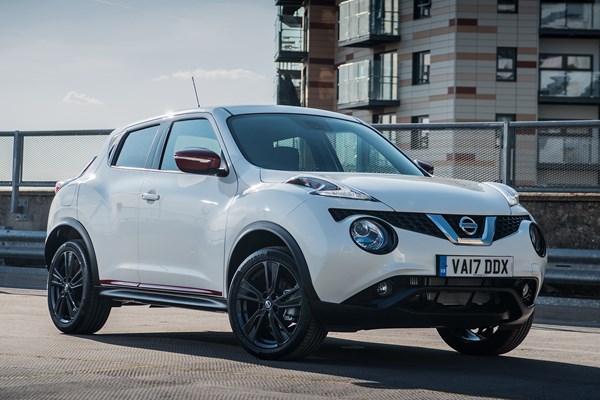 PROS
Quirky styling still looks eye-catching
Feels compact and useful around town
Generous standard equipment list
Frugal 1.5-litre diesel engine
CONS
Firm ride on models with larger wheels
Some interior quality issues
Cramped and claustrophobic in the back
Underwhelming petrol engine
PROS
Quirky styling still looks eye-catching
Feels compact and useful around town
Generous standard equipment list
Frugal 1.5-litre diesel engine
CONS
Firm ride on models with larger wheels
Some interior quality issues
Cramped and claustrophobic in the back
Underwhelming petrol engine
Verdict

When it arrived in 2010, the Nissan Juke was one of the earlier supermini-sized crossovers. Nissan capitalised on the success of the larger Qashqai by launching this quirky-looking compact crossover, and it's been a popular choice for buyers ever since.
Despite being nearly 10 years old, the Juke still looks fresh among countless rivals that have arrived more recently, such as the Renault Captur, Peugeot 2008, SEAT Arona, Kia Stonic, Hyundai Kona, Ford EcoSport and Mazda CX-3.
However, with such varied and talented crossovers, the Nissan Juke isn't quite the best small SUV on sale. It's beginning to feel its age with a cramped interior, small boot and lack of choice when it comes to engines. However, it does offer plenty of standard equipment and a driving position that still feels like you're in a smaller car.

The Juke has a high driving position and there was previously a four-wheel drive set-up available on the top-powered petrol versions, but let's get real, you're not going to be using your fancy new Juke for farm work. Front-wheel drive is standard on all new models, whether it's petrol or diesel.
High driving position, but in a cocooning interior
The high-set driving position of the Juke is like that of an SUV, so it offers a more commanding view of the road ahead and to the sides than in an equivalent Micra supermini.
However, because of the rakish looks and the interior design, it still feels quite sporty thanks to an overall feel that's more encompassing than other SUVs. If you like that kind of thing then it's ideal, but if you prefer a greater sense of space, you'll prefer something like a SEAT Arona or Peugeot 2008.

It's also very comfortable and simple to get into and out of, at least for those in the front. Add in the excellent comfort of the seats and the ease of adjusting the driving position for drivers of most shapes and sizes and the Juke is pretty comfortable.
That's if you stay in the front, though. If you're travelling in the rear, you'll have to contend with small doors and even smaller windows and a sloping roofline - it feels a little claustrophobic for even smaller passengers, while that shape means rear visibility is rather limited.
Nissan Juke engines: one petrol and one diesel
There's no doubt the Nissan Juke hangs on determinedly through corners thanks to the grip and balance of its setup. It makes the Juke surprisingly agile and quick at changing direction, which is not something you would instantly associate with a car of this type.

However, the Nissan's ride is too firm at any speed, transmitting shocks and jolts through to the occupants too much of the time for the car to be considered comfortable. There is also a lot of body lean through corners, which is at odds with the fine grip.
Performance is provided by just two engines - a 1.6-litre petrol with 112hp and a 1.5-litre dCi diesel with 110hp. Performance isn't a priority for most Juke buyers, so these are adequate options, but the 1.6 in particular feels old and a bit lacking, especially compared with turbocharged engines in newer rivals.

If you're buying a used Juke, however, there are several more options available, including turbocharged 1.2 and 1.6-litre DIG-T units that used to fit in the Qashqai, too.
Nissan Juke Nismo RS
First named the Juke Nismo with the firm's turbocharged 190hp 1.6-litre petrol engine, the Nismo RS packs more punch and an even wilder look with lashings of spoilers, vents and red trimmings, as well as a set of sports seats inside.
The RS is fitted with an even more powerful 1.6-litre petrol engine producing 218hp and 280Nm of torque. It's available in front-wheel drive form with a manual gearbox, or four-wheel drive with a CVT automatic and a detuned 214hp, 250Nm motor.
You'll need to search the used market for this version though, as it's no longer on sale from new.
The Parkers verdict
The Nissan Juke was one of the first compact crossovers, and it still looks fresh today, whether you like the styling or not. It's showing its age compared with more spacious and more frugal rivals, but it holds its own with a decent drive and a generous level of standard kit.

Read on for the full Nissan Juke SUV review