View all Rolls-Royce Ghost reviews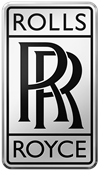 Rolls-Royce Ghost engines and performance
Current Model
Two states of tune for the 6.6-litre V12
Effortless power and torque from low revs
Even more punch in Black Badge edition

The Rolls-Royce Ghost's performance is remarkable, given the car's size and weight. There are two versions, the standard car and the more powerful Black Badge.
Rolls-Royce Ghost performance
Powered by a 6.6-litre twin-turbocharged V12 engine, the Ghost produces 570hp and 820Nm of pulling power at 5,250rpm and 1,500rpm respectively.
The engine is predictably very smooth and there's little, if any, lag from its twin turbochargers; 0-62mph takes just 4.9 seconds, going on to an electronically governed 155mph.
Drive is transmitted to the rear wheels via an eight-speed automatic gearbox, which shifts unobtrusively. Traction is maintained by large rear tyres and an advanced traction control system, helping keep the Ghost in check when accelerating hard.
There's no manual override for the transmission - you have to leave it to its own devices.

Muscular performance when you need it
Squeeze the accelerator and you're rewarded with a satisfying surge in speed. Even during hard acceleration, however, the engine remains quiet and smooth.
A substantial 780Nm of pulling power helps conceal the Rolls-Royce's bulk, while also making the car feel effortless and flexible. Overtaking is quick and painless, even at motorway speeds.
The Intuitive Throttle Response system helps mete out the power in the smoothest way possible. Put simply the gearbox decides when to downshift and when to hold on depending what it thinks you want, based on how much the throttle is pressed and how hard. It works very well indeed.
Like all other Rolls-Royce models an interesting feature in the Ghost is the replacement of the traditional rev-counter with a Power Reserve gauge. Although a somewhat needless change, it does add to that sense of occasion that permeates the Rolls-Royce.

Ghost Black Badge packs more power
For the ultimate in Ghost performance you'll want the Black Badge – this comes with 612hp and 840Nm – the power comes earlier at 5,000rpm, while the torque is later at 1,650rpm.
This extra shove slices a tenth of a second off the 0-62mph time, not that the benchmark sprint is of particular interest to your standard Rolls-Royce driver, but the extra urgency certainly comes in handy.
Despite it being the sportiest four-door Rolls, the Ghost Black Badge still doesn't feel like a performance saloon - quicker, yes, but the emphasis is more apparent in the Ghost's superficial detailing.

Confident rather than sporty handling
Impressive traction and remarkable composure
Black Badge adds extra driver focus

Although not necessarily a primary consideration for buyers of luxury cars like these, the Rolls-Royce Ghost's handling is nonetheless very competent.
Underpinning the Ghost is an advanced air suspension system that can sense the vehicle's weight distribution, allowing the car to compensate for changes in load, as well as speed and direction.
This is claimed to both improve comfort, as well as the steering and vehicle's dynamics. The Ghost also has myriad driver aids that work to both assist and protect the driver.
High levels of traction mean confident composure
Around corners the Rolls-Royce Ghost offers up plenty of traction. Its precise - but very light - steering makes the car relatively easy to position on the road and the car feels composed and confidence-inspiring.
Bodyroll is minimised during cornering by a system called Adaptive Roll Control, further improving handling and comfort.

Stopping power comes from large ventilated disc brakes, fitted front and rear, which allow the Ghost to stop quickly and effectively.
The Ghost isn't what you'd call sporty, largely due to its weight and its steering sensation, but driving it is a very satisfying and enjoyable experience.
Improvements from 2014
Standard from 2014 was Satellite Aided Transmission – this uses data from the navigation to predict what gear the car needs depending on the radius of a corner or whether you're approaching a junction.
Re-designed front and rear suspension struts with new steering gear and dampers made the Ghost an even better steer, while the optional Dynamic Driving Package offers a yet more involving driving experience without wrecking the ride quality.
Negating the difficulties that come about as a result of its size, the Ghost is also a very easy car to drive - all of the controls remain very light.
Black Badge cars, however, benefit from suspension and steering adjustments to bring about what Rolls-Royce calls extra driver focus, although for the most part it looks rather than feels sportier.