View all Rolls-Royce Ghost reviews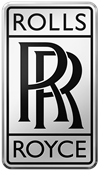 Rolls-Royce Ghost interior and comfort
Current Model
The definition of well-built
Extremely high material quality
Black Badge cars even more special

The Rolls-Royce Ghost features a comfortable, impeccably trimmed and superbly detailed interior.
Sat behind the double-R insignia on the steering wheel you feel utterly imperious, and every trip you make feels special.
With plenty of room both front and rear, and myriad electrical front seat adjustments, it's easy to find a supportive and comfortable driving position. The steering wheel adjusts electrically too, for both height and angle.
One of the most pleasing aspects of the cabin is how uncluttered it is, despite the equipment and options on offer. A wood-trimmed cover conceals the multimedia display when not in use, which gives the interior a satisfying classically upmarket look.

Chrome surrounds to the sun visor lights and a soft-feel dashboard arrived in 2014, along with the option to bring natural grain leather to the windscreen and rear pillars.
Clear and easy-to-read instruments
The Ghost's main instrumentation is also pleasingly clear and legible, even if the dials themselves are a touch small, while the controls are all relatively intuitive and understandable.
Most of the multimedia screen's functions are driven by the Spirit of Ecstasy Rotary Controller (seriously). This has a touchpad for inputs, rather than a touchscreen, which attracts unsightly fingerprints at eye level.

This all makes the Ghost easy to drive over longer distances, particularly when combined with its effortless power and refinement.
Visibility is acceptable, but its high waist line and sheer size can make it difficult to manoeuvre – particularly in tight city streets. Judging the position of the corners of the car can also be tricky. Specify the 360-degree camera system for peace of mind.
Build quality, as you'd expect, is exceptional too and everything feels solidly assembled and durable.
Overall, the standard Rolls-Royce Ghost equipment list doesn't leave you wanting for more.

Additional Black Badge touches
Rolls-Royce knows that some of its customers will always want more, and caters for this market with the Black Badge.
Inside it's marked out by its aluminium-threaded carbon-fibre composite dashboard panelling – something the company claims is more often seen on the surfaces of stealth aircraft.
It's constructed by weaving the thread before bonding it with the carbonfibre; six coats of lacquer finish it off. It's a striking effect.
In addition the air vents have a darkened finish and there's a unique Black Badge clock, with orange-tipped hands.
Supremely comfortable seats
Eerily supple ride, even in Black Badge guise
Few cars boast better comfort levels

Rolls-Royce Ghost comfort is, quite frankly, excellent. The manufacturer has an illustrious history of making some of the most refined cars in existence, and it shows.
There's room enough for five adults to be transported in luxury, with substantial amounts of both head- and leg-room.

Predictably the cabin is cossetting and quiet. There's little wind, road or engine noise. The driver also benefits from an elevated driving position, giving an improved view of the road ahead. This assists in making the Rolls-Royce a more relaxing car to drive over longer distances.
Both front and rear seats are supportive yet sumptuous, and electrically adjustable thigh supports for front seat occupants add an extra level of cushioning. In the back the seats are slightly angled towards each other to make conversation easier.

The Ghost's ride quality is generally very good too, with the air suspension and numerous electronic packages working well to damp out bumps and ruts in the road. Bodyroll is well-controlled too, with passengers remaining comfortable around corners. Even the Black Badge, which is supposedly more performance-orientated, wafts around serenely.
On rougher surfaces the Rolls-Royce remains composed, although there can be some minor vibration on broken tarmac. Larger potholes can also transmit a dull thud through the cabin, but it's a relatively minor intrusion. In fairness, short of floating, it couldn't be much better. Luxury touches like thick floor carpet serve to further improve interior comfort.
Overall, you'll struggle to find a more relaxing car to travel in, be it as a driver or a passenger.