Tesla Model S review
Current Model
Groundbreaking Electric Vehicle now with free Supercharging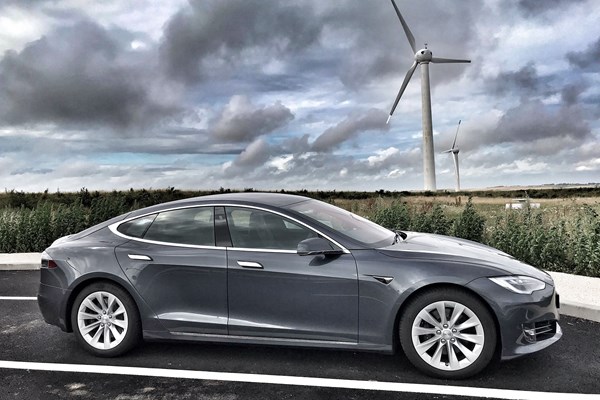 PROS
On-board technology still ahead of rivals
Free Supercharging available on all cars (again)

Spacious, flexible cabin, seriously practical
EV with a realistic range and performance
CONS
Minimalist interior lacks deep-seated quality
Limited UK availability of superchargers
If EVs don't fit your life, it won't work
It's a little on the large side for UK city centres
PROS
On-board technology still ahead of rivals
Free Supercharging available on all cars (again)

Spacious, flexible cabin, seriously practical
EV with a realistic range and performance
CONS
Minimalist interior lacks deep-seated quality
Limited UK availability of superchargers
If EVs don't fit your life, it won't work
It's a little on the large side for UK city centres
Although its svelte looks hint at luxury rather than revolution, the Tesla Model S has shaken up the executive car market in ways even its founder Elon Musk might have been surprised with. As well as shaking up the establishment, it's helped 'normalise' electric vehicles by making them usable, exciting and downright attractive.
So, what's all the fuss about? That enormous 17-inch touchscreen in the dashboard? No. The Model S's main selling point is that it's purely electric, and one that's less compromised by its range and charging infrastructure than any of its rivals. It's seen by its enthusiastic owners as being part of the solution, not part of the problem – and for an increasing number of buyers, this is becoming central to how a car fits in their life. Besides, how does 300-plus miles of real world driving sound? Exactly.
Two-version Tesla Model S line-up
Since its latest model update in 2019, there have been two versions make up the Tesla Model S range: Long Range and Performance. Battery variations are no longer signified by the numbers as they used to be – where they came in in 75D, 100D and P100D forms. Older models included 60, 85, P85 and P85+. It sounds a little confusing but essentially isn't.
For reference, the 60 had a 60kWh battery, with a 310hp motor and a theoretical range is 240 miles. Progress to the 85 version (85kWh battery) and you got 370hp at your disposal (torque output mirrors the 60). Not only is it a little quicker than the 60, its maximum range increases too, to a claimed 312 miles.
With the addition of a high-performance drive inverter to the P85, the same battery is mated to a 425hp motor producing 600Nm of torque. Range remains the same as the 85's, but the P85's performance credentials don't go unnoticed with red brake callipers and a vestigial carbonfibre spoiler on the edge of the tailgate.
Topping the range was the P100D (now Performance), fitted with the Performance Ludicrous pack. Tesla describes this as a European sports saloon set-up and as such has adaptive air suspension and 20mm wider rear tyres and 21-inch wheels, boosting both performance and range thanks to the eqivalent of 615hp of instant, linear power.
All versions of the Tesla Model S feature an automatic single-gear transmission, sending power to all four wheels and produce no CO2 emissions from the car itself.
What sets the Tesla Model S apart?

Tesla's Model S has been on sale in North America since 2012 and made in California, but right-hand drive versions benefit from European assembly – they're built in the Netherlands. They also benefit from recent quality improvements, not least brought about by the recent introductiuon of the Tesla Model 3.
Due to the Model S's pure EV nature, the cabin is incredibly spacious with a flat floor allowing easy and comfortable access to the middle seat. Open the large tailgate and you'll find a 774-litre boot which can be extended by folding the back seats to reveal a cavernous 1,645-litre capacity.
Because there's no engine up front, the 'bonnet' reveals another 150-litre boot, so even driving fully loaded there's more usable luggage space than many people-carriers can muster.
The light and airy interior is dominated by that huge infotainment screen which controls almost all of the Model S's infotainment and ancillary features like climate control, seat heating and driving modes. Most of the conventional switchgear, of which there's little, is borrowed from Tesla's technical partner Mercedes-Benz.
Simple to recharge and supercharge
Charging the Model S is as simple as connecting a mobile phone. The slowest option is a normal three-pin plug (few owners do this as most have a Tesla charger installed at home – so consider this an emergency measure), followed by a Type 2 connection, which is becoming commonplace for EVs. Typically found in motorway services and in domestic wall-boxes, charging typically works out at 23 to 68 miles of range per hour.
You are more likely to achieve 68 miles of range per hour with the dual-charging wallbox Tesla is making available for home installation, but for the quickest solution a network of Superchargers continues to be strategically installed around the UK.
Free Supercharging available on all Tesla Model Ss
All Tesla Model S and Model X electric cars will now come with free Supercharging for life. At first, Supercharging was free for all, then it restricted users to 400kWh each year before charging users from November 2018. Current owners will still have to pay as they go.
Tesla Superchargers are slowly becoming a common sight in service stations and car parks across the UK, and there are currently more than 12,800 of the charging points worldwide. The company claims that owners of its cars have now driven more than 10 billion all-electric miles since the Model S launched way back in 2013.
Now, alongside the growing infrastructure, Tesla has revealed plans for V3 Supercharging, a new type of charging point that could see charging times reduced by an average of 50%. In fact, Tesla claims the new high-speed ultra-rapid charging could add as much range as 1,000 miles per hour.

To see if the Tesla Model S fits in your life, and whether Parkers recommends one, read on for the full review.
Find out more about all electric cars here