Toyota Aygo

The Toyota Aygo city car was designed as part of an intriguing sounding joint-project named B-Zero by the Japanese manufacturer, alongside Peugeot and Citroen in 2005.
This means it's essentially the same car as the Citroen C1 and Peugeot 107, although all three obviously wear different badges.
Rivals:
In 2014 the same trick was performed with the new Toyota Aygo, produced alongside the Citroen C1 and Peugeot 108, with Toyota responsible for all the engineering and mechanical components.
All three benefitted from significantly different exterior styling, which in the Toyota's case manifested itself in a contrasting 'X' design across the front of the car, and in the trim naming structure: X, X-Play, X-Pression, X-Cite, X-Pure and X-Clusiv. This is all laid out in our specs section.
Unusual Toyota Aygo automatic
This is one of the few small city cars available these days with an automatic gearbox. It's a five-speed that Toyota calls X-Shift.
There's no all-wheel drive option, despite all those Xs in the range, though.
What's new for the Toyota Aygo in 2018?
The most recent news is a minor update, which helps that X grille stand out more and introduced LED headlights, new colours and alloy wheel designs.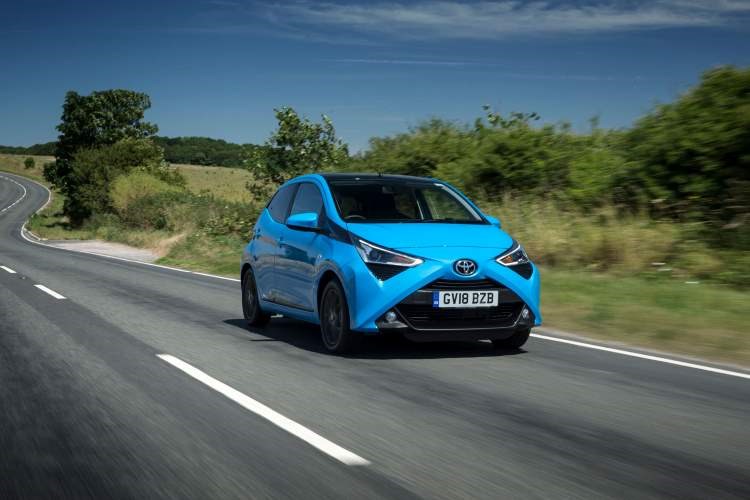 A number of performance and efficiency upgrades also joined the line-up.
Considering a used Toyota Aygo?
Thanks to this company's reliability record, a used Aygo could be a great buy.
Read our owners' reviews section to see what common issues arise.
Toyota Aygo: cheap insurance
Thanks to low repair costs and a decent reliability record, the Aygo could be a great first car. Learners will love its simplicity, ease of use and fun yet robust design.
It's also very cheap to insure for all of the reasons above.
Furthermore, finance and leasing costs are also low, and these days you don't need to pick one with a built-in sat-nav. Thanks to Apple CarPlay and Android Auto your smartphone's navigation can be mirrored on the Aygo's touchscreen.
Search 1,560 Toyota Aygo cars for sale
Search 510 Toyota Aygo lease deals
Toyota Aygo Model History
July 2014 – New Toyota Aygo goes on sale in the UK, with a choice of three trim levels: x, x-play and x-pression, all powered by a 1.0-litre three-cylinder engine with 69hp. There are also two special edition models, the x-cite and x-clusiv.
January 2015 – Aygo x-wave canvas roof added as an option to the Aygo x-pression.
June 2015 – Aygo x-cite trim updated to replace previous Orange Twist paintwork with Cyan Blue, which is carried over to several interior elements. The Aygo x-pure features white paint and contrasting silver exterior details, again with a similar theme inside to match.
August 2015 – Toyota Safety Sense becomes available on the Aygo, consisting of laser-controlled Pre-Collision System with Forward Collision Warning and Autonomous Emergency Braking and lane-departure warning.
February 2016 – Aygo x-clusiv added to the top of the line-up, adding x-wave canvas roof, privacy glass, climate control, leather seats and keyless entry to the equipment list. Comes exclusively with grey paintwork and silver exterior trim detail with matching interior.
April 2016 – Aygo x-cite added to the range, on sale from July. It comes with Yellow Fizz paintwork with gloss black contrasting X, roof and wheels, with interior trim details to match.
December 2016 – Aygo x-press and x-style models added to the range, going on sale in January. The x-press features bright red exterior detailing, while the x-style grey or silver exterior accents.
February 2017 – Top-spec Aygo x-clusiv models gain some extra kit with more exterior colour options, leather upholstery and canvas Funroof available as an option (used to be standard).
May 2017 – Aygo x-claim added to the range for a limited period – just 350 units sold – with white paint and red exterior detailing, as well as white wheels and black leather seats. It sits at the top of the range.
June 2017 – Aygo x-cite updated with red and black theme – red paint and black X, roof, mirrors and wheels – and adding new seat upholstery with red details to the dashboard. Automatic air-con and auto lights added to the spec.
June 2018 – Facelift brings new styling features, including a more prominent 'X' design at the front and rear end, plus new exterior paint colours and the addition of Apple CarPlay/Android Auto. Emissions are also improved slightly.