Isuzu D-Max review (2021)
Five-star safety, excellent road manners and super practical - it's worth a look
PROS
Five-star Euro NCAP rating
Agile and easy to drive
Lots of choice, well equipped
Increased off-road capability
High quality and practical cab
CONS
Only one engine option
Rivals have more power and torque
Average fuel economy
Average service intervals
Refinement could still be better
Summary
The Isuzu D-Max pickup has an outstanding reputation as a reliable workhorse and has always offered buyers a great deal of choice and value. This second-generation D-Max takes these extremely solid foundations and builds upon them by substantially improving the interior and driving dynamics while adding class-leading levels of safety equipment.
Compared with the previous model, the 2021 D-Max is a significant step-change in all-round usability, but it achieves this without compromising the core attributes that make it such a successful working vehicle.
It will still tow 3.5-tonnes (3,500kg) and every version will easily carry more than 1.0 tonne (1,000kg) in payload, yet you can now describe the higher-spec versions as nearly luxurious, and your family will be able to travel with you in greater comfort.
Is this an all-new D-Max?
Not quite – the 164hp 1.9-litre turbodiesel carries over from the previous D-Max and the ladder frame chassis is an upgraded version of the old one as well.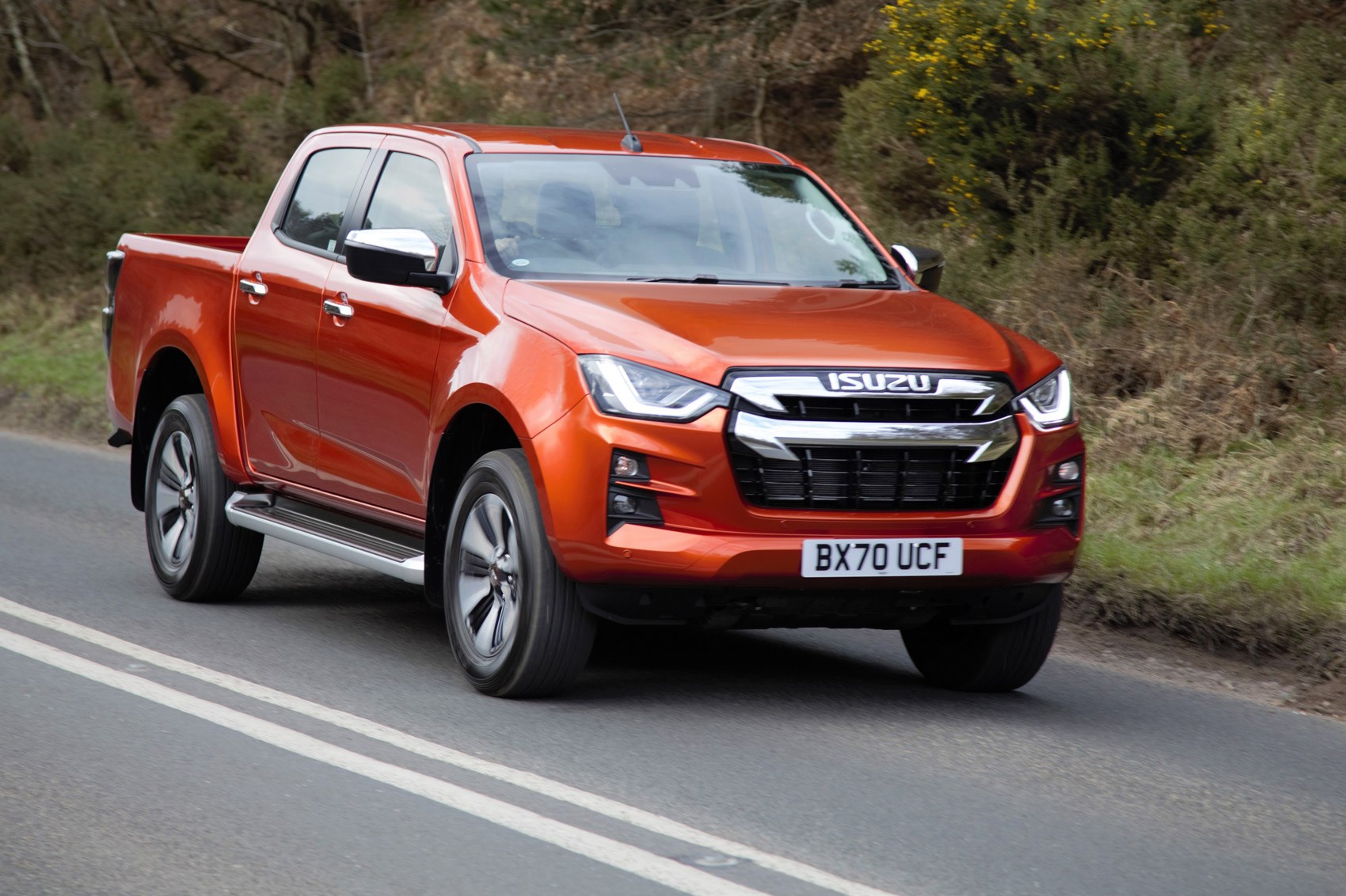 But that chassis is now stronger and stiffer, while new suspension, electric power steering, and vastly improved bushings between the body and the frame do wonders for the driving experience.
The bodywork is all new, and so is the interior. The 2021 D-Max is 30mm shorter than the old one but has a larger load area and a larger passenger cabin, a 30mm higher 'belt line' and a 30mm increase in the wheelbase (the distance between the front and rear axles).
There are also new trim levels, though as before, Isuzu divides the D-Max range into Business, All-Purpose and Adventure categories.
Lots of choice
While Isuzu only offers one D-Max engine choice, in every other respect buyers have plenty of variables to choose from.
There are four standard trim levels – split between those Business, All-Purpose and Adventure categories – all of which come very well equipped.
And there are three body types: Single Cab with two doors and two seats, Extended Cab with occasional rear seats and half-size rear doors, and Double Cab with four full doors and five seats.
You can read about the full dimensions and payload capability of each of these models on our dedicated Isuzu D-Max dimensions page.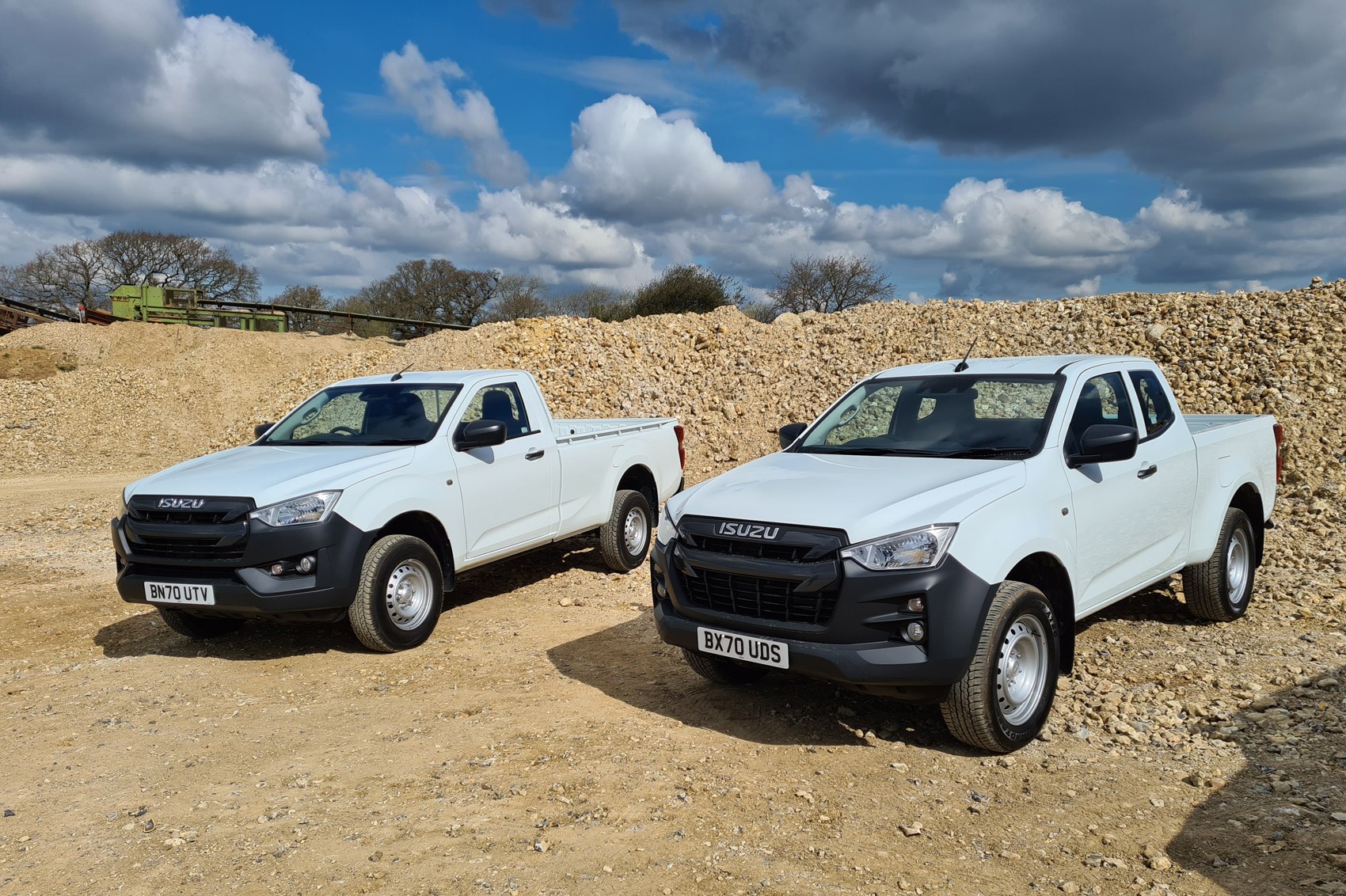 The Business range is the entry point and based around the Utility trim level. This is the most basic-looking D-Max, with unpainted bumpers and steel wheels, but as you'll find when you get to the Costs section below, this doesn't mean it's poorly equipped.
Aimed at people who need a pickup purely for work, the Utility spec has easy-clean vinyl flooring and is available in all three body types. It's also the only trim name carried over from the previous model.
The All-Purpose range consists of the D-Max DL20 and DL40. These both have body-coloured bumpers and 18-inch alloy wheels, and can be identified by different exterior trim detailing – the DL40 featuring a chrome finish to the grille, door mirrors and door handles, as well as a big jump-up in standard equipment.
The DL part of the name refers to the standard-fit rear differential lock; a first for the D-Max, this is a button-activated mechanical device that makes both rear wheels turn together – useful for slippery off-road situations, especially when one of the rear wheels is off the ground…
The Adventure range is the D-Max V-Cross – a name taken from a previous special edition, and a model that's likely to be joined by further special editions in the future. Isuzu, like most pickup makers, is very fond of special editions.
Targeting lifestyle buyers, the V-Cross has all the toys plus gun metal exterior detailing. The V-Cross automatic is expected to be the most popular individual variant of the new D-Max, though Isuzu will continue to sell more All-Purpose models overall.
Five-star Euro NCAP rating
This D-Max is the first pickup to be awarded a five-star Euro NCAP crash test rating under the latest, most stringent testing regime.
You can find more details about this in the Safety section below, but in order to achieve such a high score, the D-Max doesn't just need to crash well, it also needs to be packed with lots of Advanced Driver Assist Systems (ADAS) – technology that's supposed to help you avoid the crash in the first place.
Going further, all Double Cab models have eight airbags, including an unusual centre airbag, plus a rear radar system that actively prevents accidents by stopping you backing out of a parking space into on-coming traffic or changing lanes if there's a vehicle in your blindspot. Single Cab and Extended Cab don't get the radar, but they do get seven airbags.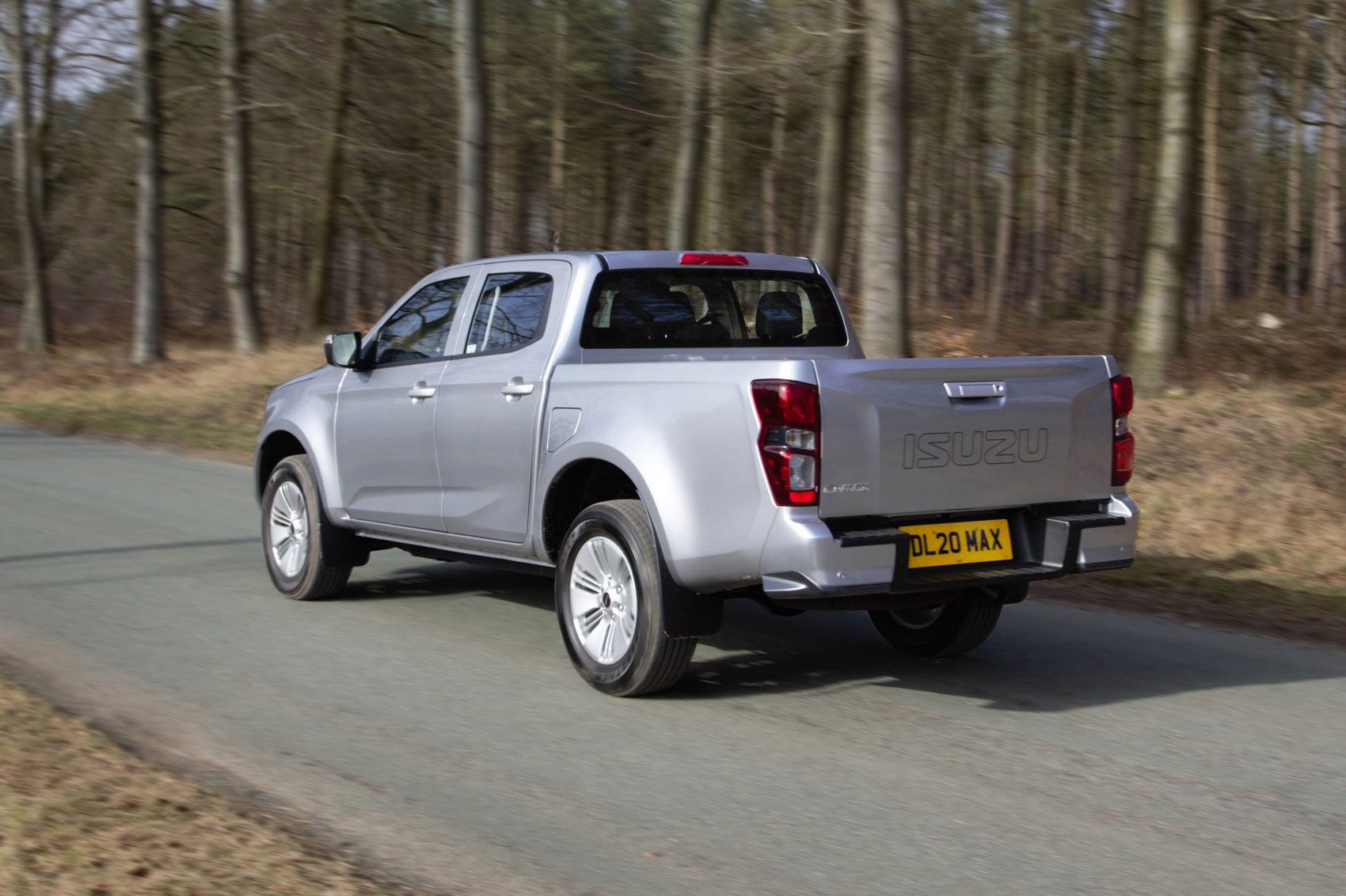 As for convenience, air-conditioning, DAB radio, Bluetooth, automatic lights and wipers, a six-way adjustable driver's seat with lumbar support, and remote locking are standard on every D-Max.
Are there any special editions yet?
Isuzu is famous for offering lots of special edition variants of the previous D-Max. There haven't been any for this model yet, but the firm has just announced the latest version of the popular Huntsman Package.
Isuzu D-Max rivals
The number of competitors in the UK pickup market has been severely reduced in the last few years, with the Fiat Fullback, Mercedes-Benz X-Class and Volkswagen Amarok all discontinued, and the Mitsubishi L200 and Nissan Navara set to finish before the end of 2021 as well.
A new Amarok is on the way in 2022/2023, but as yet we've no confirmation that the Navara will return in the future. Mitsubishi is exiting the UK market altogether.
This leaves only the Ford Ranger, Toyota Hilux and SsangYong Musso as rivals to the D-Max. The Ranger is the UK's bestselling pickup and current holder of the Parkers Pickup of the Year award, while changes to the Hilux in 2020 added a more powerful engine, strengthening the only real weak point of that truck. The Musso offers impressive value and a very large load area in long-wheelbase Rhino guise.
So the new D-Max is entering a tough arena. But it arrives with a loyal following of existing owners, who will likely see their own feedback in the improvements Isuzu has made, while the upgraded safety, comfort and ease of use is sure to bring new customers the D-Max's way.
>> Best pickups
---

Verdict: is the Isuzu D-Max any good?
This review goes into much further detail, but cutting to the chase, the new D-Max is every bit as worthy of your consideration as those rivals.
While it may not be quite as polished to drive as the Ranger and now substantially down on power compared with the Hilux, the 2021 D-Max is a thoughtfully conceived and very well executed extension of everything that was already good about this pickup, and one that can now play the lifestyle card much more convincingly.
Skip to our full verdict on...
Vastly improved suspension, steering and comfort
Same proven but not overly powerful engine
Increased off-road capability, very confidence inspiring
The old D-Max was very much a working truck – and as such you expected the ride comfort to be a bit rough and ready, and for the steering to take a bit of effort. The new D-Max is much more user-friendly, and brings great improvements in both areas.
This benefits the on-road driving experience in particular – though given it can still carry a tonne in the back, don't go expecting it to feel just like a car – while there are useful upgrades for off-road driving as well.
Steering and suspension
The gains here really start with the chassis, which has larger rails and an additional cross member, making it stronger. This allows the suspension to work more effectively.
Changes to the suspension design versus the previous D-Max mean there is now less body roll, improved stability and greater agility. You no longer feel like you're taking your life in your hands if you choose to drive the D-Max quickly; in fact, it's now rather deft, with sharp, predictable and nimble responses.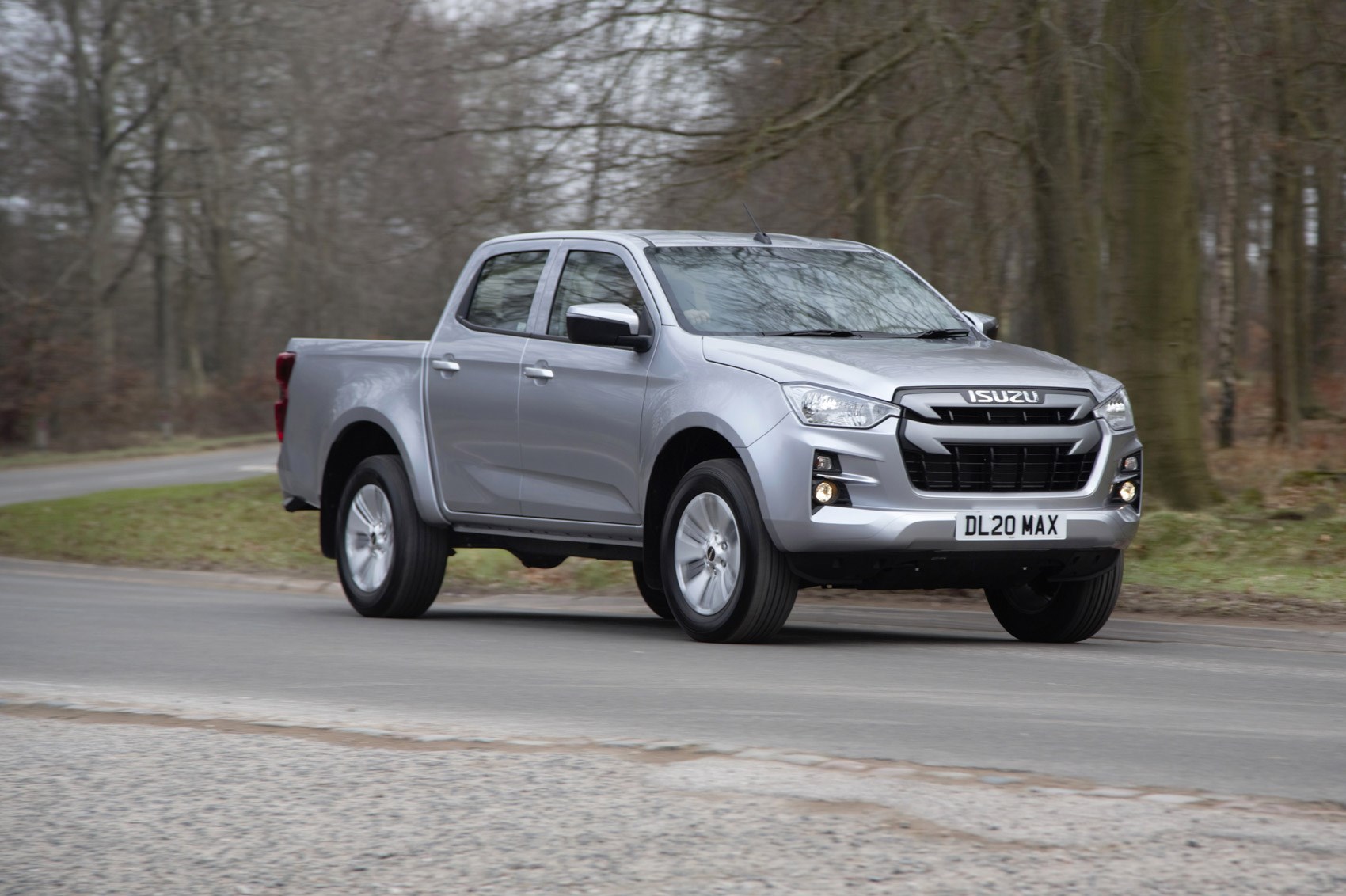 The electrically assisted power steering (EPAS) helps. Replacing the old hydraulic set-up, this is more efficient – which brings miniscule fuel economy gains – and much less tiring to use. It's a speed sensitive system, so at low speeds it's easier to turn the truck than it was before, with the weighting gradually increasing as you go faster.
We found this very natural in its operation, and although there's a reasonably large dead-spot in the straight-ahead position – not uncommon for EPAS – we were quickly comfortable with how the available feedback gelled with the pickup's cornering and general handling.
As an added bonus, the EPAS transfers far less road shock from bumpy surfaces back to your hands.
The D-Max's turning circle is 12.5 metres, kerb-to-kerb.
Ride comfort
This is good, but not quite dazzling – and an area where Ford still has an edge. The higher spec Double Cab models do certainly deal with bumps and potholes very adroitly, helping you to drive quickly with confidence.
Changes to the rear suspension leaf spring design and the shock-absorber mounting points are key to this, aided and abetted by the new design of 'chassis cab mounts' – the rubber bushings between the frame and the body – which absorb greater levels of noise, vibration and harshness (NVH).
However, it's not a miracle cure. And compared with a car or SUV, you and your passengers are going to be bounced around somewhat more.
The bumping and bouncing increases as the number of doors decreases – so you'll find an unladen Extended Cab choppier than a Double Cab, while the Single Cab feels like a motor-driven pogostick at times. The back of both variants will calm down when some load has been added, so keep that in mind.
Engine, transmissions and speed limits
The engine is the same 1.9-litre single-turbo diesel that was introduced into the previous D-Max range in 2017, raising some concerns. This was because although power increased slightly to 164hp, torque fell from 400Nm to 360Nm, and there buyers were worried this would dent the D-Max's legendary towing capability.
This hasn't turned out to be the case, and the second-generation D-Max tows the same 3.5-tonne maximum as the one that went before. However, there is no ignoring that all its rivals produce more torque – with the Ranger and the Hilux now offering as much as 500Nm. And upwards of 200hp.
Speaking of the Hilux, the D-Max is available with the exact same six-speed Aisin automatic transmission – which is fine in terms of smoothness and swiftness (it's 25% faster than before), though some way behind the spread of ratios offered by the Ranger's 10-speed auto.
The standard D-Max gearbox is a six-speed manual. This isn't tough to use at all by pickup standards, though the enhancements Isuzu has made to the shift action are at least matched by the manual gearboxes in the Ranger and the Hilux now, so the D-Max doesn't pull out any advantage here.
Still, previous D-Max owners will surely appreciate the difference. Especially as it now has a lock-out to prevent you accidentally selecting reverse instead of first gear.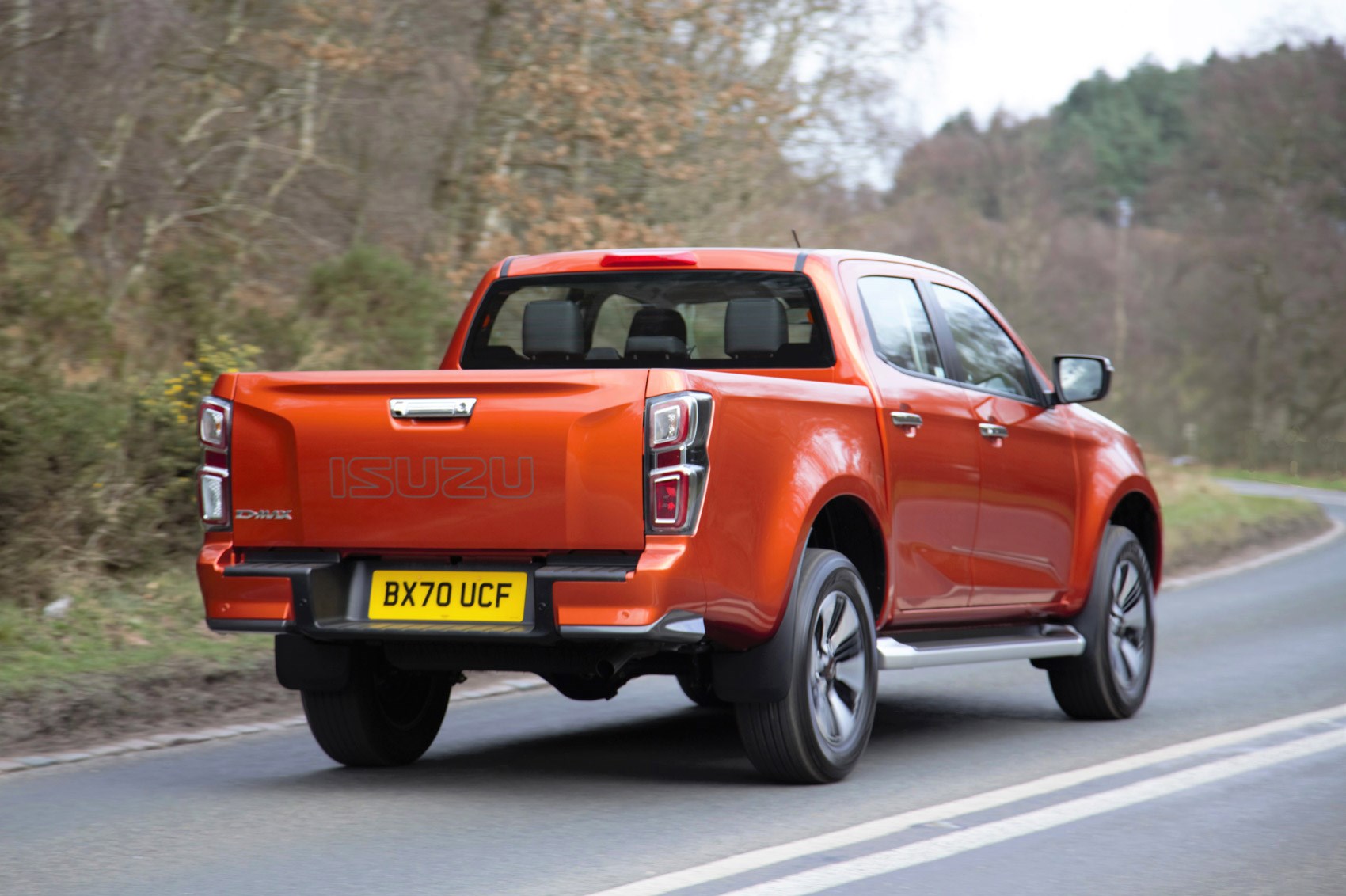 The D-Max does have an advantage when it comes to legal speed limits. Every version weighs less than the 2,040kg threshold for dual purpose vehicles, meaning the fancy lifestyle double cab models are allowed to travel at the same speeds as cars on single and dual carriageways.
This is not the case for its Ranger and Hilux rivals, which have all that extra muscle under the bonnet but are legally obliged to travel more slowly. Top speed for the D-Max is 112mph, and 0-62mph takes 12.7 seconds with the manual gearbox, 13.0 seconds with the automatic.
Every D-Max comes with selectable four-wheel drive (4x4) as standard – except the very cheapest Utility Single Cab, which is rear-wheel drive only (4x2).
A four-wheel drive Single Cab is available should you need maximum load length and the extra off-road traction.
Off-road capability
Isuzu has also worked hard to improve the D-Max's off-road prowess. Again, the stiffer chassis helps here, as does the revised rear suspension, which allows greater axle articulation to better deal with off-set obstructions. But there is more to it than that.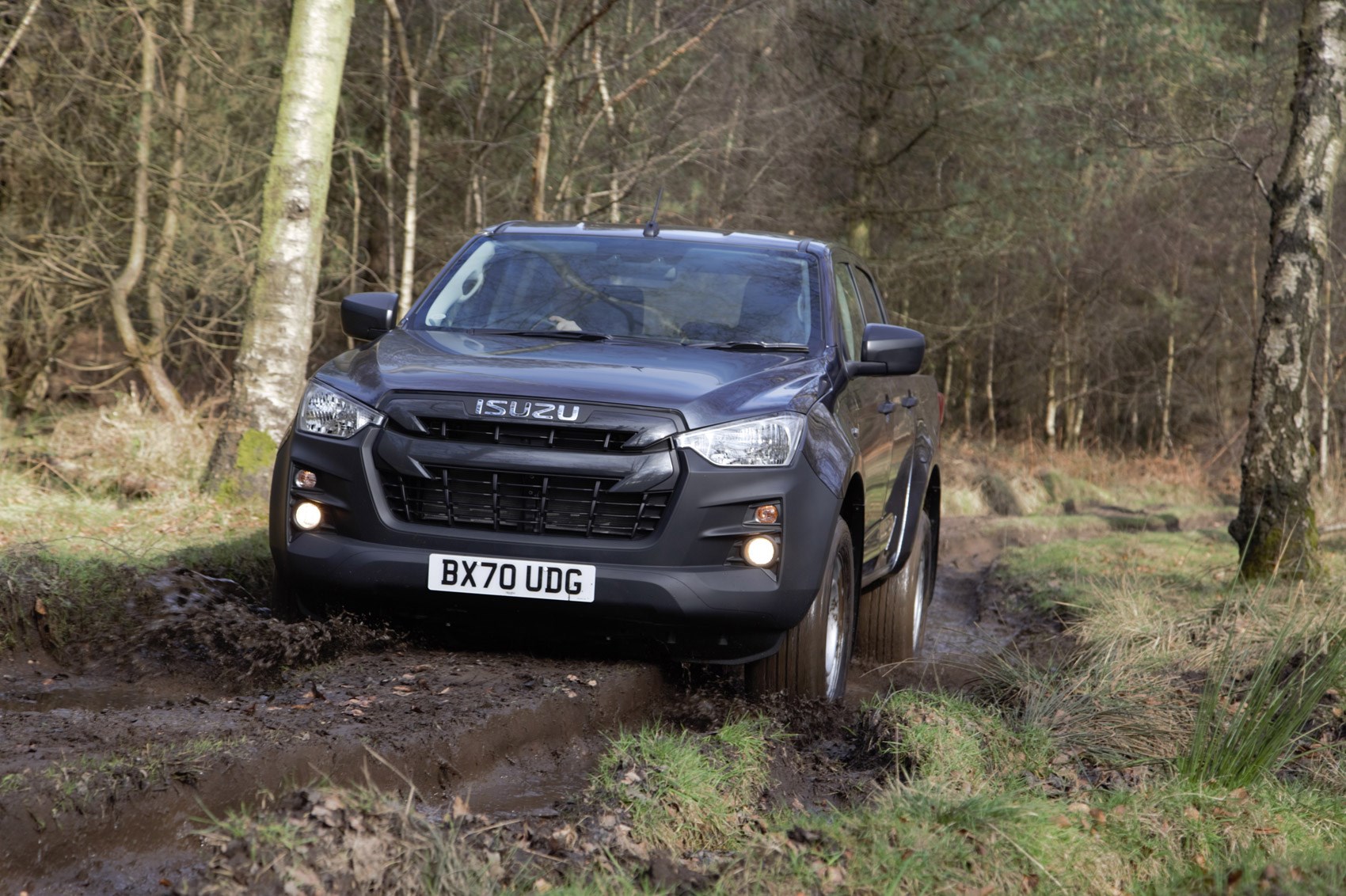 Not only does every model from the second-rung DL20 upwards come with a lockable rear differential, the four-wheel drive system engages much more quickly, and the underbody protection has been extended to better shield vulnerable parts from cross-country excursions.
Further off-road assistance comes from the standard-fit hill descent control and hill start assist – though neither these nor any of the other electronic aids work when the diff-lock is activated. Fortunately, if you forget to switch it off when rejoining the road, the locker is disabled automatically once you reach 19mph.
The selectable four-wheel drive has three modes:
2H high-range rear-wheel drive – the default setting for road use and for maximum fuel economy
4H high-range four-wheel – for moderate off-roading and particularly slippery roads (don't use it on-road in the dry)
4L low-range four-wheel drive – a lower ratio gearing mode that gives you better control and traction for more treacherous off-road situations
It's a 'shift-on-the-fly' system, which means you can swap between 2H and 4H via the dashboard-mounted rotary knob on the move up to around 60mph; 4L changes the gearing so much you need to stop and pop the clutch – or select neutral if in an auto – before rotating the dial to that position. All of this really does work much faster than before.
The hill descent control and diff-lock are activated by buttons on the centre console.
Everything works very effectively. We had the chance to test each of the off-road functions around a live quarry, with challenges including side-angle ascents and descents, soft sand, boggy mud and steep hills.
Not the most arduous off-road activity we've ever faced, but the D-Max breezed through every impediment in a highly confidence inspiring manner – the electric steering making light work of these manoeuvres as well.
Much better interior design and quality
Lots of clever practicality features
Reach and rake steering among ergonomic upgrades
From the way it looks to the way it feels beneath your fingers, the cabin is another area of enormous improvement over the previous D-Max.
There are some differences between the dashboard design of the basic Utility models and the rest of the line-up – the Utility versions also being the only ones to get easy-clean vinyl flooring, something the UK importer pays extra for on these models because it knows it's appreciated by the Utility range's customers.
But all versions get a full-colour 4.2-inch information display in the instrument cluster, with multiple menu screens that are controlled via buttons on the steering wheel. This together with increased material quality throughout the cab really lifts every D-Max beyond any bargain basement accusations.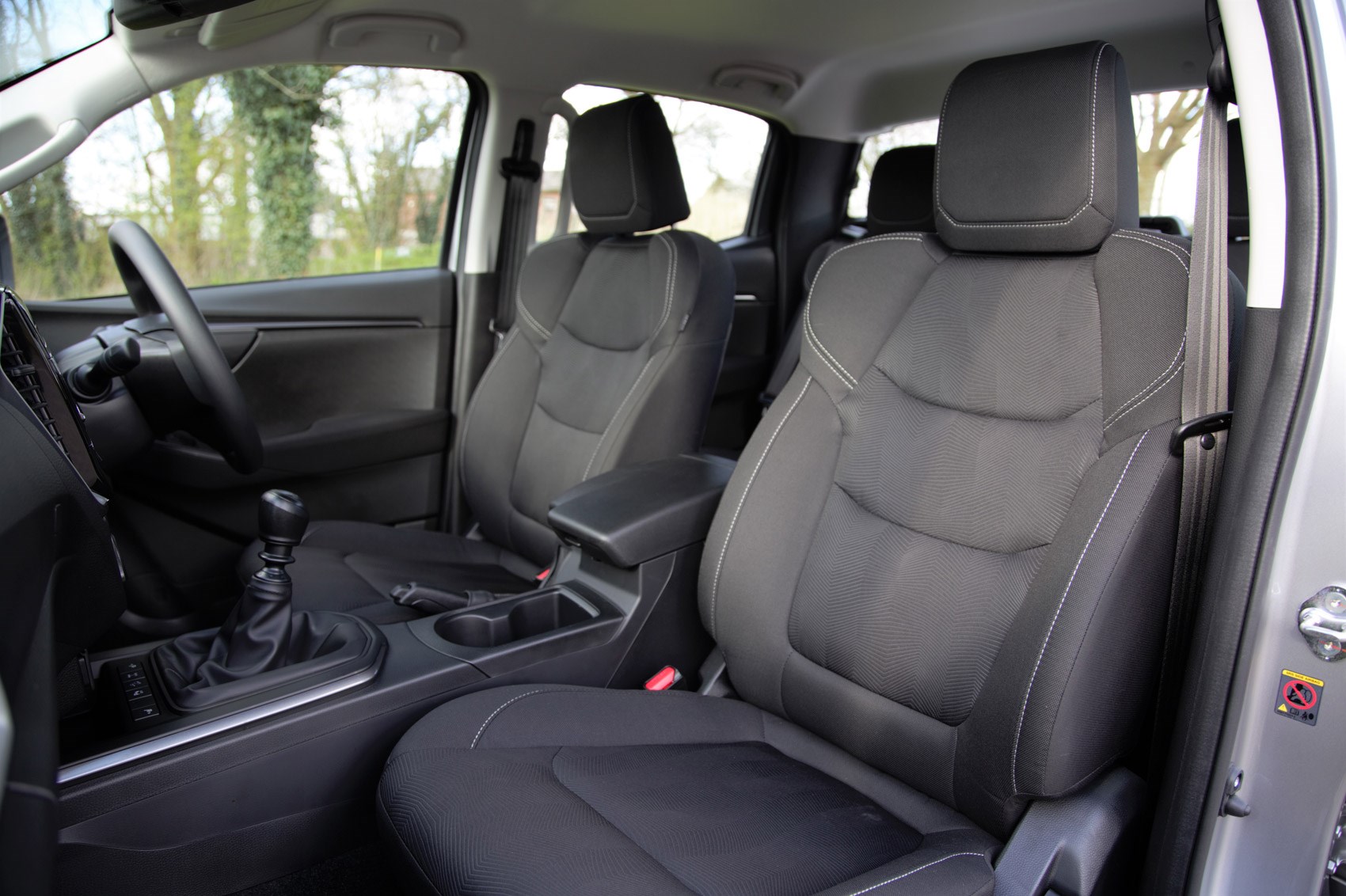 Move above Utility grade, and things start to look very appealing. The DL20 gets heavily bolstered seats in a technical fabric, for example, but shift up to DL40 and you get leather and a built-in 7.0-inch touchscreen infotainment system with Apple CarPlay and Android Auto; on the V-Cross this grows to a 9.0-inch unit.
Fully integrated into the dashboard, these have none of the after-thought look that some 'tablet-style' infotainment systems do. And don't worry – if you want a touchscreen in a Utility or DL20, Isuzu UK has some solid aftermarket solutions that fill the space equally well.
Comfort and refinement
Customer feedback told Isuzu that buyers wanted a more comfortable D-Max, and it has tried to oblige. The seats are made of better materials, even the entry-level gets six-way adjustment as standard for the driver plus lumbar support, and – joy of joys – the steering wheel is now reach and rake adjustable.
It is a lot easier to get comfy behind said wheel than in the previous model.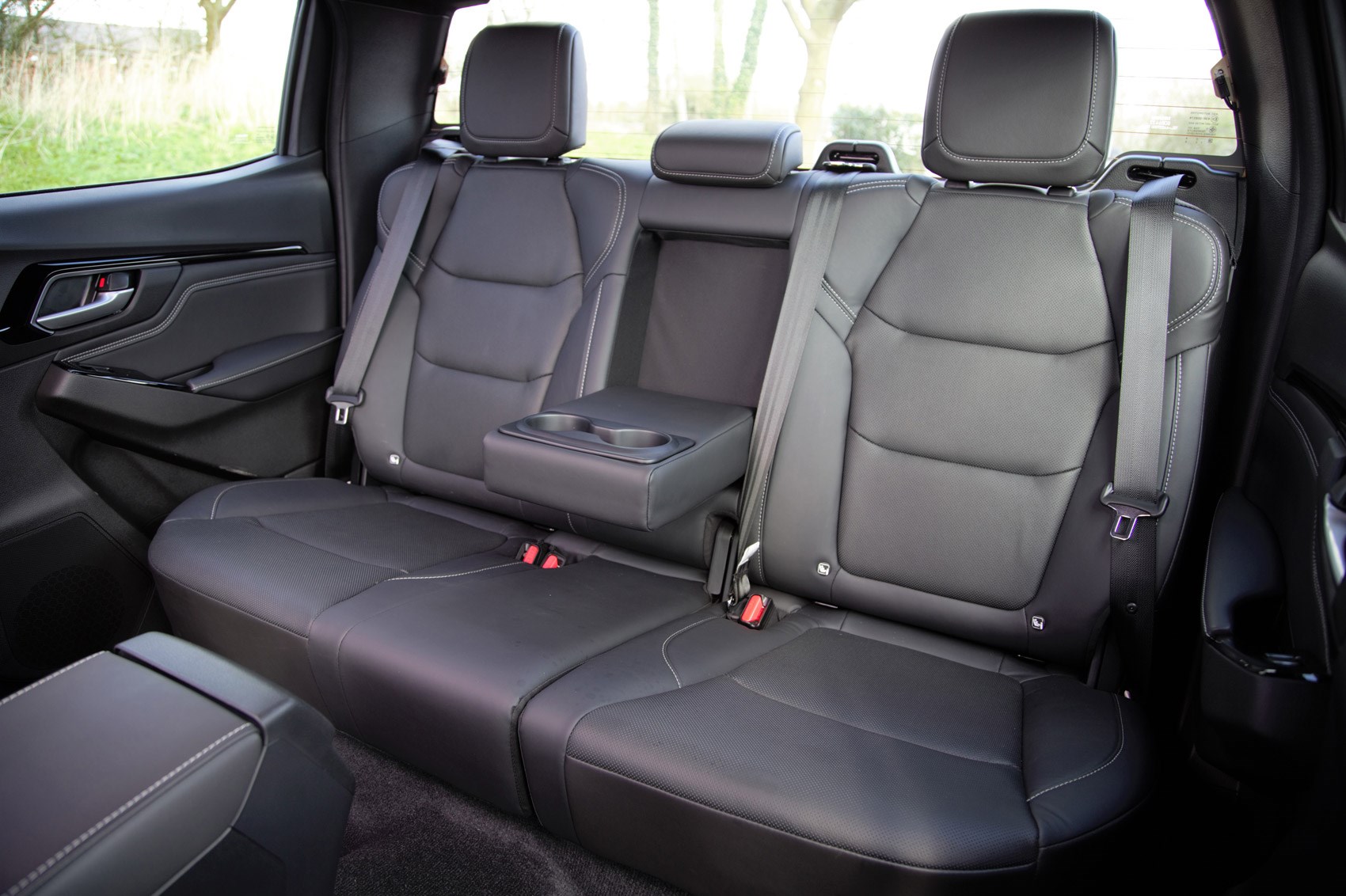 It's also better for rear seat passengers in the Double Cab versions, as the seat-back angle has been made less upright and there's a noticeable increase in legroom, making it truly spacious. All but the Utility models come with rear heating ducts now, the DL40 and V-Cross benefiting from a rear ventilation control panel.
Refinement is better as well, with almost all in-cabin vibration now eliminated. The engine is still quite gruff and vocal, and though it does calm down once warm you will still hear its determined diesely-ness whenever you need to accelerate hard.
Practicality
Pickups often get accused of having limited in-cab storage space compared with vans, but the D-Max has plenty of cup-holders, cubbies and other storage areas.
We particularly like the substantial pull-out drawers with integrated cup-holders on either end of the dashboard, and that there's lidded storage on top of the dash in addition to the pair of gloveboxes most models are fitted with.
In the back of Double Cab variants there are twin storage areas under the seat base – neither of which is now occupied by the jack, which has instead been moved to behind the seat back, accessed via an easy-to-use pull strap.
This seat back folds fully flat, providing a rear interior storage space that also prevents your upholstery from getting grubby, useful for dogs perhaps, among many other things.
Five-year warranty, lots of standard kit
Fuel economy not impressive on paper
Service intervals are nothing special
The D-Max is keenly priced, well equipped and great value right across the range, and comes with a five-year / 125,000-mile warranty.
Isuzu D-Max mpg
Fuel economy is always a weak-point for pickups, and on-paper the D-Max is no exception. Stop-start is fitted as standard, and the Isuzu's relatively low weight should mean reasonable returns in the real world.
According to the latest WLTP standards, every manual gearbox model has a combined fuel efficiency rating of 33.6mpg; this falls to 30.7mpg where the six-speed automatic gearbox is fitted in place of the standard six-speed manual.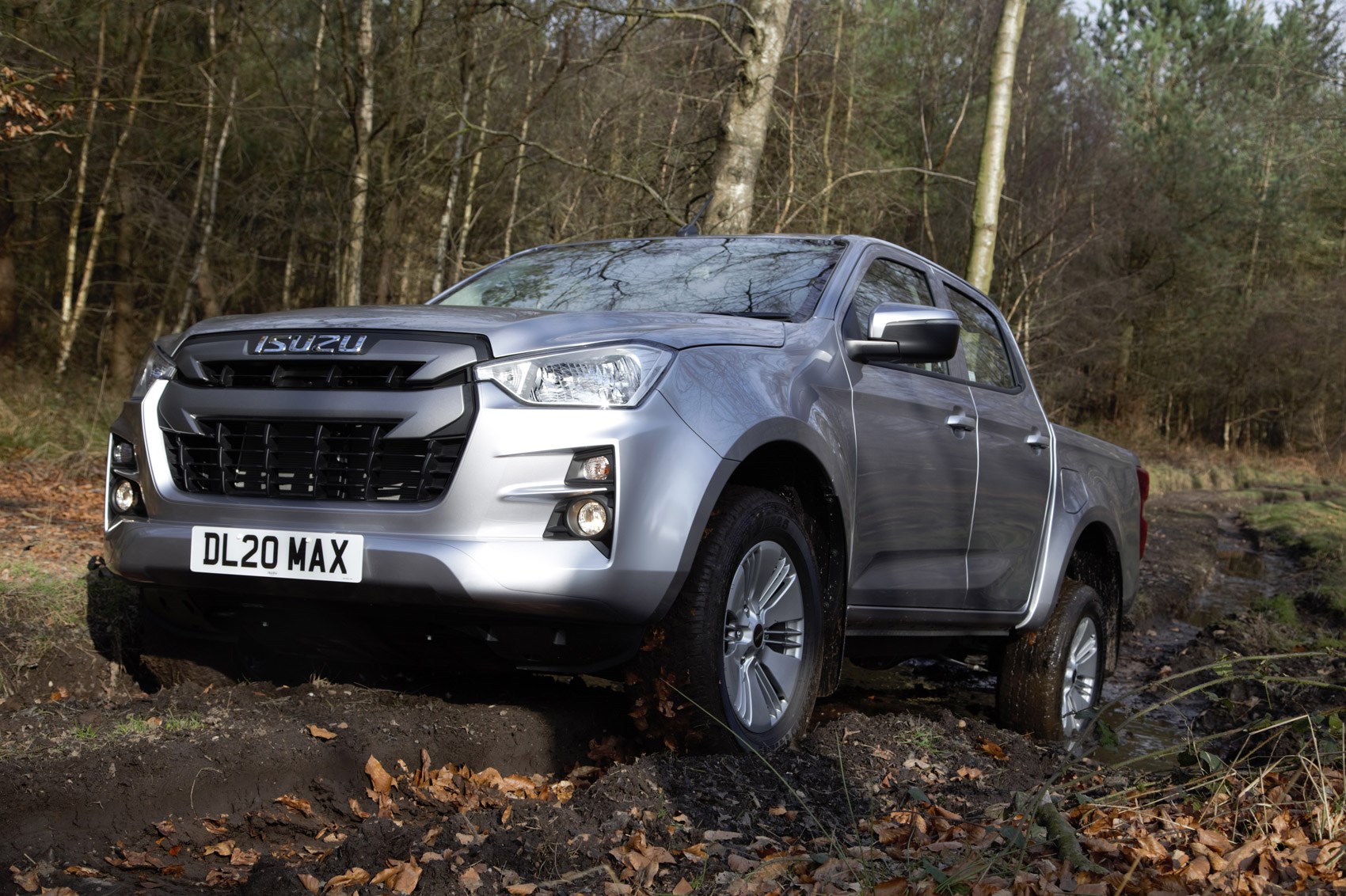 That's equivalent to 220g/km CO2 and 241g/km CO2, respectively. The D-Max meets Euro 6D emissions regulations.
Isuzu D-Max service intervals and warranty
The service intervals for the 1.9-litre engine are one year or 12,500 miles, whichever comes sooner.
The warranty length is five years or 125,000 miles, whichever comes sooner.
Isuzu D-Max standard equipment
These are the highlight standard equipment items for each D-Max trim level.
Isuzu D-Max Utility standard equipment:
Automatic lights and wipers
High beam assist
Six-way adjustable driver's seat with lumbar support
Height and reach adjustable steering wheel with multifunction controls
Vinyl flooring
Manual air-conditioning
Bluetooth
DAB radio
CD player
Front USB port
Two speakers
Electric windows
Remote locking
Unpainted bumpers, door mirrors and door handles
Rear bumper with integrated step
Full suite of ADAS safety equipment (detailed in Safety section below)
Isuzu D-Max DL20 standard equipment (in addition to Utility):
Rear differential lock
18-inch alloy wheels
Front foglights
Rear parking sensors
Medium Grey front grille
Body coloured bumpers
Body coloured door mirrors, heated and folding
Silver door handles
Four speakers
Rear USB port (Double Cab)
Heated front seats
Height-adjustable head rests
Front centre arm rest
Carpet flooring
Rear centre armrest with cupholders (Double Cab)
Rear heating ducts
Isuzu D-Max DL40 standard equipment (in addition to DL20):
Bi-LED headlights
LED front foglights
LED daytime running lights
LED rear lights
Front and rear parking sensors
Reversing camera
Silver side steps
Chrome front grille, door mirrors and door handles
Leather upholstery
Eight-way electric driver's seat adjustment
Dual-zone climate control
7.0-inch touchscreen infotainment system with Apple CarPlay and Android Auto (and no CD player)
Six speakers
Keyless entry and start
Rear ventilation panel
Isuzu D-Max V-Cross standard equipment (in addition to DL40):
Gun metal front grille, door mirrors, door handles, side steps and alloy wheels
Automatic headlight levelling
9.0-inch touchscreen infotainment system
CD Player
Eight speakers
Auto-dimming rear-view mirror
Illuminated vanity mirrors in the sunvisors
V-Cross carpet mats
This is a brand new model at the time of writing, so it's a little early to report on any faults or issues.
Instead we'll just point out that the D-Max has traditionally enjoyed an excellent reputation for reliability and durability, and that the engine has been in use since 2017 – which should hopefully mean that any teething troubles have been dealt with by now.
THE safest pickup you can buy, according to Euro NCAP
Huge amount of standard safety equipment on all models
Double Cab variants get eight airbags and even more tech
With its five-star Euro NCAP rating and stacks of advanced safety kit, the Isuzu D-Max is unquestionably the safest pickup you can buy in the UK. The crash test rating included a maximum score for child occupant protection.
In addition to seven airbags – eight on Double Cab models – all of the following Advanced Driver Assist Systems (ADAS) are fitted as standard on every Isuzu D-Max:
Cruise control
Forward collision warning
Manual and intelligent speed limiters
Lane departure warning and prevention
Multi-collision brake
And if it's a Double Cab model, you also get these features as well:
Blind spot monitor
Emergency lane keeping
Choose the option automatic transmission over the manual gearbox, and you also get:
Adaptive cruise control
Lane keeping assist
AT pedal misapplication mitigation
Plus, every model comes with automatic lights and wipers, automatic high-beam assist, hill descent control, hill start assist, electronic stability control (ESC), traction control and E-Call emergency call function that automatically alerts the emergency services after an accident.
But what does that all mean?
Well, taking the curiosities on the above lists in order…
The forward collision warning system is a row of flashing red lights that go off if the D-Max thinks you're about to hit something. It's quite an early warning, so you should have time to take action before the AEB kicks in (we were able to test both things, and they seem to function effectively).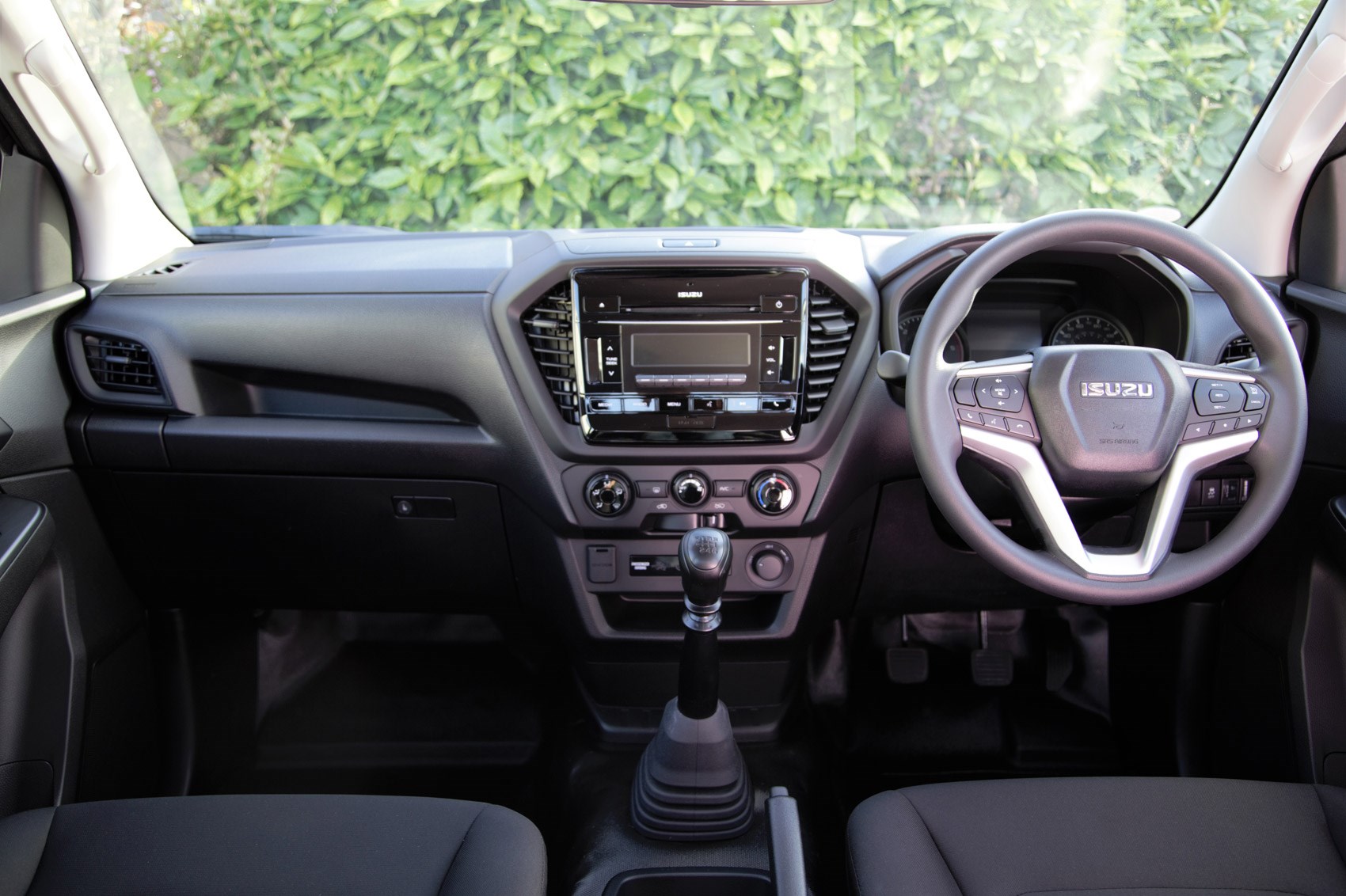 It helps that Isuzu uses a stereo camera system rather than a forward radar; this is a pair of cameras you can see at the top of the windscreen that function as the D-Max's eyes to judge distance and spot hazards. This is said to be faster and more accurate than conventional radar systems.
The 'intelligent' speed limiter will automatically adjust the speed limited based on traffic sign information; these systems are prone to misread signs and apply the wrong limit, so not a big deal for us.
The multi-collision brake system throws on the anchors should the airbags be deployed, reducing the chances of secondary accidents that might result if the vehicle is allowed to continue moving.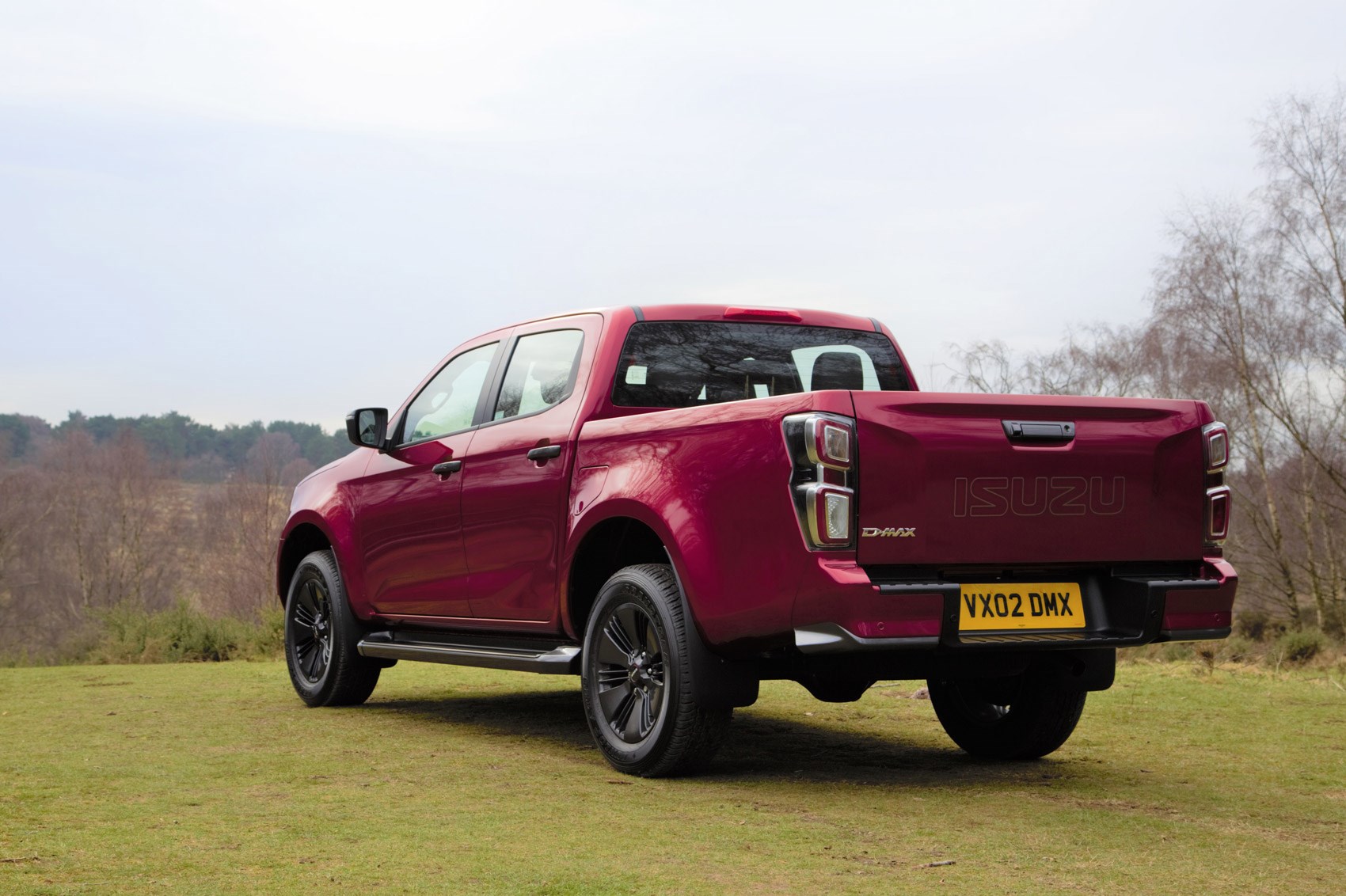 The extra features on every D-Max Double Cab model are enabled by a rear radar system, only ever previously available on the very top spec Mitsubishi L200 Barbarian X. The emergency lane keeping this allows will actively prevent you from steering into another vehicle if you try to change lanes into them, something only made possible by the use of electric power steering.
The AT pedal misapplication mitigation is designed to prevent accidents that are caused by stamping on the accelerator instead of the brake.
Which Isuzu D-Max is best for me?
Isuzu does a lot of the thinking for you here by dividing the range into Business, All-Purpose and Adventure categories – you probably already know which kind of buyer you are.
That said, the range-topping V-Cross auto is set to be the bestseller, and this will still function exceptionally well as a working vehicle, so don't just rule it out as a lifestyle accessory.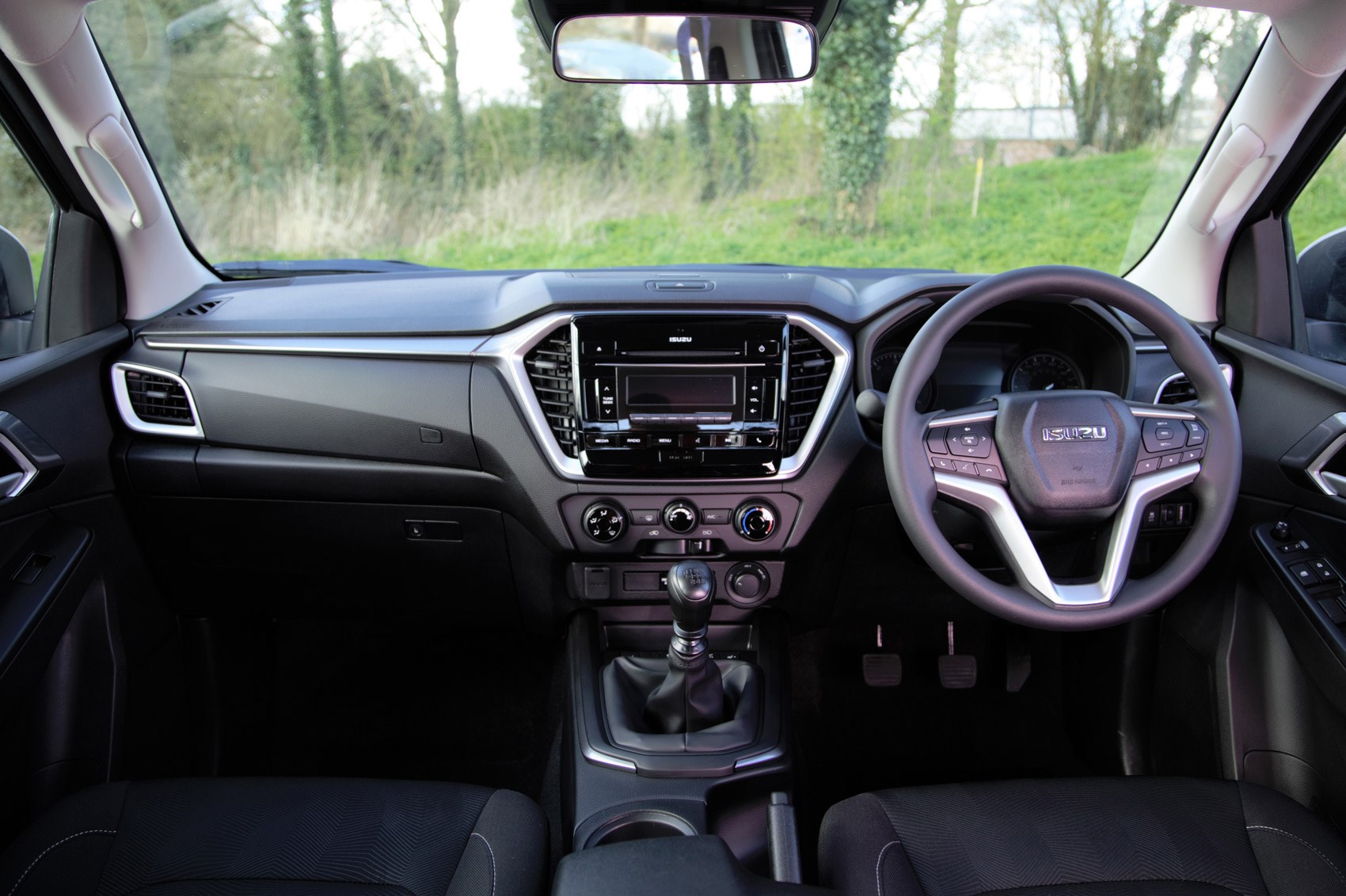 In terms of creature comforts, the biggest step-up in standard equipment comes between the DL20 and the DL40, though we have to say there are plenty of features on the DL20 that we really like – including the attractively finished fabric (rather than leather) seats.
Given how well specced the D-Max is at all levels, you almost can't go wrong here.
Also read:
>> The Parkers guide to the best pickups