Toyota Hilux review (2020)
Tough, versatile and comfortable - but engine lacks oomph
PROS
Very tough and durable
Impressively quiet and refined
Five-year warranty
Comfortable ride for leaf spring suspension
3.5t towing capacity (on some models)
CONS
Only one engine option...
...and it's not very powerful
Rivals are more fuel efficient
Expensive to buy
Alarm not standard on any model
Summary
The Toyota Hilux is one of the most recognisable pickup names on the market. The first one went on sale in 1968, and the Hilux quickly established an enviable reputation as a durable workhorse and capable off-roader. This review covers the eighth-generation Hilux, which dates from mid-2016 and is set to get a major update in 2020.
Toyota made an immediate impression with this Hilux at launch, thanks to a substantial increase in available safety equipment, significantly improved comfort, and even better off-road characteristics, which come despite an increase in size and weight. Safety was upgraded further still as part of a 2019 update (see below).
What's new for the 2020 Toyota Hilux?
Capitalising on the demise of the big V6-engined Volkswagen Amarok and Mercedes-Benz X-Class, and Ford's decision to discontinue the 3.2-litre Ranger, Toyota has answered the prayers of many Hilux buyers and decided to start selling a 2.8-litre model here again.
With 201hp and 500Nm of torque, this new engine instantly resolves any complaints about the 2.4-litre model's lacklustre performance.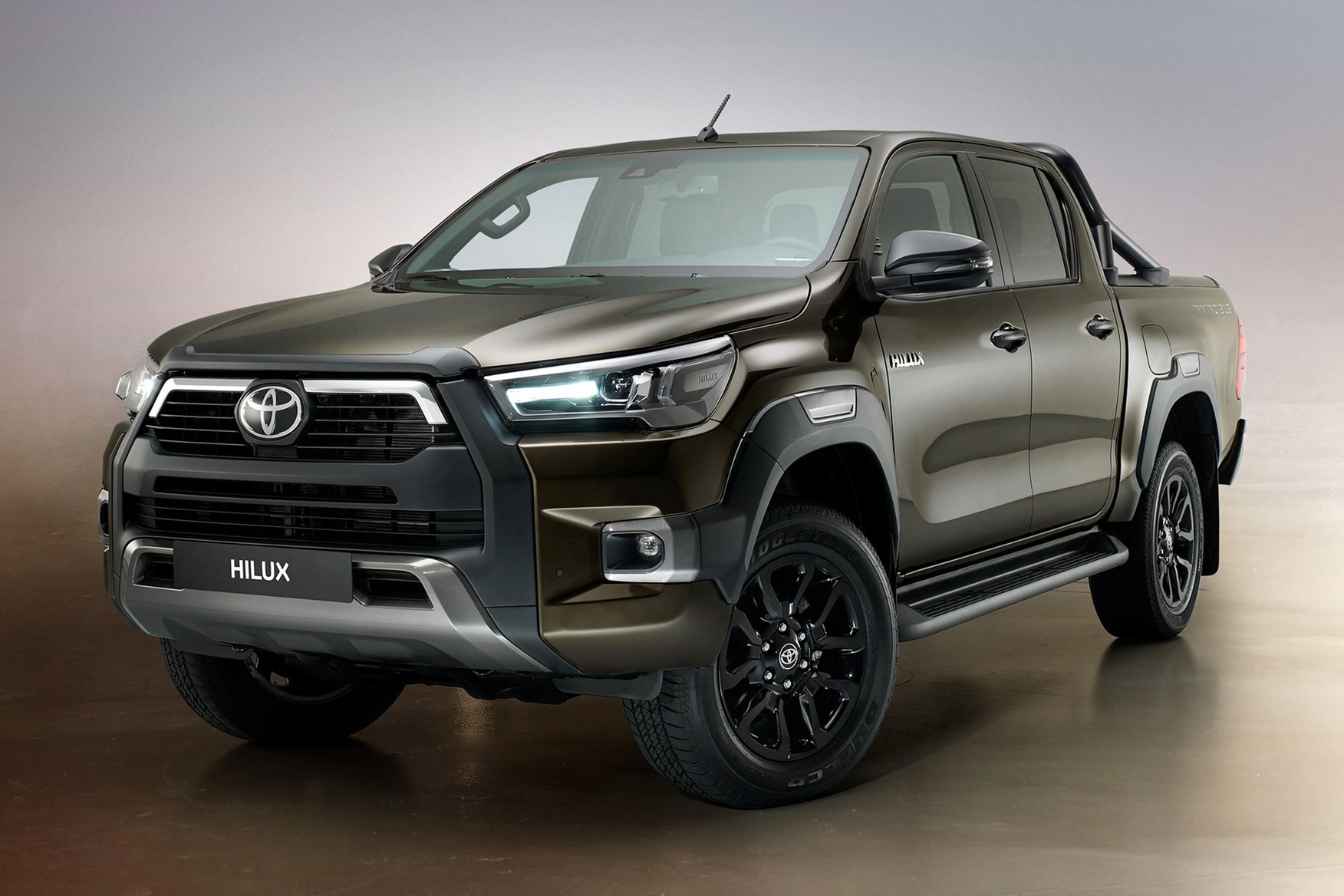 It's set to go on sale in November 2020, and comes as part of a major Hilux facelift (pictured above) that also sees improvements to the suspension and the interior. We'll update this review with further info once we've had the chance to drive the new version.
What's good about the Toyota Hilux?
Comfort in particular continues to be a major part of this pickup's appeal. This has been achieved despite the continued use of leaf-spring rear suspension, which is supposed to be less compliant than the more sophisticated coil springs used by some premium pickups.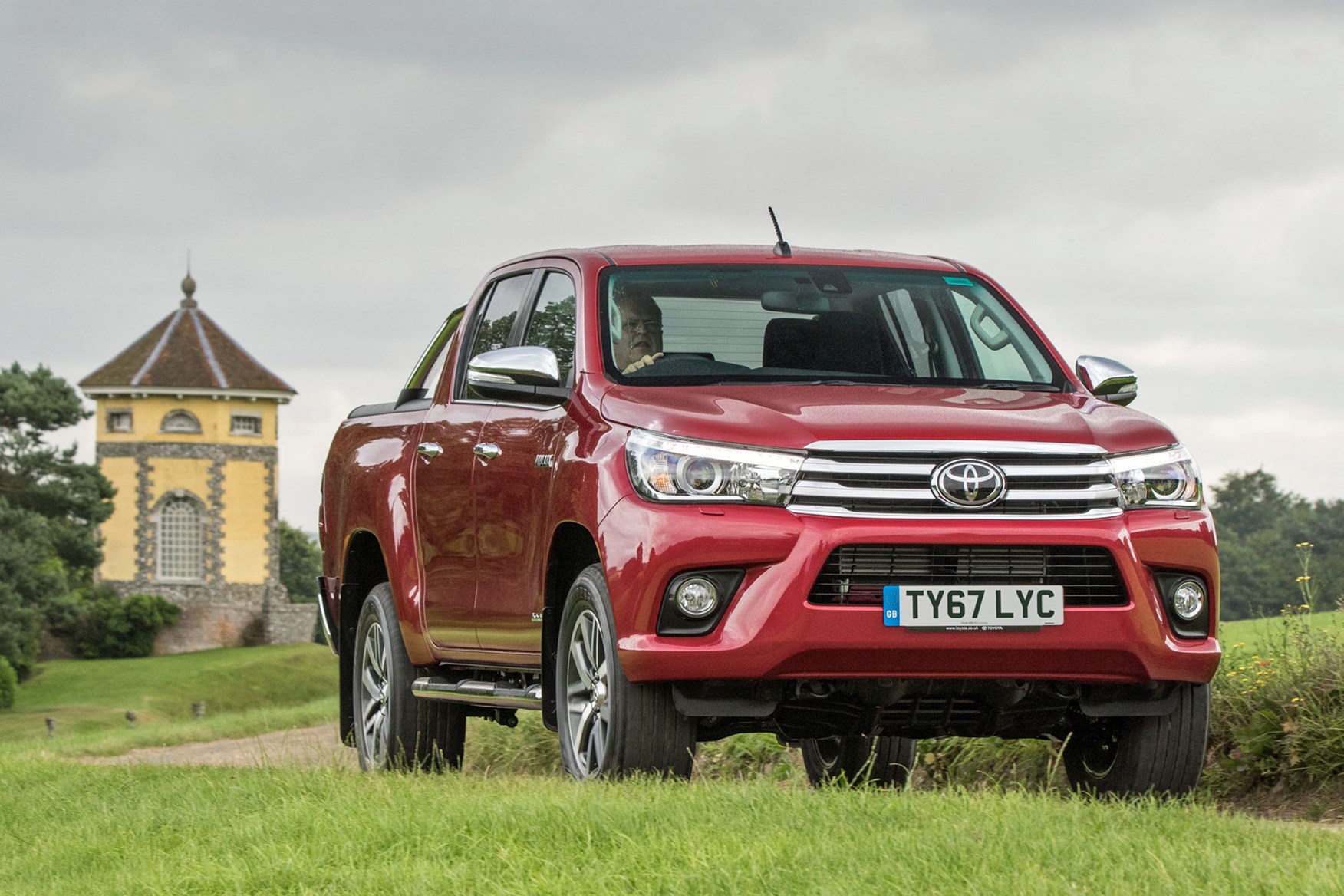 The interior is neat and modern, with a prominent tablet-style panel in the centre for the infotainment, which takes the form of a touchscreen on all but the most basic trim level.
But the main reason for buying a Hiilux has got to be that legendary toughness and reliability, something that's typically borne out by owner satisfaction surveys.
There's a five-year, 100,000-mile warranty for added peace of mind.
What's bad about the Toyota Hilux?
Bad is a strong word, but if there's one area where the Hilux currently disappoints it's under the bonnet.
UK and European buyers are limited to just one engine choice - a 2.4-litre four-cylinder turbodiesel with 150hp and 400Nm; this will change as part of the 2020 facelift, when a larger 2.8-litre engine will also be added to the range. But this will be limited to top-spec models.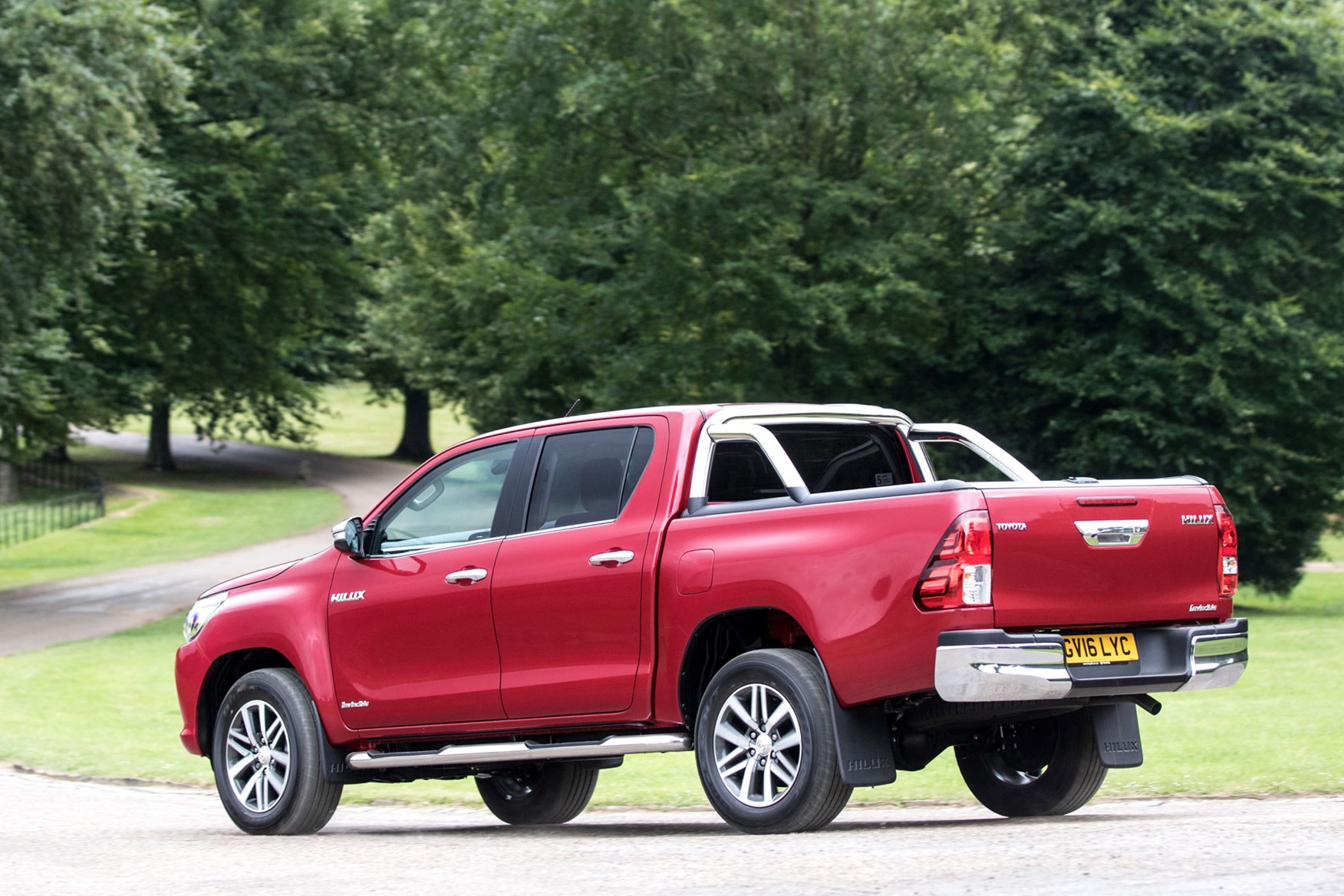 By current class standards, the 2.4 doesn't deliver a lot of power. And while the Hilux can tow up to 3.5 tonnes without struggling, it is also undeniably slow, taking up 13.2 seconds to go 0-62mph.
In less serious concerns, opinions tend to be split over the look of the front end, which some operators feel is rather 'beaky'. The range-topping Invincible X model redressed this issue when it was launched in 2018 by coming with an alternative front bumper. Albeit at a hefty asking price.
Toyota Hilux body variants and trim levels
The Hilux is one of only a few pickups on sale in the UK that offers Single Cab, Extra Cab and Double Cab body styles:
Single Cab = two doors and two seats
Extra Cab = full-size front doors, half-width rear doors, occasional-use rear seats
Double Cab = full-size doors front and rear, five proper seats (though rear middle won't be comfortable for adult humans for long)
Most lifestyle buyers will be best served by the Double Cab, but the smaller the cab, the larger the load area - which may be more important to operators after a working truck.
And while the Single Cab and Extended Cab variants only come in the entry-level Active trim level, this still includes important creature comforts such as air-conditioning, seven airbags, heated electric mirrors and rear differential lock as standard. The bumpers are unpainted black plastic on this model, making it easy to identify.
The remaining three trim levels - Icon, Invinicible and Invincible X - are all Double Cab only, feature a touchscreen infotainment system, DAB digital radio and a reversing camera, among many other additional items.
Toyota Hilux AT35
When Toyota introduced the Hilux Invincible X to the UK at the 2018 CV Show it almost stole its own thunder - by showing an AT35 version of the Hilux at the same time.
The AT35 is an extreme off-road variant, with hardware and body modification by Icelandic legends, Arctic Trucks. And as of the CV Show 2018, you can order one direct from your local Toyota Hilux dealer.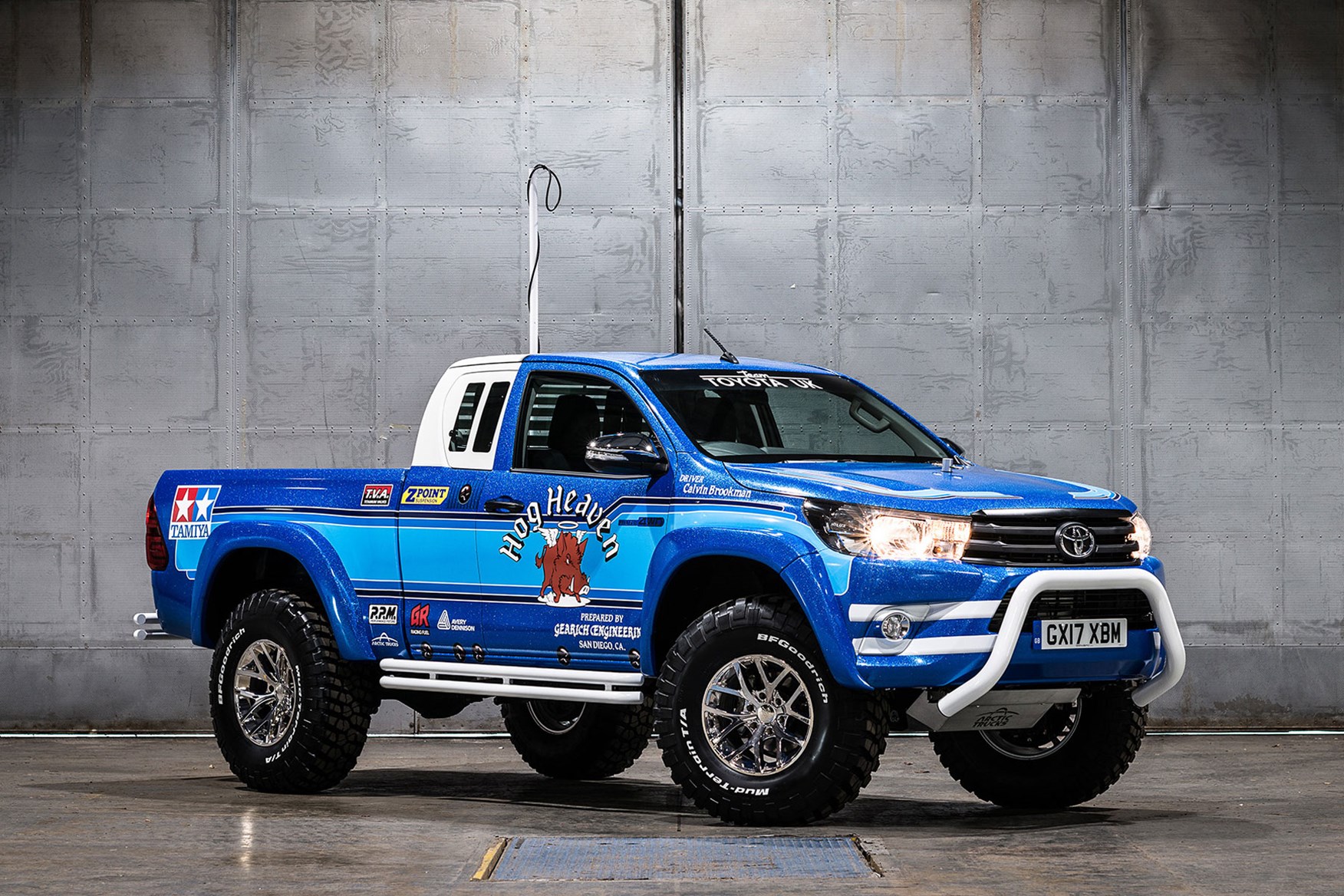 Want to know what the Hilux AT35 is like to drive? Then check out our review of the Hilux Bruiser show car, which is fitted with all the AT35 kit.
Toyota Hilux rivals
The Ford Ranger is the UK's bestselling pickup, offering a wide range of models and lots of adaptability for different uses, with keen pricing. The latest models are very impressive indeed.
Toyota's traditional pickup rivals, however, are the Nissan Navara and the Mitsubishi L200 - though all three represent slightly different propositions in this generation.
The Navara has fancy coil-spring rear suspension and aims to be as car-like as possible, while the L200 is more compact and costs less; both offer (much) more powerful engines than the Hilux. All three come with a five-year warranty - as does the Isuzu D-Max, which is another truck respected for its reliability.
Given the price of the Toyota, buyers might also consider the Volkswagen Amarok. This premium choice comes with V6 engines as standard (since late 2016) and a very smooth driving experience.
Toyota Hilux 2019 update
Announced at the 2019 CV Show and on sale from August 2019, minor changes to the Hilux in this update include an upgraded Toyota Safety Sense Package, which is fitted as standard on all but the entry-level Active models.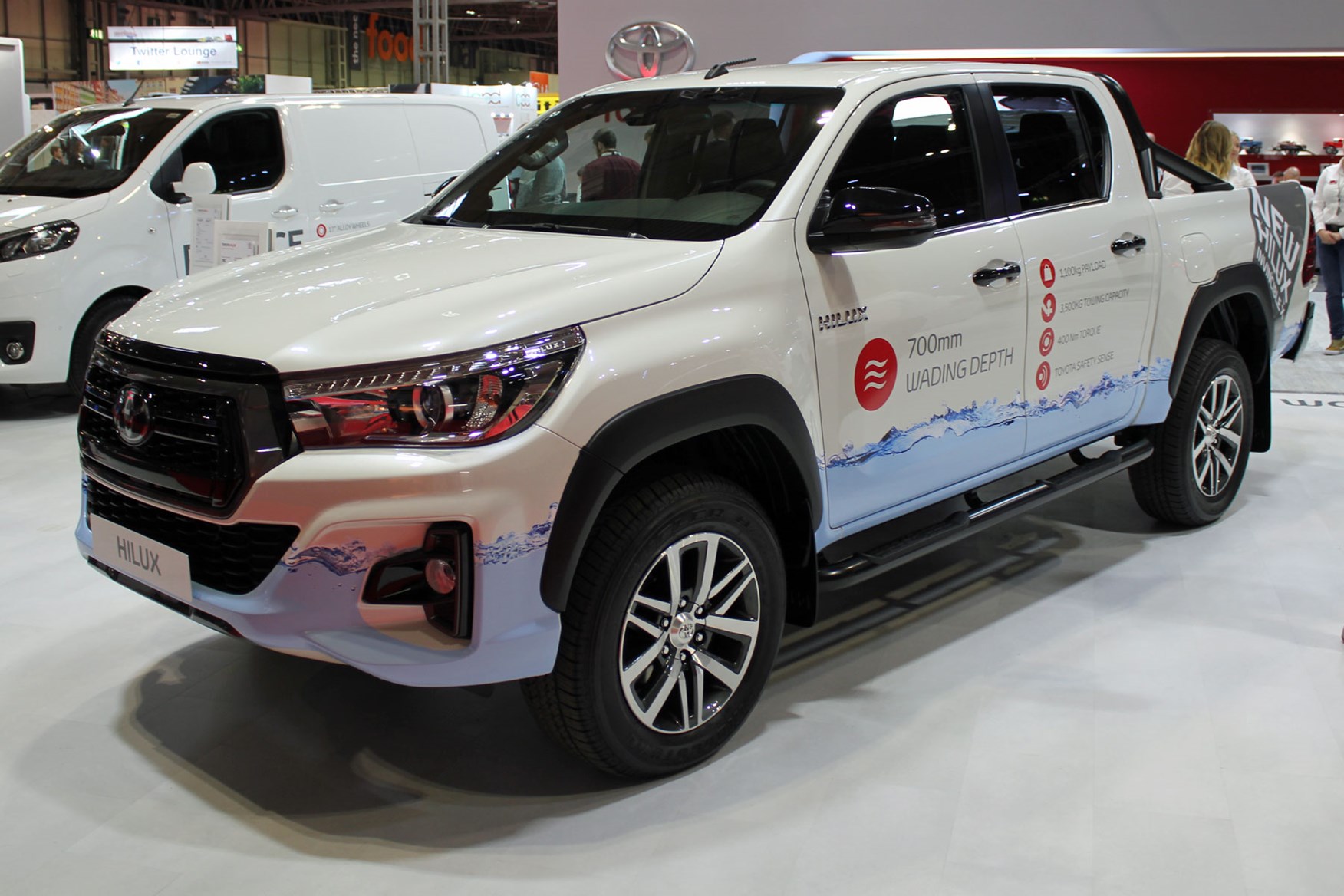 At the same time, the range-topping Invincible X model (pictured above) received some trim changes that give it a more distinctive look.
---
Toyota Hilux verdict
If reliability is your primary pickup concern, the Toyota Hilux is a sensible starting point. That it's also comfortable, very capable off-road and able to tow up to 3,500kg means it's a versatile all-rounder as well. The comfort levels in particular are something not many rivals can match.
The current 2.4-litre engine is a severe limitation, however, as it's the least powerful offered in any UK pickup. While Toyota will tell you most operators are happy with the amount of torque it produces (which is greater than the latest D-Max at least), this doesn't stop the Hilux feeling decidedly slow - especially when driven back-to-back against its more potent competitors.
Fortunately, the incoming 2.8-litre Hilux should redress this as it beomes one of the most powerful pickups available instead. We'll bring you more on this facelifted model soon.
Keep reading for the full Toyota Hilux review on Parkers Vans and Pickups, see our dedicated Toyota Hilux Dimensions page for load area info, or jump straight to the section that most interests you using the links below.
Skip to our full verdict on...
Quiet, with comfortable ride despite leaf springs
150hp engine is not very fast
Very accomplished off-road
Compared with the previous model, this eighth-generation Toyota Hilux has significantly improved driving characteristics both on- and off-road. This makes it one of the most accomplished pickups currently on sale – with a slight proviso about the 2.4-litre engine.
We will update this section with info about the 2020 Hilux facelift with its improved suspension and larger 2.8-litre engine as soon as we've had the chance to drive it.
Excellent refinement for a pickup truck
Pickups are not typically very relaxing vehicles to drive. While their use of a separate ladder-frame chassis below the body is good for strength, it can lead to all kinds of squeaks and rattles.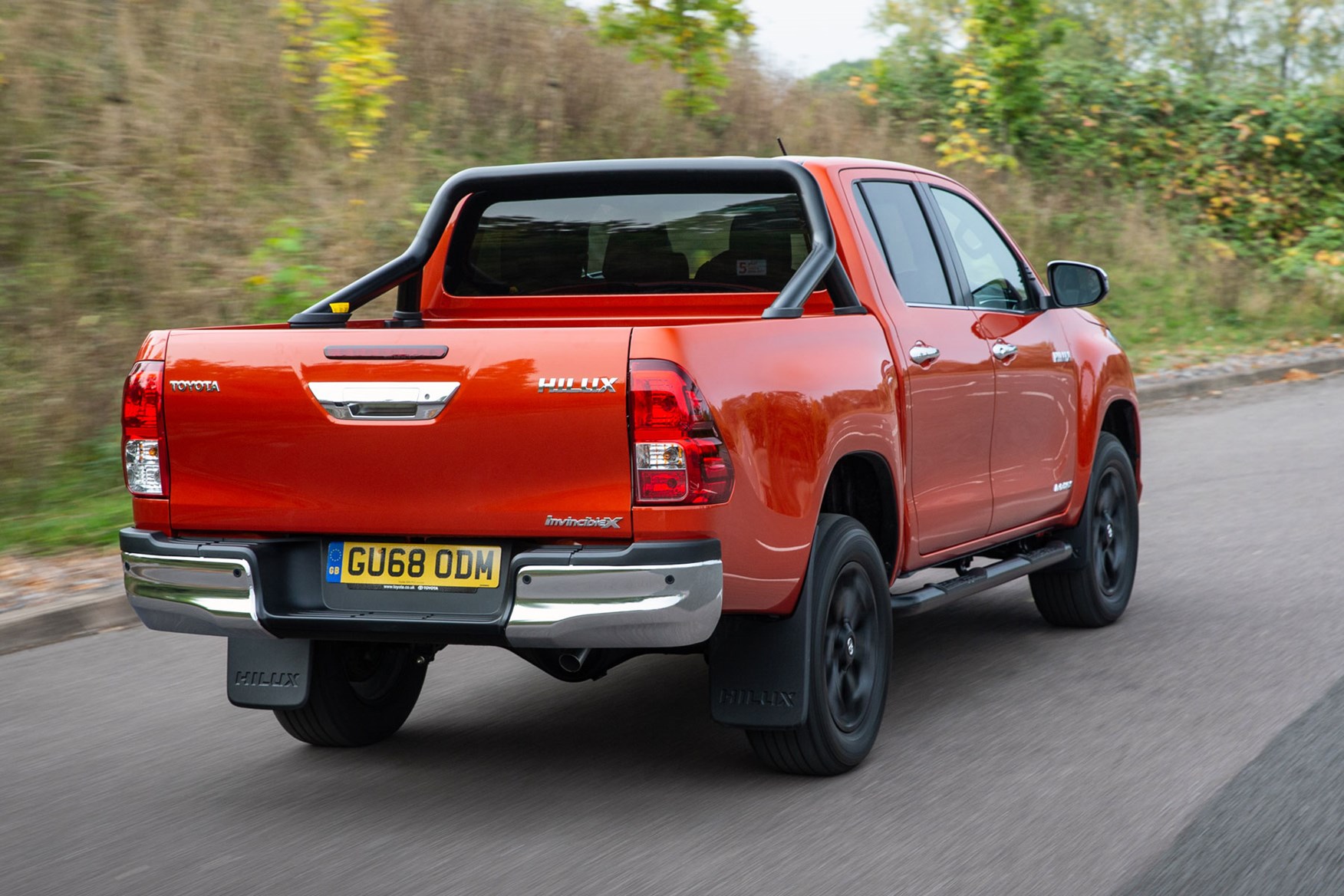 Toyota's engineers have worked to combat this in the Hilux by installing a so-called 'dash silencer', alongside additional sound-proofing in the engine bay to minimise noise and vibrations.
This largely seems to work very well.
While you'll certainly hear the Toyota's 2.4-litre diesel when starting from cold or under hard acceleration, you very rarely feel any tremors from it when you're inside the cabin – and engine noise at a constant cruise is limited to a quiet hush. It's pretty impressive.
Is the Toyota Hilux comfortable?
Comfort levels in the Hilux are also good enough to make regular pickup truck drivers and passengers sit up and take notice.
Despite sticking with leaf-spring rear suspension – which is typically more tough than it is tuneable and refined – Toyota has managed to deliver a vehicle that does a better than average job of cushioning the blows from bumpy terrain.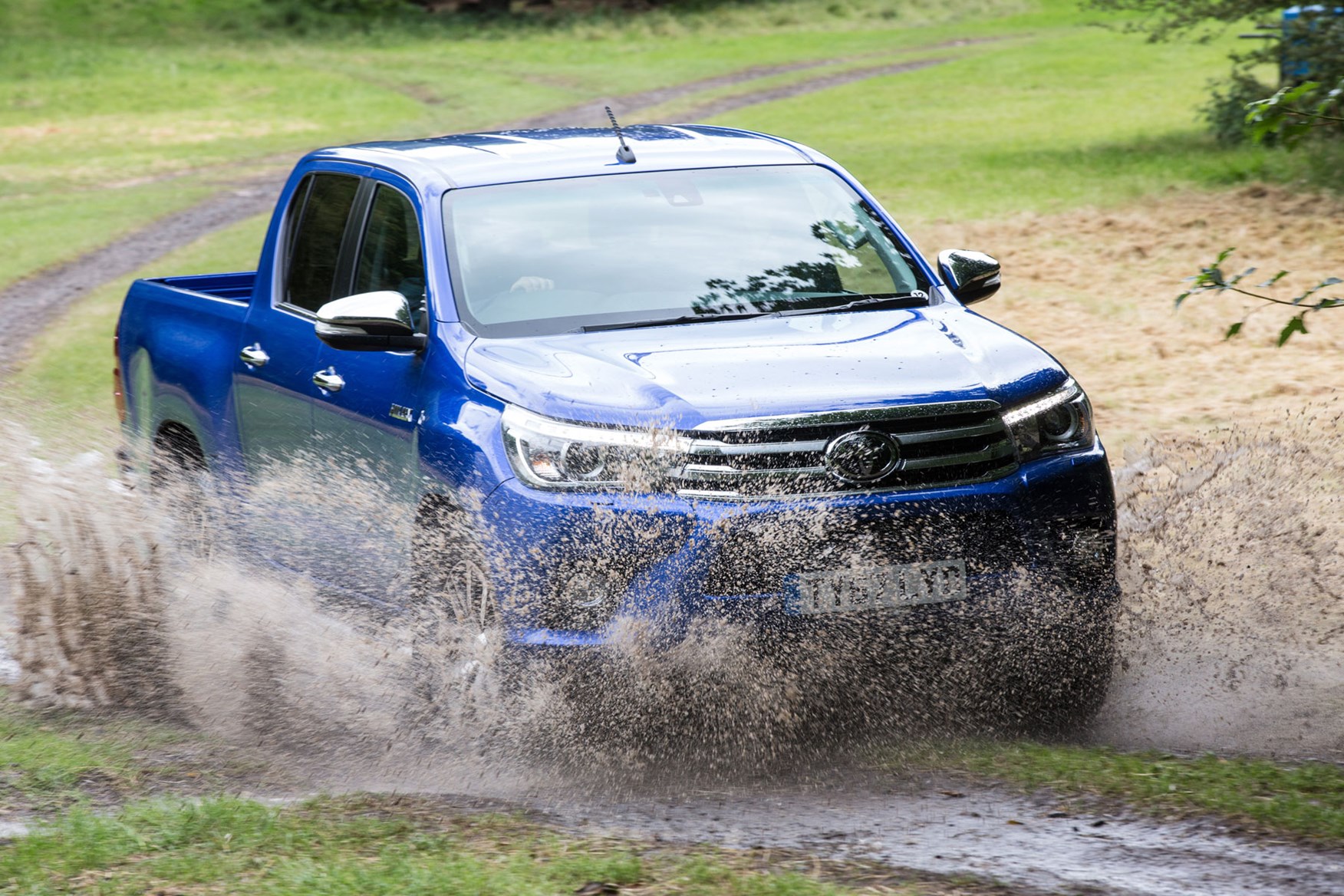 In regular road driving, it's now very nearly as smooth as a car, with only very sharp intrusion or sudden potholes sending shockwaves through the cabin. Extending the rear springs by 100mm over those used in the previous Hilux appears to have done wonders.
The only leaf-spring-equipped pickup that rides better is the Volkswagen Amarok, and arguably, both this and the Toyota surpass most coil-sprung pickups for comfort as well.
What's the Toyota Hilux like to drive?
Where the coil-sprung pickups do have an advantage is with agility – the Nissan Navara and the closely related Mercedes X-Class both handle corners in a more assured fashion than the Hilux.
The Toyota isn't terrible in the turns, but its steering feels decidedly slower. Plenty of power-assistance makes it more than light enough, but there's little in the way of feedback to help your confidence in the levels of grip.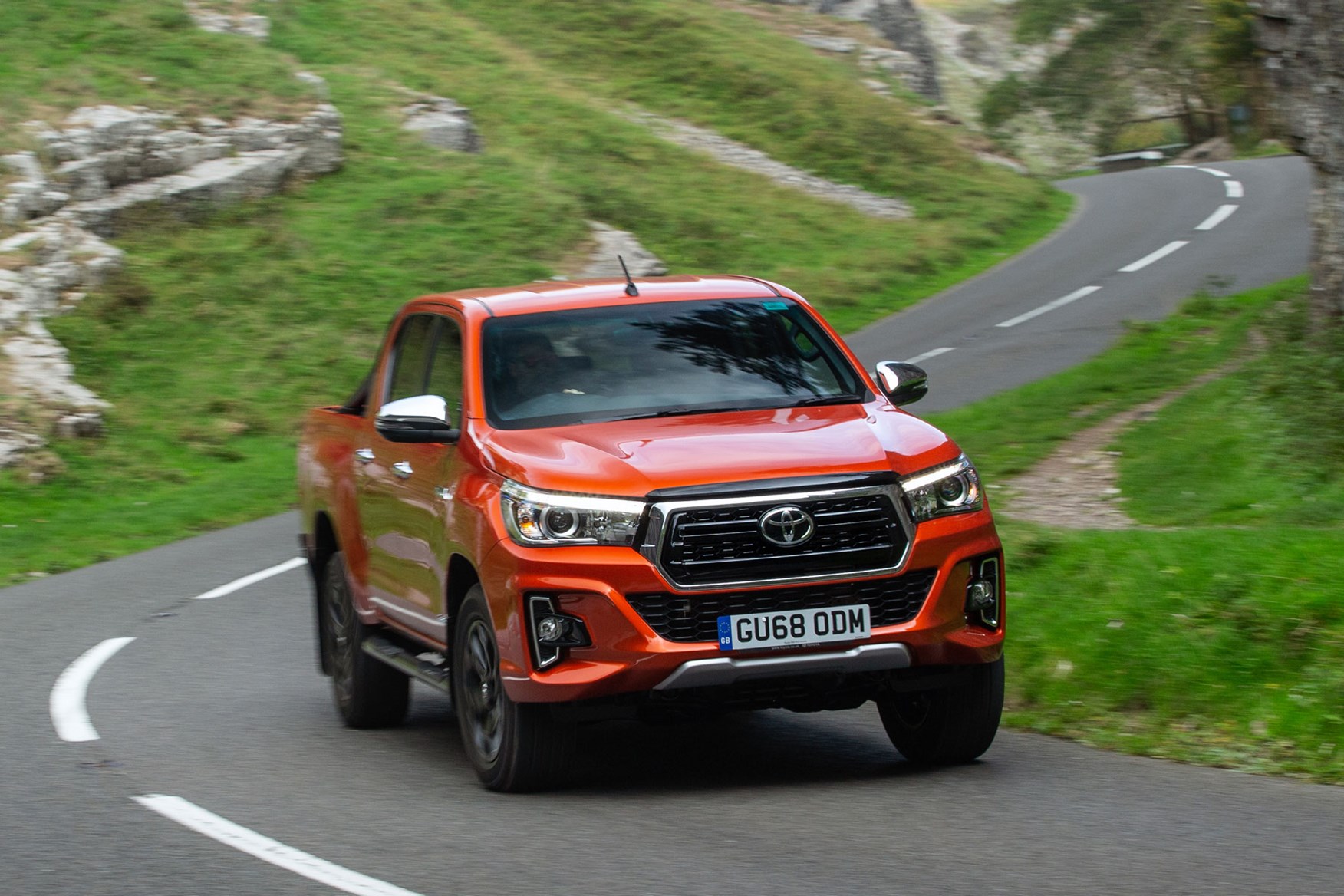 That said, there's also not much in the way of body roll – so you're never concerned the Hilux is about to tip you off the road.
But then, nor does it ever encourage you to drive particularly quickly, as if subconsciously training you to keep things well under control.
How slow is the Toyota Hilux?
While it's not unusual for a pickup manufacturer to offer just a single engine size, that the 2.4-litre turbodiesel in the Toyota Hilux is only available in a single power output gives potential buyers very little choice versus the majority of its rivals.
That this output is just 150hp means the Hilux is also one of the least powerful pickups on sale in the UK – and in acceleration terms this certainly shows. With the standard six-speed manual gearbox it takes the Toyota 12.8 seconds to go 0-62mph, even before you put any weight in the back; you might say 'so what?', but that's slow enough to make you nervous on shorter slip roads.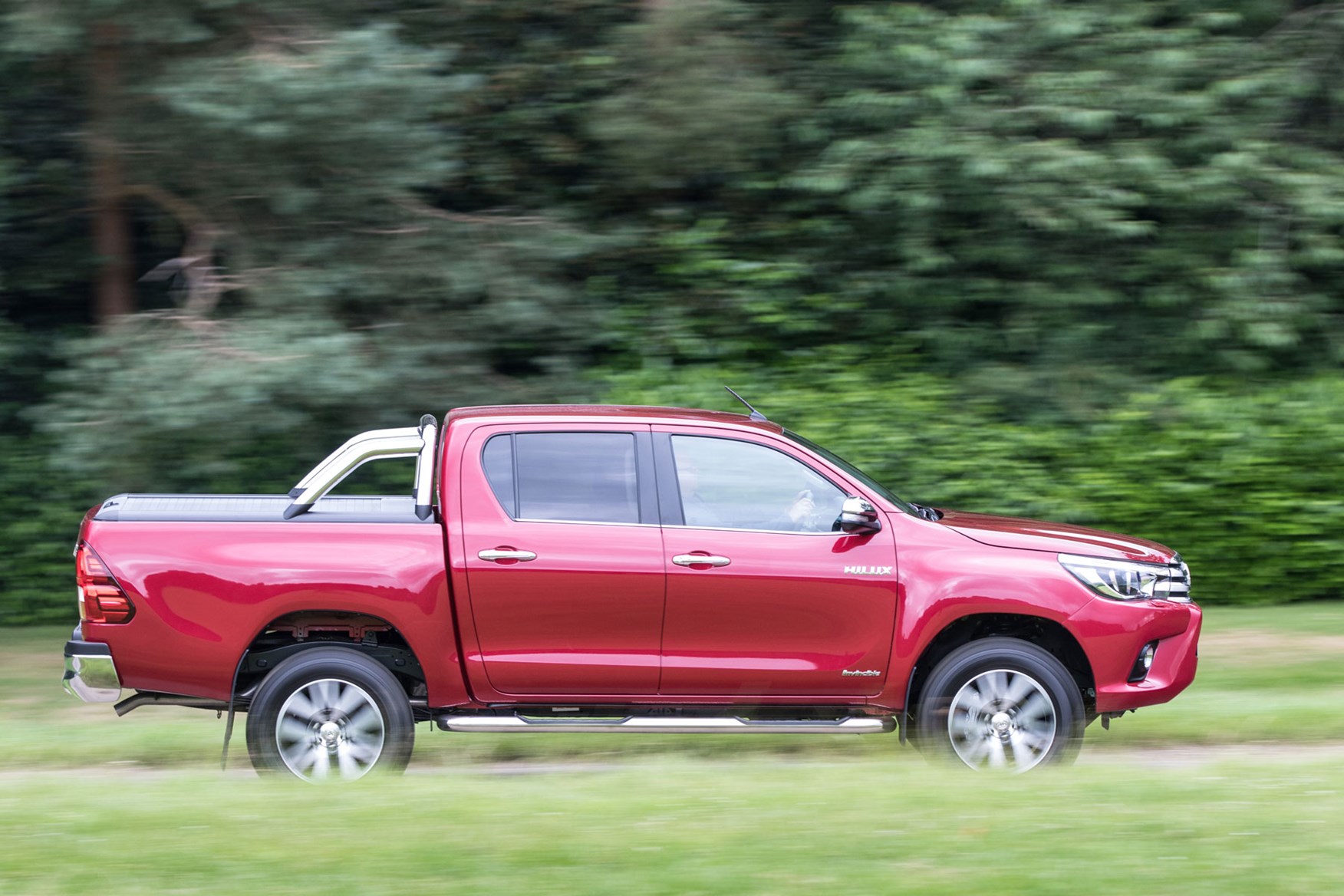 It does offer a choice of Eco and Power driving modes, though. And once up and running in the latter, the engine is at least smooth and responsive – while 400Nm of torque means it's still capable of towing 3.5 tonnes.
But sadly, with so many more powerful alternatives available, it's hard not to concede that the Hilux is substantially and noticeably outgunned.
Is the Toyota Hilux automatic any good?
The optional six-speed automatic transmission is a bit 'nearly but not quite' as well.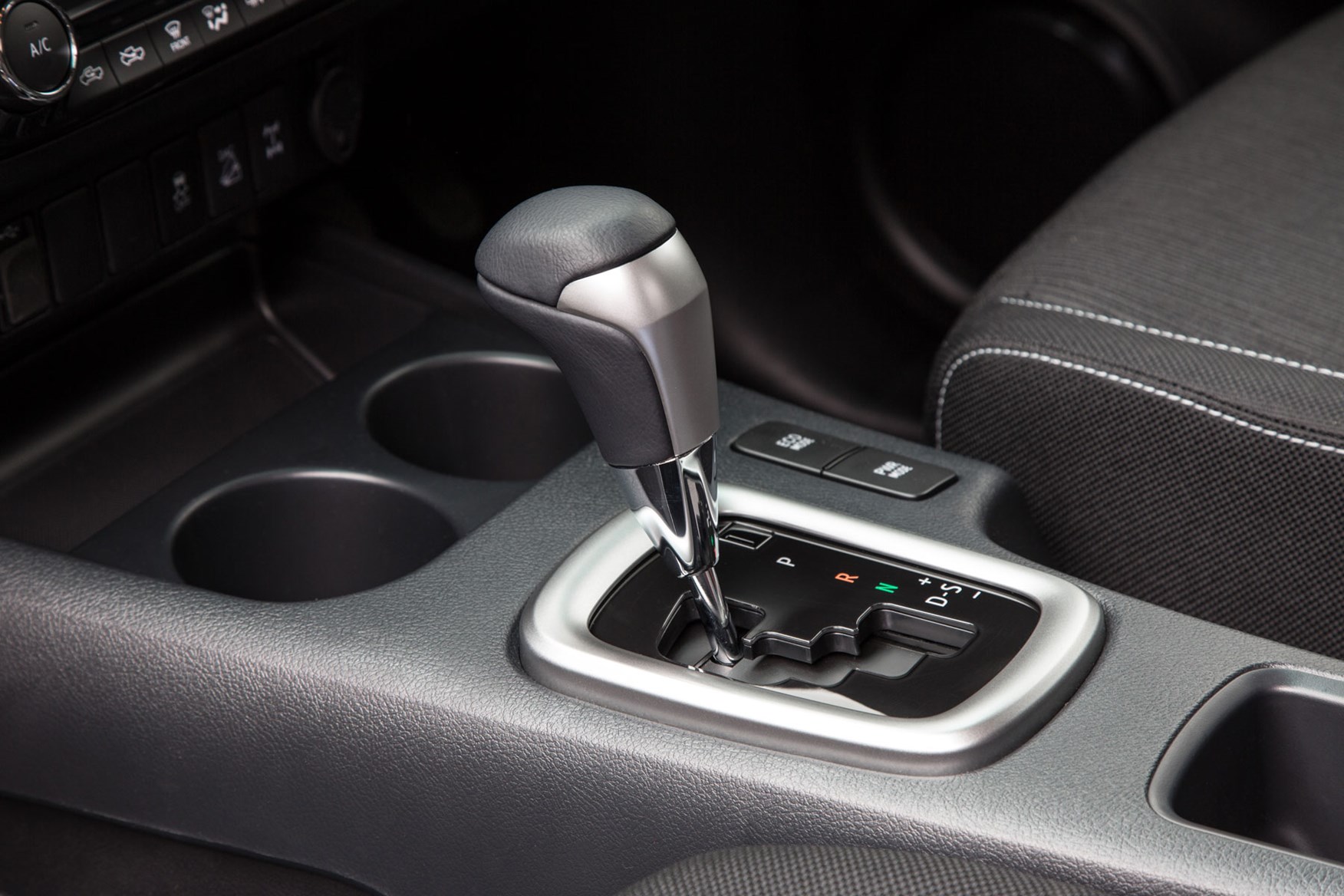 It does shave half a second from the 0-62mph time, but it isn't as quick-shifting or as decisive as the best rival autos (such as the eight-speed auto in the Amarok), and doesn't have the extra gears to help improve fuel economy, either.
Driving the Toyota Hilux off-road
Torsional rigidity has increased by 20% versus the previous one, which means the Hilux feels solid when taken off the road. The approach and departure angles have increased to 31 and 26 degrees respectively (Double Cab), and ground clearance ranges from 277mm on the Single Cab to 293mm on the Double Cab.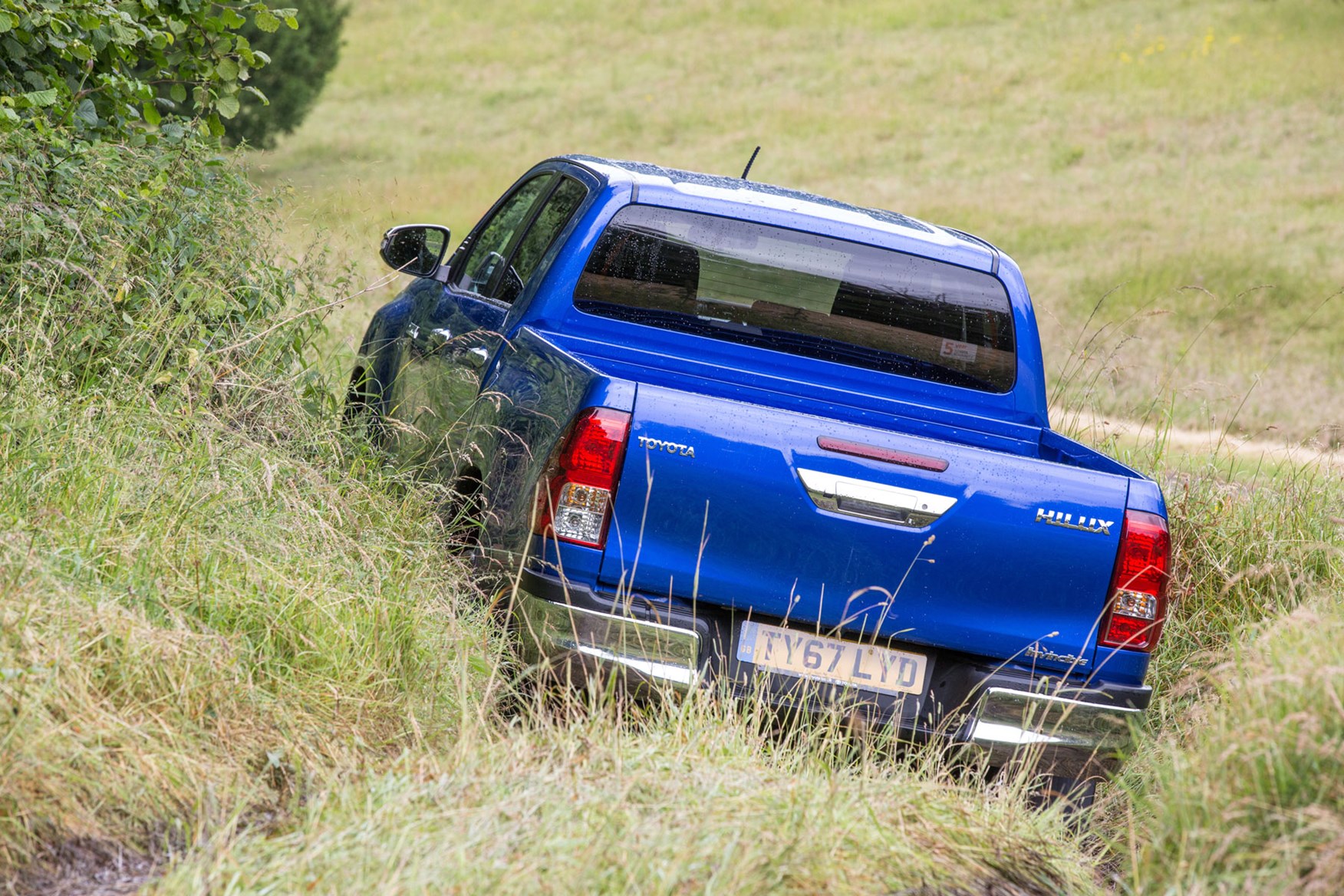 The electronically controlled centre differential has three settings that have to be selected when in neutral:
2WD High
4WD High
4WD Low.
For the most extreme off-road terrains, Toyota still offers front and rear locking differentials on the Hilux, and this is assisted by active traction control, hill descent control to keep the car stable when making steep descents, and hill-start assist to prevent rolling when starting off on an incline.
Modern, car-like cab interior that's well made
Sensible control layout, tablet-style touchscreen
Not a massive amount of in-cab storage
The Hilux has a strikingly modern interior, something you may not necessarily expect of pickup truck so traditionally associated with hard-working reliability and practicality.
For all its sharp design, however, the cabin still places ease of use front and centre. The instruments are clear, the buttons are large and the control layout is generally sensible.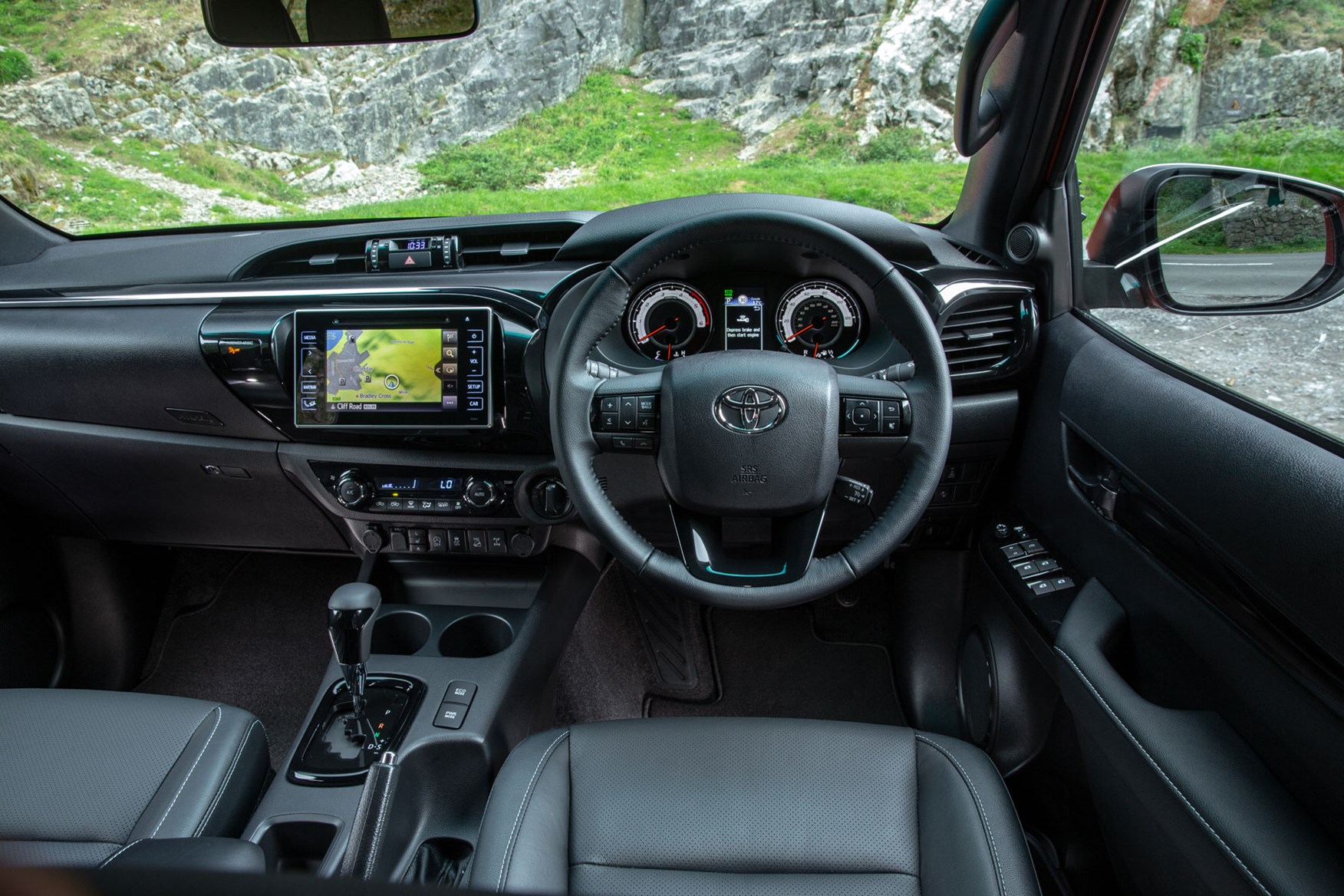 All models come with air-conditioning, and you certainly won't have any difficulty adjusting the temperature. Similarly, switching the four-wheel drive system between modes is easily done.
All versions bar the entry-level Active models get a central touchscreen, and even this is reasonably straightforward to operate. The optional sat-nav upgrade isn't the best on the market, but is still useable if you don't want to resort to data on your phone.
Toyota Hilux cab interior build quality and visibility
The Hilux feels well made, and if the materials aren't necessarily the most luxurious they do at least give the impression that they are built to last.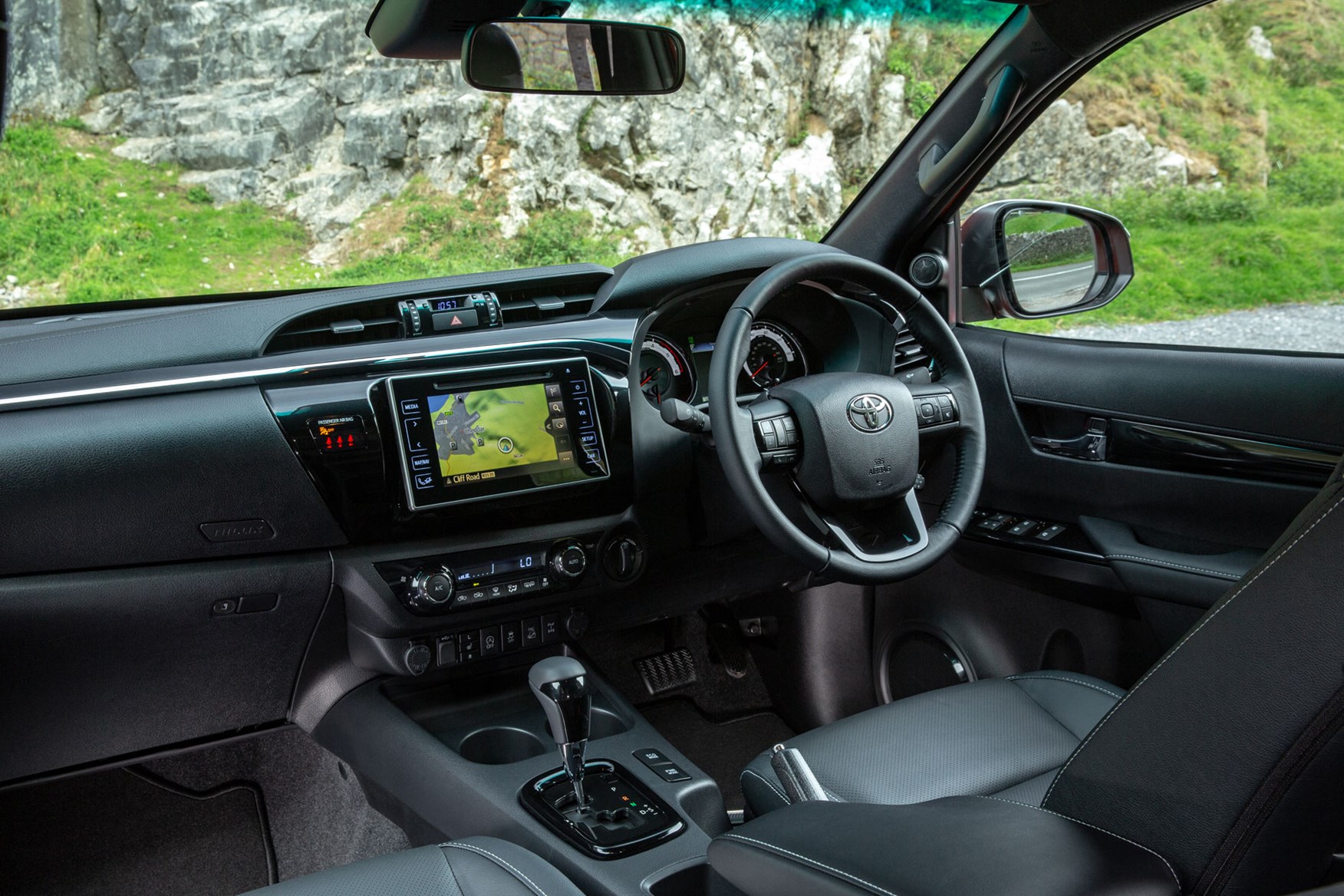 We're not quite sure what to make of the fake stitching on the top of the dashboard (it's moulded into the plastic for some reason), but good all-round visibility makes the Hilux easy to handle in most situations.
Toyota Hilux passenger space and in-cab storage
The front of the cab is spacious, and the seats are comfortable, with plenty of adjustment available to help you set a good driving position. The steering wheel tilts and telescopes for reach and rake adjustment, too.
Taller passengers won't be keen to get in the back of the even the Double Cab variants, sadly, as knee room is a touch limited.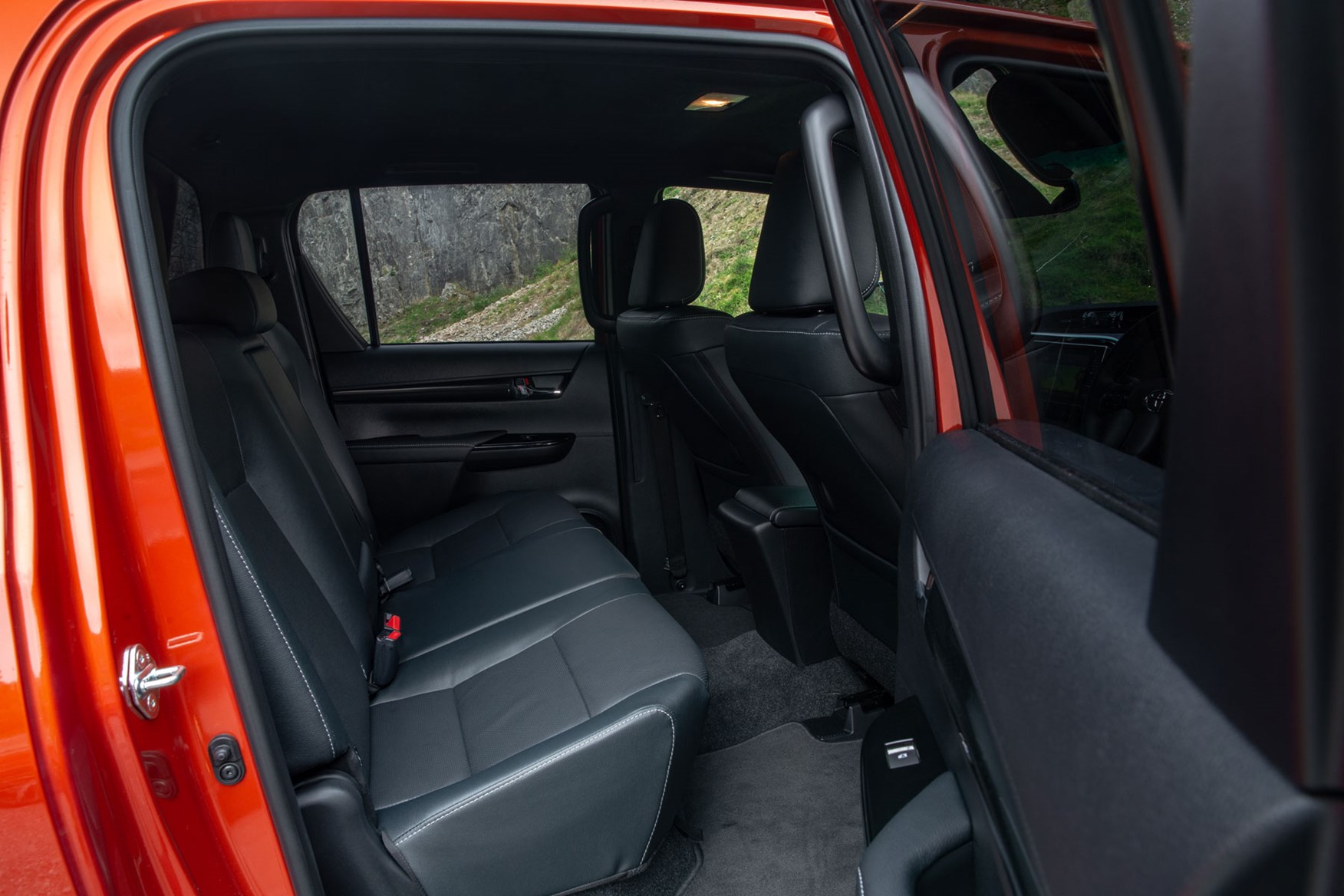 In-cab storage space is also slightly lacking, even if you do get two gloveboxes. Perhaps most buyers are happy to compromise in this area in exchange for the car-like dashboard design.
Expensive to buy but tough and long-lasting
Five-year warranty, extendable up to 12 years
Plenty of standard equipment on all versions
Answering the question 'Is the Toyota Hilux good value?' isn't as straightforward as you might imagine.
On the one hand, these are tough pickups that come complete with a five-year warranty, so should last and perform well for you over a decent period of time.
On the other hand, the Hilux is expensive to buy, has one of the least powerful engines in the sector, and is beaten by several rivals when it comes to fuel economy.
Toyota Hilux mpg
According to the official testing figures, the very best fuel economy you can hope for from the Hilux is 40.4mpg combined. That's on models with the six-speed manual gearbox and a stop-start system fitted.
With the automatic gearbox and no stop-start system this drops to 36.2mpg; autos with stop-start claim 39.2mpg.
In real life, anything over 30mpg will be a reasonable result in one of these, especially as the 150hp engine generally needs to be worked quite hard.
Toyota Hilux service intervals and warranty info
The Hilux comes with a five-year warranty that covers up to 100,000 miles of driving. Toyota also offers extended warranty coverage at extra cost for vehicles up to 12 years old.
Service intervals are every 10,000 miles or once a year, whichever comes sooner.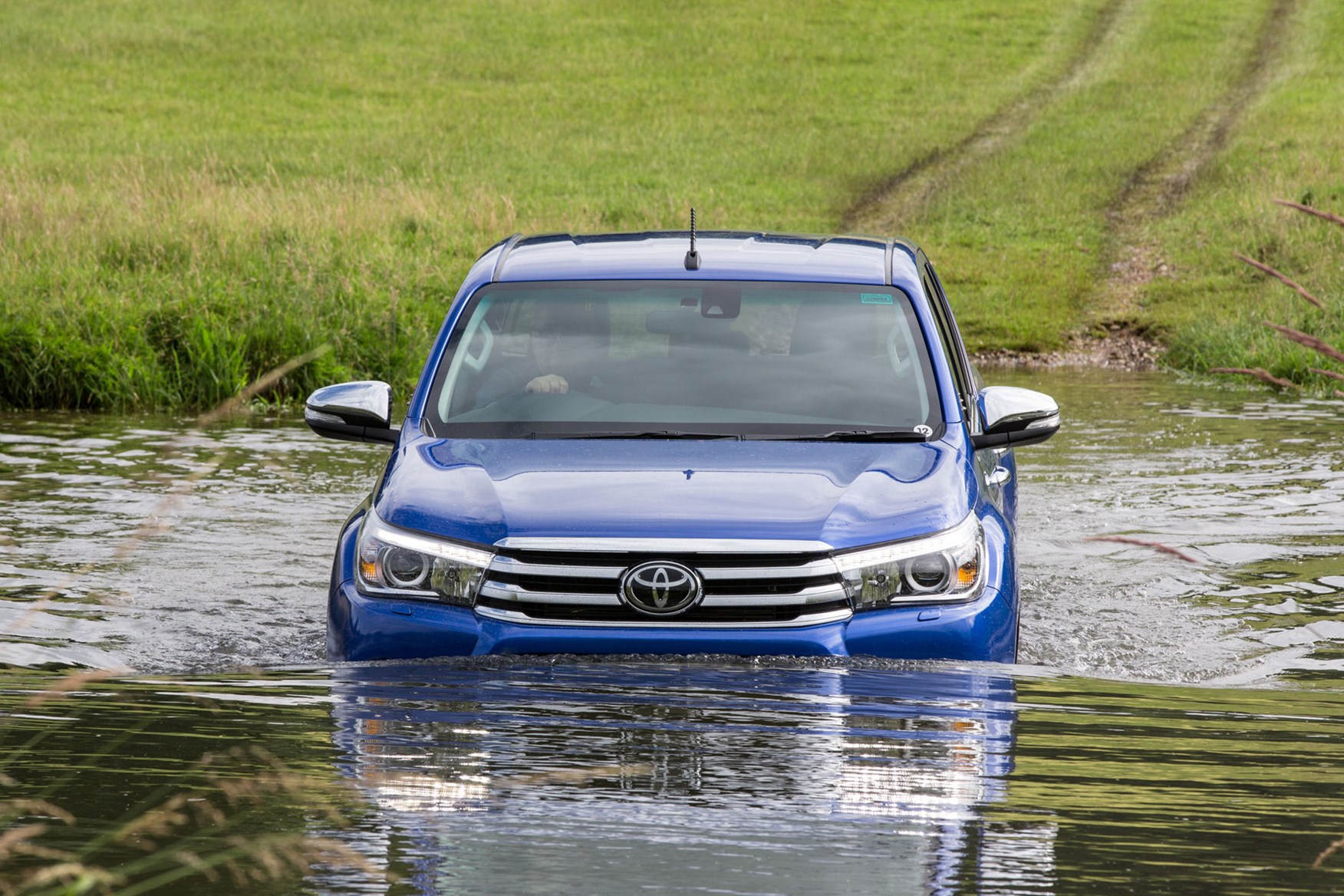 Toyota offers fixed-priced servicing - so you should know exactly what you'll have to pay ahead of time - as well as various servicing plans to help spread the cost, tailored for retail and business customers.
However, Toyota does not operate a dedicated commercial vehicle servicing network in the UK, so you will find servicing times are restricted to the same as those for regular car customers – so you may need to plan carefully to avoid unnecessary downtime.
Toyota Hilux standard equipment
These are the standard equipment highlights of each Hilux trim level (updated April 2019); for details of safety equipment see the Safety and Security section below.
Toyota Hilux Active standard equipment highlights:
17-inch steel wheels
Automatic headlights
Heated, power-adjustable door mirrors
Reach and rake steering wheel adjustment
Steering wheel with telephone and infotainment controls
Manual air-conditioning
Front cool box
Rear differential lock
Toyota Hilux Icon standard equipment highlights (in addition to Active):
17-inch alloy wheels
Chrome upper front grille
Power-folding door mirrors
Headlight cleaners
Front fog lights
Side steps
Silver interior trim highlights
Leather steering wheel, gear lever and handbrake trim
4.2-inch TFT information screen in instrument cluster
Toyota Touch 2 infotainment system with 7.0-inch display screen
Reversing camera
Toyota Hilux Invincible standard equipment highlights (in addition to Icon):
18-inch alloy wheels
Black side bars with integrated steps
Automatic air-conditioning
Stop-start system
Note that the Invincible is the first Hilux equipment grade to come with Toyota's Safety Sense package as standard (it's optional on the Active and Icon); see the Safety section below for more info.
Toyota Hilux Invincible X standard equipment highlights (in addition to Invincible):
Chrome side bars with integrated steps
Scuff plates (more style than substance)
Rear parking sensors
Black leather seats with power-adjustment for the driver
Heated front seats
Toyota Touch 2 with Go infotainment system including sat-nav and voice control capability
Note that the Invincible X received a mild spec change in August 2019.
Toyota Hilux special editions and optional extras
Like most pickup manufacturers, Toyota certainly isn't shy of a special edition, with the Invincible 50 being a particularly notable example for this generation as it celebrated the model's 50th anniversary of production in late 2018.
This included a full styling makeover and an Arctic Trucks AT32 conversion for greater off-road capability. You can read a review of it below.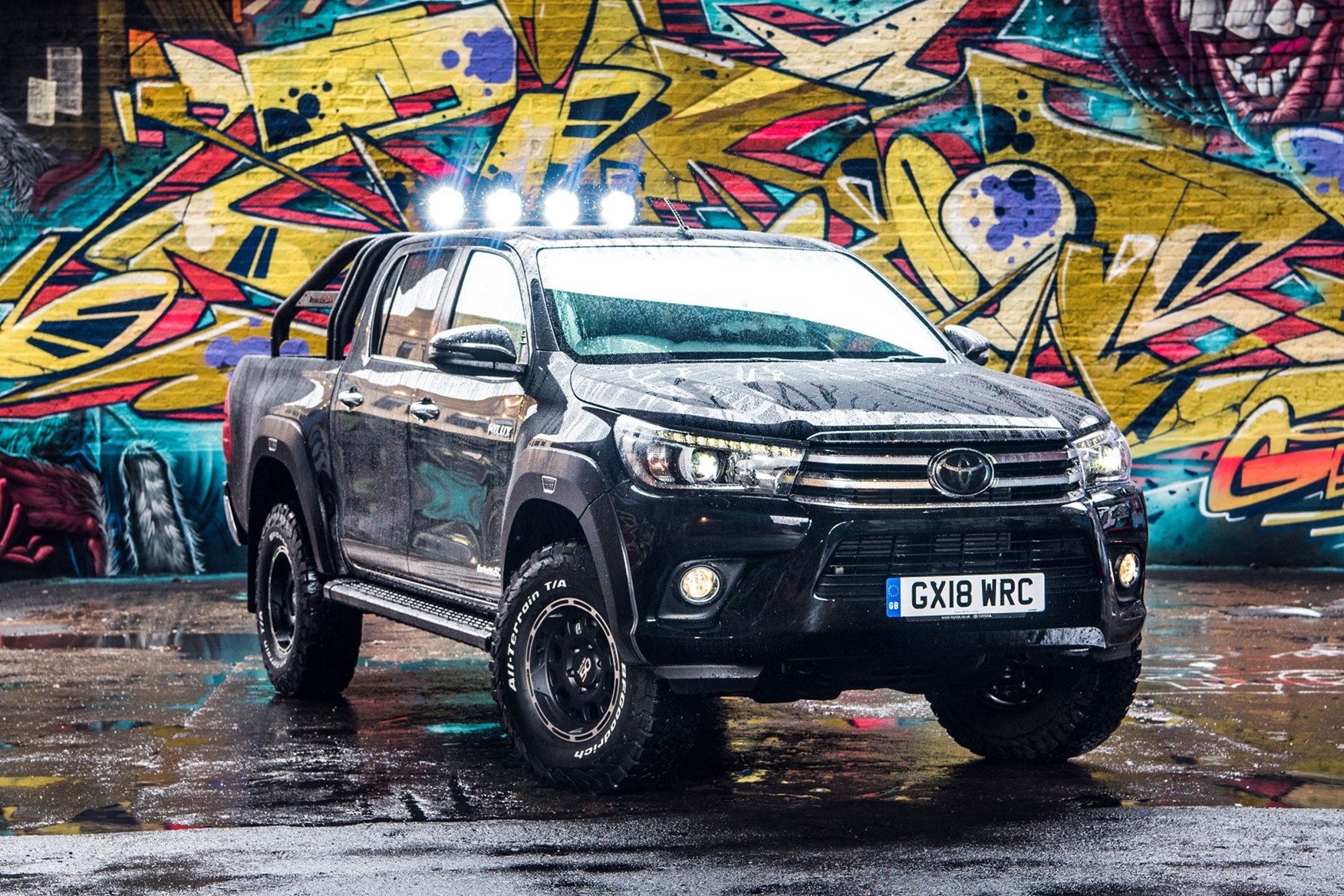 As of mid-2018, this generation of Hilux also became the first available to order from Toyota dealers with a more extreme Arctic Trucks AT35 conversion. See our review of the earlier one-off Hilux Bruiser concept for info on what this is like to drive.
As for optional extras, Toyota offers a large selection of useful enhancements for the Hilux. Depending on trim level this ranges from towing packs to bedliners on the practical side, and styling packs to sport decks in terms of visual fluffing.
The Toyota Hilux is famed for its reliability and regularly features in the FN50 reliability survey as one of the most reliable light commercials on the road. Operators recognise this, and it's why the Hilux has one of the highest residual values in its class.
It's also backed by a five-year, 100,000-mile warranty for added peace of mind.
Experienced problems with your Hilux? Drop us a line and let us help other readers avoid any pitfalls.
Seven airbags and ESC as standard on all models
Autonomous emergency braking standard on high-spec models
You have to pay extra for an alarm system
As with most modern pickups, the Hilux places an important emphasis on safety.
Not only do all models come with seven airbags and a comprehensive suite of electronic stability control systems as standard, the very structure of this version is said to 15% better at absorbing crash impact energy than the previous model.
Other standard safety features include seat-belt reminders for the front and rear seats, Isofix mounting points for child seats, and front seats with an anti-whiplash design.
Toyota Safety Sense for the Hilux
Go for a Hilux Invincible or Invincible X, and you also get Toyota Safety Sense as standard.
This is a package that includes autonomous emergency braking in the form of a Pre-Collision System with Pedestrian Detection plus Lane Departure Alert and Road Sign Assist.
All useful kit, though we would like to see it standard on more of the range (you can add it as an extra to the Active – where it also includes cruise control – and Icon models). Toyota has partially redressed this issue with a 2019 update (see below).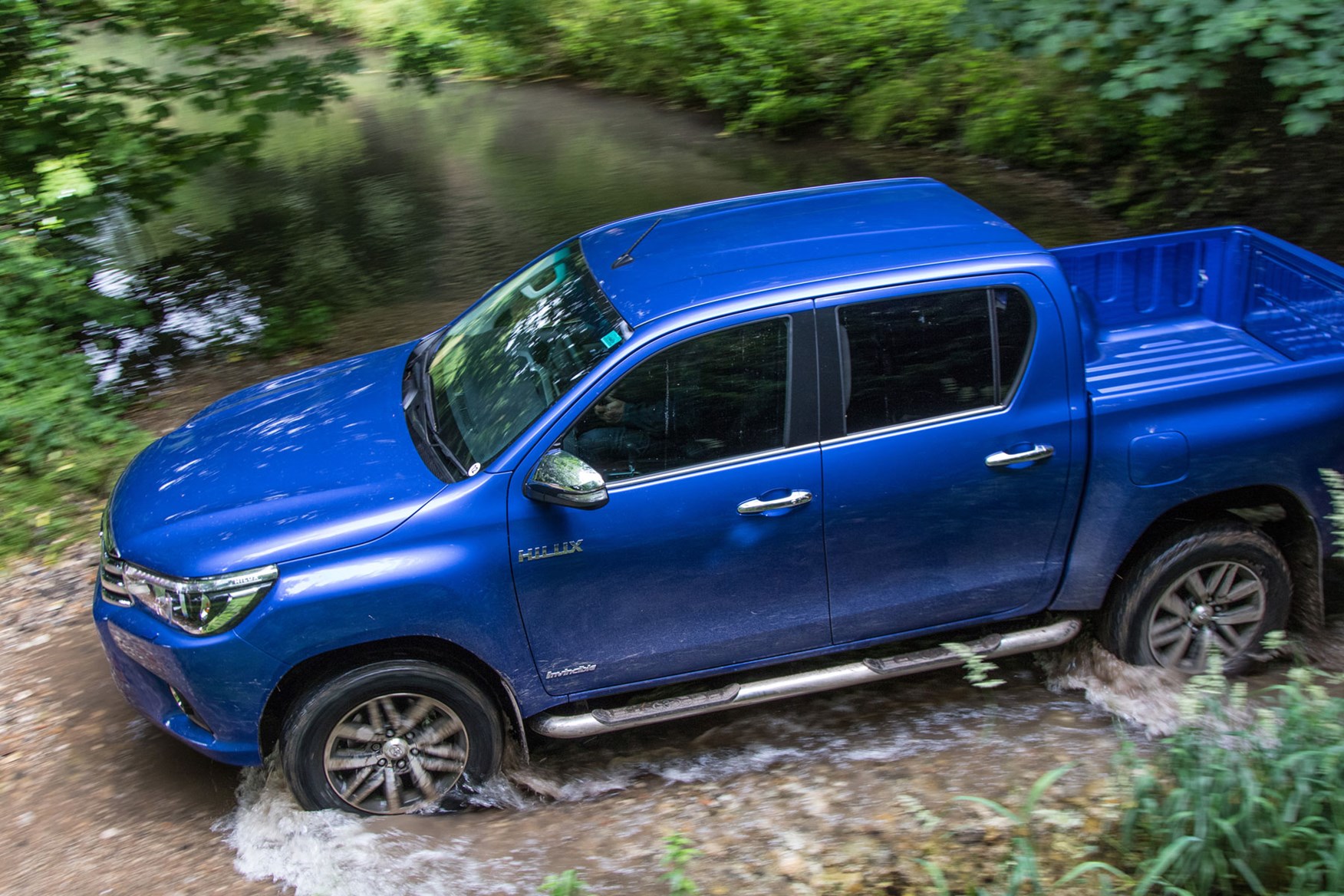 Hilux Icon and above come with Downhill Assist Control (DAC) as standard, too – Toyota's name for a hill descent control system.
Toyota Hilux 2019 Safety Sense upgrade
As part of what Toyota calls a 2019 update, on sale from August 2019, the Safety Sense package receives an upgrade.
The Pre-Collision System can now detect pedestrians at night as well as during the day; daytime detection of cyclists is now included, too. It also features high-speed Adaptive Cruise Control for the first time.
What's more, it's now fitted as standard on all Hilux models except the entry-level Active, where it remains an option.
Toyota Hilux security
All versions of the Hilux come with a standard-fit immobiliser, but not even the top of the range Invincible X comes with an alarm included in the price.
Which Toyota Hilux is best for me?
Still trying to decide which Toyota Hilux to buy? Then maybe the following individual model reviews will help you decide:
And if you're in the market for a new pickup truck make sure you read our comprehensive pickup group test as well, where every double cab model on the market is compared and rated.
>> The Parkers pickup group test - every double cab pickup compared
---

Toyota Hilux Invincible 50 review
Tested March 2019 by CJ Hubbard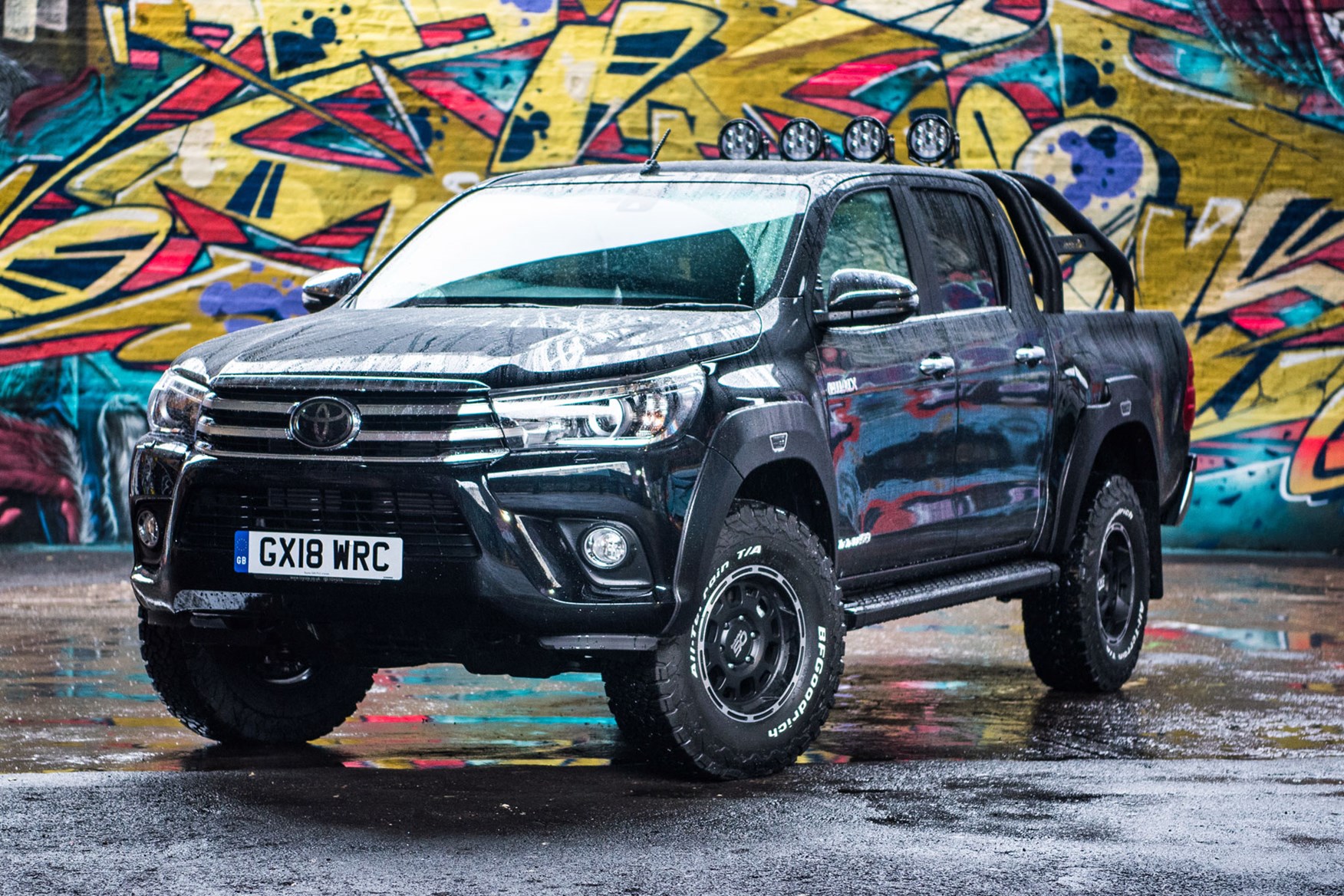 Limited edition celebrates 50 years of Hilux
Arctic Trucks suspension and bodywork mods
Great looks – but how's the performance?
Say whatever you like about the limited power output of the engine, Toyota can sure turn out a mean-looking version of the Hilux when it puts its mind to it.
The version we're driving here is pretty special, however – a limited edition called the Invincible 50, it celebrates 50 years since the Hilux first went on sale, and has been put together in partnership with Arctic Trucks.
What's special about the Hilux Invincible 50?
Just look at it. Finished exclusively in metallic black, the Invincible 50 is based on the regular Hilux Invincible double cab model, but festooned with unique additional detailing to make it stand out.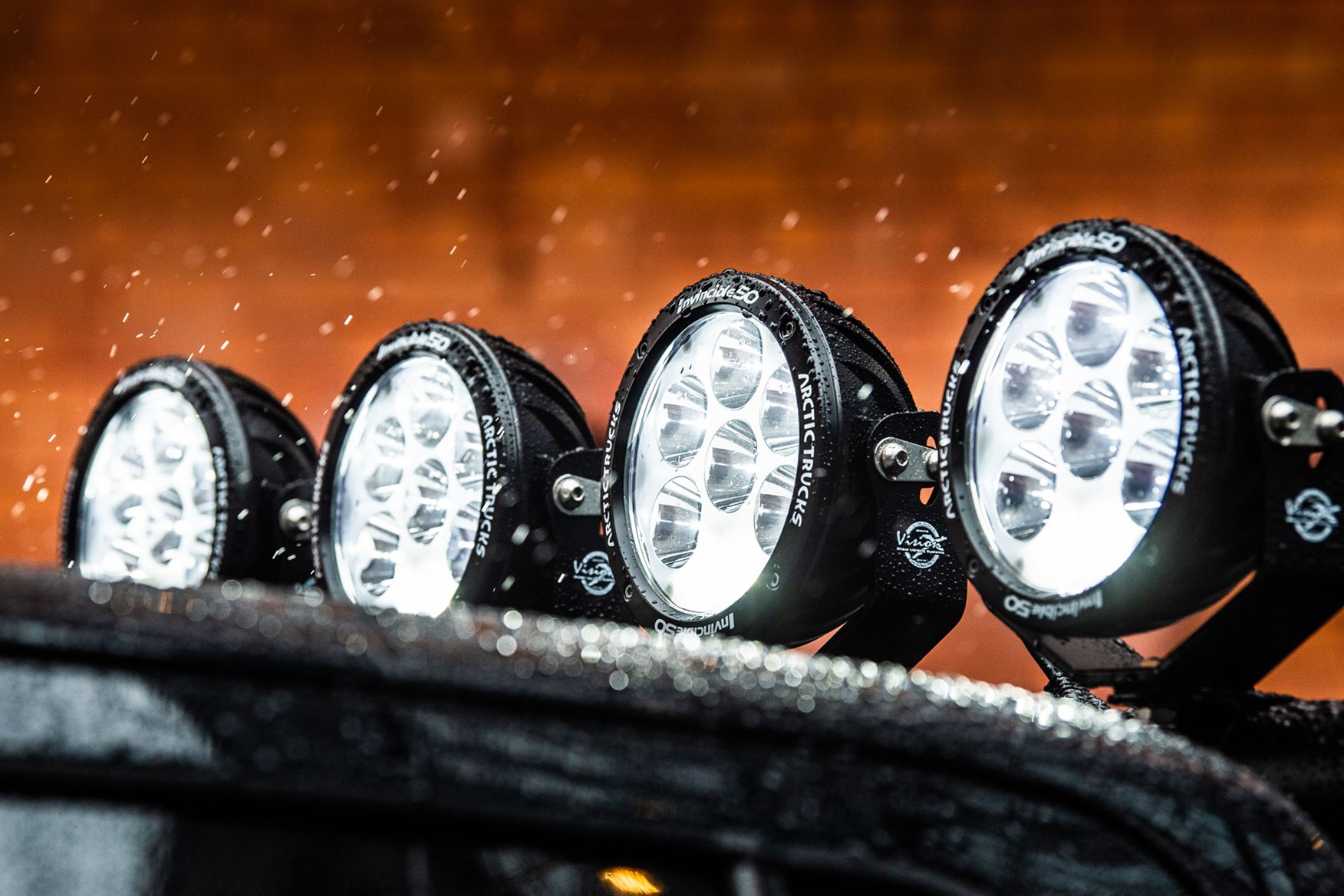 Most obvious are the four multi-LED spotlights mounted on the double-hoop sports bar behind the roof, but the 16-inch satin-black alloy wheels are bespoke to this model, too, as are the BF Goodrich all-terrain tyres.
Less immediately apparent from a distance are the enlarged wheel arches and raised suspension – both the work of Arctic Trucks, using Bilstein high-performance shock-absorbers – but once you get up close it's clear this Hilux stands taller than regular models in the range.
Either way, it's not hard to be certain it's an Invincible 50 you're looking at, as the thing is absolutely covered with Invincible 50 badging; from each of the spotlight surrounds to the alloy wheel centre caps to the numbered plaque on the centre console and the badges all over the exterior, the logo is everywhere.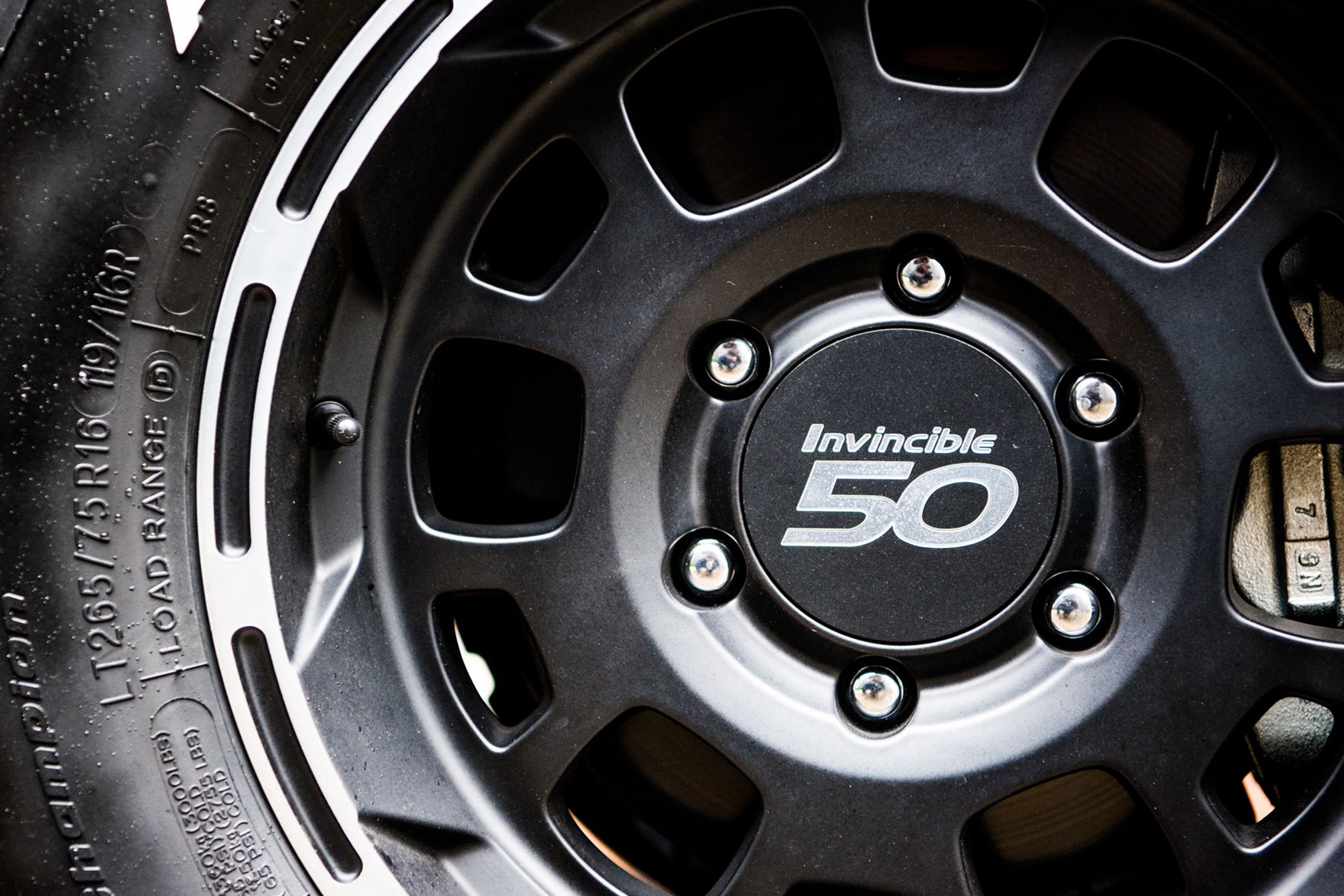 Buyers also get a bed liner, Arctic Trucks mud flaps, rear parking sensors and – perhaps most important of all – retro-style Toyota tailgate lettering.
What kind of Arctic Trucks conversion is fitted to the Invincible 50?
In 2018, Toyota began selling Hilux AT35 Arctic Trucks conversions direct from its dealership (see our drive of the Hilux Bruiser show car for an example of what this is like) – but it turns out the Invincible 50 isn't one of these.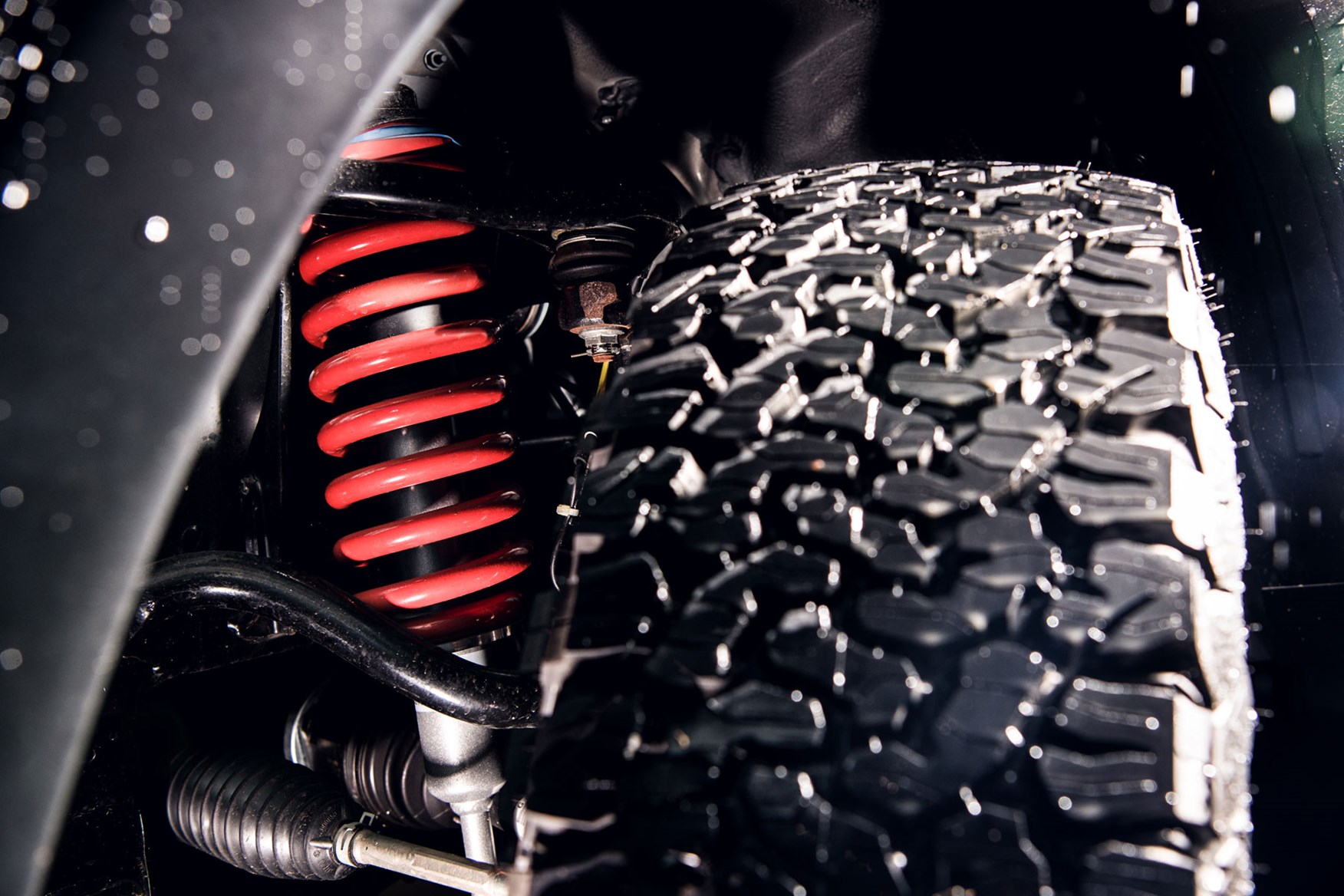 Instead, although Toyota doesn't say so explicitly, it is in fact a slightly more subtle AT32 conversion, similar to the one available on the Nissan Navara.
This means the Invincible 50 features smaller wheels and a less extreme suspension lift, and requires only modest wheel arch extensions – though these still look good, and neatly feature a badge telling you the tyre pressures, which looks suitably bad ass even when parked outside a supermarket.
And although it isn't as extreme as the AT35, the suspension is still raised 40mm at the front and 20mm at the rear, resulting in increased axle articulation and improved approach and departure angles.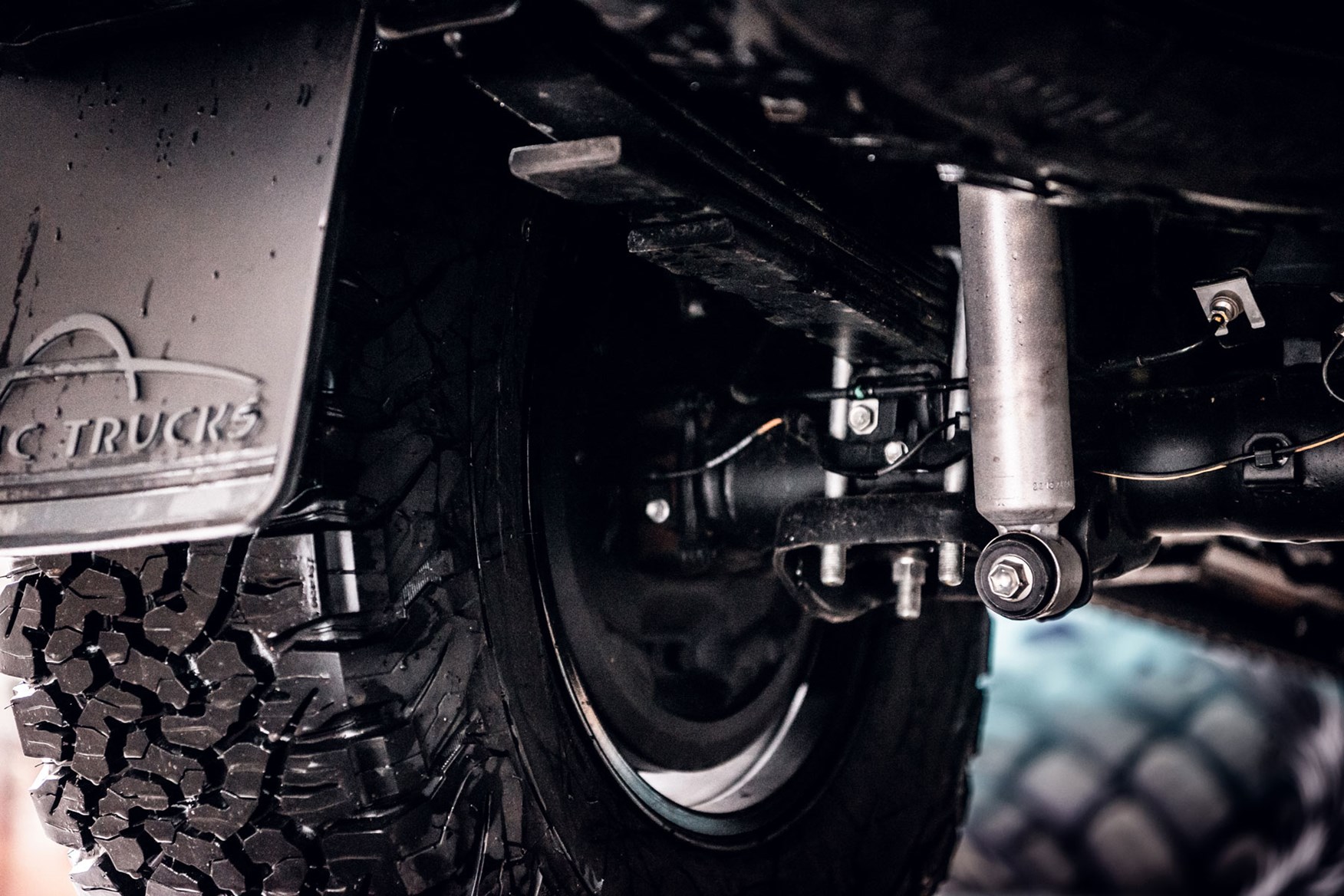 Put this together with the Hilux's standard-fit four-wheel drive system and you'll be able to tackle some pretty challenging off-road obstacles without too much difficulty.
What's the Invincible 50 like to drive?
As is often the case with pickups that have been given the Arctic Trucks treatment, it's an improvement over the standard product in some respects but doesn't help the Hilux's weakest area.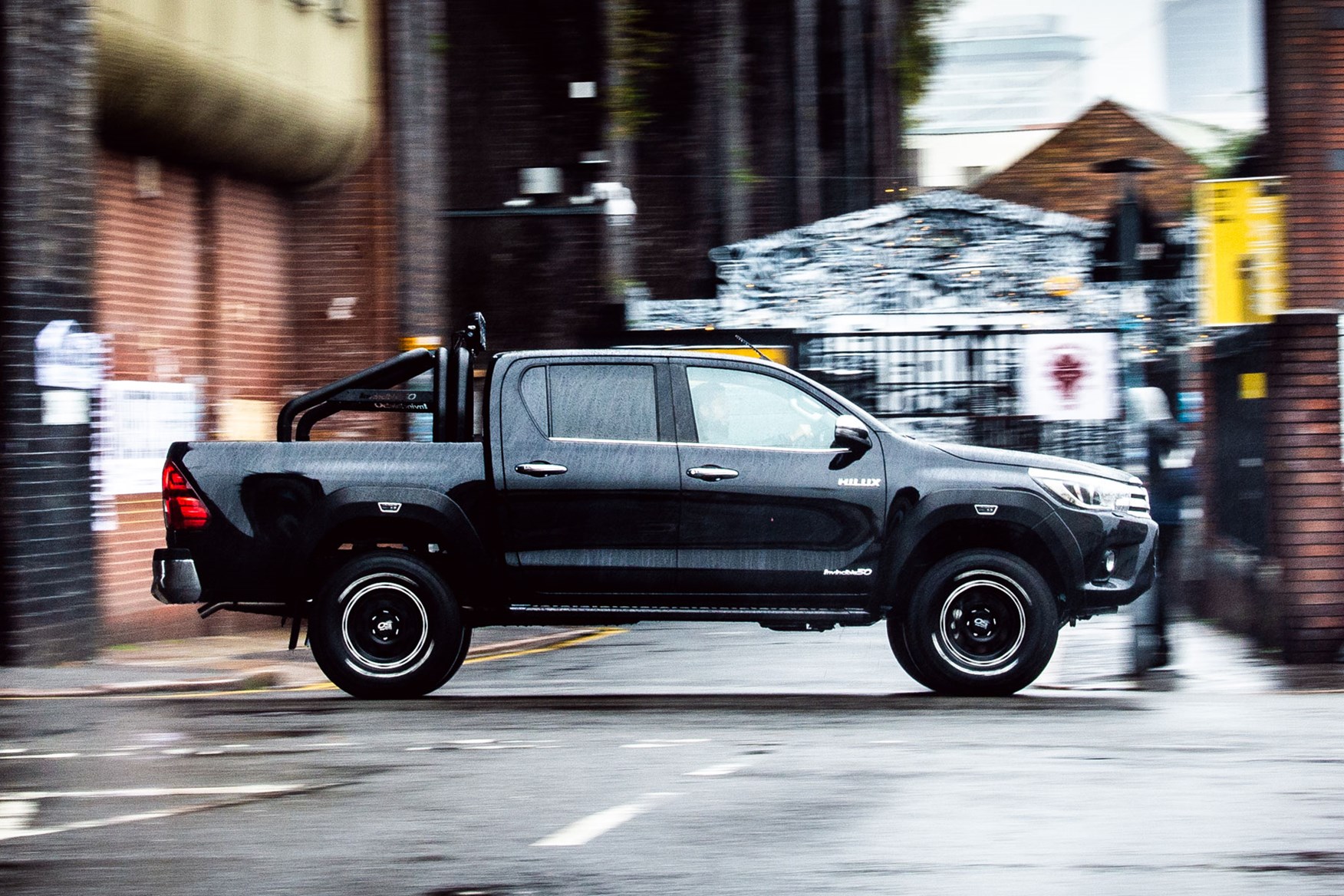 The Bilstein dampers aren't super squishy, so the 50 still feels a little firm – compared with a regular car – but does have less of the usual jittery you get from a pickup. It retains its composure in the corners and feels, well, invincible when faced with a bit of light green laning.
The increased ground clearance may be modest, but with all the other accessories it stands tall enough that other road users give you plenty of respect – if you're after a pickup with an imposing appearance, you could do a lot worse than this one.
The only real issue for us is the lack of outright power. There's enough torque – 400Nm 1,600-2,000rpm – to get the truck rolling, but acceleration is not impressive on the standard truck. The larger, heavier wheels of the Invincible 50 only make this worse.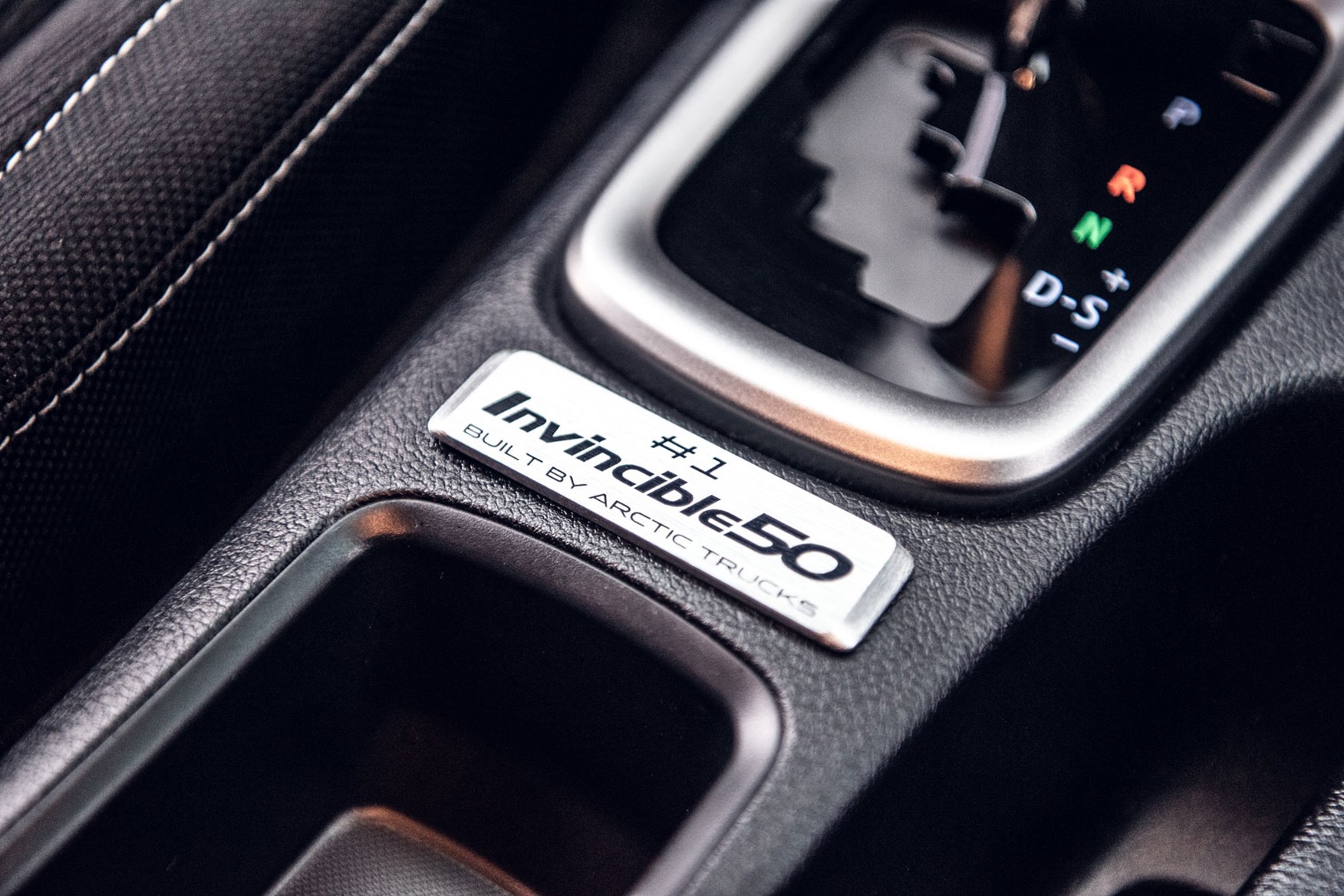 Still, you do get the six-speed automatic transmission as part of the package, so at least you don't have to stir the manual gearbox to encourage this Hilux to get up and go.
Any changes on the inside?
Aside from the numbered plaque it's standard Hilux Invincible inside. Full details of standard kit are listed in the main review above.
How much does the Toyota Hilux Invincible 50 cost and should I buy one?
Limited to just 50 examples, the on-the-road VAT inclusive price is £39,995 – around £2,700 more than the next most expensive Hilux. Not a bad deal for the exclusivity and the extra kit.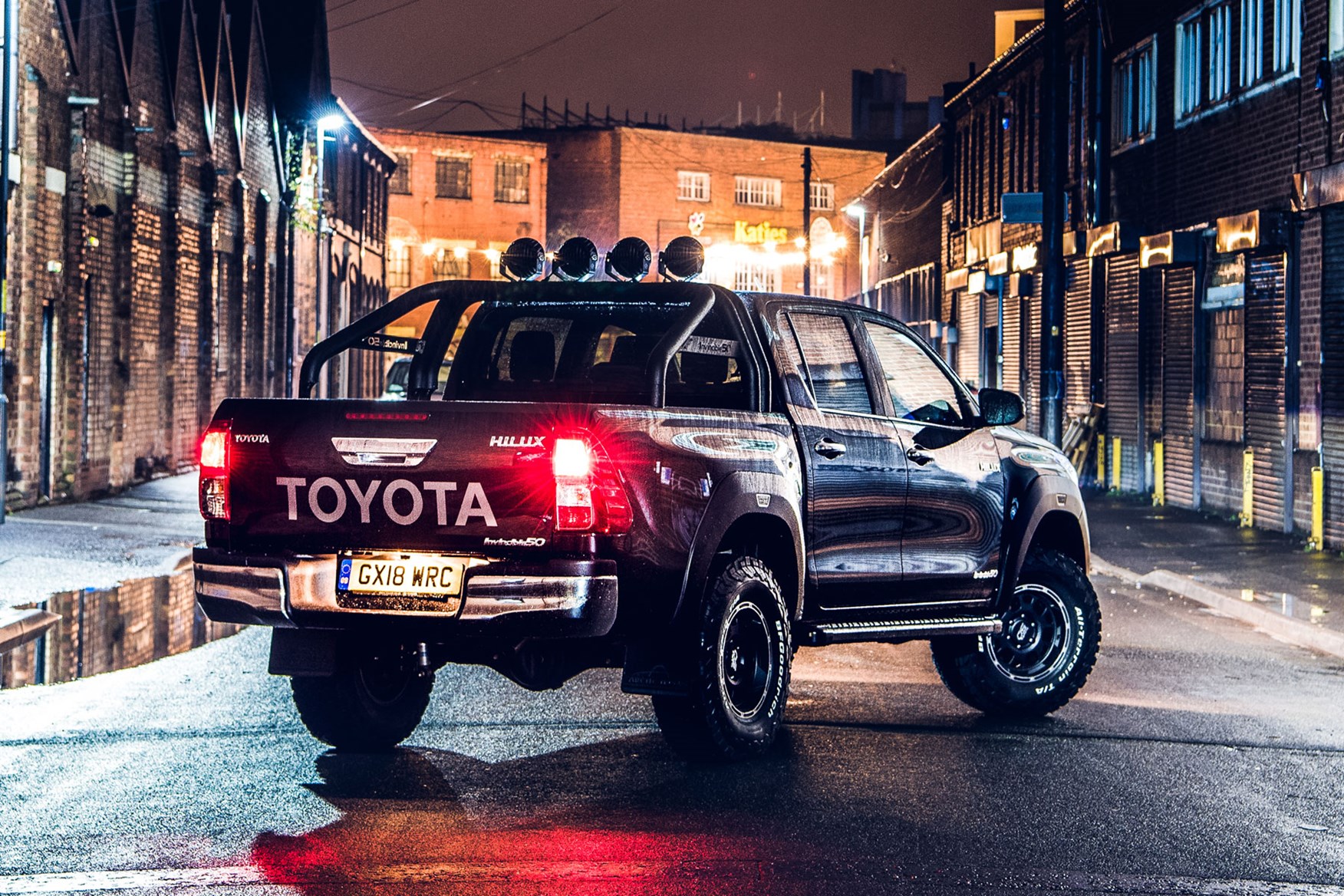 The price excluding VAT is £33,329.
You could buy a V6-powered VW Amarok for similar cash and get a lot more performance. But it wouldn't look this good…
---

Toyota Hilux Invincible X automatic review
Tested February 2019 by CJ Hubbard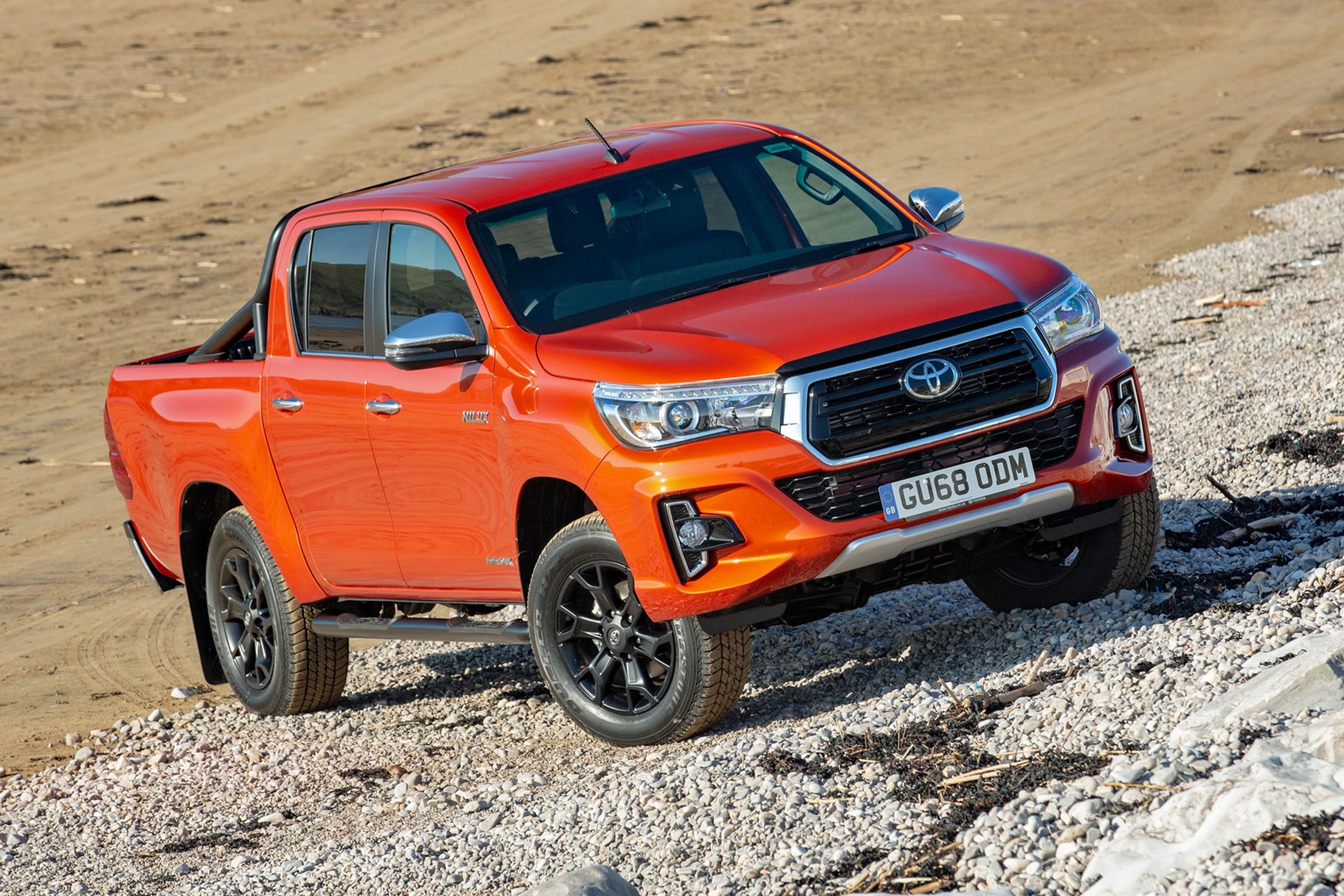 Range-topping Hilux with unique front bumper
Lots of standard kit including sat-nav and parking sensors
Same 150hp 2.4-litre diesel; automatic gearbox only
The Toyota Hilux Invincible X sits at the very top of the standard Hilux pickup range. We have to insert 'standard' as a qualifier, as you can buy an Arctic Trucks modified Hilux direct from a Toyota dealer these days as well; the Hilux AT35 is more expensive than the Invincible X, but also a much more specialised purchase, with full-on off-road tyres, suspension and bodywork modification.
Unless you need this stuff, the Invincible X is a better choice, with loads of standard kit and a less fretful driving experience – which is to say, it fits down most city centre streets without making you involuntarily breathe in...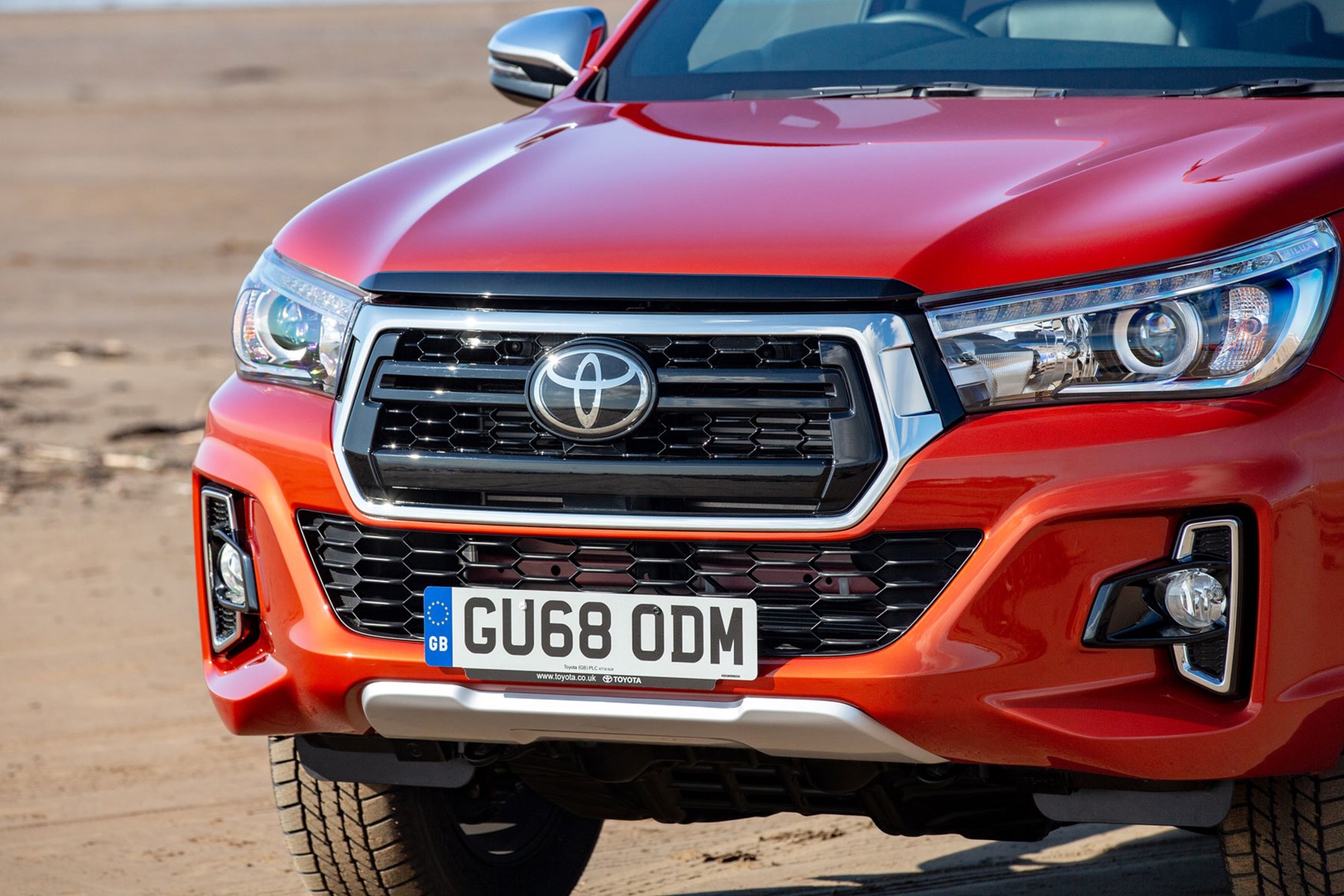 Besides, the Invincible X stands out in other ways. It's the only Hilux to get this bluffer front bumper treatment for starters, somehow making the pickup look significantly more premium and bringing it further into line with the design of Toyota's passenger cars.
Keeping this bumper just for the Invincible X, rather than facelifting the entire Hilux range, is a deliberate ploy to make the range-topper instantly identifiable. In other words: you've bought the best, and everyone will know it at a glance.
Aside from the bumper, what else is different about the Toyota Hilux Invincible X?
As the name suggests, the rest of the truck is largely based on the Hilux Invincible – but you do get a good amount of extra standard equipment.
For example, inside the cab – which is already among the most distinctive in the pickup sector, thanks to its tablet-style touchscreen – you get an all-singing, all-dancing sat-nav infotainment system, black leather upholstery and heated front seats complete with electric-adjustment on the driver's side.
On the outside there are new chrome sidebars with integrated steps for front and rear passengers, a silver-coloured scuff plate up front, and parking sensors at the rear.
The Invincible X is also only available with the automatic gearbox; the regular Invincible can be bought with a manual transmission as well.
What's the Hilux Invincible X like to drive?
There are no performance enhancements or suspension changes for the Invincible X, so this really is all about the looks.
As with every Hilux, the ride comfort is a pleasant surprise – like the VW Amarok, this is quietly remarkable given the use of leaf springs on the rear axle – and engine refinement is impressive. This is not a noisy truck.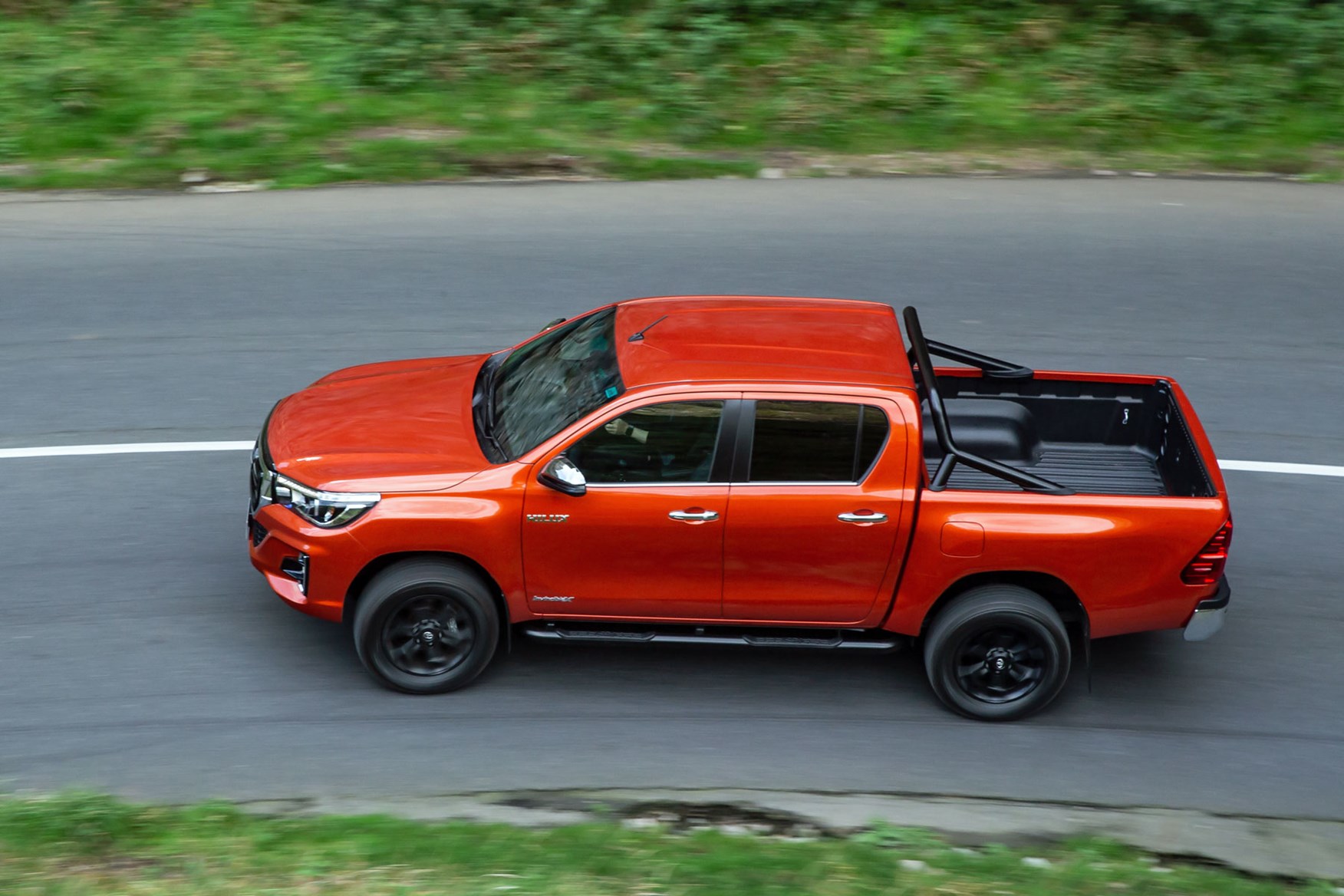 However, also as with every Hilux, this is not a fast vehicle. With just 150hp from its 2.4-litre turbodiesel, the Toyota is one of the least powerful pickups on sale now – and though it will still tow 3.5-tonnes, acceleration even unladen is decidedly leisurely.
And that's despite the X's standard-fit automatic gearbox shaving half a second off the official 0-62mph time; 12.3 seconds still isn't very fast in a pickup world where 258hp V6 versions of the Amarok and the Mercedes-Benz X-Class exist.
This probably won't be the best Hilux choice if you need to do off-roading, incidentally, as both the side steps and that new front bumper will reduce the pickup's ability to clear obstacles.
Is the Toyota Hilux Invincible X good value?
At the time of writing, the difference between the X and the regular Invincible automatic is over £3,200 (excluding VAT). You're really going to have to want that front bumper for it to be worth it, we feel, as that's the only element that can't be added to the standard Invincible via the options list.
And no shame if you do. The Invincible X certainly looks a more premium machine precisely because of that front end change.
Should I buy a Toyota Hilux Invincible X?
Want the best Hilux available for mostly on-road driving? Then the Invincible X is certainly it. We like the way it looks on the outside and in the cab, and certainly appreciate the quiet and comfortable way it drives.
As ever, the engine's actual performance is a disappointment, however. Especially when you could get a 204hp Amarok V6 automatic (admittedly in a lower specification) and still have change from this Hilux's £31,046 ex. VAT asking price.
All prices correct at time of writing.