Renault Kangoo ZE electric van review (2021)
The first proper electric van – and still one of the best
PROS
Best version of the Kangoo
Realistic driving range of over 100 miles per charge
Refined and quiet
Same load volume as the standard van
Very cheap to run
CONS
Takes at least six hours to fully charge
Not the greatest performance
Occasionally harsh ride
Early models require monthly battery lease
Limited payload
Summary
The Renault Kangoo ZE was the first full-production electric van, originally going on sale back in 2011. A major update in 2017 saw a big increase in the driving range, and it remains one of the most practical choices of plug-in van even now. It's still so popular, in fact, that for 2020 Renault is adding a new, higher-specification Kangoo ZE Business+ trim level - despite also having plans to start selling a new version in 2021.
A variant of the regular petrol and diesel-powered Kangoo van that dates back to 2008, the Kangoo ZE is also one of the bestselling, most popular electric vans available – although this is perhaps unsurprising given how few rivals there are at present.
This review covers the current model - for info about the 2021 Renault Kangoo ZE see below.
What's the driving range of the Renault Kangoo ZE?
This is always the big question about electric vans – how far can you go between charges? In the Kangoo ZE's case, this varies with model year. The original version was claimed to go 106 miles per charge, while those built after the 2017 update get a bigger battery pack and new R60 electric motor, giving them a claimed range of up to 170 miles per charge.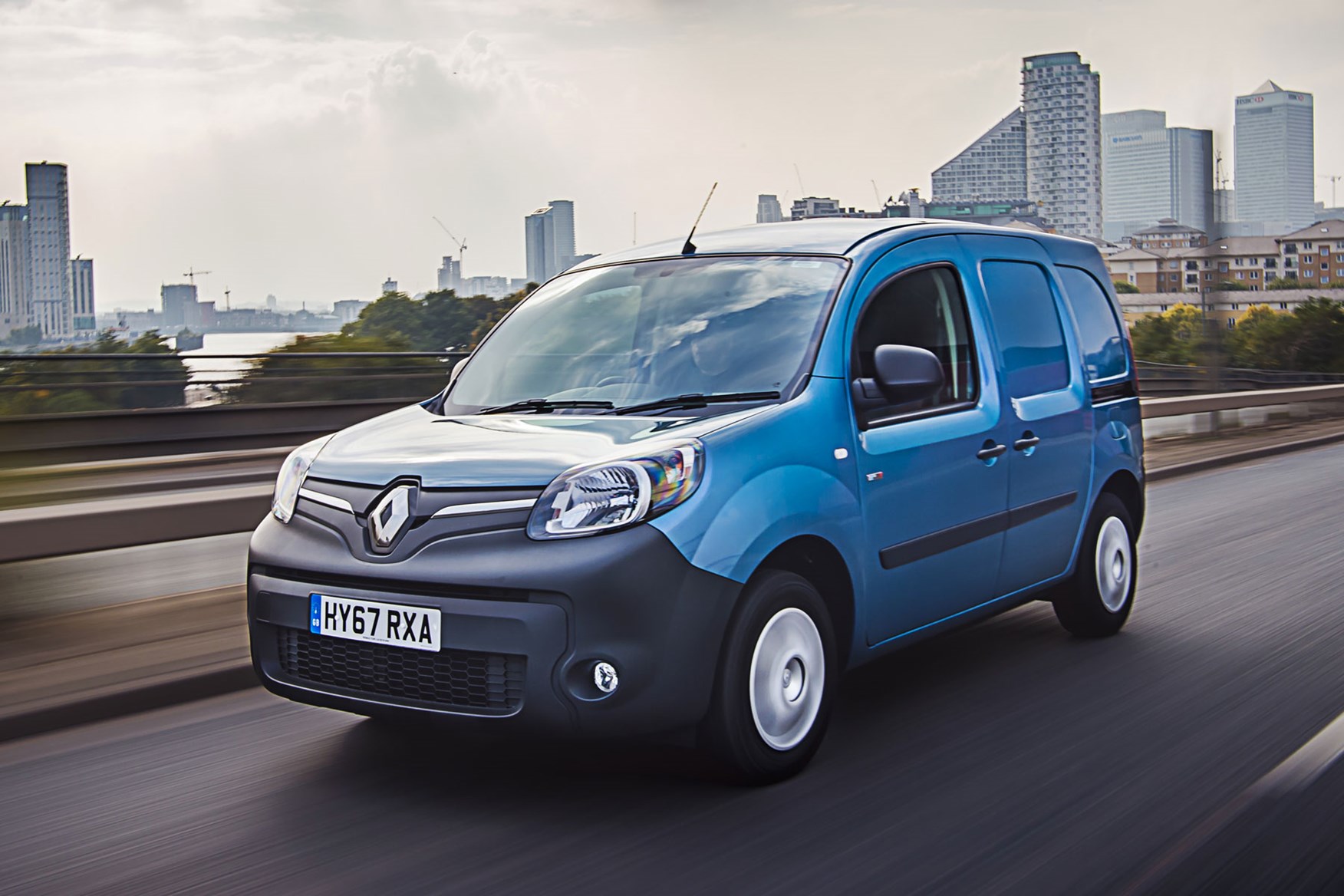 These newer models are known as the Kangoo ZE 33 – with the 33 referring to the bigger size of the 33kWh battery pack. The 60hp motor is no more powerful in these than the previous versions, but it is more efficient, helped by other tech advances including a 'heat pump' heating system.
Those driving range figures are both according to the older NEDC testing format, which isn't as realistic as the newer WLTP standard – further details about this can be found in the Driving Experience section of this Renault Kangoo ZE review.
Does it carry less than a diesel or petrol model?
The cargo space is the same size on the Kangoo electric van as it is on the diesel or petrol version, as the batteries are fitted below the load floor. The ZE also comes in a choice of two body lengths – standard (labelled MWB or L2H1) and Maxi (labelled LWB or L3H1) – and as a Crew van as well as a panel van, just like the regular models. The Kangoo is only a small van, though, so load volume ranges from 3.0 to 4.6 cubic metres only.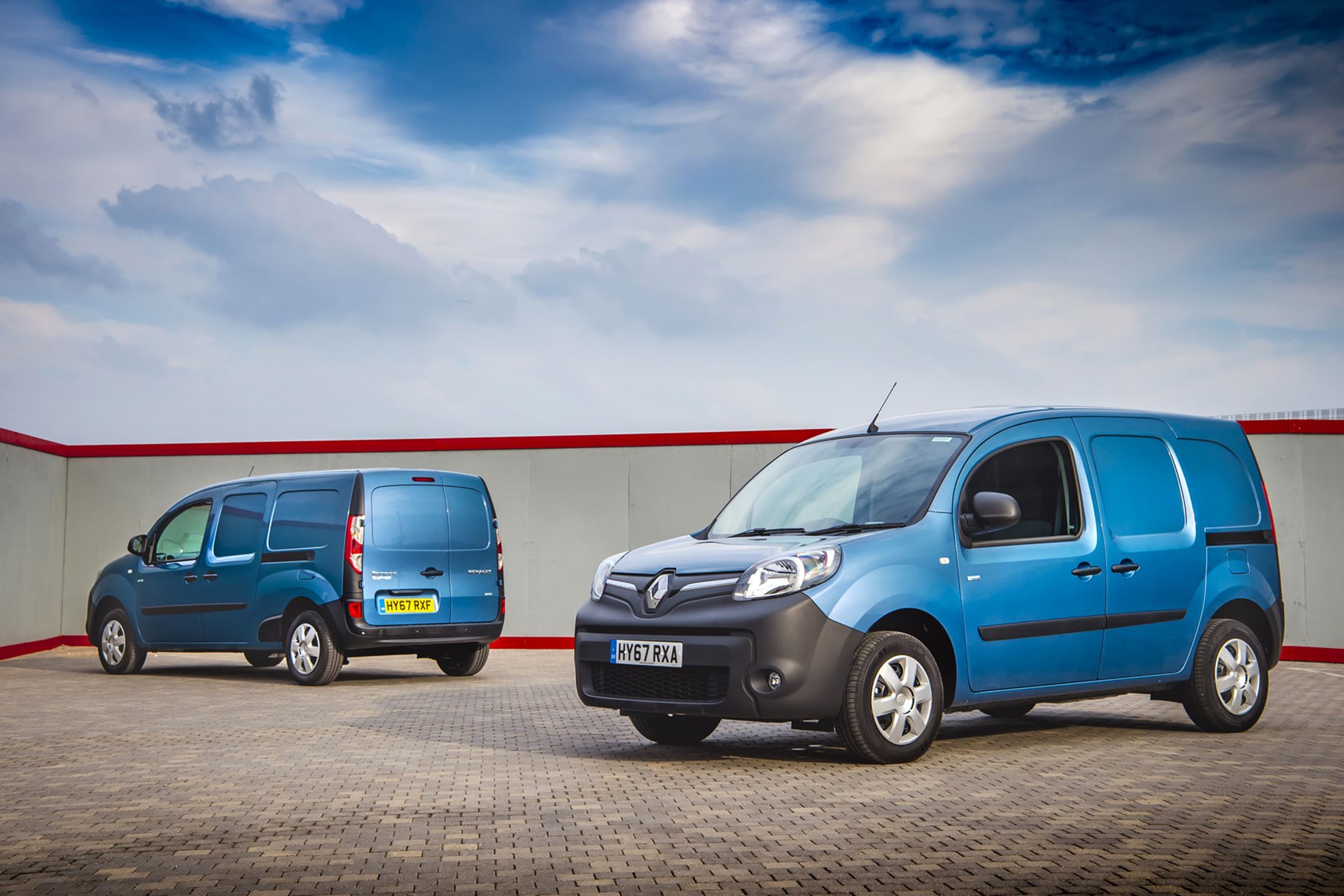 The ZE's 640kg maximum payload rating is lower than other Kangoo models because the batteries add a lot of weight to the basic van. This is the same for other electric vans, though rivals such as the Maxus eDeliver 3 and forthcoming Stellantis trio of Vauxhall Combo-e, Peugeot e-Partner and Citroen e-Berlingo certainly promise to carry higher payloads than the Renault can manage.
Check out our Renault Kangoo dimensions page for more details.
Why would anyone buy an electric van?
The ZE model currently accounts for over 60% of all Kangoos sold, so this is no longer a small niche in the Renault Pro+ line-up. The real-world driving range is now enough to cover daily mileage requirements the way many businesses use small vans, with the UK government's Plug-in Van Grant the pricing is attractive (especially on a monthly basis) and running costs are low.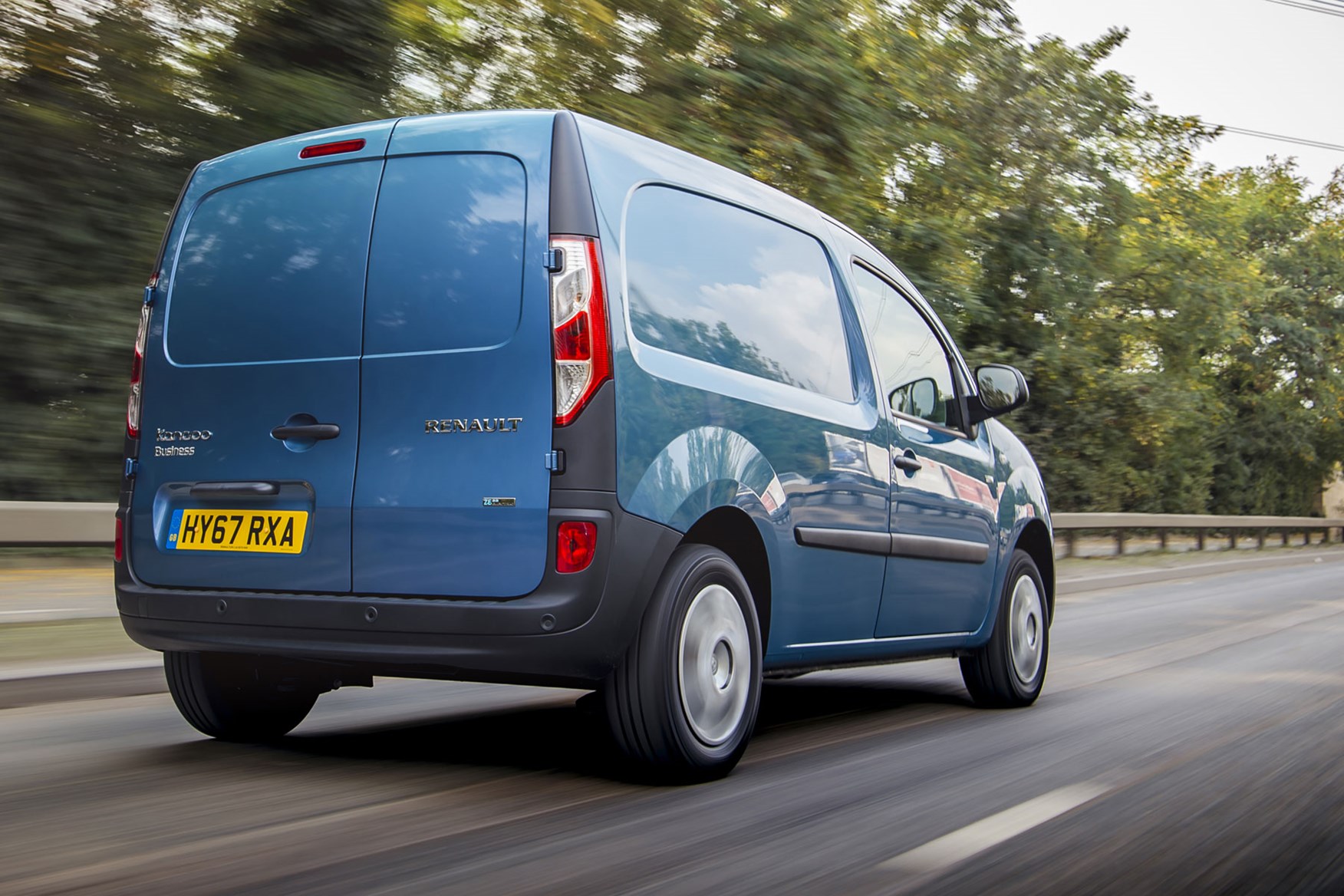 We go into much more detail about all the pros and cons in our main electric van guide, but as an eco-friendly choice – the Kangoo ZE creates zero emissions while driving; that's what the ZE stands for – it also instantly helps your business present a green, eco-friendly image. This is something that is only going to become more important as time passes.
All-new Renault Kangoo ZE on the way in 2021
Speaking of new rivals, before you buy this Kangoo ZE it's worth knowing that there is a replacement model on the way.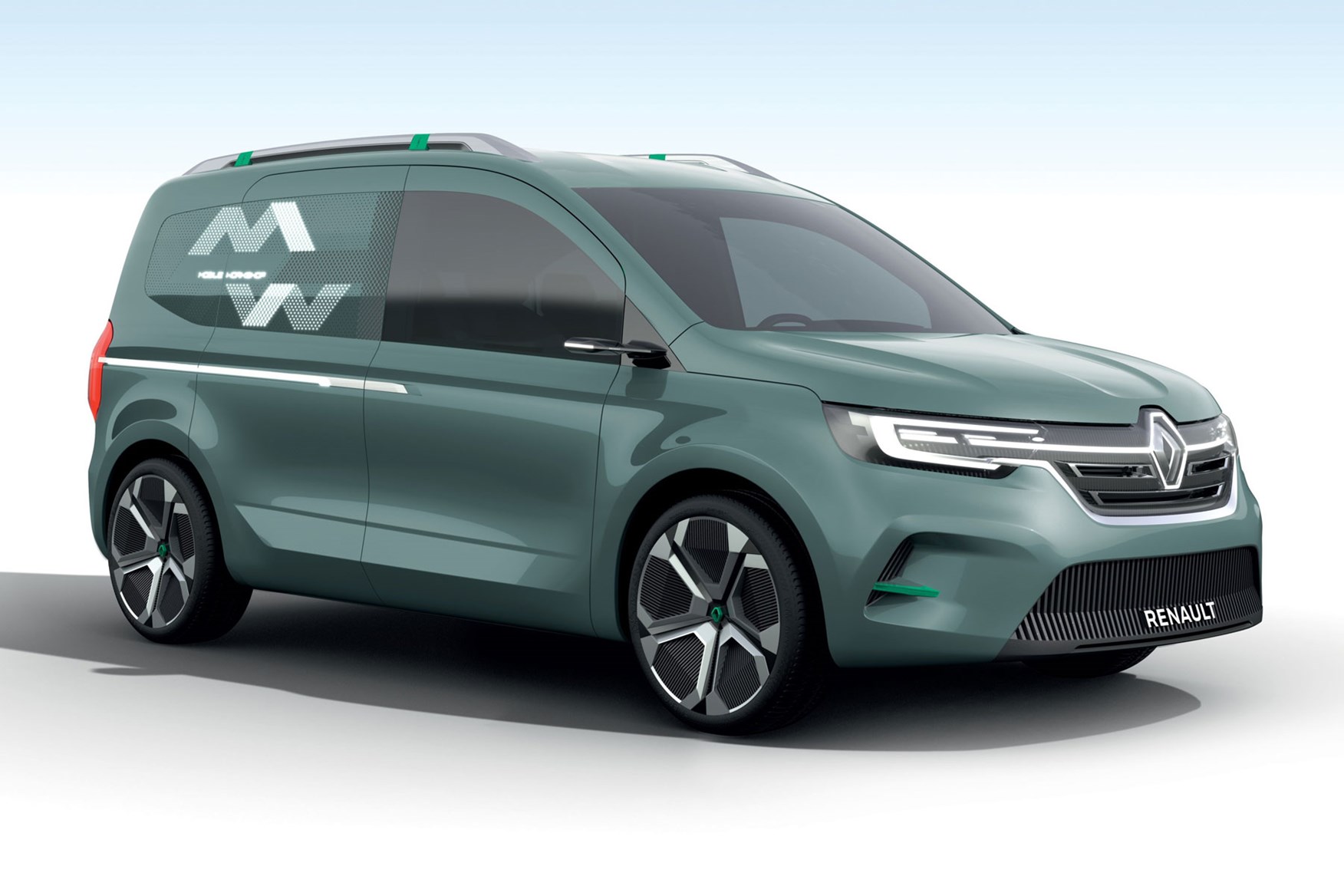 We saw a concept version in 2019 (pictured above), and the production model originally due in 2021 is now said to more likely to appear in 2022 (perhaps due to delays relating to the coronavirus pandemic). Expect a longer driving range and increased sophistication whenever the second-generation Kangoo ZE does reach dealer showrooms.
---

Renault Kangoo ZE verdict
Renault has been building electric vans longer than anyone else, and this experience makes the Kangoo ZE a proven, capable product. If you need a small electric van now, this is the best model to spend your money on.
However, it is also a rather old product now. So although the 2017 refresh brought really welcome improvements - increasing the driving range by over 50%, in fact - the interior is a little drab and the latest competition makes this original Kangoo ZE look considerably out of date.
Good job there is a successor on the horizon.
Skip to our full verdict on...
Quiet, vibration-free driving experience
Later models have a very usable real-world range
A bit soft in the corners, sometimes harsh over bumps
While models built after the 2017 update feature a new R60 electric motor and a bigger 33kWh battery pack, all versions of the Kangoo ZE offer the same modest 60hp power output, and take a glacial 20.3 seconds to go 0-62mph.
In practice, it never feels quite that slow, thanks to the punchy, instant performance of the electric drive and a chunky amount of load-shifting torque. As with most electric vans, it's superbly quiet inside compared with diesel models – though the Kangoo ZE does have a novel ZE Voice sound generation system to ensure pedestrians and cyclists hear it coming at low speeds.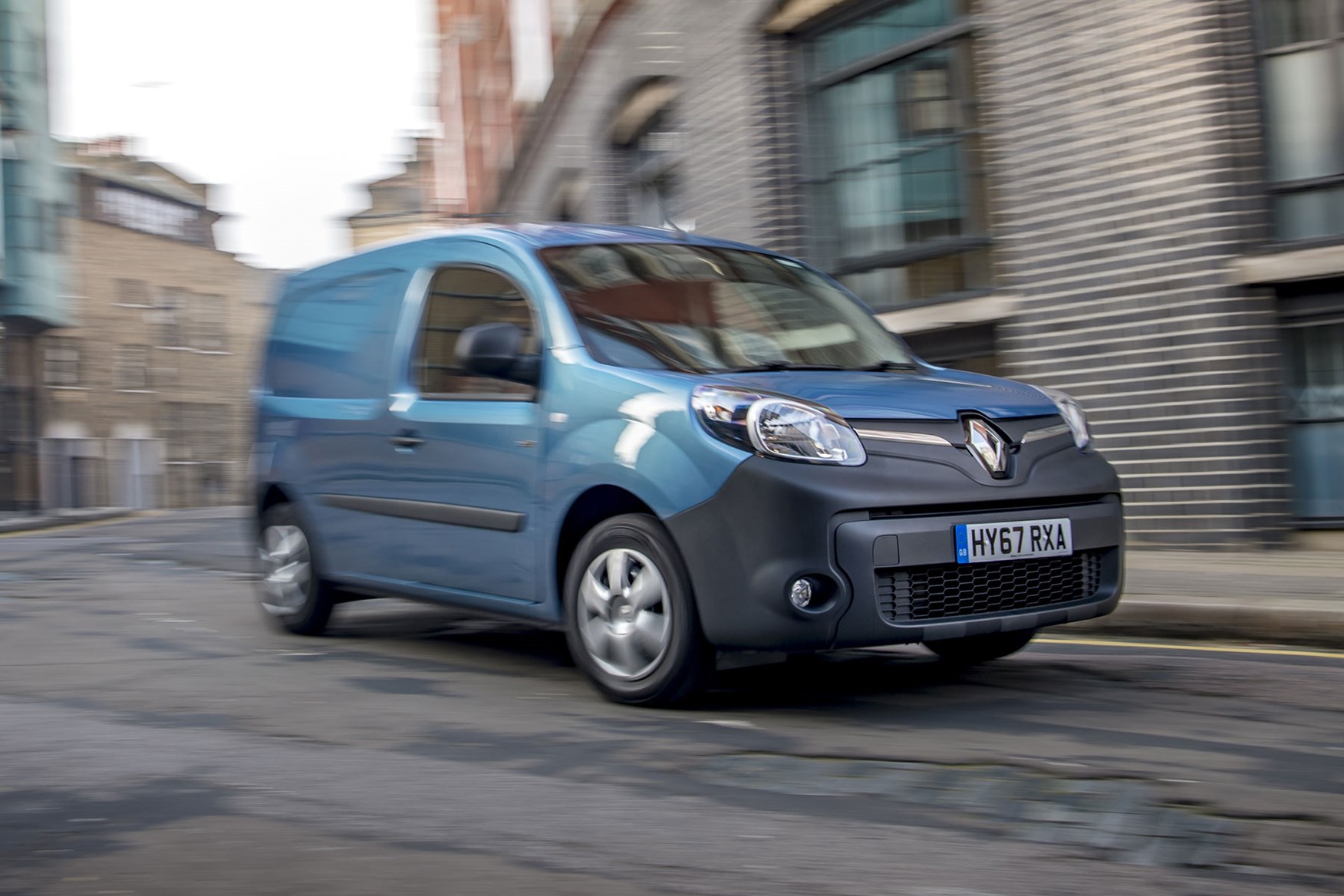 Close your eyes, and you could almost be piloting a compact, brick-shaped spaceship. Except don't close your eyes, because you're actually driving a van, and that would be dangerous.
What's the Kangoo ZE like to drive?
As with all Renault vans, the suspension does a generally good job of balancing comfort and control; it rolls a bit in the corners and can sometimes feel harsh over sudden bumps, but the compromise should be acceptable for most users. And with no noisy diesel engine rattling away, refinement is high both inside and out – which should please your neighbours if you keep odd hours.
While the electric motor's 60hp rating sounds seriously low, it also produces an instant 225Nm (oddly, 226Nm with the original motor) of torque. Enough pulling power to easily get a small van moving briskly, even with a hefty payload, and the Kangoo ZE will maintain 70mph on the motorway. You will occasionally catch it out on big hills, however, where acceleration can become sluggish.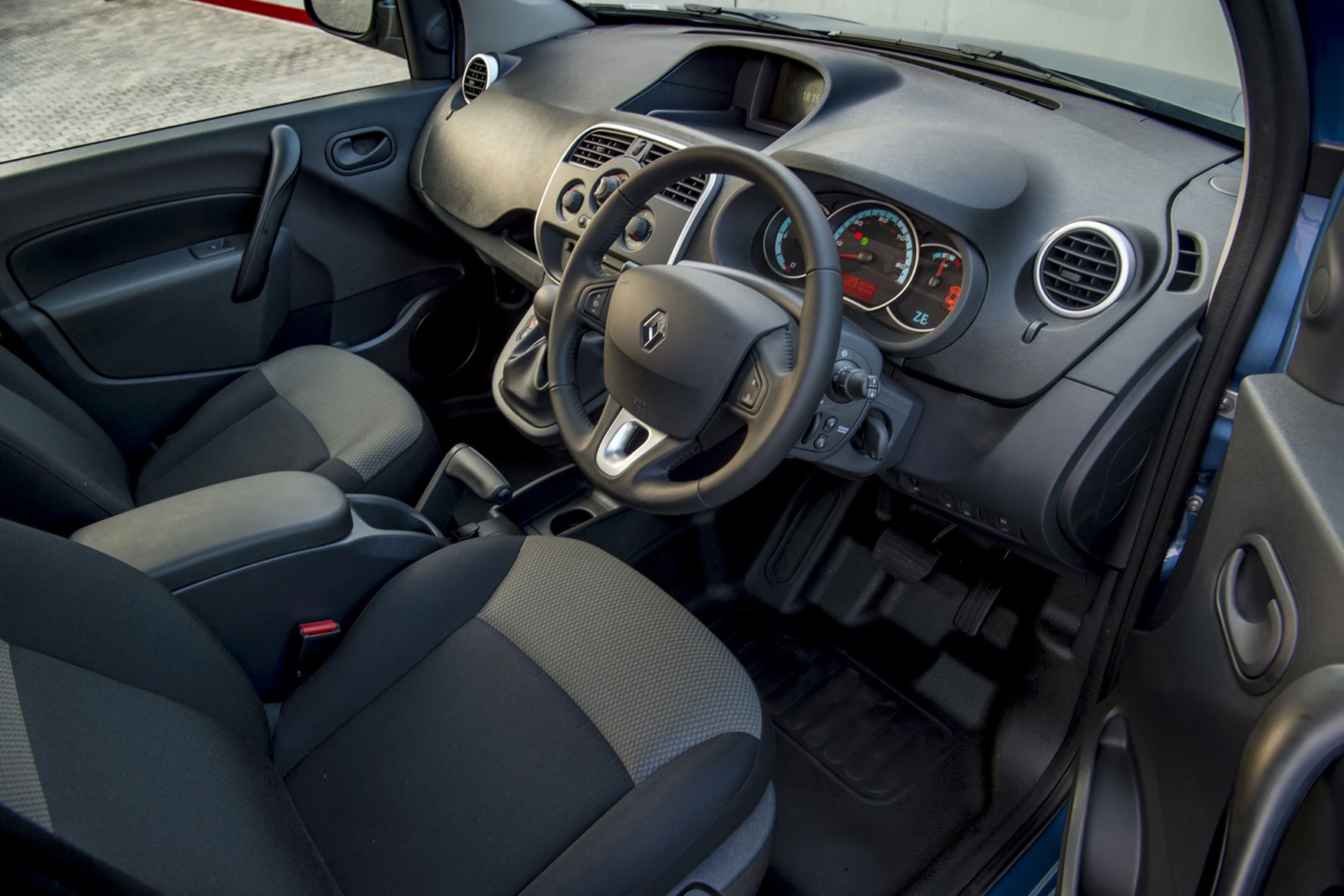 Similarly, performance does drop off if you engage the range-enhancing Eco mode. Even so, flatten the accelerator right to the floor, and you get a decent kick, as if the automatic gearbox has selected a lower gear. In reality the electric motor uses a single-speed transmission. Still saves you nursing the clutch in traffic, making the Kangoo ZE very easy to live with in a city.
Is the Kangoo ZE 33 much different to the original version?
The difference in the post-2017 models shines through in your new and improved relationship with the big battery level gauge to the left of the instrument cluster. No longer do you find yourself continuously staring at this as you might have done in the original, its rate of descent like a waking nightmare. Now it reduces so slowly you barely give it a second thought.
We've done tests completing an entire morning's urban and country driving using just half a charge and then seen the predicted remaining range was still over 60 miles. We're confident that for most small van operators the ZE 33 is essentially range anxiety game over.
And if you do start to get nervous, an hour at a fast charger gives a steady 22-mile boost.
So what is the real-world driving range?
Before the ZE 33 arrived with its 33kWh battery pack, the Kangoo ZE was fitted with a 22kWh battery pack – good for a claimed 106 miles per charge according to the old NEDC testing regime. In the real world this was capable of 53-78 miles, according to Renault, depending on the weather (electric van range falls in winter), driving style, traffic and payload.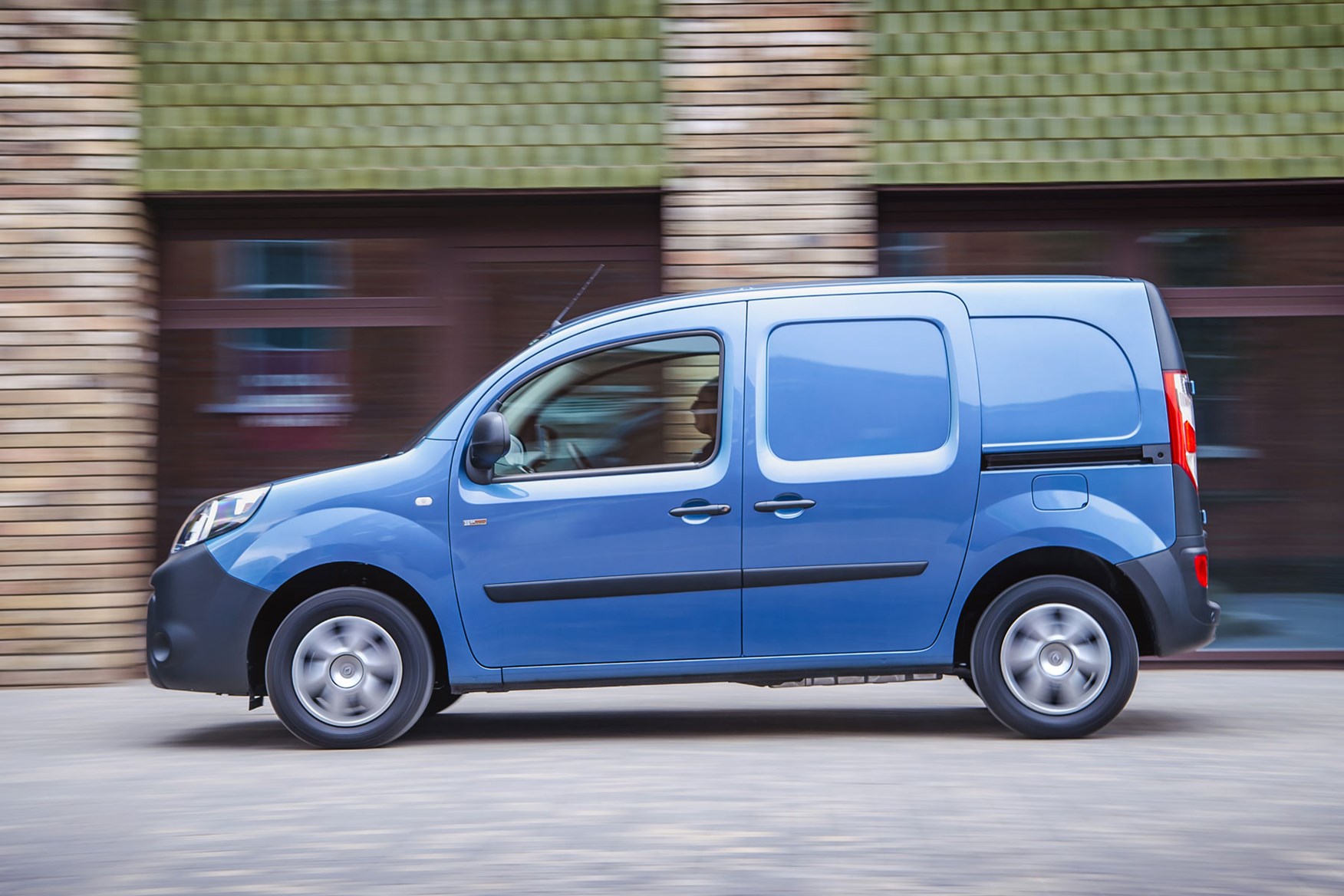 And this was when they were new; used examples with partly worn battery packs may not even quite manage that. Renault would originally only lease the battery packs for exactly this reason – as it meant owners wouldn't have to face the cost of replacement should the battery pack's capacity drop too far. In practice, the batteries have lasted very well, and now Renault only sells complete vans in the UK, with the cost of the battery pack included in the asking price.
The ZE 33 model has a 170-mile NEDC driving range, which Renault says should work out at 75-124 miles in the real world. In other words, even on its worst day it will go as far as the old model on its best day. Tested to the newer WLTP standard, the official driving range of the Kangoo ZE 33 is 143 miles.
How long does it take to charge?
This depends on the model and the type of charger. The 2017-onwards versions are available with a quick-charging system, and can complete a full charge in six hours with the right charging point. A less potent 3.7kW home Wallbox charger needs 12 hours, and if you've only got access to a three-pin plug, the larger 33kWh battery pack will take up to 17 hours to refill.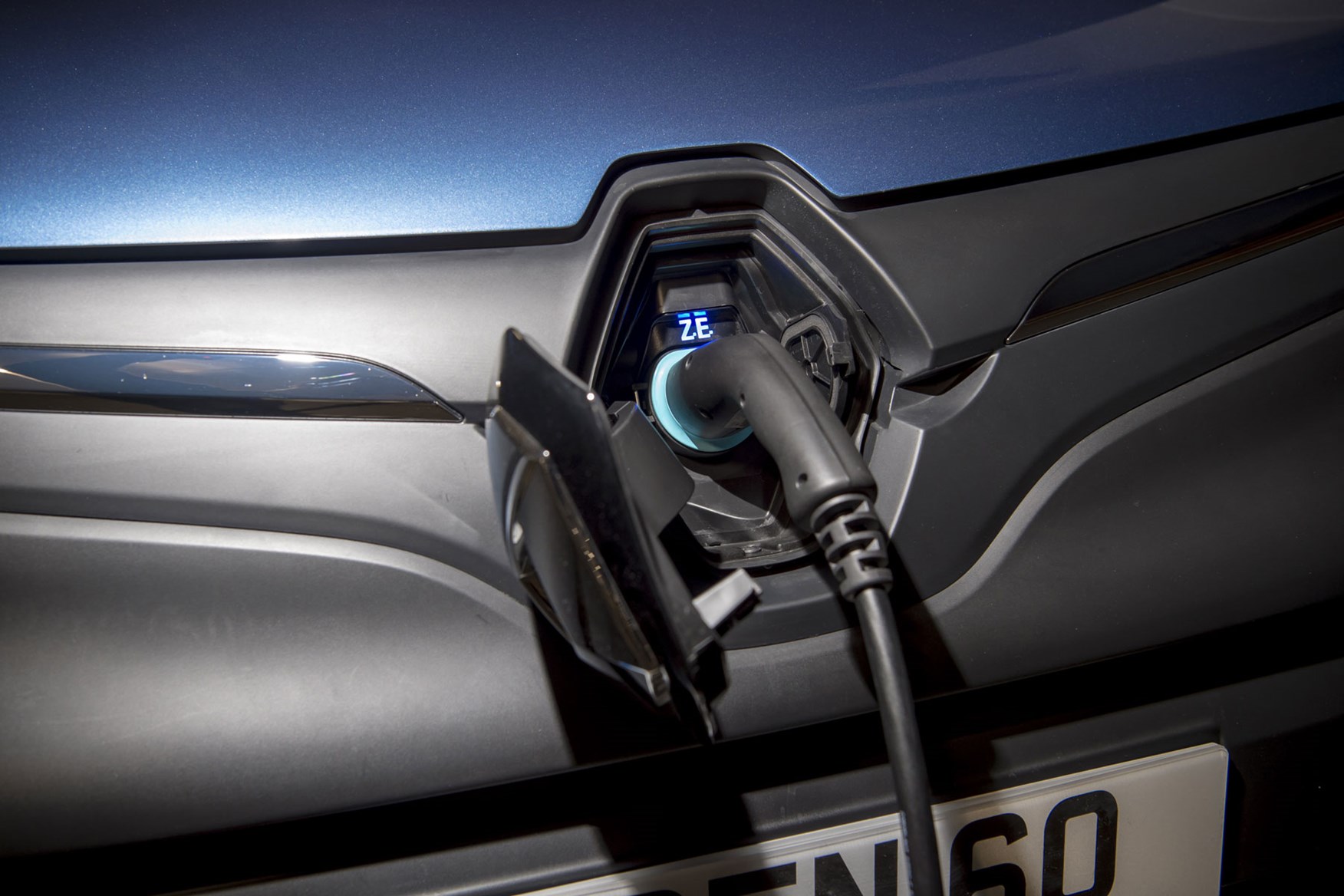 As this suggests, the Kangoo ZE is definitely best used in a manner that allows you to plug the van in overnight. This is probably the major reason electric vans won't be for everyone just yet.
How does the Kangoo ZE compare with a diesel Kangoo?
Clearly, recharging an electric van still isn't as convenient as filling up with diesel. But it should be cheaper, as the cost-per-mile of electricity is lower.
Then there's the driving experience, which is like another world. Engine noise is reduced to a modest hum at low speeds, quickly drowned out by wind roar as you go faster, and there is none of the vibration you get from a diesel engine either.
What's more, the motor becomes a generator when you back off the accelerator, which gives a pronounced braking effect. So you can often drive for long periods without touching the conventional brakes at all. This, together with the reduction in moving parts under the bonnet, brings down servicing costs.
Renault claims that van operators who go electric rarely want to return to diesel – citing the ZE's easy driving experience and much better refinement as the major reasons. We can't say we're surprised, the ZE is the best Kangoo model, and it's a similar story for many other electric vans.
Clear instrumentation and tough build
But drab design and cheap-feeling throughout
Multiple bulkhead options to suit different uses
To be blunt, probably the biggest problem with the Kangoo ZE is that for all your eco-friendly positive action you still end up sitting in a Kangoo, which by this point in time has one of the least attractive interiors of any small van.
Some of the controls are small and fiddly – especially for the optional sat-nav – and you could file your nails on the dashboard plastic (it's tough and hardwearing, no doubt, but also slightly rough to the touch). There's not a huge amount of storage as standard, and the steering wheel only adjusts for angle and not for reach.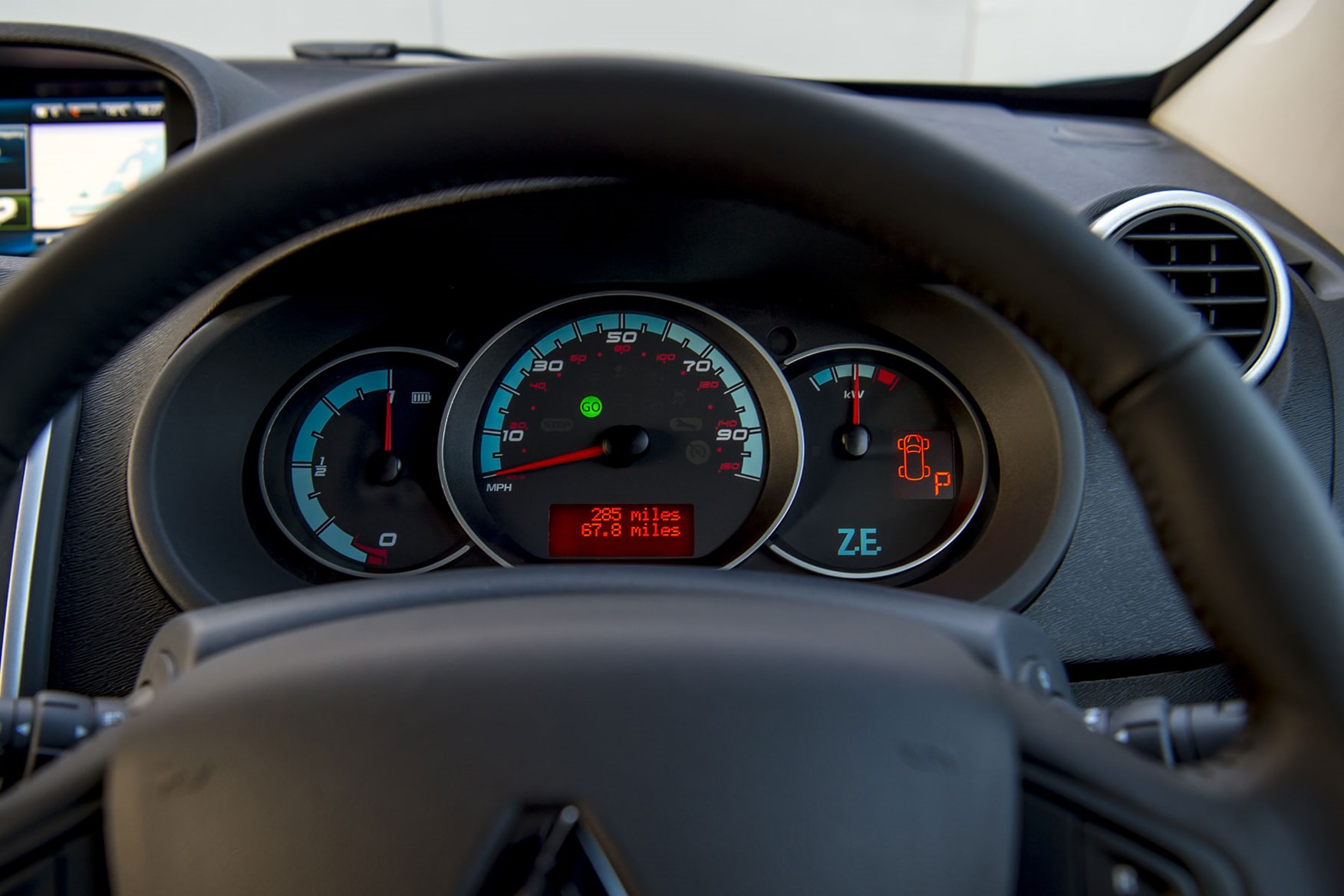 Still, the instrumentation is clear, and in the ZE electric version this means it's easy to keep an eye on your remaining driving range. A clearly marked power meter also makes it straightforward to see how your driving changes the drain on the battery – something you will probably become quickly sensitive to if you want to ensure you make it home for tea every night.
Bulkhead options
Every new Kangoo is now fitted with a full steel bulkhead, though you may find this is not the case with used examples and Renault offers a selection of other choices to help you maximise load space.
These include a basic tubular bulkhead behind the driver only (this is a no-cost option), or a swivelling mesh bulkhead that works with a folding front passenger seat to extend the load area while completely protecting the driver.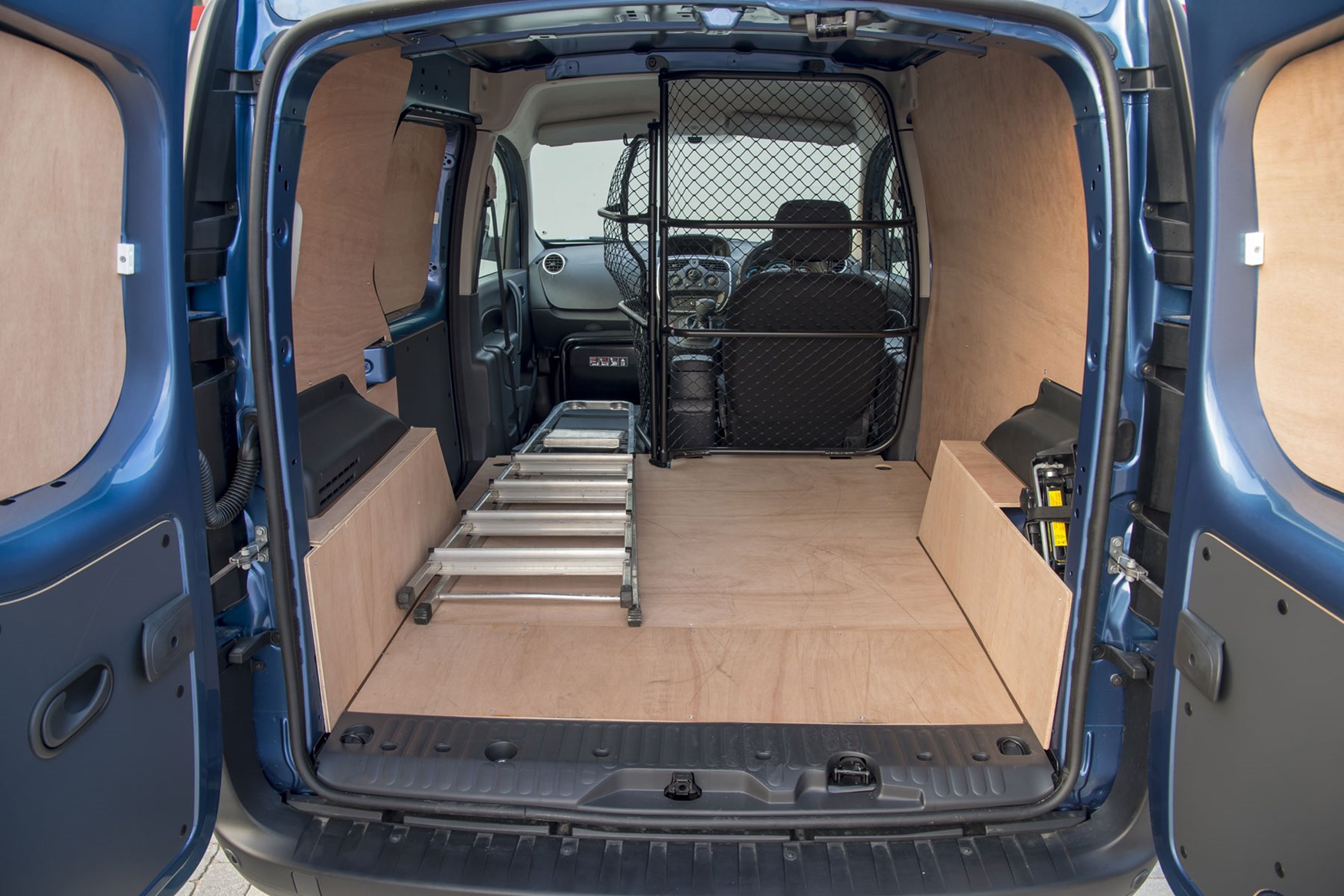 Crew van models, which have a second row of seats and opening windows in the side doors (the non-ZE Crew vans don't the windows as standard, which is pretty grim) are available with a moving bulkhead – so that if you need extra load space you can fold up the seats and the bulkhead moves forward, again to keep the driver (and remaining front passenger) protected.
Very low running costs
Warranty capped to 60,000 miles
Air-conditioning not standard on most models
While the Kangoo ZE has a heft asking price, you can get a government Plug-in Van Grant that covers 20% of the cost (up to £8,000), monthly finance can be often be far more affordable, and actual running costs should be far lower than even the most economical diesel rival.
This is because the cost-per-mile for electricity is much lower than it is for diesel, with Renault claiming it should cost you just 4p per mile in the Kangoo ZE, which means a full charge will be less than £5. This will depend on your electricity tariff, however.
So although it might be inconvenient to plug it in all the time, the Kangoo ZE could make it worth your while if your daily driving requirements fall within realistic range predictions.
To help you with this, Renault has range-prediction and charging-time tools on its website, based on your typical average driving speed; the lower you average speed the further you are likely to be able to make the van go on a single charge.
Kangoo ZE battery leasing
When Renault first launched the Kangoo ZE it didn't include the cost of the battery pack in the list price of the vehicle – you had to lease this separately for a monthly fee, which varied based on the mileage you planned to cover.
The idea behind this was to avoid customers worrying about battery life degrading over time (which does happen, albeit quite minimally); as they didn't own the battery, Renault believed this would improve customer confidence in the vehicle.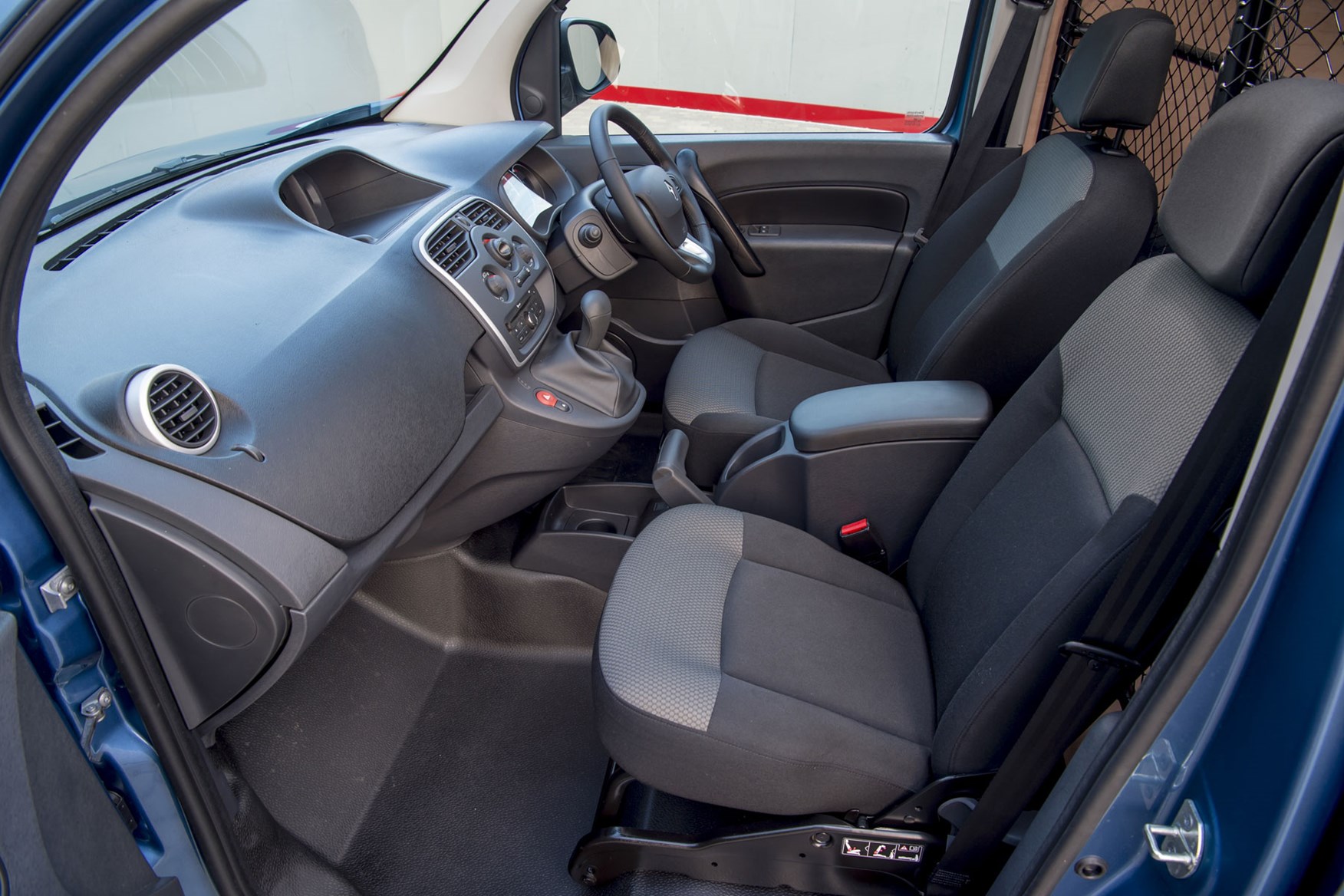 Instead it caused chaos with used values, as second-hand buyers were also faced with a situation where they would have to commit to a monthly battery lease.
After a while, Renault began offering complete vehicles with the battery pack included – these are known as 'Kangoo i ZE' models, if you need to check – as an option alongside the battery lease models.
Now you can only buy a new Kangoo i ZE with the battery included in the UK, the battery leasing versions having been dropped from the UK range completely.
Kangoo ZE servicing and maintenance costs
People often worry that electric vans will cost more to service due to their specialised nature. But in fact, the opposite should be true, as there are fewer moving parts and no oil to change. You should even find your brakes last longer if you take advantage of the braking effect of the electric motor.
Kangoo ZE warranty info
The ZE's battery pack is covered by a five-year or 60,000-mile warranty (whichever comes sooner), with the rest of van covered by the standard Renault Pro+ warranty.
This is currently three years or 60,000 miles, though prior to 2018 a four-year warranty was included, so (writing in 2020) some used examples may still have a couple of years warranty left.
Kangoo ZE standard equipment
As of June 2020, the Kangoo ZE comes in two specifications: Business and Business+. The higher-spec Business+ is a new addition to the range.
Renault Kangoo ZE Business standard equipment highlights:
Electric door mirrors
Electric windows
Height-adjustable driver's seat
Hill-start assist
Grip Xtend traction control system for low-grip surfaces
Side loading door (passenger side only on standard van, both sides on Maxi and Crew vans)
Full steel bulkhead (Crew vans have a multi-positional metal mesh bulkhead instead)
Load lashing points (six for standard van, 14 for Maxi)
Eco driving mode
Pre-heating function
Type 2 charging cable
Alarm, deadlocks and Renault Anti Intruder Device (RAID)
Renault Kangoo Business+ standard equipment highlights (in addition to Business):
Electric folding door mirrors
Centre console with armrest
Overhead parcel shelf
Rubber covering for the load floor
Manual air-conditioning
Front and rear body-coloured bumpers
Basic van uses proven components
Some starting and charging issues with ZE models
Long-term battery life remains a concern
Putting the electric motor and battery components to one side, the Kangoo ZE is based on old technology – which means it's well proven and should prove generally reliable. There have been few official recalls, and most of the faults that trouble the standard diesel vans are small and niggly rather than major and serious.
To this end, you should check the doors open and close easily, the trim is well fitted and that there aren't any alarming warning lights if buying used.
Kangoo ZE faults and battery life
In terms of ZE-specific electric van issues, there have been reports of starting and charging issues. This usually involved older vans (perhaps because this sort of trouble with newer vans is fixed under warranty), and we've experience similar problems with other Renault electric vehicles, which can apparently be quite fussy about charging points.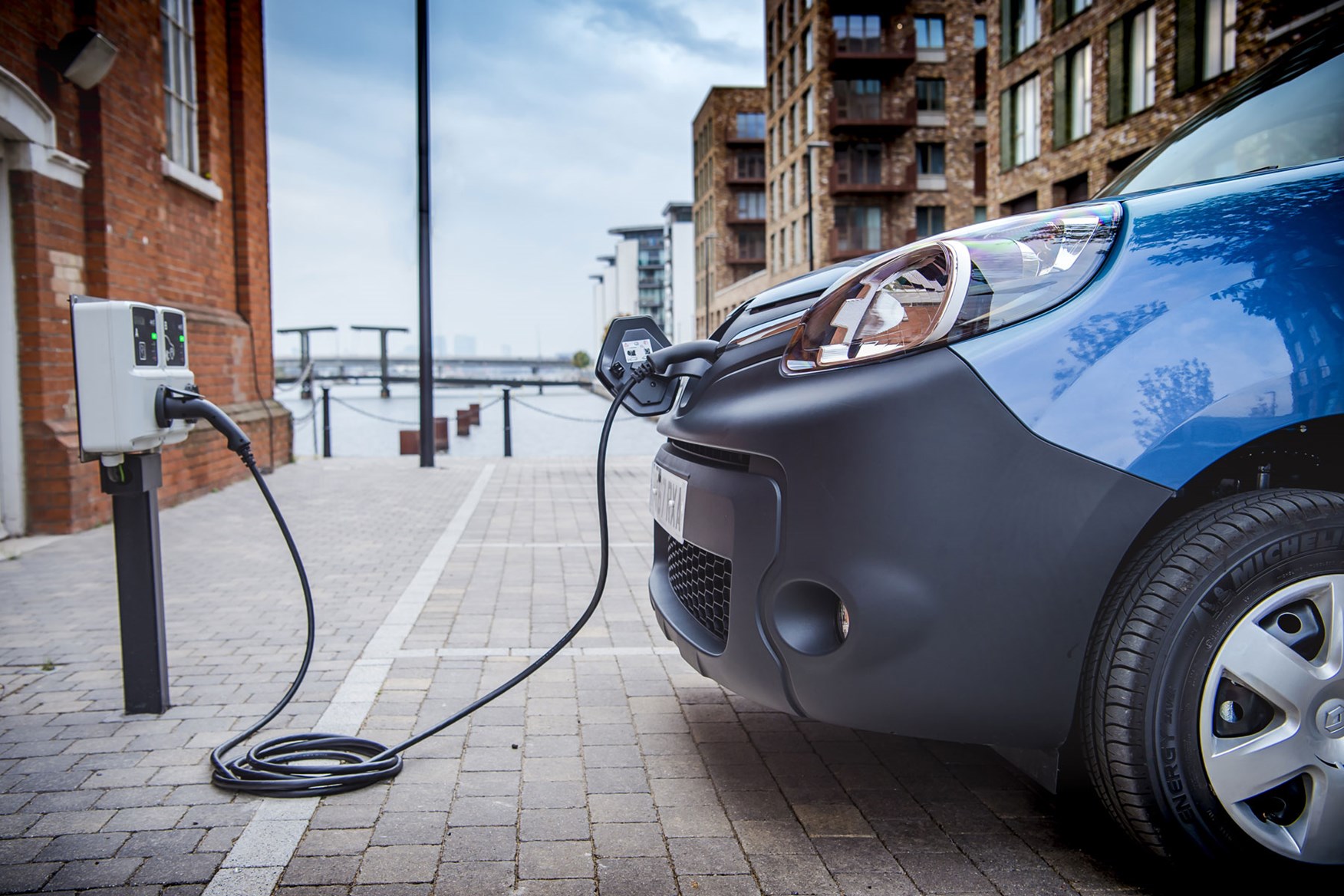 Battery life is a concern for any electric van, especially when buying used. It is possible for a Renault technician to check the status of a battery pack for you, but it's not something you can see by simply looking at the vehicle. Something we're all going to have to get our heads around as electric vehicles become more common.
Very little standard or optional safety kit
However, an alarm is fitted as standard
As what is fundamentally a very old van design now, the Kangoo does not come with much in the way of safety equipment, and the ZE version is no exception. You get just one airbag as standard plus ABS, electronic stability control (ESC), and hill-start assist with Grip Xtend, and that's it.
You can add more airbags via the options list, but there are no active safety aids – such as autonomous emergency braking (AEB) – available at all. Meanwhile, the Grip Xtend system is a traction control setting that helps the van find grip on slippery surfaces.
The Kangoo ZE fares a little better when it comes to security kit, though. All versions come with an alarm, deadlocks and the Renault Anti Intruder Device (RAID) as standard.
Which Renault Kangoo ZE (11-21) is best for me?
The Kangoo ZE is offered with only a single drivetrain option, so there's not much choice there – its 60hp or nothing if you want a zero emissions electric van.
Similarly, you probably already know whether the standard MWB model has enough load space for you versus the Maxi LWB model – and indeed, whether you need the extra passenger space of the Crew van model.
Best Kangoo ZE for payload
If payload is important there is a difference between Kangoo ZE versions, however, with the long-wheel base Maxi offering up to 640kg of weight carrying capacity; the Maxi Crew van is just behind this at 631kg, but that has to include all the people on board of course.
The smaller standard version is rated to 625kg payload as a panel van, or 605kg as a Crew van.
Also read:
>> The Parkers guide to electric vans