Volkswagen Amarok dimensions (2011-on)
Make no mistake about the VW Amarok - for all its lifestyle posturing it is also a capable work truck with high payload ratings and one of the largest double cab load areas in the UK pickup market place.
On this page you'll find full details of its interior and exterior dimensions, plus payload and towing info - towing being one area where it lags behind the best rivals.
For info on driving impressions, standard equipment, costs and value check out our main Volkswagen Amarok review page by clicking here or on the tab above.
The VW Amarok is only sold as a double cab model in the UK - which means it has rear doors and rear seats that can take full-size adults. However, as it's also one of the largest pickups sold in the UK, the load area is impressive, even so.
In fact, the load bed is wider than that found on any rival - and although this may only be by a few millimetres, the result is a space big enough to swallow a standard-size pallet, let alone a smaller Euro pallet. In fact, you can get a Euro pallet in sideways.
Similarly, the Amarok has one of the highest sidewall heights, meaning you can get more inside the load bay in safety.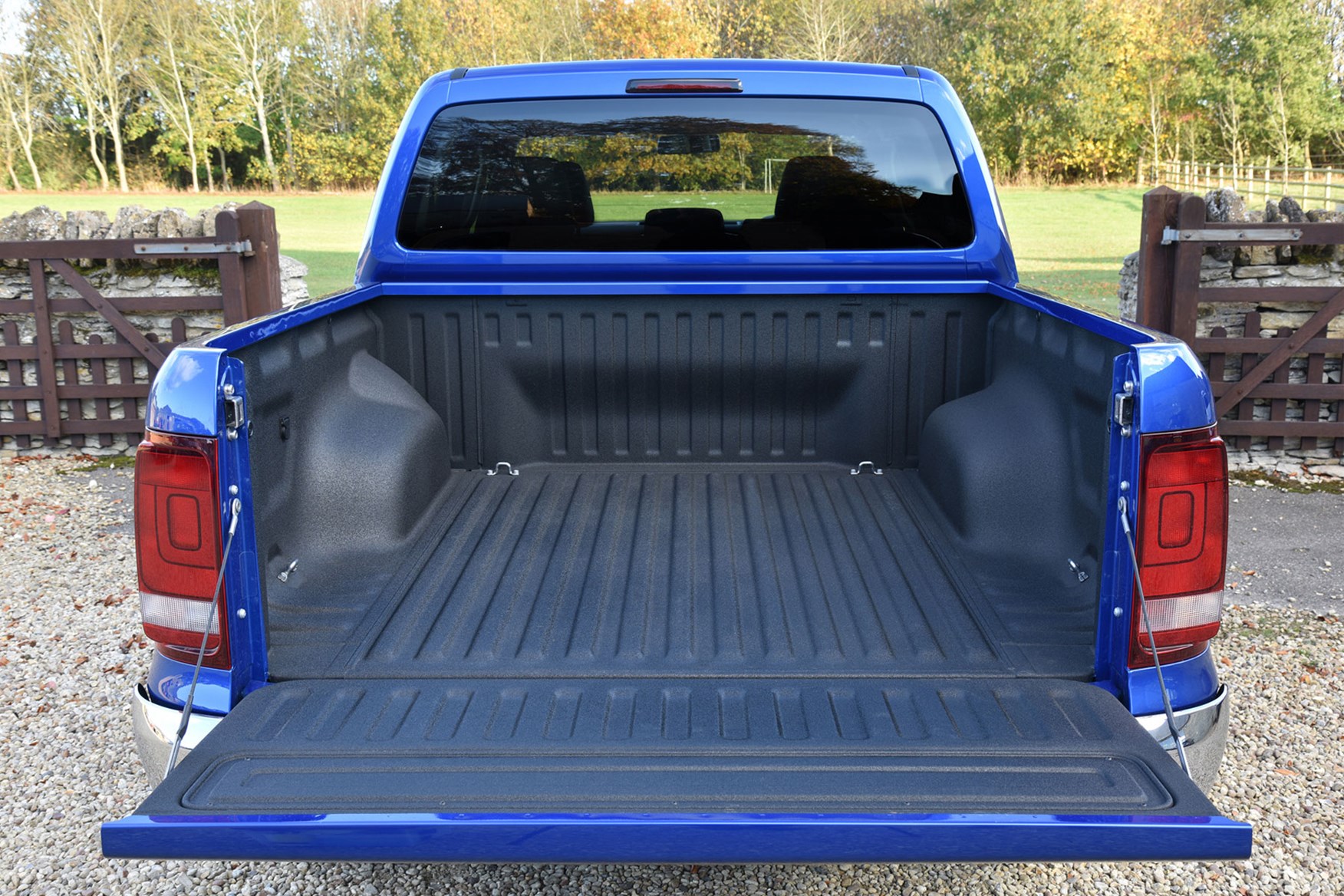 All models offer four load-lashing points and most will have a 12v socket in the back as well.
Volkswagen offers a wide range of accessories from hard tops to roll covers, and the load bed can be protected by a removable liner or a tough chemical coating.
VW Amarok exterior dimensions
It doesn't take genius to figure out that a large load area requires a large pickup, and the Amarok is certainly one of those. Mercedes may have banged on about making the X-Class wider than the Nissan Navara it's based on, but the Amarok is even wider than that.
So, you will need plenty of space to park one of these. Check out exactly how much in our Volkswagen Amarok dimensions table below.
VW Amarok exterior dimensions:
| | |
| --- | --- |
| Exterior length (mm) | 5254 |
| Exterior height (mm) | 1834 |
| Exterior width, mirrors folded (mm) | 1954 |
| Exterior width with mirrors (mm) | 2228 |
| Wheelbase (mm) | 3097 |
| Front overhang (mm) | 898 |
| Rear overhang (mm) | 1259 |
VW Amarok load area dimensions
These are the load bed dimensions for the VW Amarok.
Volkswagen Amarok load bed dimensions in full:
| | |
| --- | --- |
| Maximum load length (mm) | 1555 |
| Maximum load width (mm) | 1620 |
| Width between wheelarches (mm) | 1222 |
| Sidewall height (mm) | 508 |
| Loading height from ground (mm) | 780 |
Although the Amarok is a heavy vehicle, high gross vehicle weight (GVW) ratings means it still offers some of the highest legal payload ratings in the UK pickup truck sector.
However, if looking at used examples, be warned that up 2016 you could buy one that wasn't rated to carry even the 1,000kg necessary to qualify for light commercial vehicle tax rates - making this lightweight variant more expensive to keep on the road.
VW Amarok payload capacity
Since the 2016 facelift, all Amaroks are now fitted with heavy duty springs, and the current range (writing in May 2019) all have a payload capacity of at least 1,030kg - with the most practical carrying a lot more.
The previously-offered softer suspension models can only cope with up to 862kg.
Here are the latest payload ratings for the VW Amarok:
| | | | |
| --- | --- | --- | --- |
| VW Amarok model | GVW | Unladen weight* | Payload |
| Trendline 204hp V6 manual gearbox | 3,200kg | 2,130kg | 1,070kg |
| Trendline 204hp V6 auto gearbox | 3,290kg | 2,144kg | 1,146kg |
| Highline 204hp V6 auto gearbox | 3,290kg | 2,178kg | 1,112kg |
| Highline 258hp V6 auto gearbox | 3,290kg | 2,178kg | 1,112kg |
| Aventura 258hp V6 auto gearbox | 3,290kg | 2,260kg | 1,030kg |

*Official unladen weight from VW includes 'approximately 90% fuel level
From this you can clearly see that the Amarok with the biggest payload capacity is the Trendline eight-speed automatic, which is legally allowed to carry up to 1,146kg (including passengers and everything else - such as options - on board).
>> Click here to find out which are the best double cab pickups for payload
VW Amarok towing capacity
Towing is the one area where the Amarok really lags behind the rest in the pickup truck sector.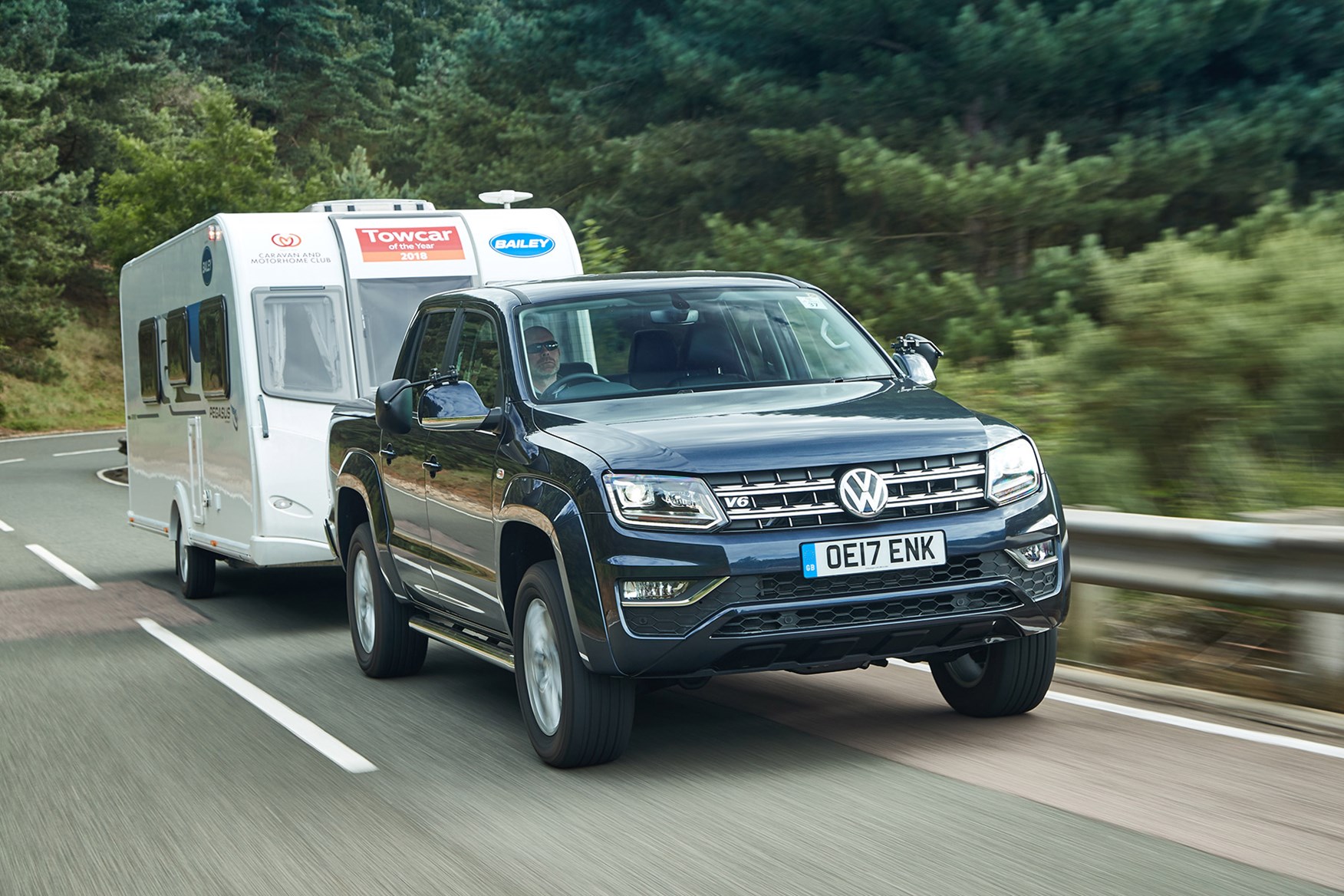 VW Amarok towing capacity is limited to just 3.1 tonnes (3,100kg) on V6 automatic models, a long way behind the 3.5-tonne capability of the strongest rivals.
The V6 manual variant only tows 3.0-tonnes (3,000kg).