Volkswagen Amarok review (2011-on)
V6 power makes this a great lifestyle pickup choice
PROS
Powerful V6 engines (from late 2016)
Interior quality better than most rivals
Large load area (for a double cab)
Optional eight-speed automatic
Premium image
CONS
Not as refined as a proper SUV
Early ride quality harsh
Many rivals tow more
Not cheap
Limited ground clearance
Summary
Since first hitting the market in 2011, the VW Amarok has become one of the most popular pickups in Europe, appealing especially to lifestyle buyers but with good working credentials, too.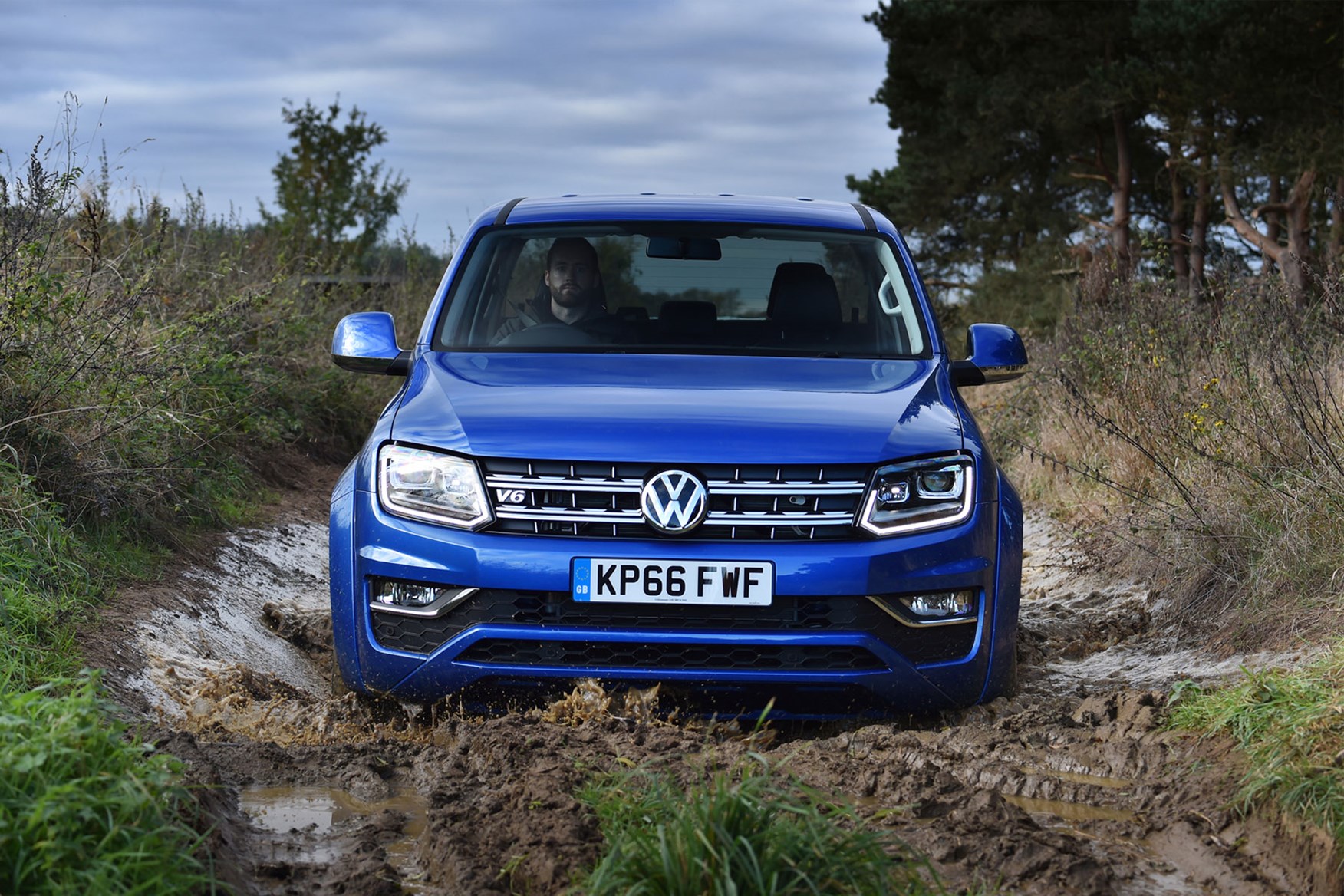 It's certainly one of the posher pickups on sale, with key Amarok rivals being the Ford Ranger, Nissan NP300 Navara and new Mercedes X-Class (rather than the likes of the more workaday Mitsubishi L200 and Isuzu D-Max).
The Amarok is only available as a double cab model, meaning four doors and five seats, but it has one of the largest load areas in the double cab class and a very high payload of up to 1.1 tonnes.
>> Find out how the VW Amarok V6 compares to its rivals in the Parkers Vans pickup group test
V6 engine range introduced in 2016
Emphasising this premium positioning, when VW updated the Amarok in 2016 it 'upsized' from the original 2.0-litre TDI four-cylinder turbodiesel engines to a new range of 3.0-litre V6 TDI engines.
This move was in complete contrast to the rest of a pickup truck sector that was busy 'downsizing' - fitting smaller engines in an effort to achieve better on-paper fuel economy (despite sales evidence that suggest UK owners prefer bigger engines).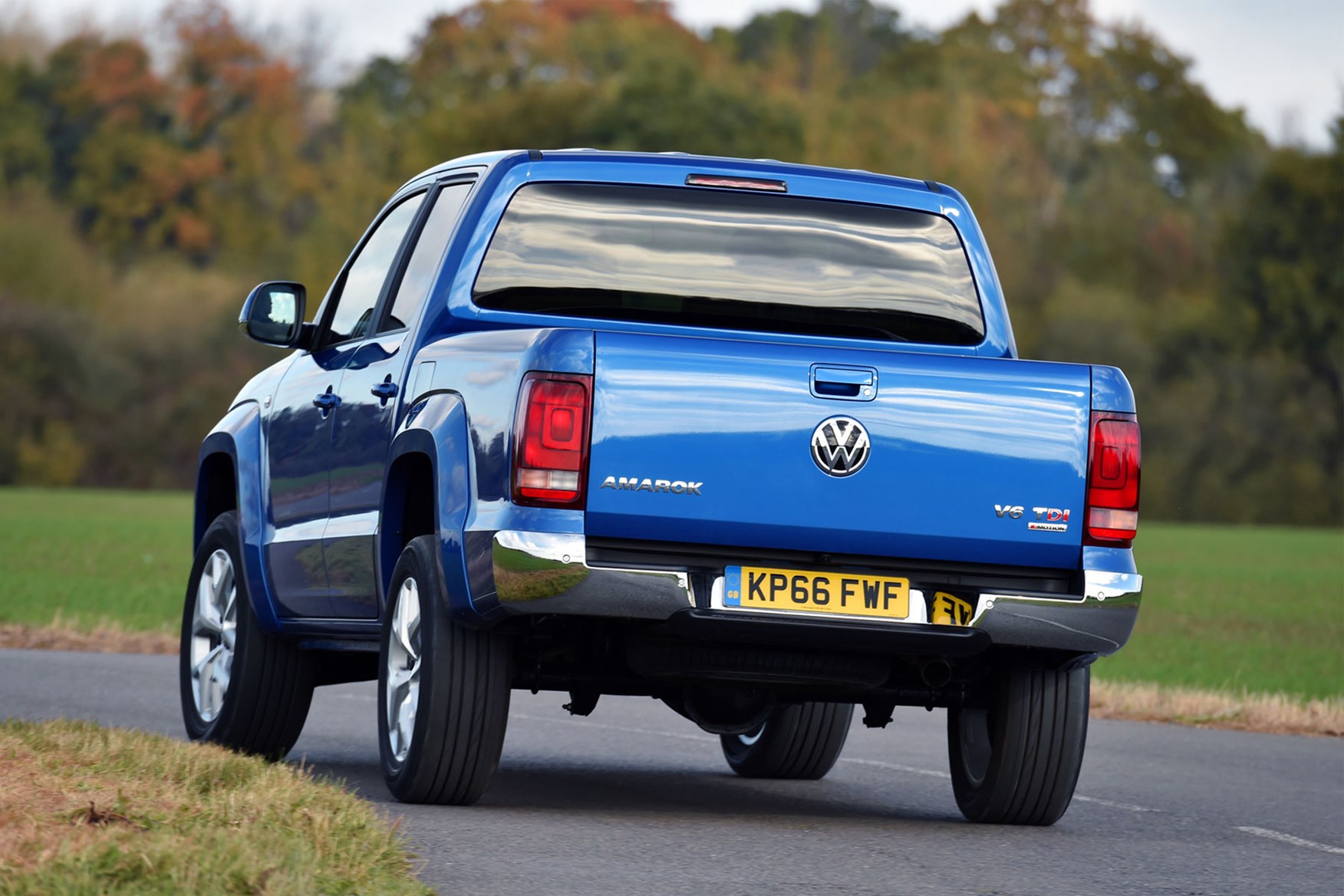 The new V6s help to set the Amarok even further apart from its peers, bringing a real sense of luxury and performance to the driving experience - aided and abetted by improvements to interior quality introduced at the same time.
However, even with as much as 580Nm of torque now, it still can't tow 3.5 tonnes - when most competitors now have at least one variant that can.
What's the VW Amarok like?
VW's first pickup is a mixture of simplicity and technology, combining an unsophisticated ladder frame chassis that features old-school leaf spring suspension at the rear with state-of-the-art anti-skid control and stability systems that help both on and off road.
All versions come with ESC and four airbags as standard, and the Amarok was designed from the ground up to be one of the safest pickups in the segment. But it is also one of the older designs on sale now, so most rivals have caught up in this regard.
The Amarok does have a very car-like interior - though some still moan that even after the 2016 update the plastic quality could be better, this pickup sets the benchmark for comfort, and is very easy to drive on and off road.
The latest engines are excellent, and most models are fitted with an automatiic gearbox, which works well.
---

VW Amarok: the Parkers Vans Verdict
The VW Amarok is at the more expensive end of the pickup market, and perhaps isn't as suited to a hard working life as some rivals. But it is exceptionally comfortable, well-equipped and has an engine line-up that's the envy of the entire segment.
Well worth considering if you're buying a pickup to use every day - especially if it's to be a family vehicle. Few rivals will be such a pleasure to live with.
To find out more, continue reading the VW Amarok full review on Parkers Vans
Alternatively, check out these individual VW Amarok model reviews:
VW Amarok 180hp 2.0-litre TDI Canyon automatic review - tested June 2015
VW Amarok 180hp 2.0-litre TDI Highline review - tested June 2015
VW Amarok 224hp 3.0-litre V6 TDI Aventura automatic review - tested December 2016
VW Amarok 204hp 3.0-litre V6 TDI Trendline automatic review - tested off-road April 2017
VW Amarok 224hp 3.0-litre V6 TDI Highline automatic review - tested October 2017
Skip to our full verdict on...
If you're coming to the Amarok from a conventional car - or SUV - you might be in for a bit of a shock.
While there are very few pickups that drive better than this Volkswagen - only the Mecedes X-Class, Nissan NP300 Navara and Ford Ranger really run it close, and then for different reasons - you're unlikely to find the Amarok as precise or as comfortable as a traditional passenger vehicle.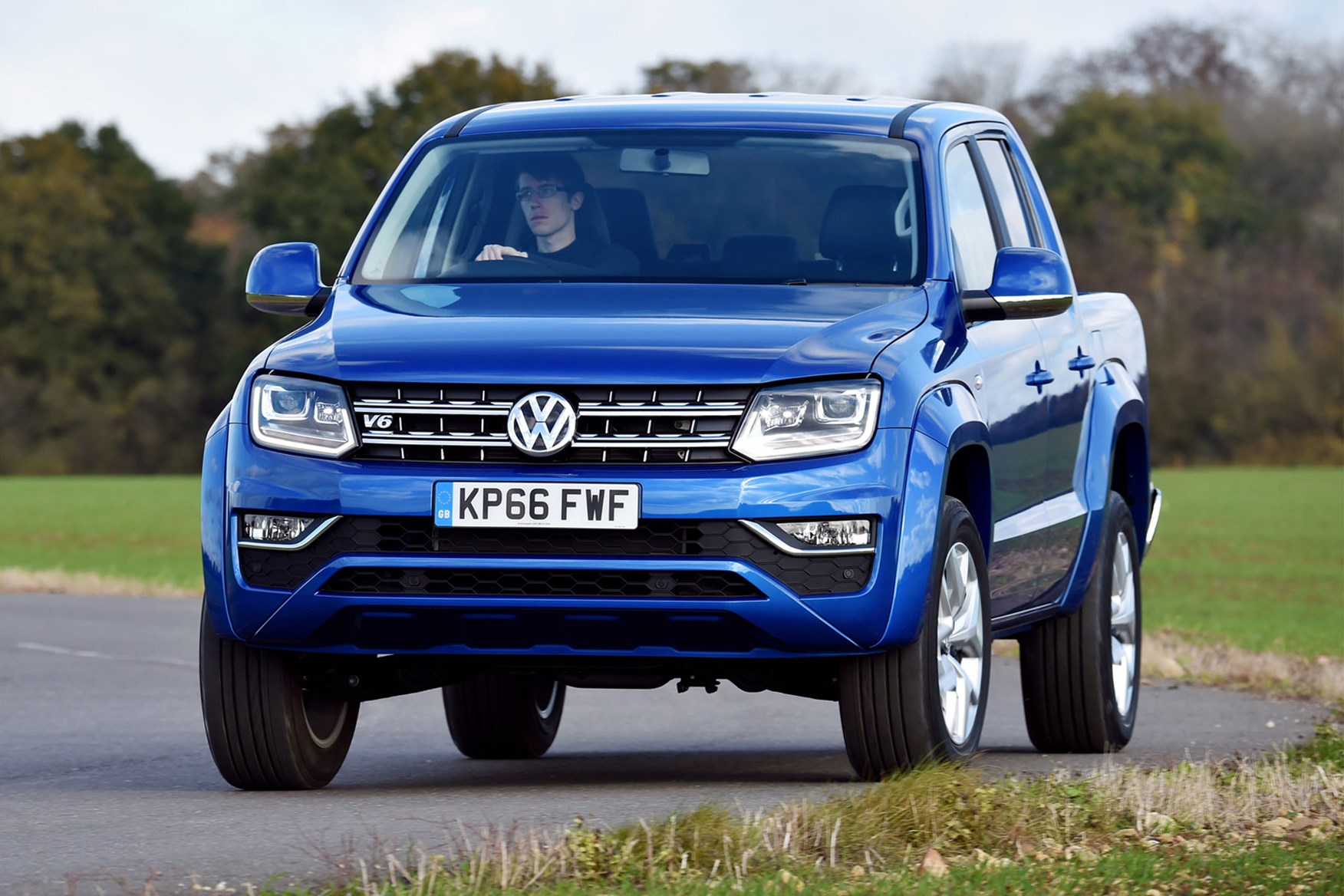 However, things do seem to have improved with the introduction of the 3.0-litre V6 in 2016.
The most powerful pickup you can buy in the UK
Not only do these engines offer supreme power in the pickup truck segment (at least until the X-Class V6 arrives in 2018), the suspension is remarkably supple now as well.
It's almost like driving a giant Golf. Almost.
Initially the Amarok V6 was only available in the UK with an enormous 224hp and 550Nm, but VW subsequently introduced a 204hp / 500Nm model, and then in February 2018 an entry-level 163hp / 450Nm V6 joined the range.
An even more powerful 258hp Amarok V6 is set to join the range later in 2018 as a direct competitor to the range-topping Mercedes X-Class V6; we've already driven it extensively - click here to read our feature drive in Oman.
>> 258hp VW Amarok driven in Oman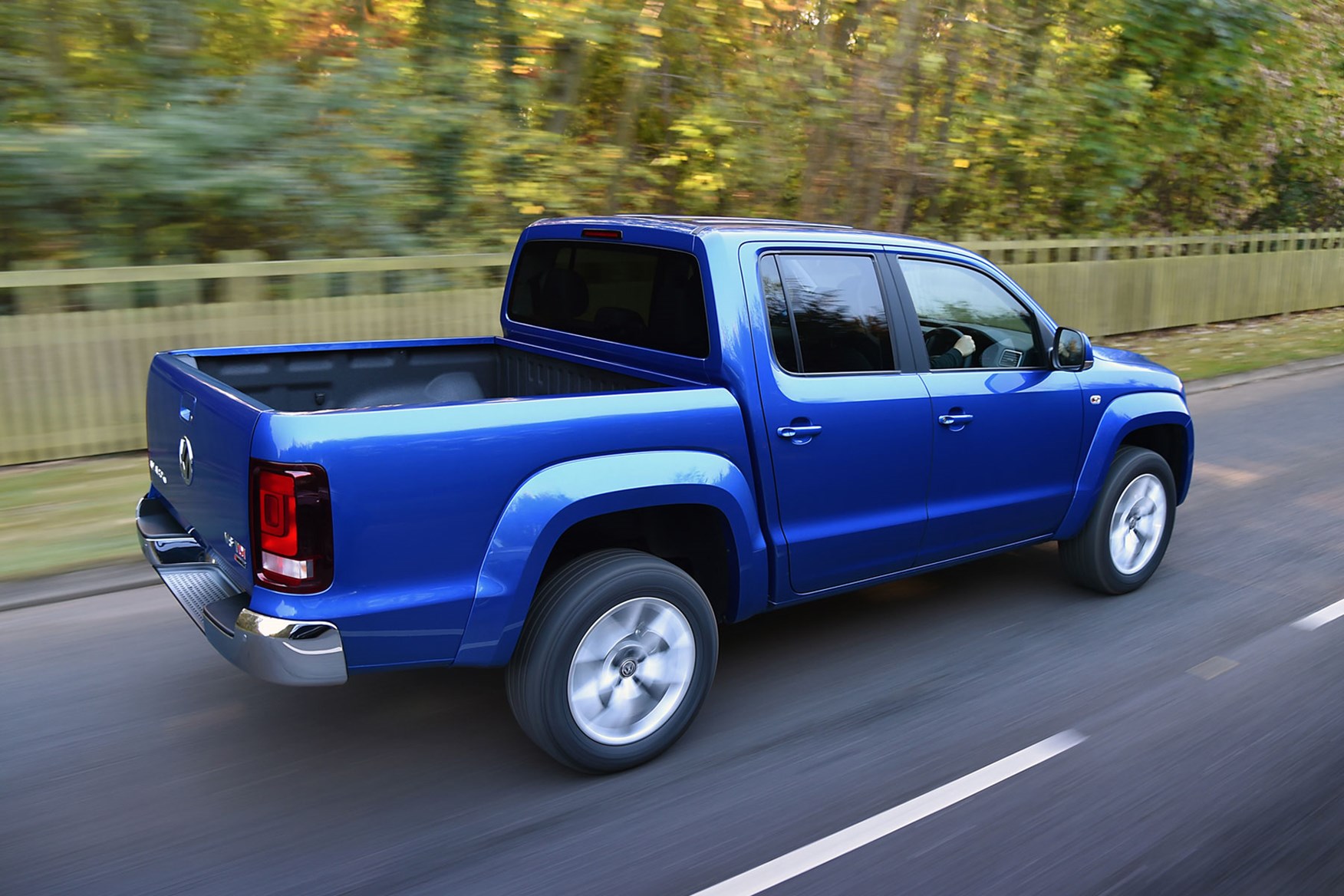 The previous 140hp, 163hp and 180hp 2.0-litre engines are unrefined and coarse by comparison, and occasionally feel anaemic. But go for the 180hp twin-turbo unit, and with a heavy right foot performance is up to the task.
Most models are fitted with an eight-speed automatic, especially following the introduction of the V6 - though a six-speed manual is available on some versions (and was re-introduced for the V6 in November 2017).
Do go for the auto if you can, because it's smooth, decisive, makes the Amarok quieter on the motorway and comes with a more sophisitcated four-wheel drive system.
Taking the Amarok off-road
Despite having the lowest ground clearance in the pickup sector, the Amarok is remarkably capable off-road - thanks not only to the standard 4Motion four-wheel drive but also a whole suite of electronic assistance system.
How many buyers will want to take such an expensive pickup into the scenary is an entirely different matter, however.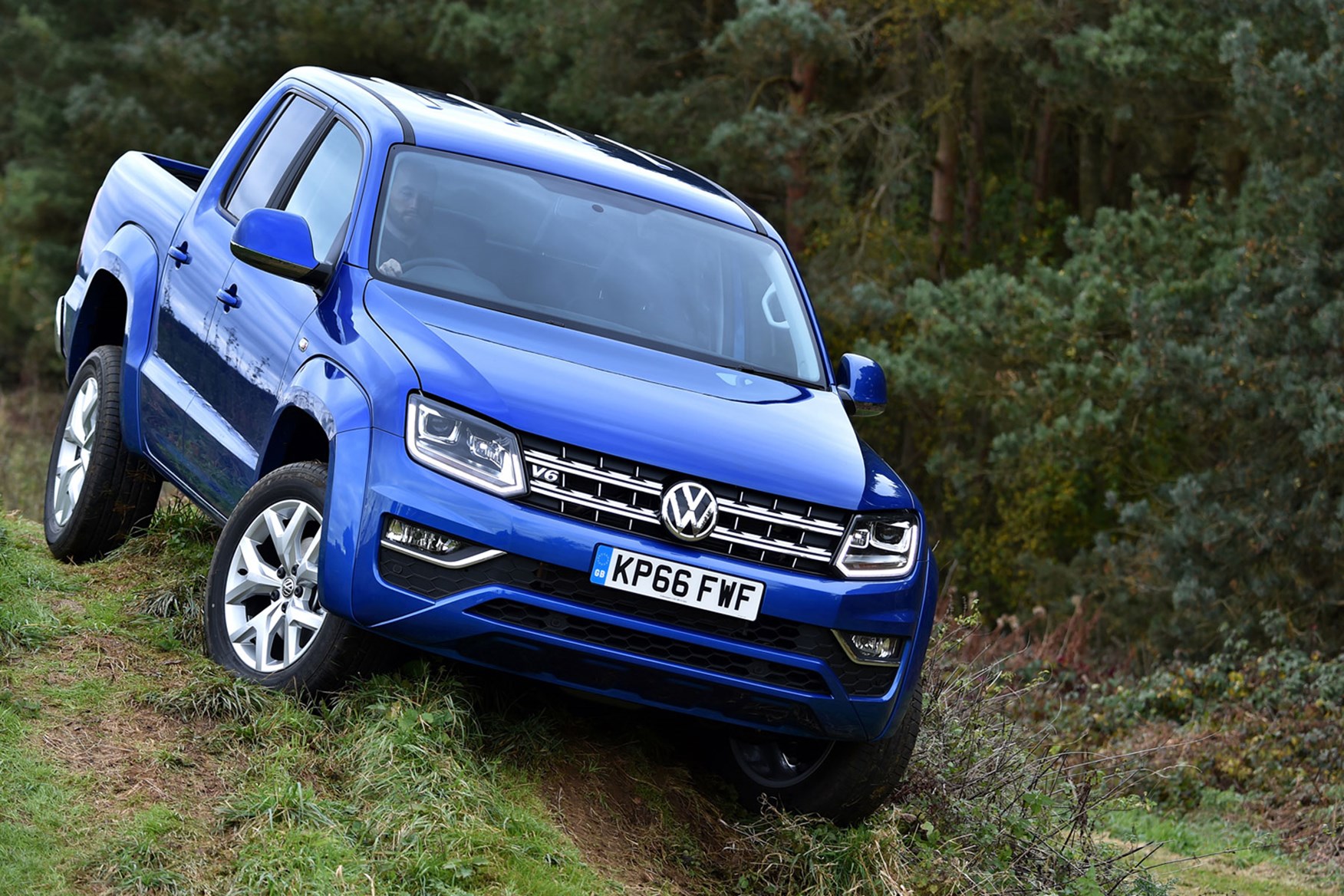 If you do, this is one area where the V6 with the manual gearbox makes more sense, as its selectable four-wheel drive system offers low-range gearing for greater control in extreme conditions.
As far as pickups are concerned, the VW Amarok and the Mercedes X-Class are the closest thing to luxury you can get.
Despite the evidence of the odd bit of hard plastic, the Amarok shames most of its rivals for cabin quality, and there are none of the body creaks, groans and rattles many commercial vehicles suffer.
From late 2012 onwards, buyers could opt for new features including Bluetooth phone connectivity, front and rear parking sensors, heated washer jets, tachograph preparation and cornering foglights.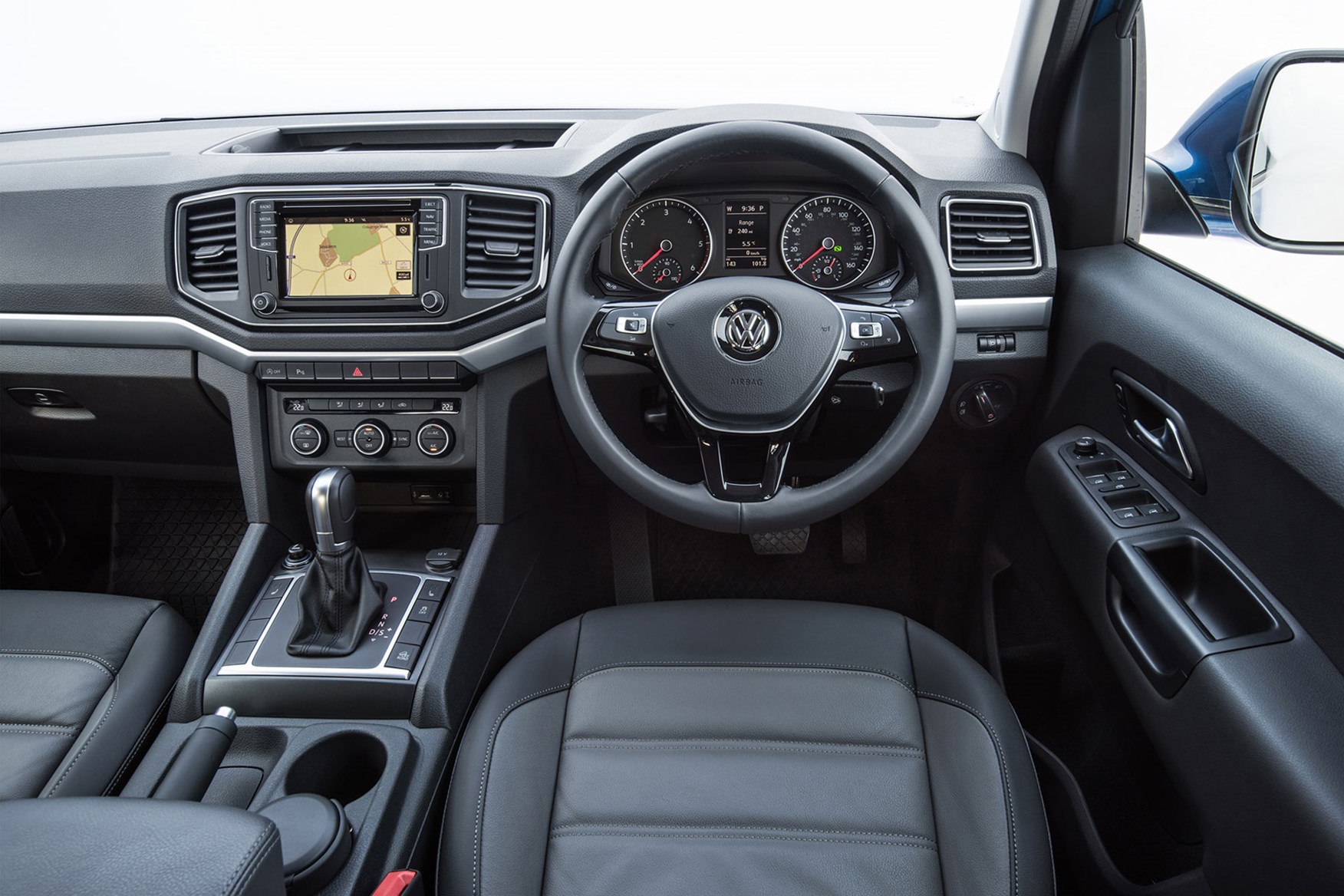 The 2016 update (above) introduced a new 14-way adjustable driver's seat, Climatronic climate control and a steering wheel equipped with paddleshifters on automatic models.
The infotainment systems were also upgraded in 2016. A new 8.0-inch touchscreen display can now be specified which includes App Connect smartphone integration, voice-control and a new Discover Media satellite navigation system that comes with DAB radio as standard.
Fuel economy increased only slightly during the 2016 upgrade to 37.2mpg at best. This is poor when compared with modern rivals (42-45mpg is now the norm), although the Amarok is significantly more powerful.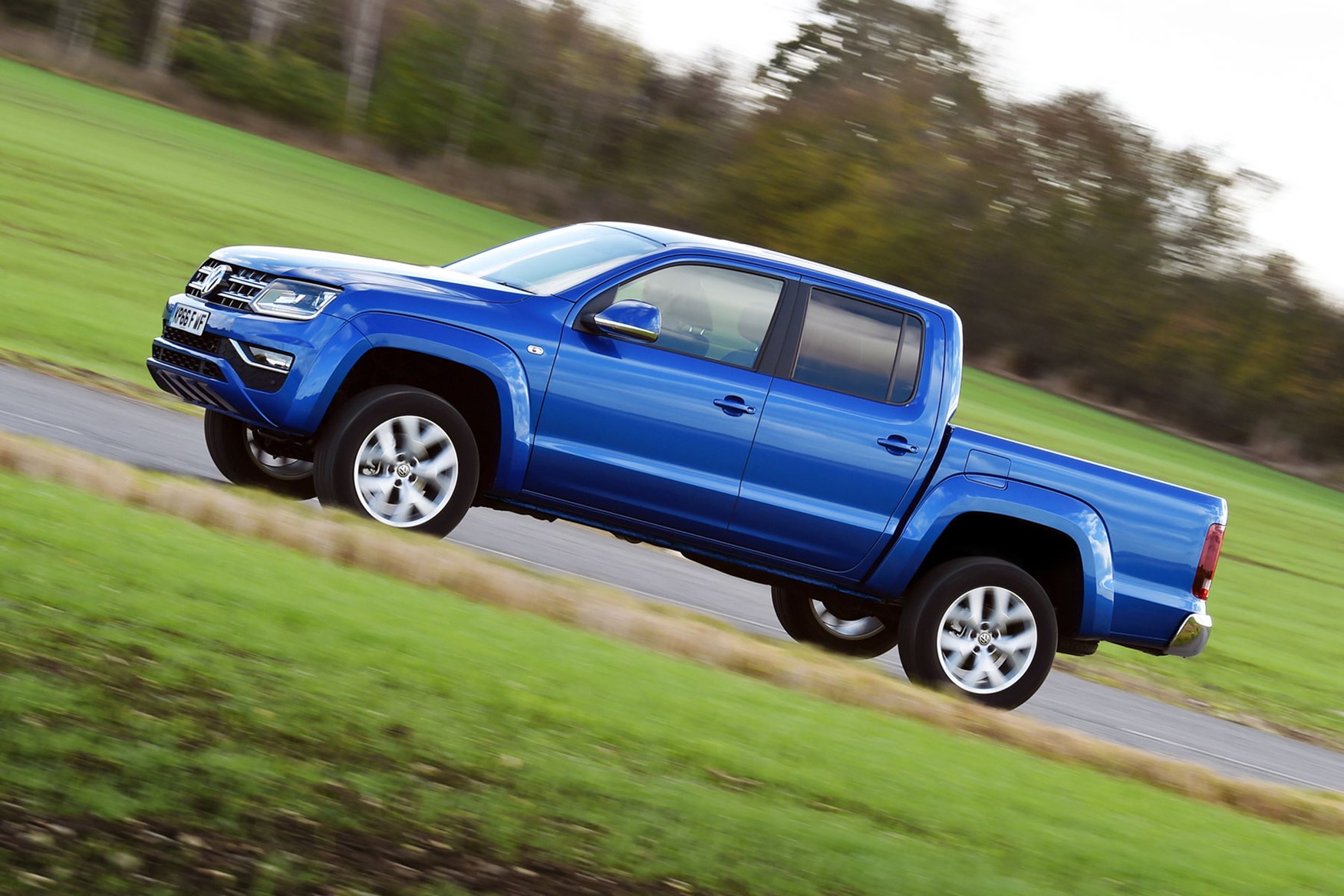 Previously, the 2.0-litre engine offered a significant advantage over the opposition's larger engines when it came to fuel economy. Clearly VW has decided this isn't a priority for its buyers - which is probably true when you consider the initial purchase cost of the Amarok.
This is not a cheap truck to buy, or to run. Also if you go for the lower payload version of the earlier models, it also counts as a car as far as the tax man is concern, making many bills much higher...
>> The Parkers Vans guide to van and pickup taxation
VW Amarok trim levels
The Amarok's standard trim levels are Startline, Trendline and Highline, but it's not unusual for VW to also offer limited special edition models, with examples including Aventura, Canyon and Dark Label.
Volkswagen Amarok reliability was called into question in late 2013 when around 4,000 examples in the UK were recalled due to concerns over potential fuel line leaks.
There have also been some issues with the 2.0-litre engines elsewhere in the VW vans range.
There's not much data to go on for the V6 just yet, but the bigger engine shouldn't feel the strain in the same way as the older four-cylinder alternatives.
In May 2018, VW also introduced a free MOT insurance scheme for its vans and pickups aged up to 10 years old.
The Amarok has always been lauded for its safety systems and all models come with four airbags plus electronic stability control (ESC) as standard. The ESC also helps trailer stabilisation and even works off road to maximise traction.
The selectable 4x4 versions with the manual gearbox also gains hill hold and hill-start assist, plus an off-road mode that recalibrates the ABS to shorten stopping distances on unsealed roads.
To cope with the bigger V6 engine, more powerful disc brakes were fitted all-round in 2016 along with VW's Post-Collision Braking System (applies the brake after first collision to minimise the impact of secondary hits), road-sign recognition and lane-departure warning system.
Which Volkswagen Amarok is best for me?
VW Amarok Dark Label review
Tested May 2018 by CJ Hubbard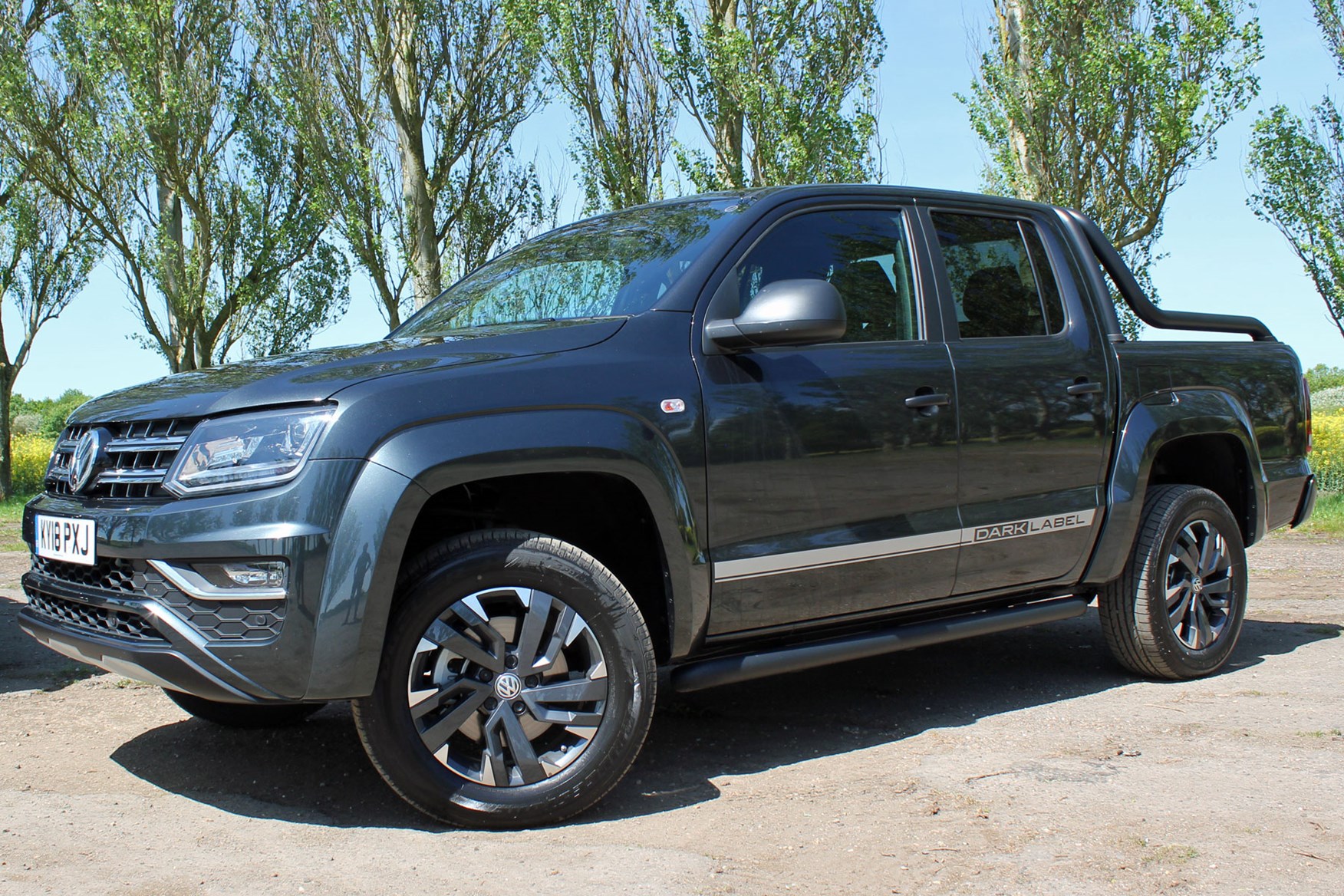 Limited edition pickup based on Highline driven
Unique visual features and extra equipment
Smooth 204hp V6 and eight-speed auto as standard
Dark Label may sound like a brand of instant coffee, but it is in fact a special edition version of the VW Amarok pickup truck.
This V6 version (there was an earlier Amarok Dark Label with the four-cylinder engine) was first announced back in September 2017 as a European limited edition; it was then confirmed for sale in the UK in early 2018, ahead of starring on the Volkswagen stand at the CV Show in April.
Now we've got our hands on one for a review – read on to find out whether it's likely to be your cup of tea…
What's special about the VW Amarok Dark Label?
Limited edition pickups with blacked out paint and accessories seem to be very much on trend at the moment.
We've already driven a similar Mitsubishi L200 Barbarian SVP, we'll be bringing you a review of the Ford Ranger Black Edition very soon (you'll see it in some of the Amarok pictures below), and Isuzu has gone nuts and launched an all-black Arctic Trucks Stealth variant of the D-Max that costs a remarkable £44k before VAT.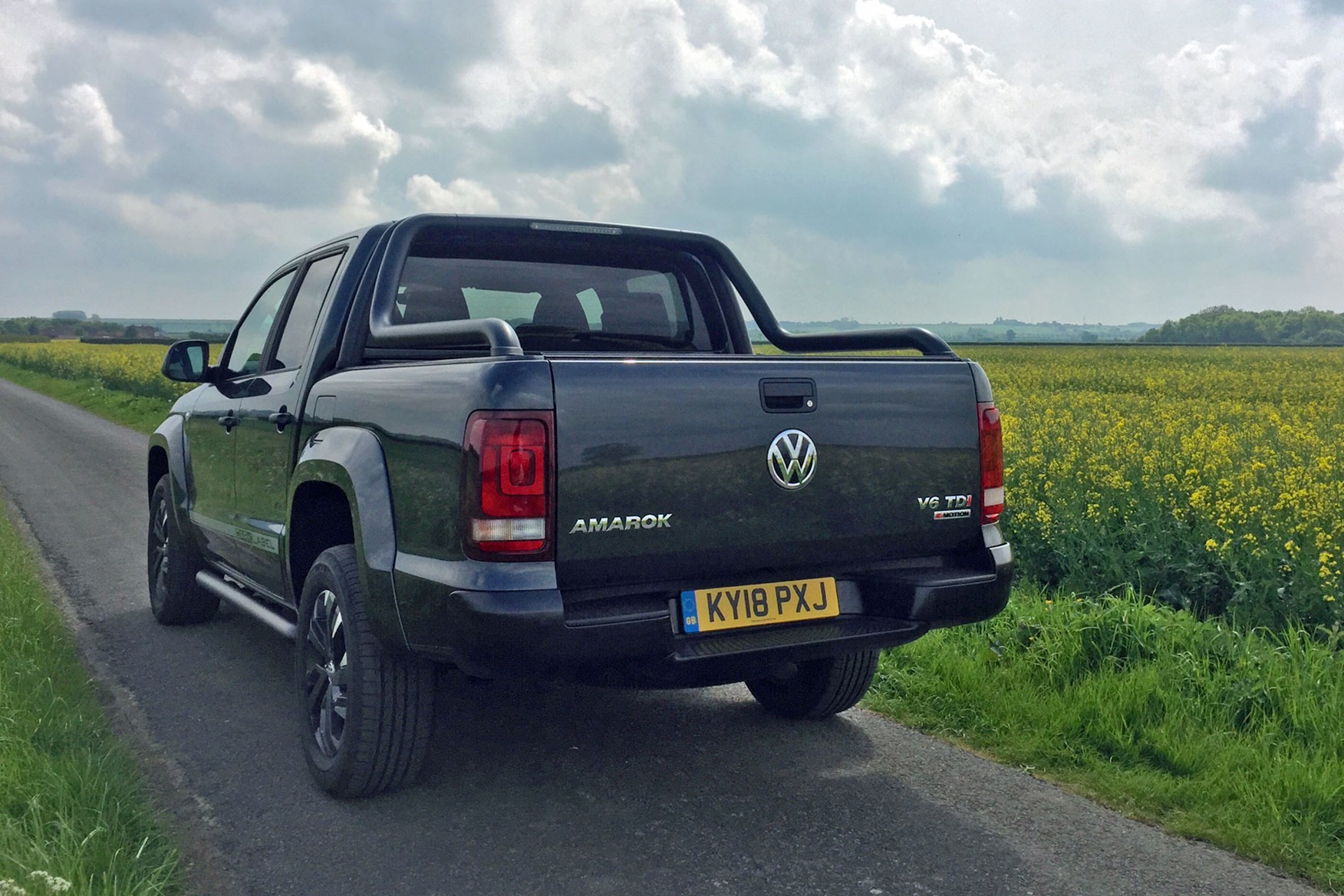 The Amarok Dark Label is very much of this breed – except that in its purest form it eschews the standard actual black paint finish in favour of a Carbon Steel grey metallic finish that's exclusive to this model.
You can have a black one, though, and if you really want to make carwash day a pain in the backside, an Indium Grey matte paint option is available, too.
Other obvious visual mods include a rather intricate set of 18-inch 'Rawson' alloy wheels (you'll need to get the toothbrush out to keep those properly clean), Dark Label graphics down the side, so-called 'underbody styling' elements (fake skid plates, basically) and a matte black rear styling bar.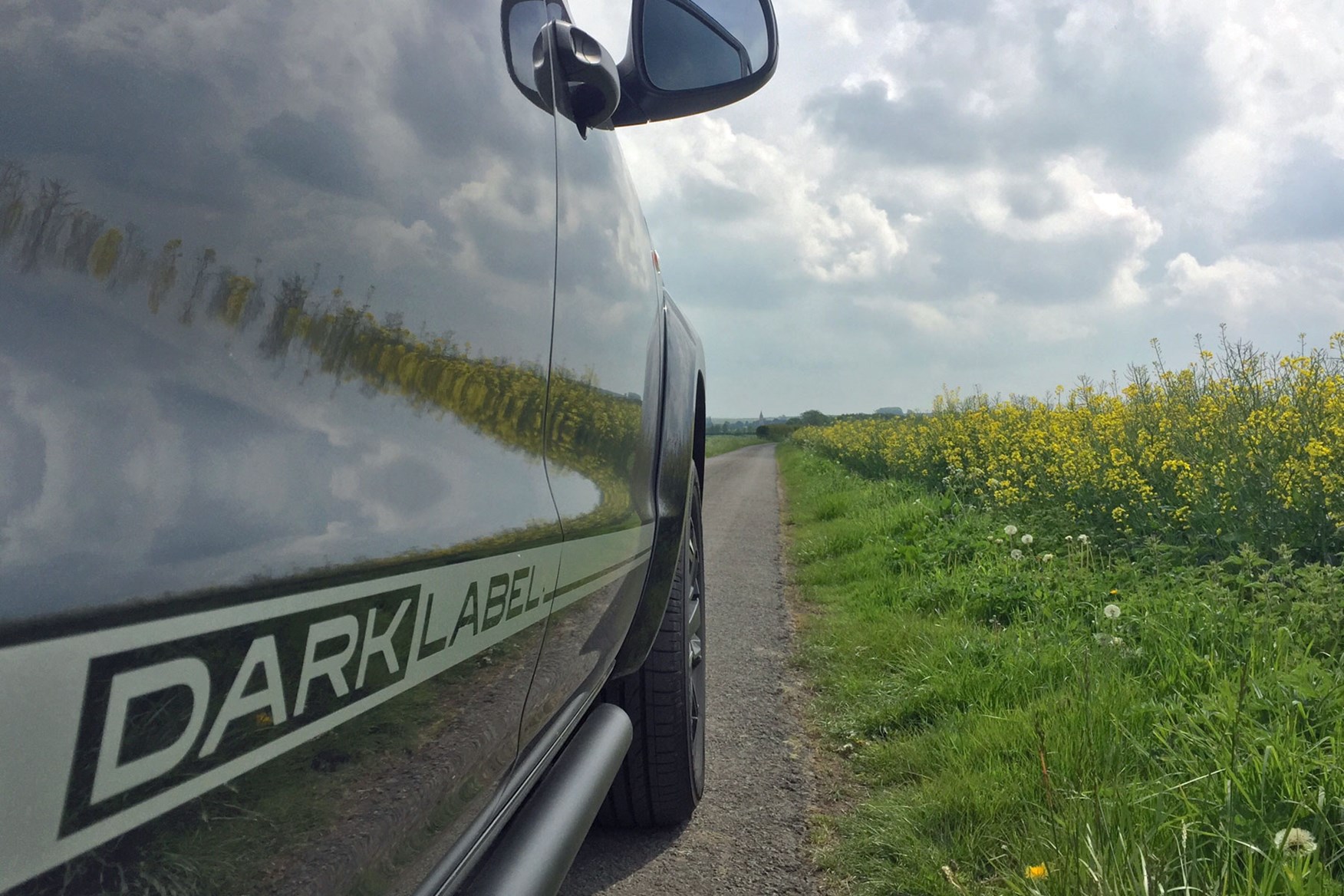 This last is complemented by side bars below the doors, door mirrors, door handles and rear bumper that are all also finished in matte black.
VW says 'the Dark Label model has exceptional road presence'. We're not about to disagree, but it certainly isn't subtle, either.
Any interior upgrades for the VW Amarok Dark Label?
Oh, yes. The seats are covered in suede-like Alcantara – upgraded to Vienna leather in our test vehicle – the rings round the air vents are coated in 'chrome silk gloss', and the ceiling is lined in black, a detail borrowed from the new range-topping 258hp Amarok.
Dark Label floor mats spruce up footwells, the front seats get lumber adjustment and the dashboard gets Deep Inox trimmings.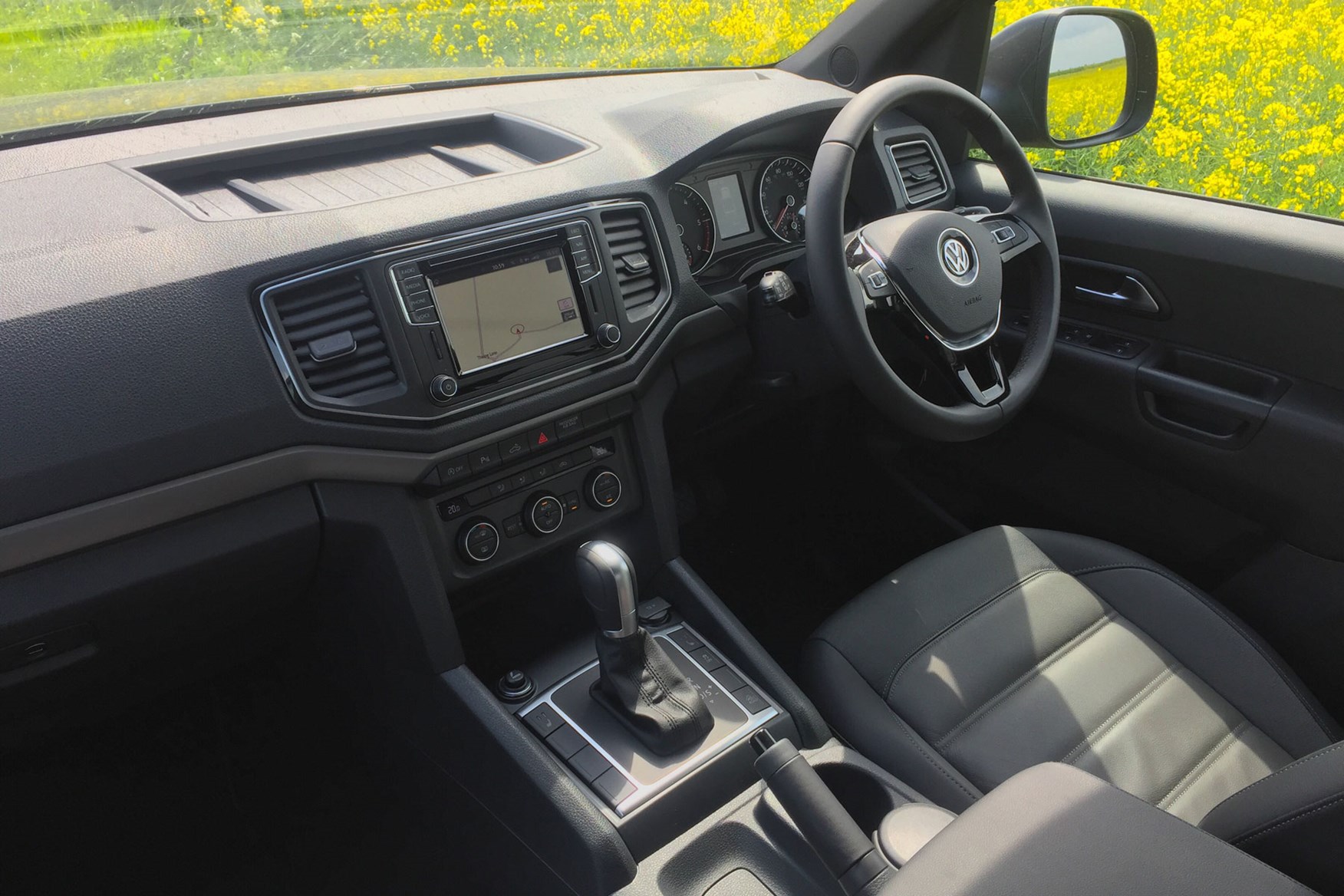 But perhaps most significantly, standard equipment includes VW's Discovery Media infotainment system with 6.33-inch touchscreen and sat-nav – plus automatic lights and wipers, heated power-folding electric door mirrors, and an upgraded instrument cluster.
The Dark Label is based on the existing, generously specified Highline trim level, so buyers will also enjoy front and rear parking sensors with rear-view camera, cruise control, air-conditioning and bi-xenon headlights.
What's the VW Amarok Dark Label like to drive?
The Dark Label is only available with the 204hp V6 TDI turbodiesel engine – so you can't buy a 224hp version – but that's one of those uses of the word only that should really have quotation marks round it. This is still among the fastest, most effortless pickup trucks you can buy today.
The effortless part is helped by the eight-speed automatic gearbox, which is fitted as standard on this model, and the engine's considerable 500Nm of torque. The auto means you get permanent four-wheel drive as well.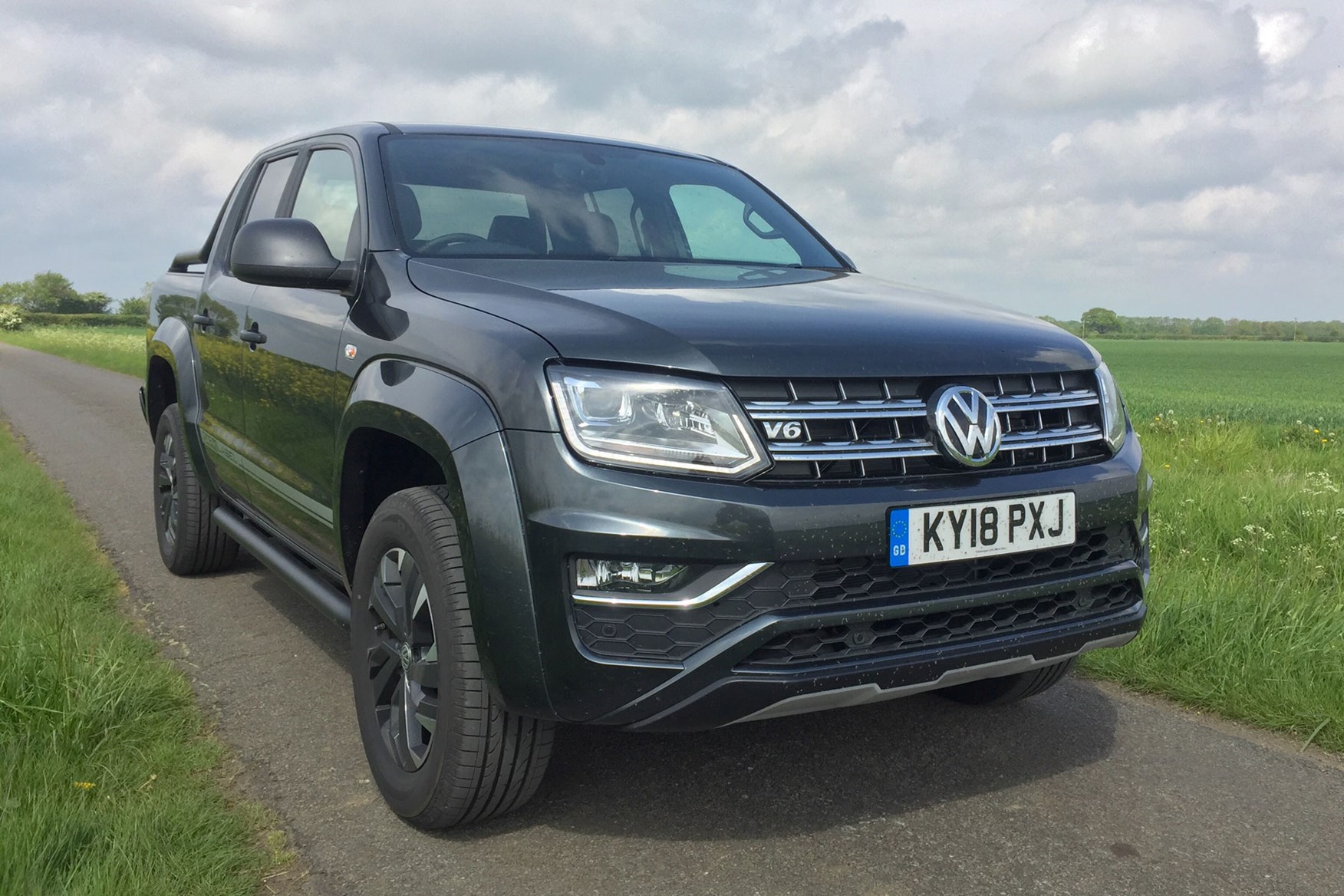 As with all Amaroks, ground clearance is a little more limited than it is with some other pickups, but it will certainly cope with tough off-road conditions within this constraint – and on-road the VW remains one of the most pleasant pickup experiences available.
The engine and gearbox contribute a great deal to this – the smoothness and the power making even long-distance journeys nothing to fear. The gearbox isn't perfect, but if it feels ponderous in the standard drive mode you can always shift it into Sport, which wakes it up just enough.
The suspension is comfortable enough for most road surfaces, too, and though the softness here does mean it rolls around a bit in the corners that's a trade-off we'd be prepared to make for day-to-day comfort. The slow-ish steering doesn't really encourage high-speed cornering, anyway.
How does the VW Amarok Dark Label compared to the Ford Ranger Black Edition?
Compared to the likes of the Ranger Black Edition – which is only available with Ford's 2.2-litre 160hp four-cylinder engine – the Amarok doesn't feel as sharp or wieldy in the bends. But the VW is far more refined and has much less annoyingly jiggly ride-quality when unladen.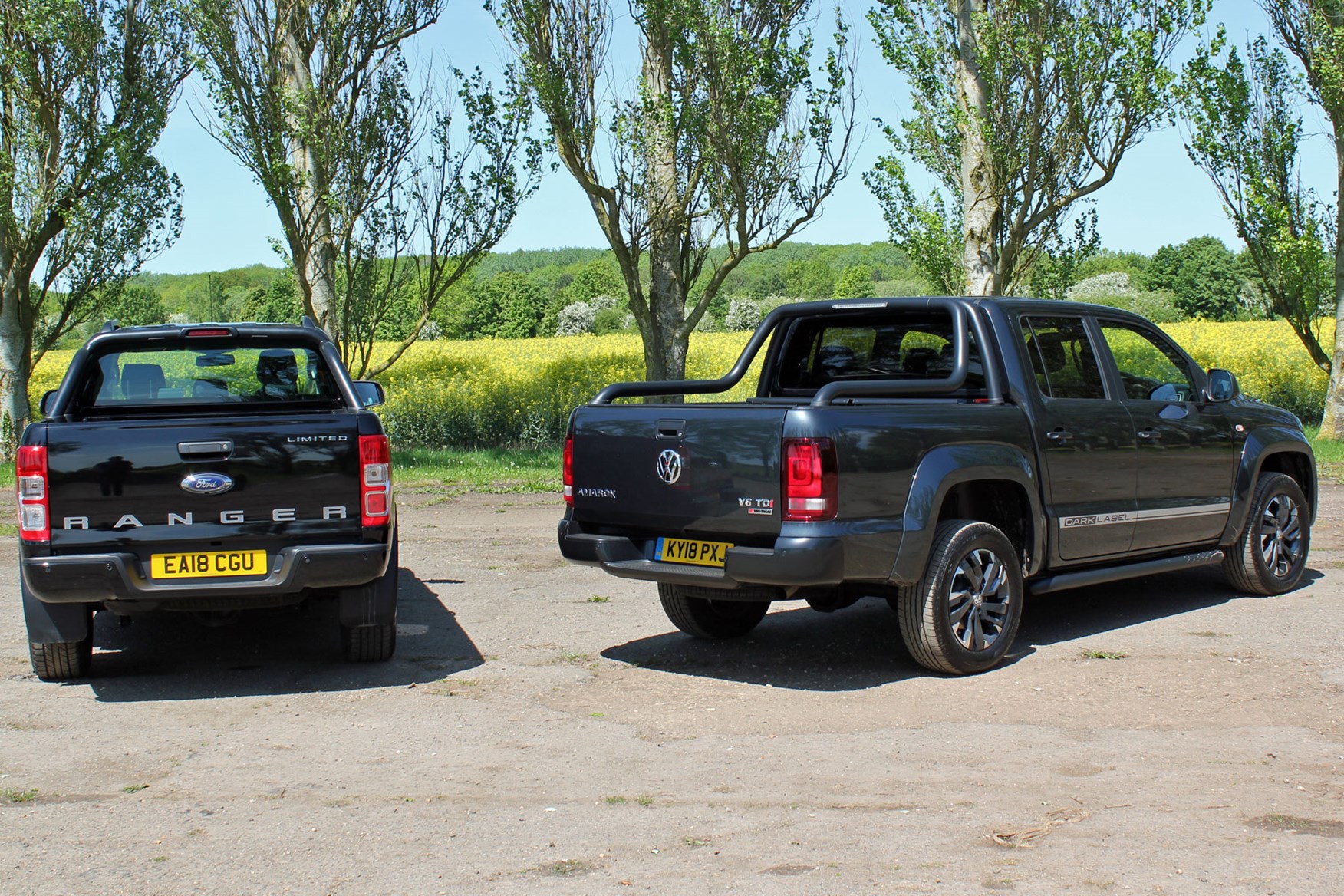 That said, at £33,650 basic (before tax and on-the-road costs), the Amarok Dark Label is considerably more expensive than the £27,995 you have to pay for an automatic transmission version of the Ranger Black Edition.
The Dark Label is still cheaper than the top-spec Mercedes X-Class Power, though, which costs £34,100 basic and only sports a 190hp Nissan engine (at time of writing).
Verdict: Should I buy a VW Amarok Dark Label?
VW is only planning to sell around 200 Dark Label Amaroks in the UK – so if you haven't already ordered you might be too late to get one new.
If you can find one in dealer stock, however, we think the £2,750 extra it costs over an equivalent 204hp Amarok Highline is more than acceptable for the additional equipment, unique features and exclusivity you get in exchange.
On the other hand, if you can't get one, it's not as if an ordinary Highline is a poor alternative; a 224hp version costs less than the Dark Label, too, which ought to be enough to compensate for the less eye-catching appearance.
Advice for buying a used VW Amarok Dark Label
If you're looking at a used example, in addition to all the usual second-hand vehicle advice, make sure all the unique Dark Label features – such as the floor mats – are present and correct, and that you consider the price carefully.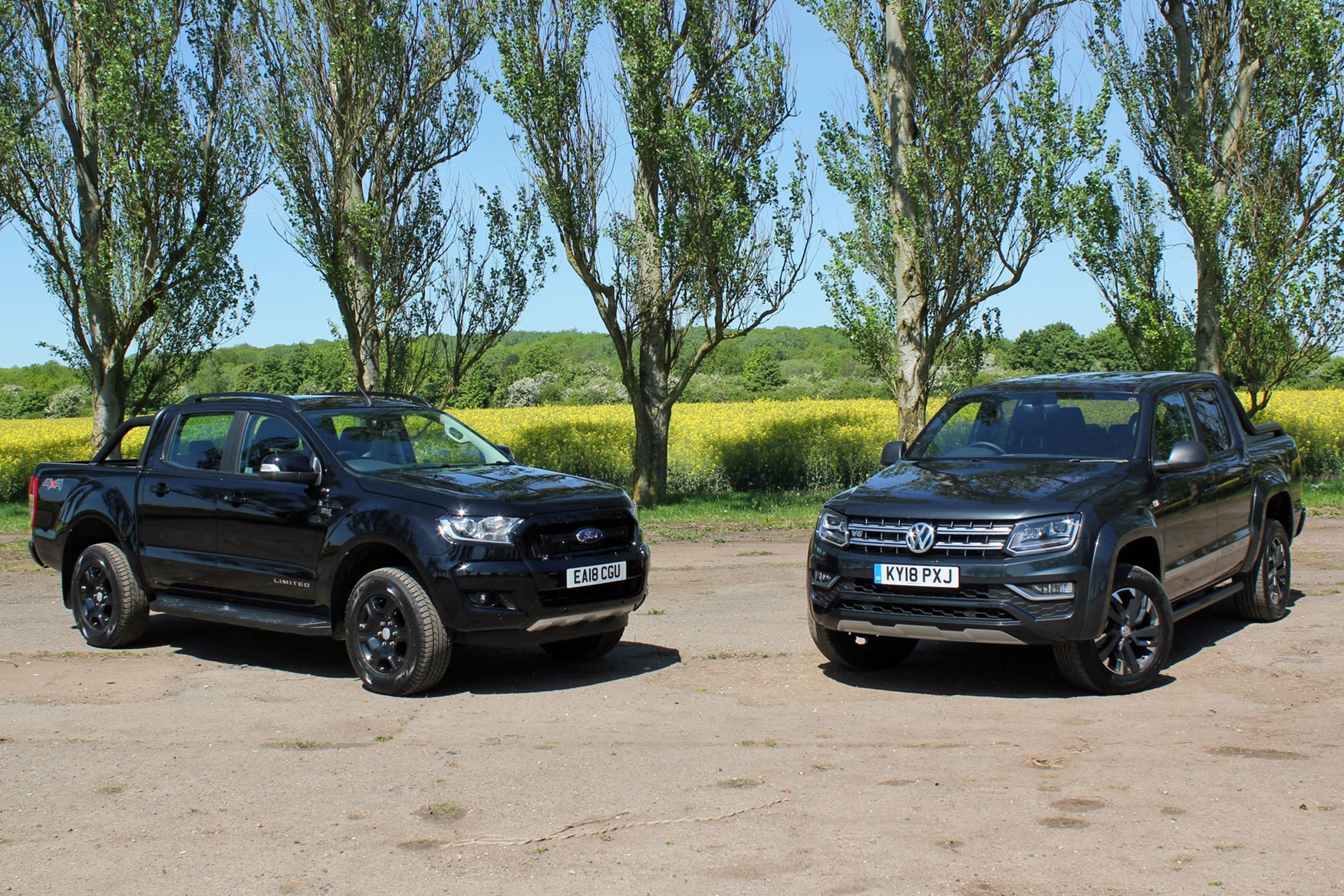 We'd expect a slight premium over an ordinary Highline model, but make sure this properly reflects the condition of the vehicle in question, and isn't out of line with depreciation of the original cost difference detailed above.
VW Amarok Dark Label rivals to consider: