Volkswagen Amarok review (2020)
V6 power makes this a great lifestyle pickup - but it's a hard worker, too
PROS
Powerful V6 engines (from late 2016)
Interior quality better than most rivals
Large load area (for a double cab)
Optional eight-speed automatic
Premium image
CONS
Not as refined as a proper SUV
Early ride quality harsh
Many rivals tow more
Not cheap
Limited ground clearance
Summary
The VW Amarok has become one of the most popular pickups in Europe since going on sale in 2011, appealing especially to lifestyle buyers but with good working credentials, too, thanks to its strong engines and large load area for a double-cab model.
It is also undoubtedly one of the most premium pickup choices, second only to the Mercedes-Benz X-Class in terms of badge appeal.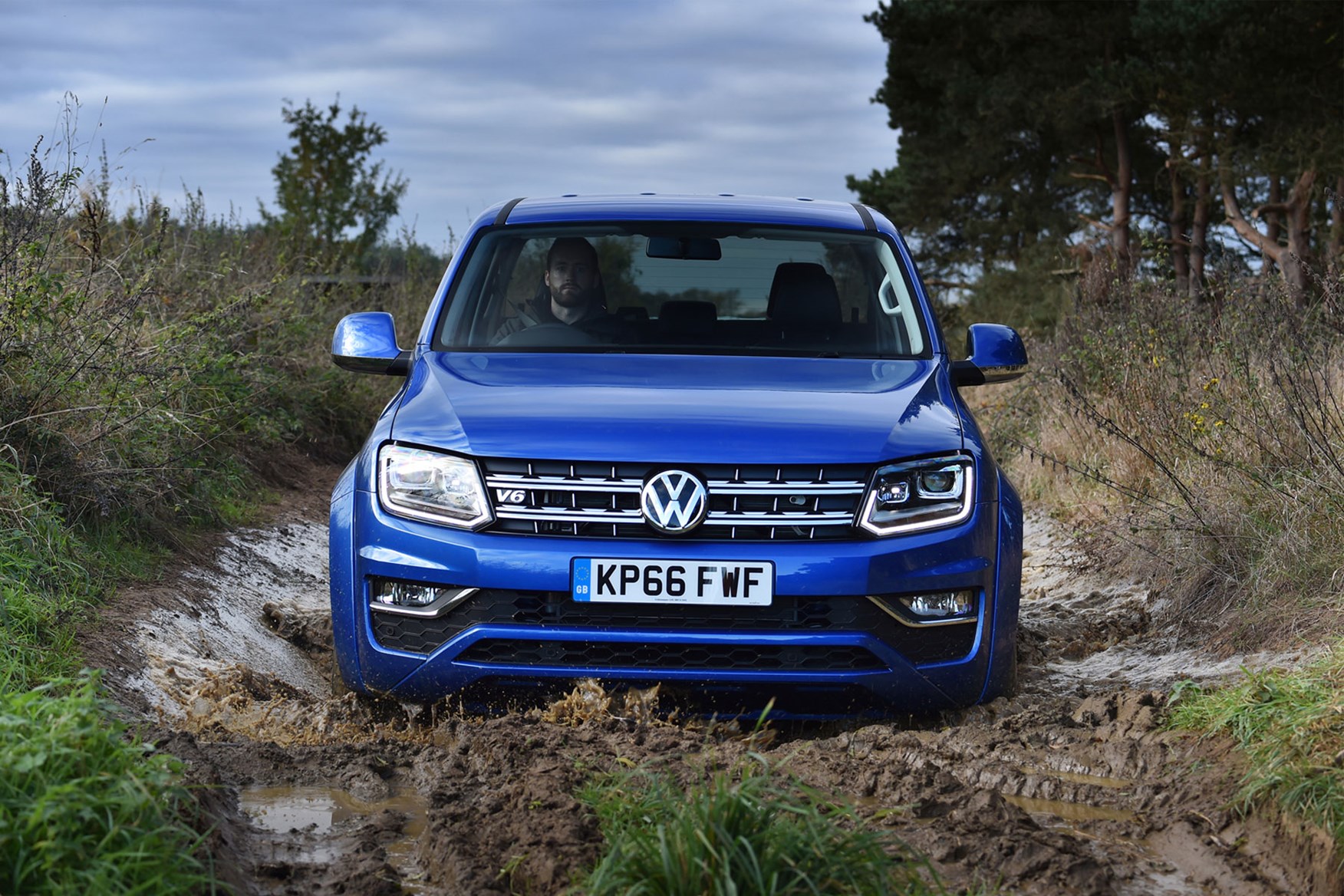 It backs up this premium image with a very impressive driving experience - especially following the introduction of new 3.0-litre V6 engines, which replaced the original 2.0-litre four-cylinder TDI turbodiesel in late 2016 (see below).
Discontinued
Sad news for Amarok fans, as production of this version ended in May 2020. It officially went off sale on 31 August 2020.
A combination of factory space needed for new vehicles and tough new CO2 targets caused it to be axed.
There will be another Amarok, but not until 2022 when an all-new second-generation Amarok built in collaboration with Ford goes on sale.
VW Amarok 2019 update
For 2019, Volkswagen rationalised the Amarok range somewhat, removing the entry-level Startline trim level and the least powerful 163hp V6 engine - neither of which were proving very popular with UK buyers, who apparently prefer their VW pickups well endowed.
The 224hp V6 has also gone (this happened before the end of 2018), as the top rung is now occupied by a massively powerful 258hp model.
This leaves just the 204hp and 258hp engine variants on sale, in a choice of Trendline (204hp only), Highline (204hp or 258hp) and Aventura (258hp only) trim levels.
VW Amarok rivals
As one of the poshest pickups on sale, the Amarok's key rival is clearly the Mercedes X-Class - though buyers on slightly tighter budgets might also consider the Ford Ranger, Nissan Navara and perhaps the Toyota Hilux (though this is particularly under-powered in comparison with the VW).
The more workaday Mitsubishi L200, Isuzu D-Max and SsangYong Musso aren't such obvious competitiors.
VW Amarok variants and capability
The Amarok is only available as a double cab model, meaning four doors and five seats, but it has one of the largest load areas in the double cab class and a very high payload up to over 1.1 tonnes.
All versions are four-wheel drive and both manual and automatic gearboxvariants are available. The eight-speed automatic is particularly impressive, and combined the powerful V6 engines makes for one of the most enjoyable pickups to drive.
You can find out more about the load bed, payload and towing capacity on our dedicated VW Amarok Dimensions page.
V6 engine range introduced in 2016
Emphasising its premium positioning, when VW refreshed the Amarok in 2016 it 'upsized' from the original 2.0-litre TDI four-cylinder turbodiesel engines to a new range of 3.0-litre V6 TDI engines.
This move was in complete contrast to the rest of a pickup truck sector that is busy 'downsizing' - fitting smaller engines in an effort to achieve better on-paper fuel economy, despite sales evidence that suggest UK owners prefer bigger engines and real-world fuel economy data that increasingly suggests that larger, less-stressed engines provide better mpg.
Though, if you do use the most powerful Amarok V6 to its full performance potential, don't expect it to be cheap to run.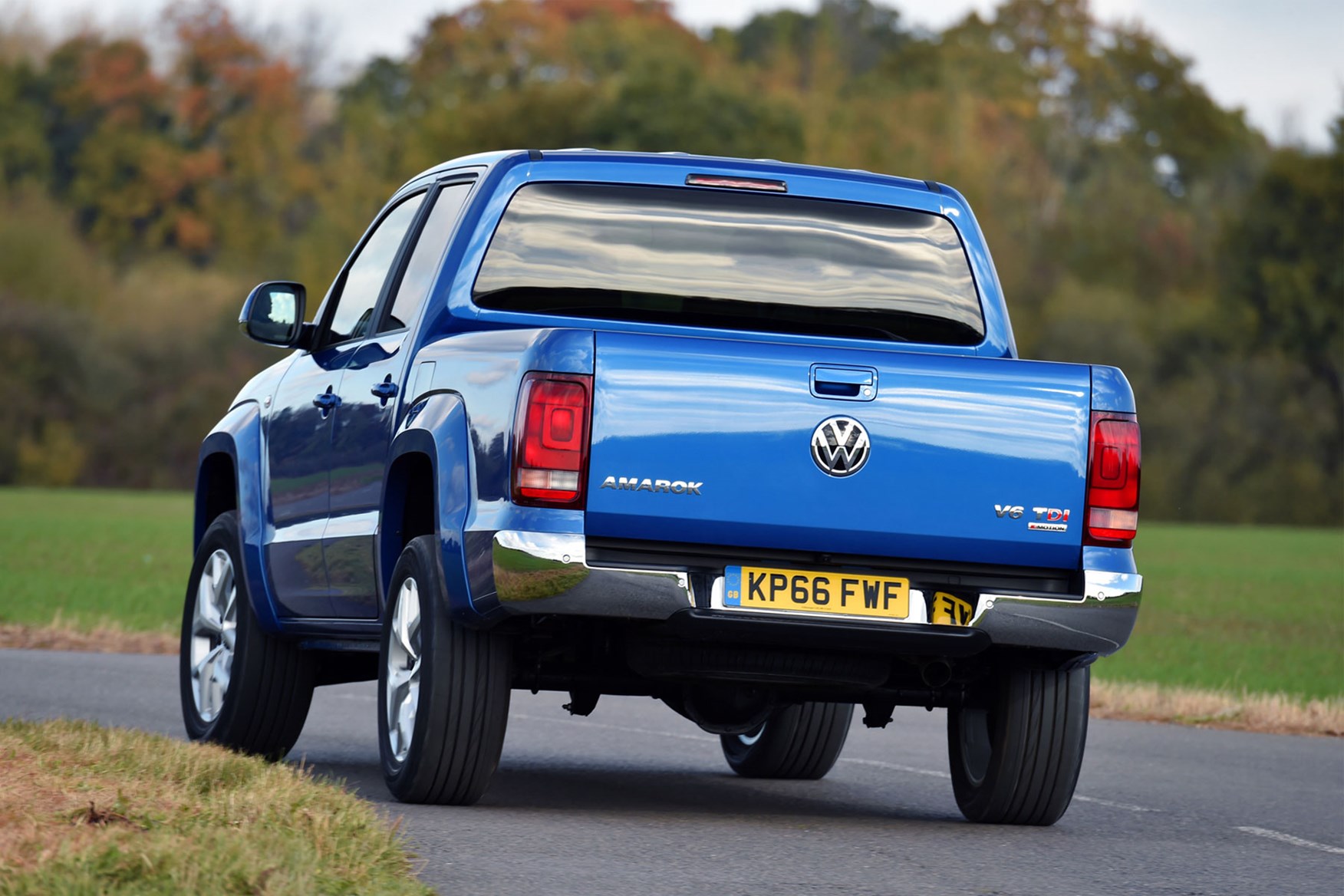 The new V6 engines help to set the Amarok even further apart from all of its peers (except the X-Class, which also has a range-topping V6 engine), bringing a real sense of luxury and performance to the driving experience - aided and abetted by improvements to interior quality introduced at the same time.
However, even with as much as 580Nm of torque now, it still can't tow 3.5 tonnes - when most competitors now have at least one variant that can.
What's the VW Amarok like?
VW's first pickup is a mixture of simplicity and technology, combining an unsophisticated ladder frame chassis that features old-school leaf spring suspension at the rear with state-of-the-art anti-skid control and stability systems that help both on and off road.
All versions come with electronic stability control and four airbags as standard, and the Amarok was designed from the ground up to be one of the safest pickups in the segment. But it is also one of the older designs on sale now, so most rivals have caught up or surpassed it in this regard.
The Amarok does have a very car-like interior - and though some still moan that even after the 2016 update the plastic quality could be better, this pickup sets the benchmark for comfort, and is very easy to drive on and off road.
The latest engines are excellent, and most models are fitted with an automatiic gearbox, which works well.
>> VW Amarok 258hp Highline long-term test review
---

VW Amarok verdict
The Amarok is at the more expensive end of the pickup market, and perhaps isn't as suited to a hard working life as some rivals. But it is exceptionally comfortable, well-equipped and has an engine line-up that's the envy of the entire segment.
Well worth considering if you're buying a pickup to use every day - especially if it's to be a family vehicle. Few rivals will be such a pleasure to live with.
Skip to our full verdict on...
Excellent to drive in pickup terms
But still not as comfortable as car
V6 engines provide enormous power
While there are very few pickups that drive better than this Volkswagen - only the Mecedes X-Class, Nissan Navara and Ford Ranger really run it close, and then for different reasons - you're unlikely to find the Amarok as precise or as comfortable as a traditional passenger vehicle.
However, things have improved with the introduction of the 3.0-litre V6 in 2016, and for a pickup this is a really very impressive machine from behind the wheel.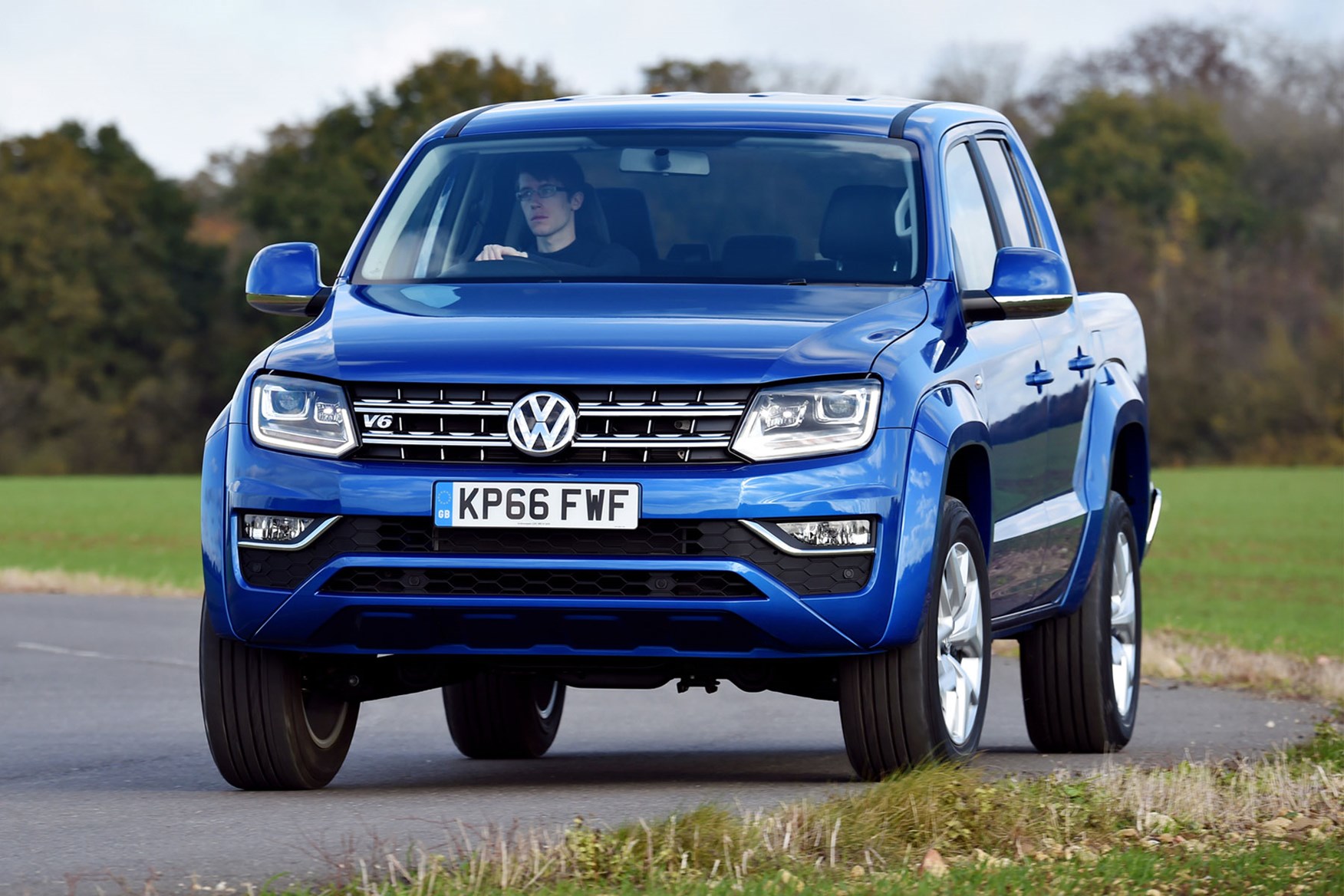 The most recent examples we've driven have been exceedingly good in this regard. Not especially sharp in the corners, but excellent for comfort and quiet at speed.
VW Amarok V6: the most powerful pickup you can buy in the UK
Initially the Amarok V6 was only available in the UK with an enormous 224hp and 550Nm, but VW subsequently introduced a 204hp / 500Nm model, and then in February 2018 an entry-level 163hp / 450Nm V6 joined the range - though this was removed again in early 2019, as few UK customers were interested in buying it, preferring more powerful models.
Later in 2018, an even more powerful 258hp Amarok V6 arrived as as a direct competitor to the range-topping Mercedes X-Class V6; we were lucky enough to test this extensively on and off-road during a desert adventure in Oman. This engine has replaced the 224hp model, which is also no longer available.
Not only do the V6 engines offer supreme power in the pickup truck segment (an overboost function means the top-spec 258hp model ultimately out-guns the equivalent Mercedes X-Class on paper), the suspension fitted alongside them is remarkably supple.
It's almost like driving a giant Golf. Almost.
VW Amarok 2.0-litre TDI engine details
The Amarok's previous 140hp, 163hp and 180hp 2.0-litre TDI engines are unrefined and coarse by comparison to the V6 models, and occasionally feel anaemic.
But go for the 180hp twin-turbo unit, and with a heavy right foot performance is up to the task. You can read more about this engine in the individual model reviews at the very end of this page.
Which VW Amarok gearbox is best?
Most Amarok models are fitted with an eight-speed automatic, especially after the introduction of the V6.
A six-speed manual is available on some versions, however, and was re-introduced for the V6 in November 2017.
Do go for the auto if you can, because it's smooth, decisive and makes the Amarok quieter on the motorway. It also comes with permanent four-wheel drive as standard, which means it will take care of sorting out traction for you, and is ideal for use on the road. The manual gearbox is combined with selectable four-wheel drive instead, but may be a better choice for heavy-duty off-road users.
VW Amarok comfort and handling
Early Amaroks were criticised for poor ride quality, but the most recent versions are extremely good in this area. In fact, it's hard to believe that VW has managed to build such a comfortable truck when it still uses old-fashioned leaf springs at the rear.
The secret is apparently the size of the leaf springs, which do a great job of dealing with heavy loads as well.
The Amarok's steering is a little slower than the sharpest rivals - meaning you'll have to turn the wheel more to get the same effect. But although it does also lean in the corners, it always feels very controlled, and with strong grip levels it's possible to drive one of these big beasts quickly in confidence and safety.
Taking the Amarok off-road
Despite having the lowest ground clearance in the pickup sector, the Amarok is also capable off-road - thanks not only to the standard 4Motion four-wheel drive but a whole suite of electronic assistance system as well.
How many buyers will want to take such an expensive pickup into the scenery is an entirely different matter, however.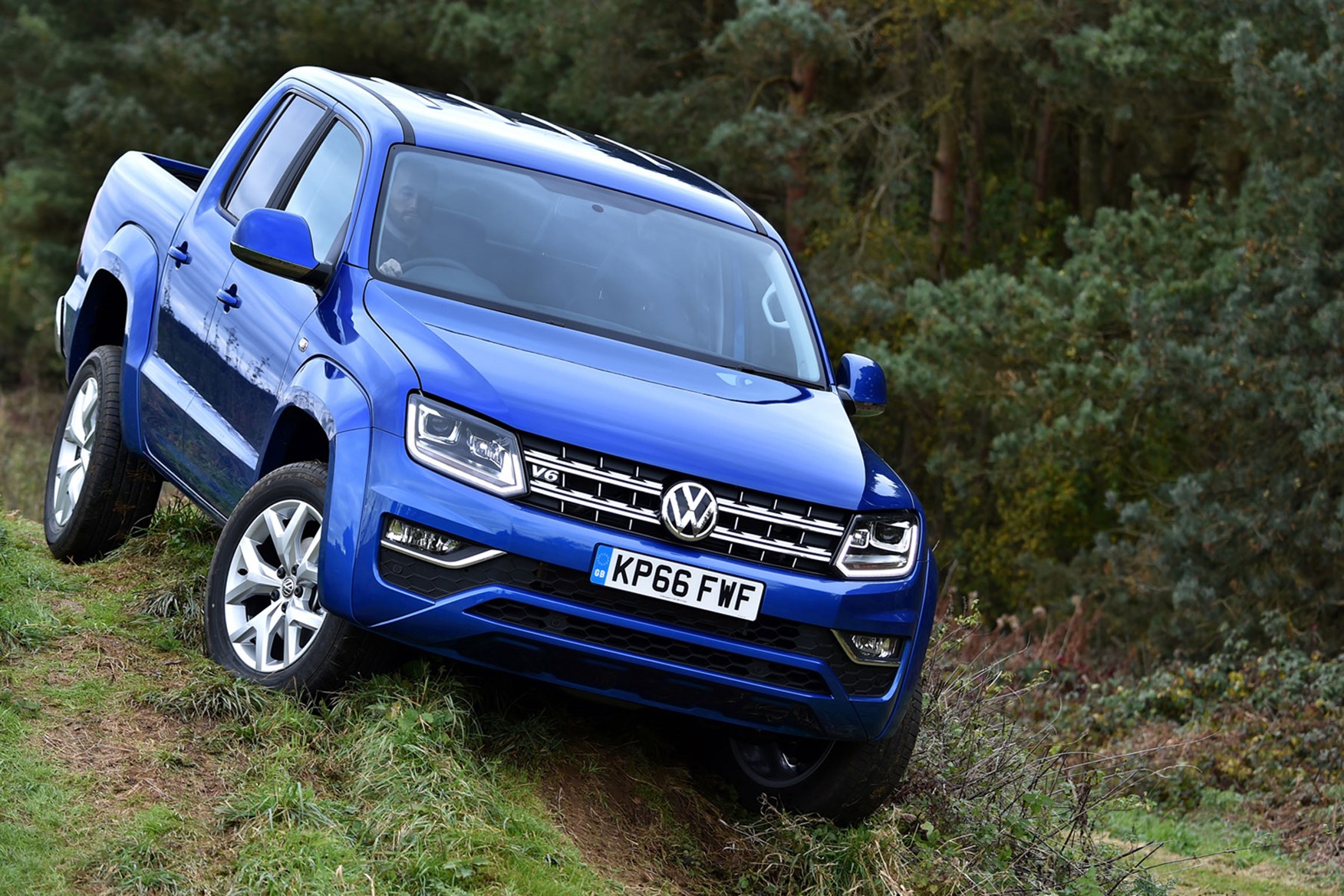 If you do, this is one area where the V6 with the manual gearbox makes more sense, as its selectable four-wheel drive system offers low-range gearing for greater control in extreme conditions.
Latest versions feel very solid inside
Practical and easy to use cab design
Plenty of toys available
As far as pickups are concerned, the VW Amarok and the Mercedes X-Class are the closest thing to luxury you can get.
Despite the evidence of the odd bit of hard plastic, the Amarok shames most of its rivals for cabin quality, and there are none of the body creaks, groans and rattles many commercial vehicles can suffer with.
How practical is the VW Amarok inside?
In the UK the Amarok is double cab only, and there's a decent amount of legroom in the rear for three passengers. Even if it is a bit of a squeeze sitting behind a tall driver.
Still, it's a reasonably practical working environment, and though some feel the design is a little boring we like its functional simplicity and intelligent control layout. Be a shame to ruin those nice carpets with muddy work boots, though.
There are up to four 12-volt sockets dotted around for charging your gear, including one in the cargo area and another in a recessed slot in the dash suitable for housing a tablet or laptop.
All four door pockets can fit big bottles of water and there are two pairs of cupholders - one in front and one in the rear - plus a large storage bin under the padded central armrest.
Improved comfort and interior from 2016 onwards
The 2016 Amarok interior update (below) introduced new 14-way adjustable ergoComfort front seats (optional or high-spec only), which are unlike anything offered on rival pickups.
Where most rely on a bit more padding to support drivers in the poshest models, Volkswagen's seats are closer to a full-size luxury car in support for long journeys; this alone could make the Amarok preferable to rivals if you spend many hours in the cab.
Climatronic air-conditioning and a steering wheel equipped with paddleshifters (also optional or high-spec only) on automatic models - in addition to an increase in material quality designed to help make it feel more premium - complete the improved ambience of the Amarok's interior.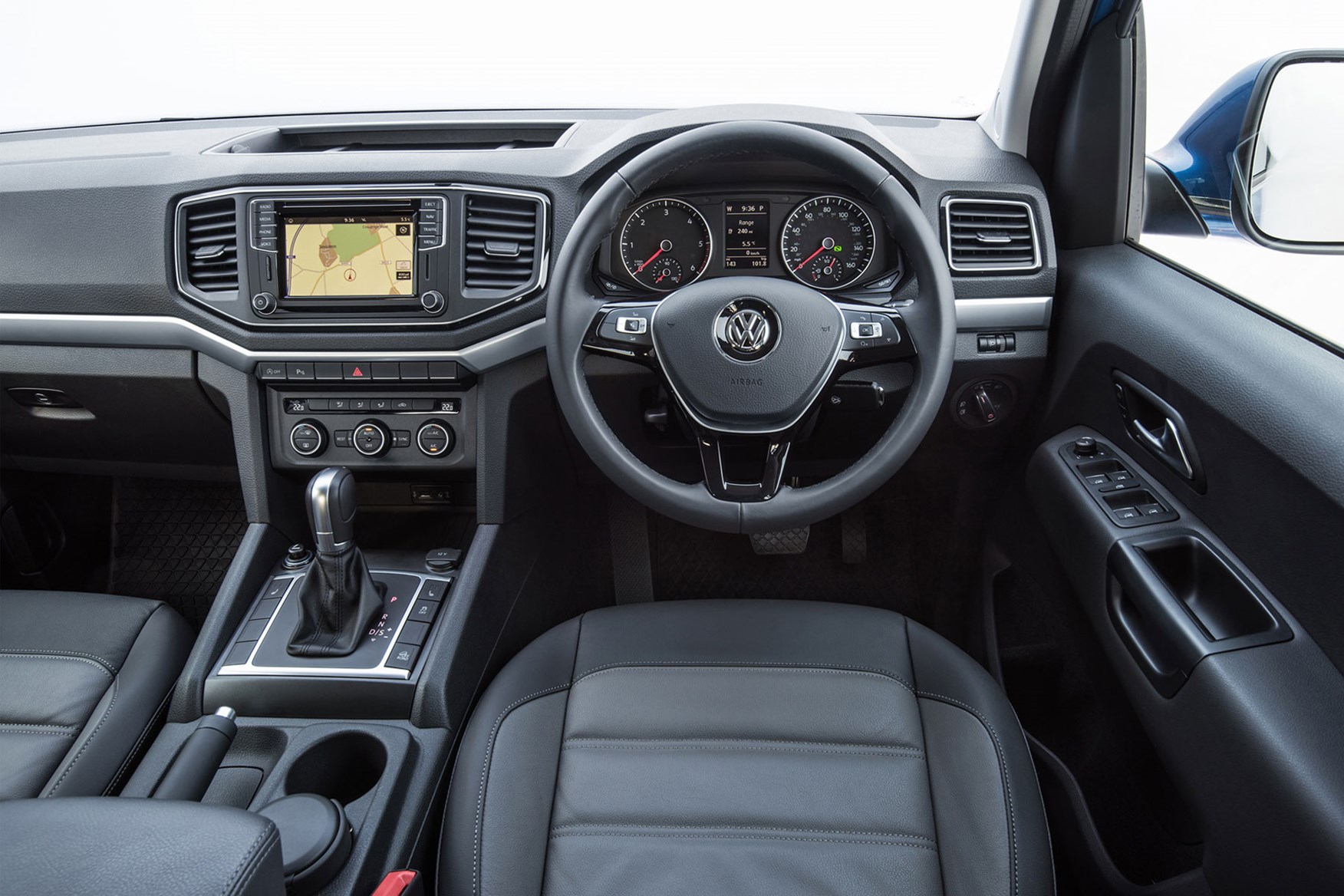 The infotainment was updated at the same time, with DAB radio added as standard, and the option of a new Discover Media system with satellite-navigation, plus App Connect smartphone integration.
Full details of current standard equipment can be found in the Costs and Value section.
V6 engines use plenty of fuel - but give you plenty of power
Not cheap - but comes very well equipped
Servicing, warranty and tax details
The Amarok is not the cheapest choice of pickup - but you probably knew that already. From the list price to the amount of fuel it drinks, one of these is going to cost you quite a bit, though if you're buying on finance or planning to lease you may find some decent deals due to the power of the VW brand, which tends to ensure secondhand values stay high.
VW Amarok mpg
The move from 2.0-litre four-cylinder engines to 3.0-litre V6 engines inevitably saw the Amarok's fuel economy fall.
Making matters worse on paper, the testing method for fuel economy changed in September 2019 to a new WLTP standard, which is supposed to be realistic.
As a result, the previous V6 best of a claimed 34.9mpg has now officially fallen to 28.2mpg (at time of writing in October 2019).
In the real world the Amarok is just as efficient (or not) as it always was.
Regardless, the eight-speed auto is the gearbox of choice if you want to minimise your fuel consumption.
And while the Amarok V6 is considerably less economical than many rivals, it is also considerably more powerful than almost every pickup on sale.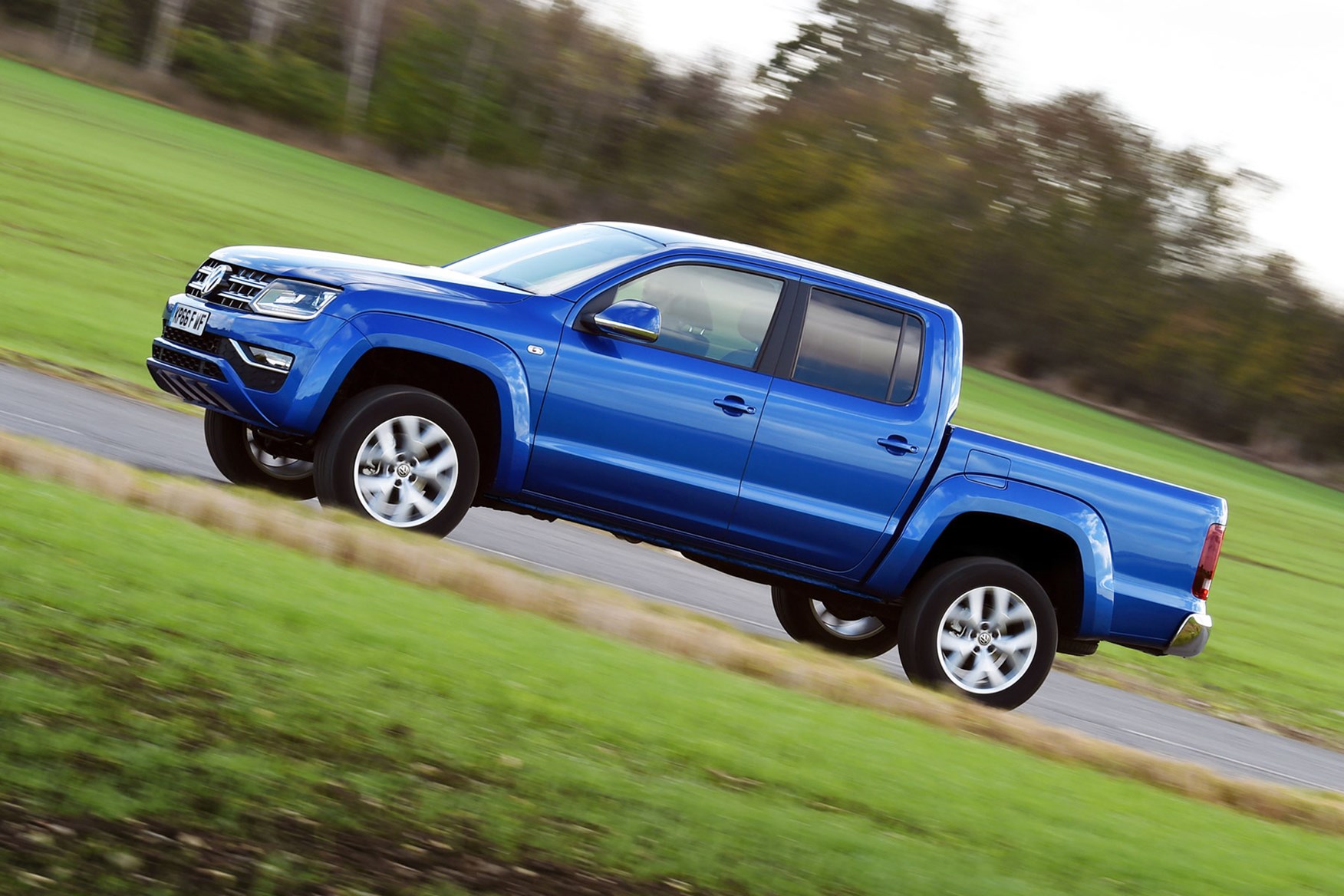 Previously, the Amarok's 2.0-litre engine offered a significant advantage over the opposition's larger engines when it came to fuel economy. Clearly VW has decided this isn't a priority for its buyers - which is probably true when you consider the initial purchase cost of the Amarok.
On top of which, Volkswagen reckons a combination of BlueMotion fuel-saving tech (stop-start and battery regeneration) plus a 13-litre AdBlue tank (which has a minor impact on payload) means you can expect similar economy to the outgoing Amarok's smaller engine in the real world.
VW Amarok warranty
The Amarok is covered for three years or 100,000 miles - with the first two years being unlimited mileage.
VW Amarok service intervals
The Amarok follows VW's typical servicing regime, which if you want to go for traditional fixed intervals fall at once a year or every 10,000 miles - whichever is sooner.
Alternatively, you can opt for flexible servicing, which will see the vehicle let you know when it requires attention. This usually extends the gap between dealer visits to 20,000 miles or two years.
On the subject of servicing, in March 2020, VW rolled out augmented reality headsets across its entire Van Centre and Authorised Repairer network to help solve complex repair issues faster.
VW Amarok tax
All current versions of the VW Amarok qualify for light commercial vehicle tax, which makes them considerably cheaper for road tax and company car tax compared with an equivalently powerful V6 diesel passenger SUV.
However, there was a low payload version of the earlier models that counts as a car for tax, making many bills much higher...
VW Amarok trim levels
The Amarok's standard trim levels are typically Startline, Trendline and Highline, but it's not unusual for VW to also offer special edition models, with examples including Aventura, Canyon, Dark Label and, most recently, Black Edition. Sometimes these are only available in limited numbers, sometimes they join the range for a period of time.
The entry-level Startline specification is no longer available, having been purged from the range in 2019 due to limited customer interest - it seems Amarok buyers prefer to have their pickups with plenty of kit. For similar reasons, the range-topping model is currently the Aventura, with Trendline becoming the entry point and Highline sitting in the middle.
These are the highlight standard equipment items as of October 2019; details of safety equipment can be found in the Safety section below, while full info about the load area is located on our dedicated Amarok Dimensions page.
VW Amarok Trendline standard equipment highlights:
6.33-inch touchscreen infotainment system with DAB, Bluetooth, CD player and aux-in
Air-conditioning
Cruise control
Black rear bumper with integrated step
Double chrome strip in upper grille
Electric, heated door mirrors
Front and rear foglights
17-inch alloy wheels
Full-size spare
Remote central locking
VW Amarok Highline standard equipment highlights (in addition to Trendline):
Heated front seats

'Decorative' silver trim inserts
Vienna leather upholstery
Four 12v sockets, including one in the load area
Additional exterior dust seals
Bi-Xenon headlights
Chrome rear bumper with integrated step
Darkened rear light lenses
Front and rear parking sensors
Front grille with two chrome horizontal strips and six vertical chrome ribs
Heated washer jets
LED number plate lighting
Side bars in stainless steel
Washer fluid level indicator
18-inch alloy wheels
VW Amarok Aventura standard equipment highlights (in addition to Highline):
Discover Media sat-nav infotainment system
Upgraded 'Premium' instrument cluster display
Aventura floor mats
Black headlining
'ergoComfort' front seats with 14-way adjustment
Nappa leather upholstery
Leather steering wheel with gearshift paddles
Body-coloured rear sports bar
Front foglights with cornering function
Protective coating for load area
Stainless steel 'nerf' side bars with integrated steps and LED lighting
Underbody styling (fake bash plates, basically)
Electric folding, adjustable and heated door mirrors
Automatic lights and wipers
20-inch alloy wheels
Volkswagen Amarok reliability hit a bit of a hiccup in late 2013 when around 4,000 examples in the UK were recalled due to concerns over potential fuel line leaks.
There have also been some issues with the 2.0-litre engines elsewhere in the VW vans range.
There's not much data to go on for the V6 just yet, but the bigger engine shouldn't feel the strain in the same way as the older four-cylinder alternatives.
In May 2018, VW also introduced a free MOT insurance scheme for its vans and pickups aged up to 10 years old.
VW Amarok recalls
There have been just four official recalls on the Amarok since its launch in 2011, which should be testament to its build quality.
These were related to potential fuel leaks, airbag failure to deploy, caliper bolts and, most recently, a power steering hose.
Relatively small numbers of vehicles were affected by each issue (the airbag problem was traced to just seven Amaroks in the UK, for example), but if you're buying used it's definitely worth checking that the work has been carried out - which should have been done free of charge by a VW dealer.
Safety equipment starting to look out of date as active aids are limited
All the latest V6 models are fitted with an alarm system as standard
The Amarok was lauded for its safety systems when new, and received a four-star rating from Euro NCAP when it was tested back in 2010.
But many newer rivals offer larger numbers of active driver aids, and the VW is starting to look out of touch.
VW Amarok safety
All Amarok models come with four airbags plus electronic stability control (ESC) as standard - but there are no curtain airbags in the rear, leaving back seat passengers exposed to greater danger.
Still, the ESC also helps trailer stabilisation and even works off road to maximise traction.
The current range (October 2019) also feature hill-start assist and VW's automatic Post-Collision Braking System, which applies the brakes after an impact to prevent secondary accidents, while V6 models also received upgraded brakes to cope with the more powerful engine.
However, autonomous emergency braking (AEB) isn't available at all - even though it's been standard on VW's vans in the UK since mid 2017 - and you can't get blindspot monitors or any kind of lane assistance, either.
Tyre pressure monitors are an optional extra, but you do get Isofix mountings for child seats on the two outer rear seats.
VW Amarok security
All current Amaroks (October 2019) come with a Thatcham Category 1 alarm and an immobiliser.
For earlier models check the spec before you buy.
Which Volkswagen Amarok (11-20) is best for me?
It shouldn't be too difficult to choose yourself an Amarok, as almost every version offers satisfaction - although maybe stay away from the least powerful 2.0-litre engines if you're buying used. This is a pickup that's definitely best with plenty of muscle.
Best VW Amarok engine
Most customers buying new opt for high-powered engines. In 2018 the 224hp model took over 50% of sales, and now that's been discontinued, the 258hp Amarok is up to nearly three-quarters of all sales in 2019.
The 163hp V6 accounted for just 2% of sales until it was discontinued, making that look like a very sensible decision.
Best Amarok trim level
Highline is typically the most popular trim level, though special editions and even more highly specified variants also tend to do well.
---
VW Amarok individual model reviews
We've tested a large number of Amaroks since it was launched in 2011, and here you'll find individual model reviews that will further help you to decide which VW pickup is best for you.
Click on the links below to go straight to the review that most interests you:
In addition to this, we've also got a feature drive of the 258hp Amarok V6 in Oman, including desert off-roading, and a long-term test review of the 258hp Amarok Highline.
---

VW Amarok V6 Aventura 258hp review
Tested April 2019 by Lawrence Cheung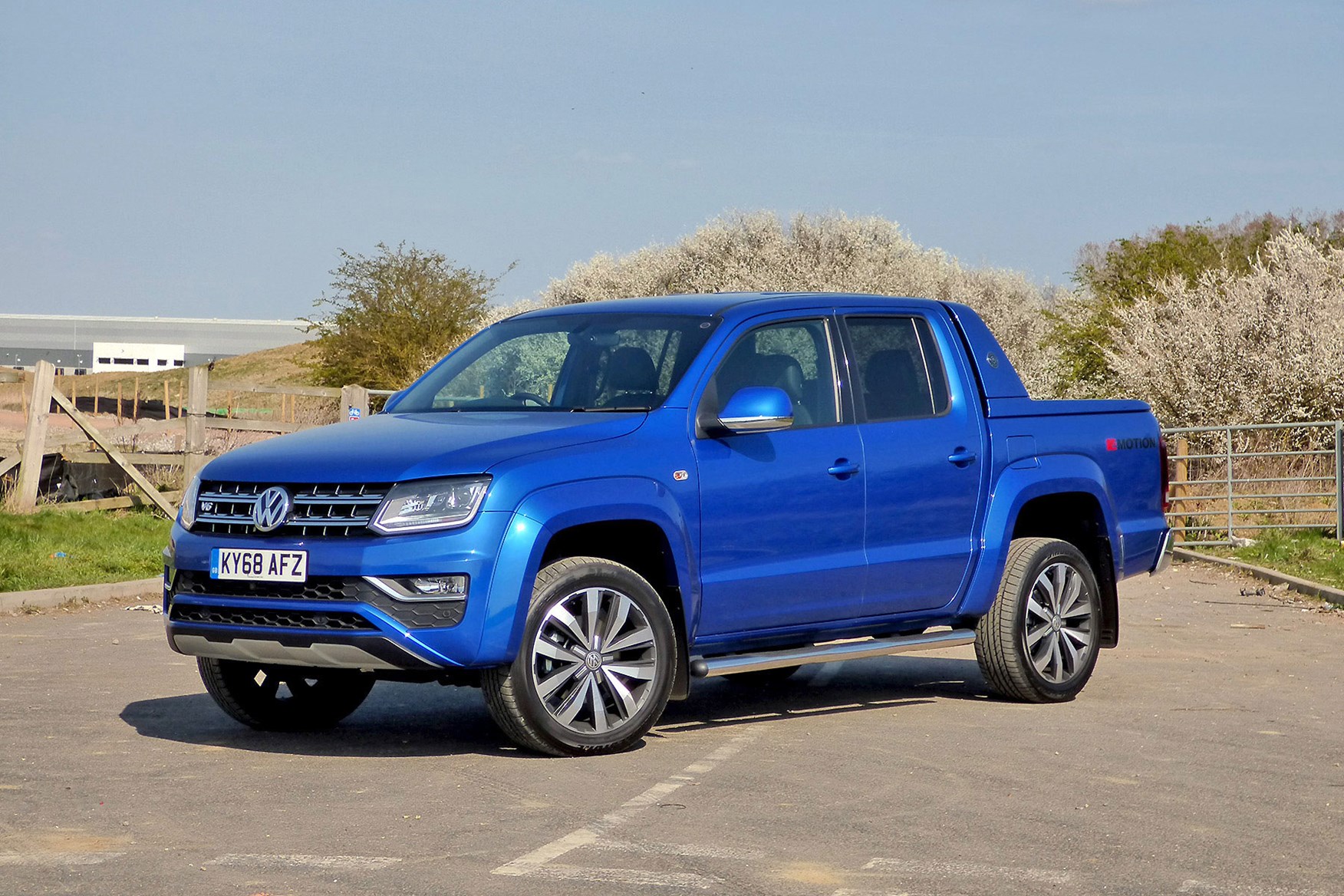 Special edition Amarok Aventura comes with added luxury
Larger 20-inch wheels, silver exterior highlights and rear sports bar
Other extras include bespoke mats and steering wheel paddles
Following the limited edition Dark Label tested below, the Aventura name makes a return into the Amarok range. This badge was last used on the launch edition of this posh pickup back in 2016 and it's now made a comeback as the range-topping model.
Outside, you get larger 20-inch Talca wheels, additional chrome on the rear bumper and front grille, stainless steel side bars with integrated puddle lights and a body-coloured Aventura sports bar on the load bay.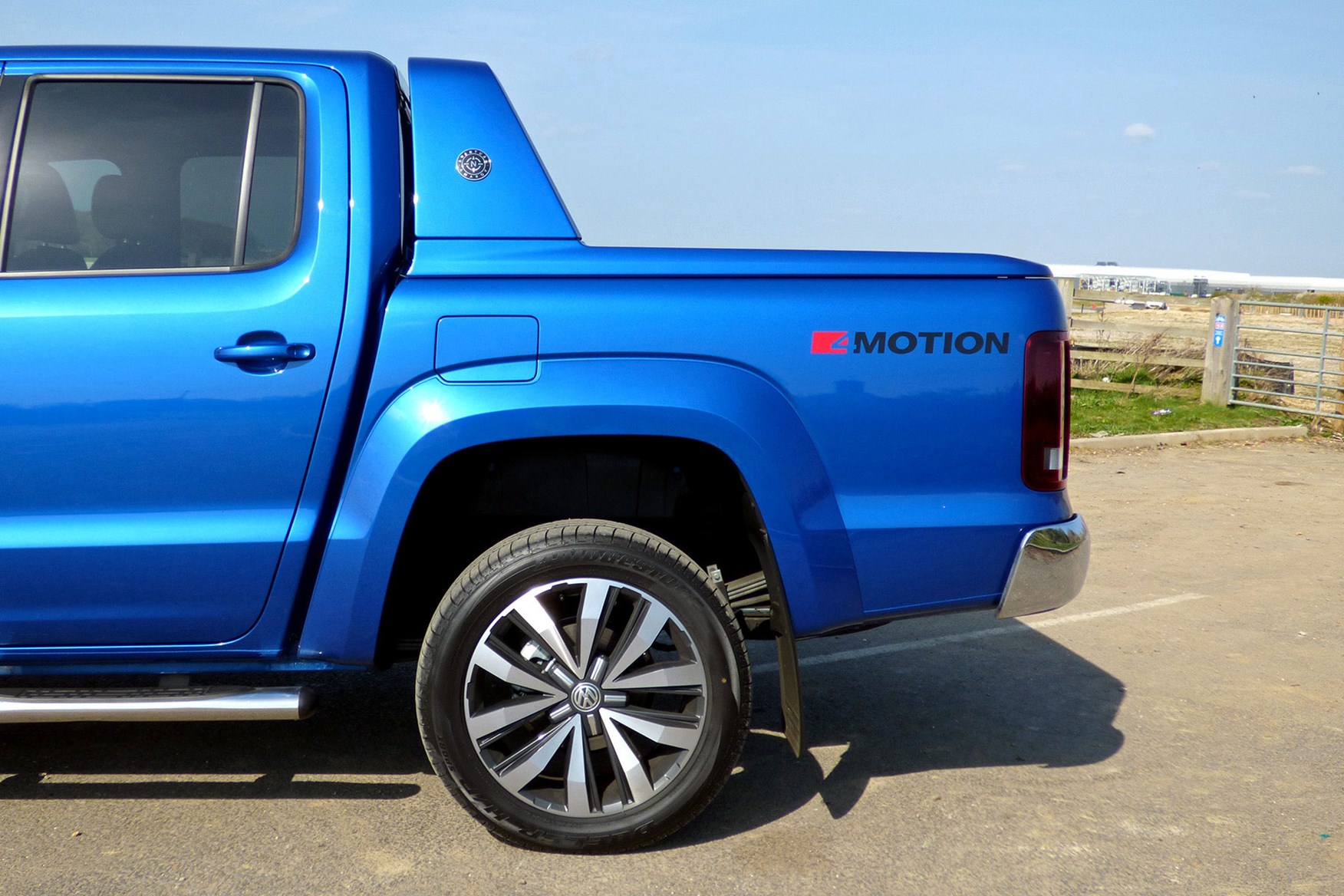 No, the sports bar doesn't translate into a personal drinking establishment, but equates to an additional piece of body work that could be viewed as the pickup equivalent of a rear spoiler – except, perhaps a bit more subtle and a bit more tasteful than say, a wing.
Engine choice is limited to the most powerful 3.0-litre V6 producing 258hp (with brief overboost moments of 272hp), mated to the eight-speed automatic gearbox and 4Motion permanent four-wheel drive.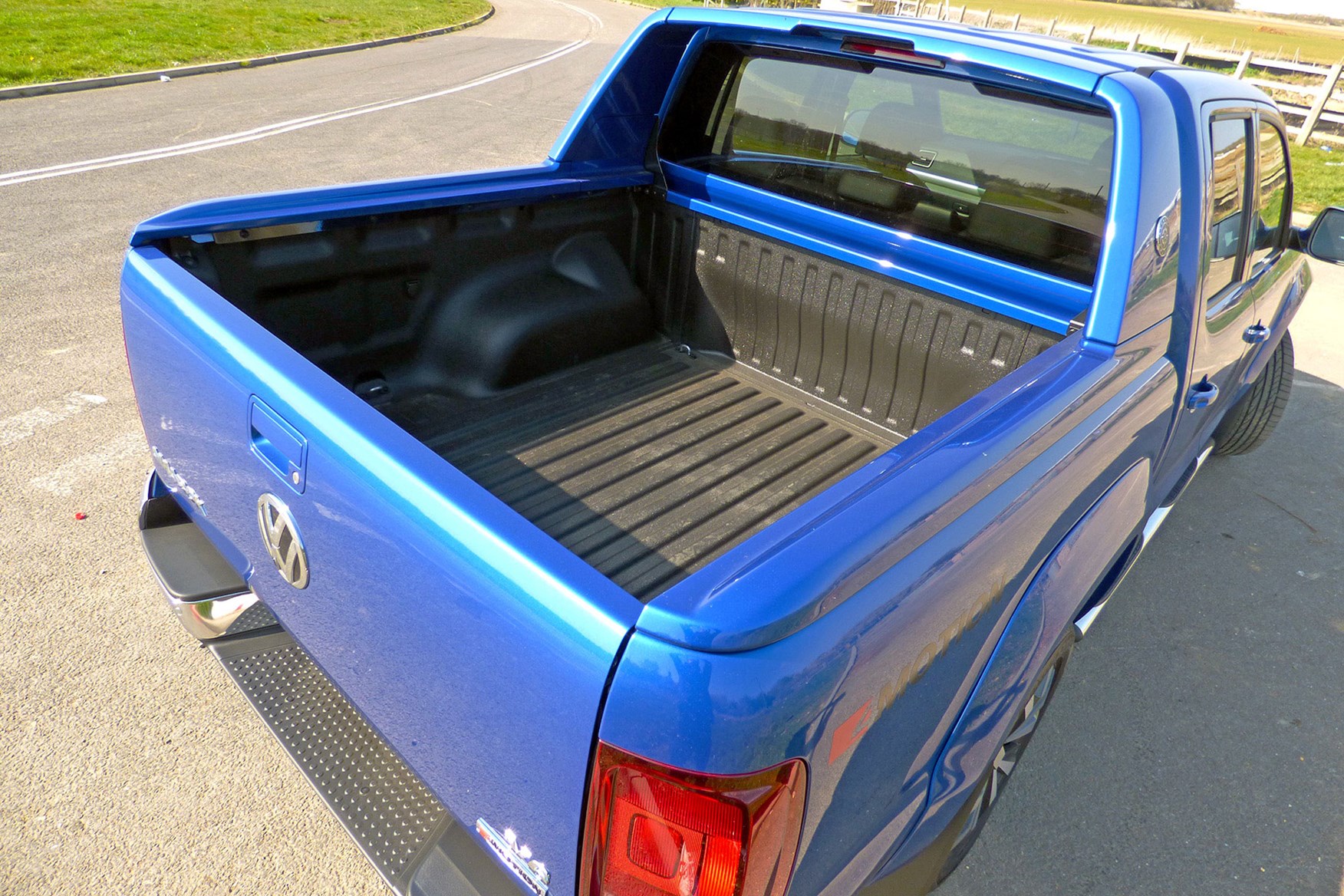 Unladen weight increases from the Highline model's 2,178kg to 2,260kg, which reduces the payload weight to 1,030kg - but performance and fuel economy figures remain the same.
Is the VW Amarok Aventura good value?
You can buy the Aventura for £39,640 (excluding VAT)*, and while this looks expensive, the cheapest Mercedes-Benz X-Class fitted with a V6 diesel engine is priced in this region, too – start adding a few choice options to that and the price quickly soars upwards.
But while the Amarok Aventura compares well in value against the Mercedes-Benz X-Class, it's a little more difficult to argue for compared with the rest of VW's pickup range.
With a £4,260* premium over the Highline model that sits below it, this equates to a price hike of more than 12% over an Amarok with the same engine output and automatic gearbox.
You'll have to decide whether that leap in price is worth the cosmetic upgrades.
Does the Volkswagen Amarok Aventura work as a lifestyle pickup?
If you want maximum kudos points for style, the Aventura certainly scores well on the outside with that sports bar and its 20-inch wheels.
The larger wheels have little effect on the ride quality, thankfully, and it would take driving a smaller-wheeled version back-to-back to notice the difference.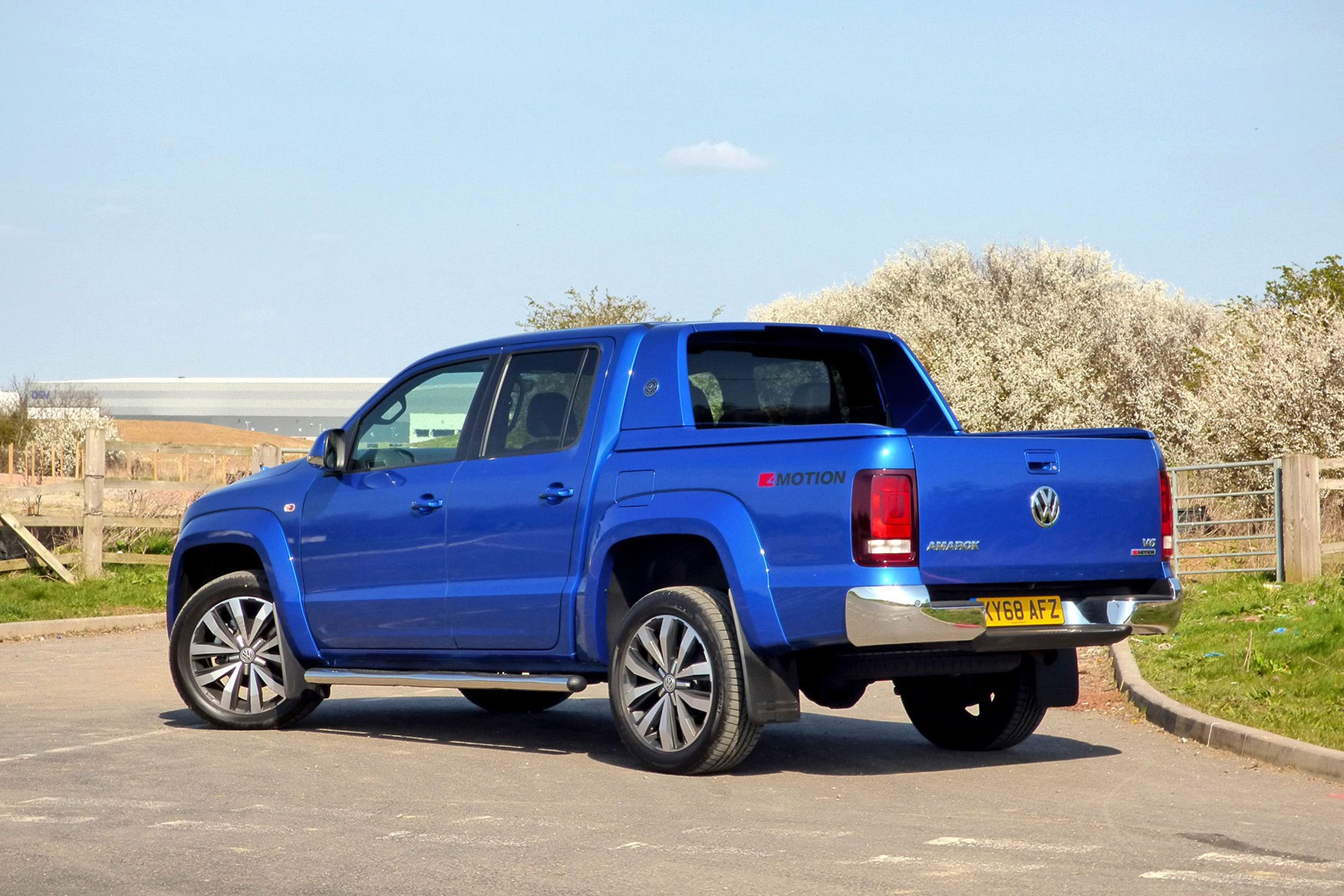 Otherwise, it's business as usual for the Amarok. There are no mechanical changes on this version, which means effortless pace and great long-distance comfort. The X-Class V6 is better at suppressing engine noise from entering the cabin and has better body control, but the ponderous Mercedes automatic gearbox and firm ride frustrates.
Verdict: Should I buy a 258hp Volkswagen Amarok Aventura?
The Aventura sprinkles a little more design flair over the standard Amarok but you'll need deeper pockets for those added looks. While this top-spec Amarok compares well in price alongside the V6-engined Mercedes X-Class, the standard, cheaper Amarok models are already so capable that they represent far better value.
*All prices correct at time of writing
---

VW Amarok V6 Dark Label review
Tested May 2018 by CJ Hubbard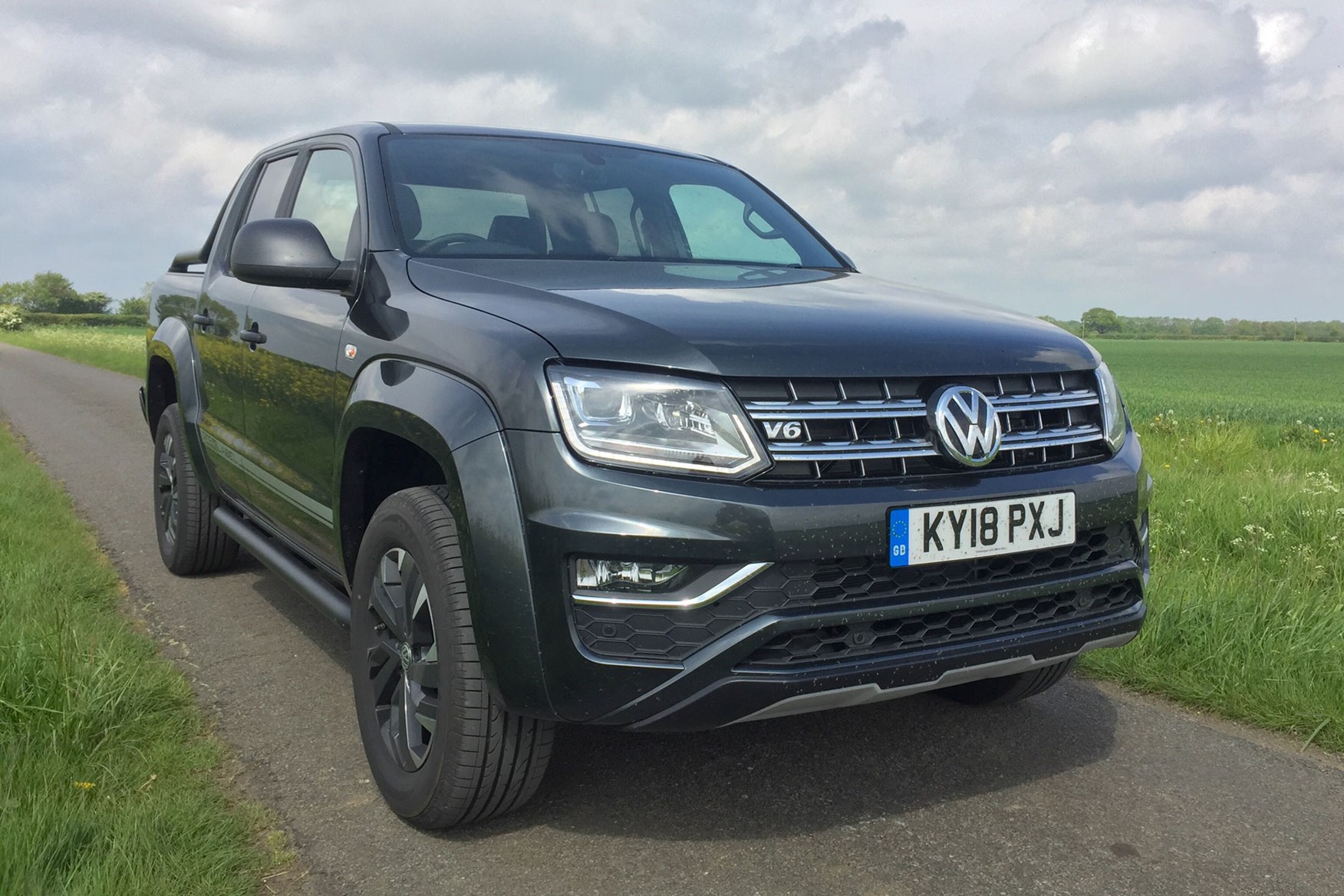 Limited edition pickup based on Highline driven
Unique visual features and extra equipment
Smooth 204hp V6 and eight-speed auto as standard
Dark Label may sound like a brand of instant coffee, but it is in fact a special edition version of the VW Amarok pickup truck.
This V6 version (there was an earlier Amarok Dark Label with the four-cylinder engine) was first announced back in September 2017 as a European limited edition; it was then confirmed for sale in the UK in early 2018, ahead of starring on the Volkswagen stand at the CV Show in the same year.
Now we've got our hands on one for a review – read on to find out whether it's likely to be your cup of tea…
What's special about the VW Amarok Dark Label?
Limited edition pickups with blacked-out paint and accessories seem to be very much on trend at the moment.
The Amarok Dark Label is very much of this breed – except that in its purest form it eschews the standard actual black paint finish in favour of a Carbon Steel grey metallic finish that's exclusive to this model.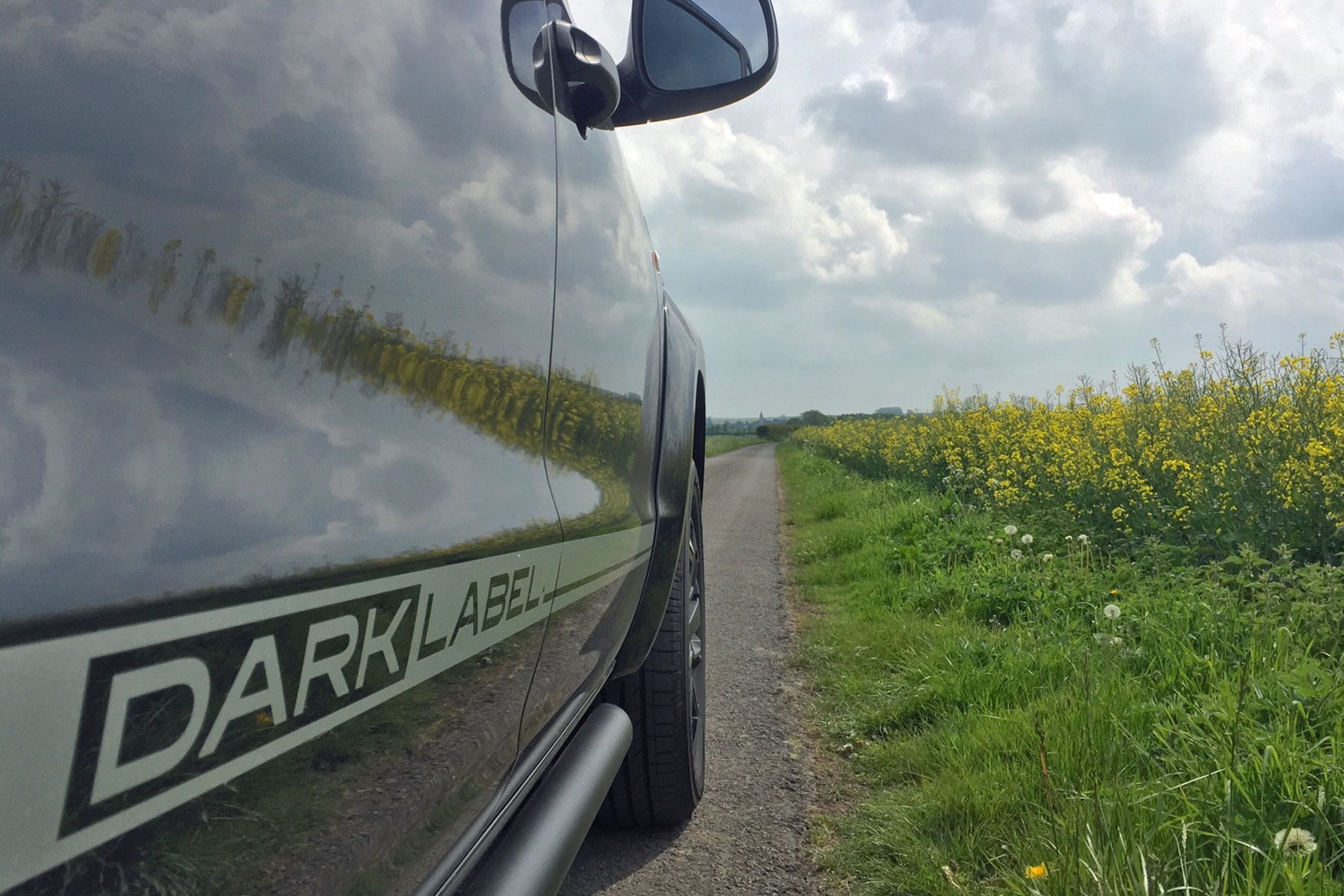 You can have a black one, though, and if you really want to make carwash day a pain in the backside, an Indium Grey matte paint option is available, too.
Other obvious visual mods include a rather intricate set of 18-inch 'Rawson' alloy wheels (you'll need to get the toothbrush out to keep those properly clean), Dark Label graphics down the side, so-called 'underbody styling' elements (fake skid plates, basically) and a matte black rear styling bar.
This last is complemented by side bars below the doors, door mirrors, door handles and rear bumper that are all also finished in matte black.
VW says 'the Dark Label model has exceptional road presence'. We're not about to disagree, but it certainly isn't subtle, either.
Any interior upgrades for the VW Amarok Dark Label?
Oh, yes. The seats are covered in suede-like Alcantara – upgraded to Vienna leather in our test vehicle – the rings round the air vents are coated in 'chrome silk gloss', and the ceiling is lined in black, a detail borrowed from the range-topping 258hp Amarok.
Dark Label floor mats spruce up footwells, the front seats get lumber adjustment and the dashboard gets Deep Inox trimmings.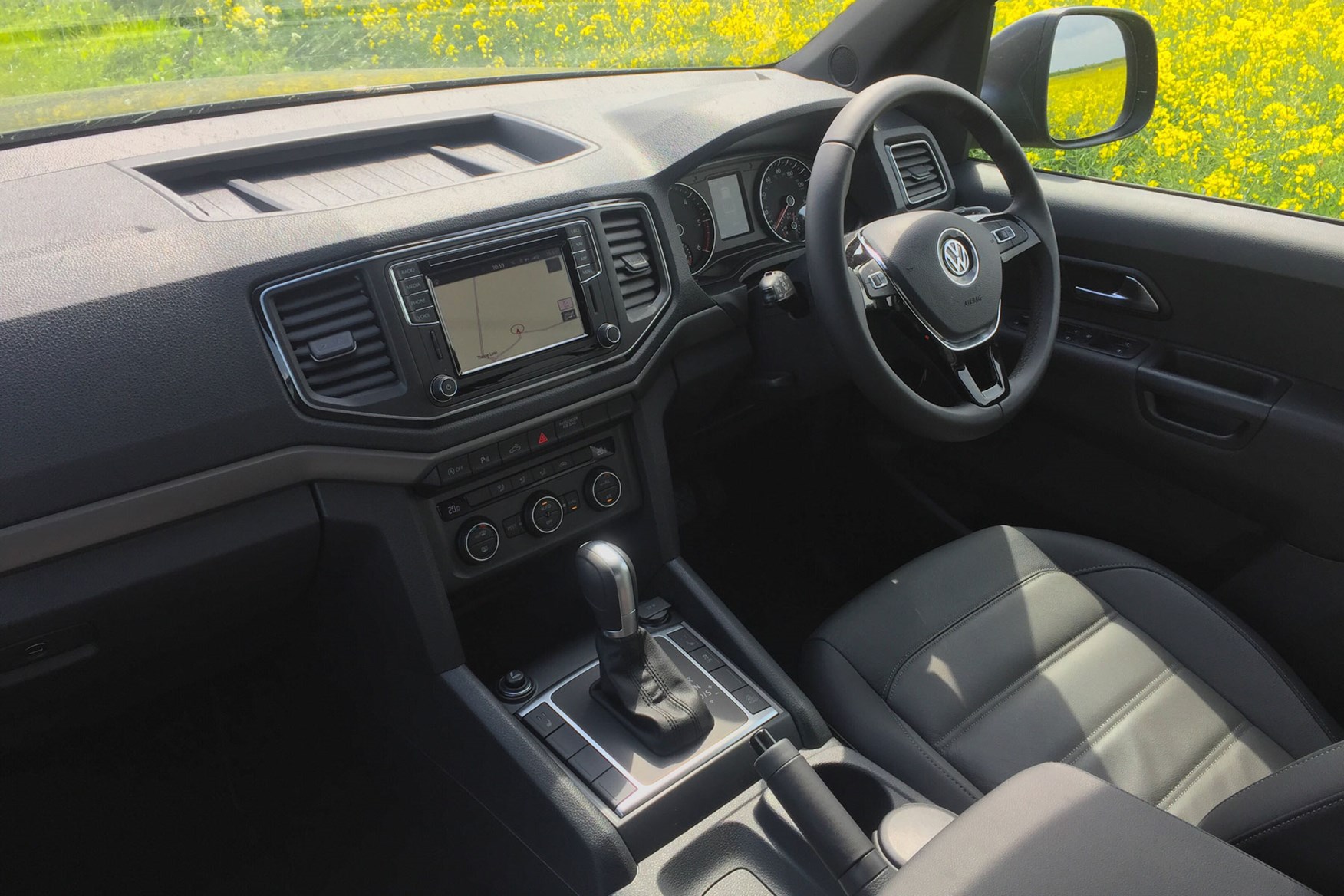 But perhaps most significantly, standard equipment includes VW's Discovery Media infotainment system with sat-nav – plus automatic lights and wipers, heated power-folding electric door mirrors, and an upgraded instrument cluster.
The Dark Label is based on the existing, generously specified Highline trim level, so buyers will also enjoy front and rear parking sensors with rear-view camera, cruise control, air-conditioning and bi-xenon headlights.
What's the VW Amarok Dark Label like to drive?
The Dark Label is only available with the 204hp V6 TDI turbodiesel engine but that's one of those uses of the word only that should really have quotation marks round it. This is still among the fastest, most effortless pickup trucks you can buy today.
The effortless part is helped by the eight-speed automatic gearbox, which is fitted as standard on this model, and the engine's considerable 500Nm of torque. The auto means you get permanent four-wheel drive as well.
The suspension is comfortable enough for most road surfaces, too, and though the softness here does mean it rolls around a bit in the corners that's a trade-off we'd be prepared to make for day-to-day comfort.
Verdict: Should I buy a VW Amarok Dark Label?
VW is only planning to sell around 200 Dark Label Amaroks in the UK, priced from £33,650 basic – so if you haven't already ordered you might be too late to get one new.
If you can find one in dealer stock, however, we think the £2,750 extra it costs over an equivalent 204hp Amarok Highline is more than acceptable for the additional equipment, unique features and exclusivity you get in exchange.
On the other hand, if you can't get one, it's not as if an ordinary Highline is a poor alternative; a 224hp version costs less than the Dark Label, too, which ought to be enough to compensate for the less eye-catching appearance.
Advice for buying a used VW Amarok Dark Label
If you're looking at a used example, in addition to all the usual second-hand vehicle advice, make sure all the unique Dark Label features – such as the floor mats – are present and correct, and that you consider the price carefully.
We'd expect a slight premium over an ordinary Highline model, but make sure this properly reflects the condition of the vehicle in question, and isn't out of line with depreciation of the original cost difference detailed above.
---
VW Amarok V6 Highline 224hp review
Tested October 2017 by CJ Hubbard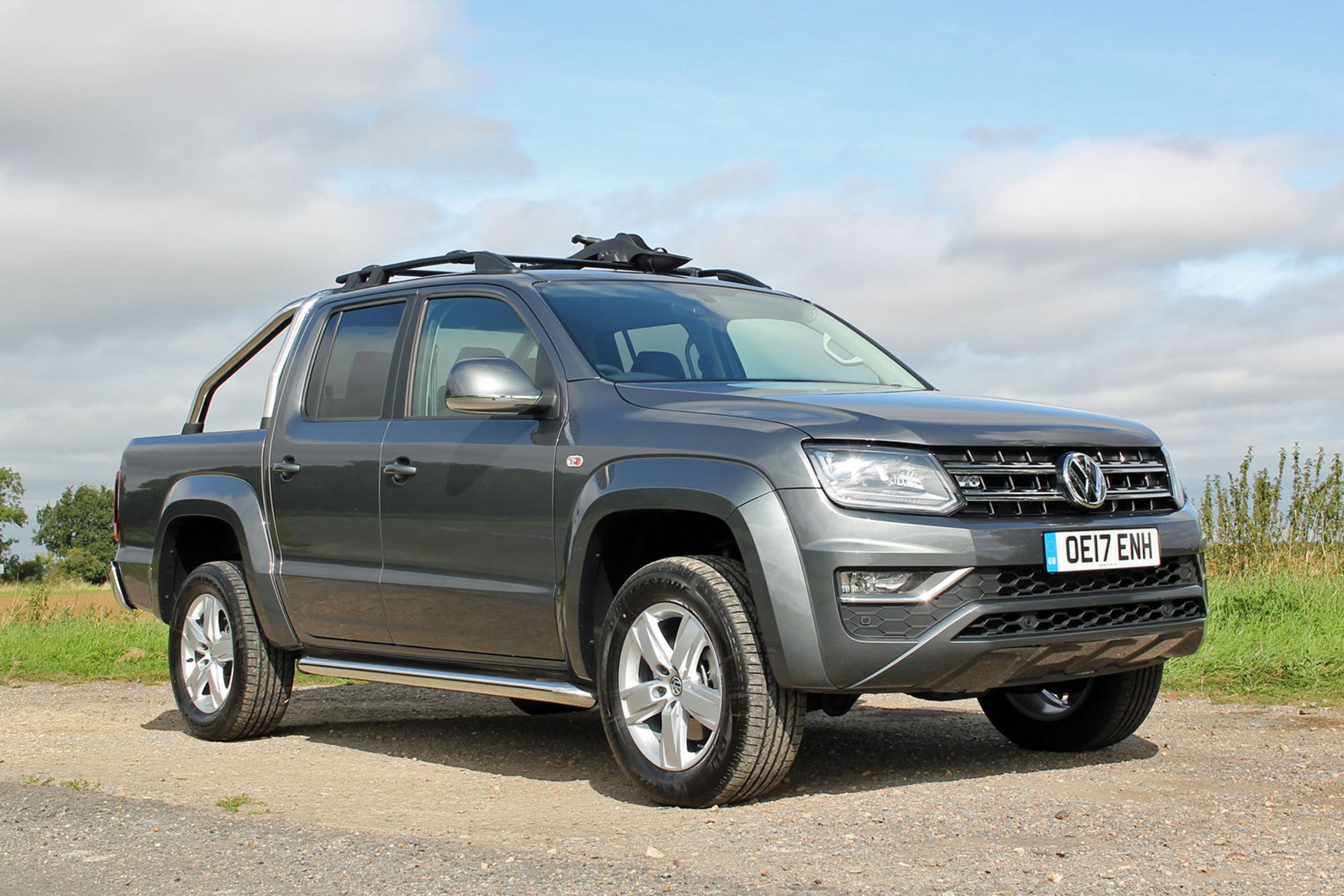 Range-topping VW pickup tested
224hp, 550Nm, eight-speed auto, 4WD
Can the X-Class possibly be better than this?
Make way, proles – this here is the range-topping Volkswagen Amarok Highline, and we've got it in for review as a timely reminder that the Mercedes X-Class isn't quite as ground-breaking as the hoopla surrounding its introduction would have you believe.
For when it comes to properly premium pickups, VW most certainly got there first. And what the VW badge lacks in ultimate prestige versus that aspirational three-pointed star, the Amarok more than makes up for with its individual platform and now exclusively 3.0-litre V6 engine range.
After all, while the X-Class may say Mercedes on the back, it's proving hard for some people to ignore that underneath the veneer of glamour it is still basically a Nissan Navara in a frock that isn't quite as fancy as they were hoping.
The X-Class also doesn't get its headline V6 power until sometime in 2018, whereas the Amarok is available to buy right now.
Let's take the Highline model for a ride.
What is the VW Amarok Highline?
The Highline is top of the standard Amarok range – replacing the limited edition Aventura as the best version of VW's pickup you can get. Although, this isn't actually saying that much as the moment, as the only other Amarok model you can currently buy in the UK is the mid-spec Trendline.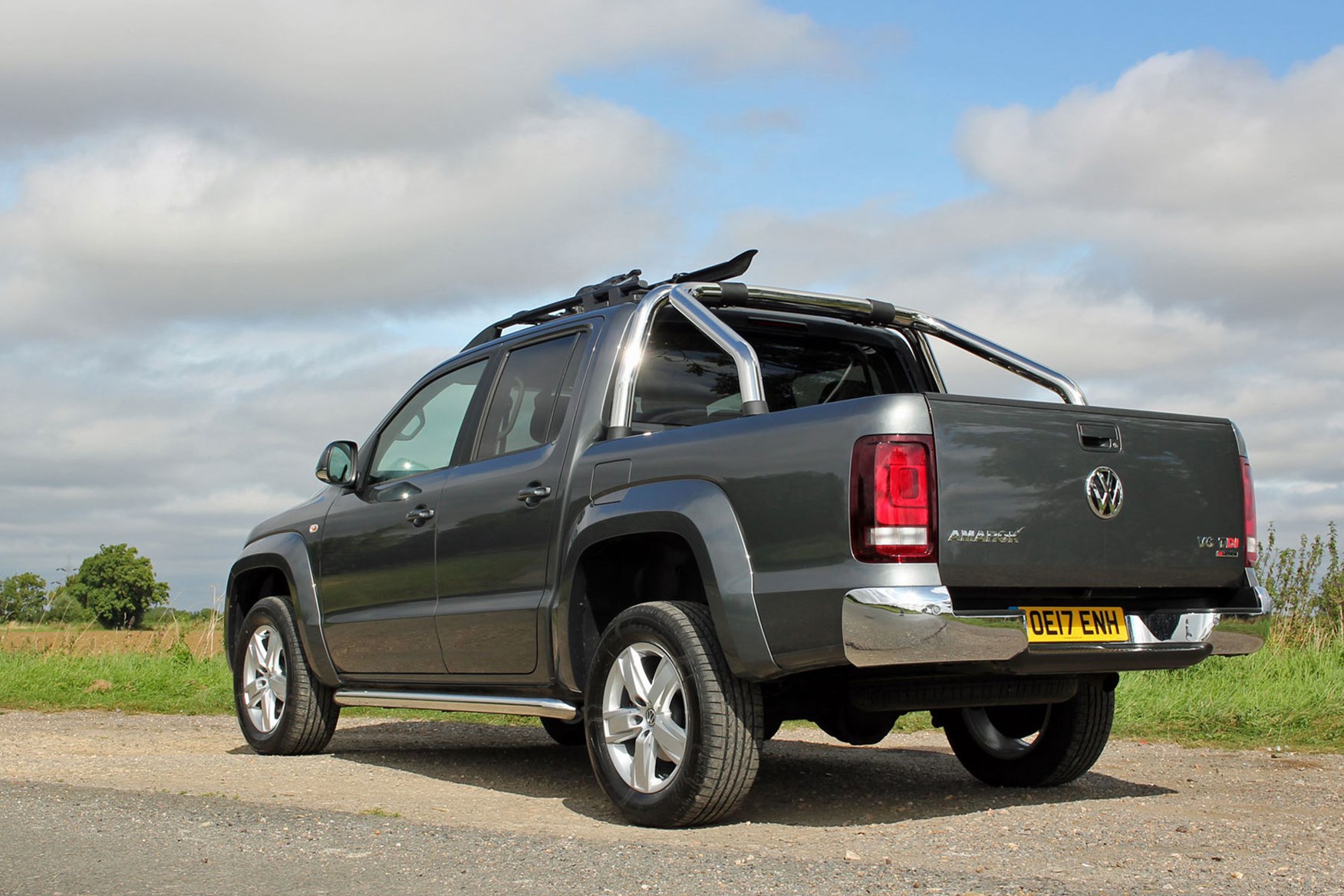 However, at the time of writing, the Highline is available with two versions of the Amarok's 3.0-litre V6 TDI turbodiesel – one with 204hp and 500Nm, as fitted in the Amarok Trendline too, the other with 224hp and 550Nm, as tested here.
Each of the above features permanent 4Motion four-wheel drive and an eight-speed automatic gearbox. Already you start to see why it commands such high prices.
What's good about the VW Amarok V6 Highline?
Looks are always subjective, but honestly, is there a more handsome truck on the market? And while it can't quite match the Navara's sharp handling, in every other respect the Amarok Highline's driving experience is practically sublime.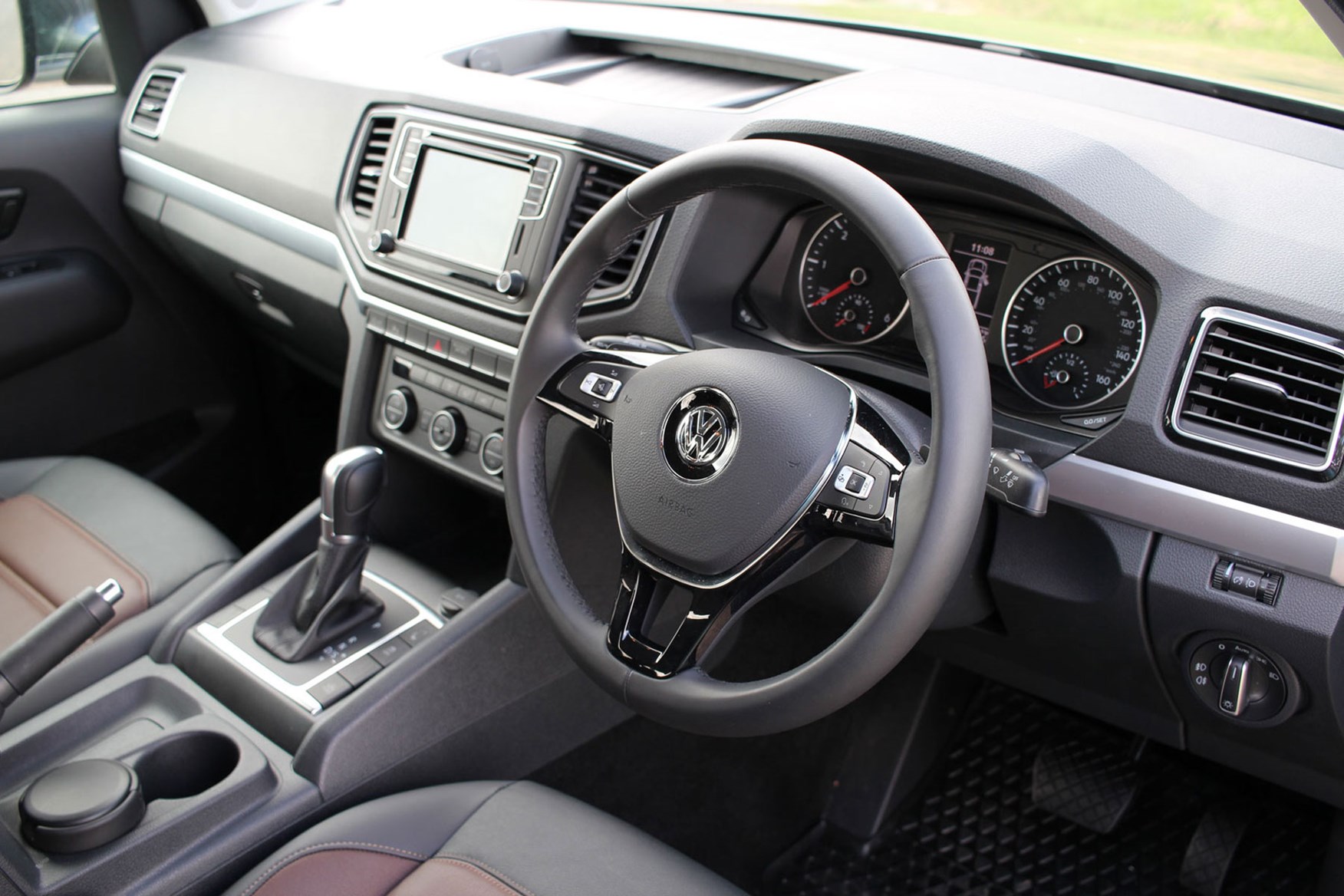 The engine has so much torque it's almost silly. The suspension is quite soft, so it can speedboat a bit if you really gun it – pointing its nose to the sky as you hurry to meet motorway speeds down a slip road – but it's unlikely you'll ever find yourself wishing it had more performance.
More than this, that softish suspension delivers a surprisingly comfortable ride – not just for vehicles fitted with old school leaf springs but pickups in general. Some may find it a touch floaty, but for us this suits the Amarok's generally laidback attitude.
What's bad about the VW Amarok Highline?
Some moan about the quality of the interior you get for the money – though for us this has significantly improved alongside the introduction of the V6 engines. And besides, we'd happily trade the occasional hard plastic finish for the Amarok's excellent ergonomics and ease of use.
VW's infotainment systems always work very well, for example, and the seats are nicely supportive front and rear. Sorry, this is supposed to be bad stuff, isn't it?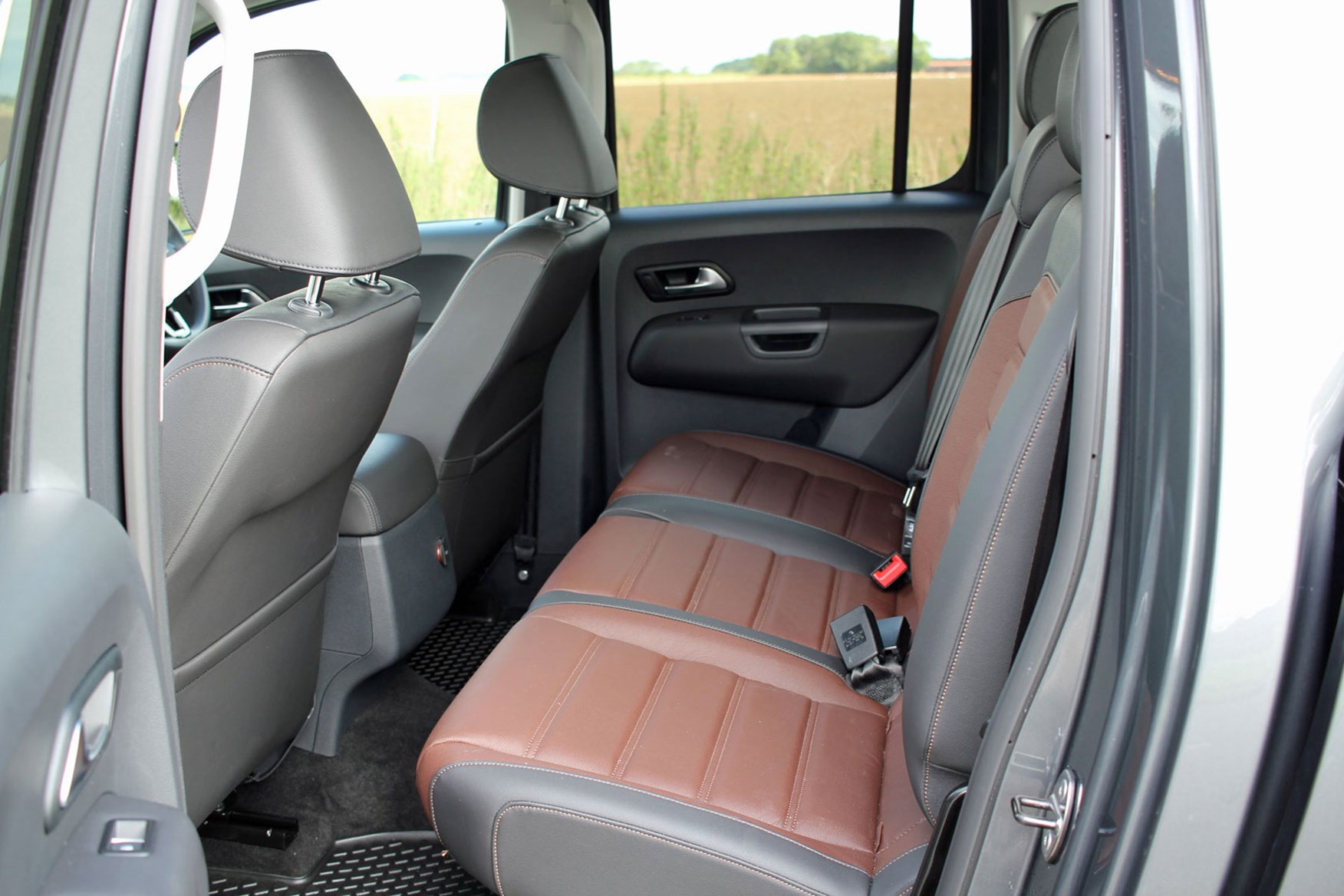 Ok, well, on the more practical side, it remains disappointing that the VW isn't able to tow 3.5 tonnes like the class leaders.
Similarly, while the four-wheel drive hardware is more than capable of tackling moderate off-road work, ground clearance is only modest.
Verdict: Should I buy a 224hp Amarok V6 Highline?
We want one. If we could afford one, we'd buy one. The refinement, the ride comfort, the performance and the enormous load area all count in the Amarok's favour – and aside from needing plenty of room to park, it's mostly like driving a Golf. Albeit one that could beat the traffic in front by going over it. And the Highline is the cream of the current crop.
---

VW Amarok V6 Trendline 204hp off-road review
Tested April 2014 by Adam Binnie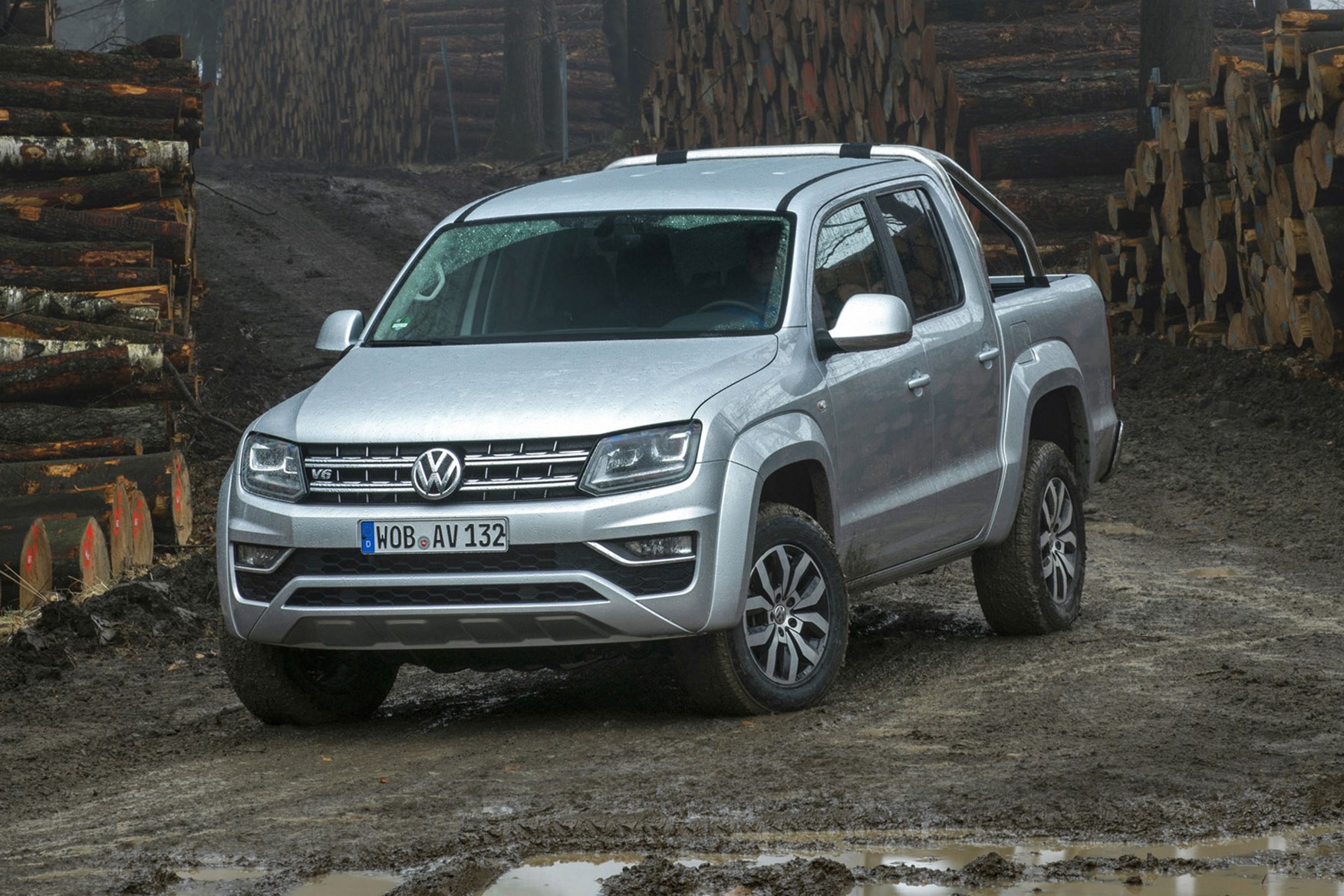 VW's V6 Amarok driven in Trendline spec
Comes in lower-powered 204hp output
Manual gearbox and smaller asking price too
The V6-powered Volkswagen Amarok in its high-spec Aventura guise makes a strong case for itself as a large-car rival, rather than a commercial vehicle.
In more workaday Trendline, however, it feels much more rugged, offering lower running costs and a less glitzy exterior that seems to suit a loadbed full of sand.
Lower-powered V6 still feels mighty
Volkswagen reckons the new Amarok is more like an SUV than before, with higher-quality materials in the cabin, plus smooth performance and handling.
We can certainly attest to the latter elements; the 3.0-litre V6 diesel engine is a seriously refined and suave bit of kit, having previously seen service in the business-class Audi A6.
The version we drove in Germany came with a manual gearbox and 204hp. The six-speed transmission feels very much like it's from a VW car rather than a commercial vehicle – with a light action and relatively short throws it is a stark contrast to more industrial rivals like the Isuzu D-Max.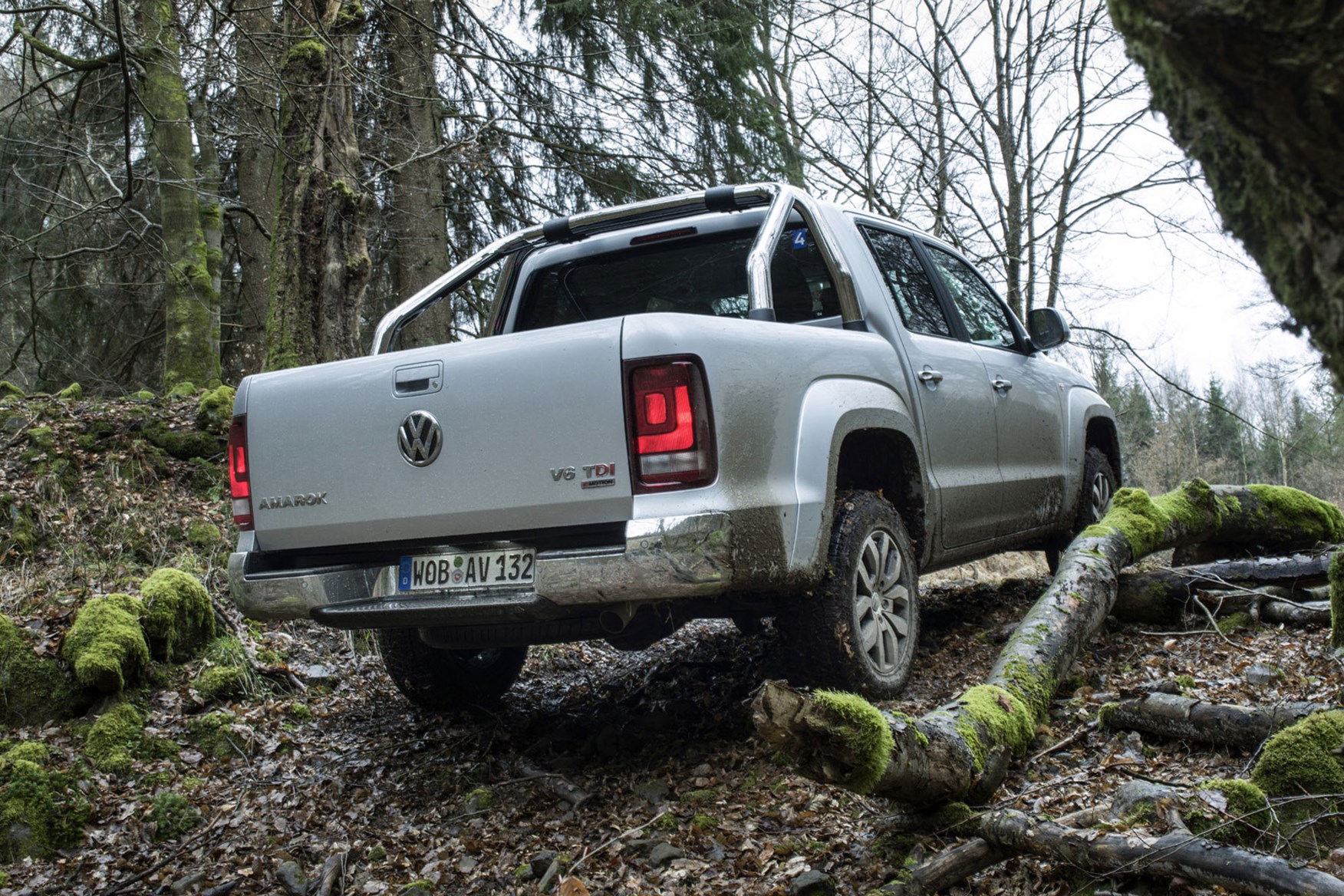 The automatic gearbox of course wins in overall ease of use but the manual option represents less of a penalty than you'd expect.
Currently this 204hp output is the lowest-powered Amarok – crazy when you consider it's actually much more potent than anything from the pickup's previous generation. That means it's plenty fast enough, with an identical 3.1 tonne towing capacity as the 224hp version, and a marginally higher payload of 1,154kg.
Off-road ability unchanged
We've already reviewed the Amarok Aventura launch edition and were impressed by its ruggedness, and it's great to see much of that carries over into this lower-spec version.
The 4Motion system offers permanent four-wheel drive with a 40:60 split on automatic Amaroks and a selectable system for manuals – this is controlled using a panel of switches near the gearshift.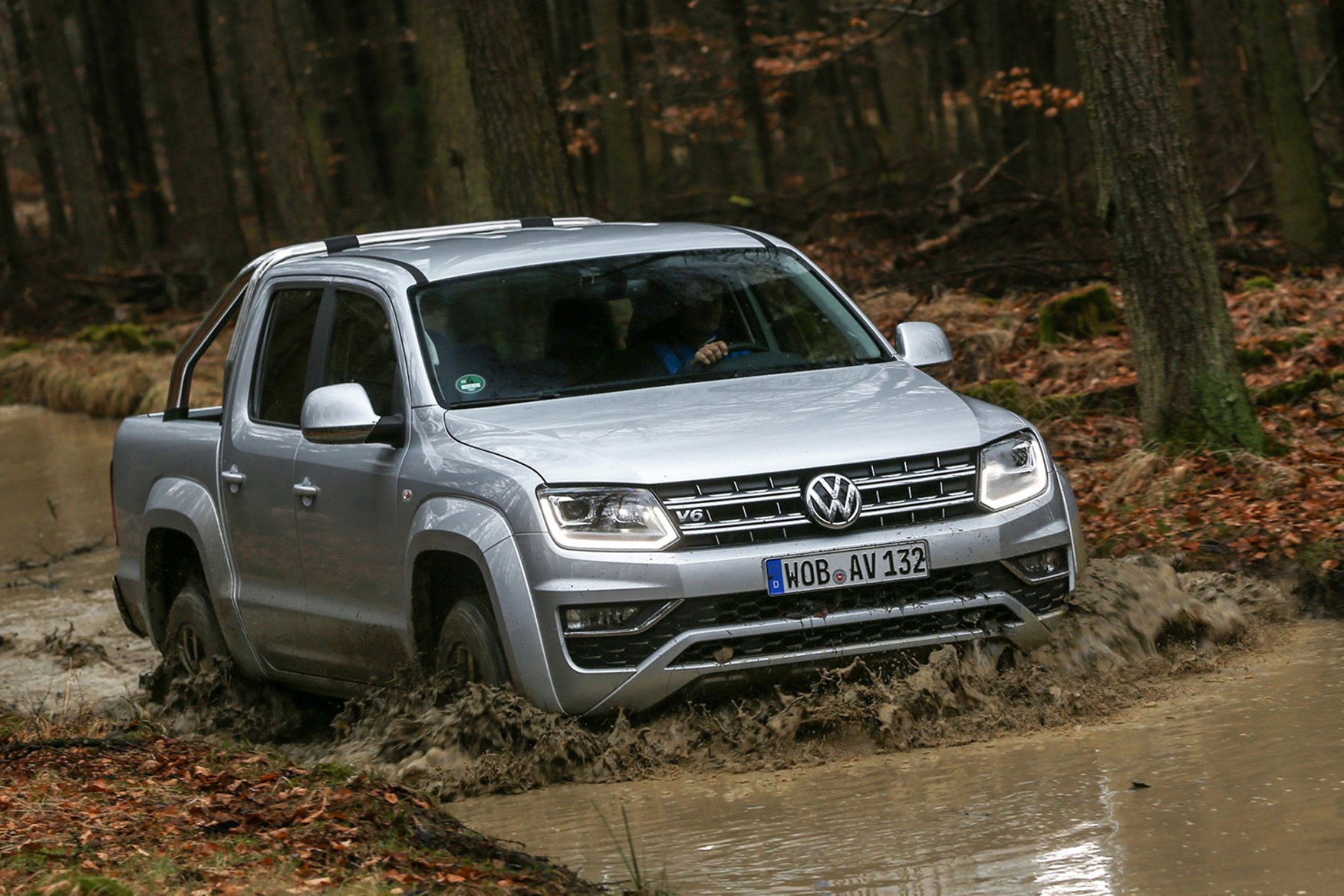 A central Torsen diff shuffles the power around between the front and rear axles and electronic differential locks help maximise traction - a rear mechanical diff remains an option. Clearance angles of 29 degrees at the front and 24 degrees at the rear mean steep inclines of up to 100 per cent can be scaled, even when fully loaded, too.
Verdict: Should I buy a VW Amarok V6 Trendline?
The £26,255 version costs is certainly easier to swallow than the near-£40,000 price tag for the Aventura model we drove previously.*
Mid-spec Trendline doesn't feel quite a luxurious or quick but it's still a fair distance ahead of its main rivals in both departments.
*All prices correct at time of writing
---
VW Amarok V6 Aventura 224hp review: first V6 test
Tested December 2016 by Adam Binnie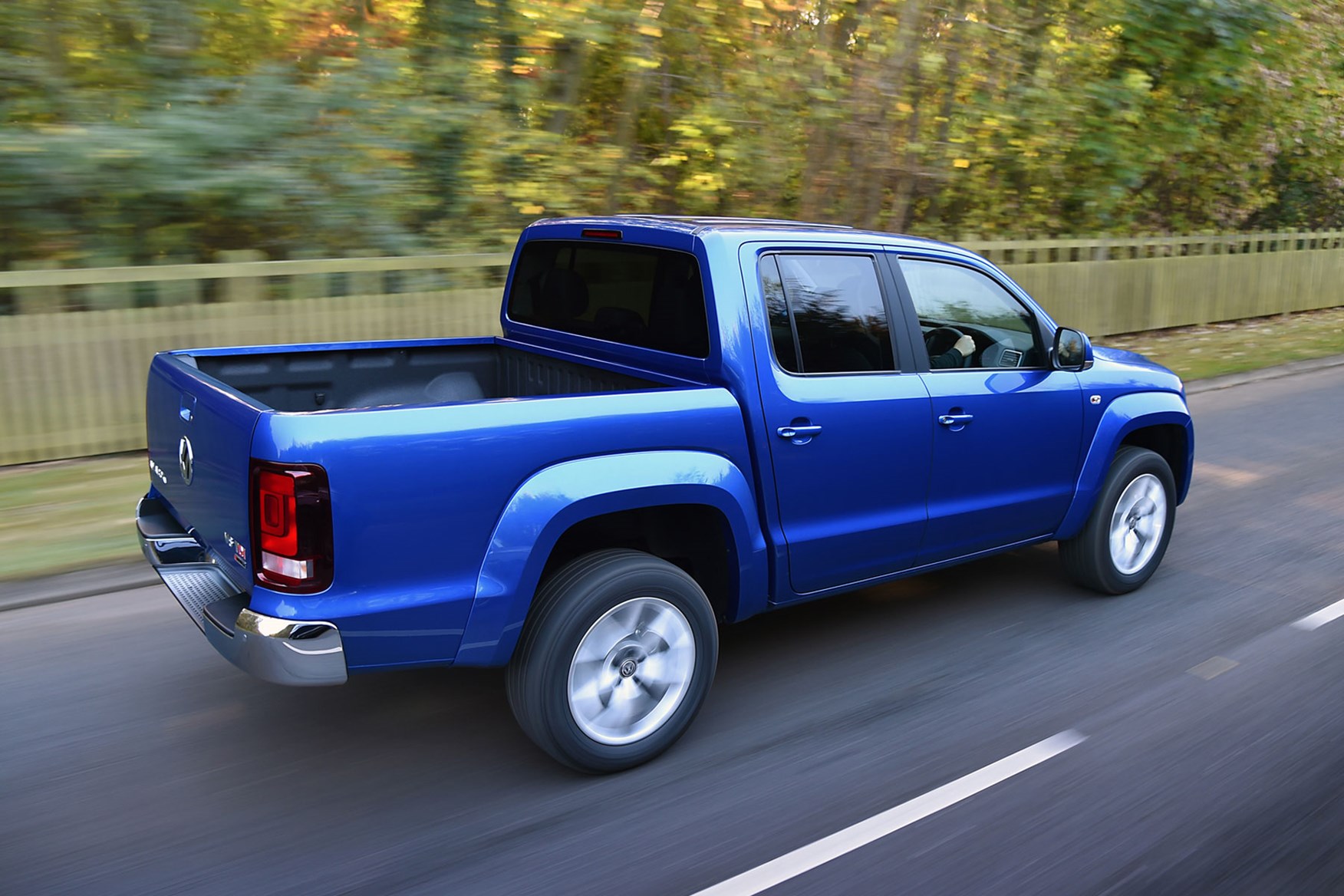 Facelifted pickup comes with new, 3.0-litre V6 diesel engine
Aventura launch edition comes packed with kit, including sat-nav
Not cheap but as close to luxury as a pickup gets
Volkswagen reckons its changes to the Amarok are more organ transplant than facelift. It looks broadly similar from the outside but there are big changes under its skin, and particularly beneath the bonnet.
Having previously offered a variety of power outputs from the same 2.0-litre, four-cylinder diesel engine, the VW now boasts a burly 3.0-litre V6.
Changes inside and out for 2016 VW Amarok
This updated model features interior and exterior improvements including a revamped dashboard and infotainment system that makes it more car-like than ever, plus a new front bumper and grille, a third rear brake light, and of course the larger powerplant.
Around the back is the same cargo bay (measuring 1550mm long and 1620mm wide) with enough room between the wheel arches for a Europallet and a lashing ring in each corner.
A gross vehicle weight of 3,290kg means a payload of 1,114kg on this model. The 3,100kg towing capacity lags slightly behind rivals.
New V6 engine details
From launch you'll be able to pick either 204hp or 224hp with an eight-speed automatic gearbox.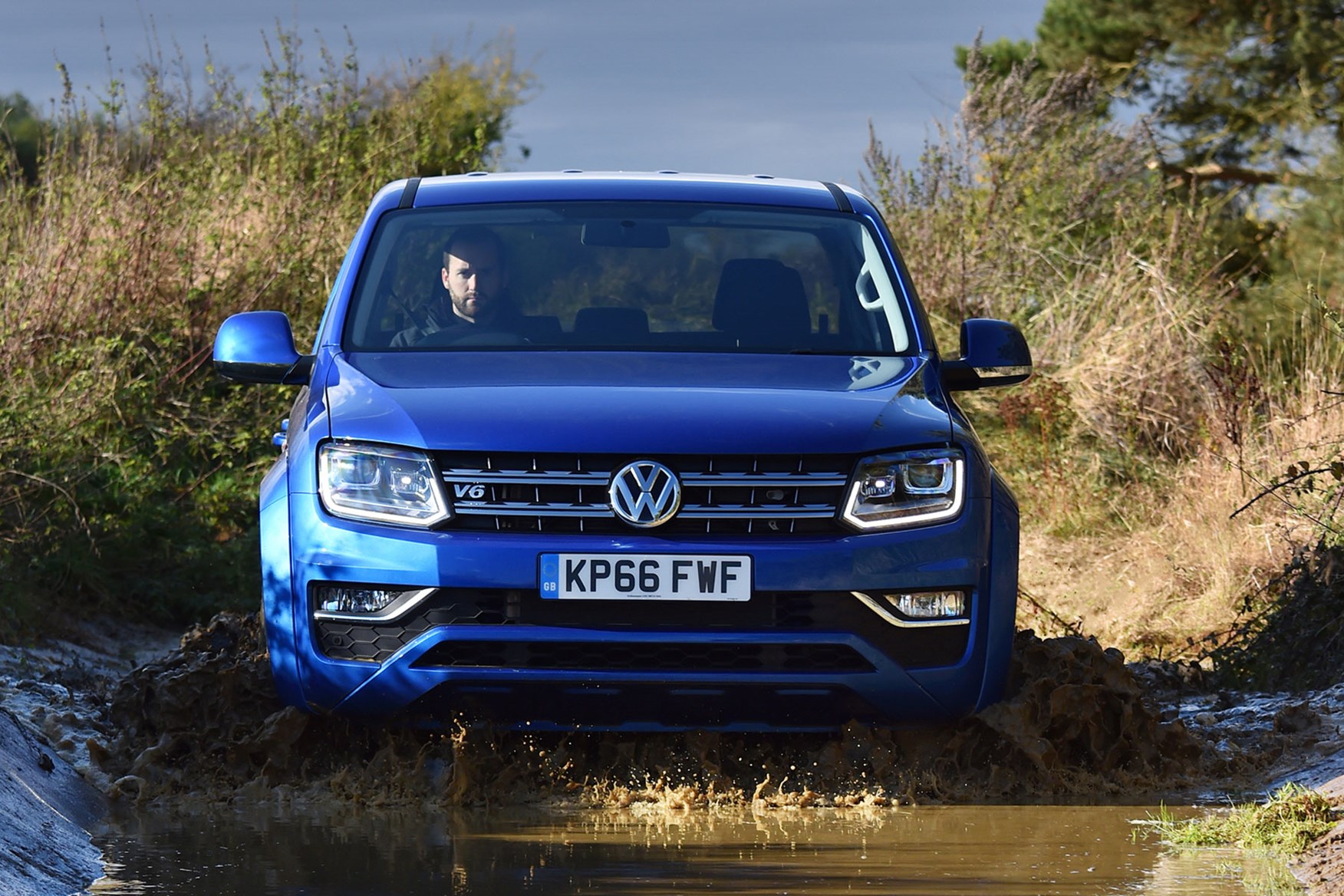 The top-spec 224hp version we drove has an overboost function, deploying an extra 20hp for up to ten seconds in response to hard acceleration. As such it's a seriously rapid machine, dispatching 0-62mph in 8.0 seconds, and making light work of overtaking manoeuvres.
More impressive, however, is the sheer in-gear grunt, due to the larger capacity of the engine. It's less reliant on the turbocharger so boasts 550Nm of torque from a lowly 1,400rpm. Press the accelerator pedal halfway to avoid the gearbox kicking down and the Amarok hauls itself horizonward with impressive urgency and hushed refinement.
Driven like this the VW is quiet and smooth. There's a bit of diesel clatter at low revs, particularly under partial accelerator load, and it's noisier at the top end. In the mid-range the only noise is a bassy burble from the exhaust and a whistle from the turbocharger.
Luxurious interior and tough off-road ability
VW says the Amarok is largely bought by people who already own one of its cars so it's no surprise to find it has the same sort of quality, well screwed-together cabin.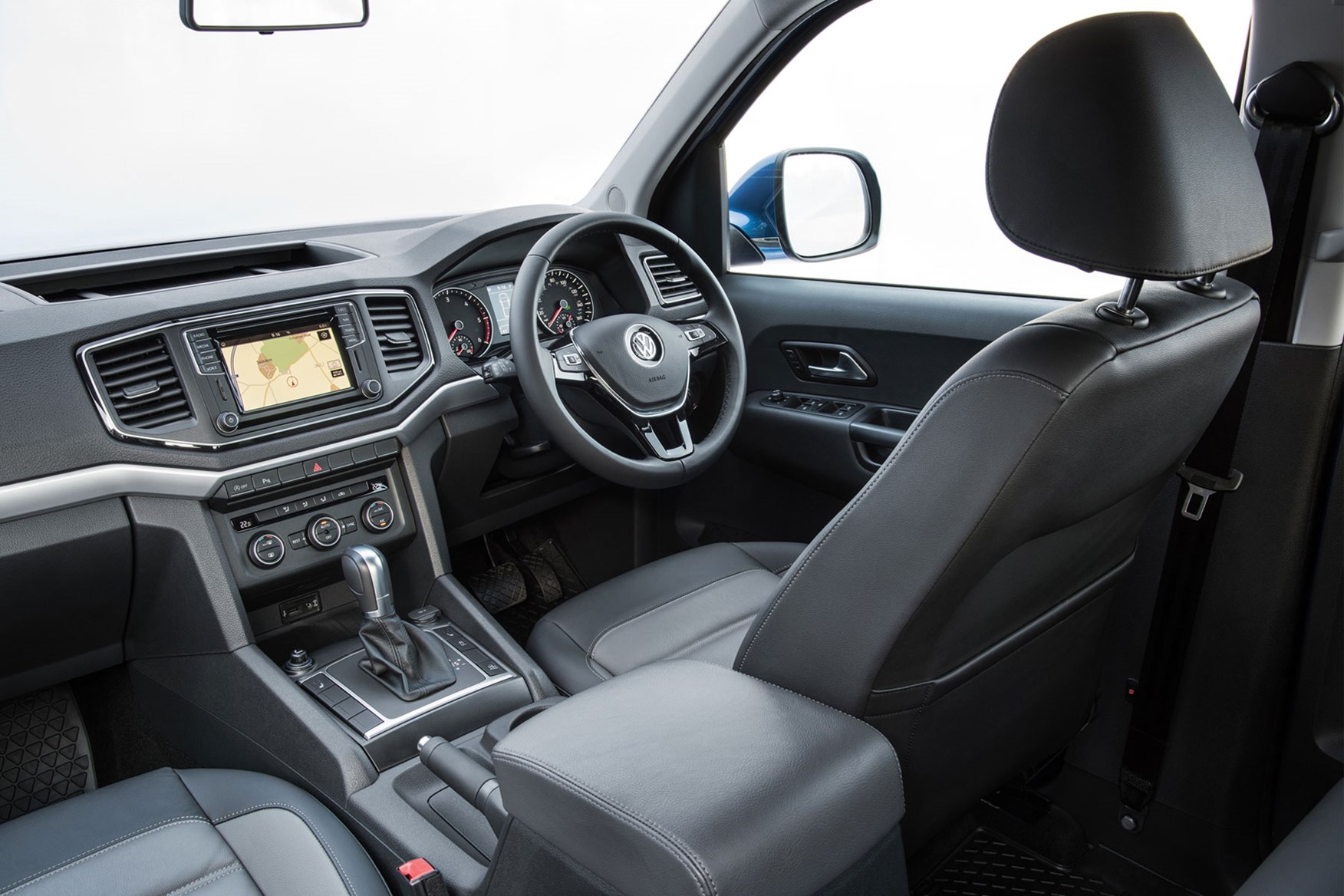 The new-look dashboard is constructed from tough, hard-wearing plastics that have a quality feel and appearance, and our car features a touchscreen with sat-nav, smartphone connectivity, and Car Net – an online service featuring news, traffic and fuel prices,
The 4Motion system delivers permanent four-wheel drive with a 40:60 split on automatic Amaroks. There's an off-road mode and electronic differential lock to help find grip when the going gets rough, plus an optional mechanical diff if you plan to go into the wilderness.
We drove around a technically tricky and tight off-road course and were impressed by the Amarok's ability to heave itself out of boggy mud and chassis-twisting ruts.
Verdict: should I buy a VW Amarok V6 Aventura?
It's hard not to enjoy driving this powerful pickup but you'd need to have a serious think about whether you need such performance from a workhorse like this.
For on-road refinement though it's hard to fault, and an impressive ability off-road means there's no compromise in utility.
---
VW Amarok 2.0-litre Canyon 180hp review
Tested June 2015 by Liam Campbell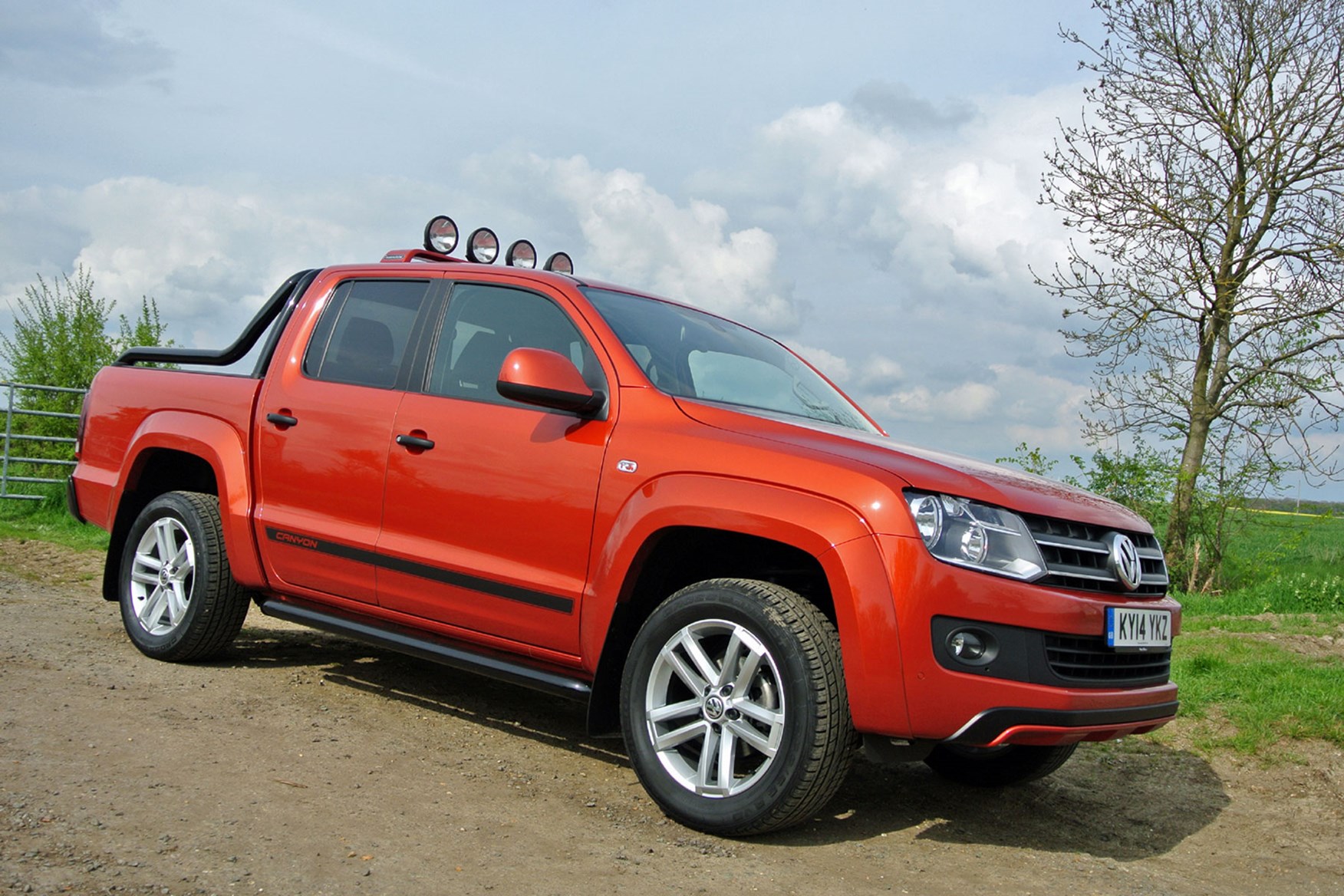 Special edition VW pickup limited to 350 vehicles
Features over £8,500 worth of extra equipment
Prices start from £28,990 (ex VAT)*
When the Amarok goes all glitz and glam, it not only turns heads, it creates awe. And that's exactly what the Canyon does, with its 19-inch Cantera alloy wheels, high-gloss black side styling bars, matt-black roll cover and spot lights.
Attractive interior
We felt there were one or two creature comforts left out of the Canyon that you would have expected with the £28,990 (ex VAT) price tag. This is partly due to the spec being based on the mid-level Trendline, and not the Highline. Electrically adjustable seats and reversing cameras are two such examples, but for the most part, Volkswagen has the main areas covered.
In addition to the radio with MP3 and auxiliary inputs, air-conditioning, cruise control and fog lights included on the Trendline, the Canyon also features sat-nav with a 6.33-inch colour touchscreen, Bluetooth, unique styling bars and heated leather seats.
What took us most by surprise was the finish; the two tone leather interior with orange stitching gives a stylish and captivating finish to the cab, rarely seen outside of the performance car circle.
On the road
On paper, the 2.0-litre bi-turbo makes for good reading, churning out 180hp and 420Nm of torque, but in reality we found it to be lacklustre when compared to similarly powered pickups, like the 3.0-litre Hilux.
An explanation for this can be found by looking at the torque and power curves. The power and torque reach high peaks, but fall rapidly either side which results in the lethargic performance.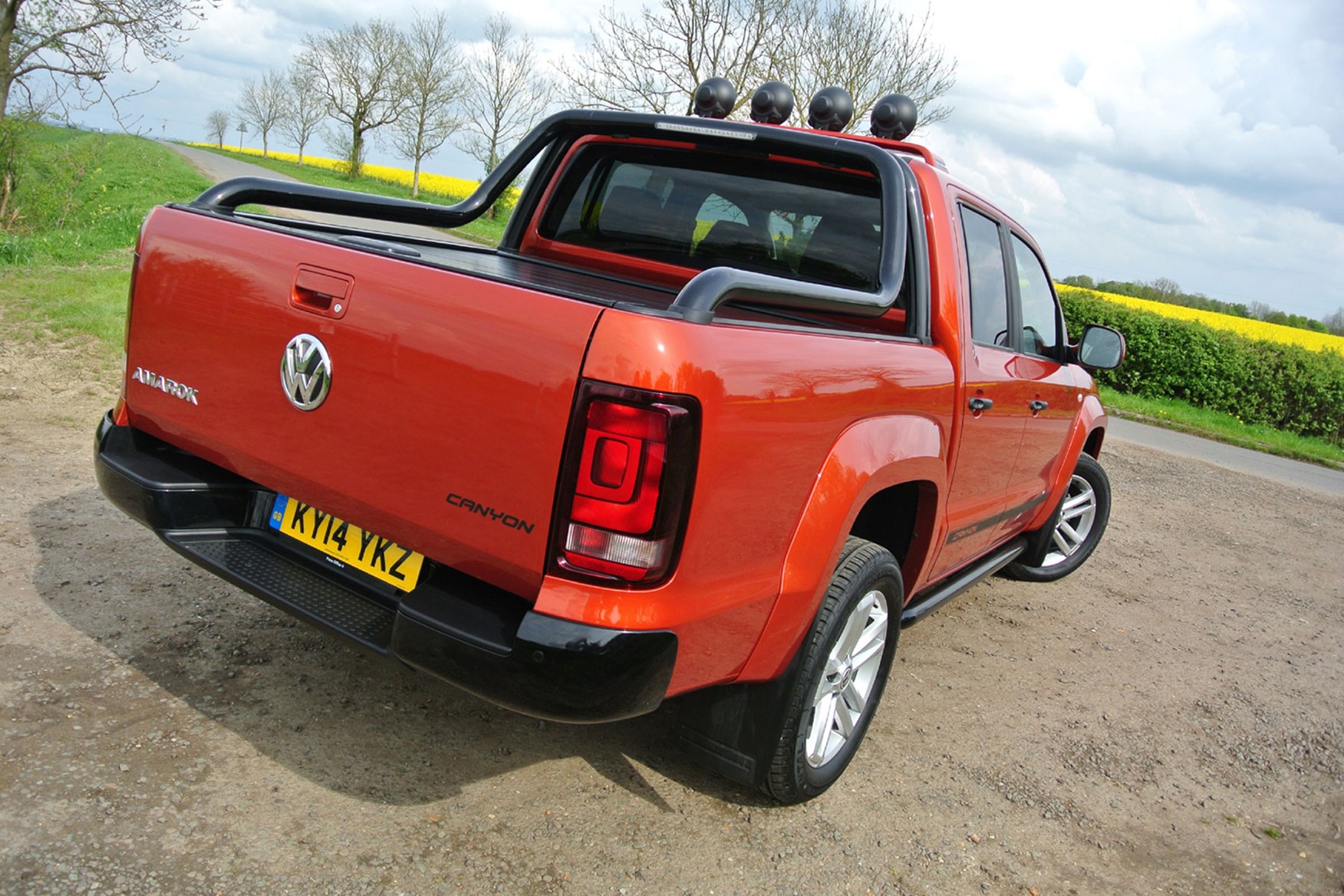 Having said that, the Canyon is a very capable performer on and off the road. The eight-speed automatic transmission is quick and incredibly smooth, and makes light work of stop-and-start city traffic.
The Amarok Canyon also comes with Bluemotion Technology which features low rolling-resistance tyres, a stop-start function and regenerative braking systems. Along with the aerodynamic-boosting cargo cover, this helps the vehicle provide greater economy and lower emissions.
Availability
The new Amarok Canyon can be ordered from any of the Volkswagen Van Centres nationwide. A limited number of 350 vehicles have been allocated for the UK; 300 of which are eight-speed automatics and 50 are six-speed manuals. Retail prices start from £28,990 (excluding VAT) for the manual transmission and rise to £30,720 (excluding VAT) for the automatic transmission.*
*All prices correct at the time of writing