Vauxhall Insignia Country Tourer (2013 - 2015) review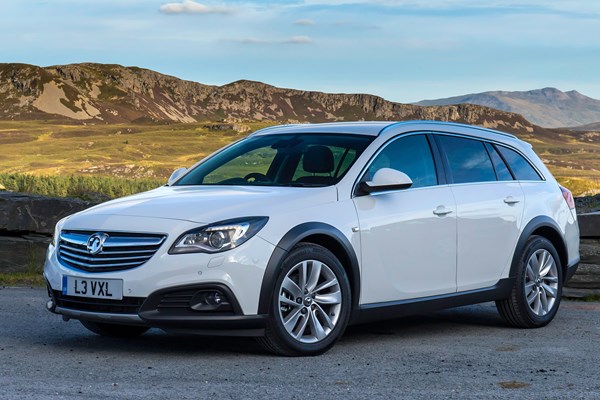 PROS
Greater traction on poorer surfaces
Elegant yet rugged design
Well-equipped and practical interior
Improved dashboard ergonomics
CONS
Limited off-roading ability
Brand image may limit appeal
Key rivals have larger boots
Some safety kit is optional
PROS
Greater traction on poorer surfaces
Elegant yet rugged design
Well-equipped and practical interior
Improved dashboard ergonomics
CONS
Limited off-roading ability
Brand image may limit appeal
Key rivals have larger boots
Some safety kit is optional
Vauxhall Insignia Country Tourer rivals
Using an existing formula to create a new model is a tried and tested approach and one put to good use to create the Vauxhall Insignia Country Tourer.
Take an existing estate car, in Vauxhall's case the facelifted Insignia Sports Tourer, raise the ride height and add off-roader-inspired body cladding and there you have it – a crossover.
It's a niche market hitherto dominated by
Audi's Allroad
ranges and
Volvo's XC70
, with
Volkswagen's Passat Alltrack
joining the fray more recently. Vauxhall's modest sales ambitions of 900 units in the Country Tourer's first year would make it the best seller.
Improved interior
Sharing the regular Insignia's improved-for-2014 interior is no bad thing for the Country Tourer. Upgraded materials and repositioned switchgear feature, as does a touchscreen infotainment display at the top of the centre console, standard on Nav models.
The dials in the instrument binnacle have been revised too for greater clarity, as well as providing an opportunity for a combined analogue and digital display screen, again standard on Nav versions.
As with other Insignias, the cabin is spacious providing ample room for five adults and a usefully large 540-litre boot with the rear seats in place.
It's well-equipped too with the Country Tourer's trim levels closely resembling Vauxhall's familiar Elite grade.
Driving experience
All the Country Tourers available from launch are fitted with Vauxhall's intelligent four-wheel drive system that electronically directs torque between the front and rear and side to side depending upon which wheel has the most traction.
During the first few months of 2014, a front-wheel drive version will also be offered.
Despite a 20mm increase in ride height, handling feels pleasantly taut and reassuringly planted on the road, with little evidence of pronounced body roll.
Diesel-only engine range
Two familiar diesel engines are offered on the Country Tourer – the 161bhp 2.0-litre CDTi, available with six-speed manual and automatic transmissions, and the automatic-only BiTurbo with 192bhp.
The lower output engine is more than capable of providing respectable performance for the Insignia and, in 4x4 manual form, with a claimed average of 50.4mpg with CO2 emissions of 147g/km, it's the most efficient version too.
To find out more, continue reading the full Parkers Vauxhall Insignia Country Tourer review.
Other Vauxhall Insignia (2009 - 2017) models: