Vauxhall Insignia: Farewell report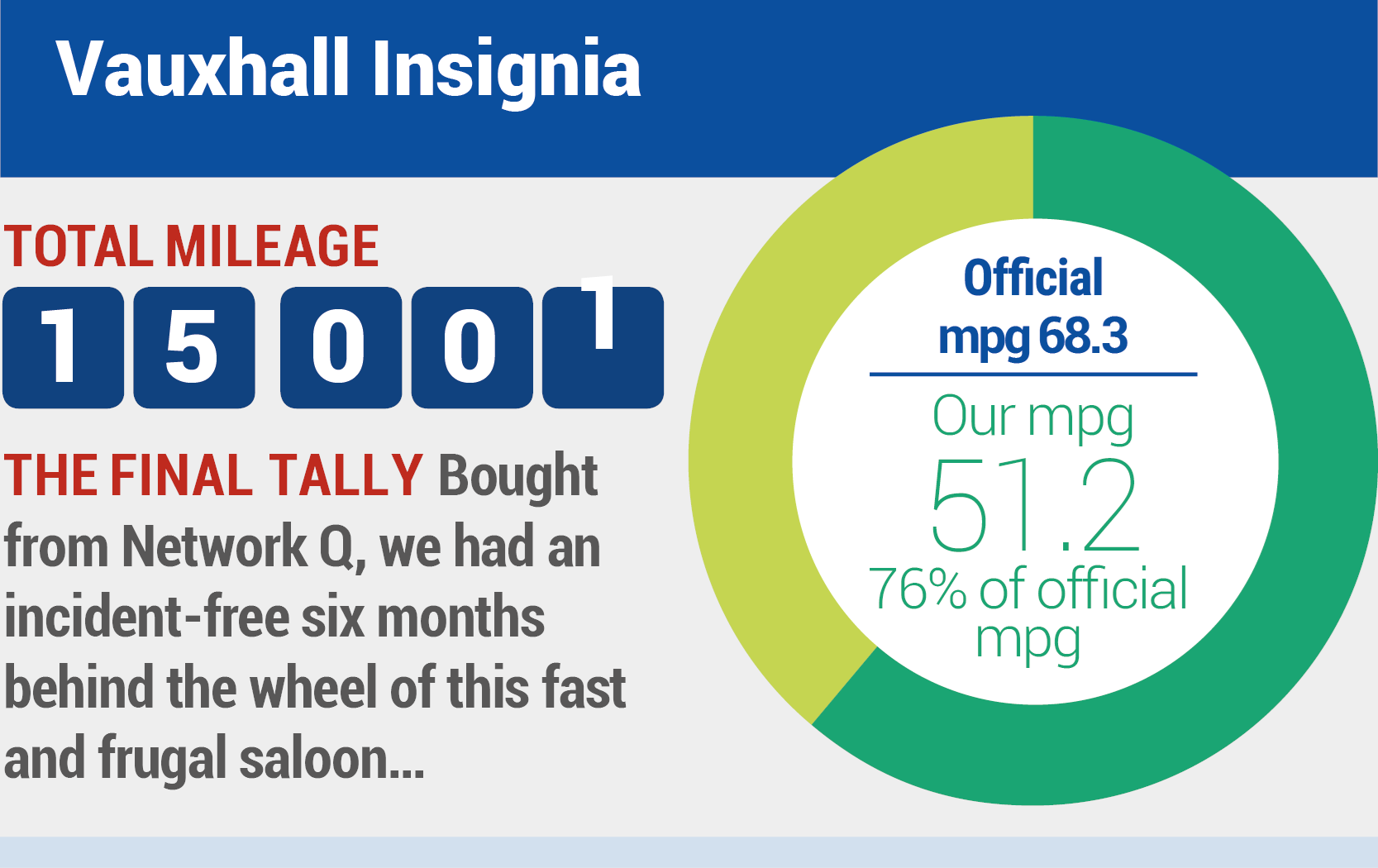 Our Network Q approved used Insignia racked up the miles
We've done a year's worth of driving in six months
...and it's been reliable. But has it been desirable?
Hasta la vista, baby!
You know it's sad that just as you settle into a dependable and solid car, it's time to hand it back. What first seemed a rather unexciting vehicle soon got under our skins, thanks to its dogged, almost Terminator-like way, of refusing to stop at carrying on with its mission.
Sourced from the massive Network Q pool, the Insignia SRi Nav VX Line has pretty much been testimony to the scheme's original strap line: treating used cars like new. Only the problem with the tyre pressure monitoring system gave concern right at the start of my stewardship, and even then it wasn't the car's fault.

A little more than 5,000 miles of mixed motoring has seen an overall average of 51.2mpg, and a high figure of almost 61mpg was recorded on a trip to the Midlands while wearing slippers.
Commonsense solution to long distance travel
I'll miss its barnstorming overtaking performance and motorway refinement – providing the surface is smooth. There's the issue of its only just-average rear passenger space. Also I'll not miss its hard ride at urban speeds. In the car's defence, it's set up for the long run and it's here it really does shine.
It wouldn't be fair to dwell too long on the minus points as it is an obsolete model. You will find rivals with a better-planned boot, a dash more style to the interior, and a bit more brand kudos. Regardless, if you are looking for the most from your money and a rapid, yet thrifty, car is your thing then it's should be on your shopping list.
Returning the Insignia to Network Q in Corby
So what fate awaits for the Insignia now we've finished with it? It was returned to Vauxhall's Network Q nerve centre on the outskirts of Corby in Northamptonshire. After handing the keys over, I was asked if I fancied a tour around the site to get a better understanding of the whole remarketing process.
By the time you have read this, the car will be well underway being checked, prepared and certified for fitness for the dealer network on a site that has capacity for up to 6,000 vehicles – including light commercials.
A huge operation in secondhand cars
Around 150 vehicles a day arrive on site, but this number has been known to exceed 300. To date some 1.1 million cars and vans have gone through the system that includes paint, trim, wheel and upholstery repairs to a very high standard.
Upon entering the site, the vehicles are logged into a computer system whereby they are visually checked for damage and imperfections caused by daily driving and fair wear and tear. Only the best are cars are sourced via a strict buyback and fleet management programme.

This means that every car entering Network Q has a checkable heritage. An added bonus means that standards are kept at a consistent high level of quality. If a bumper for example needs removal during repair or touching up the same item goes back onto the car, if not then a new one is fitted.
Strict standards sort the wheat from the chaff
Once a detailed inspection has taken place, items requiring attention are clearly marked on the car itself and its log. Only cosmetic attention is carried out by Network Q, so anything structural means the car has failed the quality threshold and the car is disposed or sold by other means.
Alloy wheels are X-rayed for cracking and refurbished in-house, although the prestige diamond-cut style of rim as found on our SRi VX Line Insignia require more specialist time consuming attention and are out sourced. Currently, Corby deals with an eye-watering number of alloy wheels.

The level of tech and kit to hand is impressive, as are some of the statistics I was hit with on my visit. The Corby site features three paint booths, three baking ovens, two primer booths, one smart repair booth and the wheel department to end up with the following figures based over an average year:
Network Q says that only manufacturer based techniques are used in all aspects of the process and the skill set employed amounts to more than 200 years of experience in automotive repair and refurbishment.
Mechanical checks are undertaken by local dealer Forrest Gate who operate on site with a fully kitted out van. They work on a call out basis and anything that cannot be dealt with on site by them finds the vehicle dispatched to their dealership workshops nearby.
Each department on first sight seems to represent organised chaos such is the size and scale of the operations. However, Operations Manager Louise Cowlin was keen to point out that Network Q Corby which operates 24/7 is an extremely well-oiled machine and that a typical vehicle only stays on site for around 32 days from arrival to shipping out.
To the final customer
Thanks go to Justin Hawkins at Vauxhall UK HQ and Corby operations manager Louise Cowlin for her thorough insight of Network Q behind the scenes activity. Her total confidence and evident pride in her work and fellow team members were more than obvious to notice.
My tour of Network Q was informative and above all enjoyable. Customers do of course pay an extra premium over a traditional used car purchase for the privilege of buying through this scheme. That said, after witnessing the involvement of the process from start to finish its fair to apply to old adage of you only get what you pay for.

With the launch of the all-new Vauxhall Insignia Grand Sport, used values of the outgoing model are tumbling. For example, a 17-plate SRi VX Line in domestic-appliance white, with just 7,400 miles on the clock for just £17K – and that was just the opening gambit too.
Network Q or traditional retail-sourced these are incredible value for money.
The Insignia has been painless to run. Fast yet frugal, comfortable yet sporting, and backed up by an extensive dealer network. Not perfect by any means – but what is? Purely on personal grounds, the Vauxhall Insignia SRi VX Line has ticked all the boxes that really matter.
Mike Humble

---

Update 11: Back to life, back to reality
Yay! Let's celebrate! Well, hold your horses folks, it's really not that exciting to be fair. Our Network Q Insignia has reached the heady distance of 15,000 miles since being handed the keys and that's certainly above the average mileage of most motorists.
So far with regards to reliability, it's all been good and I certainly don't expect that to change in the future. You all know my sentiments about this Insignia's lovely long-legged nature, and its pounding of the motorways where the lion's share of the distance has come from.
Social, commuting, more socialising and the odd work meeting – every inch the perfect scenario of Vauxhall's family holdall, be it in fleet or private ownership. Aha! Now I see why the keys were firmly placed into my palm a couple of months back.
Broken bargain hunting
Recently I had one of those 'crikey that's handy' moments shortly after my wife woke me up at a very early hour on Sunday morning and declared we were to go car-booting.
Normally I'm quite astute when it comes to parking - accent on the word normally, I must stress.
With only a sprinkling of cars on our arrival we galloped into the huge field of bargains. After getting in our 10,000 steps, buying a bag of old toy cars and a broken hi-fi it was time to get back to the car.
Appy motoring

Horror of horrors, in the ensuing two hours we had totally forgotten where we had parked the car. The field was awash with every possible car known to mankind, but then I remembered the OnStar system comes with an app that's installed on my mobile phone called 'My Vauxhall'.
At the click of a button, via a GPS link you are shown on a map where the car is parked. Sadly, it only confirmed what we already knew, parked in an unnamed field somewhere close to the M23. 'Some great use that is,' muttered my wife, but all was not lost for I had another cunning plan.
Another function on the app allows you to sound the horn and flash the lights – job done. A tap on the keypad (pin protected of course) and all you have to do is follow the racket. Ideal for numpties like me who lose their car in a huge field.
I'm often wary of smartphone apps and some automotive usages of these, but in the case of Vauxhall's system it avoids being a gimmick and actually has a real-world tangible benefit. It certainly helped me and saved my back from lugging around a knackered stereo.
---
Update 10: Back to life, back to reality
With the recent holiday now just a fading memory, our Network Q Vauxhall Insignia returns to its original job descriptions of commuter carriage and family friend. No sooner than arriving back home from our summer break I'm back up the motorway again – only this time heading for the midlands.
The other half has gone visiting her family, so I opt to do the same by means of an impromptu pop-in to my Mother's, and a catch up with an ex-work colleague and long-standing friend. The weather was totally appalling, making a mockery of my plans to take some good pictures.
Lacks kudos but makes up with its talent

When I called my pal before setting off, he asked what I was to be arriving in. Normally it's been a fast Jaguar or something more regal like a Range Rover. After mentioning it's a Vauxhall Insignia, the moment of silence that followed was both deafening and long.
But this has been the theme all along, mention you are driving an Insignia and you're often met with a wall of indifference or apathy. Get them inside and show off its talents and people are impressed. Following an afternoon demonstrating the performance and OnStar, both my mate and his wife are loving it to bits.
An impressive used car choice
The car really does shine in most areas that matter, namely economy, performance, technology and general ease of operation. However it's that lack of badge kudos that takes some overcoming. Historically speaking Vauxhall has always been an also-ran carmaker – rather unfairly I may add.

But, get people inside the cars and they quite often get out sharing a different point of view. Ford have managed to shake off their car range for all pockets image into an aspirational choice recent years, I wonder if Vauxhall can do the same once PSA's ownership situation becomes clear.
Replaced but still cuts the mustard
The new Insignia Grand Sport has a lot of ground to cover in terms of conquest sales and the premium feel that most of its rivals possess. This one is now obsolete in the showroom, but now represents a sensible used car bargain for those who respect substance over style or buying with their heads not their hearts.
So how is it faring in the real world, now that a few miles have passed? Well, I'm now at the point where those less than ideal traits all cars have are now noticeable. Rather pleasingly they are few and far between and nothing to warrant it from being crossed off the used car list with disgust.
Not perfect, but a decent car nonetheless
I've mentioned before about the strange lack of a rear seat armrest and passengers tut about how the cup holders are positioned too far back in the centre console. The instrument cluster also reflects into the windscreen and side window. Rear visibility is far from ideal too – thank heavens for the parking sensors.

And yet for every negative a plus point counteracts and now and again something really makes you nod with approval. For example, I like the way the blower fan slows down when you activate the voice control for tuning the wireless, or using the phone, thus reducing background noise.
Super-slick sat-nav
Something else other manufacturers can learn from is the speed of which you can enter data into the sat-nav. There's no sleep-inducing delay between digits – it's as instant as you press them in.
How many times have you been caught out at the lights trying to input an address only to get a green before the data has been fully dialled in?

Some nice, thoughtful, touches have been designed into the car and I can only hope the Grand Sport and Sports Tourer have continued the recent trend of Vauxhalls steadily getting rather good. and selling on merit rather than plain old cost.
---
Update nine: on a summer holiday
Our Vauxhall Insignia continues to rack up the miles, as do I. The car has proved more than up to the task of holiday wheels. Every year, without fail, we have a few days away by the seaside and head off to Norfolk – Costa Del Yarmouth to be precise.
So with the bags packed, the deckchairs tossed into the boot and not forgetting the obligatory bucket and spade, we head for the bright lights of Great Yarmouth.

The journey up there takes us far away from the horror that is the M25. The last morsel of dual carriageway fades into a single lane stretch of the A47 once you've bypassed Norwich.
Heading east in style
Traversing the counties of Essex and Suffolk along the way, we tend to weave in and out of the main roads. You'll find some truly stunning villages and hamlets a few gear changes off the A12.
Places such as East Bergholt and Dedham (the former being the birthplace of renowned painter John Constable) are not that well known, yet stunningly pretty.

Well away from the heaving traffic, the Insignia rewards the country-lane driver with its quick steering and safe cornering. The over-firm ride occasionally jolts and shudders through the cabin.
This is especially bad in mid-corner ruts, but I'm kind of used to that now. With the lay of the land being almost as flat as the Vauxhall's torque curve, progress is swift, safe and enjoyable.
Going back in time
Once you cross the modern yet stunning Orwell Bridge, Ipswich slowly shrinks away in the rear-view mirror. Before you know it you're sharing the roads with everything from dawdling tourists to trundling farmers in shiny green John Deeres. Once again you summon the reserve of grunt with one quick gear change and progress is maintained.
The only downside to the outbound journey was during a scenic diversion through the town of Beccles. An impatient minibus driver decided to pass a double-parked van in the town centre causing me to take evasive action.

The alloy glancing the kerb made an eye-watering noise, but after pulling over to inspect my handiwork I thought it could have been much worse.
Gaining respect by the mile
Thankfully, the rest of our days away went without a hitch and on reflection we stand firm with our respect for the Insignia at its canny way of simply getting on with anything you throw at it.
One thing I did notice was the headlamp intensity at night on unlit country lanes – or more to the point the lack of it. I asked a mate, former work colleague and Insignia SRi Pilot the other day what he thinks and he concurs but he's cured this by fitting modified bulbs.
Anything else to mention? Oh yes, they seemingly don't know much about AdBlue in Norfolk. I brought a garage forecourt to a virtual standstill and was asked why I had just tipped a gallon of water into the fuel tank on top of diesel by inquisitive onlookers.
Oh it's so good to back into civilisation!

---
Update eight: I'm Insignia, fly me!
Here, there and everywhere; that's been my world for the past week or so. It's actually been great to get back to work for the rest you know? We laugh and scoff at that statement but never has a truer statement been said. My mother landed for a weekend which required the obligatory day trip to the coast, namely Eastbourne, plus she was keen to see this "Vauxhall Insigumathingy" as she calls it.
You say it best when you say nothing at all
Bundling her into the back seat with the seaside set into the sat-nav, off we trotted to East Sussex. Barely a word was uttered there or back about the car or the comfort. But for me that's the ideal acid test in a car as we all expect excellence as standard these days. The fact nothing was mentioned tells me it's a big thumbs up from my mum. Trust me, she soon pipes up when something is not quite right.

Two days after I wave farewell to her at the train station, I'm off to Gloucestershire for a media launch of oddly enough, the new Insignia Sports Tourer. After picking up another journo we're hammering up the M4 towards Swindon – oops! I'm a little behind schedule by now. Picking off slow traffic with brutal efficiency and chatting about pretty much anything as you do on a long journey, we arrive at the hotel bang on time. Nothing is mentioned from my co-pilot about the drive – not even over dinner.
Now replaced but becoming a great used car bargain
The car launch goes well and it's revealed inside a Boeing 747 at Cotswold airport – quite an experience. Despite this E1 shape Insignia of mine being obsolete, a few people mention how smart it still looks alongside the Grand Sport and Sports Tourer. And having been sourced from Network Q as a used car, this outgoing model now stands to be an even better bargain. A couple of sneaky enquiry calls to several dealers confirmed this to me.
Having driven most of the new Insignia models, one interesting thing comes to the fore. Despite the new car being packed full of tech and being an all-new design from the dust caps upwards, the outgoing Insignia is still a fine machine when it comes to cruising. For those who either don't wish for, or simply cannot afford the new model, there really isn't that much to complain about. Quite a few fellow writers even remarked about how smart my old Insignia still looks alongside the new range.

We have already mentioned about the less than ideal cargo deck layout and the rear space that's only just adequate compared to many rivals but that's pretty much it. I do quite few long distance journeys for both work and pleasure and I'd like to take a more critical view on occasions. And yet for yo-yoing up and down the country at pace or just taking in the scenery, it's just a damn enjoyable and economical car.
Mileage: 12,873
Fuel economy: 51.0mpg
By Mike Humble
---
Update seven: Things that go bump in the boot
Having taken some annual leave from work recently, the seemingly ever-faithful Insignia has enjoyed some respite from being a commuter carriage to take on the more leisurely role of household hack. After deciding to smarten up the garden and do some around-the-house chores, the back seat has been up and down more times than the ones at your local cinema.
Cramming the boot with compost, bark chippings and even a self-assembly three-seater wooden garden bench has brought to the fore some issues with the cargo loadbay. It's not so much as a grumble about the available space, far from it in fact, more so about the layout of the floor that could cause a minor concern.

The problem revolves around the total lack of a flat and lump-free cargo bay, a bit of a let-down for a large family car.
The backrests of the rear seats fold almost fully flat which you don't always find these days, but there's a notable ridge and hump that spans the entire width of the rear floor. This means anything large, flat and heavy requires an extra pair of hands and/or much huffing and puffing to put in.
Once this has been overcome though, you certainly can cram a fair amount of significant clutter into the Insignia, and passenger-wise you can also bundle in a healthy number of people too. Having just ventured up to Essex to do a photoshoot I ended up with a full complement of passengers on the way back. Once again, the effortless way it devours tarmac and distance came to the fore.
It hoovers up the distances and passengers seem impressed

Once all the passengers had alighted upon returning to base, a back seat driver quipped: 'she goes OK doesn't she?'. But they also remarked about the lack of a rear centre armrest – once again, a bit of a mark down for a large family car. But practicality and convenience aside, there's little else to report.
Following on from our last update, the repair to the rear tyre has completely cured the intermittent tyre pressure warning system, and the infotainment software update caused no upset to its operation despite me having to pair up my Bluetooth devices for a second time after leaving the dealership. All I really need to do now is plug the vacuum cleaner in to the extension cable and suck away all that aforementioned gardening detritus from the boot.
Mileage: 11,801
Fuel economy: 51.1mpg
By Mike Humble
---
Update six: Big wheels keep on turning
At my last update, the Insigina was due for some minor attention from my local Vauxhall agent. This was due to a misbehaving tyre pressure monitoring system (TPMS) and the need to get some some in-service recalls sorted.
Well, I am pleased to say these have been attended to swiftly and without fuss by the main dealer a few miles up the road in Crawley. The main fault turned out to be no problem with the car itself after all.
Apologies if you were expecting a problematic read this time, it just doesn't appear to working out that way after all does it? The TPMS error that was occasionally flagging up on the cars dash panel was actually informing me of a puncture.

This seemed a little bizarre as only a couple of pounds of air had been squeezed into the tyre from an update I've already published with nothing else since. But the reoccurrence of the lamp nevertheless required investigation.
Blame the Insignia's ills on a 'Foreign Affair'
It was nothing more than a very slow puncture caused by a foreign object working its way into the centre area of the tyre tread rather than an electronic glitch on the manufacturer's part.
Arriving at Go! Vauxhall Crawley for the earliest possible appointment (7.30am) the keys were handed over and I retired to the waiting lounge and coffee machine. After a browse through the latest brochures, a couple of sweet teas and a chat with one its used car sales executives putting the motor trade to rights, the car was ready.

The puncture was repaired and the total bill came an agreeable £18, the service recalls were dealt with free of charge. I left the dealership feeling happy and satisfied not to mention impressed with the staff who I came into contact with.
Quality of service was very impressive
As with all of the volume brand outlets, some impress while some can make you feel less than appreciated. The overall experience so far is of a car that just knuckles down to the job in hand and its nearest dealer that compliments it – an ideal motoring package.
A high flyer but with a slightly rough landing: It's spent plenty of time on the motorway too. We've already mentioned about its long legged ability and on the motorway is where the Insignia SRi really shines.
The six ratios are set up for performance lower down the speed range but once slotted into the high overdrive top the car effortlessly laps up the mileage like a Cat does with spilt milk. Only the rather joggly ride in urban environments thanks to the large upgraded wheels and stiff suspension is a notable niggle.
19in alloys look good, but give stiff ride
But on the flip side, I can live with it simply because the car looks that bit more business-like and dare I say it, aggressive with the optional VX-Line wheels, suspension and styling kit. There was a standard SRi in the showroom and it looked rather plain in comparison.
As a long distance battle cruiser the Insignia SRi CDTi 170 is proving to be a competent weapon with efficient back up behind it.
---
Update five: Tyred and emotional
Oh, how wonderful it is to enjoy ticking off the miles in a reliable car. Let's be frank, it's everyone's ideal world – unless you just happen to be a garage proprietor that is. Our Vauxhall Insignia SRi has settled into the fold so well, you'd almost think we'd owned it from new.
Quick steering, monumental low-down torque and the ability to cling on to a fast long bend as well as a Virgin Pendolino makes the car a really competent and satisfying driving tool – good grief, are we really talking about a Vauxhall here?
It's very economical too, providing you cruise a lot or commute over a decent distance, as I do. When you're bored of following that slow-moving object ahead, one quick tug on the gear stick finds you clear and away with no drama – oh, I love its torque.
But flawless behaviour makes for dull reading and I can duly report that the Insignia requires attention. It's not so much as blotted the copy-book, just slightly blemished it in one small corner. I've become a victim of modern technology, but things aren't that bad.
Under pressure

On a handful of occasions since first taking the keys the dashboard has signalled a tyre pressure problem with the rear offside wheel. Then as quickly as the occurrence happens it all shows normal again, but when the problem does show, the car thinks it has a puncture.
The first time happened on the way back from Parkers Towers which caused me to dive on to the hard shoulder of the M11. After the obligatory scratch of the head and kick of the tyre, a diversion into Birchanger Green services saw me robbed of ten bob on the forecourt.
Sensors working overtime

Tyre pressures were all normal so it was put down to one of those 'oh well never mind' affairs. Twice more this happened the other week then again only a day or so ago. Having a bit of mechanical gumption I arrived at the conclusion there might be a glitch in the electronic tyre pressure monitoring system, TPMS, so a call was put into my local Vauxhall dealer.
They must be busy right now as the next available appointment isn't for a couple of weeks. That suits me fine actually as the fault is intermittent, not serious enough to warrant mass panic and besides, I am off work that week. The jovial service receptionist reckoned another branch further afield could look sooner but I declined.
While I'm there they want to do a couple of in-service recall items and software updates that all manufacturers do from time to time. I'll be waiting there while they beaver away so expect a report on how efficient they are, not to mention how good the coffee is!
By Mike Humble
---
Update four: The car's the OnStar
We've had a bit of a change around here at Parkers. As a result, I've adopted the Network Q Insignia and I'm pleased to report that it's settling into the family very nicely indeed.
My initial thoughts are positive. The 2.0 170PS Whisper Diesel unit is well spoken and smooth nearly all of the time - unless you drive to the max that is.
Diesel idle clatter is subdued and vibration-free and the engine only starts to roughen in tone as the engine nears top revs. What I do like is the gutsy get-up-and-go thanks to a decent 400Nm of torque that reaches full cry from 1,750rpm.
That said, and unlike many smaller units offering a similar amount of power, the torque build-up is there much lower down the rev range. Apply the throttle from 1,100rpm in any gear and it's just there with almost instant response.
Vauxhall claims a sub nine seconds sprint from 0-60mph, but the engine's flexibility makes it feel a lot quicker than that. The six manual gear ratios are just right for a balance of spirited sling-shot or motorway work, it's quite a decent driver's car and very relaxing on a smooth, long road despite the sports suspension.
I'm a system addict

The OnStar system (a £405 option on this car) connects you with a 365/24-7 UK-based call centre that can assist with you almost anything from sourcing the nearest electrical shop to finding out what's the world's largest teddy bear – ideal for settling those in-car arguments we all enjoy.
It also provides you with a 4G WiFi hotspot to enable those younger back-seat passengers to Tweet, Facebook, Snapchat or whatever their hearts desire to pass the time on long journeys. But OnStar is so much more than that, it really has important advantages and benefits everyone will appreciate.
Despite the name sounding like an 80s pop group, this very clever and seemingly under-advertised unique feature in a mainstream car also offers lifesaving technology. In the event of an accident where an airbag is deployed, the system opens a channel and you are asked if assistance is required.

Should you fail to respond, the trained advisor will pinpoint your car via the 4G WiFi link and send the emergency services to your location. If a warning light shows on the instrument panel, for example, OnStar can diagnose the fault through the vehicle's management system and advise you of the seriousness of the problem and what you need to do.
Vauxhall seems to undersell this system that has been proven to actually save lives in its extreme capabilities. For the time being it's pretty unique, far from being a gimmick and both impressive and easy to use. I've used OnStar frequently since its UK launch and can honestly say it just works.
Watch our video of OnStar in action:
Mileage: 10,247 miles
Fuel economy: 54mpg
By Mike Humble
---
Update three: what's the finance like?
If you're one of the few people purchasing a Vauxhall Insignia privately as opposed to being a company car driver, you'll more than likely be interested in finance costs.
So, we've done the sums on our Insignia SRi VX-Line Nav to see how much it'll cost you in monthly payments, as you can still get this old model brand new from the dealer.

High monthly payments
With a £3,000 customer deposit, VX66 KKN will cost you £511* per month with a 10,000 annual mileage allowance and 3.7% APR over 37 months.
The cash price is £27,385 with the options of our car fitted, however if you choose to buy the car outright at the end of the agreement (a £7,773 optional final payment), you'll actually be paying £29,205 once you've added the interest charges.
Car finance explained: what is PCP?

Is it cheaper to finance a new Insignia Grand Sport?
Yes, it is. Rather confusingly, you can still order the old Insignia, despite the new Grand Sport also being available to order.
We've calculated how much it'll cost if you go for the new and improved Insignia Grand Sport, and it's looking favourable for the new car.
You can order the exact same spec – SRi VX-Line Nav (top-spec Elite pictured) with the same 2.0-litre CDTi diesel engine – and we've added options so the models are comparably equipped. However, the new car's cash price, with those extras, is £24,815; considerably less than the old model to start with.

With the same £3,000 deposit, the new Insignia Grand Sport will cost £383* per month over 37 months at the same 3.7 % APR interest rate.
There's a higher optional final payment of £9,820 if you wish to own the car at the end of the term, however you'll still be paying less overall – £26,600. That's even less than our Insignia's cash price before any interest charges, too.
Better deals on the new Grand Sport
Vauxhall appears to be its own worst enemy when it comes to finance costs. Based on the exact spec of our long-term test car and its brand new equivalent, there's no benefit in opting for the older model thanks to the new car's lower list price and monthly payments.
The only saving grace would be if you're able to wangle a deal on the outgoing car with your local Vauxhall garage if you must buy one new.
And the rivals?

Opt for a Ford Mondeo in sporty ST-Line spec with a similar list of equipment, and you'll pay £412* per month over 36 months with a £3,000 deposit and 9,000-mile annual limit. An optional final payment of £9,111 means you'll pay £26,940 overall – the car's list price – as Ford is currently offering interest-free credit.
The Skoda Superb Sportline 2.0 TDI with 150hp offers more interior space than both of these cars and, at £376* per month with 4.9% APR, it's the cheapest to pay for monthly (again with a £3,000 deposit).

This is partly thanks to a £2,500 deposit contribution from Skoda on top of your £3,000 deposit, but you'll still be paying £30,805 overall if you choose to pay the £12,130 optional final payment to make the car yours at the end of the agreement.
Meanwhile, drivers after the most upmarket large five-door hatchback could actually save money over the outgoing Insignia with the Audi A5 Sportback 2.0 TDI ultra, which weighs in at £485* per month with the same contract terms.
If you're looking for an Insignia on finance…
Go for the Grand Sport. Not only will you get your hands on a newer, more up-to-date car, you'll also be forking out less each month and over three years, depending whether you choose to buy the car at the end of the term.
If you're not too fussed about having the newest version of the Insignia, though – and manage to haggle a huge saving on the outgoing car – then this could work in its favour.

Mileage: 8,438 miles
Fuel economy: 45.1mpg
By Tom Goodlad
*Deals are correct at time of publication. Everyone's financial circumstances are different and credit is not always available – Parkers cannot recommend a deal for you specifically. These deals are indicative examples of some packages available this week.
---
Update two: What you get for the money
When a car nears the end of its production cycle, manufacturers like to throw some extra bits of equipment at them, sometimes at lower prices to tempt some last-minute buyers into grabbing a deal before a new version comes along.
And, to some degree, our Insignia benefits from this treatment with a healthy list of standard kit for the price.
What's standard on an Insignia SRi VX-Line Nav?
As well as that catchy name (thankfully it's not spelled out across the bootlid) SRi-spec cars come with the following kit thrown in:

The VX-Line Nav version builds on this with:
Our car also comes with:
There are some interesting quirks, though – while the car has automatic lights, it doesn't have automatic wipers, two things that usually go hand-in-hand.
While it's not the end of the world, it's disappointing that a car costing north of £25,000 new doesn't come with them. However, as a nearly-new offering for the same price as a brand new Corsa, we can't complain too much – you still get a lot of car for the money.
We're keen to see how Vauxhall's OnStar service works, though. Hopefully we won't need to make use of the emergency assistance on offer (although it's nice to know it's there should the worst happen), but we will be trying out the facility to have a destination downloaded straight to the sat-nav via the company's central call centre very soon.

Economical 2.0-litre CDTi diesel engine
The 170hp 2.0-litre CDTi diesel engine under the bonnet of our Insignia is a tried-and-tested one, with some appealingly low official economy figures bound to tempt potential buyers looking for manageable running costs.
Claimed fuel economy is 62.8mpg – we're keen to see how close we can get to this on commuter-style journeys up and down the motorway – while CO2 emissions are rated at 118g/km. As it's a 66-plate car, it falls into VED band C under the pre-April 1 2017 system for £30 annual road tax.

In terms of performance, the 0-62mph benchmark sprint can be completed in 9.4 seconds, but it's unlikely we'll be finding this out on the road – this car is more about cruising on the motorway, and so far it's impressing us with strong refinement and its punchy diesel powerplant (that'll be the 400Nm of torque on tap from 1,750rpm).
In fact, in just a couple of weeks the Insignia has been pounding the tarmac and we've put just over 1,000 miles on the clock.
So far, it's returning close to 50mpg in varied driving and over 600 miles on a tank of diesel – long may this frugality continue.
Mileage: 7,544 miles
Fuel economy: 47.8mpg
By Tom Goodlad
---

First report: Welcome to Parkers
With new car finance the dominant way of purchasing a car these days, focus has overwhelmingly switched to buying new.
But what if you don't want to tie yourself into a three- or four-year contract or pay high interest charges? You can still go for a used or nearly new option with the benefits of buying new, such as the remainder of a new car warranty and the guarantee it's been prepared to a high standard.
With a new Insignia Grand Sport just about to launch in the UK, we've got our hands on a nearly new version of the outgoing Insignia in SRi VX-Line trim to see if it makes sense to go for this sensible - yet popular - mile-muncher as a run-out model.
New, this car cost £25,805 before adding any options, but a quick Parkers Valuation reveals this six-month-old example would now be on a Vauxhall forecourt for £16,780 - a signifcant saving.

We're also keen to see how it compares with the new Grand Sport when we swap it over for one this summer.
Our test car is a 2.0-litre diesel in SRi VX-Line trim
You'd struggle to believe the Insignia is an eight-year-old design – it still looks good thanks to a refresh in 2012, especially in our SRi VX-Line Nav trim. We'll dive into what kit comes as standard in a future update, but first impressions are good and we think it still looks very smart.
Under the bonnet is a 2.0-litre CDTi diesel engine with 170hp driven through the front wheels via a six-speed manual gearbox.

My 100-mile round trip to and from the Parkers office five days a week is prime commuter-style journey (the Insignia is a firm favourite with company car drivers), so it'll be good to see how well it laps up the miles.
Trying out Network Q dealer service
We picked up the 66-plate car from Forest Gate Vauxhall in Corby with just shy of 6,500 miles on the clock – it's been plucked directly from Vauxhall's Network Q national stock. Rather conveniently, Network Q's national storage and refurbishment centre is located just down the road.

Why this dealer? It may not be Vauxhall's flagship showroom, but it was the dealer that debuted the Network Q system more than 20 years ago.
It started off as a multi-franchise used car scheme that offered multi-point checks to ensure the car was up to standard, a comprehensive warranty and roadside assistance among the benefits.
We're hoping we don't need to make use of these services in our time with the car, but buyers will no doubt feel reassured with this back up, should anything go wrong with their car.
First impressions
The Insignia has settled in well to the rigours of life on the Parkers fleet after just a couple of weeks. It feels solid and well-built and, because of its 6k mileage, it's already nicely run in and the engine feels pokey and refined. We think it looks especially good and bang up to date in SRi VX-Line trim with its enormous 19-inch alloys and body kit.

We're looking forward to seeing how it copes as a commuter car (we have high hopes) and if it makes sense to go for an older model that costs almost £10,000 less than it did six months ago.
In a few months' time we'll be swapping VX66 KKN for the all-new Insignia Grand Sport to see just how much Vauxhall has stuck to what appears to be a winning formula for company car drivers.
Mileage: 6,486 miles
Fuel economy: 62.8mpg (claimed)