View all Volkswagen Golf reviews

Volkswagen Golf GTI
Review
Current Model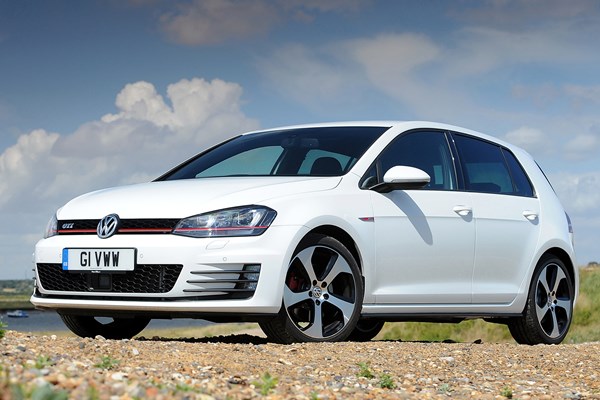 PROS
Iconic hot hatch
VW build quality
Everyday usability
Performance
CONS
Evolutionary looks
Some rivals sharper
PROS
Iconic hot hatch
VW build quality
Everyday usability
Performance
CONS
Evolutionary looks
Some rivals sharper
Verdict
There're few cars with a richer or more hallowed history than the Volkswagen Golf GTI. The original hot hatch - despite what the French may tell you - transformed an ordinary hatchback into a sports car driven by everyone from Formula 1 stars to discerning housewives.
Now nearly four decades later the seventh generation Golf GTI has arrived, amidst some serious speculation and expectation from enthusiastic drivers. And the good news is, it's an absolute cracker – good job too considering the strength of rivals such as the Ford Focus ST, SEAT Leon Cupra and Renault Megane RenaultSport.
Revised 2.0-litre turbo engine, with optional Performance Pack
VW spotters will notice the 2.0-litre turbo engine is a direct relation to the one found in the previous (Mk 6) Golf GTI, but this time there's an extra 10bhp, taking the total to 217bhp. That's good enough for a 0-62mph sprint of only 6.6 seconds.
If that's not exciting enough you can add a Performance Pack, which increases power to 227bhp and drops a tenth from that 0-62mph time. Both offer 350Nm of pulling power, which is 70Nm more than the last car's peak figures.
The Performance Pack also adds an electronically controlled locking differential across the front wheels - a world-first for a front wheel drive car – which helps tighten your line when cornering quickly as well as more powerful brakes and GTI badging on the callipers.
GTI Clubsport for 40th Anniversary
Marking 40 years of the Golf GTI in 2015 is the special Clubsport version, with power uprated to 261bhp, or for a 10-second burst for extra performance, 286bhp, enough to propel the DSG-equipped versions to a 0-62mph time of 5.9 seconds.
Visually the GTI Clubsport's differentiated by a revised front bumper with larger side gills, special 18-inch forged alloy wheels and a black stripe low down along the sides.
Superior efficiency
Not only does the new Volkswagen Golf GTI offer more power and torque than before, but it also boosts efficiency too. The headline figures are a combined economy of 47.1mpg and CO2 emissions of 139g/km when fitted with the six-speed manual gearbox.
Add the firm's excellent DSG dual clutch automatic, which also allows manual cog-swapping through the steering-wheel mounted paddles, and these figures change to 44.1mpg and 148 or 149g/km (depending on Performance Pack fitment).
Regardless all models get standard stop start, and on the whole the 42kg lighter GTI is 18 percent more efficient than the car that came before it.
Comfortable everyday car
Despite the Golf's considerable ability to excite and delight when enjoying the performance and impressive grip on offer, unlike many hot-hatch competitors it's not a one-trick pony.
Equally at home on the twisting Col de Vence of the launch test route as it was on the flowing French Autoroutes and knobbly tarmacked towns and villages, there's little the GTI can't handle.
That's partly down to an extremely well set-up chassis that delivers sharp and accurate handling, as well as the optional Adaptive Chassis Control as fitted to our cars which allows drivers to swap between Comfort, Normal and Sport modes for the damping.
Completing the picture is the Driving Mode Selection which adds Eco and Individual to the above modes, altering the reactions of the progressive steering system as well as throttle response.
It's not the sharpest hot-hatch out there, but as an overall ownership proposition it's unsurpassed.
So it's certainly good, but read our full Volkswagen Golf GTI review to see just how great it really is.
40 years of Golf GTI: visit our sister website Carmagazine.co.uk for a celebration of four decades of hot Golfs
The Parkers Verdict
The Golf GTI is back with an impressive offering. Aside from the quality and refinement that comes with any Golf, the speed and performance of this thing is pretty sharp too.
The hot-hatch market is only getting more competitive and gaining a foothold over rivals is becoming increasingly difficult, but at the very least this latest GTI is as good as anything else on offer.
Perhaps the heritage and grandeur that comes with being a Golf GTI owner will be enough to sway consumers.
Read on for the full VW Golf review