Volkswagen Passat Alltrack review
Current Model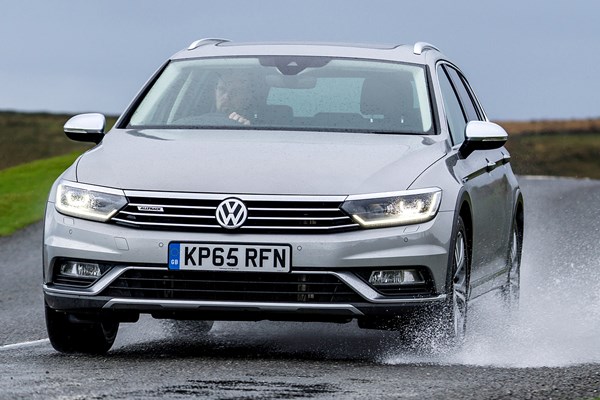 PROS
Comfortable
Looks great
Loads of off-road kit
Purposeful styling
CONS
No petrol option
Only two diesel engines
PROS
Comfortable
Looks great
Loads of off-road kit
Purposeful styling
CONS
No petrol option
Only two diesel engines
Volkswagen Passat Alltrack rivals

While this version of the Volkswagen Passat Alltrack is brand new, the idea isn't. The off-road estate car (think Subaru Outback, Audi A4 Allroad and Volvo XC70) has been around for more than 30 years, and to start with VW was right at the forefront.
Rewind to 1984 and the second generation Passat was the first passenger car fitted with the German firm's "Syncro" system - later renamed 4Motion.
This system has been available in various forms throughout the Passat's life, the most visually obvious being the Alltrack variant which debuted on the previous generation, complete with boosted ride height and off-road cladding. It offered a huge boot, a comfortable ride on the road, and four-wheel drive grip off of it.
And so we come to the new Alltrack, VW's second attempt at creating the ultimate all-rounder.
Who needs an estate car that can go off-road?
Hear 4x4 and you will quite rightly think of something like a Toyota Land Cruiser lurching down a rutted jungle track.
While you're unlikely to need that level of performance from an estate car in the UK, powering both axles provides considerable advantages to a vehicle that spends most of its time on-road.
These include everything from enhanced winter traction to the ability to tow a 2,200kg trailer across a muddy campsite without drama.
Having a Passat estate as its base means the Alltrack is extremely comfortable on the road, with a quiet cabin and supple suspension that dismisses ripples in the road surface.