Audi A4 Avant long-term review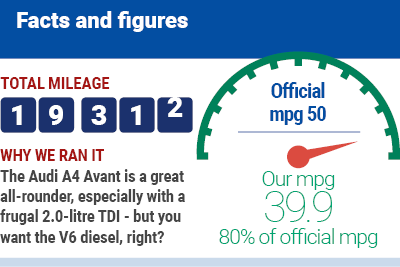 We come to the end of our 20,000-mile Audi ownership
Parting with it proves more difficult than we imagined

Update 1: The unlikely Avant
A V6-powered A4 Avant joins the fleet

Estate-car appreciation definitely creeps up on you. Like two-day hangovers and ear hair, it's something that would have seemed totally alien to my 17-year-old self, yet here I am just ten years later fawning over an Audi A4 wagon.
Witness me loading my son's pushchair into its boot – whole – without having to remove its muddy wheels! Feel the supple ride ironing out the road surface while the heated seat soothes my lower-back pain!
These are not things that concerned me as a new driver – I was principally interested in a getting a stereo loud enough to shake off my rear-view mirror, and an engine that could turn my tyres into mere Oreo-sized nubs.

It would seem this new Audi A4 Avant has some common ground with my first car priorities then. A whopping great 3-litre V6 diesel whirs away under its bonnet, producing 268bhp and 600Nm of torque – enough to propel it from 0-62mph in 5.4 seconds.
The stereo is good too, thanks to the £1,250 Comfort and Sound pack, which adds a 19-speaker, 755-watt Bang & Olufsen set-up.

In fact we've got most of the available options ticked on this car - taking its price from £39,535 to an eye-watering £53,435 - but I'll go into those in more detail later. We'll also have to explore the rather bold 50mpg economy claims Audi makes about the 3.0 TDI after it's been run in.
Maybe I'm not ageing as prematurely as I thought and my priorities haven't really changed that much.
I mean, just look at these fabulous 19-inch RS-spec alloys. Good grief.

Arrival mileage: 140 miles
Economy: 49.6mpg (claimed)
By Adam Binnie
---
Update 2: Estatement of facts
What flavour A4 have we got?

Before we properly get behind the wheel of this Audi A4 Avant, let's have a closer look at the spec sheet.
When you go to buy this Ingolstadt estate your choice of engine is quite simple - there are two petrols and four diesels – the latter including two 2-litre units and two 3-litre ones.
Here we've got the most powerful – a 3-litre V6 diesel engine with 268bhp, 600Nm of torque, and an eight-speed automatic gearbox. It's the fastest drivetrain available in a standard A4, racing from 0-62mph in a slightly bonkers (for a diesel estate anyway) 5.4 seconds.

Pick this engine and other choices are restricted. It's also only available with Quattro all-wheel drive and the top of three trim levels available - SE, Sport and S Line. In contrast, you can have the other 3-litre unit with two-wheel drive or Sport trim if you wanted to.
All of those things mean this configuration is unsurprisingly the most expensive A4 Avant you can buy, coming in at £40,350. That might sound a lot, but look at it this way: the lower-powered V6 in the middle trim is £3,270 cheaper - an S Line upgrade costs £1,500 alone, so that leaves a £1,770 premium for the engine.
Is it worth it? We think if you're looking at a powerful V6 diesel then you're likely to want the sportier looking S Line trim anyway, and more power under the bonnet makes Quattro all the more desirable too. Unless you're a company car driver of course, in which case we can see why the two-wheel drive example above with its lower CO2 would appeal.

S Line trim traditionally adds lowered suspension and a beefy bodykit. This generation of A4 Avant also gets LED lights front and rear, chrome exhaust finishers and 18-inch alloys.
You also get a load of stuff carried over from SE and Sport, such as:
Three-zone climate control
Parking sensors
Sat-nav on a seven-inch screen
Sport seats
Cruise control
Keyless entry and start
Electric tailgate
Drive Select
Multi Media Interface (MMI)
Matt grey grille with chrome accents
Three-spoke multi-function steering wheel
We've got plenty of extras to talk about (£11,175 worth, eek) but will go into those in another update. Two items floating between the standard spec and options list are Floret silver metallic paint (£645) and fine black Nappa leather upholstery (£1,250). While these are extra-cost items, realistically who is going to spend £40,000 on a car and then scrimp on paint and leather?
Regardless, we're obviously going to have quite a lot to write about with this car. Still, that's a nice problem to have.
Mileage: 1,412 miles
Economy: 37.5mpg
By Adam Binnie
---
Update 3: First long drive
What's the A4 like on a run?

With our Audi A4 Avant's mileage just tipping past the magic 1,000-mile mark, a long drive to Silverstone seemed like the perfect opportunity to take off our kid gloves and give it a proper shakedown.
We've been pottering around in Eco mode until now, avoiding full-throttle starts and the upper reaches of the rev range to help run the engine in.
The roads from the office to the famous race track are suitably testing - full of long straights, sweeping bends, tight turns and roundabouts. A perfect place to get to know our new long-termer's strengths and weaknesses.
I've driven cars with a similar amount of pace and seemingly endless grip, but few that combine those features with a sublime ride and whisper-quiet cabin. The big V6 under the bonnet rarely makes itself heard despite the fact it's a diesel.

After arriving at the track I drove the latest range of updated Porsche 911s - considering its outright speed the German sports car is still an impressively comfortable thing to drive.
I also spent a good amount of time ogling the wonderful Le Mans-winning Porsche 919 Hybrid below. Just like our car it balances speed with enough luxury for a stint lasting several hours.
Of course it would monster the Audi around a track but I reckon you'd struggle to get a garden bag full of grass cuttings in it. Let's call it a draw.>

After a lot of exciting miles behind the wheel (sadly not of the above), I was very pleased to sink into our Audi's comfortable armchair driver's seat and stretch out for the return leg home.
On the motorway it is practically faultless, with loads of torque available from low down in the rev range and a cushiony ride to iron out the occasional bump or change in road surface.
It's even more impressive when you consider we've got the larger, optional 19-inch wheels and sporty S Line suspension dropped by 10mm.
Mileage: 2,455 miles
Economy: 38.1mpg
By Adam Binnie
---
Update 4: Towing a bike rack
We use the A4's hidden tow-bar to carry some bikes

Our A4 Avant comes with a nifty built-in towbar; an £850 option from Audi. Those keen on towing trailers/horseboxes/bicycles are spoiled nowadays - the art of electrifying anything and everything that moves on modern cars has even reached the humble towbar.
Simply press a button situated on the left of the boot entrance and the towing bracket automatically lowers from its housing; pull the ball the last few inches until it clicks into place and - hey presto - you're ready to tow. You know when it's ready, because the flashing LED in the switch lights up permanently.

We hooked up a Thule bicycle rack and it was a cinch to use, transporting our kids' mountain bikes for a half-term trip away. The Audi comes with a 13-pin electric power socket that provides electricity to the rack's lightbar and there's a seven-pin adaptor in case you need to tow something wired up to an older plug instead.

What's particularly clever is that the A4 resets its parking sensors when the towbar is in use, to avoid beeping the bejeepers out of you every time you come to reverse. Clever stuff, making it easier for you to concentrate on towing up to 750kg of unbraked or 2.1-tonnes of braked trailer.
Mileage: 3,450 miles
Economy: 35.2mpg
By Tim Pollard
---
Update 5: Boxing clever?
We stick a massive roofbox on the A4

Look, I'm not suggesting our Audi A4 Avant's 505-litre boot is small, but I've gone and fitted a massive roofbox in preparation for a family holiday.
As it's from the Audi accessories catalogue it comes fully branded with the four-rings insignia on both sides, each large enough to be seen from space. In fact as a package this gets you six extra Audi logos (thanks to another four on the roof bars) on a car that already thrives on badge-appeal.

It also adds a handy 405 litres of space - more than you get in an Audi A3's boot - and because it's the length of the roof, you can get much longer items in there than you can in the rear of the car.
There's a bottom line though. The aero-type roof bars cost £210 and the box itself is a slightly eye-watering £600. There are two smaller sizes to choose from though, 300 and 360 litres, costing £385 and £420 apiece.

The technical information states you can pack up to seven skis or five snowboards in our box, the same number as the 360-litre version, although ours accepts lengths of up to 190cm.
You secure the bars with a special wrench that fits unique, secure bolt heads (like locking alloy wheel nuts) and the box itself has four clamping heads that are adjusted from inside.

You can open it from either side and there's a pair of keys for the locks. There's a little extra wind noise when cruising on the motorway but it's not intrusive, plus you can still open the panoramic sunroof with the box fitted.

Is it worth the money? Well, at first I wondered why you wouldn't just go to Halfords and spend much less on a non-Audi branded box. As time goes on though I can see the benefits. It clamps on to the roof with absolute ease, there's no anxiety about getting the right combination of bars and fitting kit, plus it looks really smart - long and sleek with a spoiler-like kicker at the back.

Plus, in context with some of the other options we've got, it's not so expensive. It costs less than our metallic paint, for example, even if its quiet shade of grey isn't quite close enough to our car's silver hue to call it a match. If I'd just spent £600 on it I think that would get a bit annoying.
It's easy to see how the cost of this box and bars could get lost on a new car invoice and it certainly has a better image than the alternative aftermarket jobs. I'll give it a proper test over the summer and see how it performs.
Mileage: 4,245 miles Economy: 40.4mpg
By Adam Binnie
---
Update 6: The Camembert Run
A true test of the A4 - a holiday drive to southern France

Here it is, the toughest test I could think of for our Audi A4 Avant long termer - a family holiday, spanning hundreds of miles with an onboard toddler.
This meant subjecting it to more than 1,500 miles of motorway and town driving during a week's break around the Pays-de-la-Loire, asking it to carry all our luggage and soothe aching backs during the long boring bit in northern France.
So on to the first trial – fitting all our stuff in the Avant. Packing a week's worth of clothes, food and miscellaneous items (namely a five-foot windbreak) was a quick and remarkably stress-free experience thanks to a combined 910 litres of storage space divided between a huge boot and nearly-as-huge roofbox.

The latter is a great shape to stash a pushchair in thanks to its length. Our buggy goes in the boot but only diagonally, eating up loads more room than it needs to. Without it we had plenty of space in the car to Tetris-fit square suitcases below the luggage cover. For once on a holiday, I had clear sight out of the rear-view mirror and there was nothing sliding around on the back seats – except for, eventually, about half a tonne of baguette crumbs.
There are downsides though – the 'box blocks the panoramic roof making the interior feel a bit dark, and it also adds a fair bit of wind noise. Both of these are only really noticeable because the A4 is normally so airy and quiet. Seems like a fair trade for the improved interior comfort. Driving around in a car crammed to the rafters is not desirable on any front.
After an uneventful and bleary-eyed early morning cruise to Dover we joined the back of an absolutely enormous queue of cars waiting to embark the ferry. This was to be the start of a three-hour delay brought on by Euro 2016 – not an ideal start.

Thankfully I'd remembered to preload my phone with my favourite (read: terrible) music to keep us all entertained. The A4's wireless charging pad under the armrest meant the playlist wasn't limited by battery life either, much to my family's dismay. The A4 is a relaxing place to while away the hours, although this was small comfort in an otherwise frustrating morning.
Passports and tickets checked we parked up on the boat and went upstairs for some lunch, the white cliffs of Dover and the snaking queue of cars below fading away into a drizzly memory.

Driving on the continent requires a collection of safety kit, provided by Audi in neat branded packages. The LED headlights don't require stick-on adaptors or spare bulbs, and the numberplate has a GB logo on it.
Even so, I packed a spare continental essentials kit just in case, including a magnetic GB sticker that was not compatible with our non-magnetic bootlid. You don't even have to do mental maths to work out your speed either – the Virtual Cockpit is easily adjusted to display kilometres on the speedometer and sat-nav.


In fact the only part of the equation that didn't simply fall into continental driving was me – when we stopped to fill up with fuel I realised, too late, that I didn't know the French word for diesel - it's "gazole" if you're interested. I wasn't taught that word in GCSE French, although handily I can say many, many swear words and tell you all about my brother who likes to play football and lives above a post office.
The sat-nav we've got (called MMI Navigation Plus, part of the £1,450 Technology Pack) didn't miss a beat during our week away – it was easy to programme by writing the destination on the touch-sensitive pad, and displays its turn-by-turn instructions clearly on the Virtual Cockpit screen. It posts up traffic information and – very usefully in France – impending weather along your route, handy because there are separate speed limits on the motorways for clear and inclement weather.

And it's here that the A4 really shines. As a long-distance cruiser it's absolutely tremendous, seemingly chomping up hundreds of kilometres at a time. It doesn't hurt that the French autoroutes are smoother than Hubble's mirror and, on the trip down at least, utterly devoid of other cars. Being able to legally travel at 130kph (about 80mph) meant stretching the A4's legs a bit more than we've been able to in the UK, and it feels just as strong when closing in on this higher upper limit as it does at home. I reckon it would be ruthlessly efficient pacing down a derestricted German autobahn.
The only hiccups we experienced on the motorway were at the peage toll booths, which are understandably set up for left-hand drive cars. That means nudging your passenger as close as you dare to the ticket machine while trying to avoid kerbing the left front wheel. The parking sensors and front corner cameras did a good job here, but invariably my wife had to lean halfway out the window in order to reach the machine. An ideal moment for me to scoff all the Haribo.
A trip to La Rochelle where the narrow streets and, err, enthusiastic local drivers highlighted the A4's preference for roads with a white line down the middle. It's a bit sluggish when you need to zip around and a bit big to thread down a small road.

Escaping without Parisian-style dents to the relative comfort of a windy French country road lead to a remarkable discovery - the decision whether to use the stiffer Dynamic mode is based on what sort of driving you want to do, rather than how much backache you can put up with. At home you sacrifice comfort in exchange for a more tied-down feel, but on smooth French tarmac the difference in ride is barely noticeable. It's no sports car but the way the A4 Avant smoothly gathers pace and sticks in a bend is very satisfying - a great car to waft around in.
Normally the return leg of an enjoyable holiday looms over me like an unpaid bill, but having spent quite a bit of time in the A4 during our break I was not at all worried. The miles melted away as they did on the way down, and we even had a bit of time to drop in to Le Mans to have a look at the famous racetrack before the customary rush to Calais.

At home and with the car parked unpacked on our drive we surveyed the scene of crumby devastation left by our smallest passenger on the back seat after a week's snacking. Thankfully it's an easy car to clean (or so the valet tells me) with leather upholstery that doesn't harbour particles and no annoying nooks and crannies for mashed up rice cake to hide in. The seat backs have a tough plastic shell that aids the removal of small muddy footprints too. We had it back to showroom shine in next to no time.
I've been trying to think of cars I'd rather have taken away, considering we needed to move three people and a week's luggage in comfort. My shortlist of Audi RS6, a Tesla Model S and Volvo XC90 all have inherent problems of fuel thirst, range anxiety and, in the Volvo's case, a bit of a speed deficit.
All-in-all I reckon our Audi A4 Avant is about as good as it gets for this type of journey. Plus it looks the absolute business and has an in-car espresso machine. Oops, did I not mention that? No time to explain now, I'll cover that in a later update.

Holiday miles covered:
5,204 miles Economy 35mpg
By Adam Binnie
---
Update 7: S Line or Allroad?
Should you get our sporty trim or the off-road version?

We've been driving the new Audi A4 Allroad, a jacked up, plastic-clad version of our very own A4 Avant long-termer with the same 272hp, 3.0-litre V6 diesel we've got on test.
You pay a very small penalty in running costs and it takes a tenth of a second longer to get from 0-62mph. Oddly enough though, the Allroad version is more than £1,000 cheaper, despite the added ability off road.
We think that if you want this engine but are not bothered by the S Line bodykit and fancy sports seats, the Allroad could be a bit of a bargain.
Mileage: 6,831 miles
Economy: 38.4mpg
By Adam Binnie
---
Update 8: Talking financials
How does the A4 stack up on PCP finance?

We're well over half-way through our long-term test of this Audi A4 Avant and I'm already getting a bit apprehensive about its inevitable departure. I've had access to few cars that cope so well with family life, yet entertain so readily on my commute.
In fact, I'm so keen on it I've started researching whether or not I could buy one after this car goes back (hypothetically, of course) and what I'd have to give up in order to afford it.
It won't surprise you to hear that I don't have the £40,880 required sitting in my bank account, so I've asked our Finance Editor Christofer Lloyd to run the numbers and see whether there's a special deal I've been overlooking that can allow me to slot a new Audi A4 Avant onto my driveway.
The monthly payments for our long-termer are actually a bit lower on a PCP finance deal than I would have expected, thanks to its high residuals (36 monthly payments of £474 with a £4,000 deposit) and Audi will give you £2,500 towards the car too. A similar deal for an equivalent VW Passat will cost you £617 per month, with no deposit contribution but a lower optional final payment to take ownership.
If you're looking for a PCH lease with maintenance thrown in (if you're taking the cash equivalent of your company car, for example) then this price rises to £510 a month over the same time period. A similar BMW 330d Touring will cost less (£490) based on the same £4,000 deposit but it's a bit slower and doesn't feature the Audi's fantastic interior.
It goes without saying that you could alter these figures with a different deposit and come up with different numbers, and any deals available now might not be around in the future.
Meanwhile I'll have to have a look in the loft to see if I've got a Picasso or some Faberge eggs lurking around. Surely a box of 1990s Scalextric is worth decent money now?
Mileage: 7,809 miles
Economy: 33.5mpg
By Adam Binnie and Christofer Lloyd
---
Update 9: Which options are worth having?
We examine the A4's optional extras...

Options, options, options – you can pack your Audi A4 Avant full of them if you want. But which ones are worth having? And are they any good?
Thanks to an eye-watering £12,545-worth of extras fitted to our long-termer, we're in a pretty good position to give you the full run-down on which to choose.
Cosmetic options
Floret Silver metallic paint (£645): Solid black or white are free, then there are a dozen metallic choices and one pearlescent finish, all of which cost £645. Be honest, you don't want standard paint, and our long-termer's tone treads the line between eye-catching and understated very well. Verdict: worth it.

Black nappa leather (£1,250): A cloth and leather mix is offered for free, whereas leather and Alcantara costs £450. Top of the bill is our full suite of leather for £1,250. This looks great and is easy to keep clean, but the cheaper Alcantara option will hold you better in fast corners, so it's a personal choice. Verdict: not essential.

19-inch five-spoke alloy wheels in matt titanium (£1,200): Quite a brash and racy look compared with the standard 18-inch wheels. These cost a lot but give the exterior a great lift. A more subtle 19-inch 10-spoke design costs £900, or there's an optional 18-inch set for £150. Don't go near any kerbs. Verdict: worth it.

Option packs
Technology Pack (£1,450): Upgraded sat-nav, Audi Connect (Google Maps, Wi-Fi hotspot, plus news and travel information), multifunction steering wheel with gearshift paddles, and Audi Phone box (uses the car's aerial to boost reception and also features wireless charging). A good upgrade but pricey, made more tempting by the addition of the next option below. Verdict: worth it.

Light and Vision Pack (£975): R

equires the Tech Pack but adds

Virtual Cockpit (a 12.3-inch screen to replace the dials), Matrix LED headlights (super-bright and can drive with full beams on all the time) with LED rear lights and dynamic indicators, plus extended LED interior lighting. Verdict: worth it.

Comfort and Sound Pack (£1,250): Less compelling due to the price but still tempting, mainly thanks to the upgraded 755-watt Bang & Olufsen stereo with 19 speakers including a subwoofer. It sounds fantastic. You also get electrically adjustable front seats and keyless doors/start. Verdict: not essential.

Individual options
Heated front seats (£300): A no-brainer, especially if you go for full leather upholstery, which can be cold first thing in the morning. Searing heat is also great for soothing back pain after playing football with 21-year-old colleagues. Verdict: worth it.
Rails system with load-securing kit (£200): Here's a first-world problem – my one-bag of shopping rolls around in my massive estate boot. Not if you spec this option, which you absolutely should, for those times when you don't need all 505 litres. Expensive for a couple of rails and some extendable dividers, but it does pack away under a James-Bond-a-like false floor, so you can pretend its full of Q-Branch gadgets. Verdict: worth it. Just.

Head-up display (£900): This displays useful things like your speed and sat-nav directions – meaning you can shrink the dials in the Virtual Cockpit to display the largest possible map. Pretending you're in Top Gun? Those polarising aviators will mean you need maximum HUD brightness to see it properly. Verdict: worth it.
Folding tow bar (£850): Electronically pops in and out from under the car at the press of a button - although only half way. You have to complete the motion manually. Great if you tow things (obviously) but as it folds away it's useful to have in your kit bag just in case, too. Verdict: not essential.
Panoramic glass sunroof (£1,250): Lets in loads of light, which is useful if you have a black headliner like ours, or regularly install child seats in the back. Entertains young passengers and slides away to reveal a huge aperture in warm weather, even with a roofbox installed. Verdict: worth it.

Adaptive Sport suspension with damping control (£600): Suspension adjusts itself to give you the best ride, plus there's the option of locking it in a Comfort or Dynamic set up. Our long-termer rides exceptionally well, despite the optional big wheels, so we reckon this is a bargain. Individual mode also allows comfy-jumper suspension and Dynamic drivetrain, handily. Verdict: worth it
Parking Assistance Pack Advanced (£1,675): This includes the 360-degree view cameras and automatic parking function of the cheaper Parking Assistance Pack (£900) and adds Audi Pre-sense (closes the windows and tightens seatbelts if it spots a hazard), Side Assist (blind-spot monitoring), Cross Traffic Assist and a gadget to stop you opening your door into a cyclist. Learn to parallel park properly and save £££s. Verdict: not essential.
What we'd add
Driver Assistance Pack – tour (£1,250): takes the sting out of long journeys with adaptive cruise control and active lane-keeping assistant, so the car pretty much drives itself. You also get handy traffic sign recognition and an extended selection of safety kit. Verdict: worth it.
Mileage: 9,079 miles
Economy: 37.5mpg
By Adam Binnie
---
Update 10: Bean around the block
Our A4 has an in-car espresso machine...

Last time around we talked about what options you'd want to add to your Audi A4 Avant, but left out quite possibly the best accessory available.
The £169 Espresso Mobil is an Audi-branded gadget that makes proper coffee in the car using the 12v cigarette lighter socket.
You fill it with water, place a bag of ground coffee under the lid, and after a short brewing time it produces a 50ml shot of espresso. I've used it several times on long road trips (obviously not while driving) and have been very impressed.
However, to give it a thorough test I lent it to Web Producer Lawrence Cheung for his camping trip to watch the Belgian Grand Prix.

He said: "The notion of taking the 'espresso mobil' along seemed like a complete no-brainer. If anything can make camping that little bit more comforting and uncompromising, taking care of the caffeine habit would be a good way to go.
"The few minutes it takes for the machine to brew up a coffee is roughly the same time it takes for you to set up your camping chair and find a clean mug that hasn't collected rain or leaves overnight. Of course, the single-shot serving isn't quite enough to fulfil a conventional mug but topping up with water will help fill that void.
"Smelling fresh coffee in the sunny, dewy countryside sounds like a horrible cliché, but it did the trick at 8am while the group tried to ready themselves in a zombie state to head to the track.
"In fact, finding where to buy the specific ESE coffee pods proved to be the most difficult task. Still it's a first-world problem."
Mileage: 9,413 miles
Economy: 39.1mpg
By Adam Binnie and Lawrence Cheung
---
Update 11: Fluid situation
Ooops, the AdBlue has run out...

This month a message flashed up on our Audi A4 Avant's Virtual Cockpit display demanding we refill the AdBlue tank with at least six litres of the stuff within 1,500 miles.
What is AdBlue? Read our definitive guide
Knowing how easily something like this can be put off for another day, I decided to sort it out in the middle of a long drive up to Chester where I was scheduled to drive some Fiats. Fail to top the tank up in time and the car simply won't start, which is not exactly ideal.
Having stopped at three petrol stations along my route I finally found a service station that sold big 10-litre drums of the stuff, costing £13.50. With our A4's odometer just about to tick into five figures, that means we're getting about 5,000 miles per gallon, at a price of 0.1p per mile.

The AdBlue I bought had a fold out funnel thing that screwed onto the bottle to help you pour it into the tiny filling port next to where the fuel goes. Great in theory, not so much in practise, because I didn't put it on properly and AdBlue went all over my trainers and the rear right wheel. Then, when I tried to remove the nozzle, it flicked around and splashed AdBlue into my eye and mouth.
Have you ever had to wash your eyeball in a service station toilet at 11.30am? If you haven't, let me sum it up for you: as an experience I'd rate it two out of ten. Definitely would not recommend.
With that particular drama dealt with I moved onto the washer fluid, which curiously had also just run out. Have a look at this picture and see if you can spot where it goes:

Nope you're wrong, in fact it goes in this spot behind the bonnet hinge:

I'm not sure whether this is a packaging decision or so Audi can tell customers that they don't need to touch anything under the bonnet, either way, it's a smart place to hide it, once you know it's there.
Thankfully that's both of those jobs dealt with for the what should be the remainder of our time in the Audi A4 Avant. That means it's going back soon and I'm already starting to miss it.
I'm not going to miss the lingering scent of AdBlue though. Or trying to dry my face with a Dyson Airblade.
Mileage: 9,966 miles
Economy: 36.9mpg
By Adam Binnie

---
Update 12: Better lake than never
Our A4 goes to Cumbria

One of the joys of taking the reins of Parkers as its new Editor is getting first dibs on the test cars every Friday afternoon. I jest, of course. However, when I asked Adam Binnie, the keeper of our Audi A4 Avant's keys, to hand 'em over for a long weekend, he was very keen to walk me through the car's long list of techie bits that appeal to my inner geek.
While he ceaselessly explained its keyless go, what to expect from the head-up display, and the undoubted benefits of its all-wheel drive Quattro system, all I could do was marvel at its precision-engineered dashboard, and the tightness of its shutlines.
I must admit that it's my first exposure to the current-generation Audi A4, and even before I'd climbed in, I was impressed by the leaps the company had made over the previous-generation car in terms of build quality and interior ambiance.
My plan was to take a quick week's break in my adopted second home of Cumbria, and I wanted something not only suitably fast and agile for those narrow and twisting fell roads, but relaxing and long-legged on the motorway schlep on the way up. Perfect.

The positive overall impressions of the A4 Avant were slightly dented by the fact that the load area isn't exactly huge. I've never understood the premium manufacturer argument that a mid-sized estate shouldn't be massive. When Vauxhall and Ford can make a Mondeo-class estate capable of carrying a worthwhile luggage in family-sized gulps, then there's no reason that Audi, BMW and Mercedes-Benz can't do the same. Substance and style, and all that…
Driving up to Cumbria underlined just how competent a car Audi has delivered. It's restful on the motorway, and in the adaptive chassis' Comfort setting, your ability to cover distances is literally limited just by your ability to stay awake. The sound system hooks up perfectly to USB and iPhone, but if I'm nitpicking, it's lacking in bass response. Other than that, it's supreme on the motorway – as you'd expect – and by the time I'd done my 250-mile grind up the A1 and A66, I still felt as fresh as a daisy at the other end.

The great thing about driving in Cumbria is you're always a hop, skip and a jump from a properly demanding road. And it would have been rude not to give the A4 a proper workout. And the conclusion is that despite its prodigious power, grip and poise, I'd not put this car at the head of the driver's category. The ability is there, and it's properly sized for Cumbria, but for me, it lacks the exquisite balance and poise you get with the Jaguar XE and BMW 3 Series.
Having said that, in this 800-mile week, the amount of times I encountered opportunity to enjoy empty and demanding roads amounted to probably one percent of the entire drive.
And, maybe Audi is completely on the ball in making a car with a work-of-art interior that's mighty on the motorway – and rather a blunt tool on B-roads – it knows its customers very, very well.
Mileage 11,571
Economy 36.6mpg
By Keith Adams
---
Update 13: Hitting the snow belt
How does the A4 perform in winter weather?

Another weekend, and another trip to the north. Or so it seems. With the recent forecasted snow, it seemed like the perfect opportunity for me to take our long-term Audi A4 Avant for a quick run north, and see if the Quattro drivetrain really benefits the driver as much as Audi likes to tell us.
Heading up the A1 in the direction of the Pennines, once again I'm reminded of just how an accomplished motorway tool this is. It's hushed, planted, and the ergonomics are near faultless. Just the ticket for anyone who spends lots of time on the road. Right now, it feels like I am - and so far, other than the awkward positioning of the foglight switch, I'm relaxed and feel in control.
The short winter days mean that I'm getting to play with the Audi's virtual cockpit (below) rather a lot, and I have to say that it's a brilliant tool to play with. Being able to display your navigation screen ahead of you (in conjunction with the optional head-up display), and the media on the main screen in the centre really appeals to my inner geek.

There is a tangible benefit, of course. Driving at night means you can minimise the visual disturbance by switching off the main screen, and keeping it contained within the instrument binnacle. Sometimes it's nice not to be distracted by too many light sources.
As the miles pile on, it's easy to see why people buy Audi A4s in such huge numbers. They really are very capable indeed. For someone like me who values individuality, its sheer ubiquity is a negative point - but that really is just personal preference.
Hitting the A66 after a long run on the A1 is always a breath of fresh air - it feels as though you're being let off the leash after serious confinement. And this feeling increases further as we climb to the top of the backbone of Britain, the scenery changes, and the snow starts to fall.
This is why we're here - and unsurprisingly, the Audi excels when the road surface gets slippery. Slowing down in deference to the car's 15,000-mile old tyres, and the A4 feels assured and solid on the road at all times. Admittedly, our snow isn't earth-shattering in its depth, but it's enough to focus the mind - and in that, the A4 passes its limited grip test with flying colours. On winter tyres, it would be pretty much unstoppable.
And, truth be told, I had no doubt that it would.
Mileage 15,121
Economy 37.2mpg
By Keith Adams
---
Update 14: Racking up the miles
Does a roof mounted bike rack work better than the tow bar version?

The number on the Audi A4 Avant's odometer is very close to starting with a two - speedily accumulating more miles than anything else currently on the Parkers long term fleet.
That's partly down to its utilitarian nature, helped of course by a set of £210 roof bars for transporting all manner of detritus you wouldn't want to expose £1,250-worth of black nappa leather to.
They're also great for transporting bulky items, particularly when paired with Audi's £110 cycle rack. There's a degree of assembly required when you first open the box but after that it clamps on to the bars in a matter of minutes.
From there you can secure the wheels with ratchets and there's a lockable frame support to stop gravity - or cycle-thieves - from making off with your two-wheeled pride and joy.
Our only real gripe is that you have to remove the black rubber strips from the roof bars, which have to be put back before you attach the roof box again.
I reckon Tim's tow-bar mounted system described below is a better bet if you regularly transport bikes - it doesn't require heaving a heavy bike above head height, can transport more than one cycle, and also removes the low-bridge anxiety of a roof-mounted rack.
For occasional use though we can't really fault Audi's bike carrier - another excellent attachment for our Swiss Army car.
Mileage 15,428
Economy 37.7mpg
By Adam Binnie
---
Update 15: Eurotrip
Another long drive across Europe for our long-legged A4
Isn't it nice when you get towards the end of the year, you find that you've underspent on your annual leave, and there's a very capable car in the form of our Audi A4 Avant on the driveway in which to go exploring?
So, given the need to satisfy some wander lust, I book a ferry crossing from Dover to Calais (and a return for a few days later) - with no real idea where I'm going to end up.
New tyres for the season
Firstly, given it's December and it's been pretty chilly in mainland Europe, we've arranged to have a set of winter tyres fitted - and in proper Euro style, have them fitted to a smaller set of 17-inch alloy wheels. As I find out, this has quite a bearing on the A4's dynamics - mostly positive.
Given the updated rubber, it would be rude not to try and find some snow, and that would be best served in somewhere a bit hilly. Somewhere like the Alps. Great plan.

With that decided, I head for Dover in some disgustingly murky night time weather - with the idea that when I roll up for my 11.30pm ferry (£44 each way with P&O) I'd sit and wait and book a couple of hotels online. One in France near Calais for that evening, and then another in Germany, near the famous Nurburgring race circuit for the following evening.
Looks versus comfort
Driving down, hatching a plan in my head, putting miles on the A4 proves satisfying, despite the lousy weather. The A4's traction and motorway poise are as impressive as ever. But on the 17in alloys, the ride quality takes on a substantially more relaxed demeanor.
Although the A4's former keeper Adam Binnie reckoned the car looked 'emasculated' on the smaller wheels, the pay off is more suspension compliance, and lower levels of road noise. Nice.
The Channel crossing proves a cinch, and the following day after a good night's sleep, the drive into Germany is effortless, too. Clearly, the A4 is built for this sort of thing, handling non-stop tank full-to-empty runs without raising a sweat.
Distance no object
The super-firm driver's seat works better the longer you spend in it. And that leaves me fresh for when I passed the glorious derestricted signs on the German autobahn.

Admittedly, 500 miles doesn't exactly make a grand tour. But by the end of the second day, and deep into the Eifel Mountains, I feel a long way from home. And the Audi doesn't - obviously.
The next morning, and rather frustratingly, I head for the Nurburgring only to find it closed. Schoolboy error on my part: I'd forgotten to check the venue's website to see whether there was actually a public track day in the offing.
We're heading for the Alps
I'm not one to ponder too much about a set-back. Instead, I book a hotel as close to the famous skiing resort of Andermatt in Switzerland, and rejoin the autobahn network. It means another 500-miles needed to be covered, and given the shortness of the December days, as quickly as possible.
The great news is that on a mid-week run through the Rhine region of Germany and down to Basel, there are lots of derestricted stretches, and even on winter tyres, the A4 would be good for 130mph.
And so it proves. South of Cologne, the traffic thins out nicely, and where possible, I'm running the A4 at between 100-125mph. And you know what? It's easier than maintaining 70mph on your typical UK motorway. Put that down to smooth surfaces and extremely well-disciplined German drivers, who understand lane discipline and spacial awareness. And the car which just gets better the faster you go.
Getting into Switzerland, and it's business as usual with a 75mph cruise, but it's not long before we've passed Lucerne and into the Alps proper. Before the sun sets on another day, we storm up the Sustenpass, which is near the famous skiing resort of Andermatt.
On top of the world
At 6,000 feet jump out to take in the view. It's silent, the sun is setting, and minus five degrees. On the way to what feels like the top of the world, the Audi was magnificent, storming up the steepest climbs, braking without a trace of fade, deploying all the power and torque I'd ever need seemlessly. This is as close to driving heaven as you'll find anywhere in Europe.

The next day, it's more of the same, with four more passes attacked, including the incredible Furka, where Goldfinger was filmed. Because they're all closed to through traffic, the roads are utterly deserted.
That means we can play hard, but always with the proviso spelled out on one particularly po-faced Swiss road sign - 'proceed with caution, we are not responsible.'
A wonderful playground
The St Gotthard Pass is amusing. It's the main route through central Switzerland, and takes a north-south route over some amazing scenery. Since 1980, a 14-mile tunnel has run under it, meaning the moutain road is less heavily used.
As we drive up the cobbled sections near the bottom (while once again marvelling at the A4's improved ride) it's clear we have the road to ourselves. Given it's always below freezing (despite the glorious weather), the main issue to to watch out for ice on the road. There are some areas where barriers are missing...

St Gotthard is closed at the top (see main image), but there's more than enough open, curved, steep road to really put the A4 through its paces. In terms of quantity, you can't fault it - there's speed, poise, traction and security.
As for quality and finesse, it possibly still lags ever so slightly behind the Jaguar XE here - especially in steering feel - but it's a closer run thing than I'd have imagined when I took over the A4 three months ago. I must admit that it's hard to remain too unemotional up here on Europe's best roads, but just about manage it.
It's grown on us
The next few days take in much more driving, and many more miles of motorway than I'd like. But it's all good. And as each mile passes, the Audi worms its way just a little further into my affection.
The brilliant interior build quality and excellent ergonomics are something that all A4 owners can benefit from - even if the fabulous 3.0-litre V6 under the bonnet of this one is reserved for the minority of owners.
What did we learn in a big week?
In total, we cover 2,500 miles in a very busy week that sees us get as far south as the Italian side of Switzerland at one end, and as north as the Scottish border at the other. We also rushed through Germany, enjoyed Switzerland, and tooled around France. And in all that time, the Audi didn't put a foot wrong.
Conclusions to be drawn from the run are simple: If you value comfort, specify your A4 to run on 17-inch wheels. And if you need to cover big mileages - especially on the motorway - look no further.

Mileage 18,550
Economy 41.2mpg
By Keith Adams
---
Update 16: Farewell
After 10 months in our care, it's time to say goodbye to our Audi A4 Avant Quattro - two of its keepers, Adam Binnie and Keith Adams share their thoughts about this hard-worked example of the breed
What Keith Adams thought
Sometime during one of my regular motorway runs north, the Audi A4 Avant and I clicked, and I finally understood the appeal of this unassuming estate car. In silver metallic, and on its stealthy 19-inch alloys, it looks like just one of a million mid-range cars that ply our motorways, building our economy and doing the good work. A hard worker, but nothing special.
Talk to anyone who's owned an A4 for any length of time, and they'll wax lyrical about its precision-engineered interior, quality feel and mile-munching ability on the motorway. Hardly the beating heart of a driving enthusiast, perhaps, but proof that as an ownership proposition for those who really use their car, Audi has hit the bullseye.
A quiet first impression
I managed to prise the keys to our A4 from deputy road test editor, Adam Binnie's hands, when I joined Parkers in November 2016. Looking at the silver A4 in the car park, I was underwhelmed.

I like Audis, but tend to prefer those of the 1980s variety, so this one – all sharp and fresh – looked aggressive if a little lacking in stand-out factor.
The first couple of commutes in the A4 left me feeling unmoved. The ride was too firm, even in the softest setting of its magnetic ride system, while the seats were as hard as church pews, and the engine - although quiet - sounded a little industrial to me.
It finally gets under our skin
But sometime in, ploughing the A1 north for the umpteenth time in recent months, the A4 grabbed me and lured me in. Running along in eighth gear, right at the top of the torque curve, few cars are as relaxed mechanically.
Those hard seats are perfectly shaped for optimum support, so 500-mile days are dispatched without a murmur, while the active LED headlights make mincemeat of winter nights.
Then there's the dashboard. With familiarity, I scooted around the infortainment system, with the speed of a teenager adapting to a new mobile phone – while Audi's active instrument display is an absolute delight to use. If you need a car with two ways of displaying its sat-nav readout, here you are!
Pan-European express
The A4 sped us to France, Germany, Switzerland and beyond – and managed to power up to 155mph at times, while averaging over our tenure almost 40mpg.

Overtaking is a cinch in a car with 272hp and four-wheel drive to play with, and if you're that way inclined, scorch from 0-62mph in 5.8 seconds. Things have certainly moved on for diesel cars in recent years.
---
What Adam Binnie thought
The best thing about our Audi A4 Avant long termer? Easily its power delivery. Specifically when tackling a long, uphill motorway slip road we came to refer to as Space Mountain thanks to the way the V6 wagon hauled itself up it at a rate of knots, nose pointed at the sky and a 600Nm wave of torque pressing those onboard firmly into their seats.
Just like the roller coaster
It was so refined too - other cars will brush aside 0-62mph in the same 5.8 seconds A4 takes but few can manage it without my wife noticing – the acceleration gradually building without much more than a whirr from the 3.0-litre engine under the bonnet. It was the epitome of stealthy speed and meant I could indulge my right foot without packing the prerequisite brace of sick bags and ear protectors.

Thank the multi-cylinder, large displacement motor for that. The way it cornered, however, was a different story. While it was entirely possibly to waft around comfortably it was also overwhelmingly tempting to exercise the cat-like claws of the Quattro all-wheel drive system.
I'm not really sure how fast you'd have to be going in the dry to trouble the enormous grip levels because I never got there – colossally fast, I reckon. In the wet those limits were obviously lower but even then, the A4's wheels seemed shod with crampons rather than tyres.
Fabulous interior impresses
I was a huge fan of the 19-inch RS-alike alloys it came with (although not so enamoured by the negative effect they had on both ride and road noise) and thought the silver paint was mature and showed off those sharp creases without being overtly flashy.

Inside was as impressive as a premium kitchen showroom thanks to acres of brushed aluminium (which sadly picked up scratches easily) and clever touch-sensitive climate control buttons. The seats were hard at first but got squashier as time went on, without losing their supportive backbone.
Best of all in my opinion was the endlessly customisable interior lighting (always set to 100% brightness and Tron blue) and the fighter-pilot sat-nav display tucked behind the wheel, which Audi calls Virtual Cockpit. I could set this to display turn-by-turn info and leave a bird's eye overview on the main screen.
This set up was the death of 'are we there yet?' It's controllable from the steering wheel too, with a smart asterisk button that could be programmed to fulfil several different functions. I set it to cycle through the drive modes, memorising the one-click needed to shift from Auto to Dynamic, and the four required to return to Auto again.
Family practicality ingrained
The A4 Avant ticks all of my boxes as a family car. Our pushchair went in the boot with ease, the rear seats featured plastic tunnels to help guide an Isofix seat base into place, and the toddler-entertaining glass sunroof could be covered up at the push of a button for nap time. It was quiet, rode well enough, and its pace could easily summon a cackle from my already petrol-headed son.

It's perhaps not an estate in the purest sense of the word – while there is added space in the boot there aren't as many litres back there as you'd expect. It's best to think of it more as a large hatchback. For that reason the massive Audi-branded roofbox came in handy several times during my tenure.
Surely there were some faults? While I'm painting an overwhelmingly positive picture of the A4 Avant there were some things I didn't get on with. Principally the automatic gearbox, which was frequently in the wrong gear at the exit of a fast roundabout and took too long to descend its ratios when using the steering wheel paddles.
The DSG you get with the lower-powered 218hp V6 is better on both counts. Ours was easy enough to drive around, but still annoying at times. That's about it to be honest. Actually I had to refill the washer reservoir quite a few times. I'm scraping the barrel here.
Overall the Audi A4 Avant was a spectacular weekday motorway warrior and even better weekend family wagon. Sort of like Vin Diesel in The Pacifier, but with wheels. It is sorely missed.
---
What Parkers found
In the 10 months we had it, the Audi never let us down in any way, shape or form. You'd expect that, but trust us, it's not unique these days. It did need a regular drink of AdBlue, which is a laborious process – but part and parcel of diesel car ownership these days.
The ride, which was originally too stiff-legged, was transformed when we had 17-inch alloys fitted along with winter tyres. In truth, it was the reduction in wheel diameter that made such an improvement. And yes, although the 19s were gorgeous to look at, if you care about ride quality on the UK's poorly-maintained roads, we'd strongly recommend going with smaller wheels.
But you know what – from its quiet and unassuming start, by the end of its time with us, we really loved the A4, and were sad to see it go. It's a car that doesn't immediately wow you, but it does earn your respect by being so thoroughly excellent at what it does.
And isn't that what it's all about?

Mileage 19,312
Economy 39.9mpg
By Keith Adams and Adam Binnie
---