Jaguar XE review
Current Model
Great to drive and characterful, usefully improved by minor facelift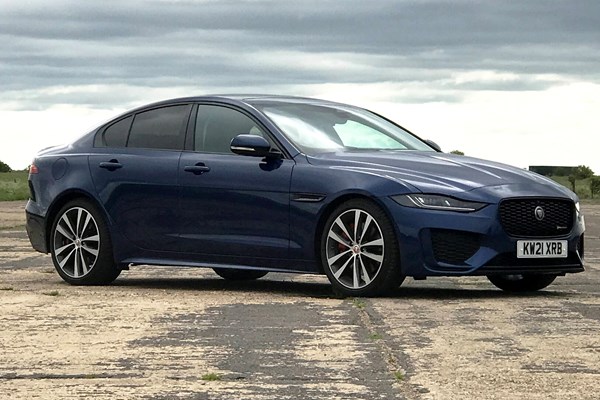 PROS
Entertaining handling and great steering

Sharp looks on higher-spec versions

Diesel efficiency is highly impressive

CONS
Lacks rear-seat room

Limited range of engines

No hybrid or PHEV versions

PROS
Entertaining handling and great steering

Sharp looks on higher-spec versions

Diesel efficiency is highly impressive

CONS
Lacks rear-seat room

Limited range of engines

No hybrid or PHEV versions

The bread and butter of any premium manufacturer's range is now SUVs – and that includes Jaguar, with its F-Pace, E-Pace and all-electric I-Pace.
So where does that leave the compact saloon? The Jaguar XE has never been a particularly strong seller, and with in-house competition from Jag's SUVs to fight off as well as the ever-present trio of the Audi A4, Mercedes-Benz C-Class and BMW 3 Series, it has an uphill struggle to stand out.
From launch, the XE's attempted to appeal to keen drivers – something it's done quite successfully, easily equalling the BMW 3 Series in terms of its dynamic ability. Made mainly from aluminium, and with a range of fairly powerful engines (albeit without a true halo model in the manner of the Mercedes-AMG C 63 or the BMW M3), the XE is a very satisfying car to drive – equal parts sporting and comfortable, and all the better for it.
A mid-life facelift in 2019 addressed some of the XE's shortcomings – namely, the cabin, where the Jag's plasticky dashboard felt a decade behind the competition. The simplified trim lineup and easy-to-understand trio of engines also makes choosing an XE easier than ever.
Some shortcomings do remain, however – the XE is less practical than even a modestly-sized hatchback, making it a poor choice for families or those who like to carry lots of luggage. It also lacks any form of tax-busting hybrid or electric model, unlike its main rivals.
Despite this, there's still a market for the sporting saloon car – and we think the facelifted XE is well worth considering among its mainstream rivals, or even more leftfield alternatives such as the Volvo S60 or Alfa Romeo Giulia.
Modern interior, quality upped for 2019
Jaguar has worked hard here, and it needed to. The original XE's cabin was admirably contemporary in its design – borderline minimalist, in fact, but in a way that made it look ordinary. There were also too many hard, scratchy plastics to be found, and some of the minor controls weren't up to executive car standards.

All that has changed with the facelift as following on from the 2019 Range Rover Evoque, there's been a general lifting of the quality of materials used in the interior, and general levels of fit and finish. There's leather, slivers of high grade trim – all upgraded for 2019 – and contemporary Jaguar switchgear. The interior door pulls, glovebox lid and air vent controls, which are important touch points, feel reassuringly solid and pleasant to touch.
The upgraded multimedia systems are a leap ahead of Jaguar's previous efforts, especially the larger-screened InControl Touch Pro Duo package, which is now offered with three TFT screens, including fully-digital driver's instrumentation (on the top models). Finally, the addition of the I-Pace's steering wheel is a small, but significant improvement.
Equipment upgraded for 2019
The XE boasts a decent range of standard equipment, including, sat-nav, cruise control, 18-inch alloy wheels, DAB radio, Wi-Fi hotspot and an upgraded connected InControl Touch Duo media system first seen in the Range Rover Velar, and now making its way through the rest of the Jaguar Land Rover range. For 2019, the XE slimmed-down model range has been made sportier-looking, with larger wheels all round, and a more traditional-looking gear selector inside in place of the old rotary dial that rose out of the centre console.
The model range now comprises of standard XE and R-Dynamic body variations (different bumpers are the main visual differentiator), and each of those comes in S, SE and HSE flavours. Although that sounds complex, it largely mirrors what its main rivals are doing with M-Sport, S Line and AMG Line options.
Aluminium construction boosts efficiency
As it's billed as the driver's choice in this market sector, the signs look good. For a start, it's light. Helping reduce the XE's heft is its aluminium-intensive construction, and lighter weight equates to greater efficiency, particularly combined with Jaguar's efficient family of 2.0-litre, four-cylinder Ingenium petrol and diesel engines.
For the 2019 facelift, the XE's engine range has been slimmed down – petrol 2.0-litres come in 250hp and 300hp forms, while there's one diesel now, which is the D180 (rear- and four-wheel drive available), which averages 57.6mpg on the WLTP real-world fuel consumption test. Jaguar also says it's the first diesel car in class to meet the EU's RDE2 NOx emissions standard due in January 2021.
Up to that point, the XE's line-up was crowned by a 380hp 3.0-litre supercharged V6 petrol engine, mighty enough to propel this compact four-door from 0-62mph in five seconds flat. Blame tightening emissions regulations for the loss of this model.
Extremely exclusive SV Project 8
Following on as the successor to the F-Type Project 7, the Project 8 transforms the XE into a highly-focussed – and highly niche - performance saloon. At least 75% of the standard XE has been altered, with bigger brakes, a wider track, bespoke bodywork, sports seats and the supercharged 5.0-litre V8 from the F-Type SVR.
Here, it's tuned up to 600hp and continues to use the eight-speed automatic gearbox. Just 300 examples will be made, with a set proportion of these available with the optional Track pack - this ditches the rear seats and replaces it with a half roll-cage - and 15 models in discreet Touring spec, which comes without the huge rear wing and keeps the rear seats.
The Project 8 is only available with left-hand drive.
How does the Jaguar XE stack up next to its main competitors? Read on for our full review...