The best SUVs to buy in the UK 2019
What's the best SUV to buy in the UK?
We take a look at the best options on sale

What actually is an SUV, anyway?
Looking for a new SUV? The car market is full of crossovers and 4x4s at the moment, so we'll understand why you're confused by all the choices.
What is an SUV?
SUV stands for Sports Utility Vehicle. They tend to be large, high-riding cars, often with four-wheel drive. Originally all SUVs were designed for off-roading, but that's not always the case now. Some are little more than tall estate cars.
They are spacious, safe cars, with lots of practical solutions and storage for luggage and gear. They have a high driving position, and they can contain a big family and all their stuff, but their size can mean they are difficult to park. Which is why it's great that more cars are offering parking sensors and cameras as standard these days.
With so many SUVs on the market, it's important to decide what's vital in your choice of new car, and what your budget is. With help from the Parkers experts, you might be surprised at what your budget could stretch to thanks to finance and leasing deals. Plus, you can often get a really large car for a relatively small amount of money - just because an SUV is large, doesn't mean it'll cost the earth.
Scroll down to discover our list of the best SUVs in the UK - or click on your favourites below to jump down.
1. Audi Q7
2. BMW X5
3. Dacia Duster
4. Hyundai Santa Fe
5. Jaguar I-Pace
6. Kia Sportage
7. Lexus RX
8. Nissan Qashqai
9. Peugeot 3008
10. Cupra Ateca
11. Skoda Kodiaq
12. Toyota Land Cruiser
13. Tesla Model X
14. Volvo XC40
1. Audi Q7 (2015-on)
There's something special about the Q7, which is why it remains popular despite the arrival of its newer little brother, the Audi Q5. Audi's aluminium technology means that the Q7 is lighter than you'd expect and consequently, easier to drive than its gargantuan dimensions might lead you to believe. The Q7 comes with loads of standard and optional kit, and seven seats if you wish – but you can delete that third row at no cost. The quality of the cabin is high – as we come to expect from Audi – with plush, premium materials, solid construction, and finely crafted switchgear.
New price: £54,070 - £78,920
Used guide price: £26,140 - £78,155
Read our full Audi Q7 review here
2. BMW X5 (2018-on)
This is a massive SUV, but BMW offers a range of engines that get this beast moving with agility. The inside feels luxurious, with a choice of comfort or sports seats, and entertainment options for those residing in the back seats. Tech levels are high; you can personalise the suspension levels, and Parking Assistant seeks out a parking spot and controls the steering, accelerator and brake while it parks itself. The optional head-up display is excellent. The X5 is a monster, and we like it.
New price: £59,045 - £71,635
Lease a new BMW X5: From £671 per month*
Used guide price: £26,140 - £78,155
3. Dacia Duster (2018-on)

This affordable small SUV won the Best Off-Roader in the Parkers New Car Awards 2019. It might be the cheapest SUV in the UK, but you won't feel short-changed. The entry-level Access model is ultra-basic and stripped out, but it costs less than £11,000. It's great value – it looks good, it's good to drive, and the interior is practical. It comes with more kit than ever, including keyless entry and climate control. This is definitely a contender on our list of Best SUVs in its own right, before you even see the price tag.
New price: £10,995 - £16,955
Lease a new Dacia Duster: From £162 per month*
Used guide price: £7,760 - £16,930
Read our full Dacia Duster review here
4. Hyundai Santa Fe (2018-on)

Winner of the Best Seven-Seater in the Parkers New Car Awards 2019, the Santa Fe has loads of interior space and lots of tech. The latest version has upgraded with high-quality materials in the cabin, a more rugged design, and the latest technology. There are plenty of cubby holes around the cabin, and with the third row of seats folded down you get 547 litres of boot space.
New price: £33,450 - £43,320
Lease a new Hyundai Santa Fe: From £378 per month*
Used guide price: £26,625 - £36,960
Read our full Hyundai Santa Fe review here
5. Jaguar I-Pace (2018-on)

Jaguar's first electric SUV is taking on Tesla – and wants to win. The range is claimed to be 298 miles, with a real-world capability of 250+ miles if you're careful and don't go overboard with the performance. Its look is sportier than the E-Pace and F-Pace crossovers, futuristic in shape, and the cabin is roomy thanks to no bulky transmission tunnel. With the seats up, boot space is 656 litres, stretching to 1,435 litres with the back seats folded. We're holding back the unreserved thumbs-up, however, until there's a public charging set-up that matches Tesla's Supercharger network.
New price: £64,495 - £74,995
Lease a new Jaguar I-Pace: From £676 per month*
Used price: £56,985 - £78,410
Read our full Jaguar I-Pace review here
6. Kia Sportage (2016-on)

The Kia Sportage is a household name these days, and unsurprisingly, it makes it on to our list of the best SUVs. Driving the Sportage is impressive in terms of both comfort and handling, and it's well equipped as standard. This is a solid and capable choice of SUV; you might be surprised by how well it drives.
New price: £20,670 - £35,020
Lease a new Kia Sportage: From £225 per month*
Used guide price: £10,050 - £27,555
Read our full Kia Sportage review here
7. Lexus RX (2016-on)

If you can get over the 'spindle' grille, the RX offers a tempting package in terms of value for money when you're looking at the best SUVs in the UK. In September 2017, the petrol engine was removed from the line-up so you can only buy a new hybrid RX now. It's quieter, cheaper to run, and better to drive than the petrol 200t. The interior is luxurious and the super-quiet RX suits being driven sedately and relaxed. The infotainment system isn't the best, with old-fashioned graphics really holding it back.
Well-made and super reliable, the RX offers an interesting, left-field alternative to the established SUV brands.
New price: £49,705 - £61,705
Lease a new Lexus RX: From £682 per month*
Used guide price: £18,625 - £54,410
Read our full Lexus RX review here
8. Nissan Qashqai (2014-on)
The Qashqai remains one of the most popular cars in this competitive category. If you want to buy British, rest assured with the Qashqai, which is designed, developed, and built in the UK. The most recent facelift gave the cabin better materials, and it's much quieter than previous models. There is plenty of room for all the paraphernalia of family life; an electric handbrake gives space for a large storage box. When looking at the best SUV in the UK, the Qashqai is still one of the default choices, and for good reason.
New price: £19,995 - £29,225
Lease a new Nissan Qashqai: From £183 per month*
Used guide price: £7,365 - £24,280
Read our full Nissan Qashqai review here
9. Peugeot 3008 (2016-on)

The new 3008 is a revelation compared with the model that came before. Its looks are striking, there's plenty of room for all the family and it won't cost the earth to run. It's not an actual off-roader, mind you – four-wheel drive isn't available at all. The bold looks of this compact SUV will make you rush to the dealership – it makes its rivals look bland and old-fashioned. Materials inside the cabin feel high-quality and plush, especially given the price-tag – the 3008 starts just below the £25,500 mark.
New price: £25,395 - £37,365
Lease a new Peugeot 3008: From £244 per month*
Used guide price: £15,065 - £29,305
Read our full Peugeot 3008 review here
10. Cupra Ateca (2018-on)

You might have heard the Cupra name attached to popular SEATs such as the Leon and Leon ST, but now it's a brand in its own right. It's a bit in-your-face, with an aggressive badge, big grilles, and an extensive bodykit, but if you get the spec right you'll end up with equal amounts of menacing and special. It's not all that different to the normal Ateca, though. The all-wheel drive system means the boot is smaller than the regular Ateca too, but it still has 485 litres of space.
New price: £36,695 - £41,190
Lease this car from new: From £389 per month*
Used price price: £28,650 - £35,260
Read our full Cupra Ateca review here
11. Skoda Kodiaq (2017-on)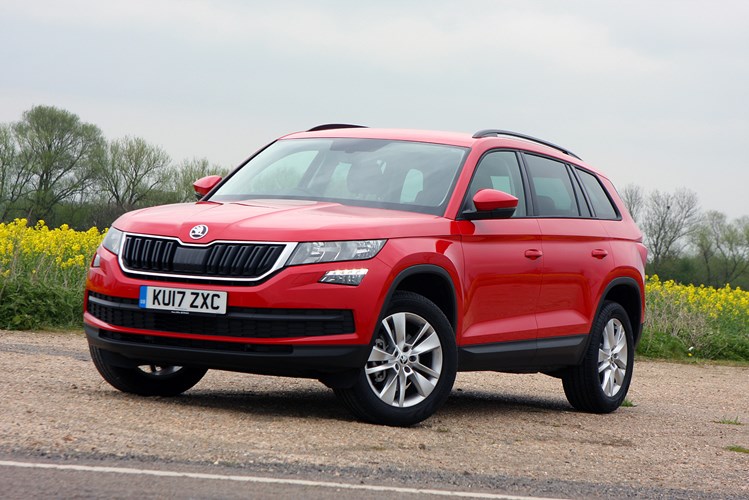 If you're looking for the best SUV in the UK with seven seats without the massive price-tag, look no further. Available from around £22,000, this large SUV is significantly cheaper than its rivals. The cabin really gives you the feel-good factor, and you'll wonder if you're in a car with the VW badge instead of Skoda – and it certainly gives you more space and equipment than the more-expensive Tiguan. The possibility for seven seats – with a sliding middle row – sets the Kodiaq apart.
New price: £29,095 - £43,390
Lease a new Skoda Kodiaq: From £350 per month*
Used guide price: £15,165 - £32,635
Read our full Skoda Kodiaq review here
12. Toyota Land Cruiser (2009-)

When you're looking for the best 4x4 SUV, you have to consider the Land Cruiser; this SUV is truly capable of going virtually anywhere, on-road or off. Unfortunately, it's not as great on the road as most of its rivals. It is at least well equipped, and most models come with seven seats. The Land Cruiser is a safe, if not altogether exciting, choice.
New price: £34,745 - £54,095
Lease a new Toyota Land Cruiser: From £396 per month*
Used guide price: £11,605 - £51,995
Read our full Toyota Land Cruiser review here
13. Tesla Model X (2017-)

The world's first all-electric SUV gives us great performance, seven seats, and zero emissions all at once. It's not often you can describe an SUV as playful, but the Falcon Wing rear doors certainly put fun back into this category. In terms of performance, the Model X rivals many sports cars – the P100D is claimed to accelerate from 0-62mph in just 2.9 seconds.
New price: £82,200 - £96,400
Lease a new Tesla Model X: From £981 per month*
Used guide price: £57,805 - £119,240
Read our full Tesla Model X review here
14. Volvo XC40 (2018-)
It was the car of 2018, and brought Volvo's premium brand image into the SUV market. It's packed to the rafters with safety gear – as you would expect from the Swedish manufacturers – and scored five stars from Euro NCAP in the summer of 2018. Petrol and diesel engines are available, with a hybrid on its way. There's plenty of room for driver and passengers, and lots of storage for larger items such as laptops and 1.5-litre bottles of water; the boot is good, but not class-leading. It's not the sharpest to drive, but it is comfortable. So why is the XC40 on our list of the best SUVs in the UK? Because it's a stylish, practical, nice to drive, tech-filled SUV. Say no more.
New price: £28,965 - £42,305
Lease a new Volvo XC40: From £286 per month*
Used guide price: £23,030 - £41,735
Read our full Volvo XC40 review here
What to read next:
The best 4x4s in 2019
The best seven-seaters to buy today
The best hybrid cars on sale 2019
*Deals are correct at time of publication. Everyone's financial circumstances are different and credit is not always available – Parkers cannot recommend a deal for you specifically. These deals are indicative examples of some packages available this week. Bauer Consumer Media Limited is an appointed representative of ZenAuto Limited for the broking of regulated hire agreements. ZenAuto Limited is authorised and regulated by the Financial Conduct Authority. ZenAuto Limited's registered office is Number One, Great Exhibition Way, Kirkstall Forge, Leeds LS5 3BF. ZenAuto Limited's company registration number is 10967345. ZenAuto is the trading name of ZenAuto Limited. Terms, conditions and exclusions apply.