SUVs are immensely popular. For the past two years running, seven of the UK's top 10 best-selling new cars have been SUVs – and this popularity in the new market means there's a healthy stock of used cars in the classifieds. Below, we've compiled a list of the best second-hand family SUVs under £15,000, all of which are less than five years old with reasonably low mileages figures.
For families, SUVs make a lot of sense. They're a little taller than a conventional hatchback, which makes them easier to load children and luggage into. They're also far more stylish than a boxy old MPV. Some SUVs even capitalise on their extra ground clearance with four-wheel drive, which makes them both more planted on the tarmac and capable of tackling a spot of light off-roading.
Choose your SUV wisely and it won't be that much more expensive to run than a regular hatchback, either. Most share their underpinnings with hatchbacks and feature the same front-wheel drive powertrains, so you only pay a minor aerodynamic penalty by opting for the bigger body style. Drive carefully and you should be able to extract 40mpg from every car in this list.
Scroll down for our list of the best used SUVs for £15,000. Then, if you find something that takes your fancy, head over to the Parkers cars for sale page to start shopping.
The best used family SUVs for less than £15,000
Editor's choice: Ford Puma (2018–)
A small SUV that retains the joy of a supermini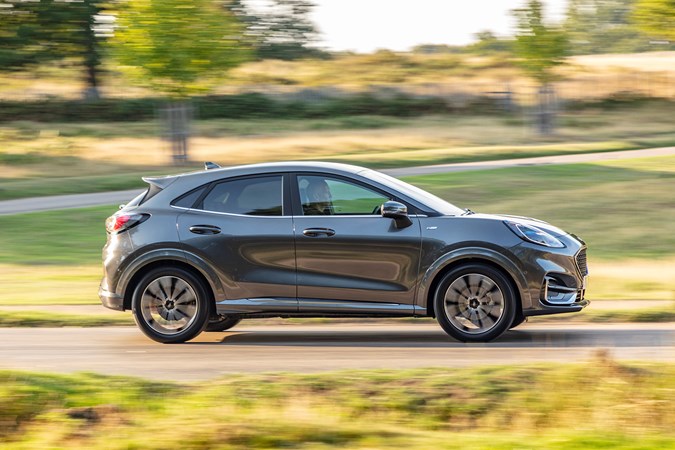 Prices for second-hand Ford Pumas have now fallen well within our £15,000 budget. The Puma also won our 2023 small family car of the year award, which makes it an easy first choice in this list. It's based on the same platform as the Ford Fiesta, but it's usefully larger in terms of height and boot space, and it's styled with more than a passing regard for the original Puma coupe.

Because it shares its underpinnings with the Fiesta, it's great fun to drive. Most examples are powered by Ford's economical 125hp 1.0-litre petrol engine, but if you're prepared to spend a little more cash, you can have the modern interpretation of the hot hatch in the shape of a Puma ST. The Puma's boot has a party piece, too – a 70-litre, waterproof box below the floor specifically designed to hold muddy shoes and wet dog towels. It's a great all-rounder.

Read our Ford Puma review

Search for used Ford Pumas for sale
Pros
Great fun to drive
Eager engines
Enormous boot
Cons
Limited rear legroom
Dashboard is bland
No-nonsense Duster is great value, especially if you need four-wheel drive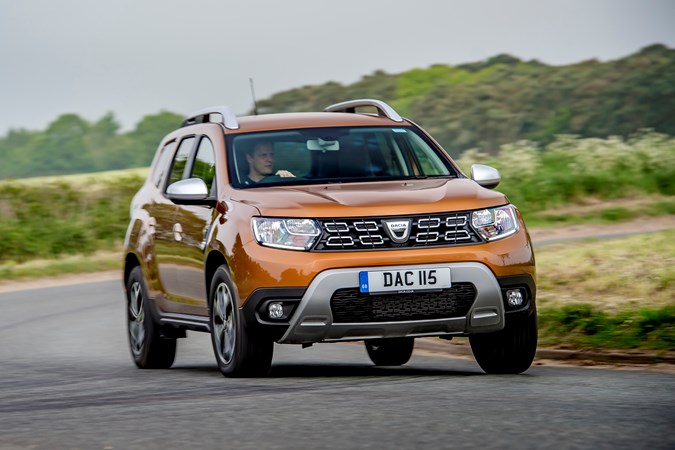 The Dacia Duster is cracking value for money. In fact, our £15,000 budget is very close to the price of a brand-new Duster – but you stand to save a lot of cash by shopping used. The cheapest example we could find cost a shade under £9,000. Just bear in mind that the cars at this end of the market are very basic. If you're buying on finance, compare the monthly costs and overall figures to see if a used example gives you the best deal.

At the upper end of our budget, the Duster stands out because you'll be able to buy a four-wheel drive model. It's also worth noting that petrol versions can be found with factory-fitted LPG kits, giving the car a combined non-stop range of almost 800 miles. Unfortunately you can't have BiFuel and 4x4, though. But for sheer value for money alone, the Duster is a super choice. Factor in its practicality and off-road prowess, and it's hard to beat if you want a hard-working family SUV.

Read our Dacia Duster review

Search for used Dacia Dusters for sale
Pros
Good build quality for the price
Practical and attractive interior
Excellent off-road ability
Cons
Less refined than some rivals
Ride is a little unsettled
Sporty hybrid is cooler than a Prius, but just as economical
Most of the used SUVs in this guide are fitted with diesel or mild-hybrid petrol engines, but the C-HR features Toyota's ruthlessly efficient self-charging hybrid system. Drive it carefully and you should see 50mpg, saving you loads of cash at the pump. There are loads of examples on the market too, which means it shouldn't be too difficult to find the car you want at a price you can afford.

Despite the sporty looks the C-HR is quite practical and because it's a hybrid, it dodges the taxes imposed by ULEZ and clean air zones. And because it's a Toyota, it'll keep running long after the heat death of the universe. If that isn't enough, it also benefits from Toyota's stellar 10-year warranty package, so a low-mileage, five-year-old C-HR will have more cover than most brand new cars.

Read our Toyota C-HR review

Search for used Toyota C-HRs for sale
Pros
Efficient hybrid powertrains
Comfortable and engaging to drive
Industry-leading 10-year warranty
Cons
Sloping roof impedes practicality
All-wheel-drive models aren't hybrid
Sensible, attractive small SUV benefits from long warranty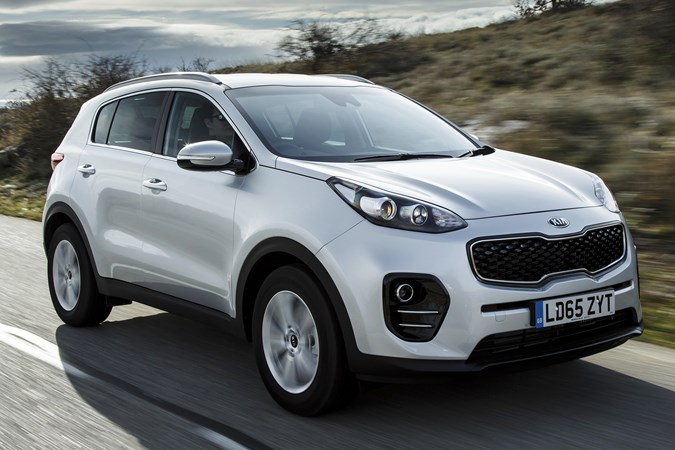 With generous kit levels, acres of space and a decent choice of engines, this fourth-generation Kia Sportage raised the bar even higher in the crossover sector. Adding further to the appeal, all models are generously equipped, with air-conditioning, all-round electric windows, rain-sensing wipers, cruise control and Bluetooth. Then there's the brilliant Kia seven-year warranty, with some cover remaining on all but the earliest cars (so long as they've been serviced on the dot at a Kia dealer – be sure to check).

The choice of three diesel engines have OK low-down punch, and the 1.7-litre is better on fuel than the 2.0-litre. More powerful versions have four-wheel drive, but most Sportages are front-wheel drive. You can get petrol engines too: the 1.6-litre turbo is smooth but thirsty, while the non-turbo 1.6 GDi is pretty slow and gutless. That's why most prefer a diesel Sportage.

Read our Kia Sportage review

Search for used Kia Sportages for sale
Pros
Long warranty
Good build quality
Distinctive styling
Cons
Interior is quite bland
4x4 models are rare
Renault Kadjar (2015–2022)
Popular and stylish Renault is ideal if you need more space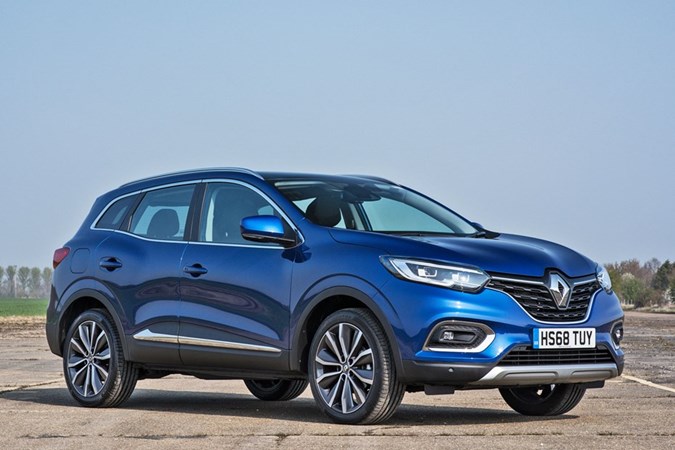 The Renault Kadjar is a family SUV derived from the second-generation Nissan Qashqai. This means the underpinnings are robust and well-proven, as are the petrol and diesel engines. We actually prefer the 1.3-litre TCe petrol over the 1.6-litre dCi diesel, although the oil-burner is still a sound buy.

You'll find lots of Iconic-grade models in the classifieds. It's a well-equipped trim, with flash alloy wheels and standard sat nav. No Kadjar feels downmarket though, thanks to rich interior quality and classy detailing – it actually feels more premium than the Qashqai in this regard. Those curvaceous lines are ageing well too, meaning even the earliest cars still look modern.

Read our Renault Kadjar review

Search for used used Renault Kadjars for sale
Pros
Good Euro NCAP score
Well-equipped interior
Impressive engines
Cons
Some cheap plastics
Small boot for the class
Nissan Qashqai (2014–2021)
Competitive family SUV in plentiful supply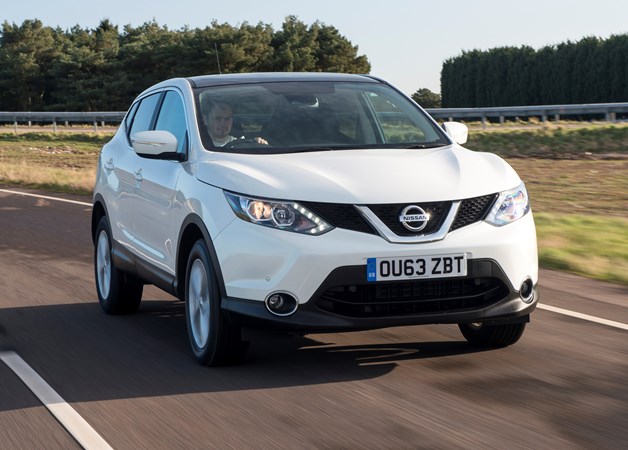 The original Nissan Qashqai was one of the first cars to popularise the family SUV genre. Unlike its predecessor's choice of seven- or five-seater lengths though, this second-generation model arrived in 2014 as a five-seater only. The seven-seat X-Trail replaced the larger versions.

With added technology, including surround-view cameras and advanced driver assistants, sharper looks, more efficient engines and better quality throughout, this is a worthy compromise for most families looking for 4x4 style without the cost or complexity. On the road, the Qashqai performs well. It's very easy to drive, with safe and assured handling. Fuel economy and CO2 emissions are attractive across the range, with even the most powerful petrol engine averaging a claimed 50mpg.

Read our Nissan Qashqai review

Search for used Nissan Qashqais for sale
Pros
Solid build quality
Plenty of equipment
Loads of cars to chose from
Cons
Everyone has one
Not that fun to drive
Skoda's family cars now offer Saab-esque levels of sensible, understated quality
The Skoda Karoq is yet another superb SUV all-rounder from the Czech firm. It's a mid-size model, sitting above the Kamiq and below the Kodiaq, and it has the same mature, timeless styling of its siblings. It also features a robust interior that's well equipped and brilliantly practical. It's remarkable, how much extra space Skoda is able to find when compared to similar-size rivals.

Introduced in 2017, most used Karoqs will be front-wheel drive, although Skoda did offer all-wheel drive versions too. TSI petrol engines are fun, and the smaller versions are economical, while 1.6-litre TDI and 2.0-litre TDI diesels are perfect all-rounders. Skoda reliability is proving impressive as well.

If you fancy the Skoda but want something with a sportier image and feel, a used SEAT Ateca is worth checking out.

Read our Skoda Karoq review

Search for used Skoda Karoqs for sale

Pros
Great build quality
Immensely practical
Easy to drive
Cons
Not that sharp to drive
Options make all the difference
The ultimate driving machine for family life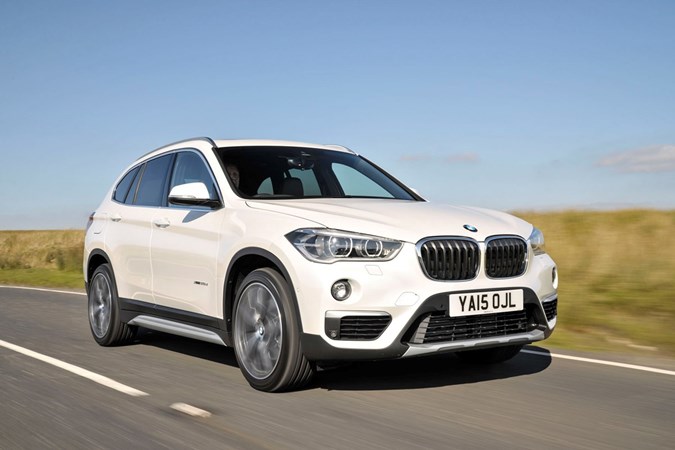 We're looking at the second-generation BMW X1 here, introduced in 2015. It looks the part, with 'mini BMW X5' styling and an upmarket interior, while space and practicality were improved significantly over the cramped, low-riding original. With the seats up, the boot is actually bigger than a 3 Series Touring estate.

So long as you listen out for low-speed suspension noises, and check for interior electrical niggles (particularly with the infotainment), it's generally robust and reliable. The engines are excellent, too – even the 1.5-litre turbo sDrive18i is top-notch, while the diesels are super-efficient. xDrive versions offer all-wheel drive grip for wintery weather, and there's an xDrive25e plug-in hybrid with a 35-mile electric range.

Prices for used BMW X1s are strong, and the same platform is used for the MINI Countryman. It is better value if you want a newer example or hybrid technology.

Read our BMW X1 review

Search for used BMW X1s for sale
Pros
Premium badge on a sensible car
Impressive economy and performance
Great interior quality
Cons
Firm ride
Servicing and parts are expensive
The 21st-century family Ford appeals to drivers as well as passengers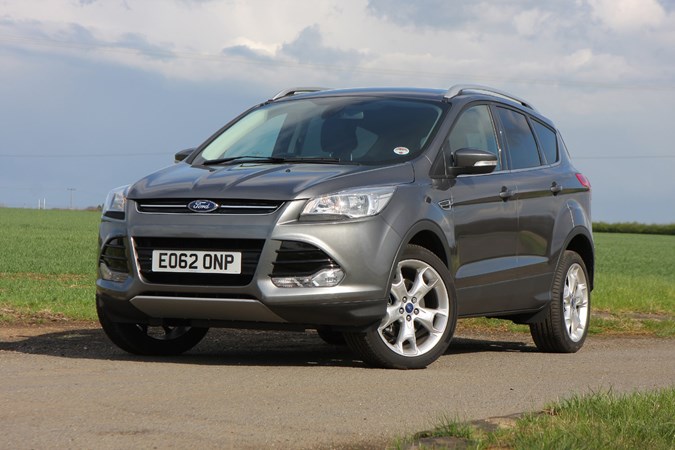 The second-generation Ford Kuga is a driver-pleasing SUV. The original 2008 car was too, but that wasn't as practical as this one. Boasting a roomy cabin, huge boot and slick, upmarket interior, sales of the Kuga quickly began to boom – meaning there's plentiful choice on the second-hand market.

Our preferred version is the facelifted model, from 2016. It's easy to spot, thanks to its extra-large two-bar grille (finished either in black or silver). It also gained Ford's Sync 3 touchscreen infotainment and a super new 1.5-litre turbodiesel, which is very economical and smoother than the 2.0-litre alternative. We also like the 1.5-litre Ecoboost petrol.

Read our Ford Kuga review

Search for used Ford Kugas for sale
Pros
Great to drive
Relatively cheap to run
Plenty of safety tech
Cons
Keen handling = firm ride
Finding a good cheap one is tricky
Halfway between a Puma and a Kuga, the CX-3's practical, pragmatic and fun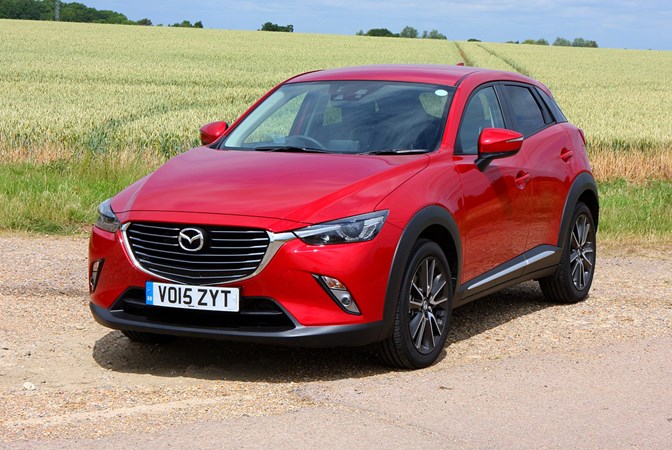 The Mazda CX-3 is one of the best-packaged compact SUVs on sale, with chunky styling and a practical cabin. With smaller dimensions on the outside, it's not the biggest SUV here – but it is more spacious than small SUV rivals such as the Nissan Juke, with no shortage of headroom and adequate shoulder space. If space is at a premium, it's a great family SUV choice.

It's well-equipped with alloy wheels, all-round electric windows and air-conditioning. We're also big fans of the way the CX-3 drives, with impressive body control and high levels of grip. The lower-powered petrol with two-wheel drive is our favourite, thanks to its ample performance, smooth power delivery and overall affordability. We'd recommend choosing one of the SE or SE-L models for the smoother ride on 16-inch alloy wheels.

Read our Mazda CX-3 review

Search for used Mazda CX-3s for sale
Pros
Great value for money
Enjoyable to drive
Still looks modern
Cons
Paint and rust issues reported
Dated infotainment system
---
Top buying tips for used SUVs
Which used SUV is the most economical?
The Toyota C-HR is a great choice if you're looking for a fuel-efficient used SUV. It's available with a choice of two self-charging hybrid powertrains that can return upwards of 50mpg if driven carefully. You also have the added benefit of not needing to plug it into the mains to get the best from it.
Are there any electric or hybrid SUVs for under £15,000?
Hybrid yes. But you'll struggle to find a good electric SUV at this budget. The technology is still too new and expensive to have filtered down to the lower echelons of the used car market on a large scale. However, we've scoured the classified and found a couple. You can pick up and original Kia Soul EV for around £8,000 and an early Vauxhall Mokka Electric for £15,000.
Has it got signs of off-road use?
Look for signs of wear and tear on the exterior. With less ground clearance compared to a typical SUV, scuff marks could indicate signs of use in tougher environments. Look for kerbing on the wheels, too, as urban crossover drivers may have chosen them to clear awkward driveways or particularly bad potholed roads.
Do you need to tow?
Thanks to the smaller dimensions, engine capacity and typically two-wheel drive configuration, there will be a compromise in towing capacity. A Mazda CX-3 has a tow limit of 1,200kg, while the slightly larger Range Rover Evoque can tow between 1,500kg and 1,800kg. A diesel engine would provide a more relaxed drive too if this is the case.
Avoid sportier trim levels for maximum comfort
Demand for large, sporty-looking SUVs has grown over the past decade and this has resulted in manufacturers offering models with bodykits, larger wheels and stiffer suspension. While some can make marginal improvements in high-speed handling, they can have a negative effect on ride quality. Sporty coupe-SUVs designed with a sloping roof can also impede on rear passenger headroom.
Have 4×4 models been maintained correctly?
Many crossovers with all-wheel drive have less-sophisticated systems than their larger SUV brethren. Quite often, the 4×4 drive only works when the front wheels are slipping, and relies on the proper maintenance of couplings, driveshafts and tyres to work correctly. On higher-mileage examples look for tyres being rotated/changed in sets of four, and check the service schedule for terms like propshaft and viscous coupling inspection, lubrication/fluid changes in addition to the normal maintenance expected.
Check spares costs if you plan on long-term ownership
If you're going to keep your crossover for a while, make sure there are no nasty surprises waiting compared to a hatchback equivalent. All-wheel drive models in particular may have different brakes, suspension and exhaust systems with higher costs, so it's worth asking beforehand and planning your maintenance accordingly.