Not all of the best SUVs are massive fuel-chugging eco terrorist – if you genuinely need 4×4 performance and don't a need a great deal of space there are some awesome small off-roaders available.
To qualify for our list below, we've looked for compact four-wheel drive vehicles that are less than 4.4m long and available with literal cross-country capability.
The resulting selection of the best small off-roaders on sale still manages to cover a wide range of budgets and tastes. So if you're after go-anywhere grip in a compressed package we reckon we've got a machine here to suit you.
Best small off-roaders 2023
Editor's choice: Dacia Duster
Budget-friendly off-road brilliance
Pros:
✅  Great value for money
✅  Can really off-road
✅  Lots of space
Cons:
❌  Poor Euro NCAP score
❌  Not very refined
The Dacia Duster 4×4 is a real all-round winner. It costs peanuts, offers loads of space inside for its size and has properly off-road ability. The driving position's a little odd and the interior is more hardwearing than plush, but for the money you pay it's by far the best value of anything on this list.
Not every version is four-wheel-drive, and inevitably those that are come at the highest price. It's also a little noisier and more uncomfortable than pricier options. But as a no-nonsense piece of kit it's a clear winner.
Read our full Dacia Duster review
Dacia Duster lease deals | VIEW OFFER
Land Rover Defender 90
Small, posh off-roaders come no better than this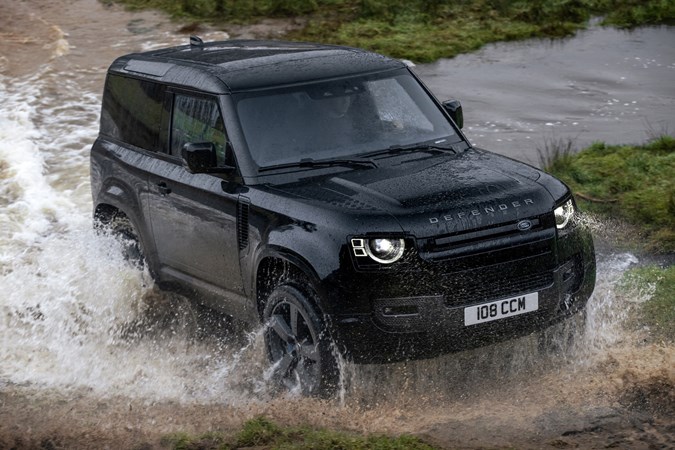 Pros:
✅  Amazing off-road
✅  Also good on it
✅  Stylish and trendy
Cons:
❌  No longer a simple tool
❌  Usual Land Rover reliability worries
Much like its original namesake, the latest Land Rover Defender comes in a variety of body lengths – and the shortest three-door model slots wonderfully into our best small off-roaders criteria. And again, as with the original Defender, this latest model is immensely capable when the going gets muddy.
Where it differs dramatically from Defenders of old is in the on-road driving experience and the luxury. The modern Defender drives almost as well as a Land Rover Discovery, while the beautifully executed exterior design is matched by a wonderfully chunky yet premium interior. The available tech is incredibly clever, too.
Read our full Land Rover Defender review
Land Rover Defender lease deals | VIEW OFFER
Jeep Wrangler 2 Door
Off-road like a boss after taking the doors and roof off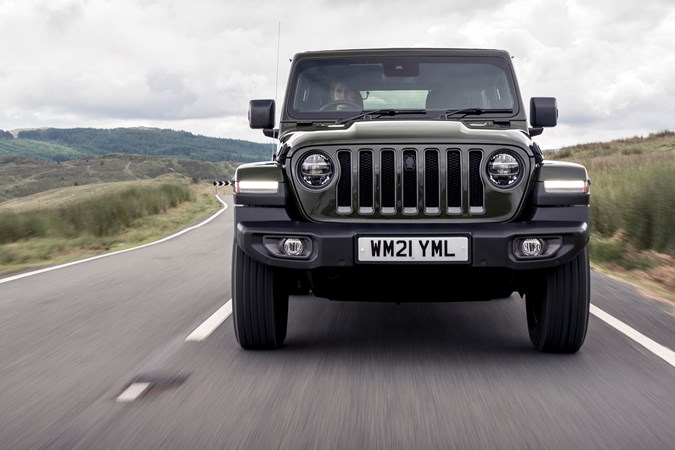 Pros:
✅  Serious off-road ability
✅  Unique removable body bits
✅  Old-school charm
Cons:
❌  Vaguely unpleasant to drive on-road
❌  Our last long-term test car broke
If the Defender is a little too smooth and corporate for you, the roughty-toughty Jeep Wrangler could be the answer. It's good much of the same off-road kudos and genuine chops, with a lineage that goes back decades, but is a far-less reformed character. Basically, if you still want a work out every time you drive, get one of these.
The on-road experience is still very much an interactive affair, as you'll really need to drive this thing to get the best out of it. Off-road it'll scale mad trails without breaking a sweat. Better yet, Jeep still designed the Wrangler so customers can unbolt the doors, remove the roof and even lower the windscreen. Nothing it more outdoors on wheels than one of these.
Read our full Jeep Wrangler review
Jeep Wrangler lease deals | VIEW OFFER
Suzuki Ignis
2023's answer to the Fiat Panda 4×4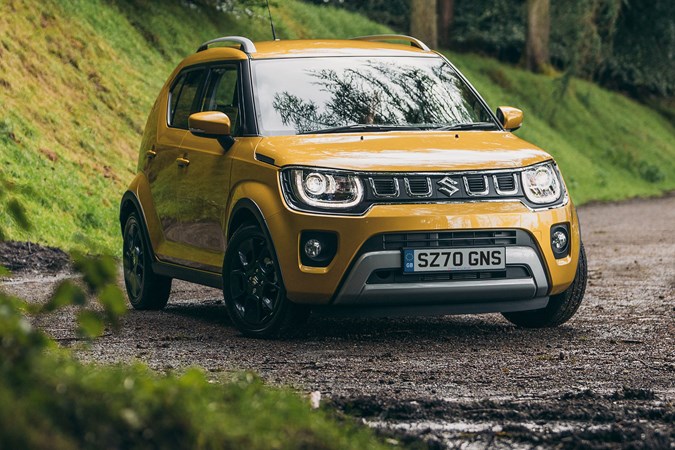 Pros:
✅  Tiny mountain goat of a 4×4
✅  Very economical
✅  Cute looks
Cons:
❌  Cabin feels cheap (because it is)
❌  Not good on the motorway
Concerned that the Jeep and Land Rover above are a little too premium – and therefore not only expensive to buy but too pretty to damage hustling those green lanes? The Suzuki Ignis could well be the answer. A tiny, lightweight city car that happens to be available with a proper four-wheel drive system – it's the spiritual successor to the Fiat Panda 4×4, which sadly went off sale a couple of years ago.
The Ignis looks cool, too, with some neat retro styling touches and a neat stance. It is also rather flimsy inside and was rated just three stars for crash safety by EuroNCAP back in 2016, when the tests were considerably easier. But the lightweight build means impressive mpg, so it's cheap to run as well as buy.
Read our full Suzuki Ignis review
Suzuki Ignis lease deals | VIEW OFFER
Suzuki Jimny Commercial
The off-road legend lives on – as a van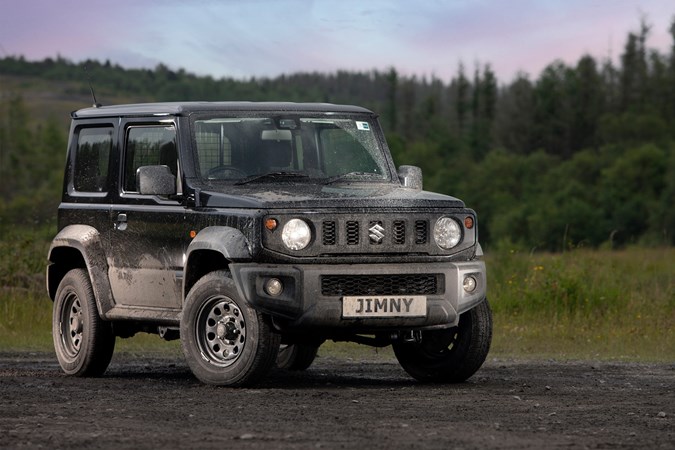 Pros:
✅  Outstanding off-road ability
✅  Cult appeal
✅  Charming looks
Cons:
❌  Terrible to drive on the road
❌  Now only comes as a two-seater commercial vehicle
Never mind filling in for the Fiat Panda – Suzuki has its own little off-road legend in the form of the Jimny. This is a proper old-school 4×4, and most definitely not to be confused with a modern SUV. It will climb almost any mountain, but you'd be frankly mad to buy one if the majority of your use is on the road. The tarmac turns it almost terrifying as soon as you go above about 30mph.
It doesn't help that the only version still on sale is actually a van; the Jimny Commercial ditches the rear seats to create a tiddly load area, but in doing so removes more weight from over a back axle that was already unnervingly keen to overtake the front. The reason for this approach is a tax loophole that makes the Jimny's nasty emissions more tax friendly. Your call.
Read our full Suzuki Jimny Commercial review
Suzuki Vitara
Suzuki's best off-roading all-rounder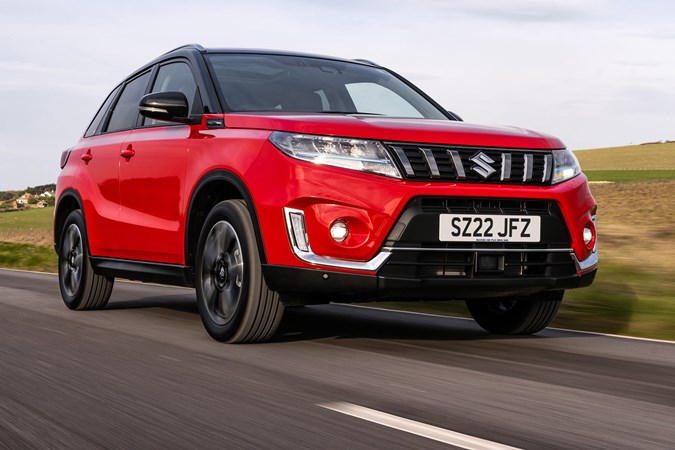 Pros:
✅  Best blend of on- and off-road prowess from Suzuki
✅  Keen handling
✅  Lightweight and efficient
Cons:
❌  S-Cross is nicer still – at a price
❌  Avoid the full hybrid model
Yes, that is now three Suzukis on this list – and it could quite easily have been four. Our final choice, however, is the Vitara, another long-serving Suzuki name plate with a reputation for performing well in the rough stuff. Difference compared with the Jimny is that it's a larger, plusher SUV that's got modern engines and some actual on-road manners.
In fact, it's rather fun to hurry along, with a good turn of speed and neat handling – thanks again to Suzuki's lightweight-build philosophy. You can get a more road-oriented Suzuki SUV still in the form of the S-Cross. But this is a smidge less capable off road and quite a chunk more expensive to buy, being over 25% more expensive. We certainly recommend trying the Vitara first before you commit.
Read our full Suzuki Vitara review
Suzuki Vitara Duster lease deals | VIEW OFFER
Subaru XV
Looks like a car, lives its best life off road
Pros:
✅  Car-like looks
✅  Capable 4×4 system
✅  Likely to last
Cons:
❌  Engine is inefficient and slow
❌  CVT gearbox only
You may be surprised to discover that Subaru does still sell cars in the UK. This Japanese brand was once notorious for building four-wheel drive performance cars that punched well above their paygrade. But in recent years it's fallen into relative obscurity selling sub-par four-wheel drive vehicles. Doesn't sound like a great start for the latest XV, does it?
And the truth is, if it wasn't for the off-road brief of this particular listicle, we wouldn't be recommending this machine at all. But Subaru's 4WD gear is pretty solid, and the XV pulls off the neat trick of looking largely like a car but still being a capable mud-plugger when required. Could do with a better engine and gearbox, but it's a neat tool in this frame of reference.
Read our full Subaru XV review
Subaru XV lease deals | VIEW OFFER
CJ Hubbard leads Bauer's Digital Automotive Hub, writing and reviewing for Parkers and CAR. His Bauer career started as Associate Editor of CAR magazine in 2014, but he's been a motoring journalist since 2006, and written for titles including Which?, the Sunday Times, Auto Express and Pistonheads.