Hyundai Intrado concept showcases future technologies
Hydrogen-powered crossover reveals Hyundai's new face
Innovative carbon construction claimed to be 'revolutionary'
Unveiled in public at the Geneva motor show next month
Hydrogen-powered crossover reveals Hyundai's new face
Innovative carbon construction claimed to be 'revolutionary'
Unveiled in public at the Geneva motor show next month
We've had a first look at the Hyundai Intrado concept, a hydrogen fuel cell-powered four-seat crossover with a clever carbon structure that will be unveiled to the world at the Geneva Motor Show in March.
Although it's purely a concept car, it gives us some fascinating insights into what Hyundai has in store for its future road cars, in terms of how they'll look, how they'll be built and how they'll be powered. We can also treat the Intrado as an early vision of a new crossover model on the cards in the future.
The finished concept car is still being constructed in Italy but we've been given a sneak preview of the Intrado in full-size clay model form at Hyundai's European Technical Centre in Germany, where the project has been developed.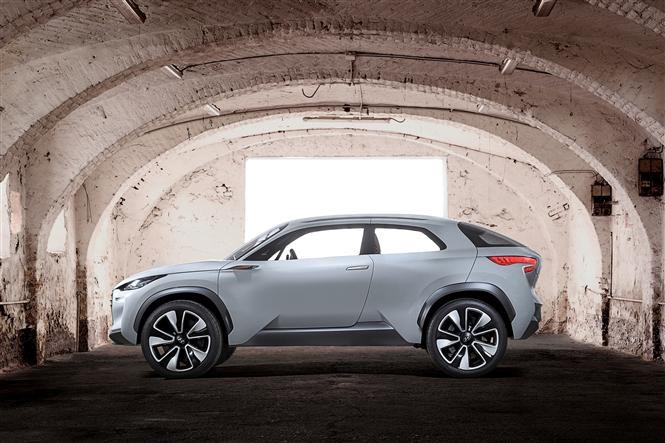 Concept shows Hyundai's new 'face'
First of all, let's examine the way the Intrado looks. It's a four-door, four-seater coupe with a raised 'crossover' stance like an off-roader, although don't be fooled, this is a car very much designed for tarmac rather than rocky trails.
The Intrado's hexagonal six-point grille and slim headlight shape is our first chance to see Hyundai's new corporate face – the same grille design and a similar headlight treatment will be applied to the company's next generation of production cars, such as the new i20 hatchback next year and a future ix35 4x4 facelift.
A key feature of the Intrado's exterior design is the use of wing-like shapes around each wheel arch. As well as making the car stand out and giving it a more dramatic stance, they also have aerodynamic benefits in reducing turbulence around the arches, reducing drag and making the car more efficient.
The name Intrado itself is borrowed from aircraft terminology, too – it's the name for the underside of an aircraft's wing.
Significantly, the Intrado is the first Hyundai design to be led by Peter Schreyer, who is President and Chief Design Officer for both Kia and Hyundai and a former star designer at Audi. Chief designer under Schreyer for the Intrado project was Thomas Bürkle.
Schreyer's work at Kia to smarten up its design cues and make its cars more desirable has been lauded as a key part of the company's success and many industry observers are wondering if he can do the same at Hyundai – the Intrado is a first signal of intent.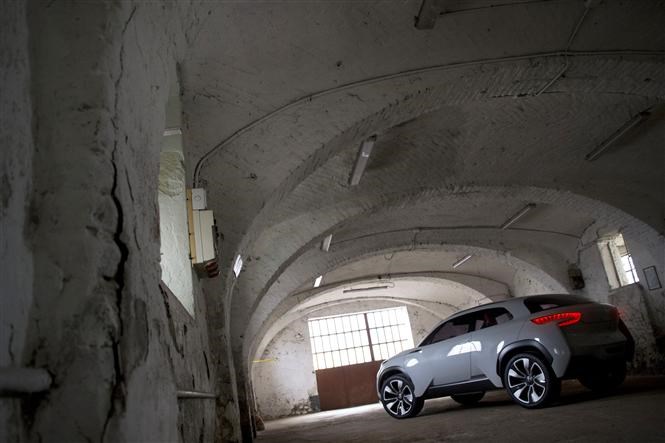 Clever structure under the skin
The Intrado's looks are only part of the story. It's what's going on under the skin that makes this concept particularly interesting.
Look at the base of the car's sides and you'll see a darker-coloured section below the doors. This is actually part of the car's skeletal chassis structure, which Hyundai says has 'the potential to revolutionise how cars could be built in the future.'
It's a combination of carbon fibre-reinforced plastic and steel, which is woven into flexible tubes and then combined with resin to form a very stiff and lightweight structure arranged in a series of connected 'hoops'. A large central beam runs down the centre of the car, and in the Intrado concept becomes a feature of the car's interior. The chassis is clothed in lightweight steel body panels, although Hyundai says any other material could be used.
This mix of flexible composite tubes and resin has never been used in an automotive application before but Hyundai says the process could be applied to mainstream production cars as soon as two years' time. In reality we're likely to be waiting a while longer than that before we see road-going Hyundais built in this way, however.
Exactly how much the Intrado weighs will be revealed along with the car at Geneva but Hyundai promises a 'massive reduction' in weight compared with a regular steel bodyshell, potentially as much as 70 percent.
It's also claimed to be far cheaper to manufacture than other forms of carbon fibre chassis, of the sort currently limited to the exotic end of the car world in McLaren supercars and the Alfa Romeo 4C sports car. If and when this technology makes production Hyundai says it will be applied to an affordable mainstream car rather than a pricey, low-volume product.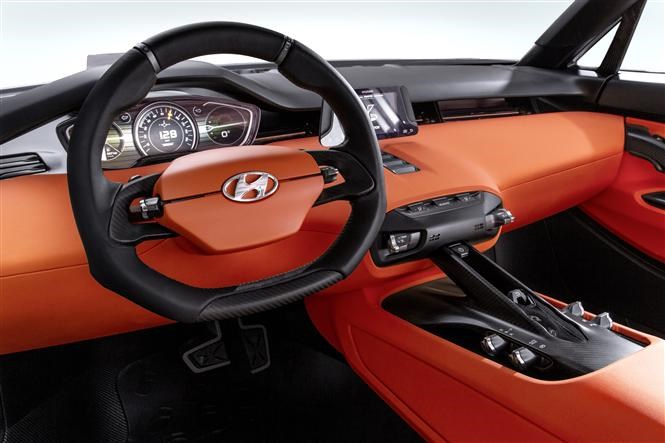 Hydrogen fuel cell power
The Intrado is an electric car, a motor powering its front wheels using energy from hydrogen fuel cells and a powerful 36kWh lithium-ion battery. It's a continuation of the powertrain already on the road in the hydrogen-electric Hyundai ix35.
Quoted range for the concept is around 370 miles and like other hydrogen fuel cell-powered electric cars its local emissions are limited to water vapour only.
New crossover model in the future
The Intrado also points the way towards a future Hyundai crossover model in a new segment – smaller than the Santa Fe off-roader and more sporty and lifestyle-oriented than the ix35, according to Design Engineering Manager Günter Roos. Like the Intrado it would have distinctive styling and would not be 'a me too product', he says.
We'll have more information about the finished Hyundai Intrado concept in our Geneva Motor Show coverage next month.