There are many scenarios where a car jack comes in handy. At home, you may wish to undertake some car DIY that involves getting under the car – an oil filter change for example. Or you may want to remove a wheel or two to address the curb scuffs on them.
Away from home, car jacks become a time-saver if you are out and about and a puncture strikes. You can pop on the spare wheel within a few minutes without waiting for roadside assistance.
However, the two home and away scenarios demand different types of jacks and it's this issue that we address here. Fear not, car jacks are all very easy to use even if you haven't used one before.
What are the different types of car jacks?
Scissor jacks
These have been around for a long time. But despite this, scissor jacks are by no means outdated. They are small and inexpensive – you'll find they are the type of jack that hides under the boot floor in cars because they are light too.
Scissor jacks don't have terribly high weight ratings (explained below) and are good for emergency use when away from home, such as when changing a punctured tyre. They have a basic screw mechanism that you twist with an attachable lever. You should never use these to work underneath a car.
If a car jack for emergencies is all you want, see our top picks below.
Silverline 1 Tonne Scissor Jack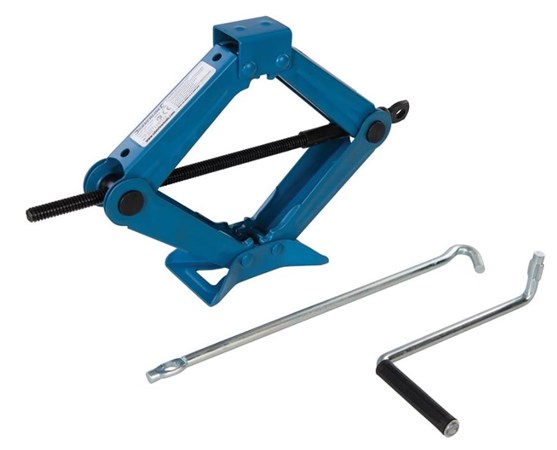 Silverline is well-known and large brand of tools, hardware and workshop equipment. One of which is its scissor jack. It has a 1000kg weight limit making it suitable for the smallest of hatchbacks. It has a minimum lift of 90mm and a maximum of 330mm. The jack itself weighs about two kilograms.
Trolley jacks
For use at home, trolley jacks are the best option. They are stable and heavy-duty but still very easy to use in their intended environment. Trolley jacks use hydraulic pressure in a cylinder to lift a load via a piston, and you achieve this by simply pumping the jack with a handle.
Trolley jacks have wheels, which makes them easy to move but is indicative of the fact they are rather heavy and not very portable. Trolley jacks come in quite a range of shapes and sizes in order to cater for all the different vehicle types out there. For example, some offer extra height for tall vehicles, some are extra low in order to cater for sporty cars.
These are our recommended trolley jacks.
Einhell CCTJ 2000 Trolley Jack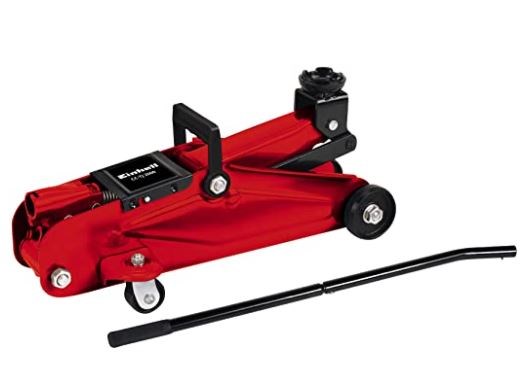 Einhell is a reputable manufacturer of a great many power, garden, and workshop tools. This trolley jack has a 2000kg weight limit, making it suitable for most cars and small to medium-sized SUVs. It has a minimum lift height of 135mm and a maximum of 330mm. The jack itself weighs 8.7kg.
Sealey 1050CXLE Trolley Jack 2tonne Low Entry Short Chassis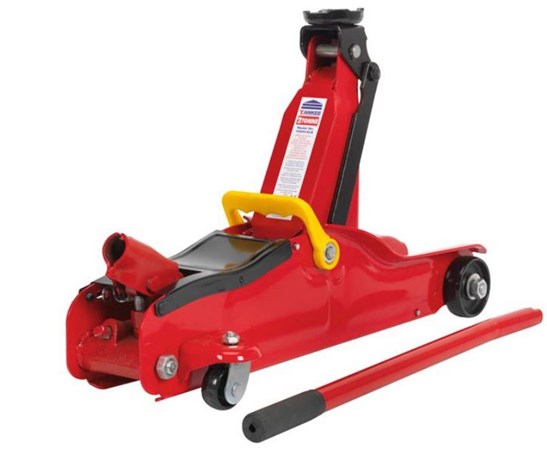 This trolley jack from Sealey is an ideal option for low-slung and sports cars. It has the same weight limit as the Einhell jack, thus it's capable of even lifting todayu2019s relatively porky speed machines. But the difference is that it has a lower clearance height: minimum 78mm, maximum 330mm.
Sealey 1025HL Trolley Jack 2.25tonne High Lift Quick Lift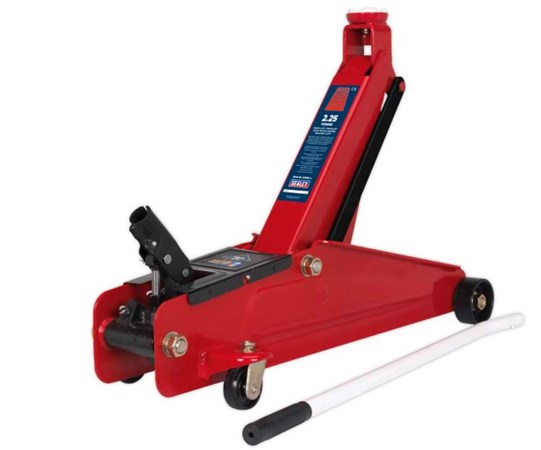 In contrast to the Sealey jack above, this is for vehicles with high ground clearance. Because SUVs and vans with higher ground clearance also tend to weigh more than normal cars, this jacku2019s weight limit is up to 2250kg. In making the extra lifting easier, this jack features Sealey's Super Rocket Lift system. The minimum lift height is 150mm, maximum is 535mm. The maximum chassis height suitable for this jack is 180mm.
Bottle jacks
Like trolley jacks, bottle jacks use hydraulic pressure to lift a car and have good weight limits. Unlike the trolley jacks, they are small, light, relatively portable, and therefore good for emergency use. The trade-off is that bottle jacks are not as stable as trolley jacks. In light of this, they need to be used on flat ground in order to be as safe as possible.
The other consideration to make with bottle jacks is that because they have an upright stance, they aren't so suited to lower vehicles.
These are our recommended bottle jacks.
Silverline Hydraulic Bottle Jack 2 tonne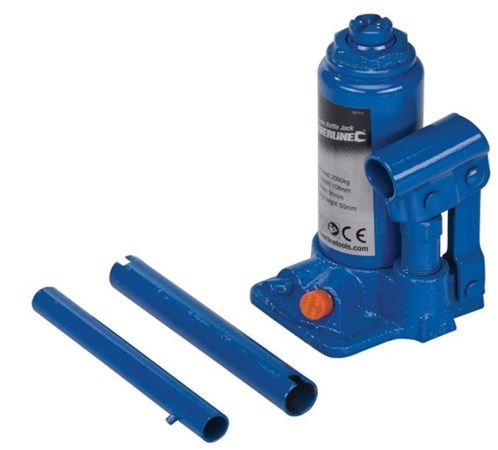 Silverline Tools is a global brand that produces an enormous range of common and specialist tools. This bottle jack has a weight limit of 2000kg and a lifting range of 158mm to 308mm. It's very light at 2.3kg and nice and easy to use.
Draper Hydraulic Bottle Jack 4 tonne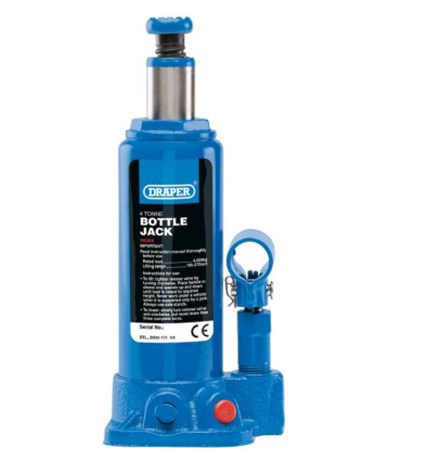 The Draper is an example of how much these little bottle jacks are capable of lifting. It doesn't have a great lifting range (195mm to 370mm), but there's no arguing its value for money. If it is suitable for you and you are capable of using it properly, then by all means go for it.
Jack weight ratings
If you aren't a car person, there is no reason to know how much your car actually weighs because in everyday life it's not overly useful knowledge. But when it comes to car jacks, it's vital.
The rules of the game are very simple: find out what your car weighs and buy a jack that is capable of taking the weight. You will find your vehicle's weight on a sticker inside the car's door jambs, or in its manual. Below are a selection of vehicles to give you a rough idea of car weights.
Toyota Aygo: Circa 900kg
Ford Focus 1.0 EcoBoost (non-hybrid): Circa 1300kg
BMW 330d xDrive Touring: Circa 1700kg
Jaguar F-Pace P250: Circa 1900kg
Audi A6 Allroad: Circa 1900kg
Jack height ranges
This is important in choosing the right jack for you. In fairness, most normal cars will be able to be used with a standard jack without going for extra low or extra height. But check your car's manual for specific information on your car and pair it to the correct jack.
Jack Stands
If you are doing anything more than changing a wheel, such as changing an oil filter, jack stands – or axle stands – are what you will want for when your car is raised for extended periods of time, or if you want access beneath the car. You should use four of them if you want to lift your car off the ground completely.
Unlike jacks, jack stands do not have hydraulic or mechanical parts that wear or could fail. They have stable bases and are designed specifically for supporting vehicles.
Like jacks, jack stands have weight limits that differ from product to product. It's therefore equally important that you choose the appropriate ones for you. The sticker inside your car's door jambs should say how much weight is at the front and rear axles – and your car's manual will explain this too.
Silverline Axle Stands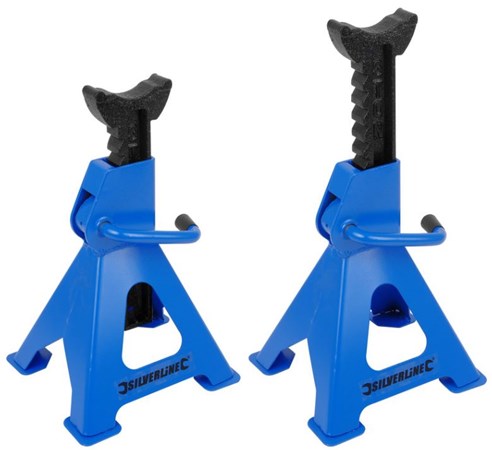 A reliable pair of jack stands with each individual stand able to take a weight of 1300kg. Minimum height 280mm, maximum height 420mm.
Where to position car jacks
Knowing the jacking points on your car is as important as getting the right jack. Trying to lift a car by its exhaust or from beneath the radiator is not going to go well. Once again, delve into your owner's manual and find where the jacking points are. Notwithstanding jack stands sometimes being called axle stands, axles are not a good place for jack stands to be used.
Ramps
Ramps are an alternative to jacks for home use. You simply position your car onto them, place chocks behind the opposite wheels and away you go. There are limitations here. One, you only get access to the underside of a car – not useful for changing a tyre. Another factor is the fact that ramps take up a lot of room.
Draper Car Ramps 2 Tonne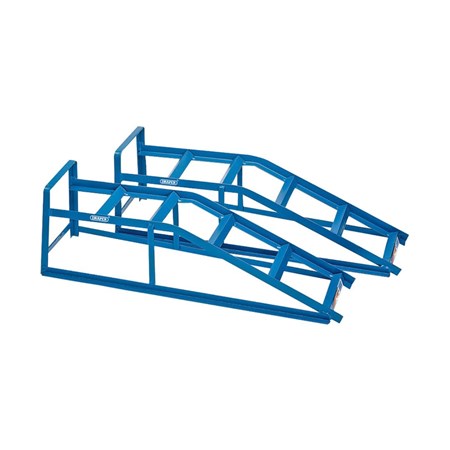 Sign up to the Parkers Newsletter to keep up to date with more of the latest reviews, news, and recommendations from the Parkers team.
Just so you know, whilst we may receive a commission or other compensation from the links on this page, we never allow this to influence product selections – read why you should trust us.