Audi A6 Allroad review
Current Model
A pricey but accomplished SUV alternative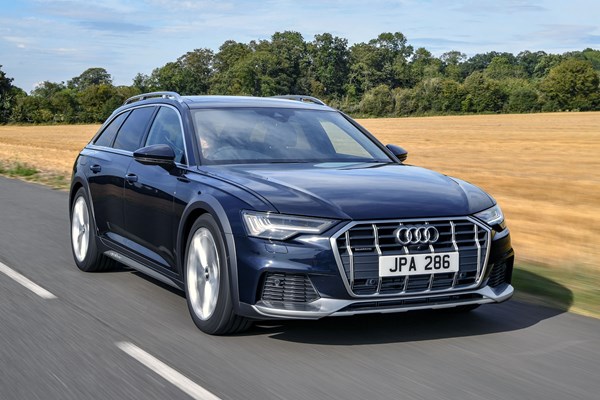 PROS
Estate practicality without SUV bulk
Comfortable ride on air suspension
Luxurious and high-tech interior
CONS
It's not cheap to buy
The boot isn't as big as in an E-Class
Some surprising standard-fit equipment omissions
PROS
Estate practicality without SUV bulk
Comfortable ride on air suspension
Luxurious and high-tech interior
CONS
It's not cheap to buy
The boot isn't as big as in an E-Class
Some surprising standard-fit equipment omissions
In a sea of SUVs, it's quite something to see Audi continuing to push its A6 Allroad, especially when its own cars are significantly more popular – namely the Q5 and Q7 SUVs. So what's the point of the A6 Allroad, then?
It offers a blend between the two. Estate car practicality that you don't really get with the smaller SUVs, but with a surprisingly capable off-road car thanks to standard-fit air suspension, some extra body protection (but not much) and off-road driving modes.
In fact, Audi has moved the latest A6 Allroad away from its muddy roots, with even less black plastic cladding than before, proving it's not going to be tackling some hugely tricky terrain.
However, despite selling in small numbers in the UK, there's a loyal following of Allroad drivers who want exactly what it offers – a classy, practical estate car that doesn't have an SUV image or bulk. There's no surprise it's so often found on country estates and rural areas, but with competition like the Volvo V90 Cross Country, Mercedes-Benz E-Class All-Terrain and Subaru Outback (as well as various other estate and SUV alternatives), it needs to be a true jack-of-all-trades.
Two powerful diesel engines
Unlike the regular A6 Avant, the Allroad doesn't have a wide selection of engines to choose from. Instead, buyers have the option of a 3.0-litre V6 TDI in a choice of two power outputs. There's a 45 TDI with 231hp and a 50 TDI with 286hp. Both come with Quattro all-wheel drive and an eight-speed Tiptronic automatic transmission.

And two tech-heavy trim levels
As with the engine selection, the trim choices are simple too. The entry-level car is the Allroad Sport, but still comes packed with a lot of standard equipment – and so it should for more than £54,000. However, instead of ticking every single options box, Audi will sell you a Vorsprung model which piles every possible piece of kit and trim you can find, topping out at just shy of £74,000. By comparison, the diesel Volvo alternative kicks off at £50,000, and comes with several other engine options that bring the price down if you don't need the most powerful out there.
More off-road ability than you'd expect (and need)
The off-road (ish) looks aren't just for show, however. Allroad drivers do tend to ask a little more of their cars than some SUV drivers are likely to, so it needs to be able to tackle a muddy slope, a gravelly track or boggy woodland, plus they are often used for towing regularly.
The good news is that the A6 Allroad comes with a selection of driving modes to boost its capability, with the ability to lock the differential, offer permanent four-wheel drive and jacked-up suspension. Selecting Off-Road mode raises the car by 30mm higher than in Auto or Comfort, while Lift mode raises it a further 15mm for tougher terrain.
The rest of the time in Auto or Comfort modes, the Allroad's suspension automatically adapts to the road conditions to boost comfort inside the car.
Composed ride and comfortable cabin
Most of the time the Allroad will be used on the road, and it's inherited the regular A6 Avant's characteristics, perhaps unsurprisingly. You don't sit much higher than that car, so it feels hushed and refined at speed, while the interior itself is lifted straight from that car.
That means you get a very technological feel with three screens present to control the car's functions, luxurious leather upholstery and bags of equipment, even on Sport models.
Read on for the full Audi A6 Allroad review