Suzuki has confirmed that the Parkers award-winning Jimny will be going off sale in the UK in 2021. The pint-sized off-roader, which has enjoyed very strong demand since it arrived in showrooms in January 2019, will go off-sale in order to help the company meet forthcoming EU emissions regulations.
The Jimny is a victim of a European requirement for all carmakers to meet a 95g/km average of CO2 emissions across all of the models it sells by the end of 2020. Suzuki has always struggled to meet British demand for the Jimny anyway – waiting lists are 'up to a year' – and has decided that the priority for the UK market is to sell hybrid models instead of its low-volume off-roader.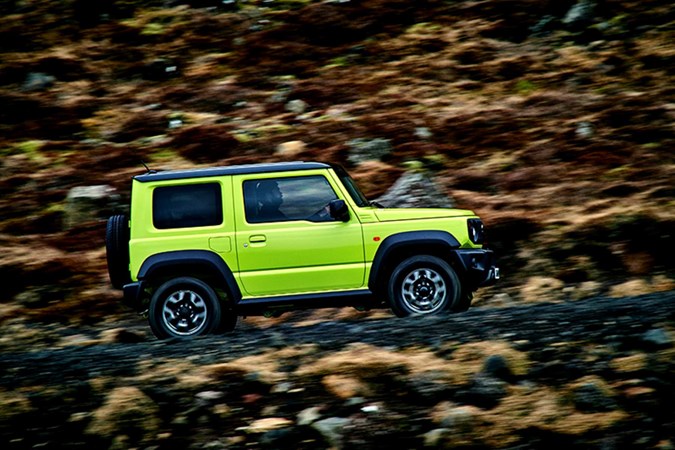 With this aim in mind, the Swift, SX4 S-Cross and Vitara will be solely offered in mild-hybrid form by the end of 2020.
Sources in the trade have confirmed that demand is so strong that used Jimnys are selling for up to £4,000 more than the cost of a brand new one. Suzuki has said that it 'will make every effort to ensure delivery to its customers who have already placed an order for a brand new one.'
Will the Jimny really disappear?
Officially yes, but there remains hope that a version of it will continue. One obvious loophole would be for the Jimny to be sold in the UK in N1 commercial form – in other words as a van rather than a car.
Although it would it be taxed as a van it would look similar to the existing car version except for a lack of rear seats and blanked-out rear windows.
The current CO2 emissions of between 154 and 170g/km are competitive for a commercial off-roader of this nature, but clearly It's a long way from that required 95g/km average required as a car and would undoubtedly harm the company's overall performance. As vans are not included in that 95g/km of CO2 figure, a commercial Jimny makes sense.
What this means for you
If you have your heart set on a Jimny, you need to act decisively. Suzuki is no longer officially taking deposits – despite it still being price listed as part of the Japanese brand's range – and is now asking potential customers to join a waiting list, with dealers allocating cars when they get them in stock.
Given that commercial vehicles these days rarely suffer in terms of a lack of technology and equipment compared with their car cousins, we don't anticipate a Jimny van being seen as a compromise – unless you really need the rear seats. If you do, get down to your nearest Suzuki dealer quickly.
Further reading:
>> Find out why we rate the Jimny so highly with our full review
>> Jimny too extreme? Learn more about the city-centric Suzuki Ignis
>> Need an off-road van today? How good is Toyota's Land Cruiser Commercial?