Suzuki Vitara review
Current Model
Cheap crossover is good to drive and great value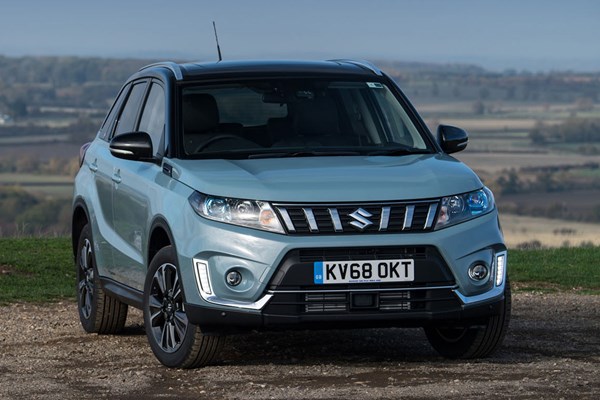 PROS
Offers good value for money
Spacious interior in compact body
Lots of equipment available
Punchy turbocharged engines
CONS
Some questionable interior plastics
Engine range is limited
Not as tough as older Vitaras
Odd steering feel
PROS
Offers good value for money
Spacious interior in compact body
Lots of equipment available
Punchy turbocharged engines
CONS
Some questionable interior plastics
Engine range is limited
Not as tough as older Vitaras
Odd steering feel
The Suzuki Vitara is a name that's been around for many years, though the current model has morphed from a far more rough-and-ready off-roader into a far more fashionable compact crossover. It still retains a bit of that rugged character though, distancing itself from the rest of its class and lending it quite a bit of desirability.
Eye-catching looks, a roomy interior, good-value finance deals and a well-earned reputation for reliability and longevity means the Vitara has plenty of feathers in its cap to begin with. That it's available with optional four-wheel drive for a little genuine capability off-road is another plus point, and sets it aside from exclusively front-wheel drive rivals such as the Peugeot 2008, Renault Captur, SEAT Arona and Citroen C3 Aircross.
Limited but strong choice of engines
Choosing an engine for the Suzuki Vitara is an easy job – there's only two, both petrol engines badged rather fantastically as 'Boosterjet' to signify that they are turbocharged.
At the entry-level, there's a 1.0-litre BoosterJet. Its three cylinders punch above their weight with 111hp, providing surprisingly pokey performance. Most, however, will likely want to opt for the extra punch of the 140hp 1.4-litre four-cylinder.
Both models can be optioned with manual or automatic gearboxes – the latter are old-fashioned torque converters as opposed to the dual-clutch units in many rivals. Not that that's necessarily a bad thing, as they're smooth and reliable. Sadly, it's now only the base 1.0-litre car that can be optioned with four-wheel drive.

Famed for its 4x4 know-how, something it's been perfecting for four decades now, Suzuki realises that in reality only 10% of this market segment are sold so equipped. This means the front-wheel drive models easily out-sell the four-wheel drive ones. On-demand operation means it drives through the front wheels for the majority of the time, only sending power to the rear axle when it detects or anticipates slip from the front.
A controller in the cabin allows driver's to toggle between Auto, Sport, Snow and Lock modes on the move. The first shuffles the power where it needs it, Sport optimises the system's responses for sharper cornering and performance, Snow uses four-wheel drive by default for slippery situations and Lock mode makes use of the differential to release the car when stuck in snow, mud or sand.
Vitara trim levels easy to choose between
Suzuki keeps its trim levels simple, and there's only two to choose from on the Vitara – SZ-4 and SZ-T. All come equipped with as much equipment as you could possibly want, with alloy wheels, LED daytime running lights, climate control, cruise control and Bluetooth standard on all cars, while top-of-the-range models are packed with full LED lights, panoramic sunroof, keyless entry, suede seats and a range of advanced driver assistance and safety technology.
SZ-T cars can be equipped with the full range of engines, but SZ-4 is available only with the 1.0-litre, manual, 2WD car – so be sure to take note of which engine and gearbox combination you'd like before you commit.
Spacious and well-built interior
The Vitara offers a lot of space for quite a small crossover, and it'll accommodate four adults in comfort – though the rear bench may be a little narrow to carry three abreast with any regularity. The boot is large too, and well-shaped.
Best of all is the feeling of solidity in the interior. Materials are hard-wearing rather than plush, and while that means the Vitara doesn't feel that luxurious inside it really is built to last – it'll likely look brand-new for many years after purchase. There are a few really pleasing design touches, too, such as the well=integrated touchscreen for the infotainment and the analogue clock atop the dash.
Interested in the Suzuki Vitara? Read our full review by clicking below to see if this compact crossover could be the car for you.