View all Citroën C4 reviews


Citroën C4 Hatchback (2011 - 2018) review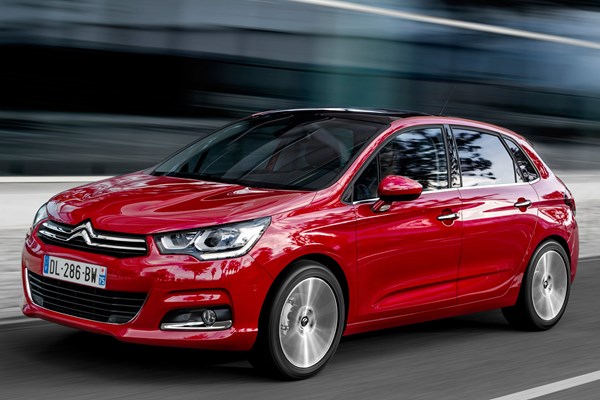 PROS
Improved quality
Premium-feel interior
Low CO2 diesel available
Excellent diesel start/stop system
Comfortable ride
CONS
Jerky automatic gearbox
Poor handling
Dull
PROS
Improved quality
Premium-feel interior
Low CO2 diesel available
Excellent diesel start/stop system
Comfortable ride
CONS
Jerky automatic gearbox
Poor handling
Dull
Citroën C4 Hatchback rivals
Taking on the likes of Ford and Volkswagen is a mighty task but targeting the Focus and Golf is an even tougher one for the Citroen C4 hatchback .
This is exactly what Citroen is trying to do and despite improvements over its predecessor, the C4 still feels well off the pace in the battle of small family hatchbacks.
More upmarket, less distinctive
The novelty fixed-hub steering wheel and big digital speedometer in the centre dash are gone, which means the car loses a little character but becomes slightly more functional.
Inside it also has a more quality feel than its predecessor with good use of premium-looking materials and simple dash layout.
However, the driving experience for enthusiasts isn't fantastic and if that's a priority, you'll go elsewhere. If you do want something sedate and relaxed to get you from A to B then the Citroen C4 hatchback is a pretty decent proposition.
It is extremely comfortable and rides fairly well on motorways, and is pretty easy to drive too.
Update for 2015
The C4 hatchback received a facelift this year which saw the introduction of a number of features including an uncluttered interior made famous by the 308 hatchback.
New headlights and the large wrap around windscreen are among the big changes to the exterior while the addition of a new seven-inch touchscreen makes navigating around the various systems and controls easy.
The new C4 adopts the latest trim names: Touch, Feel and Flair and also adds a couple of new engines seen elsewhere around the Citroen range and a new automatic gearbox.
Wide range of engines on offer
The range of engines on offer here provide the power, mpg and CO2 emissions for a wide range of uses.
There's a trio of diesels with power ratings of 98bhp, 118bhp or 148bhp and two petrol units with either 108bhp or 128bhp.
All are very smooth with wide power bands and allow the C4 to accelerate from a standstill to 62mph in between 8.8 and 11.6 seconds depending on powerplant. You can choose either five- or six-speed manual gearboxes along with the firm's new six-speed EAT gearbox.
There's also a stop/start system which helps to further lower CO2 emissions and increase fuel economy. This will help the C4 to appeal to company car drivers , who ultimately want lower CO2 so their company car tax costs are as low as possible.