Citroën DS3 Hatchback (2010 - 2015) review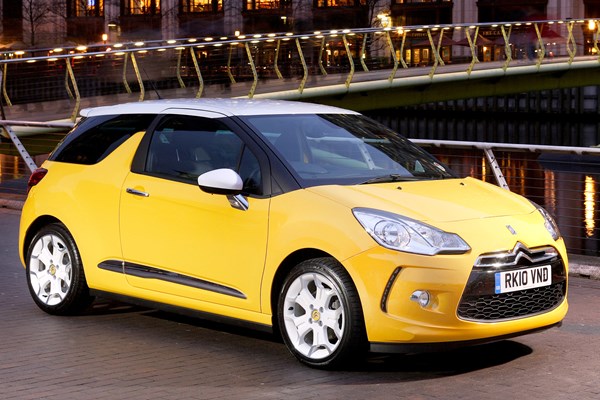 PROS
Genuinely great to drive
High-quality feel
Stylish and chic look
Low running costs
Wide range of customisation options
CONS
Lacks the image of a MINI
PROS
Genuinely great to drive
High-quality feel
Stylish and chic look
Low running costs
Wide range of customisation options
CONS
Lacks the image of a MINI
The Citroen DS3 is the first in a range of very different Citroen models that put the emphasis on style and personality, along with strong performance and driver appeal. Indeed, it has a lot going for in the looks department: the sharkfin-shaped mid-pillar isn't traditional – you might even call it quirky – and the overall shape is much slicker than the more sedate C3 on which it is based.
Reliving past glories
The 'DS' badge reflects Citroen's glory days when it built armadillo-shaped super saloons with hydro-pneumatic suspension that wafted and wallowed with a sense of occasion that no other manufacturer could match. This model, the first in the new DS range, doesn't attempt to ape those cars, it merely revives a name that commanded so much affection. With its stylish looks and compact size, it's easy to see why so many comparisons have been drawn with the popular MINI hatchback and Fiat 500. In contrast to those two, the DS3 isn't a retro model, but it is similar in that it has an elegant cabin, a sporty stance and impressive handling. It really is great to drive with tremendous poise in corners and responsive steering, while the ride remains forgiving. It's also very well built - something that can't be said for all Citroens - with a genuinely premium feel to the interior and impressive refinement at higher speeds. Overall, it's the best car Citroen has made for a long time.
Engine line-up
There's three petrol engines designed by BMW and they start with the entry level 1.4 VTi , then the 1.6 VTi and the most powerful of the three, the 1.6 THP, which makes 150bhp. Two 1.6-litre diesels are available with either 90bhp or 110bhp and the lowest powered version boasts an impressive averaged claimed fuel economy of 74mpg while emitting 99g/km of CO2.
In January 2012 Citroen announced the DS3 Ultra Prestige. This was a special edition based on DSport trim and featuring a raft of bespoke styling and interior options. It was available either with the THP 155 petrol engine or the e-HDi 110 diesel engine.
Then, in 2014 a pair of special edition Pink models were announced. Dubbed DStyle Pink and DSport Pink, they're aimed at female buyers and consist of a pink roof, coloured alloys and a HiFi system upgrade. On top of that the DSport Pink gets the City Signature Pack, which nets you rear parking sensors along with automatic headlights and wipers, heated electric door mirrors and a front central armrest.
Other Citroën DS3 (2010 - 2015) models: