Honda CR-V Hatchback (2012 - 2018) review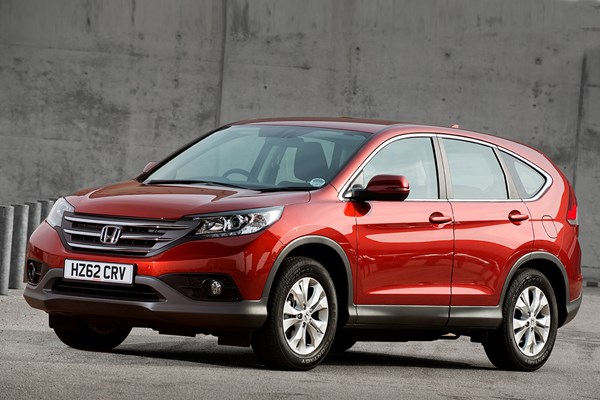 PROS
Reliable
Proven formula for family SUV
More practical than ever
CONS
Not as efficient or cheap to run as competitors
Not a huge step forwards
PROS
Reliable
Proven formula for family SUV
More practical than ever
CONS
Not as efficient or cheap to run as competitors
Not a huge step forwards
The British-built Honda CR-V is now in its fourth generation. The five-seat SUV has been in production since 1995 and has proven incredibly popular for the Japanese manufacturer. Indeed, five million CR-Vs have gone to happy homes around the world.
Its blend of practicality, reliability and efficiency has stood it in good stead, but competition from the likes of Mazda's CX-5, Nissan's X-Trail and even BMW's X3 means Honda really has to be on its toes to retain its share of the market.
For the latest iteration the company has focused on improving efficiency and practicality. It intends to keep its customers happy with the confidence in its reliability combined with the go-anywhere ability afforded by four-wheel-drive.
One petrol and two diesel engines
For the first time in the UK, the CR-V is offered with both two- or four-wheel drive and a choice of six-speed manual or five-speed automatic gearboxes.
The engines from launch consist of a 2.0-litre petrol unit named i-VTEC and a 2.2-litre diesel engine called i-DTEC. The former has 153bhp and 192Nm of pulling power, emitting 173g/km of CO2 in four-wheel-drive configuration and 168g/km with just the front wheels doing all the work. It is also available with a five-speed automatic gearbox, in which case emitting 175g/km of CO2.
The 2.2-litre diesel engine is available with four-wheel-drive only, and emits 149g/km of CO2 with the manual gearbox and 174g/km with the automatic.
From Autumn 2013 Honda's latest-generation 1.6-litre i-DTEC diesel engine has been slotted into the CR-V, bolstering the car's appeal to fleet drivers as it drives CO2 emissions down below the 120g/km mark. Available in two-wheel drive form only, the engine is combined with a manual gearbox and generates 118bhp and 300Nm of pulling power.
More efficient
Honda has done a lot of work on the CR-V's aerodynamic profile in an effort to boost efficiency. It has also installed a stop/start system to keep CO2 emissions down and fuel economy up.
Furthermore, there's an 'Econ' button on the dash. When pressed, this adjusts the engine mapping for a lazier yet more efficient drive. It also changes the sensitivity of the air conditioning so it doesn't have to work as hard, and tells the driver when they are driving economically via a logo on the dash, which becomes greener the greener they're driving.