Hyundai i20 review
Current Model
A straight-laced small car for those after function over form or fun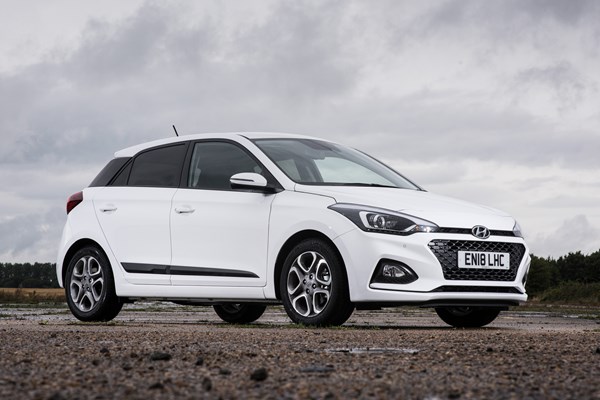 PROS
Comfortable ride
Decent 1.0-litre engine
Should prove reliable
Spacious inside and in boot
CONS
Not particularly entertaining
Some materials poor quality
Base spec lacks important safety tech
Hyundai's finance offering not the greatest
PROS
Comfortable ride
Decent 1.0-litre engine
Should prove reliable
Spacious inside and in boot
CONS
Not particularly entertaining
Some materials poor quality
Base spec lacks important safety tech
Hyundai's finance offering not the greatest
Hyundai i20 Hatchback rivals
Just like Aldi or Lidl, Hyundai has found itself moving from a left-field value-led offering to a genuine mainstream option, with quality products in recent years. Nowhere is this more evident than with its small cars – like the new Hyundai i20 hatchback here.
It has a serious job on its hands, though, because it aims to take the fight directly to the Ford Fiesta, Skoda Fabia and Vauxhall Corsa, along with many other cars of this size such as SEAT's Ibiza, the Peugeot 208, Renault Clio and even sister company Kia's Rio.
Wide engine range
From launch there were three petrol engines and two diesels to choose from, with either five- and six-speed manual gearboxes or a four-speed automatic to choose from. However, over the years it's been on sale the range has slimmed down somewhat, with a 1.0-litre T-GDi turbo petrol engine introduced in 2015 quickly becoming the only one worth considering in the line-up. Recognising this, Hyundai dropped diesel from the i20 range altogether in 2018.
Running costs are low with a few caveats: watch out for high insurance groups on some models and diesel engines doing low mileages can be costly to keep running due to extra maintenance.
Multiple trim choices
When introduced, entry to i20 ownership started at around £10,700 for the 1.2-litre (75hp) S model. All came well-equipped from the off, with six airbags, adjustable driver's seat, hill-start assist, height and reach adjustable steering column, daytime running lights, electric front windows and body coloured exterior details as standard.

The range was updated in 2016 and again in 2018, and the current trim structure features S, SE, Premium Nav and Premium SE Nav. All cars get decent levels of kit, such as a 7.0-inch touchscreen, but SE and up get crucial safety kit that could lower your running costs.
Hyundai i20 is easy to drive
This is no Ford Fiesta rival when it comes to on-road behaviour; it lacks the taut responses and upper-level of feedback offered by the Ford. But that's not what buyers in this segment most often desire, and the i20 is a comfortable, relaxing car to drive. It's damning it slightly with faint praise but this car feels entirely unremarkable on the move, thanks to light controls and soft supple suspension, but that's actually the mainstay of its appeal.
The whole ownership experience should back that feeling up too, thanks to Hyundai's standard five-year unlimited mileage warranty and fixed-price servicing costs also. As a value proposition it's hard to beat in this respect.
The cabin feels like it's constructed from quality materials while rivals should rightfully be worried about the amount of space on offer across the rear bench and in the boot behind.
Read on for the full Hyundai i20 review
Other Hyundai i20 models: