Range Rover Evoque long term review
Long-term test: Range Rover Evoque SD4 HSE Dynamic

Mileage

9,376
Real-world economy

33.7mpg, 70% of official

Official economy

48.7mpg
Joined Parkers

9 March 2018

Working out how good the Evoque is off-road

Long-term test: Range Rover Evoque SD4 HSE Dynamic

Mileage

9,376
Real-world economy

33.7mpg, 70% of official

Official economy

48.7mpg
Joined Parkers

9 March 2018

Working out how good the Evoque is off-road

---
Range Rover Evoque: The story so far…
We're spending time in the Evoque to see how the new Ingenium diesel performs in 240hp EU 6.2 form
---
Update 1: Welcome to the fleet
Grabbing the high-power diesel to test the high-spec Ingenium engine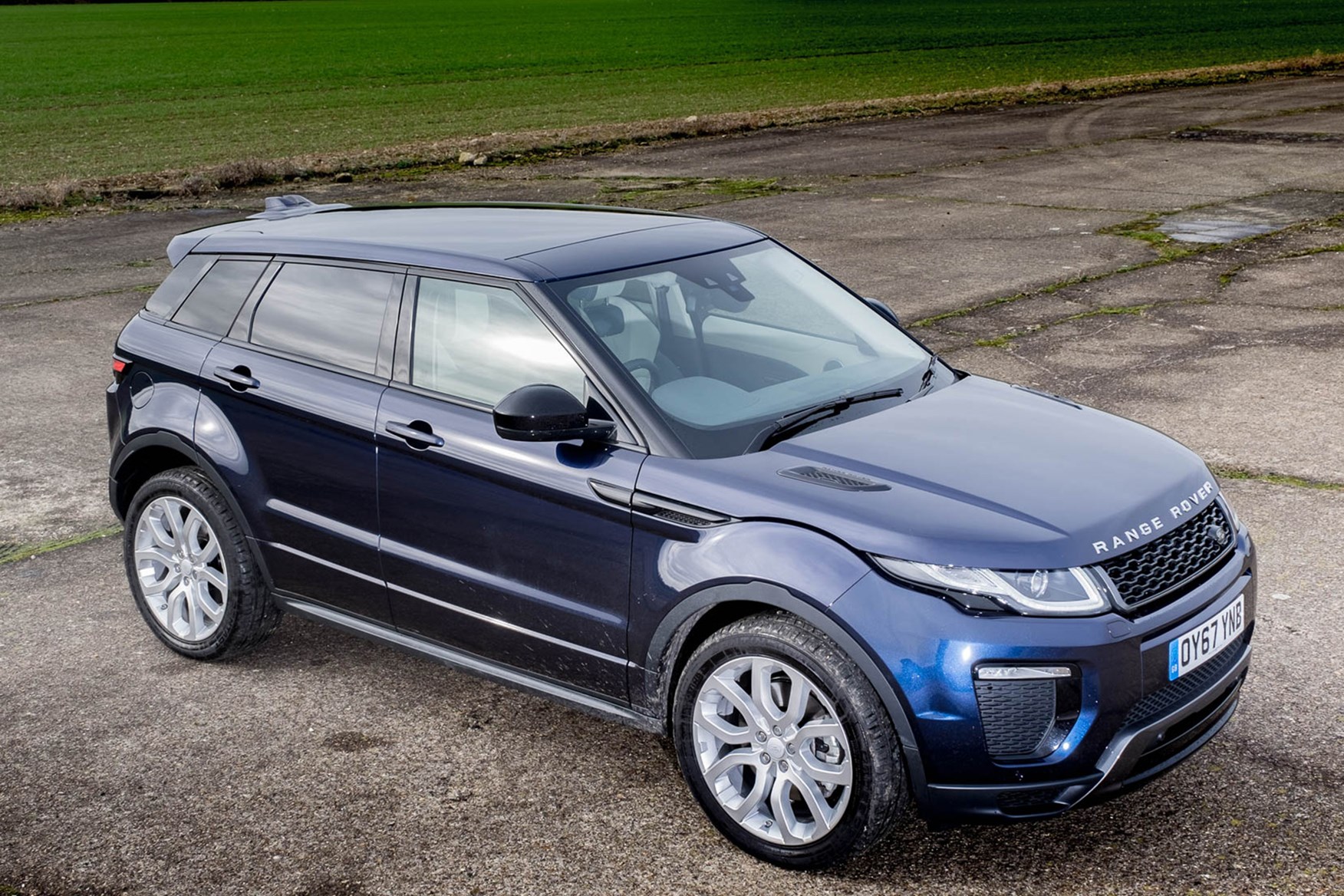 The Range Rover Evoque has been around since 2011. Think about that – this fresh-looking and still-successful car is seven years old. In today's car industry, that's an eternity – and yet, whenever you see an Evoque on the road, it's hard to think of it as a car that's in its twighlight years.
And why would that be? Put it down to being a great piece of design – it's aged well, and as long as you spec it in a muted colour and the right wheels, it's classy-looking as well as progressive.
But don't think that just it's getting on and still selling strongly, Land Rover isn't resting on its laurels – it's being constantly developed. And that's why we've picked up a new example for the Parkers long-term test fleet.
It arrived at just the right time – cold, snowy weather was enveloping the UK, and with its proven four-wheel drive capability proved reassuring.
What spec Evoque did we choose?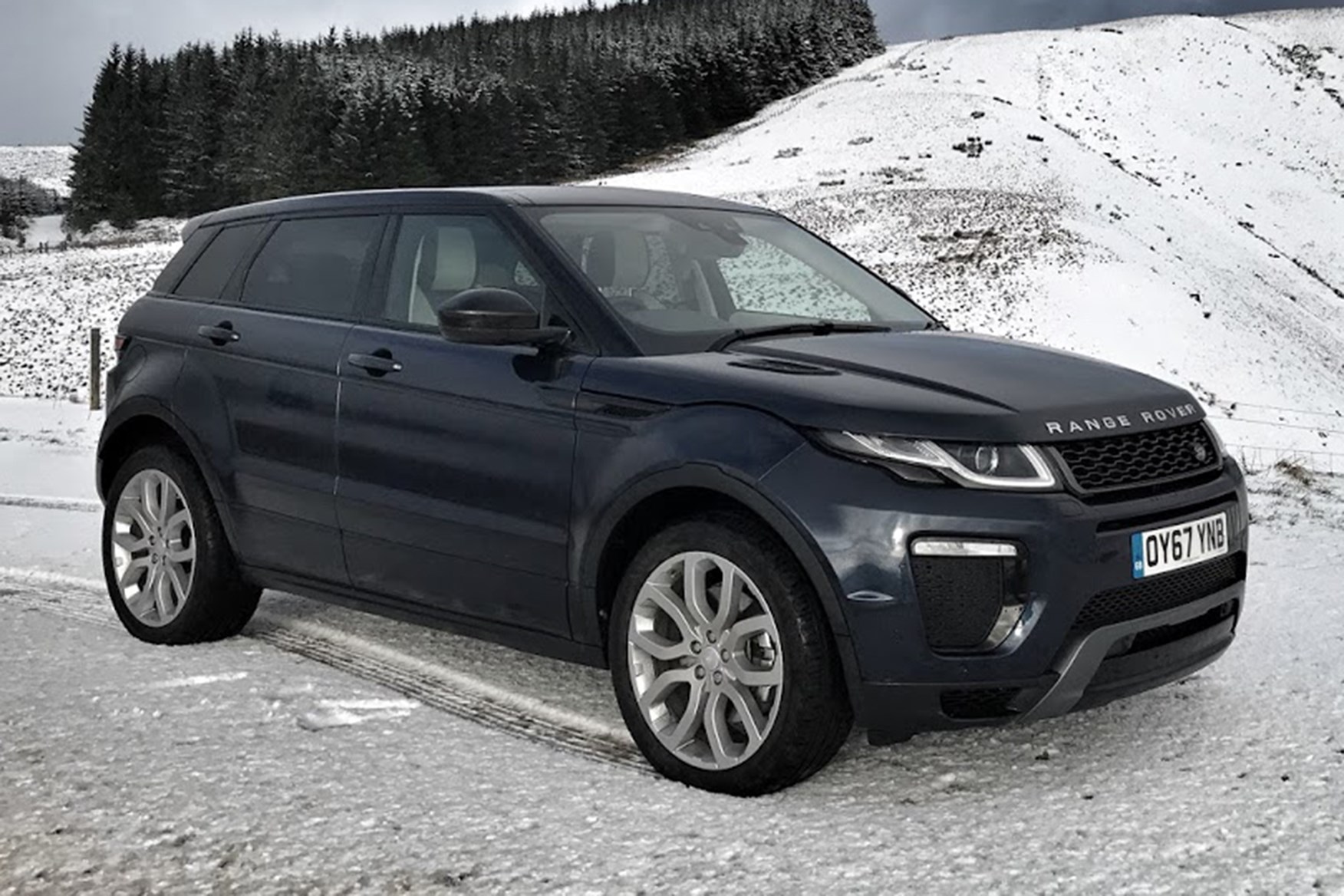 With the majority of Evoque sales in the UK being diesels, this was the no-brainer choice. But as it's replacing our much-loved Skoda Superb Sportline 280, mid-range punch and effortless performance were still a priority.
So, that had us tick the SD4 box on the configurator – 240hp should do very nicely indeed. It's a new derivative in the Ingenium engine range, so we're keen to see how it performs.
Range Rover Evoque: What you get for your money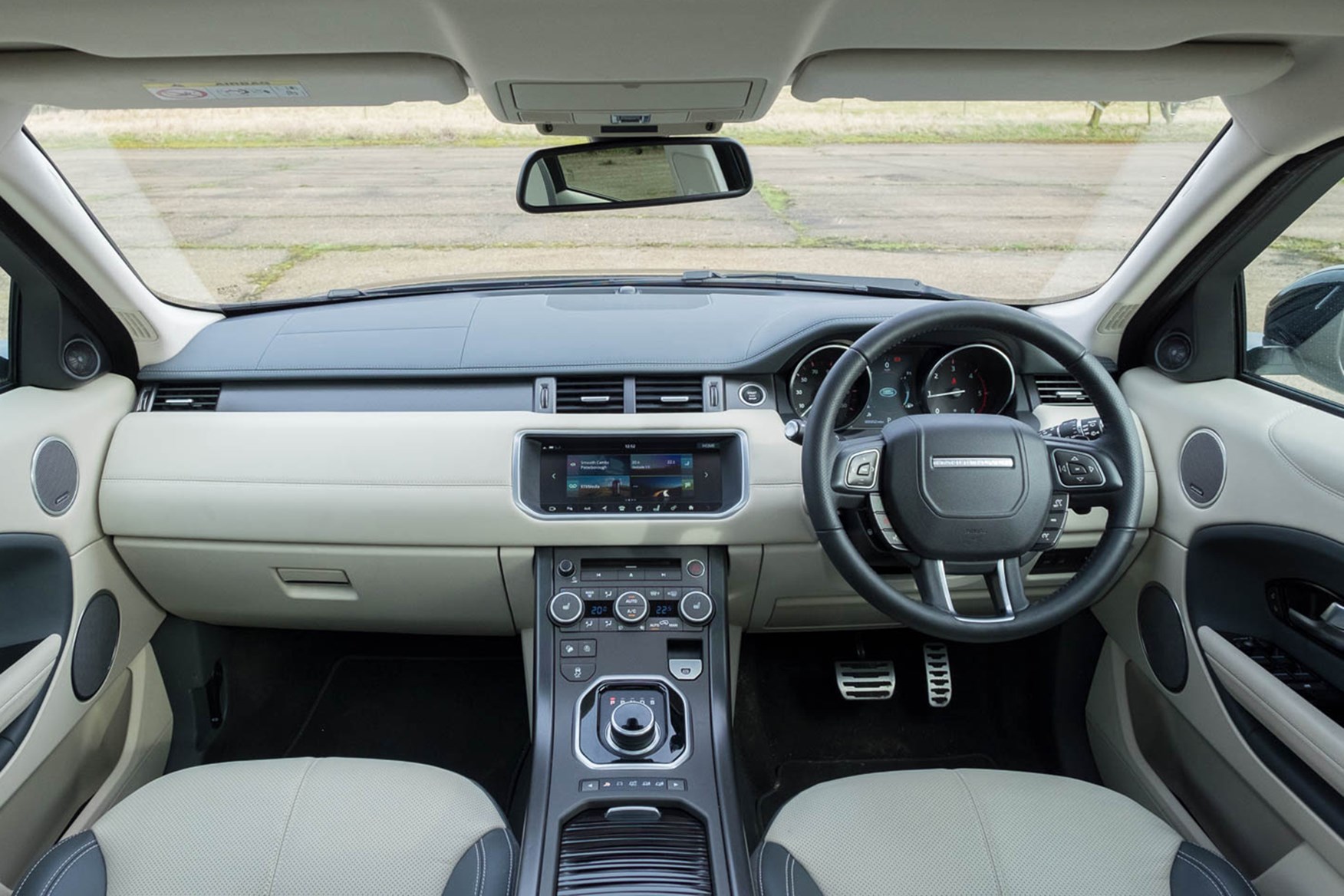 We've chosen the HSE Dynamic version, which isn't cheap, but doesn't need loading up with options. As standard, it comes with a comprehensive list of equipment, which you'd expect for the £48,250 it cost (at the time of going to press).
Xenon headlights with LED signature and power wash
Rain-sensing windscreen wipers
Auto-dimming interior rear view mirror
Front and Rear Parking Aid
Ambient Interior Lighting
20-inch five split-spoke 'Style 504' alloy wheels
Power fold, heated door mirrors with approach and puddle lights
Perforated Grained leather seats
Automatic High Beam Assist (AHBA)
Navigation
Heated windscreen and washer jets
Perforated Windsor leather steering wheel
Meridian Surround Sound System 380-watt
Panoramic roof
All Terrain Progress Control (ATPC)
We did tick a couple of options, which really should add to the dynamic appeal of the Evoque:
Magnetic damping systems (£850)
Extended Leather Upgrade (£1,060)
Heated Steering Wheel (£200)
Privacy Glass (£375)
That makes this Evoque a £50,000 car, and that's a lot of dosh. Is it worth the money, and despite getting on in years, does the continual development that Land Rover has put into this car – including that new engine – make it a desirable car to run in the long term?
It's still a big seller for Land Rover, so you clearly already know the answer to that question – but the proof of the pudding is in the eating, and all that.
Stay tuned for updates!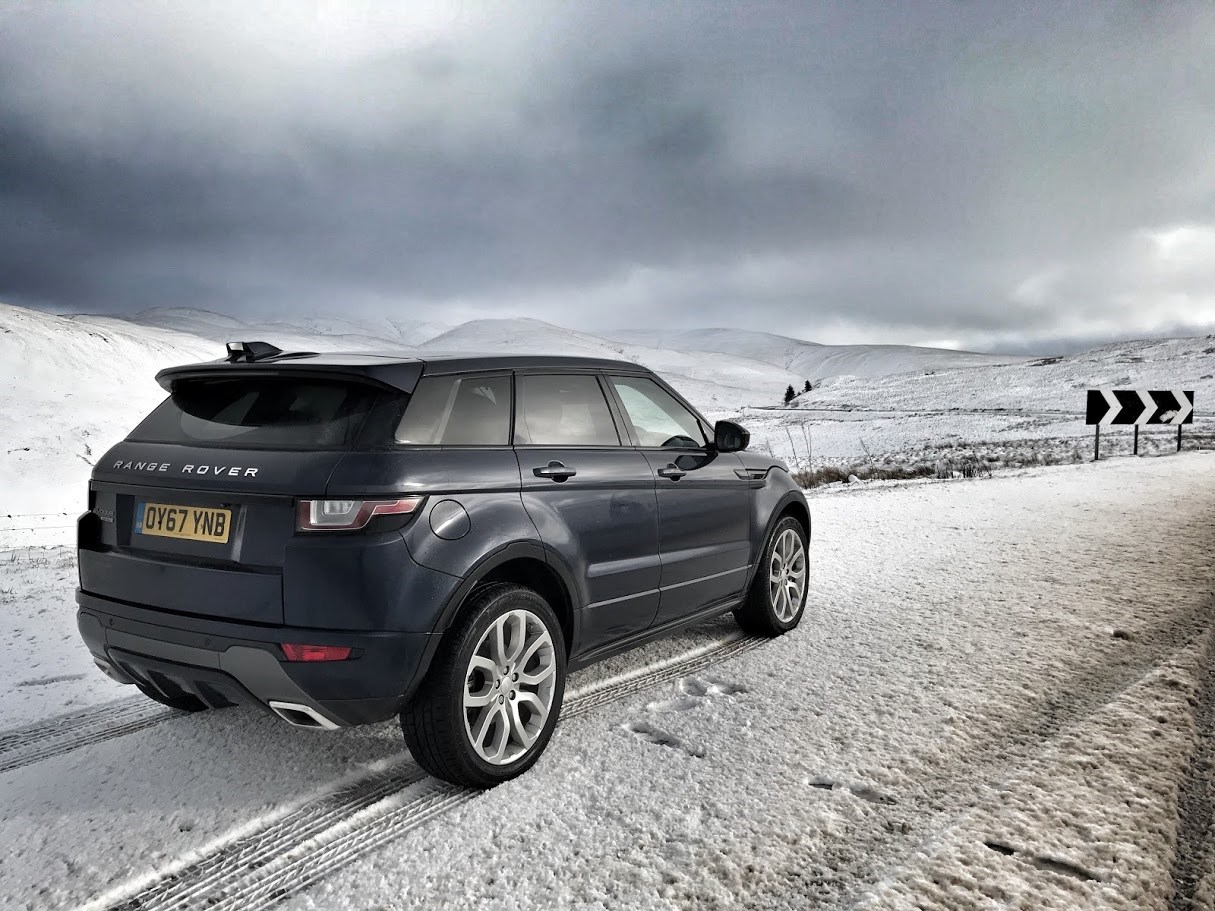 By Keith Adams
---
Update 2: Evoque's approach to winning hearts and minds
How the Range Rover swallows the family whole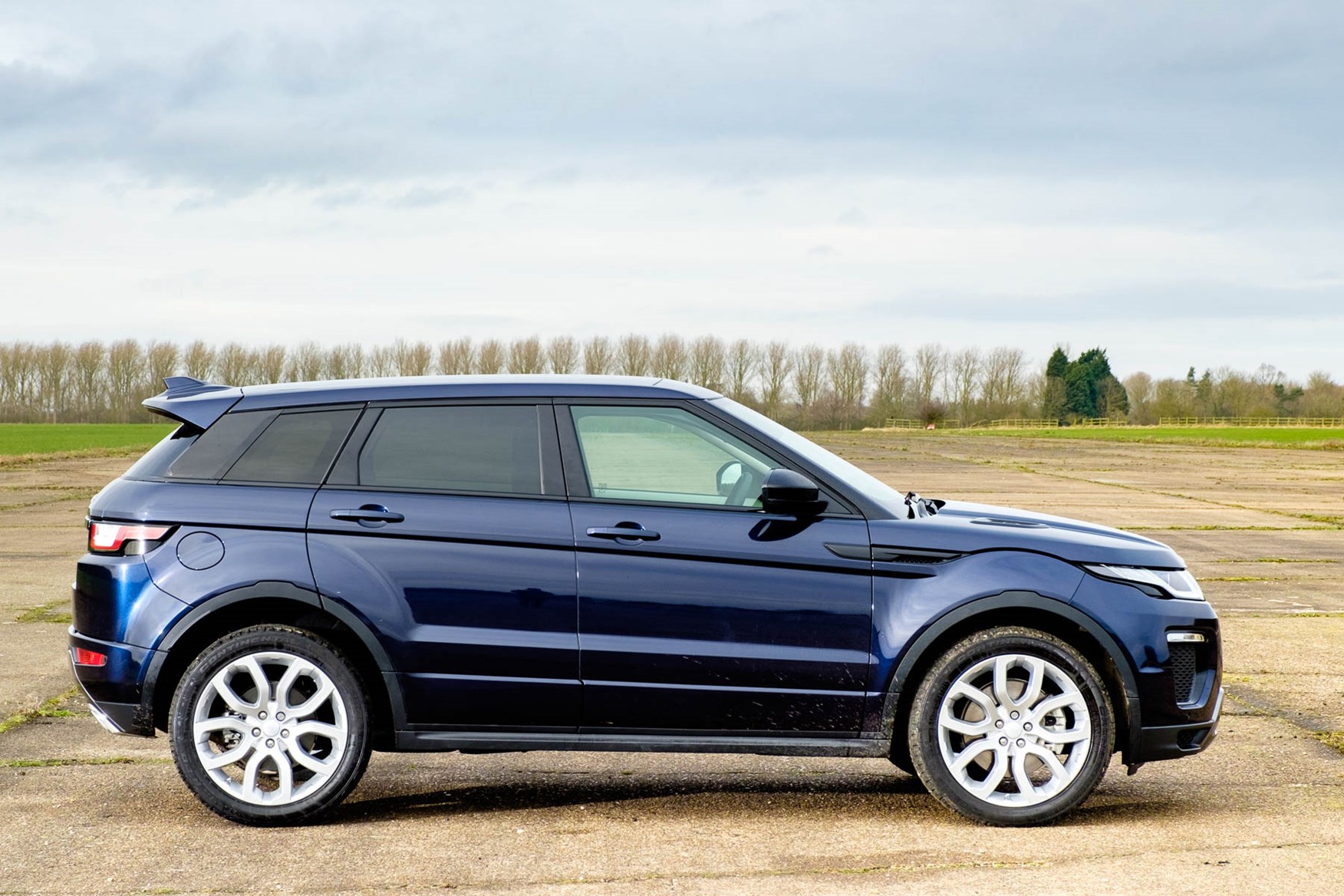 As a rule, we're objective and rational at Parkers – with hundreds of cars to assess for a wide range of users, it's the only way to be fair. Nevertheless, we're also all human, and have preferences and prejudices like anyone else.
I have to confess to having been unconvinced by the popularity of crossovers and SUVs as family cars, personally. Heavier, larger than necessary, often equipped with engines and gearboxes unsuited to the off-road implications of the styling and size of vehicle, it's not a judgement based on 'that car is too big for you'.
it's more that it's always been my preference that for space and comfort, a nice estate or MPV is great. When driving in a town or city, then a small car is delightful – and for going off-road, I'll get something with strong axles, a chassis, and locking differentials.
Great looks to get over the SUV thing
The Range Rover Evoque has been incredibly popular, too, so it draws attention to this weirdly compromised design trend.
Almost comically styled, with wide arches and slit-like rear window and headlights, the instant conclusion that it's more style than substance is almost inevitable.
Needless to say, when offered the use of Keith's long-termer for a couple of weekends, all of these negative associations were ready to be validated.
A small SUV: It's not as inefficient as it appears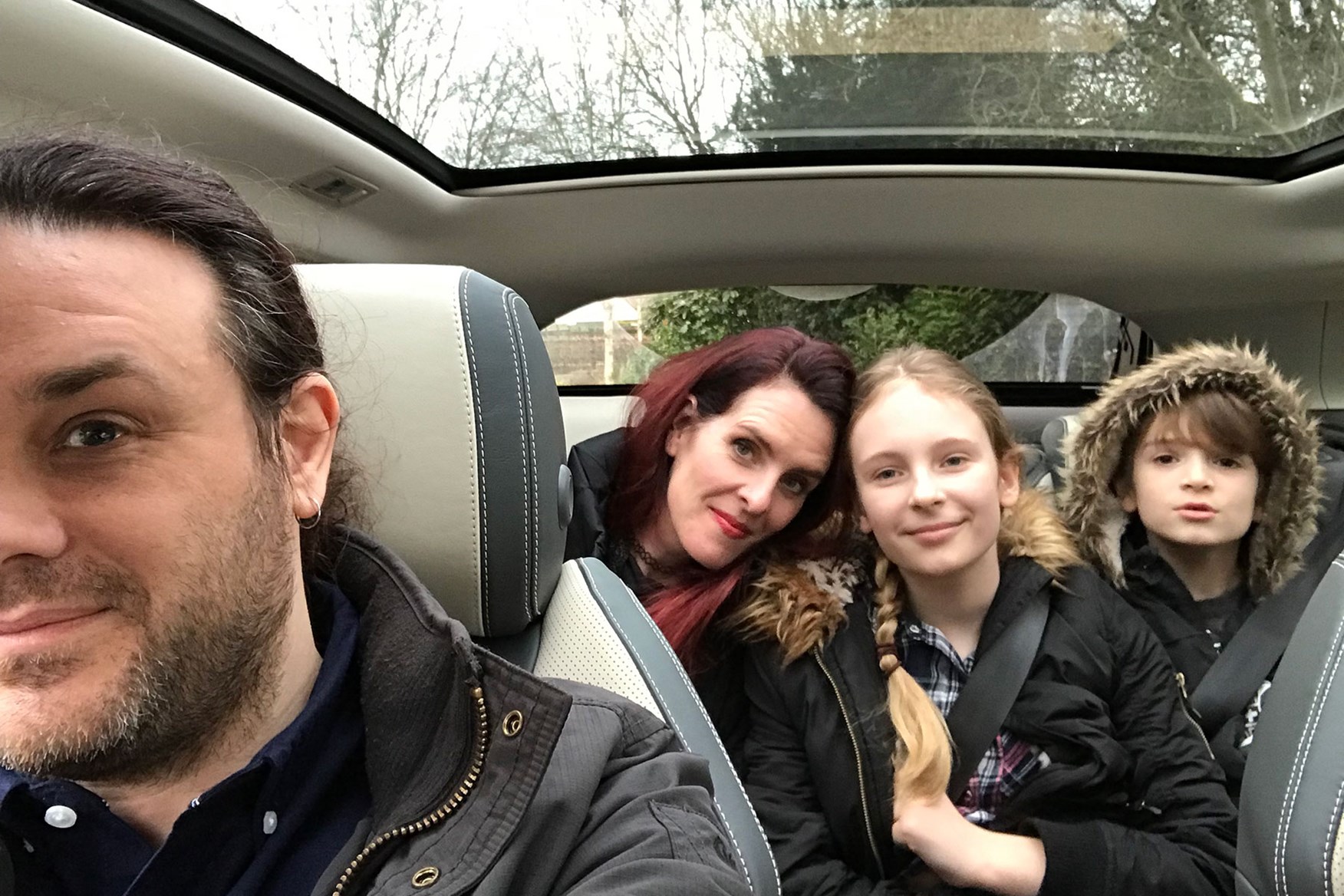 Acquitting itself well as a road car for the usual commute - though as one of the highest specifications of Evoque available this shouldn't be a surprise – my personal opinion on cars for practicality got a much-deserved smackdown when my friend Anna's family became part of the equation.
An outing with her seven year old son and 10 year old daughter revealed just how much paraphernalia the typical family car has to cope with, and my super-practical, go-anywhere Fiat Fullback pickup has nowhere covered to put it!
Yes – I could add a hardtop, but then why wouldn't I have bought a proper 4x4 SUV in the first place? I'd have to take it off to carry car parts and other things you wouldn't want to share a passenger compartment with – and no, Small hyperactive children do not fit that latter category…
Stylish family load-lugger
Instead, the Range Rover Evoque took on the role for family transport (above) – a duty that countless (over half a million have been sold worldwide) examples take on day in, day out.
The bootspace swallowed three weekend cases, two Pokemon, two sets of bedding and two tubs of Lego, apparently enough to cope with a weekend with a grandparent in Suffolk.
The rear seats fit booster seats and children with surprisingly generous legroom, and for the first time in years (my own kids being long grown up, having endured a childhood in Citroen CXs, a Porsche 924S and a smallish Fiat) I had a long car journey with easily bored children to consider.
Deceptive body design of the Evoque
The cleverness of the Evoque isn't entirely apparent from outside, so if – like me – you'd formed opinions based on following that imposing, squat rear view down Britain's motorways and through cities, it comes as a real surprise to find you can see out of it from behind the wheel.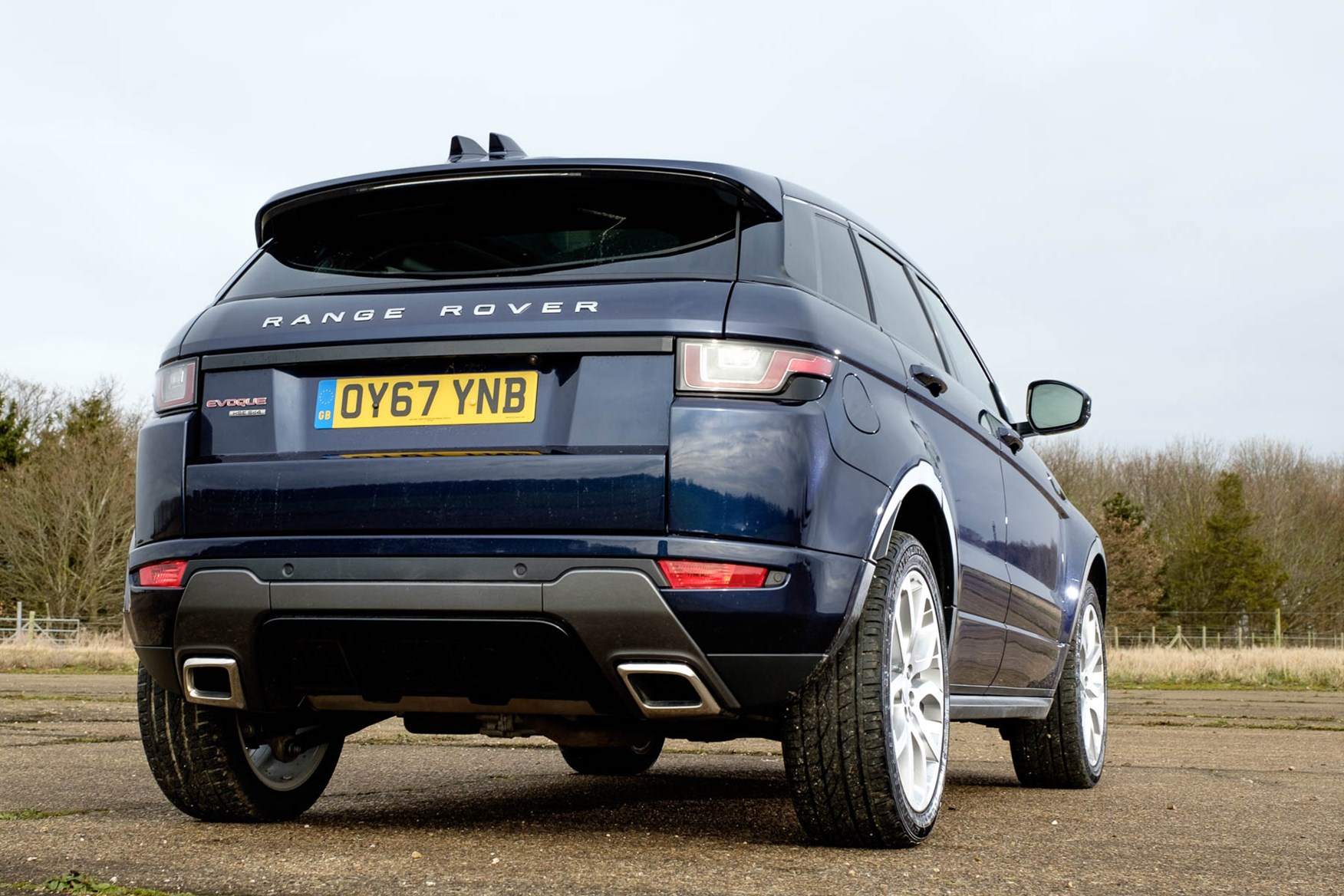 A lot of family hatchbacks and SUVs have widened the C-pillar – the one between the rear door and back window – to the point where it is a significant blind spot. Not the Evoque, where a surprisingly generous window lets a great deal of light in for that tapering roof.
Better yet, the rear view mirror is incredibly well positioned, giving a very clear view of vehicles and obstructions behind the car.
Looking forward, the A-pillars are cleverly tapered to minimise obstruction and guide light in. As the dashboard falls away from the windscreen in an elegant slope, and in our car the pale leather trim and large panoramic roof enhance the feeling of space and light further, the world inside an Evoque feels entirely different to the squat, robust exterior design.
Throughout there are little visual tricks and classic touches that either look great in isolation, or evoke – sorry – Jaguar and Land Rover models of the past. It's clever, it's appealing, and it works very well.
What will divide opinion is the well-presented sat-nav and media system, which we'll come back to after more experience with it.
We're all going on a Suffolk holiday
Anna's father lives on the Suffolk/Norfolk border, near the eclectic architecture and characters of Diss. Adding to the journey, a short detour to Chelmsford was necessary, thus inflicting the delights of the M11 on the Evoque and those who travelled within.
Despite a near four-hour stint and an ill-advised fuel stop at Birchanger Services (oft mentioned on traffic alerts, having visited it's easy to understand why) the kids were comfortable and relaxed in the back of the smallest Range Rover.
Refinement of the Ingenium diesel is in some ways, preferable to the only other Evoque I've driven – the high performance Si4 290 petrol. For the most part, the automatic gearbox is completely unobtrusive until slowing/crawling around 15-19mph, where the gearing and torque results in a rather abrupt, jolting shift no matter how delicately the pedal is pressed.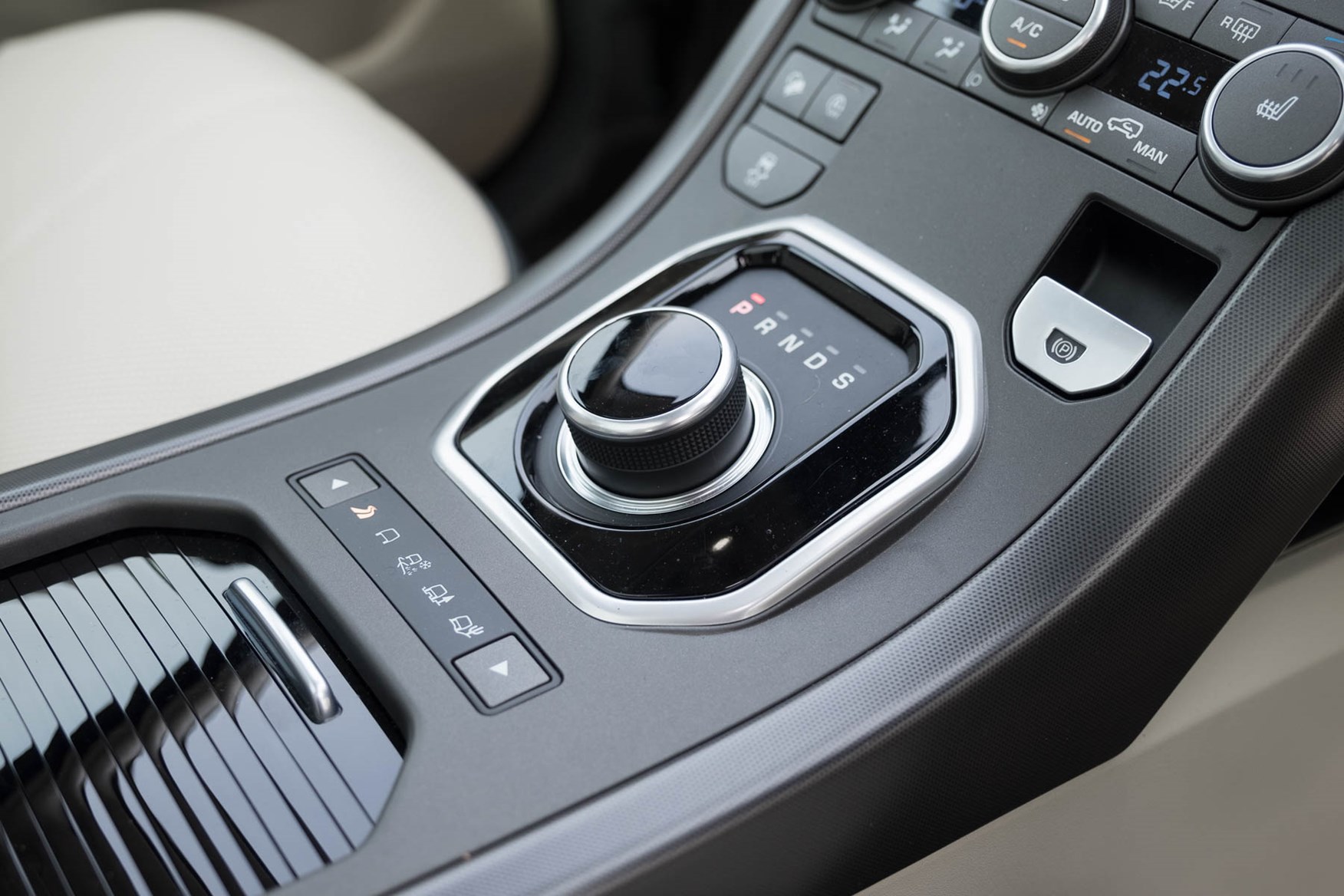 What really struck me though, was the peaceful atmosphere of the drive. Fully-laden the slightly jittery low-speed ride of the Evoque is tamed, and the kids were able to converse without shouting, even with music on.
Driving them home at dusk, Jack's request that the panoramic roof be closed was met with the slow, gentle brushing sound of the blind shutting out the moonlight, and like a blanket, the Range Rover felt secure, warm and safe.
This, I suspect, is what the hundreds of thousands of Evoque owners really value – not the rock climbing potential alluded to, or the badge prestige. And I get it.
---
Update 3: Winter's blast fails to cool the Evoque's appeal
Off-road ability cuts it in the snow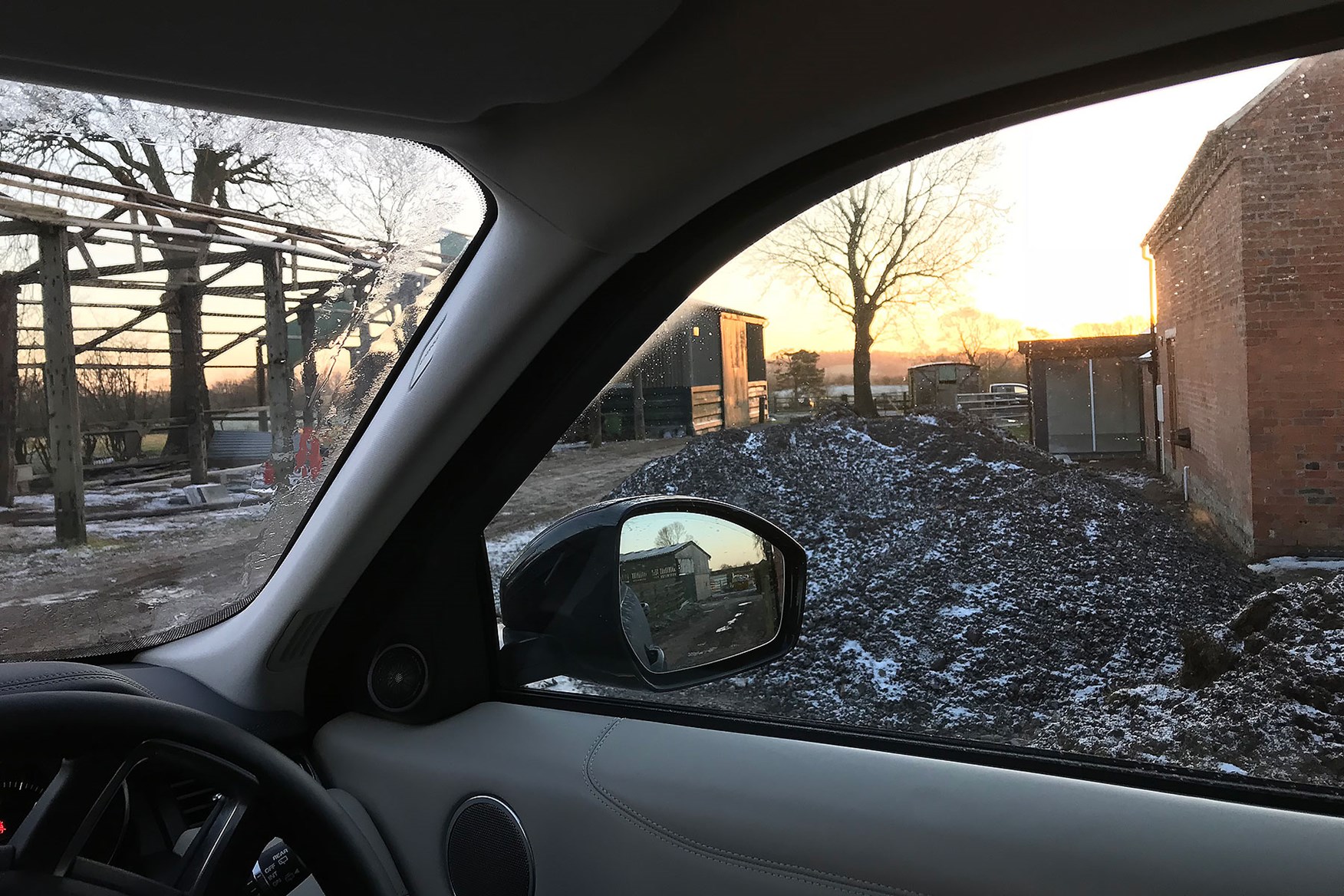 I don't care what the weatherman says… but unfortunately if the weatherman says it's snowing, no matter how well equipped you are the British road network is likely to grind to a halt. We'd already had one period of snow where the Range Rover Evoque had tackled the usual couple of inches of frozen water and subsequent slush without fuss; this would be rather different.
Some serious snow fall, thanks to the aptly named 'Beast from the East' proved challenging. Everyone on the Parkers team made efforts to get into work safely and succeeded, but as the peak risk period offered by the Met Office passed without incident, we gazed out of Media House's panoramic windows at clear skies and wondered what the fuss was about.
Then the snow began to fall… and fall… and fall. Within minutes the azure skies were a flurry of white powder against a grey background, and weather alert sounds pinged across the office phones.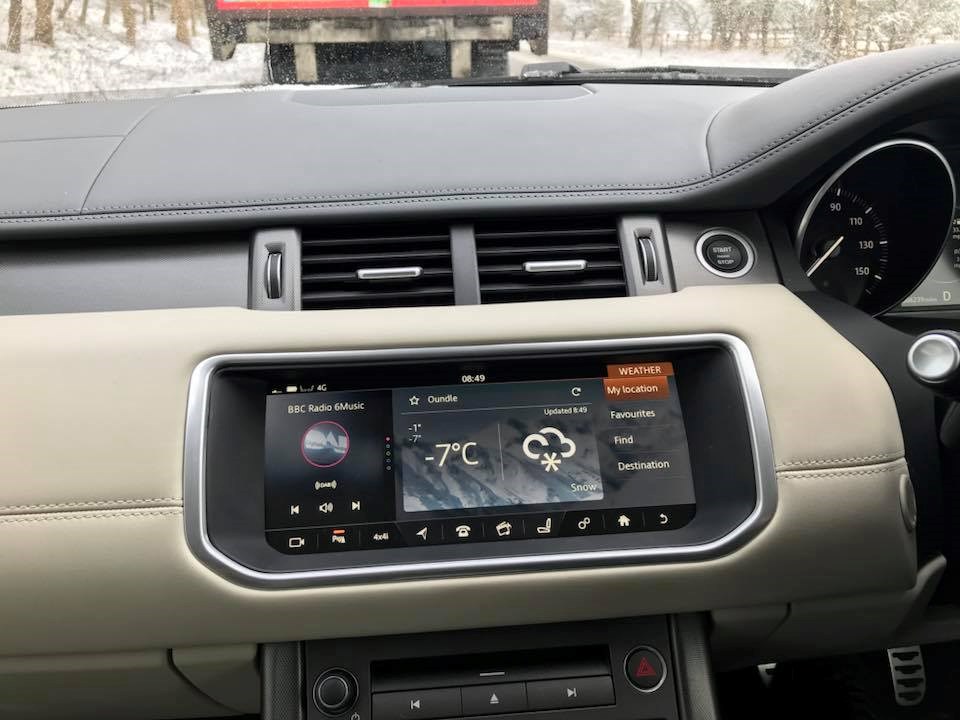 Keith opted for the Bentley Bentayga – a car that copes with the traffic and stress in equally impressive measures – and I was fortunate enough to have the Evoque again. Rather than the usual route of the A605 and A14 which was thoroughly red on the sat-nav, the little Range Rover took to the Leicestershire hills and tackled the A47.
It just takes one unprepared driver
Most of the route was handled in a slow, stress-free manner by everyone sharing the road. Secure grip and paddleshifters for engine braking – plus the sophisticated drive mode for snow that optimises traction control and shift points accordingly – made the run home no more stressful than a rainy day.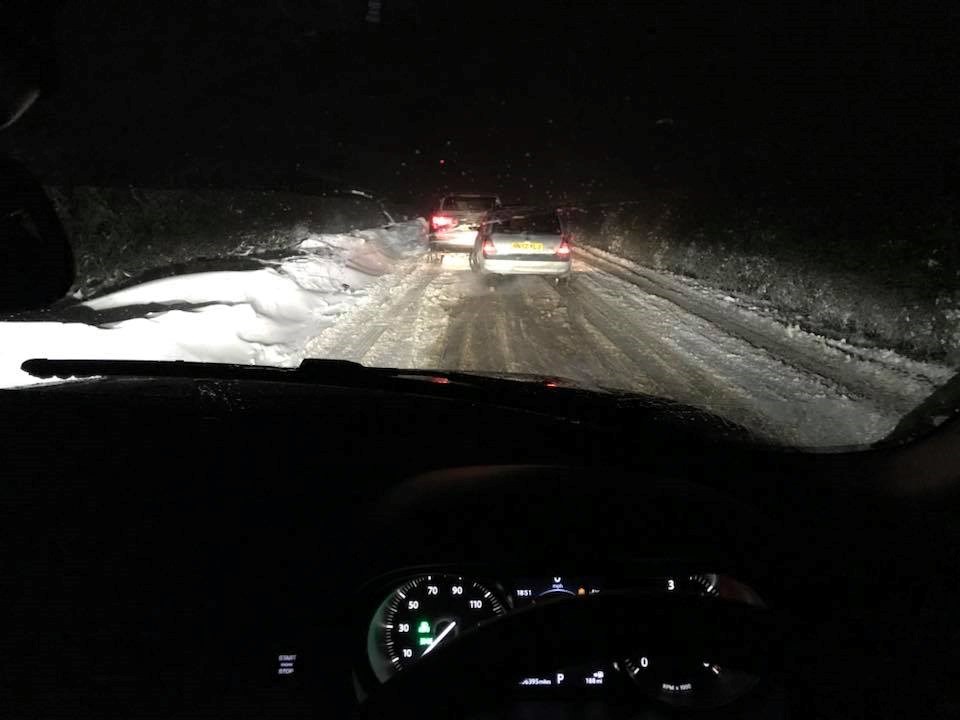 It all changed as the altitude rose and route got further west. Crosswinds blew six, seven-foot high drifts, occasionally marked by drivers caught out biting chunks out of the pristine snow and scribing swirling flourishes in the white covering of the road.
Their signatures generally told of happy endings, though the morning would reveal the occasional hedgerow hatchback to remind us of those less fortunate.
Little known outside of the A47's manic rush of traffic, the village of Tugby took a pivotal role in the life of hundreds, if not thousands of drivers that evening however.
Coping with the Beast From The East
The Evoque and I had enjoyed almost 20 minutes of smooth, 35-40mph progress with soothing low RPM, high-gear (radio off, to listen for changes in traction or road surface) across almost unbroken snow, and as we followed the slow drop into the village, a blinding chain of headlights shone.
At their front, a lone BMW slithered and swung, an indecisive pendulum surrounded by people trying to shove and push it into submission like Neaderthals battling a mammoth (historical accuracy notwithstanding, of course).
There was nothing we could do to add to their assistance, so instead we carried on the mile or so uphill, counting the cars slithering frantically towards the one in front, on high alert for any sudden change in direction of the oncoming traffic.
The roads less travelled are equally busy
Aided by the luxury of traction and security of a modern, well maintained car, the country roads into the hills were the natural choice – away from the default route of commuters.
They were also the natural choice of all the other local drivers as well, and farmers with tractors aided white vans up and down difficult slopes, roads cut out of drifts becoming more common than actual roads.
By the time I got home – almost three hours to cover 48 miles – even the Evoque's charms were failing to soothe. Which probably accounts for a spectacular misjudgement of my own driveway…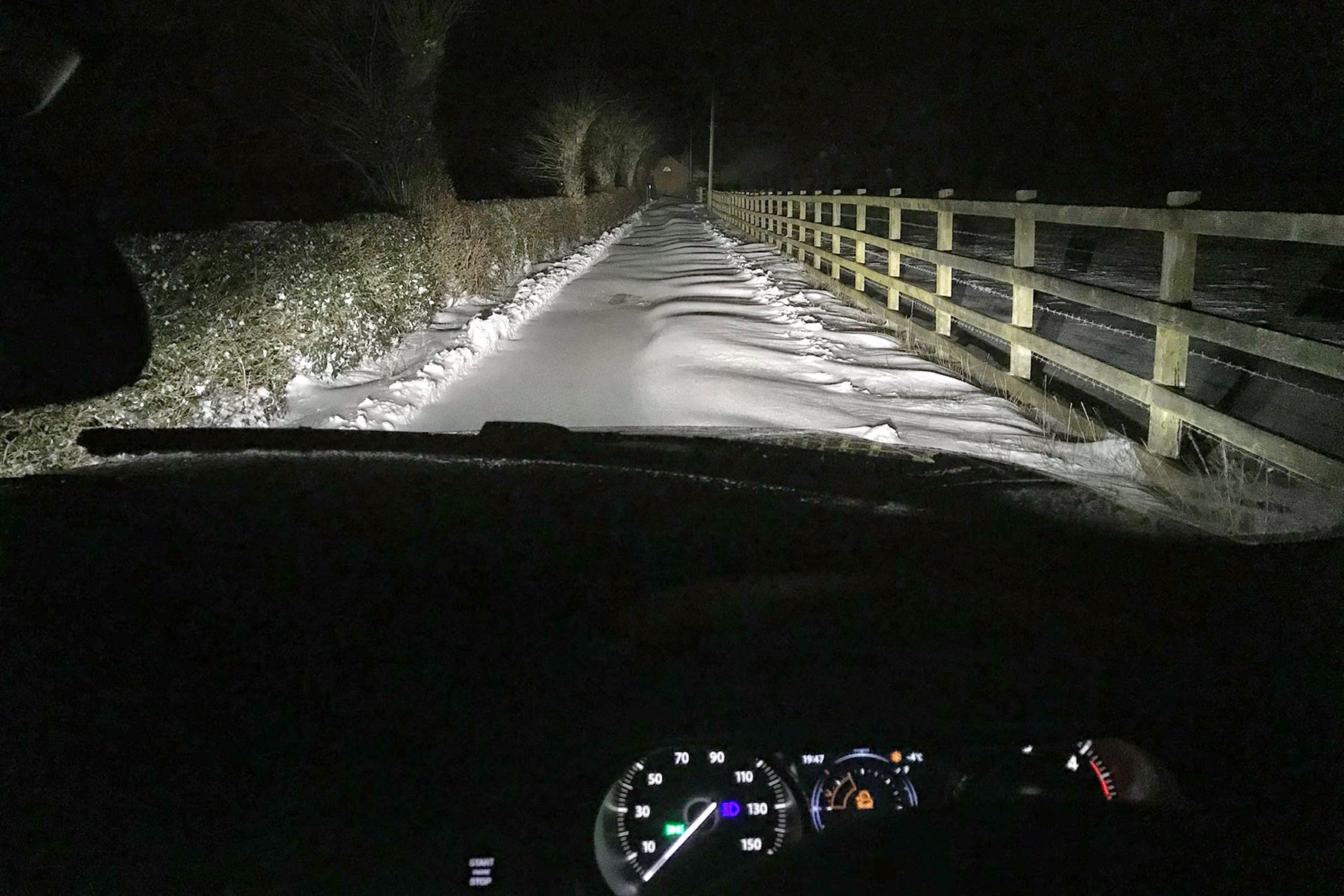 Deceptively deep snow catches out the driver - not the Evoque
What looked like a light covering of snow between the barely-lit fenceposts greeted our arrival home. Squat and determined, the Evoque climbed slowly up the initial slope and boldly progressed along the narrow path. Snow crunching beneath the wheels… and then, we stopped.
Bound front, left and right, the Range Rover's front end had discovered the amazing ability of water to exist as a solid. No damage, it had just become a gentle but firm hand pushing the car's nose below the numberplate and saying 'no further'.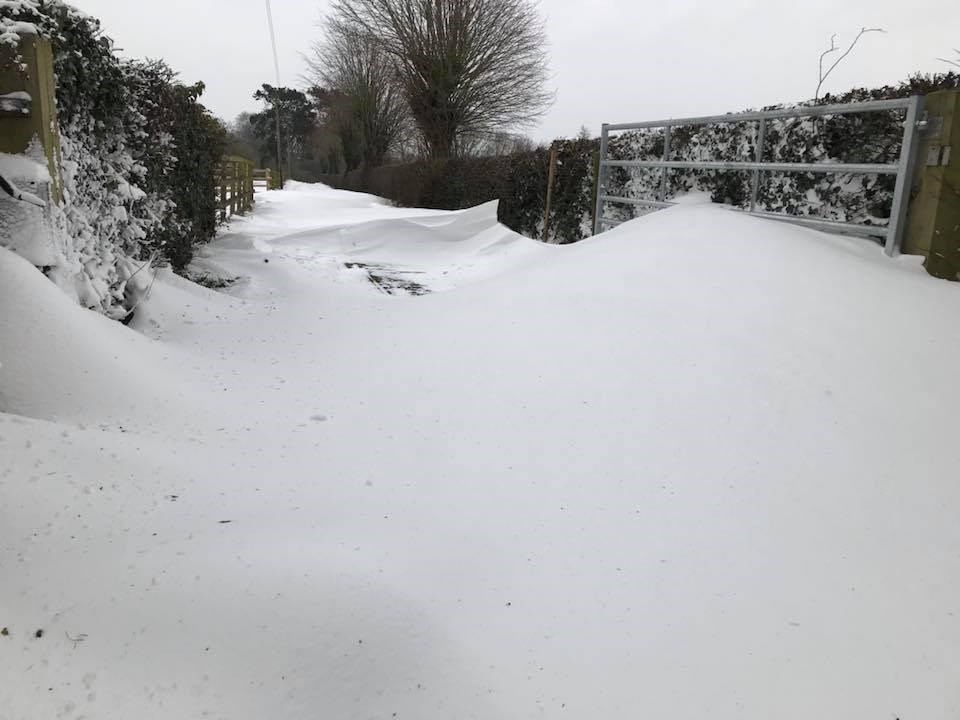 Reversing, though, it still would not move. In 'sand' mode, the wheels spun. Even in low-traction, launch mode, it felt like it must be on sheet ice on all four wheels.
I got out, and stepped across into a snow drift above-knee height - the optical illusion of the gentle slope shattered. Underneath, the Evoque had pushed all the snow beneath and made a little ramp that lifted the wheels clear of grip.
Stuck – but down to driver error. Oops!
Shovel deployed, it was driven back down to the roadside, and parked under the trees. Morning light revealed empty fields, but the hedge-and-fence lined drive had funnelled all the blown snow into drifts about three feet high consistently.
Soon cleared with a Maintou and hay loader, it revealed how suddenly and geographically the road conditions can change. Roads that were passable by any sensible hatch defeated not only the Evoque – my Fiat Fullback was equally trapped by the built up snow.
Meanwhile in all the usual challenging conditions, the Evoque's clever all-wheel drive system proved incredibly good. It's even possible to observe the power distribution on the infotainment screen.
---
Update 4: Evoque vs Volvo XC40
Is the new kid on the block capable of beating the old master?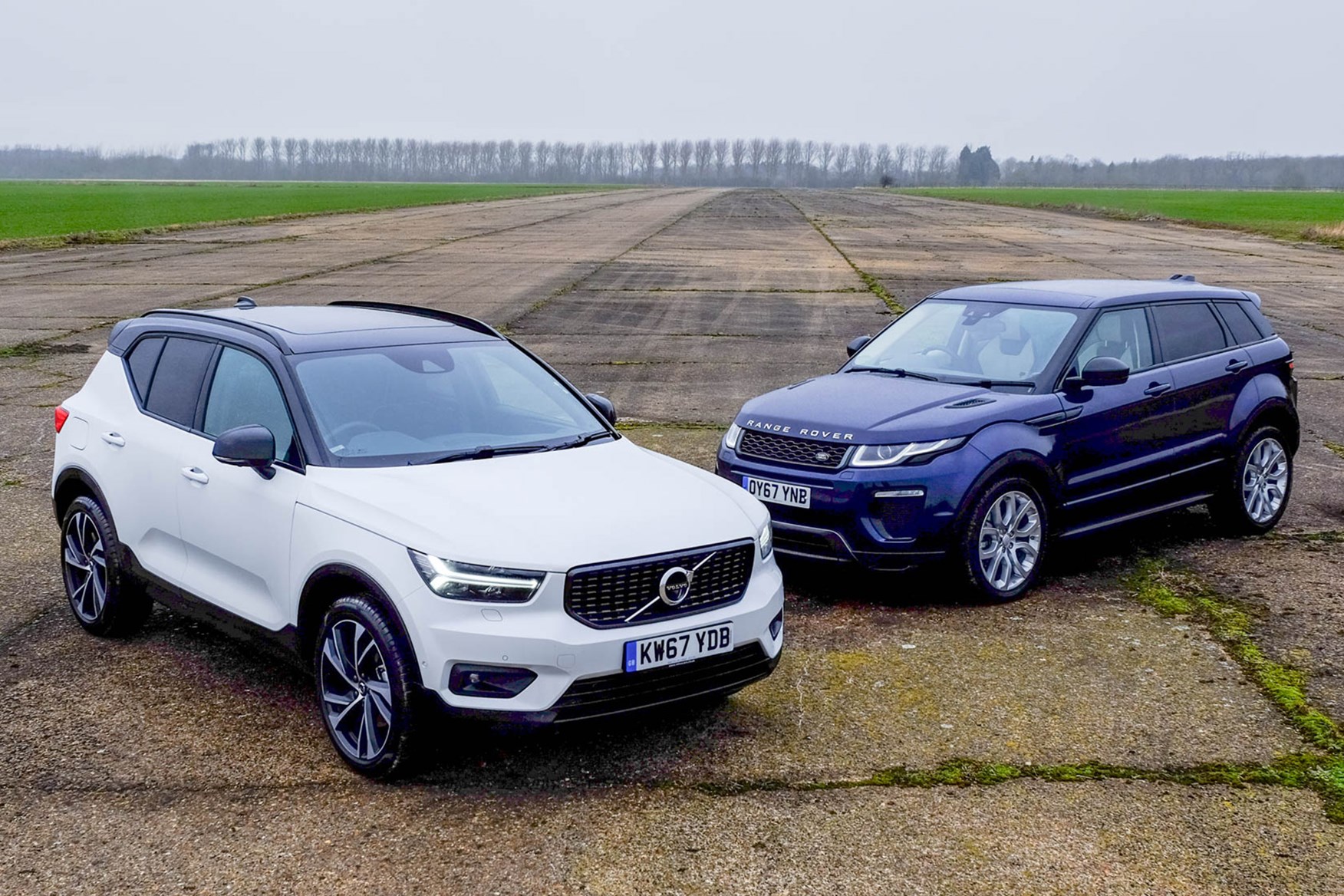 I've found myself wrestling the Range Rover Evoque's keys from my colleagues on more than one occasion in the past few weeks. I don't know why I find this susprising, because after spending time and miles with this posh-roader from Halewood, its uncanny ability to make the driver feel special, and reward them with a capable drive has been a very satisfying experience.
Considering it's been around for seven years, that's an impressive performance from the Evoque. And never was this more obvious when we had a Volvo XC40 in the office, which I took time to twin-test against my Evoque. Unlike our recent group test, which compared the Evoque with the DS 7 Crossback, BMW X2 and (another) Volvo XC40, this was a chance for me to have a more personal perspective.
After all, there are lots of satisfied Evoque owners out there ready to change, and this young pretender from the Swedish brand has certainly been turning heads. I won't spoil the result of the group test, but needless to say that my own views as a long-standing Range Rover Evoque driver differ slightly from the wider Parkers team.
Volvo XC40: comfortable, cool and interesting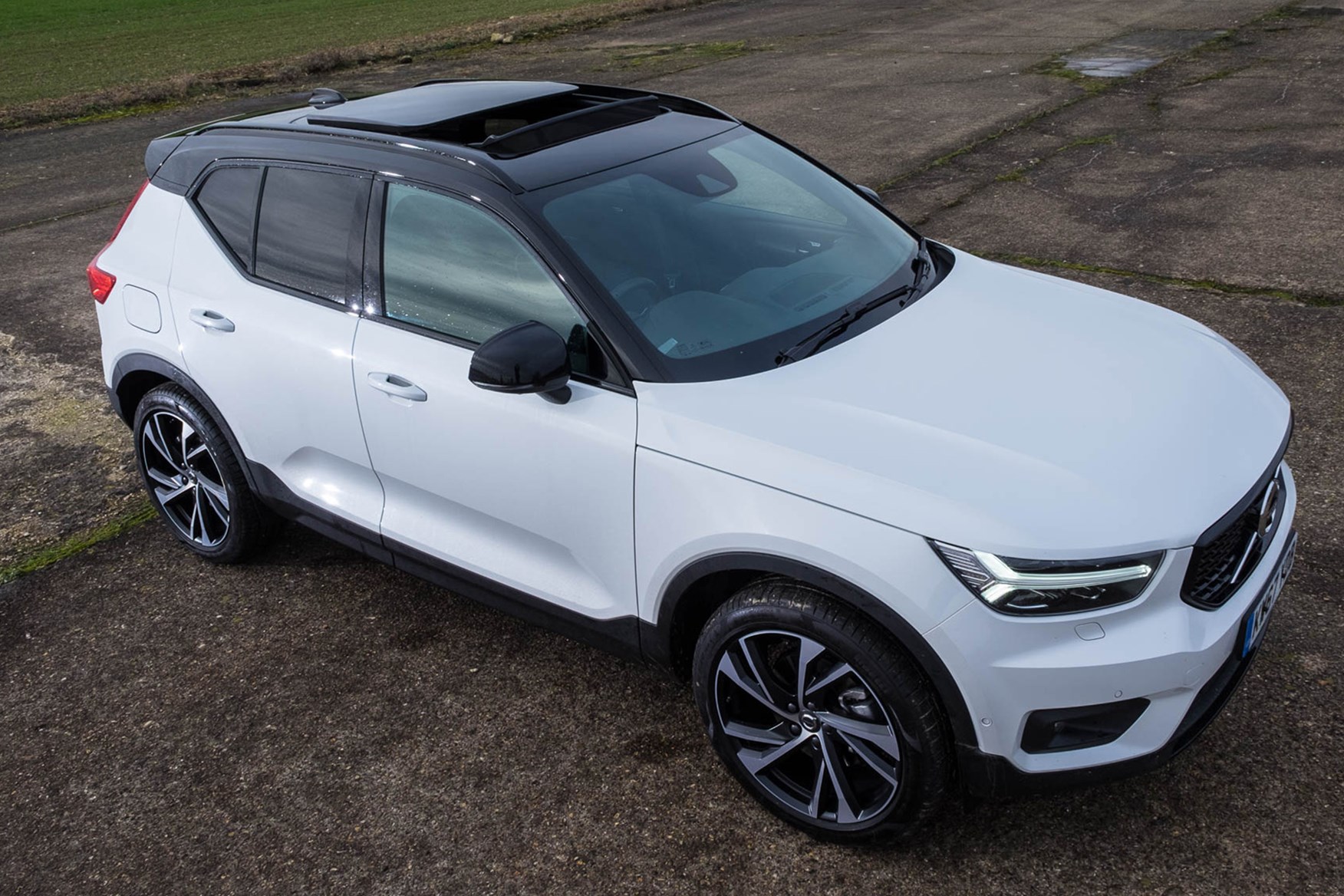 The XC40 is very much a car of the moment. It's been crowned the European Car of The Year for 2018, and car reviewers are throwing all manner of superlatives in its direction. Rather like the Evoque at launch, the XC40 is a real attention-grabber. It's less handsome than the XC60, but it's striking without being contrived.
On the road, the XC40 is good in places, and average in others. The ride is smooth enough and the steering is detatched giving it a distinctly unsporting air. I really don't mind that, as SUVs pretending to be hot hatches are always going to be a compromise. So the form guide says.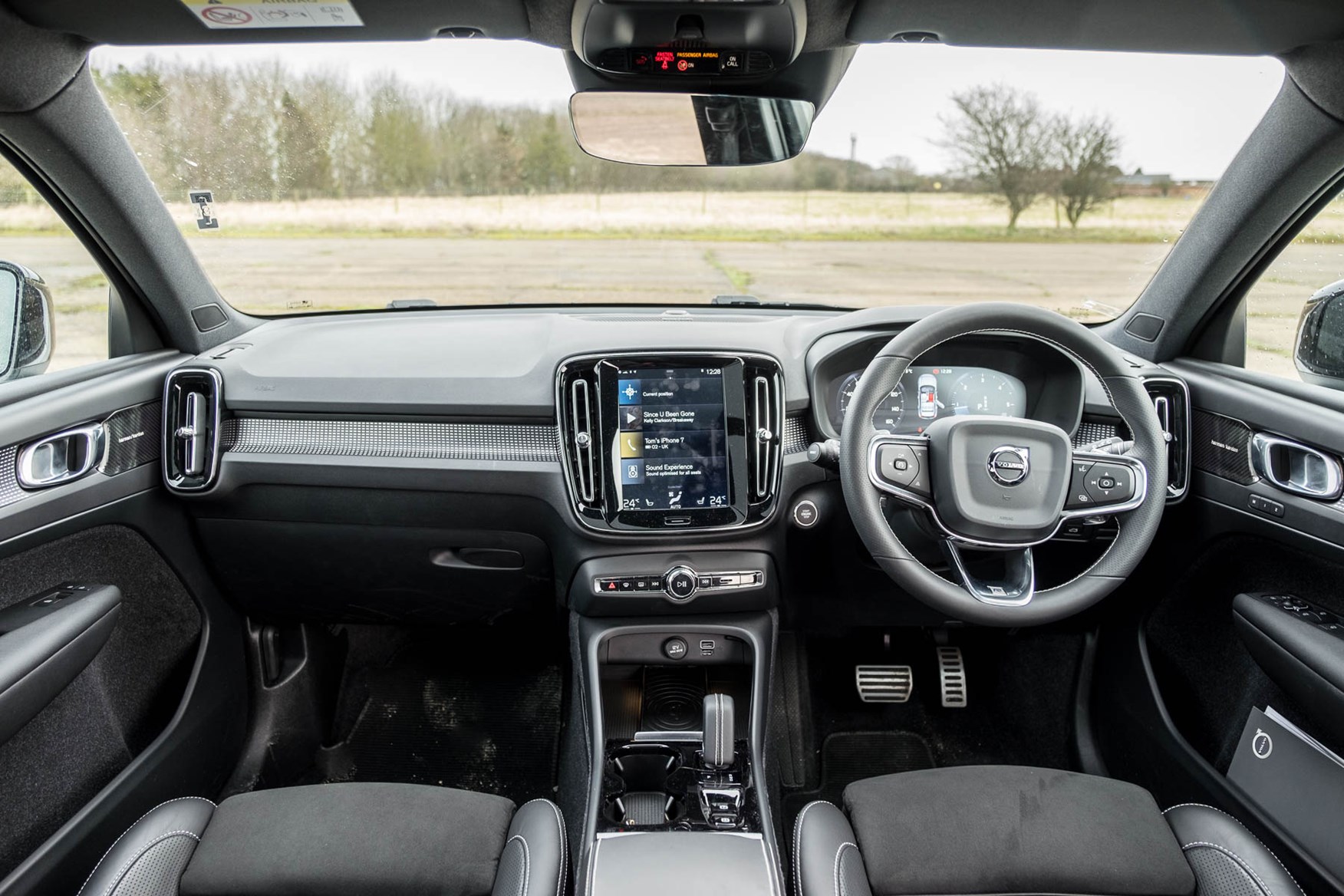 Inside, the XC40 is a nice place to spend time. The seats are supportive, the design cohesive, and there's an effortless air of Scandi-cool. The portrait-format infortainment system is responsive and easy to use, with a particularly effective voice activation system. The sound system on the Harman-Kardon-optioned model is also a welcome addition, marred only by its cumbersome user interface.
Range Rover Evoque: stylish, mature and very capable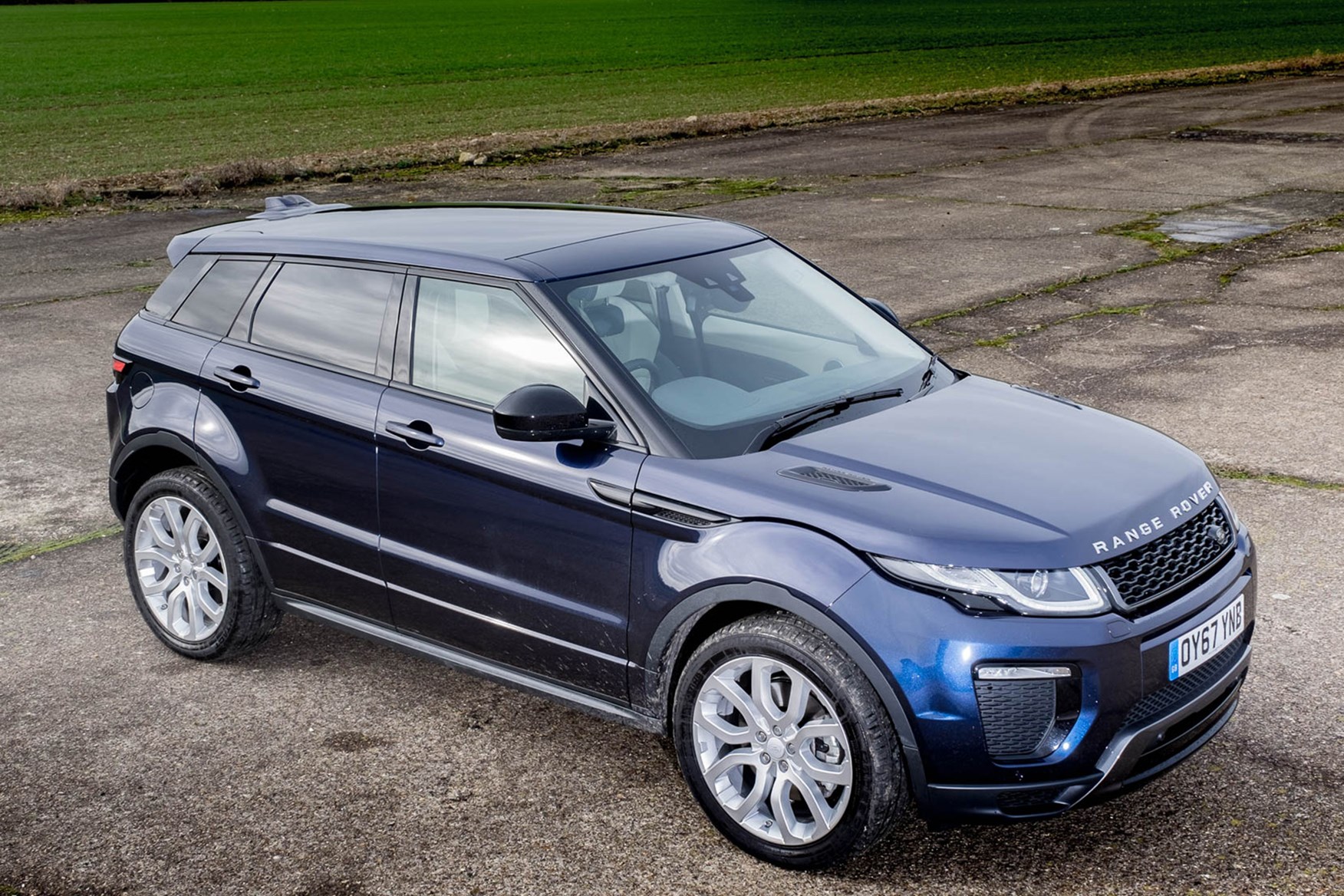 The Evoque is always going to be in pole position given the many happy miles I've spent getting to know it. But after an extended drive of the XC40, some aspects of the Evoque are thrown into sharp relief – mainly around its controls and infotainment, which both look good, feel premium, but aren't intuitive to use. And why, Land Rover, is there no voice control for the sat-nav?
On the road, though, the Evoque is an absolute cracker. It's pacy, thanks to that 240hp diesel engine, and once rolling, has better engine refinement (or insulation) than the Volvo. Steering is much sharper and full of feel, while the ride and handling balance is really rather impressive thanks to its magnetic dampers. Overall, it's still a good steer, and it's easy to see why so many people buy them.
Inside, the Evoque wipes the floor with the XC40, at least in terms of style and ambiance. Its seats are well-shaped and supportive, and the dashboard looks and feels spot on, with the soft-touch leather particularly worthy of praise. The way the centre console splits the roll-shaped dash is a great piece of design, too.
Which would I choose?
As I said at the top, I'm in the position facing many potential XC40 owners: happy with my Evoque. But is Land Rover casting a nervous eye in the direction of this car? The short answer should be yes.
If the comparison was between comparatively-priced cars, I suspect the Volvo would have had better body control and a nicer interior, turning around all the advantages of my HSE Lux.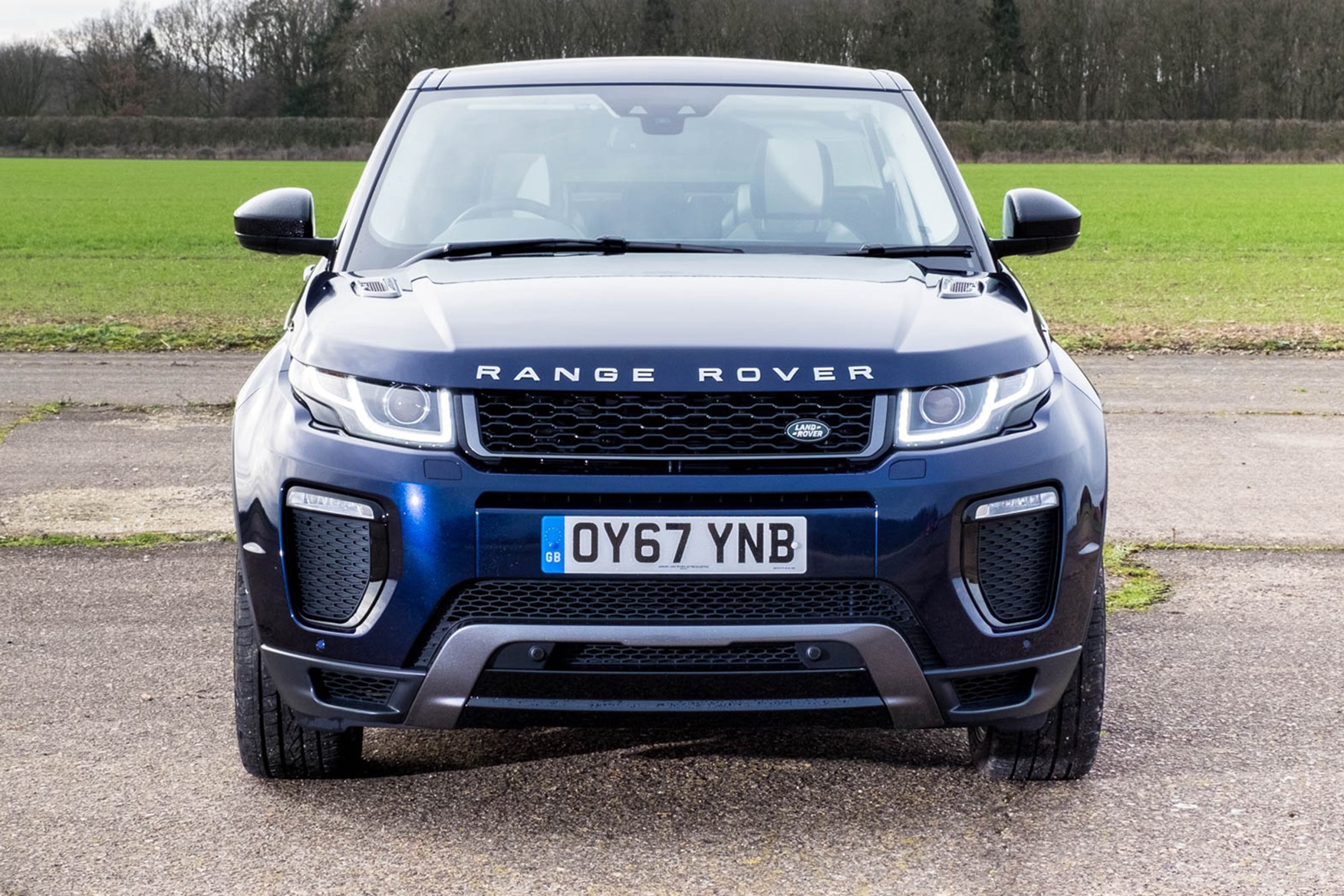 But in this instance, back-to-back, the Range Rover's more assured style and classier interior would swing it for me. I'm aware that the Evoque is colour, trim and wheel sensitive, and my sober-suited model has class that more lairy Evoques lack.
What this Volvo does do supremely well, though, is show up the Evoque's weakenesses – infotainment, small boot, cramped rear and a lack of stowage space – which I hope will all be swept away when the new Evoque goes on sale in 2019.
By Keith Adams
---

Update 5: The trans-European express
Dashing to the Geneva show was a walk in the park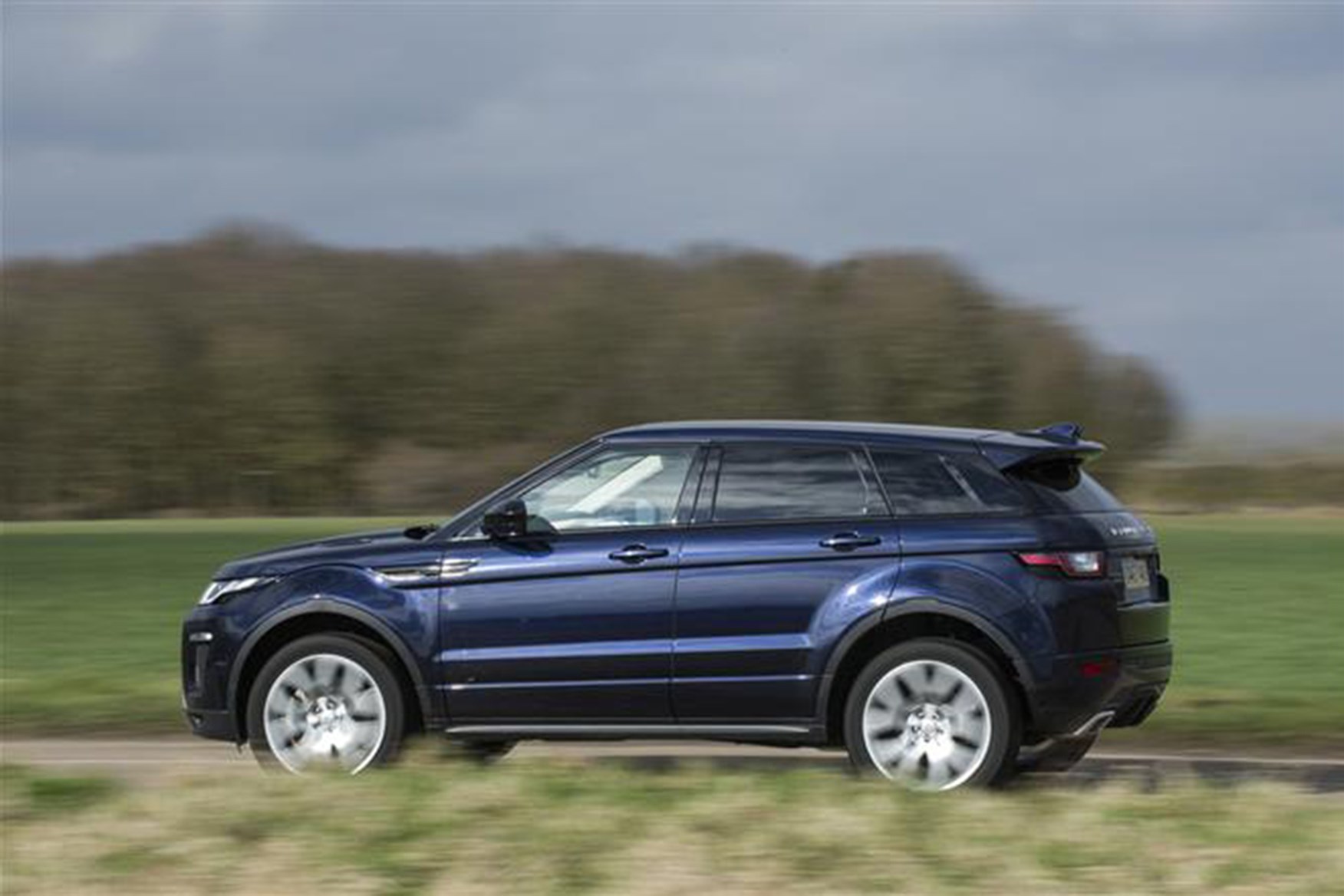 Every year, I make the annual pilgrimage to the Geneva motor show. But unlike most of my colleagues and friends, I prefer to take a little extra time and drive there and back – rather than cramming into some awful shuttle flight from Heathrow at ridiculous o'clock for the day-in-day-out drag.
As a consequence, every year, I end up ploughing through France, getting to know every nook and cranny of my car on the country's spookily-empty autoroutes. For 2018, my car for the journey is the Range Rover Evoque, which I'd been keen to take on a proper European drive (rather than its usual quick return to the Lake District on what feels like every weekend).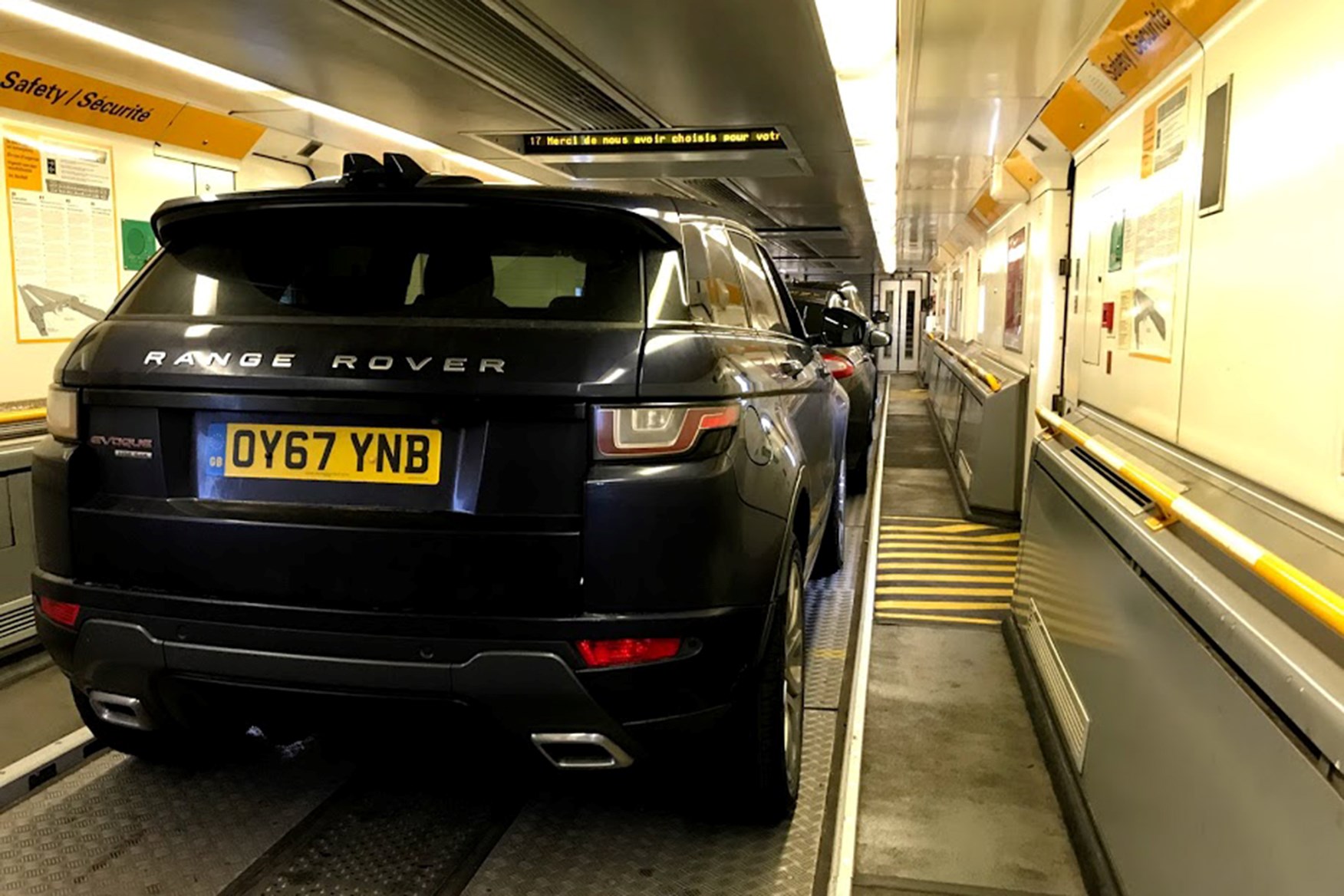 And that's why I find myself sitting on the rear seat of the Evoque, laptop on knees, heading for France on the Eurotunnel. I'm writing copy for the CAR website in anticipation of seeing the exciting new Range Rover SV Coupe after a 7.00am start from home. This really does seem like the perfect way to travel, and the perfect car in which to do so.
Ticking off the autoroute miles – easy, but too many stops
Off the tunnel and on to the autoroute, and the sat-nav tells me there's 510 miles to go. Glancing down at the fuel gauge, I'm surprised to see that there's a third of a tank left – not good considering I'd brimmed it when I left home, about 170 miles ago. I didn't think I'd been going that quickly. Ah, well. A quick fill up, and I'd be on my way again.
Under way – again – it's easy to settle in to the Evoque. The seats are impressively supportive, the view forward is commanding, and the 240hp diesel engine is ticking over quietly at less than 2,000rpm at the French speed limit of 81mph.
Considering its off-road DNA, the Evoque makes a surprisingly restful motorway cruiser. Playing with the infotainment system, I decide that it's less annoying than it was when I first picked up the Evoque.
Okay, so you can't control the sat-nav by voice (a schoolboy error by JLR, I reckon), but the music function works well, not missing any selection, when searching one of my 32GB memory sticks crammed full of my esoteric (sorry, rubbish) selection of tunes. Impressive reproduction, too, from the Meridian-branded sound system. Into my stride? Not really...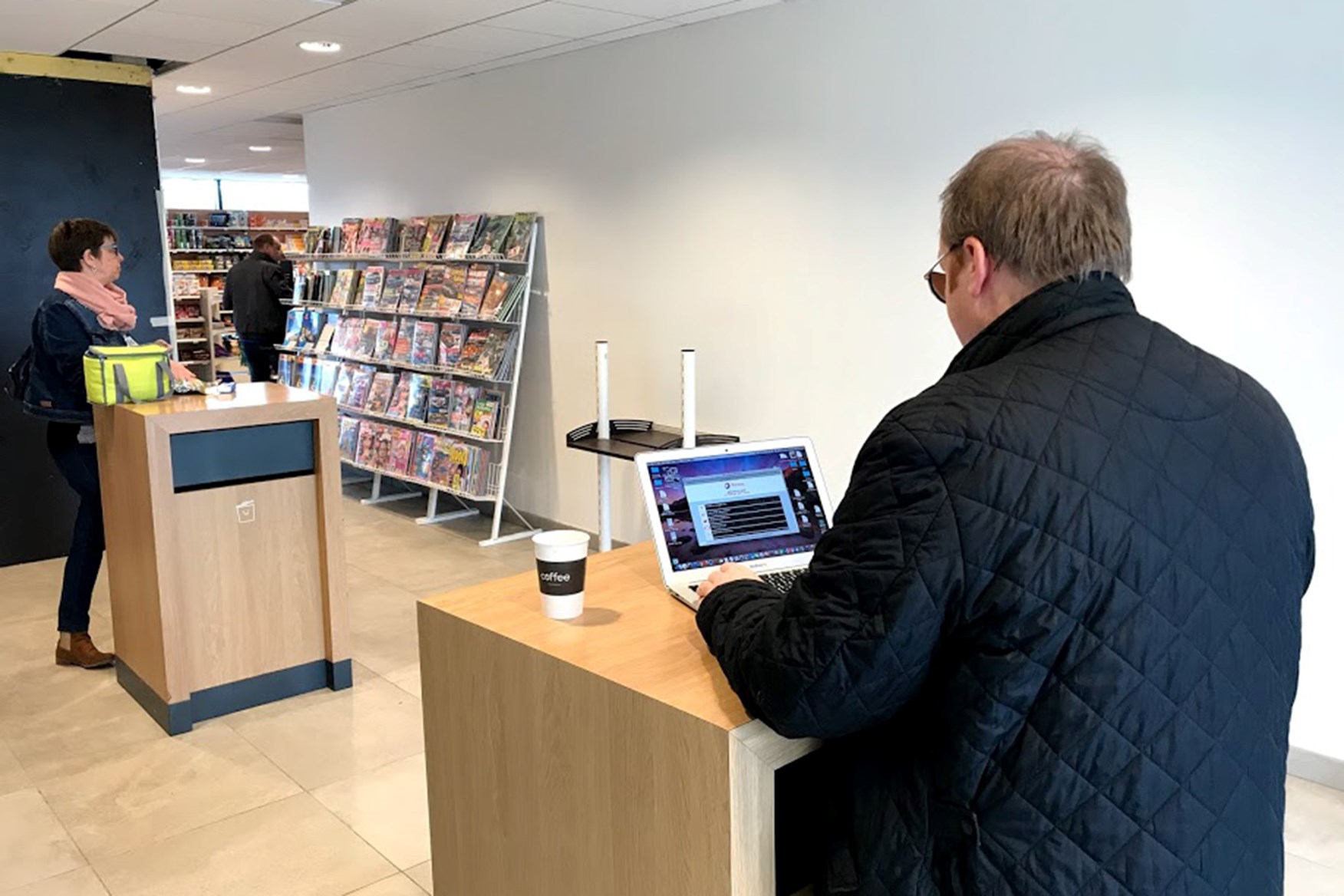 Somewhere between Marne and Aube, three hours and some 220 miles in, and the Range Rover is beginning to look like it needs a refill. This is a shame, because the Evoque's long legs mean that I'm not really ready to stop yet. The traffic is light, I'm enjoying the music, and all is well with the world.
Still, on the positive side, it does mean I can take a rest, log-in to my work, and make sure all's fine back at base. I miss the days when being on the road meant being out of contact. The refill isn't expensive – the Evoque has a small tank – and the fuel consumption is running at 32mpg.
With around 300 miles to go, I'm still fresh, enjoying the light traffic, and the feeling that I'm really getting under the skin of the Evoque. As night starts to fall, the auto-dipping headlights illuminate the road well, although its auto-dipping function can be a touch slow.
Approaching Geneva...
As I get into the last section of the journey, the autoroute turns interesting. There are curves, turns and inclines, and after seven hours at the wheel they're a bit of a wake-up call.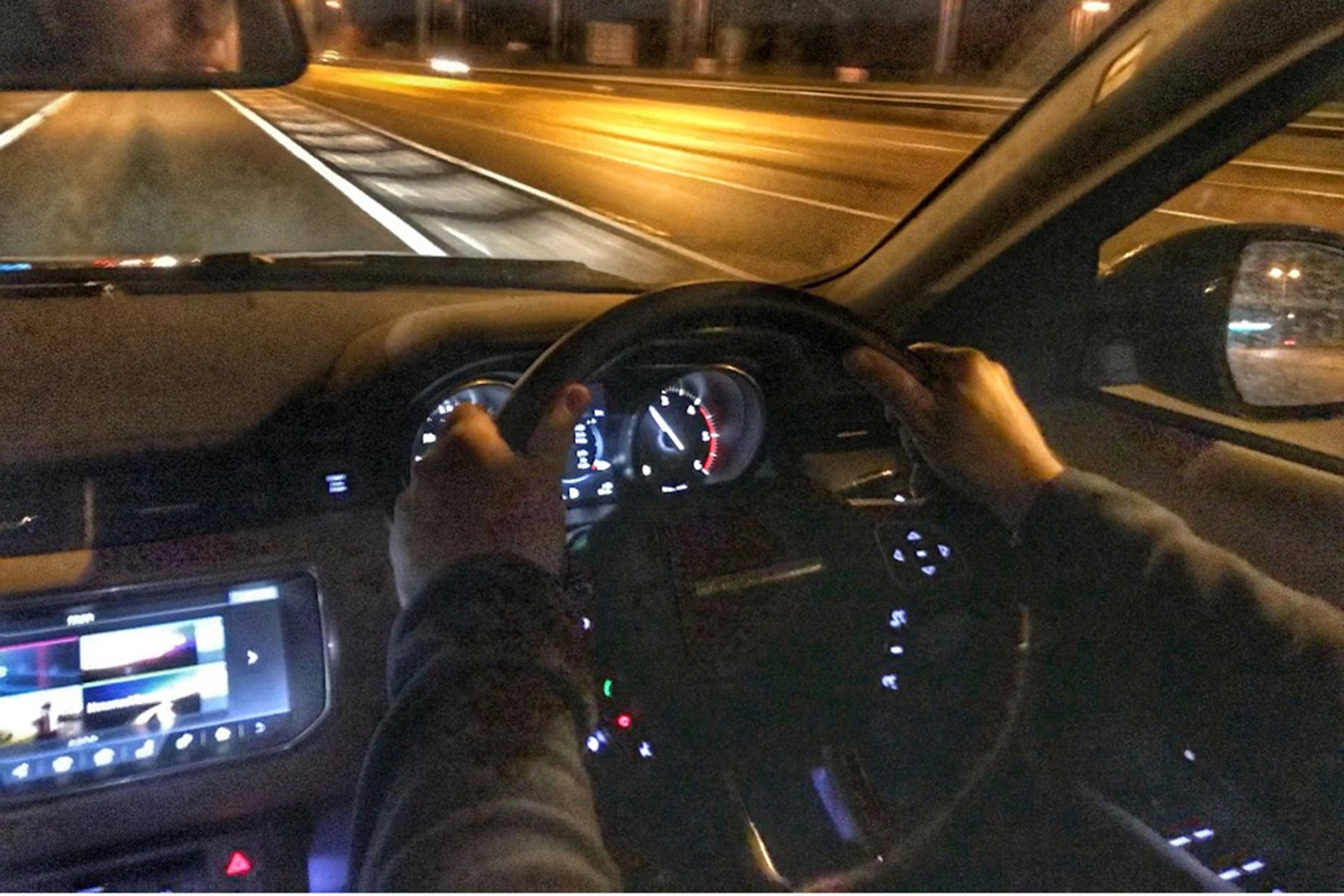 But the good news is that with its magnetic damping and responsive steering, the Evoque feels good, planted and actually quite fun. It's no hot hatch, but it's certainly towards the top of the SUV pack when it comes to dynamics – a hell of an achievement considering the age of the basic design.
Of course, the fun is curtailed, first by average speed cameras, then by the need to refuel. Again. By 10.00pm I'm rolling into Geneva, still feeling relaxed, and impressed by this car's easy international demeanor. Considering the diesel engine isn't the most refined in its class, it's certainly hushed on a long trip, and all of the controls, the driving position and overall usability of the car are fit for purpose.
Perfect for the Geneva show
I could nitpick, and moan about the short range (an issue for me, but maybe not for you), the lack of decent stowage space in the cabin, the aging infotainment, and sometimes dull-witted transmission, but on the dash to Geneva, they weren't too distracting. Some people might call this an 'epic roadtrip' but in reality, this is a drive that any new car can shrug off without a hitch.
That proves the case here – and it leaves me sharp enough the following day to catch Land Rover designer Gerry McGovern and boss Ralph Speth posing alongside the company's latest creation, the Range Rover SV Coupe – let's hope they excel themselves with the next Evoque, due soon… Now all that leaves me to do is to get back, and be on form for the office. No worries.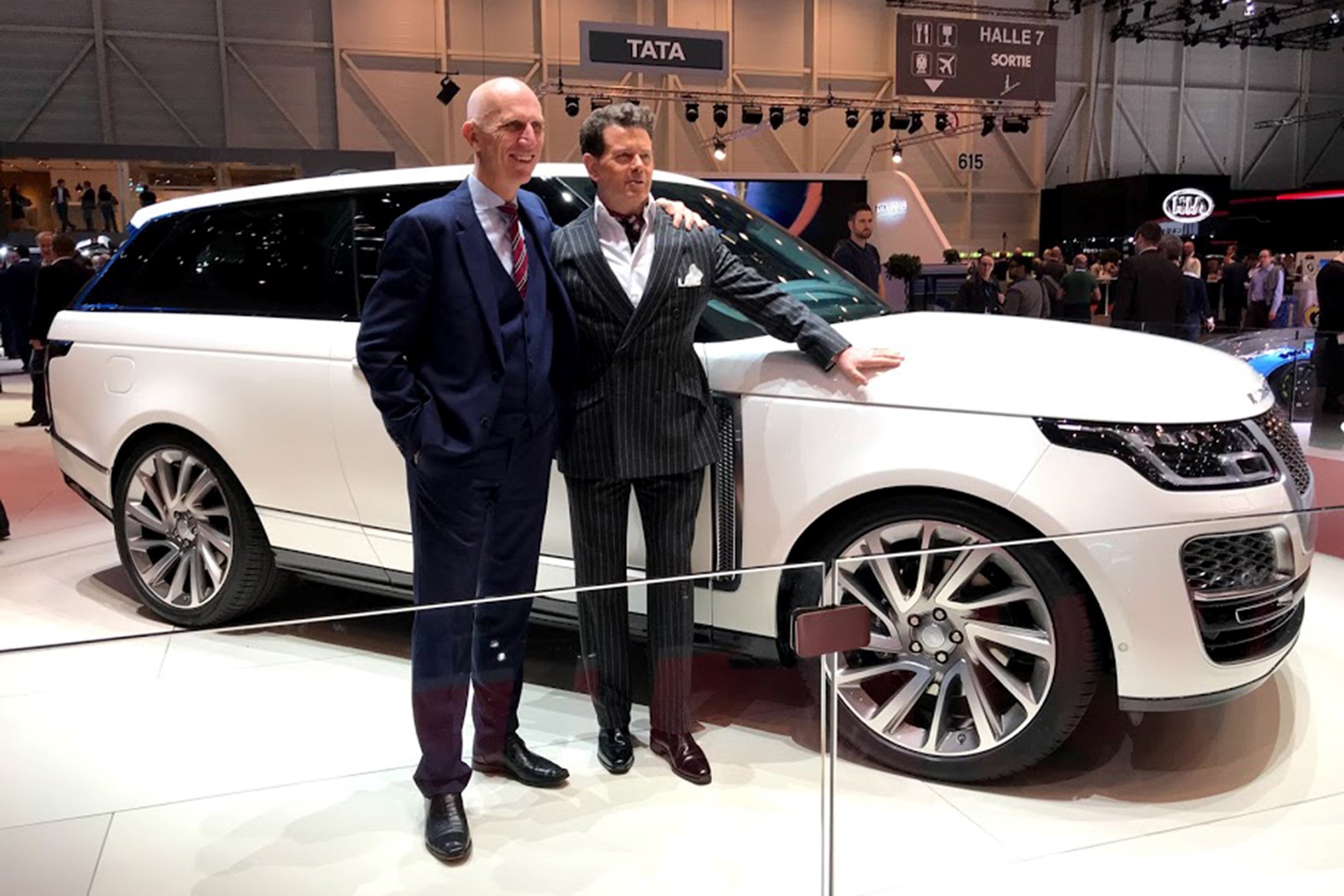 By Keith Adams
---
Update 6: Better living through technology
We test the Evoque's infotainment system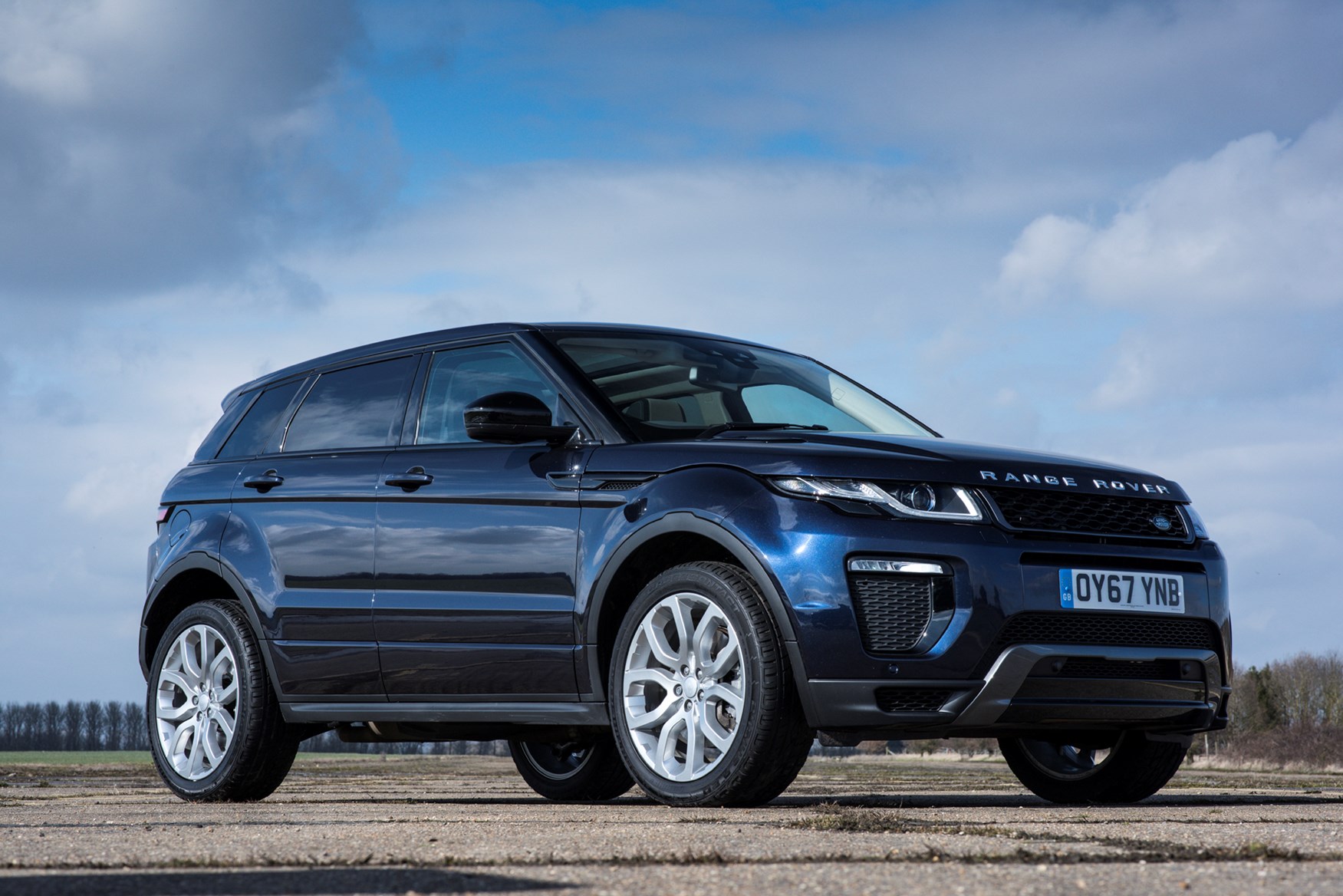 Previously we've alluded to the… complex, let's call it, nature of the Range Rover Evoque's infotainment system. It is well presented physically, integrated into the leather-trimmed dashboard like it was a focal point at the start, and certainly capable. After months behind the wheel, we're getting used to it – although jumping in other test cars serves to remind of its limitations.
In addition to sat-nav, DAB and analogue radio, USB and iPod media sources, it has cellular (4G) connectivity with a SIM card, extensive live services which we'll look at in depth in the next update, and Land Rover's 'InControl' system.
What it lacks is Apple CarPlay or Android Auto, or MirrorLink. Instead it has the proprietary InControl system of smartphone and car apps – which could, in theory, be considered superior to these and is certainly analogous. Of course, what makes those solutions so appealing is third party support (for Android) and consistency of user experience between car and phone.
InControl leaves you in, er, control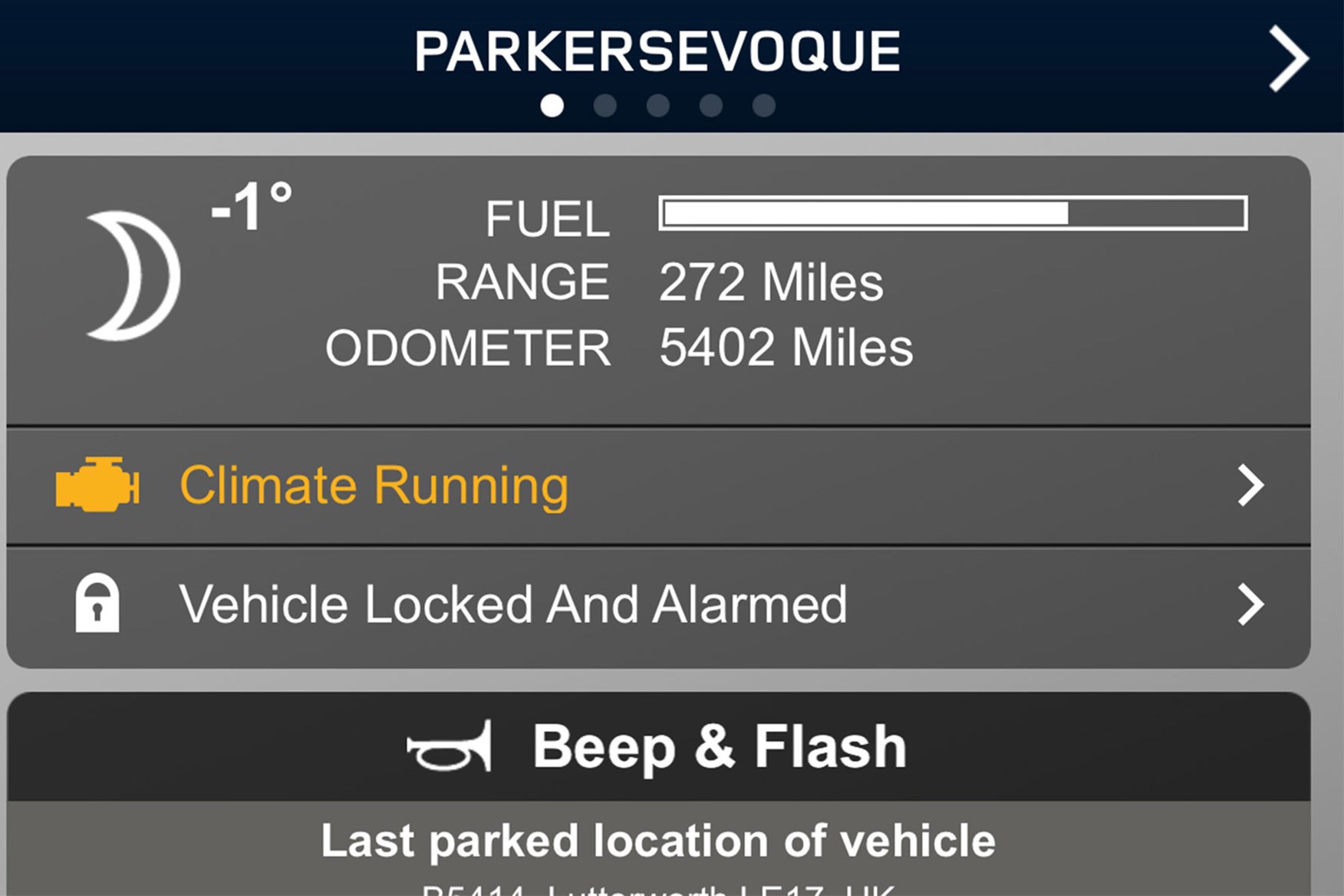 Setting up involves registering with Land Rover, installing an app on your phone, and downloading and registering a few additional apps. It's not overly complex but companies like Apple have shown the way forward, and the clumsy multi-stage process is miles from the pixel-pattern brilliance of pairing an Apple Watch and iPhone.
Why can't the Range Rover display a smart code for the phone to see and automate? A clue may be in the capabilities of the apps and Evoque when paired.
Most car technology that doesn't support CarPlay is limited to a few media or basic data sharing apps – the short lived, poorly implemented world of internet radio apps, or expense trackers you'll use a couple of times and then forget. Land Rover has put rather more control in the palm of your hard – this app is literally the key to your car.
Evoque's climate controlled welcome
Land Rover Remote is the primary interface between phone and Evoque. It shows the location of the car, tracks routes, and crucially, allows locking, triggering of the 'beep and flash' alarm, and on models so equipped, pre-heating of the climate control. Not with the traditional fuel-fired heater, but simply starting the engine and running the climate control.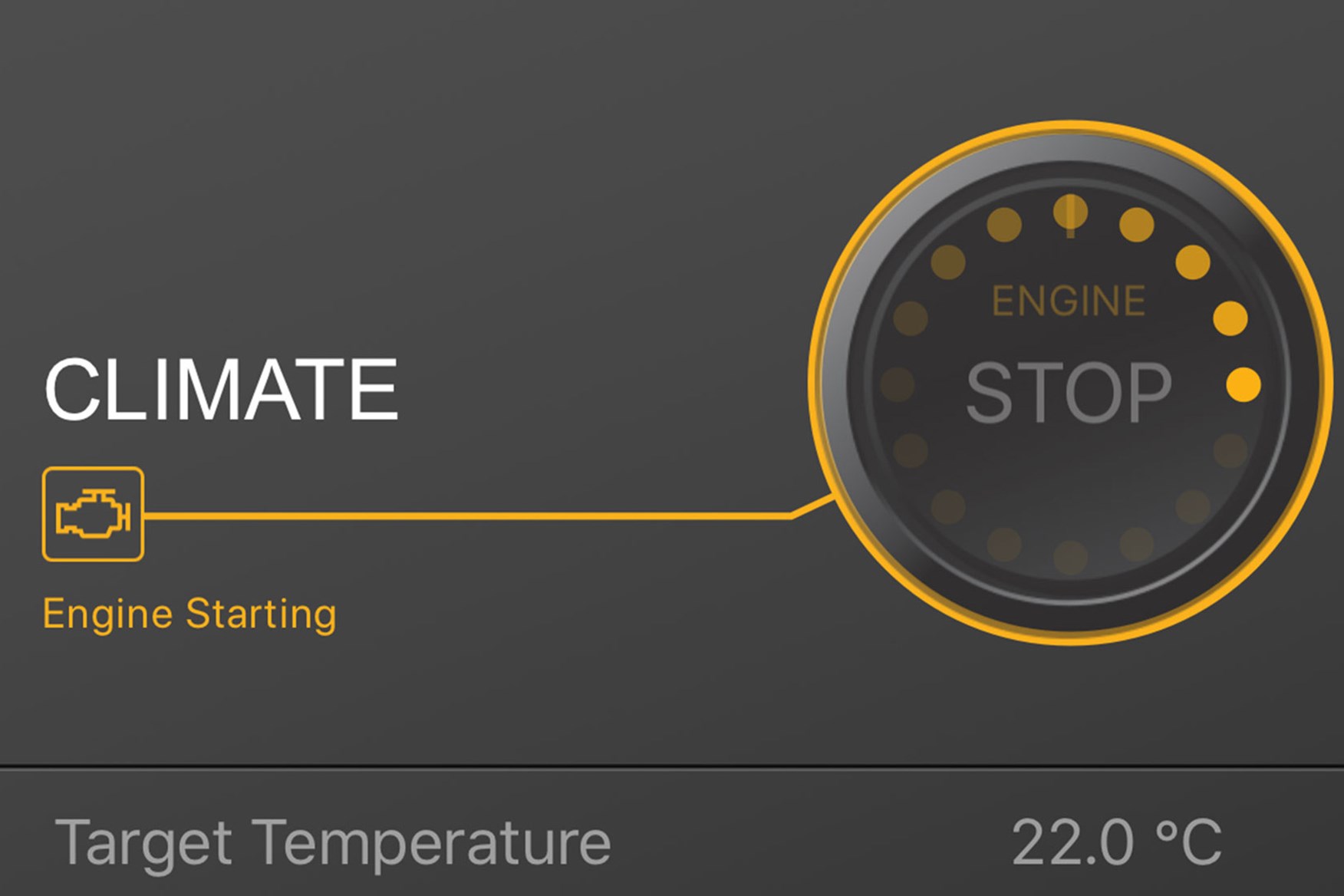 This is a marvellous feature for weather extremes. Some people may be of the opinion that it's environmentally unfriendly to 'warm-up' or 'cool down' your car this way – and also, traditionally an insurance risk because you had to have the keys in and engine running.
In the case of the Evoque, you can start it with the doors locked and it will run to a preset interior temperature or a maximum of 30 minutes. This is enough to bring it to a comfortable level from an ambient of -8 or -9 degrees (cold) or 25 degrees-plus (hot).
Winter warmers and AdBlue assistance
Further helping with this winter ritual, the wipers can be parked higher up the windscreen, within range of the defrosting blast of air and easier to clear of ice generally.
In addition, the app shows you the status of the car overall, with some service status alerts and useful maintenance data – fuel and range remaining, washer fluid, tyre inflation and where applicable, AdBlue (Land Rover refer to it as Diesel Exhaust Fluid).
One of the more useful warnings, this gives the amount required to refill the 14.5L tank and range remaining.
And the flipside of Land Rover's InControl
If Land Rover Remote is a shining example of technology integrating with cars, the rest of InControl is a decidedly mixed bag. Connection to the iPhone requires confirmation on screen, which means jumping into the car, plugging in and setting off is interrupted. Some apps need a three-stage install, activate, verify process.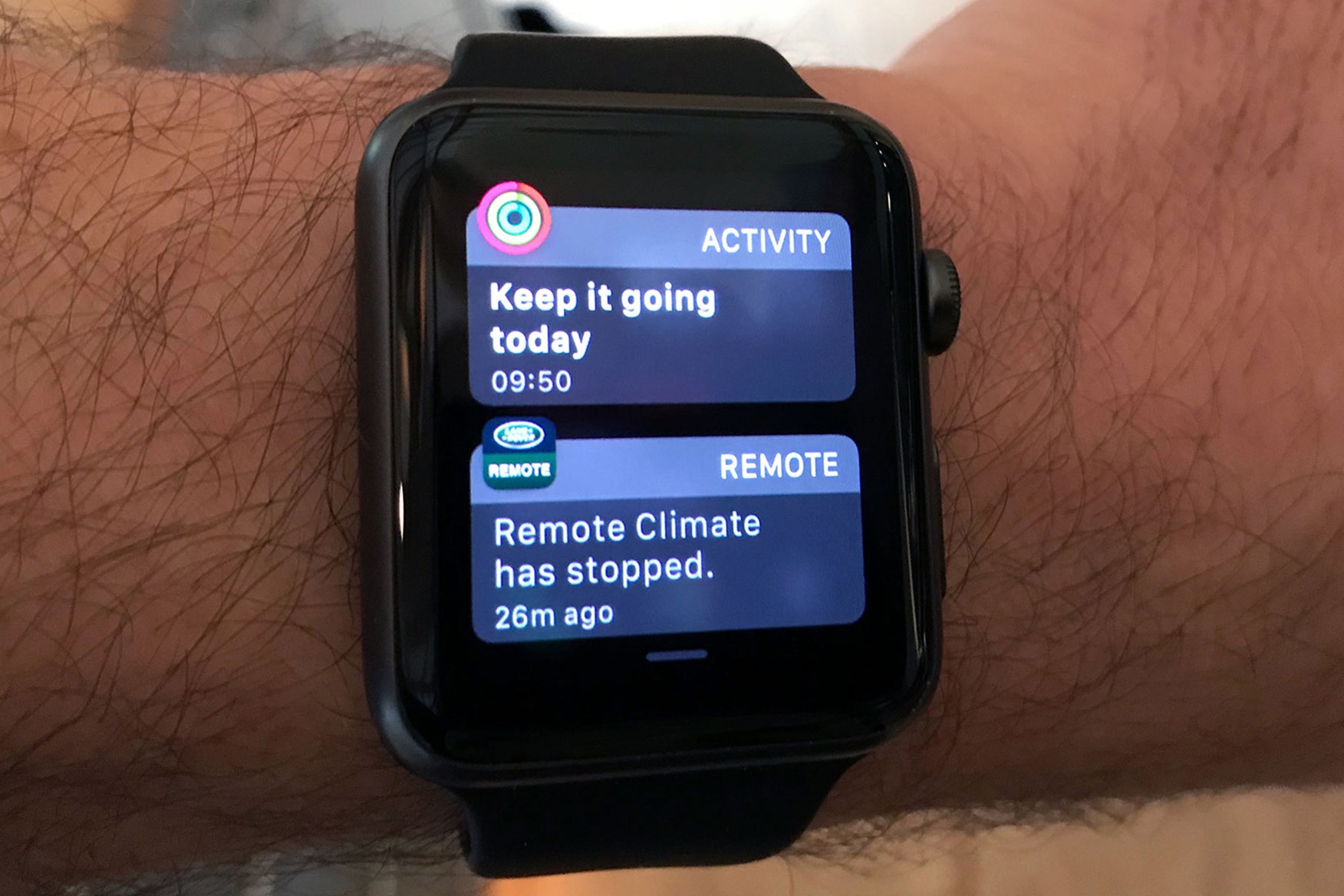 Most apps are of little utility and some crudity, being developed outwith Land Rover's stringent user interface testing and vaguely escaping Apple's standards for the remote display too. Glympse is a well-established location sharing social tool, and there are a couple of media apps for audiobooks and internet radio. Third-party navigation tools are supported, too.
Of the useful apps, many drivers will probably want the ability to pay for Shell fuel directly from the infotainment system (with linked loyalty card), and a fair number may consider paying the £5.99 for Mileage Tracker Pro; though that does duplicate some of the remote route tracking capability. I've found the free Voice Memo app useful for recording thoughts and song ideas when driving, too.
InControl verdict: good, but could be improved
Once done they're okay, as in-car apps go, but lack the 'don't touch me!' determination of Siri and iOS to keep you from taking your hands off the wheel. Steering wheel phone controls don't intuitively allow hands-free control of the iPhone.
Intuitively is key. There are menu options for 'Apple Cloud Music', and somewhere there has to be a means of voice controlling this stuff, but it's going to take unprecedented measures.
Actions of the type no Apple user is prepared to face in normal life. We are going to have to…
Read the manual.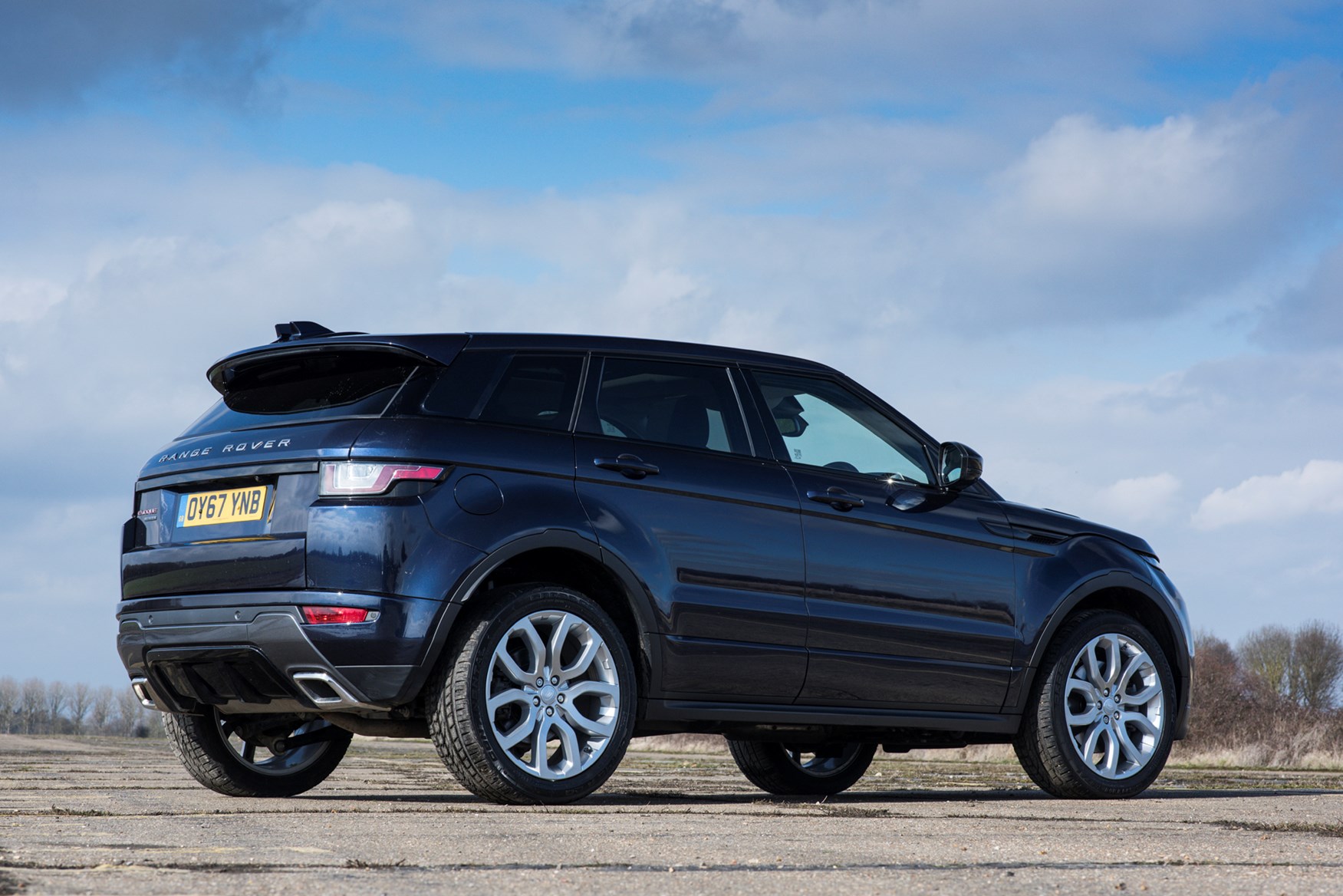 ---
Update 7: Yes, it really will go off-road. And how
Taking the Evoque to Eastnor Castle and allowing it to strut its stuff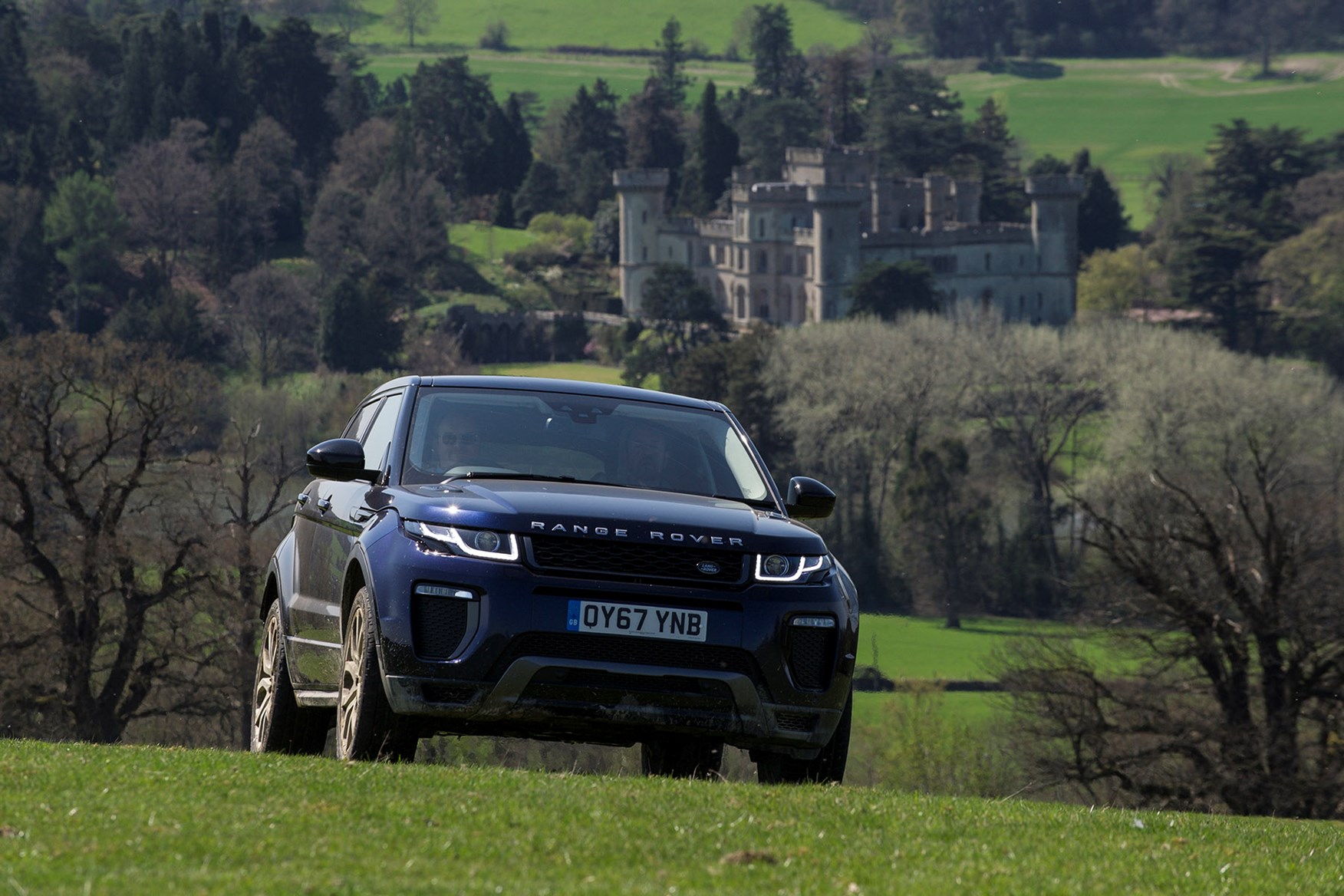 There's a lot of talk about the Range Rover Evoque and how it's favoured by, shall we say, people who aren't particularly fluent in off-road driving. Since I've had mine, it's something I've heard time and time again – and something that I've been keen to disprove.
After all, it's a Land Rover, it's essentially based on the previous-generation Freelander, and therefore, the Evoque should be a very capable thing off-road. To prove the point, I booked it into a Land Rover Experience (LRE) driver training session, at Eastnor Castle, and put myself in the hands of its well-versed driver trainers.
And anyone who buys a new Land Rover can do this. You're automatically given a voucher that entitles you to half a day's training for free at one of the company's 12 LRE centres around the country. I should say in the interests of total disclosure that you don't get to use your own car in this situation normally – but in all other ways, I was treated to the full customer experience.
Getting to know the Evoque off-road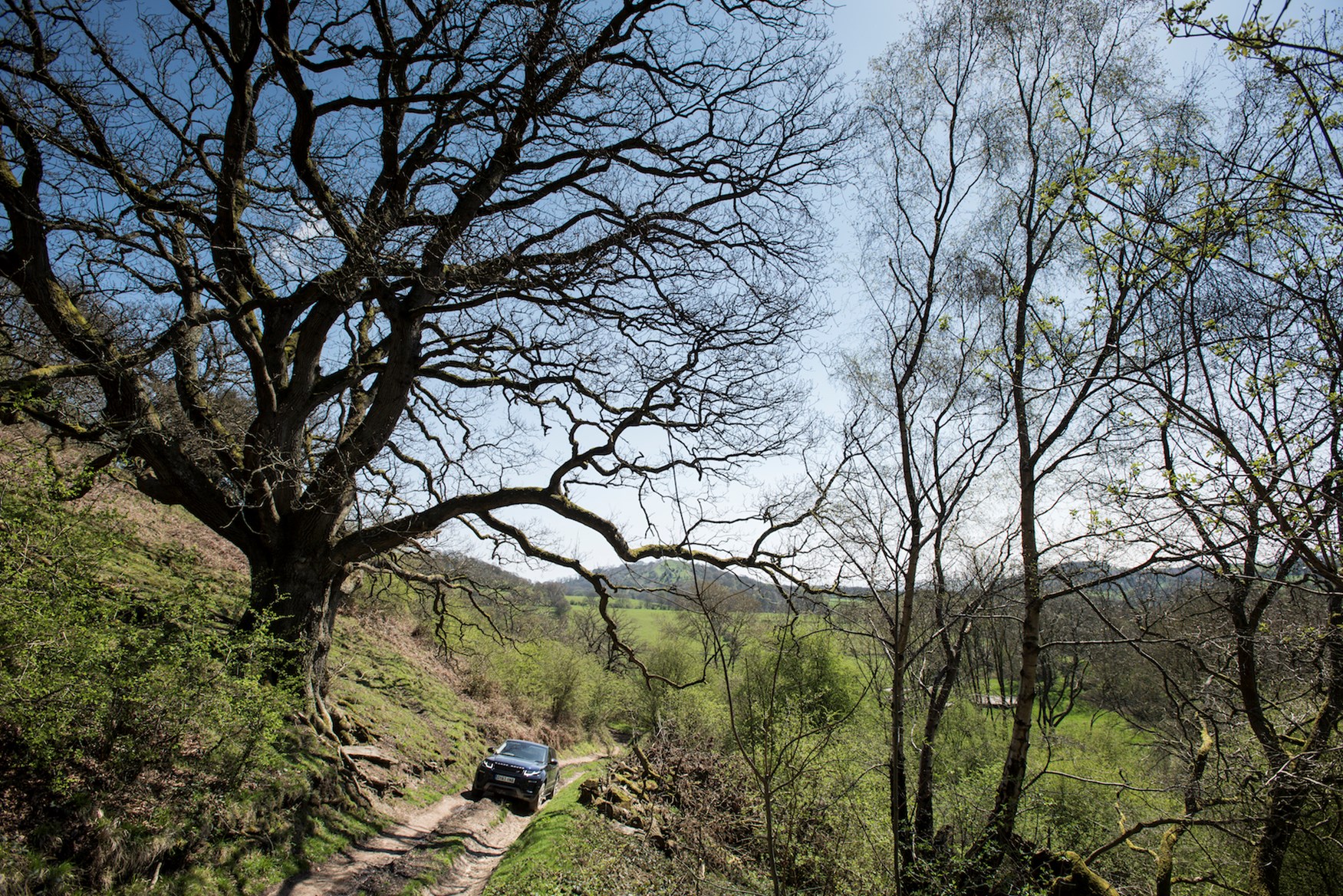 I won't go into too much detail about what you get up to on the LRE course, because they probably vary a little depending on which site you go to. But at Eastnor, after a walk around the car, we set off to tackle a number of obstacles designed to build your confidence in the car as well as test its off-road capability in a safe environment.
So, the first section of the course centred on a selection of concrete challenges. The first was a flight of steps, which scared me to look at, but which the Evoque flew up without an issue. After that, we went through a bowl, which had us tilt to around 30 degrees. I was sure it was going to tip over, but we didn't.
The most interesting exercise was the rock crawl – a concrete set of savage dips, which came close to challenging the Dynamic front bumper of my car. But if I'm honest, what impressed me the most of all about this exercise was the Range Rover Evoque at Eastnor Castle was the Evoque's All Terrain Progress Control (ATPC) system.
Cruise control for off-roaders...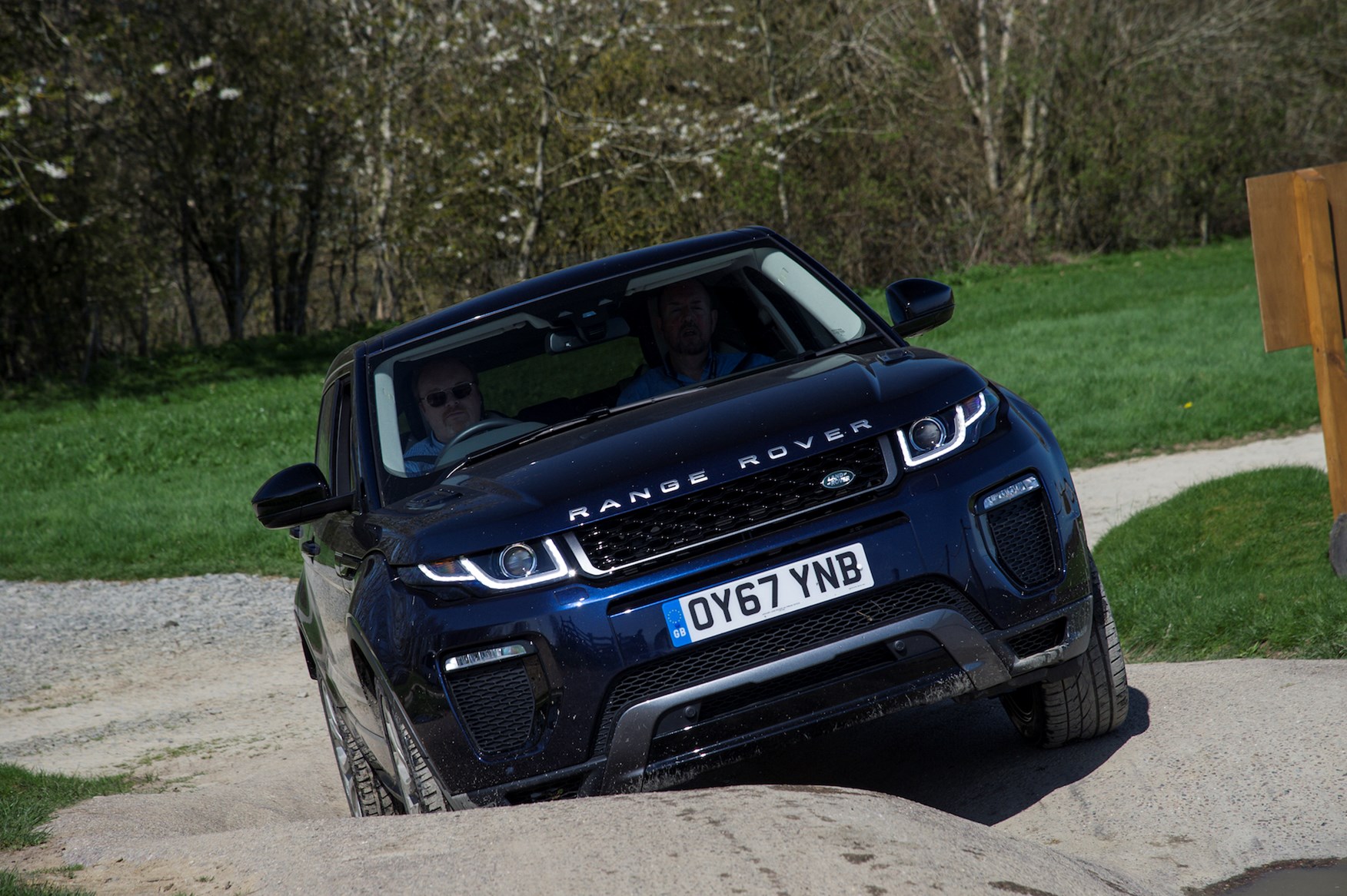 So, I hear you ask – what is ATPC? Quite simply, it's a system designed to traverse ruts and poor conditions automatically. Rather like Hill Descent Control (HDC), where has you select your speed, and the car drives downhill on its own, drama-free and with your feet off the pedals, ATPC will handle rough terrain for you.
My instructor selected ATPC mode for me, talked me through it, and told me to take my feet off the pedals. 'Just let the car do its thing in Rock Crawl mode, take your feet off, and control the speed with the cruise control plus- and minus-buttons,' he said. 'Oh, and remember to steer.'
Being used to HDC, the concept of feet-off driving is nothing new, but as we crept forwards, individual wheels feeling for grip and applying power as necessary, it was easy to appreciate that this was something else entirely. And you know what – for an inexperienced off-roader like me, this was the perfect way to deal with rough terrain (and still look like a hero).
On to the green lanes
There's no doubt about it – this is an impressive piece of software, and this more than anything else, profoundly impressed me on this quick trip to Eastnor Castle. After this, we spent some time running up and down a series of the green lanes that cross-cross the Eastnor Estate.
With time and experience, driving up and down these became a matter of taking care, picking your line, and remembering the Evoque's relative lack of ground clearance compared with larger Range Rovers. But you know what, the plucky little thing shrugged off pretty much everything I threw at it.
It's easy to draw conclusions from my day at Eastnor Castle. Firstly, aside from taking care of your ground clearance and ramp angles, the Evoque really can cut the mustard off-road. Secondly, if you own a Land Rover and haven't taken one of these LRE courses, I really recommend that you take one. You might never need the skills you learn, but it's nice to know they're in hand, if things get sticky.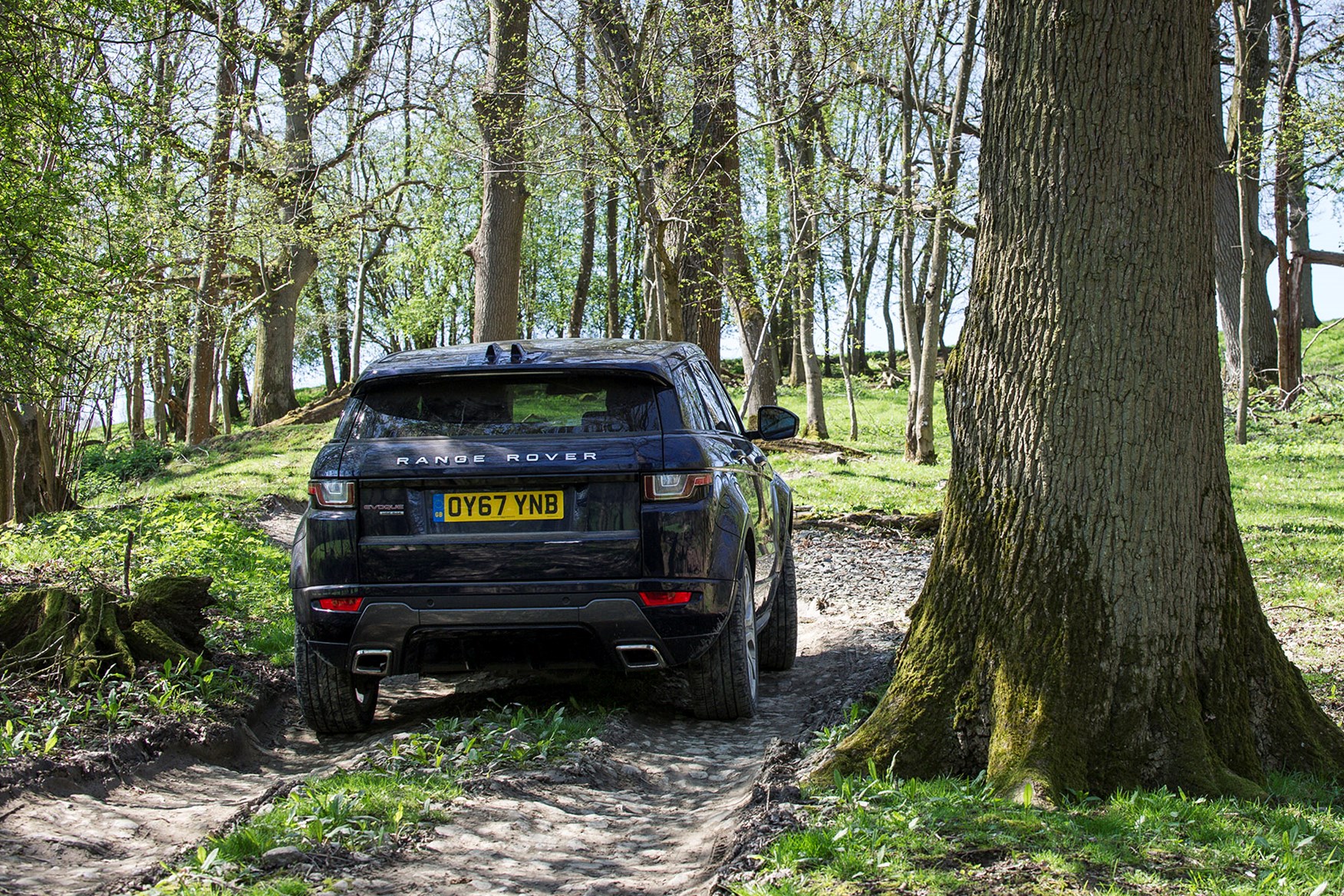 By Keith Adams