View all Lexus UX reviews

Lexus UX SUV
Review
Current Model
Compact crossover is an intriguing, leftfield choice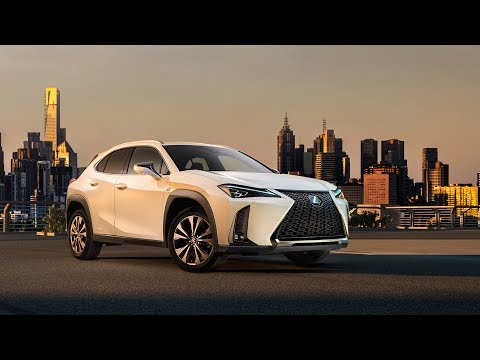 Enlarge
1

videos
Enlarge
22

photos
PROS
Impressive levels of build quality
Refined, efficient hybrid powertrain
Ride comfort on adaptive dampers
Interesting styling…
CONS
But it maybe won't be rugged enough for some
Compromised rear seat space
Boot is tiny, too
Rivals are more engaging to drive
PROS
Impressive levels of build quality
Refined, efficient hybrid powertrain
Ride comfort on adaptive dampers
Interesting styling…
CONS
But it maybe won't be rugged enough for some
Compromised rear seat space
Boot is tiny, too
Rivals are more engaging to drive
Verdict

Seemingly at a relentless pace, the onward march of the SUV continues, as typified by the Lexus UX crossover.
Not so long ago, the RX was Lexus's only SUV, but in short order the British line-up's been fleshed-out both by the medium-sized NX and the seven-seater RX L. With the UX, Lexus has a smaller model to entice buyers away from the Audi Q3, BMW X1, Jaguar E-Pace and Mercedes-Benz GLA.
It's the GLA that this Lexus feels closest to in terms of ethos – while it ticks various SUV styling cue boxes with its unpainted dark grey wheelarch extensions and body addenda, the UX nevertheless feels like more like a tall hatchback than a rugged cross-country vehicle.

Consequently, we suspect that some Lexus loyalists will see the UX as a natural replacement for the CT hatchback range, although that model will continue to be offered, albeit having had more facelifts than Cher.
Lexus UX: what engines does it have?
Although a petrol-only UX 200 is available in other European markets, the UK will for the foreseeable future, be exclusively hybrid-powered – all models sold in Britain will be badged UX 250h.
Despite the numbering system suggesting otherwise, the 250h is powered by a combination of an all-new 2.0-litre petrol engine, with Lexus's fourth-generation of hybrid technology. Together they produce 178hp and 202Nm of torque, driving the front wheels.
Its top speed is electronically governed to just 110mph, while the claimed 0-62mph acceleration benchmark requires just 8.5 seconds.
A part-time four-wheel drive version – known as E-Four – is available, but most UXes will be front-wheel drive. E-Four directs drive to the rear wheels when the system detects the front pair could do with extra traction. Having driven both versions over similar road conditions, we suspect the E-Four package isn't going to be beneficial to most UX buyers in this country.

Although the UX 250h E-Four has the same top speed as its front-wheel drive sibling, the extra weight of the system slows the 0-62mph time a shade to 8.7 seconds.
Lexus refers to the hybrid UX's gearbox as an electronic continuously variable transmission, but it's not a CVT in the conventional sense – strictly speaking it's a planetary gear set. Rather than get bogged-down in technicalities, the important thing to know is that it's less whiny than previous iterations of the transmission.
Around town, it's very civilised and hushed, only getting noisier when you accelerate harder. It still sounds like the engine's spinning faster than the rate of acceleration suggests it should be, but this soon subsides. The gentler, more progressive you drive it, the more relaxed it feels. And sounds.
Will there be a high-performance Lexus UX?
When quizzed about whether there was any internal desire to produce a genuinely quick version, potentially badged UX F, the car's engineering team didn't deny the prospect, but confirmed it's not in its short-term plans.
However, given the availability of high-performance versions of many of its rivals – and the fact that Lexus already has a history of producing brawnier versions of its existing saloons – it's not a notion that can be easily dismissed.
How economical is the Lexus UX?
Lexus has yet to confirm the exact fuel efficiency and emissions levels of the UX range, but under the more real-world-imitating WLTP testing method they don't look immediately impressive.
Stick with a front-wheel drive UX 250h on the smallest diameter available alloy wheels for a claimed provisional WLTP average of 42.8mpg and CO2 emissions of 131g/km.

At the other end of the scale, a UX 250h F Sport E-Four riding on 18-inch rims delivers equivalent figures of 35.6mpg and 157g/km of CO2.
Lexus has no immediate plans to release a plug-in hybrid version of the UX – for the timebeing the 250h is what its manufacturer refers to as a 'self-charging hybrid'.
What is the Lexus UX like to drive?
That most of the test route for the UX's international launch where within the urban confines of Stockholm is no surprise – after all, Lexus is keen to point out that this is a compact SUV aimed primarily at 20-something city-dwellers.
Within these settings its impressively refined with a devilishly quiet powertrain – even with the engine running – and a smooth, relaxed operation, particularly in Eco or Normal drive modes.
If you've sampled other Lexuses, particularly the CT and NX, you'll note that the UX's controls feel weightier. They still feel light around town, but the small amount of extra force you need to haul it about on windier, quicker roads makes it more engaging than its siblings.

While it's nimble on twisty B-roads, it doesn't strike its driver as being an athletically enthusiastic sporty SUV. Traction is more than ample – even on front-wheel drive versions – but you don't find yourself deliberately seeking to carry speed into corners with a view of powering fast out of them – an X1 or an E-Pace perform better in this regard.
F Sport versions of the UX feature larger, 18-inch alloy wheels and stiffened suspension, with anti-rollbars, featuring mid-point dampers to absorb shocks transmitted through the suspension. Over poor road surfaces you're immediately aware of the firmer compromise – it's not uncomfortable, but it might become tiresome on Britain's pock-marked asphalt.
Far better to stick with a 17-inch wheeled Luxury grade UX and opt for the Adaptive Variable Suspension (AVS) arrangement. Here the combination is satisfyingly compliant and seemingly free from uneasy wallowing in corners or under braking. Again, it reinforces that the UX performs more impressively when driven with measured consideration.
What is the Lexus UX like inside?
You won't mistake the UX's cabin for the Teutonic look of its Germanic rivals or the so-so quality from its Jaguar Land Rover alternatives – this is undoubtedly a good thing and we like that Lexus continues to plough its own furrow.
Material quality, fit and finish is deeply impressive, with a variety of complementary materials giving the dashboard a broad, low, layered look.

Less successful is the continued application of the touchpad for controlling the multimedia system – it's simply not as intuitive as its rivals' system and in some regards is downright infuriating. Still, at least the clock alongside the infotainment screen is a classy analogue number, and not a digital affair shared with a 1980s microwave oven.
How much space is there inside the Lexus UX?
Lexus's engineers wanted the UX to have a coupe-like feel and to a certain degree they've been successful in this aim, although not always to the benefit of passengers.
You sit low down, lowering the car's centre of gravity, but because the window line is also very low, some of that sensation is lost – you feel more hemmed-in within a BMW X2 or Range Rover Evoque, for instance.
Space-wise the front chairs have ample room for limbs and heads, and also prove very comfortable – it's possible to spec them with heater and cooling air conditioning fans. F Sport-spec seats are slightly pinchier at the hips, but no uncomfortable.

Spare a thought for those in the back, though – it's not roomy at all and tall passengers will struggle for both head- and legroom in particular. Three adults abreast on the rear bench will prove unpopular and uncomfortable.
Even getting in and out of the back seat is a bit of a challenge, with quite a narrow door aperture. Pre-teens aren't likely to have anywhere near as much bother, and arguably if more space is required, there's the NX above the UX in Lexus's SUV hierarchy.
Practicality is also hampered in the boot, with a high loading lip and a shallow depth between the boot floor and the flimsy luggage cover. Tellingly, Lexus hasn't yet quoted any load capacity figures, but there's extra space under the floor, and it can be further extended when the split-fold rear seats are tumbled over.

The Parkers Verdict
From the perspectives of comfort, plushness, efficiency and refinement, the Lexus UX takes some beating in the compact premium crossover market.
Sure, some may dismiss it for its lack of a diesel option, but the Japanese marque's hybrid system is impressively efficient across a wide-range of driving scenarios, not just within urban environments.
However, while it's not without appeal, it's lack of styling may be too soft for those looking to escape the apparent mundanity of hatchbacks and it's poor rear seat and boot space make it feel compromised.
For those who like what they see, orders open before the end of 2018 in the £30,000 to £35,000 bracket, with deliveries set to begin in early 2019.