View all Mazda 2 reviews


Mazda 2 Hatchback (2007 - 2015) review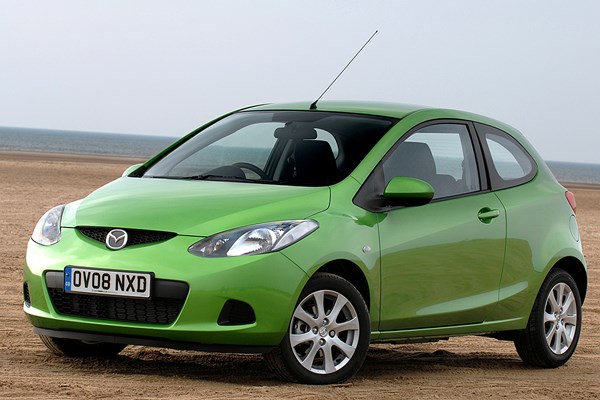 PROS
Good to drive
Stylish and sporty look
Holds its value well
Good equipment levels
CONS
Awkward boot shape
Noisy at speed
Firm ride
PROS
Good to drive
Stylish and sporty look
Holds its value well
Good equipment levels
CONS
Awkward boot shape
Noisy at speed
Firm ride
The Mazda 2 introduced the world to the Japanese firm's belief that light weight was every bit as important in the fight against emissions and fuel consumption. While others simply tried to improve engine performance, Mazda has taken a holistic view with the 2 by not only making the engines perform better but by giving them less weight in the body to haul around. It's a successful formula and also helps make the Mazda 2 one of the most fun superminis to drive. A mild revamp in October 2010 only served to enhance the Mazda 2's exterior and interior appeal while also offering a revised, more supple suspension set-up.
Lightweight construction
The philosophy of Mazda with the 2 is to make every component as light as possible. Rather than scrimping on the interior or making a token effort by stripping out equipment, it's a design mantra that starts with the materials the body is made from and how it's out together. Revisions to the Mazda 2 range in 2010 saw this idea furthered with engines and gearboxes that were lighter, more efficient yet also strong for greater reliability. The proof of all this work is the Mazda 2 enjoys fuel economy that's up with the best in class without the need for some of the fuel-saving technology employed by the competition.
Nimble handling
Lightweight for the Mazda 2 means it can change direction with greater agility than almost any other car in this class bar the Ford Fiesta. Mazda is well known for its sports cars and this same thinking translates into the 2 with its accurate steering and zest for corners. It also makes it easy to drive in the city, though some may find the Mazda 2's suspension on the firm side, especially in the Sport models.
Interior space
In making the Mazda 2 as light as possible, you could be forgiven for thinking it would be smaller than most cars in this class. However, the clever bit of Mazda's thinking is the 2 doesn't compromise on passenger space or versatility. It's not the outright best for space in the class, but four adults can be accommodated in comfort, while the boot meets the needs of most owners. So if you're looking for a small hatchback with something a little unique about it, read on for our full Mazda 2 review.