Porsche 911 Targa review
Current Model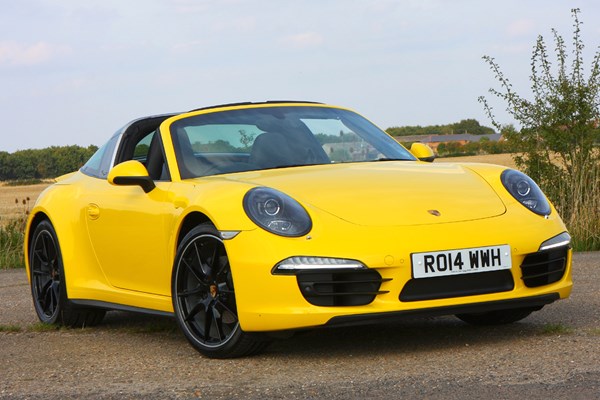 PROS
Aural delight
Retro looks
Desirable
Performance
CONS
Buffeting at speed
Not the full convertible
PROS
Aural delight
Retro looks
Desirable
Performance
CONS
Buffeting at speed
Not the full convertible
The Porsche 911 Targa is certainly one of its more iconic versions of the German company's high performance sports car.
First launched back in 1967 the Targa has seen various reiterations over the following years and powered by air-cooled and then later water-cooled flat-six engines.
It's a fairly unique offering with other rivals such as the Mercedes-Benz SL and the BMW 6 Series Convertible opting for the full convertible roof.
The Targa version differs to the Porsche 911 Convertible by retaining a fixed glass 'bubble' at the rear with the opening directly above the passengers' heads while the convertible's fabric roof folds completely flat under the glass dome.
Clever roof design
The Targa version simply means it has a central roof section which folds away to leave the occupants open to the elements. The rear glass dome remains in place with the central roof section either up or stowed away.
The mechanism that operates the opening and closing of the roof is quite clever, with the rear glass dome lifting up and back, then folding the fabric portion of the roof up and back, placing it folded up on the rear parcel shelf area. Then the glass dome is lowered back into place. Choreography worthy of the best ballets.
Two versions
The Porsche 911 Targa comes in two flavours: Targa 4 and Targa 4 S. The 4 refers to the fact this version is four-wheel drive and the 4S has more power and greater performance.
As with all Porsche 911s there is the option of Porsche's rather good automatic gearbox (known as PDK) or with its latest manual gearbox that unusually uses seven forward gears plus a reverse.
Driving experience that delights
The flat-six 'Boxer' engine is as iconic as the 911 itself – providing both great performance and an evocative sound track. This latest 3.4-litre version is no different.
There's plenty of power even from low down and it is as the revs rise the power starts to build more and more. At low revs the engine is tractable and amiable, at higher revs it pours the power out through the four wheels, picking the 911 up and with a sling shot hurls it down the road.
Nearly roof down motoring
The idea of the Targa is a more simple and convenient way to have roof down motoring, while still retaining some decent shelter from the elements. The down side is that can be quite a bit of buffeting as soon as speeds get over 50 mph.
The Targa is fitted with a discreet spoiler over the front windscreen designed to help keep occupants out of the main wind blast and certainly seems effective up to 50mph. After that noise and buffeting seems to increase notably and makes it much harder to listen to the radio or hold a conversation.
The engine note though comes through loud and clear especially as the revs rise past 3000rpm.
Other Porsche 911 models: