View all Renault Clio reviews
Renault Clio Hatchback
Review
Current Model
Stylish, cheap to run and good to drive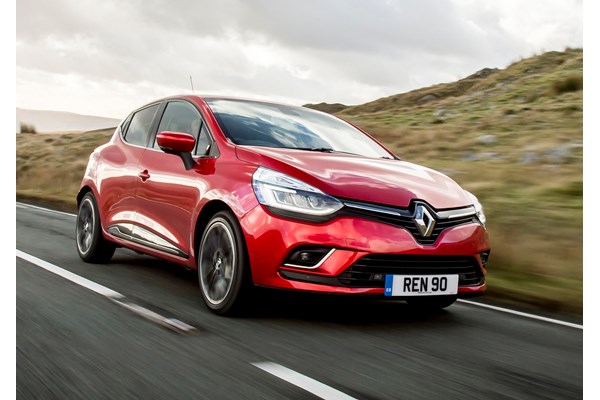 PROS
Stylish and modern to look at
Plenty of kit and tech for the money
A comfortable ride and fine handling
A wide span of model variations
Engines are efficient and nippy
CONS
Interior plastics are disappointing
Not as practical as newer rivals
Numb steering robs it of fun factor
Start optioning it up, and things get expensive
Renaultsport models aren't sharp enough
PROS
Stylish and modern to look at
Plenty of kit and tech for the money
A comfortable ride and fine handling
A wide span of model variations
Engines are efficient and nippy
CONS
Interior plastics are disappointing
Not as practical as newer rivals
Numb steering robs it of fun factor
Start optioning it up, and things get expensive
Renaultsport models aren't sharp enough
Verdict

The Renault Clio is a five-door supermini that's been a household name in the UK since the early 1990s (you may remember tha advertising featuring Nicole and Papa), competing for sales with a wide variety of very competent rivals.
It's certainly popular with, with more than a million of them finding homes in th UK since it was introduced, and this is the fourth generation model boasting stylish looks, economical TCe petrol and dCi diesel engines, a practical interior and a good drive.
With three-door cars falling out of favour with buyers, Renault made the decision to make this Clio five-door only, but has cleverly disguised the rear door handles so it looks like a sleeker model when viewed side-on.

But are all these stylish features, economical engines and spacious interior enough to see off its rivals? It's got plenty to defeat, including the Ford Fiesta, Peugeot 208, Vauxhall Corsa, Volkswagen Polo and SEAT Ibiza. Not to mention less-commong models like the Citroen C3, Hyundai i20, Mazda 2 and Skoda Fabia.
Clio Mk4 is more mature than ever
The Clio couldn't be anything other than a Renault, featuring a look that's similar to every other car in the range, with similarly sharp lights to the Kadjar crossover and a dashboard similar to the one in the Captur.
That five-door body is more practical, while the car sits lower and wider than the version it replaced, which contributes to a lower centre of gravity that makes the car feel more grown up and safe on the road.
When it was introduced, however, Renault injected a little fun into the car, with various bright colour options and customisation packs to personalise their car with a selection of options including door mirror caps, grille bars, rear panel skirts, lower door protectors and wheel finishes, as well as a choice of roof graphics.
To create a more bespoke interior, there was a menu of options regarding the dashboard, door panels, steering wheel, grab handles, gear lever surround, air vent bezels, upholstery materials and optional floor mats.
However, this has now been consolidated into just a few options that come in much more muted tones - a sign that people don't necessarily want all these wacky features. It'll help when the time comes to sell your car on.
Renault Clio interior: plenty of connectivity tech
Of greater benefit is that many Clios feature Renault's R-Link multimedia system. This features a 7.0-inch touchscreen incorporating sat-nav (on some models) with traffic updates.

The system also links to Renault R-Link Store, the automobile world's first app shop, where users can view or download a range of services from their car or computer.
R-Link users can also check their messages, manage their diary, locate the nearest service station or place to park, or send a tweet.
Clios at the lower-end of the range are available with R&Go, using an app on the driver's smartphone to connect to the car's system.
However, this tech was introduced back when the Clio was launched in 2012, and in-car tech has moved on signifcantly, with the Clio's system feeling out of date not as user-friendly as newer systems.
Renault Clio engines: choice of efficient TCe or dCi units
All of the Clio's powerplants are turbocharged for both performance and efficiency.
The petrol engines are badged TCe, with a choice of 75hp or 90hp units, while the Clio diesels are called dCi, but there's only one option with 90hp, but this comes with a choice of manual or automatic gearboxes.

The dCi 90 is particularly efficient, returning up to 57.6mpg, but if you're just using the Clio around town, one of the petrols will suit your needs just fine, plus they tend to cost a little less to purchase in the first place.
Renault doesn't offer an electrically-powered Clio despite its expertise in EVs. Instead you have to opt for the electric-only Zoe for zero-emission driving.
High-performance Clio Renaultsport

Renault has a long and illustrious history in producing compact hot hatchbacks and while the fastest Clios have between 200hp and 220hp on tap depending upon which version you go for, they're hamstrung for enthusiasts by an obstructive EDC dual-clutch automatic gearbox – there's no manual alternative.
Still, they're quick: the Clio Renaultsport 220 Trophy can reach 146mph and gets from 0-62mph in 6.6 seconds. The handling will put a smile on your face, too, but as a package it falls short of the Ford Fiesta ST and Peugeot 208 GTi.
However, this version is no longer available, and with a new Renault Clio due in 2019, you'll have to wait for an all-new version or find a used one if you really want it.

The Parkers Verdict
We like the Renault Clio. It's well priced, has a generous equipment tally, and looks smart, despite having been around for a few years now. It rides well and is roomy, too.
It doesn't have any particular weaknesses, either, although if we were being picky, then we'd counter that it's not as sharp to steer as the Ford Fiesta. But, then, what is?
The Clio is wearing its years very well, but things like a dated infotainment system and some cheap interior plastics mean it's not quite at the top of the class.

Read on for the full Renault Clio hatchback review