SEAT Leon ST Cupra long-term review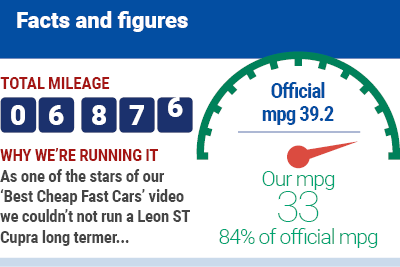 We ran a fast and practical Leon ST Cupra

Update 1: Welcome to Parkers
We spend some time in one of our favourite practical hot hatches
Having recently starred in our Best Cheap Fast Cars Group Test 2017, we can confirm that the SEAT Leon ST Cupra 300 fulfils its sportscar-slaying brief very nicely indeed. After all, how many other estate cars can hit 62mph in less than five seconds and sail on past 150mph should the conditions allow? Very few, is the answer.
All well and good we hear you say. But if the Leon ST Cupra can't hack it as a sensible, practical, family-friendly load-lugger when the need arises, why on earth should I spend well over £30,000 of my hard-earned cash on one? Why not just buy a cheaper SEAT Ateca and fritter away the leftover cash on a second-hand sports car?

To find out whether the SEAT Leon ST Cupra really can provide the best of both worlds, we're going to be running one over the next few months and posting regular updates on how we're getting along. But first, a little more on the car…
Big performance brings a big equipment list
One of the perks of opting for the fastest, most powerful car in the range is that you almost always benefit from an impressive standard kit list. Happily, the Cupra is no different.
Standard kit on the sporty SEAT includes:
Dual-zone climate control, cruise control
Autonomous emergency braking, electronic parking brake, front and rear parking sensors
Sat-nav with 3D map display, voice recognition, two USB ports and two SD card slots
Bluetooth phone connectivity, Android Auto/Apple CarPlay connectivity, DAB digital radio and a CD player
Full LED headlights, SEAT drive modes, ambient interior lighting
Convenience Pack (including auto-dimming interior rear view mirror, auto headlights, coming and leaving home function, rain-sensing wipers)
Dynamic Chassis Control (allows the suspension to be made firmer or softer, also known as DCC)

Equipment unique to Cupra models includes:
19-inch 'Cupra Machined' alloy wheels, red brake calipers with Cupra logo, dual exhaust pipes, Cupra front and rear bumpers
Black alcantara front sports seats, flat-bottomed perforated leather steering wheel with Cupra logo, aluminium front door sill with Cupra logo, gloss black interior detailing
SEAT drive modes with Cupra function, mechanical limited-slip differential
Plenty of stuff to fiddle with, then, but to make the driver's life even easier there's an extensive range of options to choose from.

We've been fairly modest in our selections, opting for the £575 Nevada white metallic paint, keyless entry/keyless ignition (£460), Safety Pack Plus at £125 (includes tiredness recognition and seat belt reminder for rear seats) and the Advanced Comfort and Driving Pack 2.

The latter includes adaptive cruise control, lane assist, traffic sign recognition, high-beam assist, traffic jam assist and emergency assist. When combined, these systems should – in theory – allow the car to effectively drive itself down the motorway or in traffic jams. Sounds promising, but similar tech on other cars we've tested can be hit and miss, so we're keen to see how the SEAT fairs.

Finally, we've also specced the £440 upgraded sat-nav (or Navigation System High as SEAT calls it) which includes traffic avoidance, a 10GB hard disk, the upgraded SEAT Sound system and, curiously, an 18-inch emergency spare wheel.

All of this means our Leon ST Cupra comes in at £34,485, plus £2,210 for options. We'll do a separate article on how this works out on a PCP car finance deal in the coming weeks.
SEAT Leon Cupra ST engine and gearbox
We've already experienced a front-wheel drive manual transmission Leon Cupra when we ran the hatch version in 2015. This time around, we've gone for the all-wheel drive six-speed DSG automatic for two reasons.

For starters, it's the first time SEAT has sent power to all four wheels on one of its Cupra models and secondly, we reckon it'll give the fast estate a far more relaxed and less frantic drive when we're simply trying to get from A to B. Have we made the right choice? We'll see.

Either way, the performance figures aren't to be baulked at. We've already mentioned the 4.9-second 0-62mph time (the front-wheel drive does it in 6.0) and 155mph top speed, but the Leon ST Cupra should also be capable of a respectable 39.2mpg on average, rising to a possible 46.3mpg if you're really careful – which we probably won't be…
Owning a SEAT Leon ST Cupra - first impressions
A car's looks are always going to be subjective, but we reckon the Leon ST Cupra is as about as handsome as it gets for estate cars – especially when squeaky clean. Those, sharp, crisp lines, tapered rear end and subtly-menacing 19-inch alloy wheels are a treat for the eyes and make the SEAT stand out without ever being too showy.

We like the way it cruises too, especially with the standard-fit Dynamic Chassis Control. Those who have driven SEAT Cupras of old will be bowled over by how comparatively comfy it is, especially at high speed. Sure, it's not on a par with a regular Leon ST on smaller wheels but what we can already say is that it's noticeably more absorbent than our old SEAT Ateca long-termer.

A good start then, but rest assured we won't be giving the SEAT an easy ride during its time with us, taking it on track, on regular M25 rush-hour runs and pitting it against its sibling – and arch nemesis – the Volkswagen Golf R Estate. Make sure you stay tuned.
Arrival mileage: 201 miles
Claimed fuel economy: 39.2mpg
---
Update 2: Six-speed DSG gearbox done right
Does the auto 'box reduce the Leon's level of engagement?

Tucked away on page 192 of our Leon ST Cupra's owner's manual is a section on running the engine in.
More specifically, the manual states that 'a new vehicle should be run in over a distance of 1,500km (1,000 miles)' and that 'for the first 1,000km (620 miles) the engine speed should not exceed 2/3 of the maximum permissible engine speed'.
So, all I needed to do was keep it below 4,000rpm and avoid flooring the throttle – easier said than done when you've got a 300hp super-estate for a limited time only...
Silky smooth DSG automatic gearbox
Having a DSG automatic also makes things slightly more complicated, as – unlike when Gareth ran in his manual Toyota GT86 – I have a gearbox that decides when it wants to change ratios.
A firm prod of the throttle pedal therefore meant I'd need to flick of the gearlever into manual mode and an early upshift before 4,000rpm using the wheel-mounted paddles.
Manual override automatic gearboxes are great when done right, but hideously frustrating otherwise. Thankfully, on first impressions, the Leon ST Cupra's appears to be the former.
Pull the paddle on the right and the transmission shifts up almost instantaneously in a smooth, well-judged manner. Do the same with the left paddle and although sometimes slightly hesitant, the downshifts are usually crisp and timely – especially in Sport mode.
The paddles themselves are fixed to the steering wheel and – although a touch small in size – have a satisfying weight to them.
As a final aside, an automatic with only six gears may feel a little old hat in 2017 and – while the Leon could do with an extra cruising gear – the benefits of having fewer ratios is clear. Many other cars change down one or even two gears every time the driver goes near the throttle for a motorway overtake at 70mph.

Fine in theory, but in reality that momentary hesitation can be irritating – especially in cars with easily enough pulling power to complete the overtake in top gear. The Leon ST Cupra, however, holds onto sixth gear unless the pedal is pressed to the resistance level or beyond, at which point at changes down two or three ratios.
The overall effect being that the SEAT rarely – if ever – gets confused about what gear it should be in, unlike many of its seven-, eight- or nine-gear contemporaries. We'll be comparing the Leon Cupra ST to the Golf R Estate (with a seven-speed DSG auto) in a few weeks to find out exactly what the difference is.
Oh, and one last thing. There's a built-in launch control function that we'll be sure to try out in a later update.
A promising start indeed.
Current mileage: 1,716 miles
Calculated average fuel economy: 33.2mpg
---
Update 3: Our Leon hits the track
We take out fast estate car to Rockingham

With our SEAT Leon ST Cupra now nicely run in, we thought we'd take our resident fast estate on a little trip down to our local racing circuit. Sound a touch premature? Maybe, but we reckoned that the Parkers Cheap Fast Cars Test 2017 was a good-enough excuse to give the Cupra an early workout and see what it's like in controlled environment.
Enough performance to keep up with the best
This was the first time we'd really got to put our foot down in the Cupra, and, although it was the token sensible estate car on our test, it really didn't embarrass itself. In fact, I'm convinced that despite the array of serious performance car talent on test that day, nothing could have pulled away from the SEAT at full throttle.

Sure, the manual Focus RS and Impreza WRX had an advantage off the line – unless the SEAT had launch control activated – but once up to speed it was a seriously tight affair.
See, while the Cupra's DSG automatic gearbox may have held it up when moving off, its ability to flick up through the ratios at full throttle make it almost comically fast.
Serious grip and poise through the bends – but maybe too much?
As part of our makeshift autotest setup, we fashioned out a tight hairpin and slalom course for the cars to negotiate. Through both sections the Cupra was probably the most unfussed of the entire selection of cars we had on the day, resolutely resisting understeer and providing more grip than 99% of drivers would care to exploit on the road. As a car for inspiring confidence – it was remarkable.
However, where other cars excelled and the Cupra didn't, was in giving the driver a sensation of fun and playfulness through the corners and under braking. Yes, they felt less stable, but not so much that you felt unsafe, all the while providing more driving thrills at lower speeds.
The steering also proved to be disappointingly dull around the centre point, while the car couldn't quite manage to hide its relative bulk through harder turns.

Are we being unfair calling it too accomplished and comparing it to smaller, lighter hot-hatches and sports cars? Yes, almost definitely. Most drivers will enjoy that unparalled sense of security, while the most relevant test will come when we compare the SEAT to its Golf R sister.
Keep an eye out for that over the next month…
Current mileage: 2,291 miles
Calculated average fuel economy: 32.1mpg
---
Update 4: Sat-nav saga
We discover a problem with our car
Our Leon ST Cupra is one of those cars that does a lot of things very well indeed. It's fast, practical, looks great and isn't too costly to run.
But a recent trip northwards led to an insight into how frustrating modern infotainment systems can be.
There's no issue with the media system itself in the Leon, with an easy-to-use touchscreen taking centre stage on the dashboard. And with Apple CarPlay, Android Auto, Bluetooth, USB and Aux-in, connectivity options are plentiful.
So what's the problem?
It's the sat-nav that caused me grief. Heading north on the M6, it picked up that there was a traffic jam ahead, and suggested an alternative route that would save me a good half an hour. Great, I thought.
So off I came and exited the roundabout according to the instructions on screen – it was a new road that was mapped (or so I thought) on the display.
Next thing I look back at the screen and I appear to be driving through fields, with the system throwing a hissy fit because it can't find a way out. How it suddenly didn't know the road it had just sent me down, I'm not quite sure. My ETA was all over the shop and I was heading in the wrong direction. Excellent.

So I managed to turn off and stop to fiddle around with the touchscreen, where I realised you can't easily zoom in or out like you could in SEAT's older systems – and like we had in our long-term Ateca.
Gone are the buttons around the screen and two knobs (one of which operated the zoom). In its place, a screen with just two buttons that flick between the main menu and the Full Link smartphone interface.
Attempting to zoom like you would on a smartphone is not only distracting, but leads to you jumping around all over the map – not what you want when you're already lost and trying to get back on track.

So I turned around where possible, headed back in the direction I'd just come from and joined the back of the traffic jam I'd just tried to avoid, only 15 or so minutes behind where I would have been if I'd stayed in it.
My frustration may have been heightened because I was already running late for where I needed to be and any kind of traffic is annoying, but it's disappointing that such a basic function in the car's media system has been made less friendly to use than it used to be.
The only black mark on an otherwise excellent car
Sat-nav annoyance aside (I'll use signs from now on), the Leon is a cracking car to undertake a long motorway schlep in. The effortless performance takes care of overtaking manoeuvres, visibility is good and it's surprisingly quiet and refined.
The best part is if you do take a detour (on purpose), you can have fun on the twisty roads in between.
Current mileage: 3,000 miles
Calculated average fuel economy: 32.8mpg
---
Update 5: Leon ST Cupra vs. Golf Estate R
The big one - our SEAT goes up against its more 'premium' rival

The day has come. It's time to address the elephant in the room that is the Volkswagen Golf Estate R – the more powerful, more sophisticated sibling of our SEAT Leon ST Cupra long-termer.
By dint of Volkswagen Group platform-sharing, both cars are by-and-large the same underneath, however the Golf has the advantage in a few key areas.
What are the differences?
For starters the Golf Estate R has 310hp compared to the Leon ST Cupra's 300hp – despite both cars sharing an almost identical turbocharged 2.0-litre petrol engine.
The German challenger also has an extra gear over the SEAT (seven forward ratios versus six), which, in combination with the added oomph, means 0-62mph drops a tenth down to 4.8 seconds.
One thing the Golf R Estate doesn't have as standard, however, is the Dynamic Chassis Control (DCC) adaptive suspension which is fitted to every SEAT Leon ST Cupra.

Aside from the mechanical stuff, the Golf R Estate boasts a more premium-feeling cabin topped-off by the snazzy 12.3-inch Active Info Display (Volkswagen's version of Audi's Virtual Cockpit).
Which car is better?
Let's start with the driving. The Golf R Estate does feel a touch quicker than the Leon Cupra ST, but it's not down to that extra 10hp. The seven-speed DSG gearbox rattles up through the ratios with almost uncanny speed, and allows the Golf R Estate to manage its power better through each gear.
Fuel economy was also noticeably better, touching the 40mpg mark thanks to the extra cruising ratio. We like the SEAT's six-speed DSG 'box, but it's beaten here. 1-0 to the Golf.
The handling on the Golf R Estate is that little bit more eager than the Leon Cupra ST's too, mainly owing to a better-judged steering setup (which feels sharper and more positive). Head into a corner with too much speed and the Volkswagen feels the more agile, fleet-footed of the two – keener to change direction and ever so slightly more fun.
However, the ride on our Golf R Estate test car wasn't as smooth as that in the Leon, owing to the lack of standard Dynamic Chassis Control.

Hop inside and, although we like the solid simplicity of the Cupra's interior layout, the Golf is the clear winner here. The materials and switches feel noticeably more premium, while the standard eight-inch infotainment screen is a big improvement over the SEAT's identically-sized offering.
That said, the Golf's standard-fit Active Info Display may look impressive but its compromised functionality is anything but. It's a definite downgrade from Audi's excellent Virtual Cockpit system, suffering from an overly cluttered display and inferior functionality.
The Parkers Verdict
It pains me to say it, but the Volkswagen Golf R is a better car than our beloved SEAT Leon ST Cupra. It has a nicer interior, handles with greater finesse and just feels that bit more polished than the Spanish challenger.
However, a better car it may be, but what happens when it comes to actually owning the Volkswagen? For starters, you'll be paying more than you would with the Leon ST Cupra. You'll also see another one out on the road at least once a day, plus you'll be driving around in a car which, for me, hasn't got anywhere near the aesthetic grace of our SEAT.
A close-run thing then, and a dilemma which will no doubt be the subject of many online car enthusiast forums.
If it was my hard-earned cash and I had to choose one or the other? Stay tuned for the answer to that question and our overall verdict in the final long-term update in a couple of months…

Current mileage: 4,969 miles
Calculated average fuel economy: 34.1mpg

---
Update 6: Counting the costs
How does SEAT's finance offering stack up?

If you've been a frequent visitor to this page over the past few months, you'll have probably realised the Leon ST is well worth a look should you be in the market for a fast mid-sized estate car. However, do the numbers work?
While we can't tell you if you can personally afford one, what we can do is outline how the SEAT compares to its rivals when it comes down to value for money. Reasonably-priced or rip-off? Read on to find out.
Cash and personal contract purchase (PCP) deals
If you're one of the few new car buyers who still pays cash up front, the Leon ST Cupra DSG auto 4Drive (with no options) will set you back £34,485.
Translate this into a PCP deal on SEAT's own finance scheme and – with a £4,000 deposit, 36-month contract and annual mileage of 10,000 – the Leon ST Cupra will cost £484.96 a month.* Much of this is down to the hefty 4.9% APR interest rate negating the reasonably-generous £2,250 deposit contribution.
Compare this to – surprise, surprise – a Volkswagen Golf Estate R (below) with the same deposit, contract length and mileage, and the Golf comes in at £520.67 a month. With an identical 4.9% APR rate it would have been far more competitive if Volkswagen upped its £1,000 deposit contribution to match SEAT's.

Next up is the Audi S4 Avant (below). More power and more quality, but you do pay for the difference with the Audi setting customers back £552.10 per month on the same deposit. This is despite a lower 3.9% APR rate and chunky £3,150 deposit contribution.

Finally, the Skoda Octavia Estate vRS 245hp DSG (below) is the SEAT's equivalent in its sister brand's range and feels far closer to the Leon ST Cupra's performance than the 55hp power deficit might suggest. Even so, it works out a whopping £105 cheaper per month than the SEAT at just £383.03. A lower 2.9% APR interest and cheaper outright cash price explains the difference.

So, which offers the best value?
Everything is largely as you'd expect with the Skoda working out cheapest and the Audi working out the most expensive, with the SEAT finishing somewhere in the middle. However, the biggest surprise is the gap between the Octavia Estate vRS and the Leon ST Cupra – one which is far bigger than the split between the latter and the Audi S4 Avant.
Having driven both, we'd say that the SEAT is the better car to drive. But £102-a-month better? We're not so sure.
By James Dennison
Mileage: 5,348
Fuel economy: 33.5mpg
*Deals are correct at time of publication. Everyone's financial circumstances are different and credit is not always available – Parkers cannot recommend a deal for you specifically. These deals are indicative examples of some packages available this week.
---
Update 7: FWD vs. AWD
Our Cupra is AWD only - does that make it less fun?

Our generation of Leon ST Cupra marks the first time that SEAT has given one of its performance cars an all-wheel drive drivetrain. Many observers would say that this is nothing to do with what SEAT is capable of, and all to do with Volkswagen Group politics – although I'll resist going down that alley for the moment.
What we will do, though, is consider the other SEAT Leon ST Cupra – namely the cheaper, lighter, supposedly more-exciting front-wheel drive manual version that's also available as a hatchback. Thorough as ever, we spent a long-weekend in the two-wheel drive challenger to figure out if, after all this time, we'd actually picked the wrong Leon ST Cupra. Heaven forbid.
We love a good manual gearbox, but this isn't one of them
The above heading might sound harsh – but we just didn't gel with the manual gearbox in the Leon ST Cupra. It felt notchy and too long in the throw to enjoy properly, plus we're fairly certain that it's the same – or very similar – to the unit found in regular SEAT Leon. Maybe I'm being fussy, but I'd like an upgraded gearbox for the top-of-the-range performance versions, rather than making do with the standard transmission.

Front-wheel drive is fun, but frantic
The traditional hot-hatch formula is front engine, front-wheel drive and a manual gearbox – a layout which suits the SEAT Leon Cupra Hatchback very nicely. And yet, for whatever reason, this doesn't translate particularly well into the Leon ST estate. Yes, it's fun in the right conditions and perhaps feels a touch faster during in-gear acceleration, but there's not the same sense of stability and easy-to-exploit performance.
Put your foot down in first gear in anything other than bone-dry conditions and you'll have a hard time moving away briskly without spinning the front wheels. Accelerate hard in second or, sometimes. third gear and it's the same story. Sure, you can learn to work around it and be lighter on the throttle, but it still doesn't feel quite as enjoyable as the excellent hatchback version. Fun – yes. Versatile – not particularly.

All-wheel drive auto gets our vote
Maybe I'm biased but I'd much rather have my Leon ST Cupra all-wheel drive auto over its front-wheel drive manual equivalent. It feels more composed, better-rounded and quicker in the real world. If you've got your heart set on the front-wheel drive manual option, question whether you really need the extra room of the estate, and – if not – save some money and opt for the five-door hatchback.

By James Dennison
Mileage: 5,645
Fuel economy: 32.3mpg
---
Update 8: Farewell
SEAT comes to collect the Leon ST Cupra and we try to hide the keys

I could say I've lost it, or maybe that it's been stolen… No, that won't work. I remember the lady at SEAT telling me they'd just fitted a tracker on the car before I took delivery. Damn. Maybe give them an FR-spec Leon ST and hope they don't notice?
Sorry, you've caught me as I try and figure out a way of not giving my Leon ST Cupra long-termer back. I realise that's rather spoiled the big question of how I rate the car after 7,000 miles, but regular readers of this report will likely know the answer already. It's fantastic.
The looks, the better-than-expected comfort, the soothingly logical interior layout and did I mention the speed? It goes like a rocket-powered bumblebee. However, before you go off and buy one, there are a couple of things we need to address.

For example, did we get the right version? SEAT also makes a manual, front wheel drive version of the Cupra, so is it any better? Also, running a super-fast estate may be a tempting prospect, but how much does it actually cost you in the real world? And, finally, would I recommend buying a Leon ST Cupra over the elephant in the room that is the Volkswagen Golf Estate R?
Read on to find out…
This was a fairly easy one for me. Yes, the front-wheel drive Cupra might be cheaper and slightly more exciting than the all-wheel drive version in dry conditions, but having spent a weekend with the former I was happy to get back into my long-termer.

See, while a front-wheel drive, manual gearbox hot-hatch is an excellent formula, it doesn't translate well into a more sensible estate version. One of our long-termer's strengths was the way it could remain comfortable and composed when required, but then morph into a ballistic missile at a moment's notice.

The front-wheel drive manual version was still quick, yet it could never do the other part quite as well. The gearbox was notchy and not user friendly, while any attempt to accelerate hard in first or second gear was met by a flickering traction control light if the conditions were anything but bone dry.
Fun, yes - but just not as multi-talented as our admittedly more expensive long-termer.
Adding up the costs
Let's start with the fuel – something which wasn't quite as ruinous as you might expect. Over almost 7,000 miles, our Leon ST Cupra managed a calculated average fuel economy over 33.0mpg, 84% of its claimed 39.2mpg average. Not bad going. Although we should point out that this was done almost entirely on super unleaded…

As for insurance, the cheapest quote we could find was £787.99 pence for a year of fully-comprehensive social, domestic, pleasure and commuting insurance. That's for a 30-year-old married male living in Peterborough, with twelve years no-claims bonus on his licence.
Repair costs? None – the Leon ST Cupra didn't miss a beat during our time with it.
As I said a couple of updates back, the Golf Estate R is the better car. But, if it were my money and my decision, I'd be walking towards the Volkswagen dealership and then, at the last minute, veer off towards the SEAT one.
Why? Two things. The Golf Estate R and Leon ST Cupra are both special performance machines which I'd be lucky to own. Thus – and this is a personal thing – I'd want the exclusivity factor that the Leon ST Cupra offers and the Golf doesn't.

True, you don't see that many Golf Estate Rs on the road, but the hatchback version is ten-a-penny, serving as a painful reminder that as good as the hot-estate is, it can't quite match its hatchback sibling.
The second issue with the Golf – and feel free to call me vain – is the looks. The well-proportioned, chiselled looks of the hatch just haven't been translated into the estate version which appears awkward and ungainly, especially at the back. Conversely – and again, this is a personal opinion - the Leon Cupra looks sharp and purposeful in either hatch or estate form.

I wouldn't usually advocate buying a car over another one based on the two subjective points mentioned above. Yet the difference between the Golf Estate R and Leon ST Cupra is very narrow; enough that looks and exclusivity carry the deciding vote in this case.
Would the result have been different if I'd run a Golf Estate R for the past few months? Possibly, but I'll likely never know. What I do know is that the Leon ST Cupra has been a pleasure to call my own over the last 7,000 miles and, truth be told, I'm really not sure what I'm going to do without it.
By James Dennison
Mileage: 6,876
Final fuel economy: 33.0mpg

_______________________________________________________________________________________________________