Subaru Forester: living with the off-roader's SUV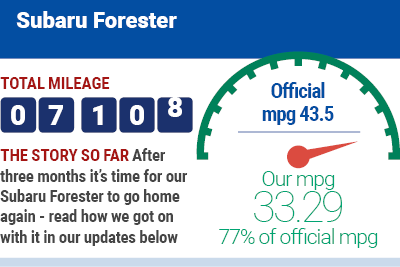 We live with a Subaru Forester for three months
Subaru Forester: The story so far...
In the short three months with me, the Forester has covered 4500 miles to and from photo shoots all over the country, and has acted as gig wagon with guitars, amps and PA equipment for my band.
It coped admirably with the masses of musical equipment, but was absolutely full the to brim, although I'm sure the already poor mpg suffered with each band rehearsal or gig.
The excellent visibility was a welcome change to other SUVs that I have driven recently, in which I felt somewhat claustrophobic, and seemed to be forced to rely on electronic aids to manoeuver safely. My children also appreciated the extra height and visibility from the rear seats, with the large windows.
Dependable in the snow
For an all-wheel drive car, the Subaru seemed to struggle with front end grip, especially on damp roads. More than once I ended up on the wrong side of the road on damp corners and that was not even at high speed.
In the snow, however, the Forrester coped really well, and got me through some of the worst snow drifts I've ever seen in this country.

I really didn't get on with the CVT gearbox - it's far from an ideal match to the 2.0-litre petrol engine and no doubt was hindering the fuel economy.
Driving the Subaru with this gearbox seemed very much like a twist-and-go moped; lots of noise and revs, but lacking in the go department. In fact overtaking was completely off the agenda, unless the offending vehicle was at a standstill. With a manual gearbox, or a proper auto, this would have been a much better car.
I wanted to really like the Forester, but the frequency at which I visited fuel stations and its driving style put pay to that.
By Stuart Collins
Mileage: 7,108
MPG: 33.29
---
Update 5: Forester vs Outback
We compare our Forester SUV with the Outback estate

We recently got the chance to drive Subaru's off-roader estate back-to-back with our Forester SUV - both offer good wilderness-driving ability and space for family life.
For a kick off, the CVT gearbox in the Outback feels a much better match to the torquier diesel engine, as apposed to the Forester's petrol, which needs stacks of revs to get going.
Subaru also gave this generation of Outback a much more modern and luxurious look and feel to the interior, in part to attract company car buyers who would otherwise go into off-road estates from Audi or Mercedes-Benz.

Outside the design is a refreshing change to the jelly-mould SUV style that the Forester has grown into, itself very different looking to the original SUV.
Being a bit lower to the ground, the Outback also handles more like a regular car, with a lot less roll in the corners, as well as more front end grip.

The interior space was a step up (though literally a step down) from the Forester and the boot was cavernous too.
Out of the two, I'd take the Outback any day, but would like to have tried the same engine and gearbox combo in the Forester.
Mileage: 6,362
MPG: 26.88
By Stuart Collins
---
Update 4: Forester thoughts
The Forester is beginning to get under our skin - but what's good and bad about it?

So as I'm now halfway through my time with the Subaru, it seems a good time to share my thoughts on the Forester.
I always liked the looks of the old Forester – part car and part off-roader – and this new shape leans a bit more towards the off-roader/SUV side of the visual spectrum. It's a bit of an odd shape to park though – the rear camera is a great help (so long as you remember to clean the lens every time you drive), but the front overhang means I'm often a lot further away from the neighbours' cars than I thought. Front parking sensors would be a handy option to have on this car.

Fuel economy and range have been a bit of a disappointment after the 600-odd-mile capacity of the Kia Optima. The most I can squeeze out from a full tank is around 360 miles, meaning annoyingly frequent visits to filling stations. Its best mpg figure so far is only 34mpg, which was on a long motorway journey, and around town I'm lucky if the car shows 20mpg.

While I do like auto 'boxes, especially in traffic, the CVT auto in the Forester leaves a lot to be desired. It's not a quick car at all and putting your foot down to accelerate seems mainly to increase the engine revs (and noise) disproportionately to the car's speed. Most of the time I don't even bother chancing an overtake as the car doesn't gain pace quickly enough for me to feel as though it would make it.

The Subaru is a very comfortable car to drive, and long journeys are no bother. Thanks to the heated seats, the winter mornings are less arduous and the sat-nav has been put to full use taking me all over the country to shoot.
I can't drive anywhere without music, so the DAB is great to rock along to, plus having the option to plug in my iPod or Bluetooth music from my phone is a bonus. The only downside is that when choosing which artist or album to listen to, the process is a bit long winded – five separate menus to get to the artist choices, plus with nowhere to rest your thumb, you have to be steady handed not to get Elvis Presley when you were aiming for Eric Clapton.
Miles: 6,857
MPG: 31.3
---
Update 3: Foresters and finance
Does the low RRP of the Forester make it a good finance option?
Our Forester's on-the-road price of £31,495 betters its main rivals, but seeing as most people buy their new motor with car finance these days, how does it stack up in terms of monthly cost?
Well, despite being cheaper than the equivalent Skoda Kodiaq, Volkswagen Tiguan and Mitsubishi Outlander PHEV, the Subaru's more expensive on PCP finance at £349 a month
That's based on a 49 month deal, with 6,000 miles a year, a £8,138.75 deposit plus £1,000 contribution, £10,104 final payment and 6.9% APR.
It is cheaper than a BMW X3 and Land Rover Discovery Sport, but the former offers a higher annual mileage, while the latter has a better engine and spec.
All-in-all it's not extortionately expensive but as usual, the monthly finance costs paint a very different picture to the on the road price. More details below.
Skoda Kodiaq Scout 1.4-litre petrol 150hp 4x4 DSG – seven seats
47 monthly payments of £303.55
10,000 miles a year
£8,138.75 plus £2,000 deposit contribution
£14,292.90 final payment
6.2% APR
www.skoda.co.uk/tools/finance-calculator

VW Tiguan SEL 2.0-litre petrol 180hp 4x4 DSG
47 monthly payments of £308.22
10,000 miles a year
£7,905 plus £2,000 deposit contribution
£12,277.80 final payment
5.3% APR
www.volkswagen.co.uk/financeCalculator

Mitsubishi Outlander PHEV 3h
42 monthly payments of £325.39
6,000 miles a year
£8,138.75 plus £2,500 deposit contribution
£13,279 final payment
5.9% APR
www.mitsubishi-cars.co.uk/finance/calculator/

Land Rover Discovery Sport HSE 2.0-litre petrol 240hp
48 monthly payments of £359.46
6,000 miles a year
£8,000 plus £2,500 deposit contribution
£18,467 final payment
5.9% APR
financecalculator.landrover.com
BMW X3 xDrive20i xLine
47 monthly payments of £368.72
8,000 miles a year
£8,138.75
£18,513.41 final payment
5.9% APR

As always these financial comparisons are interesting because they generally show that Skoda comes out top when there's one in the list. And this is no exception, with the super-sized Kodiaq scoring very well in the value stakes. Its off-road credentials might not be as blue-chip as the Subaru's, but if you're unlikely to venture off the road, that hefty monthly saving might look very tempting indeed.
By Adam Binnie
---
Update 2: Exploring the Forester's specification
What combination of engine and spec have we got?

On the face of it the Subaru Forester range is harder to find your way around than an actual forest, but when you break it down it's actually quite simple.
There's a choice of petrol and diesel engines but all are 2.0-litre, four cylinder units arranged in a horizontally arranged or 'boxer' format. This helps reduce vibration and keeps the car's centre of gravity low-down for optimum handling.
We've got the naturally aspirated petrol version with 150hp and 198Nm of torque, teamed with an automatic gearbox. This combination is the slowest accelerating, taking 11.8 seconds to crack 0-62mph – the diesel option and turbocharged petrol are both quicker regardless of transmission.
What about equipment?
The petrol range offers three trims – starting with XE, then XE Premium, and finally the standalone XT model, which is powered solely by the turbocharged petrol we mentioned earlier.

All Foresters come with a decent standard spec, including:
17-inch alloy wheels
Heated front seats
Dual-zone climate control
Starlink entertainment system on a 7.0-inch colour touchscreen
Reversing camera
Cruise control
8-way power adjustable driver's seat
Auto headlights and wipers
Power-folding door mirrors
60/40 split folding rear seats
Bluetooth, auxiliary input and dual USB port connectivity
Automatic petrol cars like ours also benefit from Subaru's EyeSight safety system, incorporating camera-based cruise control and autonomous emergency braking, plus the following:
SI-Drive mode selector
X-Mode off-road setting
Hill descent control
We also get the following upgrades by picking an XE Premium car:
Leather seats
Seat memory
Keyless entry and push button start
Power rear gate
Satellite navigation
Will those additions prove worthy of the extra £2,500? Over the next dozen updates, we aim to find out.
By Adam Binnie
Miles: 4,286
MPG: 28.9
---
Update 1: Welcome
A Subaru Forester joins our long term fleet

I've gone up in the world. Not in any social standing or job promotion (not sure I can actually promote myself, being self-employed), and I've not gone through a second puberty and gotten taller.
No, I am now the custodian of a Subaru Forester, so now sit that bit taller while driving, and join the ever-growing number of SUVs on the road.
First impression are pretty good, it's a nice looking car and the XE Premium trim level has plenty of kit, including heated leather seats, sat-nav and DAB, so that'll keep me happy on my travels.

It has a 150hp 2.0-litre petrol engine, mated to a CVT automatic transmission and full-time all-wheel drive, so fuel economy might be a bit on the low side after the 46mpg of the Kia Optima it replaces.
Subaru's figures say that it'll do 34.9mpg in town and 51.4mpg in the country, but my first few tanks are way off of those figures and I seem to be visiting fuel stations far too often for my liking.

It's going to be interesting to see how the Stubaru will compare to its gigantic predecessor, the Kia Optima. From the outside, it seems that it'll have a bit of a disadvantage with its boot size.
The Kia had a huge 552-litre boot capacity with the rear seats up compared to the Stubaru's 505-litre, and 1,686 litres with the seats down against 1557 litres in the Subaru.

The figures compare fairly well, and in practice my camera kit all fits comfortably in the Subaru; better than the Renault Scenic that I had for a while, which had a curved shape making packing camera cases and tripods a bit of a struggle.
The boot will also need to fit all my guitars, amps and PA equipment when I'm gigging with my band, so that'll need some practice getting it all to fit without sliding around.
By Stuart Collins
Miles: 3,981
MPG: 30.6