Subaru Forester review
Current Model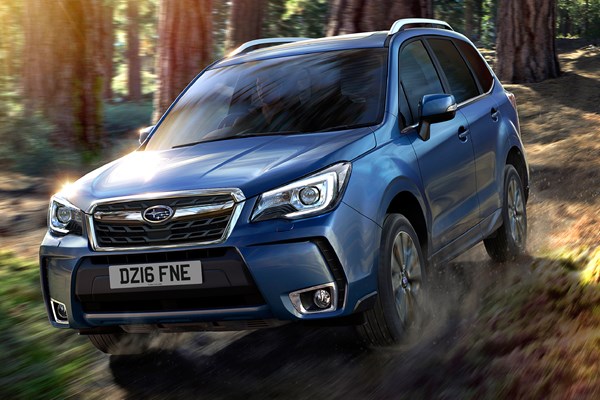 PROS
Improved fuel efficiency
Genuine off-road ability
Towing capacity
Reliable
CONS
Dull interior
Plenty of competition
Petrol engine noisy with CVT gearbox
PROS
Improved fuel efficiency
Genuine off-road ability
Towing capacity
Reliable
CONS
Dull interior
Plenty of competition
Petrol engine noisy with CVT gearbox
This is the fourth incarnation of the Subaru Forester, a practical and no-nonsense 4x4 that has developed a reputation as a rugged workhorse, beloved by farmers and those that live in remote rural locations. Subaru even claims 75% of its cars are bought by country dwellers.
It's not quite an all-new car, more of an extensive update of the outgoing model. The 13-on Forester is longer and wider than the car it replaced, allowing greater interior space for both people and luggage.
Sadly, like the previous version it's a bit anonymous-looking both inside and out. Despite a subtle redesign in 2016, the interior still falls short of its rivals thanks to a bland design, but it's solid and will likely last a long time.
Genuine off-road ability
The Forester makes up for its cabin with decent driving dynamics, though. On the road it doesn't roll around anywhere near as much as you might expect from a tall 4x4 thanks to a comparatively low centre of gravity, while off road it makes a pretty good fist of things too.
All Foresters are equipped with four-wheel drive – Subaru calls its system Symmetrical All-Wheel Drive. Automatic versions include an 'X-Mode' function, which adjusts the gearbox, traction control and throttle settings to help the car find grip on muddy ground. It also incorporates Hill Descent Control, which can ease the car down a slippery slope so the driver can concentrate on steering.
Ground clearance of 220mm is slightly more than that of a Land Rover Discovery Sport, and it's far more capable than softer rivals such as the Toyota RAV4.
Petrol and diesel engines
Subaru offers three engines – two petrol and one diesel. The entry-level petrol is a 2.0-litre engine with a six-speed manual or CVT automatic transmission. Fuel consumption is improved over the older model with claimed average of 40.9mpg and 43.5mpg for the manual and CVT auto respectively.
There's a potent turbocharged petrol 'XT' version with 237bhp and 350Nm of pulling power, which is a genuinely fast car.
The solitary diesel is a 2.0-litre turbocharged engine available with a six-speed manual or CVT automatic gearbox. It's a very easy-to-drive powerplant on the road and makes up roughly half of all Forester sales.
Well-suited to towing
The Forester is rated to tow up to 2,000kg and is fitted with a Trailer Stability Control system, which controls the braking system and power distribution to help bring weaving trailers and caravans under control.
Roof rails are standard fit and top XT variants feature a powered tailgate so you don't need to get your hands muddy to open the boot, which will carry up to four golf bags. In fact, the whole car is bigger than the car it replaces: it's longer and wider than before to free up more interior and luggage space.