Suzuki Jimny 2019 early drive review
PROS
Unmatched off-road performance in class
Hard-wearing interior
Clever use of not a lot of cabin space
Decades of heritage
CONS
High CO2 emissions, poor fuel economy
Looks won't be for everyone
There are much better small SUVs for most buyers
Disappointing Euro NCAP crash test score
PROS
Unmatched off-road performance in class
Hard-wearing interior
Clever use of not a lot of cabin space
Decades of heritage
CONS
High CO2 emissions, poor fuel economy
Looks won't be for everyone
There are much better small SUVs for most buyers
Disappointing Euro NCAP crash test score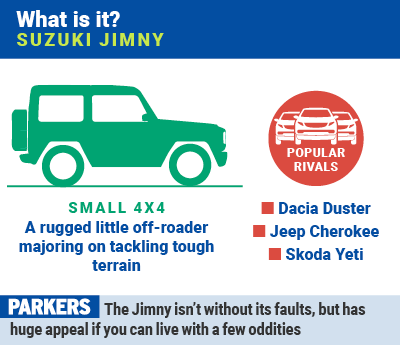 Believe it or not, the car this 2019 Suzuki Jimny replaces has been on sale since 1998. That makes it one of the longest-running continuous sales runs of any vehicle in recent times, and indicates just how successful the formula was.
This small, rugged 4x4 is now in its fourth generation (the first launched in 1970) and has off-roading capability most small SUVs can only dream of, but adds now-vital extra technology in the form of safety and multimedia kit.
There's a larger, more powerful new engine, a selectable four-wheel drive system, lots of go-anywhere equipment and a simple trim line-up.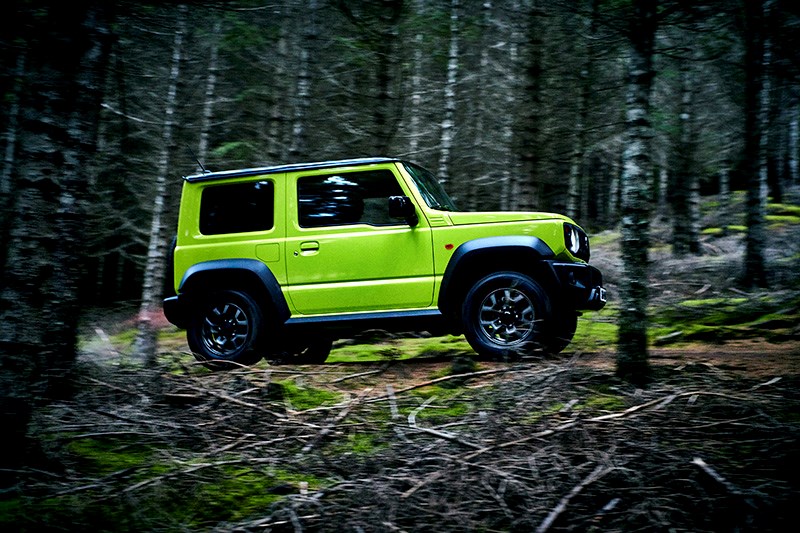 Direct rivals are extremely thin on the ground, with the closest probably something like a Dacia Duster, but other cars on your list could include everything from a used Land Rover Defender to a Jeep Wrangler or even a secondhand Skoda Yeti.
Suzuki Jimny 2019: engine and transmission options
You've got just the one engine in the Jimny line-up for the UK: a 1.5-litre petrol that does without any form of emissions-lowering turbocharging technology. It's for that reason the Jimny is almost impossible to recommend to most company car drivers, since its CO2 output of 154g/km in its more efficient manual gearbox specification means benefit-in-kind tax will be very high for a car of this size and performance.
With the aforementioned five-speed manual gearbox – available in both SZ4 and SZ5 trims – this 101hp/130Nm motor makes for a 0-62mph time of around 12 seconds (still to be confirmed by Suzuki) with a top speed of 90mph.
On top-spec SZ5 cars you also get the option of a four-speed automatic gearbox, but top speed drops to 87mph and we'd imagine the 0-62mph time will suffer too.
Suzuki Jimny 2019: off-road kit
But to bemoan the Jimny's lacklustre on-road performance is to disregard one of its main talents – it's a formidable go-anywhere machine.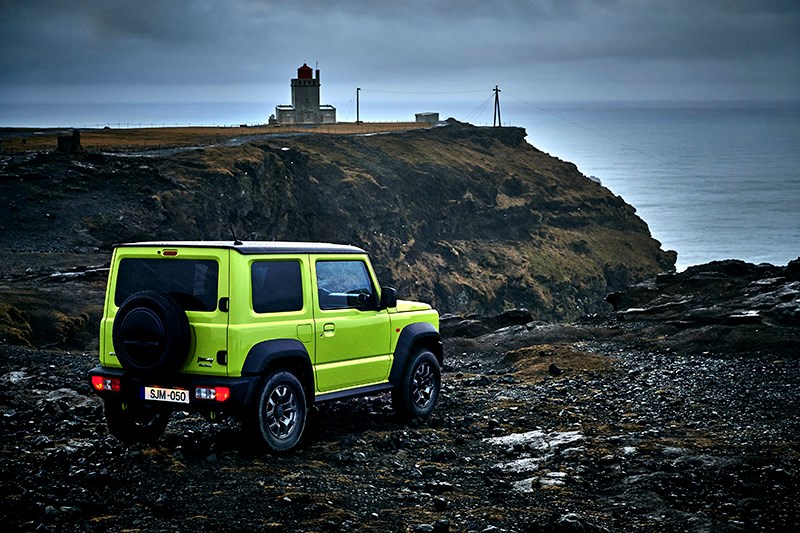 At a very basic level, it has been designed to perform well when the going gets tough. It's built on a ladder-frame chassis that allows for impressive axle articulation and high strength. The suspension is coil-sprung all-round, and the brakes act as a limited-slip differential would in a more expensive car to distribute engine output accurately as required to a slipping wheel.
This manifests itself in the following numbers.
Suzuki Jimny 2019 off-road performance in stats:
Ground clearance: 210mm
Approach angle: 37 degrees
Ramp breakover angle: 28 degrees
Departure angle: 49 degreees
But there's plenty more to it than that. All versions get a selectable all-wheel drive system called AllGrip Pro (as seen in Ignis and Swift) but featuring a low-ratio transfer box, which means you're able to disengage the front wheels when driving on normal tarmac in good conditions for better fuel economy with the former, or take advantage of 'crawler' speeds for far more accurate torque application with the latter.
Suzuki Jimny 2019: how does it drive on-road?
Thanks to the unusual recirculating ball steering and large amounts of vertical travel in both suspension and tyres, the Jimny exhibits a unique handling character that takes a bit of getting used to. It leans a lot, and at first the steering feels unresponsive, but you do learn to drive around this.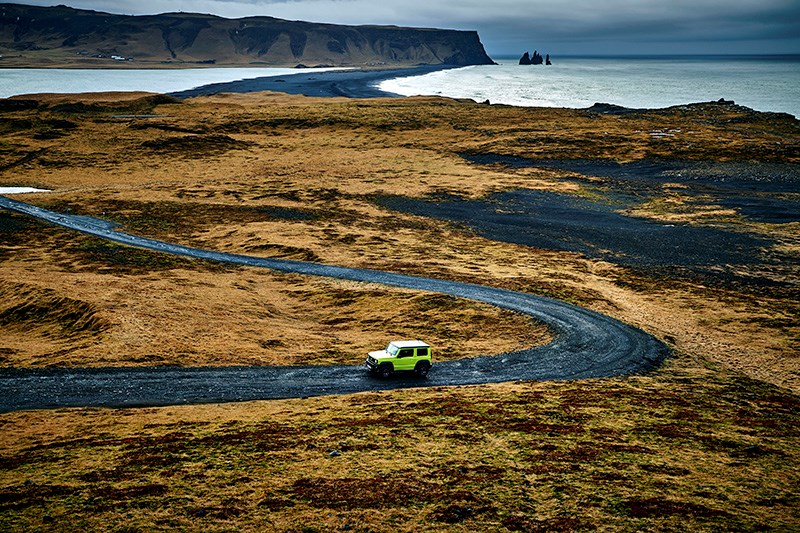 We found its engine just about powerful enough for motorway driving but only just, and if you want to make good progress it, along with the transmission, do tend to sound a little strained.
Suzuki Jimny 2019: how does it drive off-road?
This is the trade-off for the 'quirky' handling, of course. The Jimny is extremely capable off-road, with that aforementioned ground clearance really helping it scale some highly intrusive scenery.
We tried it on a rocky surface with dust and mud, but came away wondering if we'd even scratched the surface. Standard hill-descent control and hill-hold systems help, but it's the low-range gearbox and 4x4 set-up that do the lion's share of the work here. We can't think of a car priced lower than a Jeep that'll do so well when the going gets tough.
Suzuki Jimny: what's the cabin like?
It's a reserved des 2019ign with robust materials. Clearly it's been built to last, with tough-feeling rubber dash finishing and switchgear made from hard plastics.
There certainly a more quality feel to it than in the Ignis, for example, but equally there's less colour in there to appeal to the aesthetic among you.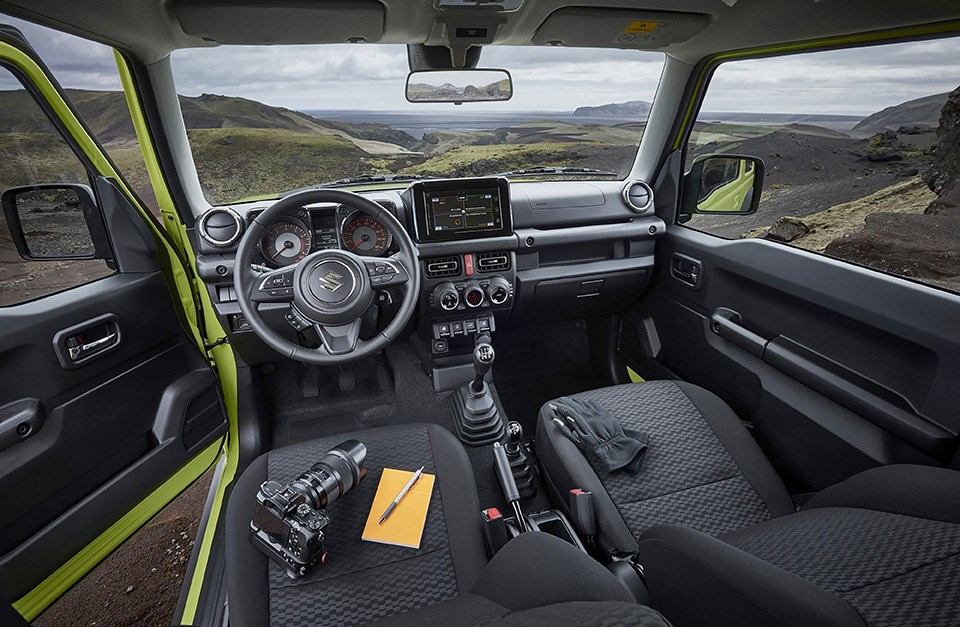 We found the 7.0-inch touchscreen in top-spec models responsive enough, but the built-in sat-nav far too slow. This resulted in a few missed junctions we could have done without, but thankfully Waze can be streamed using Android Auto or Apple CarPlay to mitigate this issue.
Suzuki Jimny 2019: practicality
The Jimny's square profile may detract from its aerodynamic performance, meaning its emissions are relatively high, but the pay-off is that it's about as practical as any car of a similar footprint thanks to some clever packaging.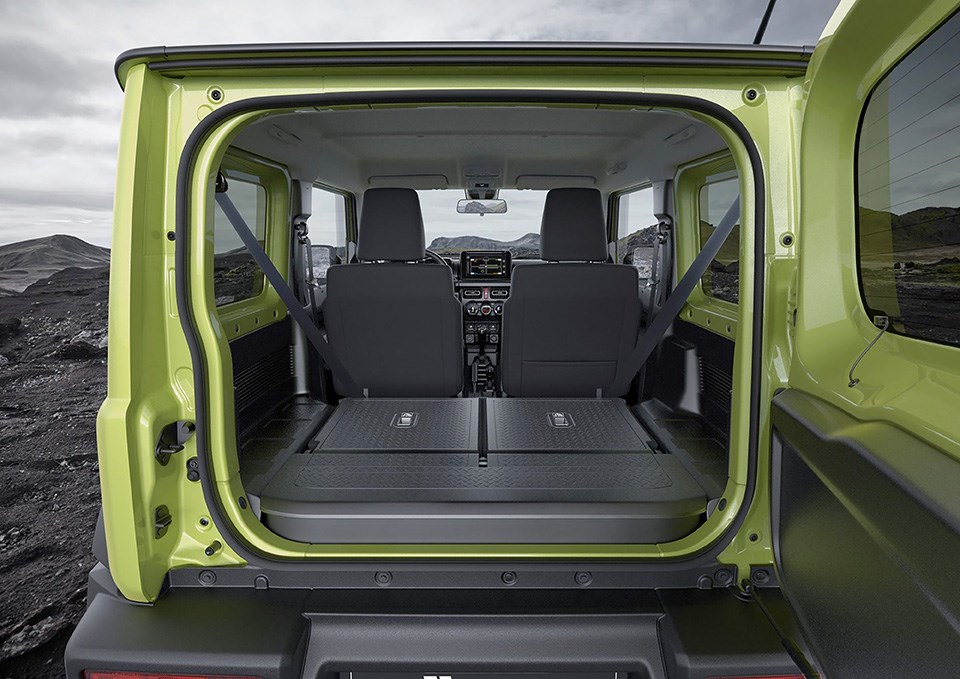 Its boot has grown 53 litres over the out-going version, now measuring 377 litres – but only with the rear seats folded away. Furthermore, the front seats slide further and can be folded flat for added usability, while the rears not only fold horizontal (if you remove the headrests) but feature a plastic coating, just like the boot floor. This makes it easier to wipe clean, apparently.
Suzuki Jimny 2019: UK specifications, safety and pricing
You can choose between two specifications for the 2019 Jimny: SZ4, which comes with a manual gearbox, or SZ5, which can be ordered with an automatic for extra cost.
Standard kit on all Jimnys includes:
Air-con
Cruise control
CD player and DAB radio
Bluetooth
Front foglights
15-inch steel wheels
Six airbags
Hill-decent control
Lane-departure warning
High-beam assist
Three body colours
Then, moving up to SZ5 also liberates:
Full LED headlights
15-inch alloys
Tinted rear windows
Climate control
Sat-nav with smartphone link
7.0-inch touchscreen
Heated front seats
A choice of three extra colours
Unfortunately, however, at time of writing pricing hadn't been announced for the Jimny. Parkers was given a steer on the ballpark figure, though, so expect around £16k for an SZ4 and £18k for the top SZ5.
Suzuki Jimny 2019: disappointing safety rating
Even before the Jimny has arrived in the UK it has been subjected to a Euro NCAP crash-testing programme, with lacklustre results. Overall it scored a mediocre three-star rating, constrained particularly by its low scores for vulnerable road users and safety assist systems. It did perform better for occupant protection, though, seemingly being a better car to travel in as a child rather than an adult.
WATCH: Suzuki Jimny SUV Euro NCAP crash test
---
The Parkers Verdict
We found the Jimny a car that's easy to love – for its off-road talents and its looks – but difficult to recommend over almost any other similarly sized SUV for its running costs and on-road driving.
If you can put up with its foibles, we think you'll be best with a lower-spec SZ4 and a smartphone cradle to display navigation.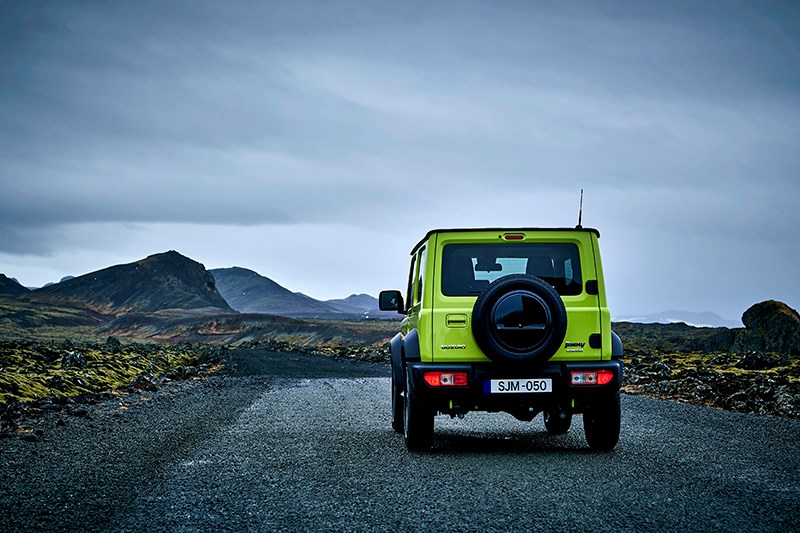 Keep an eye out for the full 2019 Suzuki Jimny review coming soon on Parkers