Suzuki Swift SZ5 1.2 Dualjet SHVS 4x4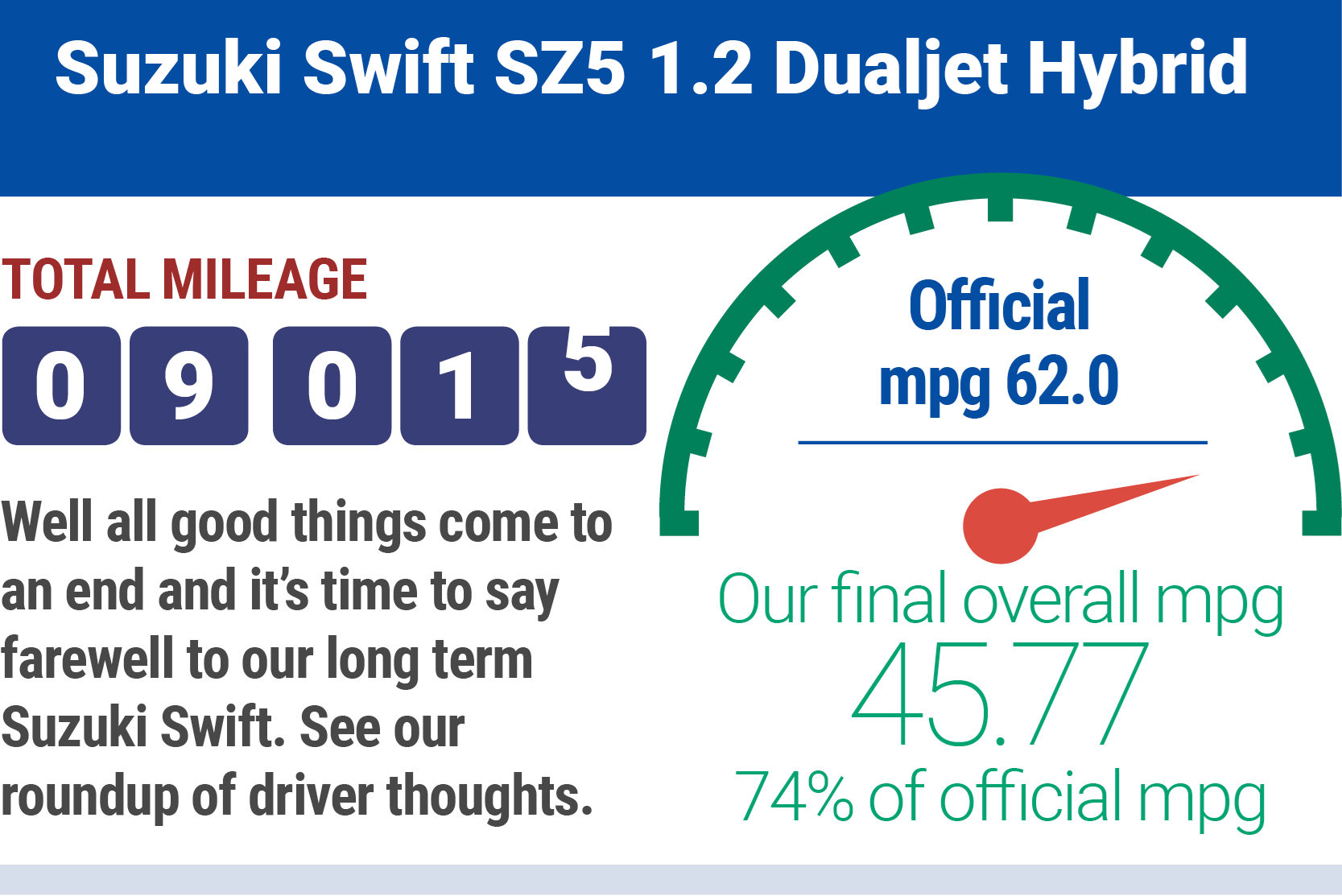 Suzuki Swift: The story so far...
Update 1: Welcome to the fleet – The 2017 Suzuki Swift
After having the pleasure of running the Suzuki Ignis on our long term fleet, I'm now charged with looking after our latest addition to the Parkers long-term fleet.
The new 2017 Swift is the 5th generation car and is available in three trim levels, SZ3, SZ-T and SZ5. We've taken on board the top trim-level 88bhp SZ5 1.2 Dualjet SHVS 4x4 Hybrid derivative with ALLGRIP. The sector has some pretty heavyweight contenders such as the Ford Fiesta and Skoda Fabia so over the coming months we'll be pushing our Swift to see how it fares.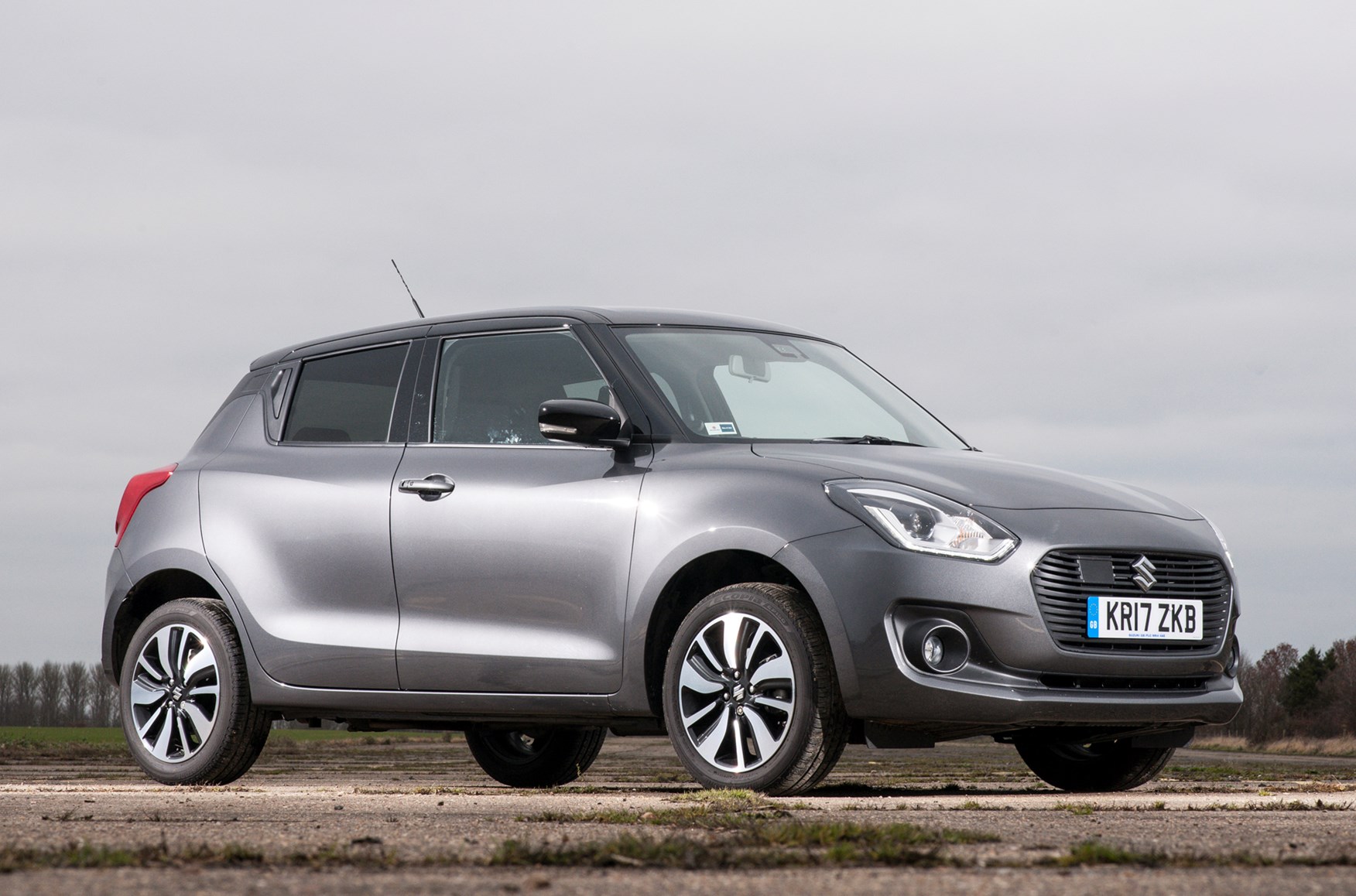 SHVS
The SHVS is the abbreviation for Smart Hybrid Vehicle by Suzuki.The SHVS system works by converting kinetic energy generated when decelerating or braking into electrical energy which is stored in the on-board battery improving the overall efficiency. The system also employs a stop/start feature which turns off the engine whilst stationary (reducing CO2 levels) and improves overall fuel economy.
ALLGRIP
The Suzuki ALLGRIP system employed on the Swift helps improve overall grip when road conditions become challenging. The system automatically diverts power from the front wheels to the rear giving the car that extra stability.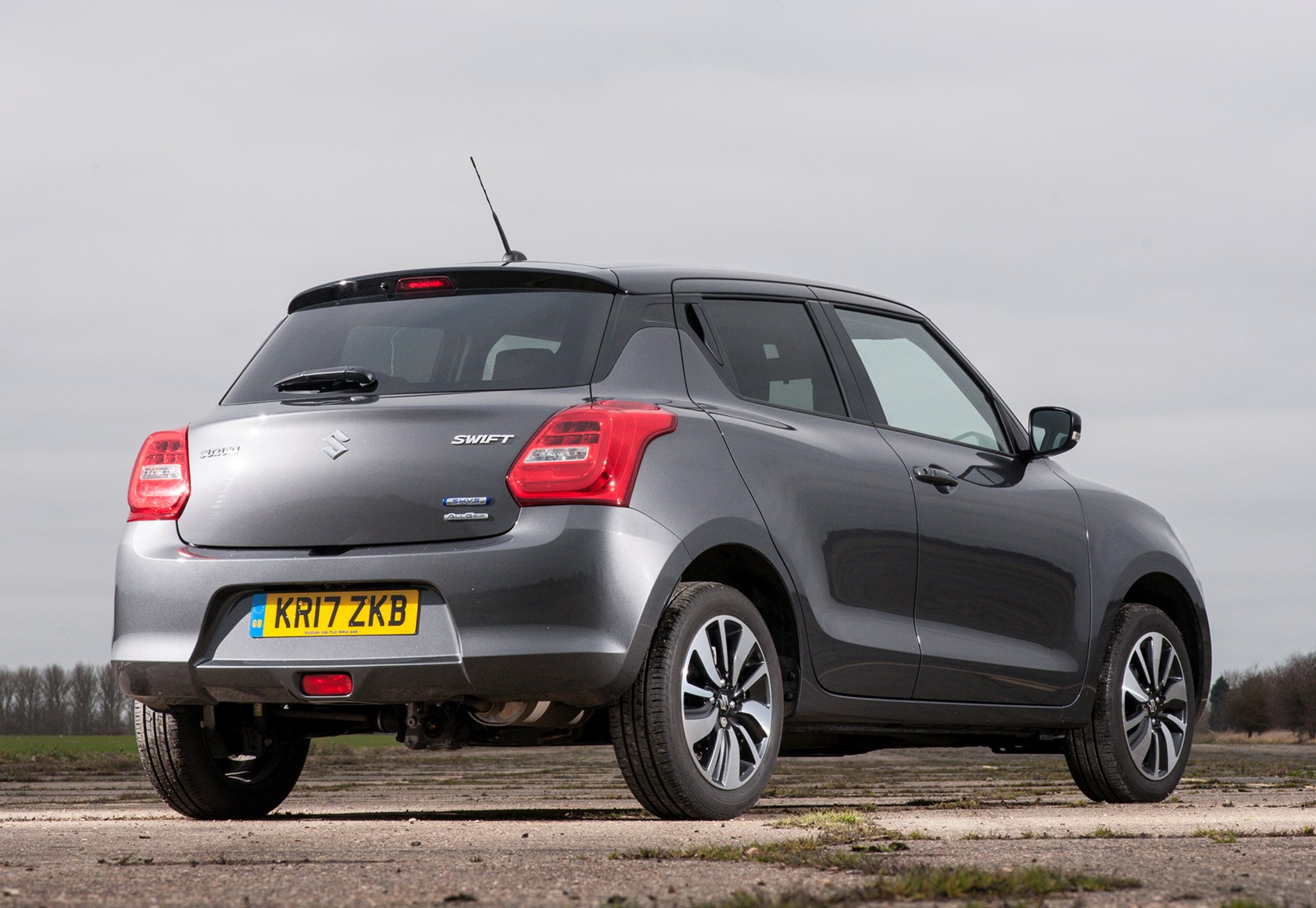 The weekly shop
Our first impression is a car that's roomy enough for four adults – always a good start. Boot space is an impressive 265 litres giving more than enough for a large weekly shop. We also managed in a separate test to pile in a large case together with a smaller case and a couple of bags so plenty of capacity here.

Room with a view
Inside, our SZ5 offered plenty of leg room and a good comfortable seating position. Forward and side visibility are both excellent, however the rear visibility is reduced slightly because of the larger rear pillars. To offset this, a very useful reversing camera helps in tight situations.
Infotainment
The SZ-T and SZ5 trim levels offer a 7 inch colour touchscreen with Apple CarPlay, Android Auto and MirrorLink. The SZ5 also adds sat nav to mix although my first impression was that the interface although functional, looked rather dated with some low resolution 'Retro' looking graphics. However all the functions worked as expected but we'll put the system through a more detailed analysis in the coming weeks.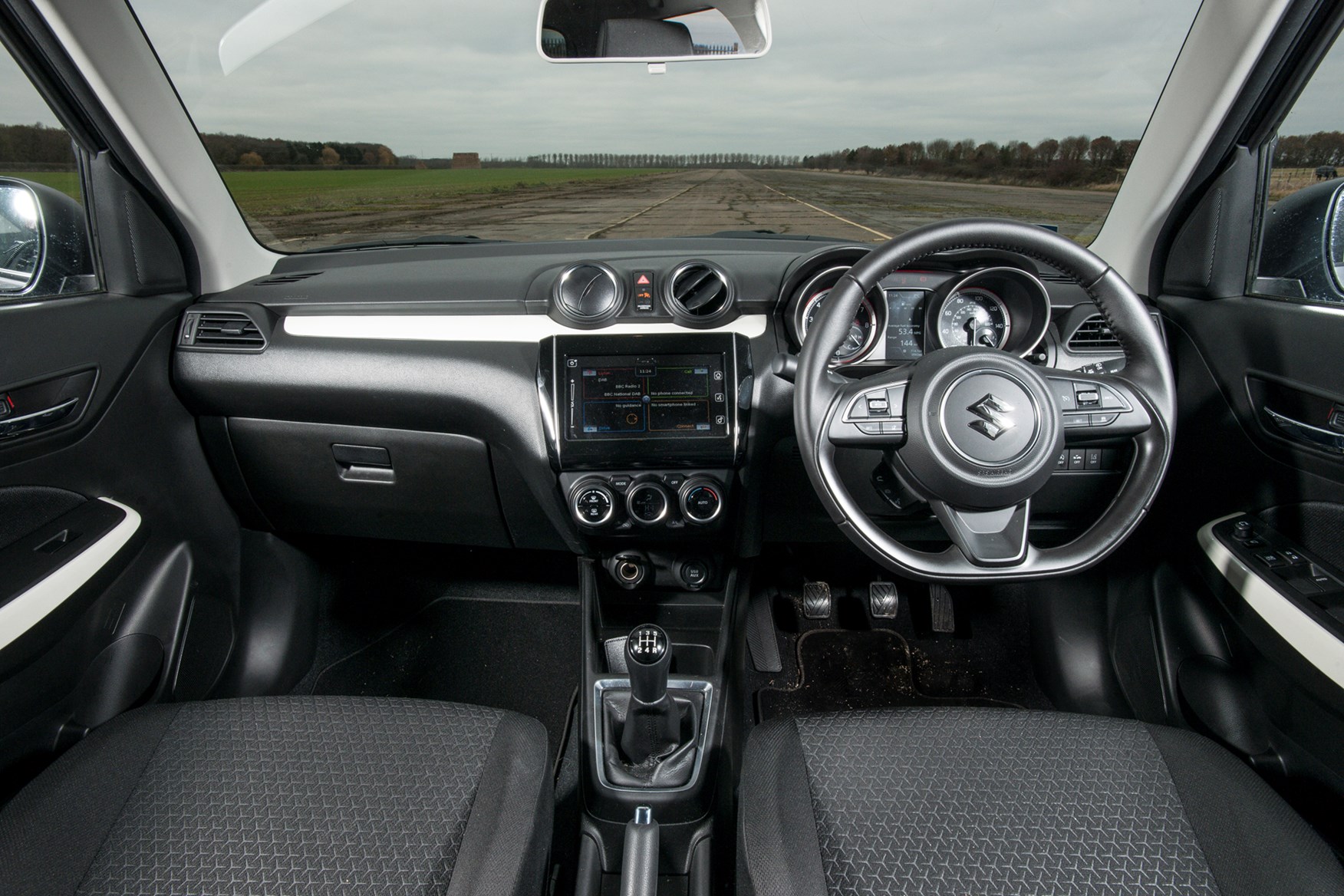 The Swift during winter
We're very keen to see what our new Swift can offer especially during the winter time when we expect to see some more challenging road conditions, so stay with us over the coming months as we plan some exciting tasks for our new recruit.
Suzuki Swift SZ5 1.2 Dualjet Hybrid SHVS 4x4 ALLGRIP specifications

Update 2 – Initial Driving Impressions
Engines:
The 2017 Swift is available with four variants of engine which are all petrol based. The range starts with the four-cylinder 1.2-litre Dualjet which produces 90hp and returns a claimed 65mpg, which incidentally is the only engine available in SZ3 trim level. It's the same engine that's fitted to the Ignis which proved a real winner in the fuel department doing our Parkers Land's End to John O'Groats road trip on just over £60.00 worth of fuel. Don't expect quite the same economy from the Swift - but the car should return some respectable figures.

Stepping up to SZ-T and SZ5 trims brings the higher performance 1.0-litre Boosterjet three-cylinder turbocharged engine, which is a snappier unit, producing 111hp and reaching 62mph in just over 10 seconds. The unit also comes with an option for an automatic transmission and a 1.0-litre Boosterjet Hybrid. Both are available only in SZ-5 spec.
Our own SZ-5 Swift is fitted with the final engine option, a 1.2-litre Dualjet Hybrid. The hybrid consists of a system labelled SHVS (Smart Hybrid Vehicle by Suzuki). This adds a small battery and a combined motor and generator unit that recovers energy when you decelerate and increases pulling power from low engine speeds.
It's not possible to run on 100% electric power like some hybrids but the SHVS does make the engine feel punchier getting you up to speed quicker.

Claimed economy from the 1.2 Dualjet Hybrid engine is a respectable 62.7mpg combined, which is slightly lower than the normal 1.2 Dualjet - most likely because of the 4x4 ALLGRIP system.
After a few thousand miles, we are averaging an indicated 52.9mpg according to our calculated fuel log. Our particular Swift however has been driven by a multitude of staff members who each have different driving styles, so given the very wide range of use, we reckon the 53mpg return overall is pretty good.
Out and about on the road
One thing that is very noticeable about the Swift is how nimble and agile the small car is. It will happily nip in and out of tight spots and is very much at home on tight city streets. Parking is a very simple affair aided by a handy reversing camera although in wet confitions the camera view seemed quite blurry and required the occasional clean and wipe-over.
Once you get out of town, the car enjoys some nice and precise steering characteristics. It handles bumpier back roads and minor roads extremely well and we were very impressed on how well the ALLGRIP system worked providing plenty of traction when required on wet slippery roundabouts. That said, the ride can become rather jittery if you hit a really badly surfaced road and potholes are best avoided.

Move onto faster country roads or motorways and you'll find the Swift needs a little more from your right foot. The manual transmission on the Swift is extremely slick moving both up and down the 'box with ease. The SHVS system helps when accelerating giving you that extra low-down grunt just when needed, and once up to speed, the car will hold its own without too much cabin noise.
Summary
All-in-all the Swift has made some positive impressions during first weeks of being on the fleet. It's an exceptional drive especially cars fitted with the ALLGRIP system which we hope to put through its paces later on in future updates.
Suzuki Swift SZ5 1.2 Dualjet SHVS ALLGRIP specifications
Update 3 – More More More
Swift tops the table in the moors
Assemble eight Parkers long term test cars and drivers. Add a heap of rain, horizontal winds, fog and rubbishy weather then just for fun send them to the North Yorkshire moors for a little spice. Well our editorial road-trip to Whitby had this and more.

Our trip routed from Peterborough to North Yorks via the Humber Bridge and after two days of swopping cars, getting soaked, evaluating and feeding back to each other, the 2017 Suzuki Swift grabbed the top-honours on our demanding 500 mile plus two-day circuit.
Last year we put the Suzuki Ignis Parkers long-termer through its paces and it never failed to surprise over the 6 months we tested it.
Again Suzuki has come up trumps with the new generation Swift. Over the rugged Moorland 'B' roads, the chassis excelled with great balance and well-controlled body movements. Steering was tight and precise and all the controls nicely weighted.
One part of the route was the famous B1257 from Stokesley to Helmsley – a fabulous twisty country road popular with bikers and empty for the first couple of runs at least. This gave some of our crew the opportunity to see what the Swift could really achieve.
Expert Parkers deputy reviews editor Adam Binnie commented…
"There's not a lot of power so you have to keep your foot down, and that meant picking an overtaking spot carefully when slower moving traffic. Overall though, it's just a really cheerful car that will make even boring drives feel exciting."
In all, the Swift got the top accolade from the whole team proving to be a great popular choice.
Check out our full road-trip report here.
Update 4: Inside the Cabin
Useful boot space

One thing the Swift is not short of for a small car is space. After a post-Christmas spending spree at Aldi, we managed to cram ten shopping bags into the Swift's boot and still had room for 'Kevin-the-Carrot'.

Should you only have the odd bag, then a useful bag holder/clip will do a fine job preventing all the contents from being scattered across the boot area.

Dimensionally transcendental
Inside, the Swift exhibits almost Tardis-like qualities, not that it would get you to Gallifrey, but it will comfortably seat four adults with ease. For a smaller car it's surprisingly roomy.
The driving position is good with ample seat movement and adjustability. I'm 6ft tall and found plenty more adjustment available if required. Likewise for smaller drivers and those from the 'Shire', the seat would slide a long way forward and upwards.
Driving for longer periods didn't produce any major bodily grumblings even from my middle-aged out-of-shape physique.
Inside there is plenty of storage room with two cup holders just in front of the gear lever. There are also single cup holders in both the driver and passenger doors which are complemented with a small storage area behind each holder. The glove box in front of the passenger seat is large enough for things like phones, tablets and even gloves!
In the rear of the cabin, there is a single drinking receptacle holder at the rear of the center console. The good news is that both a can and small bottle of drink will fit with ease.

A minor niggle was the lack of light in the rear seating area of the cabin. Putting on the front courtesy lamp didn't aid any of the passengers sitting in the rear as both front seats sit fairly high, preventing any light from finding its way rearwards.

On the commute, I frequently found myself hunting around in the dark for anything left on the rear seat which was normally my bag, laptop holder and the odd shopping bag. The darker winter evenings only showing a shadowy shape in the dark abyss. This was not the case however in the boot where a single light on the left-hand side at least gave you some guidance.

Interior build quality is good although it doesn't feel exactly plush. Saying that I'm quite a realist and while it would be nice for the inside of a car to look and feel like the Ritz, this car in essence will most likely be used as an everyday workhorse.
Here functionality is the order of the day and tough, durable no-frills plastics are going to be the obvious and best choice.
As we all know it doesn't normally take kids, dogs, cats or whatever travels with you (the wife is an exception of course!) that long to make something new - look like it's been through a war zone.
Update 5: Out and about in winter
'Where Eagles Dare...'

"An inch of snow and the whole country grinds to a halt". It's a familiar headline that we see during most winters here in the UK. It probably generates huge waves of laughter from some of our overseas compatriots and rightly so.

However, when the winter freeze does hit, it's nice to know that a dusting of the white stuff and some sub-freezing temperatures isn't going to put the mockers on our long term Suzuki Swift.
It's in these tricky conditions that our Swift fitted with Suzuki's 'ALLGRIP' 4WD system really shines.
Having run the Swift since the later part of 2017, we've had the opportunity to give the ALLGRIP system a good work out. In wet and slippery conditions - and in particular on faster roads, ALLGRIP helped reduce understeer in faster corners adding to driver confidence. That said, although under normal driving and cruising conditions, the driver is unlikely to notice much difference.

The ALLGRIP is available in three variants which vary across Suzuki's range of vehicles.
Auto, Select and Pro are the offerings and the Swift is fitted with the 'Auto' version which means everything is handled seamlessly by the system without any user input.
For the technophobes amongst you here's what Suzuki says about it.
"The ALLGRIP auto system is a viscous coupling (hydraulic clutch) positioned in front of the rear differential uses high-viscosity silicone oil to transfer drive power. When rotational variance occurs between the front and rear wheels, a shear effect caused by wheel spin heats the silicone oil and causes it to expand. The pressure resulting from the expanded silicone oil engages a multiple-disc clutch, which transfers torque to the rear wheels."

So that's all the theory, so what's it like in practice? In our part of the country (East Anglia) we've had two good doses of snow. One in November 2017, which produced a nice 15cm covering and our current offering (Late Feb 2018) of frequent snow showers and a nice -10 degrees of wind chill.
During the November snowfall, I took the Swift out to see how it would cope with a good level of fresh powdery snow. This was my first drive in the car with these conditions. The route was mainly on untreated back and rural roads as we live in the country.
First impressions were how stable it felt. It was possible to make good progress on the snow covered road without too much sliding. The only caveat being that going around corners could cause some slight drift if you approached a little too fast. Our car was still fitted with standard all season tyres and maybe an offering of winter tread may have produced slightly better control. Given the excellent stability I found myself catching other cars fairly quickly and in one instance, a larger 4x4 struggled where the Swift made light work of things.
So following my first winter drive I was impressed how well the Swift handled the situation.

So fast-forward to February and enter the "Beast from the East". A huge high pressure area spanning from Siberia which covered most of the northern part of Western Europe. The beast threw blasts of snow showers and sub-freezing Arctic air across the UK. Located here in the East, we took the brunt of it.
This time the conditions were different. The snow was more compacted and the temperatures much lower than in November and the road had an underlying coat of ice; so a little more care was required. I cruised the back roads and the outdoor temperature gauge read -4 degrees centigrade which was up from the -6 when I first got in the car.

The wind-chill across the flat fenland fields was nail-biting and estimated at around -10c maybe more. Although predominantly flat, I know of two testing steep gradients on the route so it was a no-brainer in seeing how the Swift would cope when the terrain got a little more challenging. However, any worries were quickly dispelled as the car made easy progress even on fairly steep snow-covered inclines.
Driving on the compacted snow proved a little more difficult although the controllability of the car was still very good. Again, winter tyres may have produced superior results.
Moving away from a standstill produced great traction and at no times did the Swift ever feel that it would get stuck. You had to take a little more care with the underlying ice but again I found the Swift to be in another league when tackling the conditions as it made unhindered progress.
On the final cruise into the office I passed a Micra CC that seemed to have bitten off more than it could chew having obviously taken a detour into the ditch. Then again it wasn't really the right conditions for roof-down motoring.

Update 6: Norfolk Nostalgia - Trains, boats and planes
'Spring has sprung (eventually) as we take the Swift on a nostalgic memory-lane trip to North Norfolk'
Well the weather seems to have risen from the winter doldrums, taking a large 180-degree U-turn from -10 degrees to a sweltering 26 degrees – bar a few hefty showers around.
During winter the Swift has been faultless, handling everything the weather could throw at it. Reliability has been 100% and she's never missed a beat. So given that we have an early taste of summer, what better than to take it out for a 'Swift' run to the coast.
Back in January, the Parkers team descended upon Whitby, North Yorks in rain, fog and a howling wind to group test our full range of long-termers. In Whitby the Swift shone brightly grabbing top accolades from all the drivers.
This time we took the Swift on a more leisurely cruise to Norfolk and since we're only an hour away from the coast, I grabbed the wife and a knotted hanky, heading off for a day in North Norfolk – starting off in glorious 'Sunny Hunny'.

With the nice weather, everyone else in the Eastern counties seemed to have had the same idea and head for the coast to enjoy these conditions. The traffic queues were pretty horrendous and a stop-start trek from Kings Lynn, which would normally take 20 minutes or so, took an hour and a half.
The Swift is fitted with stop/start and was a very handy feature in this situation. De-clutch and the system would kick in very quickly. Conversely, a small touch on the clutch would activate the engine back into life.
Likewise we started to heat up in the cabin – with the better half grumbling about the traffic, a quick activation of the standard-fit air conditioning soon brought the cabin temperature down to a more comfortable 18 degrees.

In these situations I often run with 1970's MK1 Ford Escort air-conditioning enabled (all windows open and the wind blowing in yer face!). If you drove in the 70s then you'd know what I mean – old habits die-hard.
The roads around the North Norfolk coastline were pretty choc-a-block, mainly with day trippers. Some of the small pull-ins had ice cream vans parked up with kids running around causing mayhem. Parking up was an interesting affair trying to avoid flying ice creams and preventing the Swift from demolishing someone's child. However, it's great on the brakes and extremely manoeuvrable. It's actually honed to coping well with moving in and out of small spaces with ease and is superbly agile when needed.
Cruising along the coast road we drove past a retro 'AA Box'. Located on the A149 (Near to Brancaster), this is actually a listed building. Really nice to see some saved heritage.

Time to ditch the Swift for some real nostalgia, letting the train take the strain. I parked up at Holt and hopped onto the 'North Norfolk Railway' for a nostalgic steam trip into Sheringham. This is a popular stop off and worth every cent of the £13 return fare.

After the return trip we drove up to Sheringham and whilst in the car park opposite the station, were treated to 92203 (Black Prince) a 9F built in 1958/59 in full steam.

It's like being transformed back into the days of WW2 as the railway is extremely popular hosting gala days, special events and 40's weekends. It's like being in an episode of Dad's Army (don't tell 'em your name Pike!). Now where's my ration book? – talking of food…..
Time for fish and chips and one of the day's main culinary highlights. While we're impartial on Parkers, 'Mary Janes' in Cromer is a real gem. Get in there…

Cromer was pretty busy but I managed to find one on-street parking bay, albeit a rather small one. Here I found the on-board rear parking camera fitted to the Swift extremely useful. The space was tight but the Swift is about as agile a car as you'd get. The parking camera was nice and accurate without being overly fussy. I managed to easily park leaving a couple feet or so either end which gave me just enough room to exit without too much trouble.

From Cromer we headed South on the small coast road passing Mundesley and the monster gas terminal at Bacton then continuing on via Happisburgh, and Waxham.
A quick detour inland brought us through to Coltishall and Wroxham. Both are extremely popular and picturesque. You can park up and enjoy the sights of the Norfolk broads but both can be busy over the weekend/holiday times.

Wroxham is a real broads gem. Check out the shops most of which seem to be owned by a chap called 'Roy' so it seems. Joking aside, 'Roys of Wroxham' was founded by Alfred and Arnold Roy and after winning a competition in the 1930's used the motto 'The world's largest village store'.

Retro run – back to the early 70's
Heading back East via Hoveton brought us to Caistor and onto Great Yarmouth and Lowestoft. It was a bit of a retro run as I remember the same journey in a 1966 'D-Reg' Morris 1100 while spending time on holiday with my parents back in the early 1970s.

Holidays at 'Pontin's, Pakefield' and 'Gunton Hall' are still pretty fresh memories.

The former is still going strong after all this time. As Fred Pontin would have said - 'Book Early'.....Hi-de-hi campers!
After an hour or so browsing around the Lowestoft area it was time to head home. This time it was Westwards on the A146/A143 via Beccles, Scole and Thetford. Again the Swift provided an effortless journey.
The clock was approaching 6pm as we headed across the 'Brecklands' around Brandon and Lakenheath, popping into the airfield viewing bay just to grab a free 10 minute air-show as a couple of F15's came into land.

Finally we took the Swift across the fens towards Chatteris, Ramsey and the Northants border.
As always, a trip to the East Coast is always great fun and having the bonus of some warm spring sunshine was the icing on the cake. Hat's off to the Swift for yet another uneventful trip.
But that's what it's all about!
Update 7: I want one now! - Buying a brand new Swift
So you want one now - here we'll show you how to get your hands on a brand new Suzuki Swift
Okay – we've whetted your taste buds over the winter and spring with our fabulous and agile Swift 4x4. So now we'll chew through the various finance options giving you some pointers on what the outlay will be. As we're always impartial, we've selected some alternatives to the Swift to give you a fair comparison with what is also on offer.
However, finance is just one of many options aiding you to get your hands on some new metal. So if you've not got £17k hidden under the mattress or won the lottery, then a personal loan may be another popular option. Ultimately you will own the car and there are no mileage restrictions – so it's an option worth considering.
On the flip-side there are many tempting monthly PCP and PCH finance options. If you're in the dark about some of the finance jargon, then see further down this article as we get the assistance and expert help of the Parkers Finance Editor, Christofer Lloyd.
Personal Loan
CAR: Suzuki Swift SZ5 1.2 Dualjet Hybrid SHVS 4x4 ALLGRIP*
Typical personal loan example: Tesco Bank, £16,500 over five years.
APR 3.0%.
60 monthly repayments: £296
Total repayable £17,770
Cash price £16,499
Tesco loan information here
PCP Monthly Finance
CAR: Suzuki Swift SZ5 1.2 Dualjet Hybrid SHVS 4x4 ALLGRIP*
Loan period: 37 months
Monthly payment: £223
Annual mileage: 10,000 miles
Customer deposit: £2,000
Manufacturer deposit contribution: £0
Typical APR: 0%
On-the-Road cash price: £16,499
Total amount payable: £16,499
Check out the latest deals here with Suzuki

Personal Loan
CAR: Skoda Fabia SE L 1.0 TSI 95ps*
Typical personal loan example: John Lewis Finance, £15,200 over five years.
APR 5.0%.
60 monthly repayments: £286
Total repayable £17,152
Cash price £15,145
John Lewis loan information here
PCP Monthly Finance
CAR: Skoda Fabia SE L 1.0 TSI 95ps*
Loan period: 36 months
Monthly payment: £197
Annual mileage: 10,000 miles
Customer deposit: £2,000
Manufacturer deposit contribution: £2,000
APR: 6.2%
Cash price: £15,145
Total amount payable: £14,688
Check out the latest deals here with Skoda

Personal Loan
CAR: Ford Fiesta Active 1 1.0 EcoBoost 85ps with Stop/Start*

Typical personal loan example: Asda money, £18,000 over five years.
APR 2.8%.
60 monthly repayments: £321
Total repayable £19,293
Cash price £17,795
Asda loan information here
PCP Monthly Finance
CAR: Ford Fiesta Active 1 1.0 EcoBoost 85ps with Stop/Start*

Loan period: 36 months
Monthly payment: £256
Annual mileage: 9,000 miles
Customer deposit: £2,000
Manufacturer deposit contribution: £0
APR: 1.2%
Cash price: £17,445
Total amount payable: £17,846
Check out the latest deals here with Ford


Personal Loan
CAR: Jeep Renegade 1.6 E-TORQ Sport*
Typical personal loan example: M&S money, £18,250 over 5 years.
APR 6.8%.
60 monthly repayments: £358
Total repayable £21,473
Cash price £18,255
M&S loan information here
PCP Monthly Finance
CAR: Jeep Renegade 1.6 E-TORQ Sport*
Loan period: 36 months
Monthly payment: £209
Annual mileage: 10,000 miles
Customer deposit: £2,000
Manufacturer deposit contribution: £3,250
APR: 2.7%
On-the-Road cash price: £18,255
Total amount payable: £15,780
Check out the latest deals here with Jeep


Conclusion:
The Swift is good value on PCP comapared with the Fiesta Active but the Fabia is much cheaper if you don't need four-wheel drive.
Parkers Top Tips

The financial small print
Remember, apart from possible penalties for late payments, some lenders may also hit you with a penalty for repaying your loan early so we'd say always read the loan small print before proceeding and double-check that the product is suitable for you.
Get the lowest APR charges
The loans shown above are just a small selection from online finance calculators sourced on April 15th 2018. APR rates differ with the amount of money you borrow. Loan rates and particularly the APR charges can and do change frequently – so our advice is to shop around in order to get the lowest charges.
Get the best deal
Have you got £16,000 hidden away?, if so then nip down to your local dealer and smile at him nicely. Do some friendly bartering and grab a great deal on the day. You should be able to negotiate a good discount as a buyer with 'Cash Waiting'. Buying towards the end of the month is also always a good idea as dealers work hard to meet monthly sales quotas. In some cases, salespeople have financial bonuses if they hit their targets.
Understanding car finance and avoid the pitfalls
Read through expert finance tips here complied by Parkers Finance Editor, Christofer Lloyd.
https://www.parkers.co.uk/car-finance/advice/
https://www.parkers.co.uk/car-finance/advice/2016/car-finance-explained-what-is-pcp/

More reading - Parkers Dealwatch
Grab the best PCP and PCH deals.
https://www.parkers.co.uk/car-buying/deal-watch/
*Deals are correct at time of publication. Everyone's financial circumstances are different and credit is not always available – Parkers cannot recommend a deal for you specifically. These deals are indicative examples of some packages available this week.

Updates 8&9: Navigation and Infotainment
It's mixed bag of experiences with the Swift's navigation and infotainment package with not everything going to plan.
Rear View Camera
Although the Swift is not a giant car by any means, a rear-view camera is always a useful addition. The unit fitted to the Swift is visually good and allows the user to adjust the brightness and contrast to accommodate for different environments. When using it as a guide for reversing, it's not overly sensitive. When I leave what appears to be about a two-foot gap from the vehicle behind, it actually equates to about three-feet; so the camera allows plenty of tolerance in the right direction.

Navigation
Our SZ5 Swift comes with the navigation system fitted as standard. The unit is a 7.0-inch touchscreen with the home screen split into four independent sections: audio, navigation, phone and smartphone mirroring. There's a home button on the right-hand side of the screen which is handy if you get in a mess, while the smartphone connection can be done via Bluetooth or through a USB connector.

My initial thought was that it looked rather retro. Some of the chunky graphics look more reminiscent of an early 80s video game. Saying that, the general functionality is good with very little lag, although it can be a bit clumsy from time to time.

Inputting a destination is fairly straightforward but the options of which route to take and what to avoid can be confusing.
For instance, on a trip to Norfolk I asked the navigation to take me to Thetford, and even though I was 15 miles to the south east of Norwich, the navigation insisted on taking me through Norwich city centre. At 5pm this was certainly not ideal as it got me snarled up in the city rush hour traffic. This added about half an hour onto the journey.
Looking around the navigation features, there is a control to avoid locations manually called 'Blocking Route Sections' in which you input a road or street name but nothing like 'Avoid City Centre Locations', which would be useful.
When in use the navigation is functional if not inspiring. The graphics can feel rather dated although the 'Auto-zoom' function works well. As you approach a junction, the screen zooms in on the local area giving the driver a much more detailed view of the surrounding roads. Likewise, the system zooms out to a wider field of view when out on the open road.

The system supports Apple CarPlay, Android Auto and Mirrorlink. These systems delegate the control of your navigation plus some (but not all), in-car controls to your smartphone.
On occasion, if you disconnect from Android Auto and then try to reconnect the smartphone again, the main infotainment home screen doesn't seem to let the smartphone reconnect - even though Android Auto is installed and the phone running. Pressing 'Connect' has no effect and no connection can be established. The only way around this is to disconnect the phone, turn off the car, re-start the car and then reconnect - not ideal.

While checking the phone, Android Auto seems to work and 'sees the car', so we're not sure why the home screen struggles to show the smartphone as being linked. On the contrary, the system does show the phone as being connected as the phone book and call logs are still listed.
While we haven't tested Apple CarPlay and MirrorLink, the Android Auto system seems to cope well using a Samsung Galaxy S4 with Android OS 5.0.1 installed and doesn't throw up any unsuspecting errors. The navigation side seems to interface very well.

Infotainment – Traditional AM/FM and DAB (Digital Audio Broadcasting) Radio
DAB is now the norm in the modern car. Being a radio-ham for over 30 years, tinkering with anything RF, radio or antenna related is always fun, so playing with the Swift's radio feels like I'm quite at home.
Traditionally your in-car radio would pick up analogue AM (medium-wave 526-1606 KHz) or FM Band II (87-108MHz VHF) stations but things like location and time of day/night affect the received signal.
DAB uses the spectrum much more efficiently so is less susceptible to interference (QRM) and fading (QSB). Additionally the DAB transmitters are lower in power than the traditional FM transmitters but there are more of them. The effect of this is better all-round coverage with more overlapping of coverage areas which reduces the amount of dropout considerably. With digital it tends to be either 100% 'ON' or no reception at all – there's no in-between. As a guide, analogue VHF FM will at some point come to an end.
Our Swift is fitted with the capability of receiving both traditional analogue AM/FM and DAB – so you've currently got the best of both worlds.

Analogue AM (Medium Wavelength band - 526-1606 KHz)
Generally, strong AM (Amplitude Modulation) signals provide good stable sound quality but because of the location in the RF spectrum (lower down in the medium-wave band), signals can become prone to fading. Atmospheric conditions particularly in the evening and during the night frequently affect band conditions. It's at this time of the day that signals propagate longer and you'll often here continental stations starting to break through when the sun goes down.
During evening listening I find the Swift has a pretty good antenna system for AM as if there's a shortfall in performance it will be at the lower frequencies where this would be apparent.
Using the touchscreen is very straightforward. The system has an up/down manual tuning function and a 'seek/scan' with the ability to store stations on-board. For AM only you can also scan receivable stations which the system locks onto, each for about 10 seconds (which can be stored in memory if required), before moving onto the next.

Analogue FM (Band II 87-108MHz)
Most 'local' radio stations use the FM (Frequency Modulation) mode of transmission. Good strong FM signals provide excellent quality of reception although listening to FM over longer distances can result in atmospheric fading; again this is more pronounced during the latter part of the day/night.
For FM the performance of the antenna is not as critical as of AM. During evaluation I found the analogue FM reception to be pretty good with signal strengths only slightly below that of a tuned half-wave vertical antenna for that band when hooked up to an Icom IC8500 receiver.
Onto the touchscreen and there's some extra options available when tuning on FM.
The Swift's radio is equipped with an RDS (Radio Data System) function. Many FM stations transmit an additional data stream. This is on top of the normal audio. You can see this when you lock onto a station as the station's name (plus various other information) will be visible.
RDS also supports the use of additional frequencies by the same station. For instance, we can hear a local station on 97.2MHz, however the same station also transmits on 107.4MHz serving an area to the south of me. In this situation RDS will search for the strongest signal and lock onto it.
Another feature with FM is the 'TA' (Traffic Announcement) function. With TA enabled the station will automatically fade the music and play any traffic announcements automatically. When the announcement is finished, normal reception is resumed.

DAB radio
With DAB you don't just receive a radio station but a whole lot more. You may be listening to music but alongside this are a variety of 'services', several of these will be transmitted alongside the normal audio that you hear. These additional services could include extra broadcast information, genres and program guides to name just a few. Tapping the Swift's touchscreen near the name of the station reveals the service list for that station. In some instances a secondary audio channel may also be provided.
With DAB you can also preselect program types by applying the DAB category filter in order to limit the available services in the DAB service list to ones that support certain program types.
DAB has a whole host of additional information, which you can pre-set the system to show (or not). In some instances a service may be receivable via DAB and on FM simultaneously. The Swift has a nifty function called 'DAB-FM switching'. If this is enabled and the DAB service becomes unavailable, then then device will automatically switch to FM until the DAB reception is available again – pretty cool actually!
One niggle we did find that was when writing a DAB station into memory, the system took about 45 seconds to successfully complete the task. A long time although it never failed.
AST (Auto Store Mode)
While the unit has the expected AM/FM and DAB modes, an additional 'AST' function is also available which allows the user to store stations and services. The AST mode immediately follows the standard mode so can be selected quickly using the 'Mode' button on the left hand-side of the steering wheel.

Playing Media
Here I had a mixed bag experience with functionality. The infotainment screen has the option to hook up an auxiliary input device via a 3.5mm mini jack socket such as a CD player - however you do need to enable it in the menu.

As I hadn't a true portable unit, I dragged one of my CD/DVD players from the radio shack and hooked up a rather long mains extension lead. When hooking up an external player via the 'AUX' input socket there is no mention in the user manual about the type of lead required in order to get the unit working. As the unit seemed to support video as well as audio, it seemed to require a 'Composite Video' lead. I coupled in a 3.5mm 4 pin mini-jack plug to 3xRCA (phono) connectors composite lead which runs two audio channels (left and right) and one video channel as it seemed the logical route but all this was to no avail. Although audio was heard through one channel, it was obvious there was something wrong as the right audio channel was dead and there was no video.
The user manual gave no indication of what input format the jack socket was, so it was back to basics and I hooked up a standard 3 pin mini jack plug to 2 x RCA/Phono connectors – in essence just connecting the right and left audio channels. With the unit set on 'AUX' this worked fine with good audio on both channels as expected.
What is slightly confusing is the user manual says that a DVD video input is provided. Looking further at the manual the DVD (and the AUX) require switching 'On' in the menu which was done so I was expecting the jack input to support both video and audio.
Switching to the 'External DVD' in the menu resulted in a blank blue screen and no audio so the unit wasn't seeing any video input. A brief look online confirmed similar other user experiences with one suggestion that the 3 x RCA input sockets are on the back of the unit which isn't the case. I even tried to study the small infographic of the 'External DVD' attempting to identify the 'plug'.
I was left rather confused as the manual seemed to confirm that video was supported but gave no further information about the detailed connecting of an external DVD device, so in this instance I couldn't review the performance.

Additional options also include inputs from either a Bluetooth or USB device or an SD card. The USB socket sits to the right of the 3.5mm jack input and the SD card slot is above the main the screen in the centre of the console.
First port of call on the media screen is to select the media source. This is a simple affair by selecting the media tab and tapping the source from the list. Audio playback is a layout of straightforward menu driven functions (play, rewind, fast-forward, track etc.) – as you'd expect.
I did try to connect the smartphone via USB which was enabled as an MTP (Media Transfer Protocol) device but the system wouldn't recognise it. I thought it would see the folders on the device and also from the on-board phone micro-SD card but it wasn't playing ball. The general idea was to see if the unit would play an .mp3 file which was stored on the phone or on the phones micro-SD card.
In order to get the unit running, I popped a 4GB USB stick into the slot which had plenty of native .mp3 files on it and the unit instantly recognised this as a valid device and played the files as expected - so it does work.

Playing video via a USB Memory Stick
On another 4GB USB stick there were 2 x .mp4 video files and 1 x .mp3 audio file. The .mp4 files were one commercial file (from a car launch) and a generic .mp4 from a 'GoPro' device. Unfortunately the gremlins hit and although all 3 files were showing in the folder list of the media browser, only the .mp3's played. File names were kept under 32 characters and with no gaps in the naming convention to reduce the chance of file system errors.
Various attempts to get either video to play failed and neither file was listed under the 'Video' options. Testing the memory stick afterwards on PC reveal the unit was good with no apparent errors.

Video from a USB Memory Stick - Success (well sort of)!
As a further test I got a fresh memory stick and again copied different files to the stick. Two .mp3's and two .mp4's. Again all four showed in the 'Folder' view and the .mp3's played without issue. This time however, the commercial .mp4 file was recognised and played fine which was a move in right direction but the 'GoPro' file again failed – so a bit of a mixed bag and no real pointers as to what the problem was.

Generally the functionality of the system is pretty good but we'll look further as to why some videos won't play and report back our findings.
With that – now where's the socket that I can plug my Kenwood TS990 Radio into?
Glossary
To get your head around some of the technologies mentioned, have a browse through our glossary. The Parkers team has listed some of the most popular motoring jargon on the planet giving you expert advice on what it all means but here's a handful mentioned to get you going.
Apple CarPlay
Android Auto
MirrorLink
DAB
Update 10: Driver Aids
One thing that's great about our long-term Swift is the array of driver aids available, giving the user lots of useful information and individual car control. Everything is menu driven using the right-hand side push/rotary knob to access the functions.
First port-of-call is the small rotary switch on the right-hand side of the dashboard. Turning selects different screens and modes, however holding the button in for about two seconds accesses a secondary menu of items that can be changed or reset such as mpg or kph. Holding in the button also resets some of the menu items to zero such as overall MPG.

It's a fairly simple affair but has lots of useful information. Turning the knob runs through ten different menu banks with one spare.
Fuel economy
Really useful to get an overview for your overall and instantaneous fuel economy. Also shows the driving range of the car.
Mpg graph
Gives an overview of the miles per gallon and five minute average consumption
Driving time
Gives an overview of the total time the car has been driven together with average speed
Idle stop
Total idling stop time and fuel saved. Great and makes you feel smug when you see how much cash you've saved.
Clock
A rather oddly styled and unfinished clock together with date

Motion detector
Gives a 360 degree view of the car's motion and how it is biased.
Torque and power
Two circular graphics to show torque and power delivery.
Acceleration and braking
Two horizontal LED bar graphics to show acceleration and braking. Rather reminiscent of right and left channel audio monitoring. Hold your foot on the brake and the LED bars progressively display from left to right.
Engine power/battery flow
A nice and nifty graphic showing the power flow within the hybrid system. The graphic shows a real-time three-way split between engine, electric motor and battery. It's good and we like it.

Blank screen
The last screen is blank and most likely used by the software engineers to allow for expansion of or additions to the screens in the future.
Trip 'A' or 'B' select
On the lower left-hand side of the dashboard is a similar rotary/push button switch, which functions as the Trip Select (A or B) and to reset them if required.
ESP (electronic stability program)
To the lower right of the steering wheel is an array of four on/off push buttons. Working from the left these are the ESP, the stop/start, the collision warning/ radar brake support/dual sensor brake support and the lane departure warning.
The far left-hand switch has the ability to turn the ESP – better known as traction control on or off. The ESP helps control the vehicle during cornering if the front or rear wheels skid or spin. It also assists to maintain traction while accelerating on loose or slippery road surfaces.
Stop-start
The stop/start function is now common on many of today's cars and is a good fuel saving device. When you come to a stop, the engine cuts out until you dip the clutch on which it restarts. A quite clever and cool function of the system is that you can see from a check on the dashboard how much actual fuel you have saved.
Lane-departure warning
The lane-departure warning switch when activated alerts the driver when the car 'thinks' that you could be drifting out of lane or into the herb. The system gives the driver mild feedback through the steering wheel together with a useful on-screen graphic. On occasion it even detected the car 'Weaving' with a different on-screen message.
On our particular model, the headlamp levelling switch which is an option was not fitted.

Cruise control
Everyone loves cruise control and even on today's busy roads, you can often find time to take your right foot off the accelerator and let the car do the work.
The device fitted to the Swift works exceptionally well, first enabling the cruise switch and then setting the speed the required. It's a simple affair of controls on the right-hand side of the steering wheel. You can increase and decrease speed with ease and the car's response to driver input is swift (pardon the pun) with virtually no lag.
The cruise control also works in conjunction with the radar system which monitors the distance from the car in front. This works brilliantly - with the car's system constantly changing the inputs. Three different settings are available which keeps the car in front at a close distance (around 8 m), a medium distance setting (around 11 m) and a long distance setting (of around 15 m). The distance settings can be controlled by the driver and set to suit road and driving conditions. It works great.
Coupled with the cruise control is a speed limiter switch which limits the maximum speed of the car. Ideal when you're in a speed camera zone.
As a whole package, the cruise control gets a big thumbs up!

Radar brake support – collision warning
The radar brake support/dual sensor brake support/collision warning indicator is a useful addition. This measures the relative velocity of, and distance from, the car in front of you by use of an on-board radar device, giving the driver various warnings to avert a crash.
The software and sensors seem to have been setup well and certainly if you approach a car too quickly, the system bursts into life giving ample warning. It's also not overly fussy and the amount of false alerts is only minimal.
The functionality generally is good, but the system can be influenced by adverse weather conditions. I found that during the winter, heavy rain and fog did affect the unit. On several occasions the unit flashed up that the system was inoperative because of these factors.
Update 11: Real-world driving
This is our last update before we say goodbye to our Swift, so let's have a final in-depth analysis of some real-world driving. As with all Parkers' long term test cars, keeping an accurate fuel log is part of our daily routine in order to gauge how well (or poorly) a car performs.
Our Swift has official fuel consumption figures of 4.9 litres per 100km (urban), 4.2 litres per 100km (extra-urban) and 4.5 litres per 100km combined. This roughly translates to 1.07, 0.923 and 0.99 gallons respectively.
Converting this to the older mpg figures, it works out at around 57.64mpg (urban), 67.25mpg (extra urban) and 62.8mpg combined. The fuel tank capacity is 37 litres, approx. 8.13 gallons. Given the figure, the best we can expect from a full tank on a combined cycle would be just over 500 miles – so let's see how I did.
What makes this an interesting exercise is that the engine that is fitted to the Swift is the same four-cylinder 1242cc 16v unit that is fitted to the Ignis which I previously ran back in 2017 - taking it from Land's End to John O'Groats on just over £60 worth of fuel.

I don't think I'll be achieving the record busting figures that I witnessed with the Ignis as the Swift is both heavier and larger, plus the car is fitted with SHVS (Smart Hybrid Vehicle by Suzuki) System.
Suzuki's new SHVS mild hybrid system works on the principle of regenerative braking where kinetic energy while slowing down is converted to electricity and stored in the battery of the car.
When you throttle back there is a fairly distinct rapid deceleration and you find yourself under fairly heavy engine braking. Given this, on many occasions you find that you do not have to touch the brakes as the recovery of energy from the SHVS system is quite fierce.
Does the hybrid system work?
When accelerating you find that the car requires quite a heavy throttle response to get things into motion. This is aided somewhat with the system utilising additional power stored in the on-board battery. However the unit is quite small and the effects although noticeable, are not that dramatic. As mentioned above, as soon as you come off the throttle, the car slows quite rapidly so you have to keep your right foot engaged more so than if you were driving a standard petrol car. The comparison against the Ignis was extremely useful as the engines are (apart from the SHVS system) pretty much the same but the response between each car is remarkably different. It was very much a chalk 'n cheese affair.

So in real terms, how does it fare with fuel consumption out on the road?
I decided on a combined cycle test which involved the normal commute of a 40 miles round trip, most of which is made on country, minor roads and the odd few miles on a good fast 'A' road. To add variety to the test, I also included 100 miles of motorway driving, about 60 miles of 'A' and 'B' roads and some in-town stop/start routes.
When the fuel warning light came on, I took the Swift to the local filling station. Brimming took just over £41.00 worth of unleaded fuel and a fill capacity of just under 33 litres. This would indicate that the car has a reserve of around four litres in the tank when the warning light appears - giving the car a maximum range of around 60 miles before coming to a halt.
With the car now full of fuel, the on-board computer read 398 miles remaining.
Over the coming week various routes were planned and driven and after covering 384 miles, the amber fuel warning light appeared on the dash. Given that the previous fill (under similar conditions) was around 33 litres (approx. 7.25 gallons), we can say the Swift was retuning around the 52-53mpg mark which although not quite the 62.7mpg claimed by the manufacturer, was still a very respectable real-world figure.
What was interesting was that the 'miles remaining' indicator seemed to be really accurate (within 1%) which is good in anyone's' book.
Rounding up, the Swift returned very respectable fuel economy under a varied driving programme.
Update 12: Goodbye - time to say farewell and part company
Well as they say, all good things come to an end and the Swift is no exception. The car has excelled in the driving department.
So – what have been the highlights during our extended long-term test?

100% Reliability
It's minus 10 degrees and the Swift bursts into life with the first turn of the ignition switch. Okay it's a bit chilly in the cabin but that's to be expected as the 'Beast-from-the-East' gives the country a real winter pasting. On the flip side, nothing changed when the thermometer hit 27 degrees back in May. The car performed without a hitch. It's this type of reliability that you need with a car used on a daily basis - here the Swift never missed a beat.

Cruise control – just brilliant
What an excellent cruise control the Swift has. It's very flexible and the distance control (monitoring the distance from the car in front) does a really super job.
Winter handling – superbly capable
When you get a good coating of snow, it's comforting to know that the car you're in has a great four-wheel drive system. The Swifts 'All-grip' system performed extremely well in some very treacherous conditions. On some occasions I found the car had almost extreme levels of grip on soft snow. However you had to be slightly more cautious when it was slushy as the car would happily slide around somewhat. On reflection we put this down to the use of all-weather tyres not quite being up to the job. A good set of winter tyres would have certainly made a real difference and comments from my colleagues who have driven many miles on winter rubber backed this up.

SHVS – Probably not everyone's cup-of-tea.
Whilst the unit functioned entirely as expected with no reliability issues, it was felt that the mild hybrid system may not be for everyone. However, the great All-grip system which impressed me immensely is only available as an SZ5 1.2 Dualjet Hybrid. So for anyone wanting the 4WD option, there's only one derivative to choose from.
Don't need 4WD? Go the 'Boosterjet' route
On the flip-side, if you don't require the 4WD package then the SZ-T 1.0 Boosterjet petrol will certainly be worth a look. Additionally this has much better performance figures knocking 2.0 seconds off the 0-60 time when compared to the 1.2 Dualjet Hybrid. It's also available as an SZ5 'Auto' option as well which is even nippier with a 0-60 of 9.7 seconds compared with 12.2.

Any complaints?
Not really complaints but a few odd niggles. I couldn't quite get my head around certain parts of the infotainment system and in some areas it worked well and did what was expected, but in others it became quite clunky with some strange 'Un-functionality' which wasn't apparent as to what the issues were. General operation was okay but not fast, however the graphics looked dated and it was almost screaming for a refresh into the 21st century. We'd hoped for a slightly slicker unit.
That rounds up our long-term Swift review.
Percy Lawman - 16/07/2018