Buying a used convertible makes good sense no matter what the time of year you choose to take the plunge. In the winter, the prices of these cars is depressed, so bargains can be had, while in the summer, you don't sell, you just enjoy. This list will point you in the direction of the best used cars to choose from for less than £10,000.
If you love the feeling of wind in your hair, it doesn't get much better than buying used, as there's such choice, from sensible four-seaters to small, sporty, driver-focused two seaters. Unlike the new car market, where the choice of best convertibles shrinks with each passing month, the used car side has never been healthier.
It tickles us that the UK is Europe's second largest market for convertibles. It rains up to 200 days per year, but the sheer number of ragtops available proves Brits like to make the most of the sun when it does make an appearance. The good news is that if you read on, you'll find we have plenty of tips for buying a used car at the bottom of the page.
Scroll down to discover our pick of the best used cars in the UK – and what to look for when buying.
Best used convertibles in 2023
Editor's choice: Audi TT Roadster Mk2 (2007-2014)
Much improved over the original, with a wide choice of engines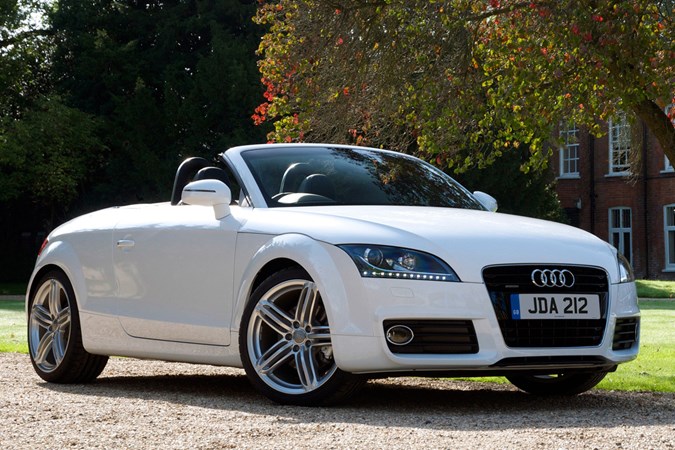 Pros:
✅ Superb interior is ageing well
✅ Hood folds and opens very quickly
✅ Wide choice of efficient engines
Cons:
❌ Can be very expensive to repair
❌ Some early DSG reliability issues
The second-generation TT, launched in 2007 was a gentle evolution of the iconic original in terms of its styling, but under the skin it was all-new with what ended up being a wide range of engines and transmissions available. It's a stylish car, compact and purposeful, while the interior is solid, well-made and not quite as special as the TT Mk1. Although much better to drive than the earlier car, a BMW Z4 will deliver more thrills and feedback.
Engines are generally reliable, with massive specialist support, although we'd favour the tuneable 2.0-litre petrol over the out-of-fashion diesel. Quattro models don't habour any hidden horrors, although you need to make sure that they've been properly serviced. We'd steer clear of DSG automatic models unless they're very well documented. Overall, a great choice if you take time to seek out the best examples, although you'll pay a (worthwhile) premium.
Read our full Audi TT Roadster Mk2 review
View the latest Audi TT Roadster cars for sale
Nissan 350Z Roadster (2005-2010)
Sharp, rear-wheel drive thrills, and brilliant reliability
Pros:
✅ Great engine, strong performance
✅ Well-priced compared with rivals
✅ Excellent mechanical reliability
Cons:
❌ It's heavy on fuel, costly to tax
❌ Beware badly modified versions
The Nissan 350Z is a bruiser of a sports car and the Roadster only adds to the fun with its quick-acting fabric roof. Drop the top and you can enjoy the growl of its 3.5-litre V6 engine all the more. Power increased from the original 280hp to 300hp in 2006 and was boosted again in 2007 to 315hp, but all are quick and handle sharply.
The ride is firm but not jarring, and refinement in the cabin is acceptable with the roof down, but you may need to shout to be heard at motorway speeds. The standard 350Z Roadster is well equipped, but we'd go for the GT Pack that additionally benefits from heated and electrically adjusted seats, leather upholstery, cruise control and Bose stereo system. Plus its forged alloy wheels look great, too.
Read the full Nissan 350Z Roadster review
View the latest Nissan 350Z Roadster cars for sale
BMW Z4 (2003-2008)
Quirky styling, great driving experience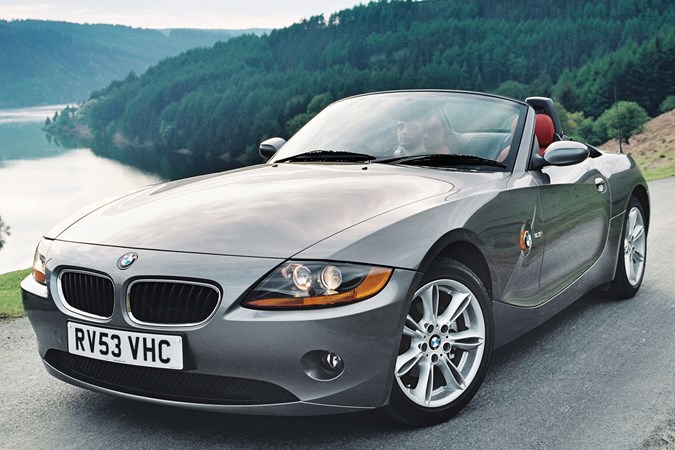 Pros:
✅ Six-cylinder performance
✅ Balanced handling, nice steering
✅ Fast, unobtrusive folding hardtop
Cons:
❌ Entry-level cars disappointing
❌ Reliability isn't stellar
BMW's first Z4 was aimed squarely at the Porsche Boxster and launched with 2.5 and 3.0-litre engines to give it sufficient fire power. These are the models to choose if you like plenty of pace, but avoid the 2.2-litre six-cylinder as it's not that quick but is thirsty. A six-speed manual gearbox is normal fare, while a six-speed auto suits cruising duties.
The 2.0-litre motor that replaced the 2.2 may not be as powerful but it's more pleasant to use. A facelift in 2006 increased engine power and performance, with these models denoted by their 'si' badging. Every Z4 loves corners and has direct steering to engage the driver fully in the process. Sniffing out a car with several optional extras is a great way to get good value for money when buying a secondhand convertible.
Read the full BMW Z4 review
View the latest BMW Z4 cars for sale
Saab 9-3 convertible (2003-2011)
Great looks, loads of room and a classless image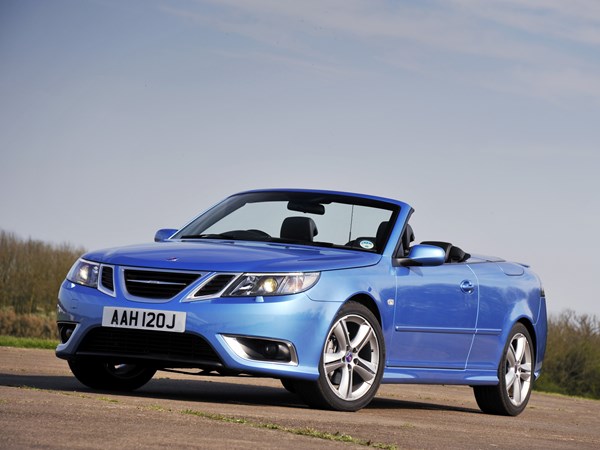 Pros:
✅ One of the cheapest open-topped cars
✅ Relaxed cruising, turbo performance
✅ Classless image
Cons:
❌ Not as well-built as older Saabs
❌ Diesel versions not wearing so well
Saab may no longer makes new cars, but that shouldn't put you off the modern-classic 9-3 Convertible. There are still plenty out there due to its enduring  popularity as a stylish cabrio, with a fabric hood that does a good job of sealing out the elements when raised. Lowered, the cabin avoids much buffeting, but the rear seats are best for kids and low-speed roofdown driving.
There are 1.8- and 2.0-litre four-cylinder engines and a 2.8 V6, all with turbocharging, to offer performance from brisk to downright rapid. The 1.9 turbodiesel makes a strong case for itself in 150- and 180hp forms with good pace coupled to 48mpg average economy, but their rattly nature and reliability issues (DPF, especially) are off-putting.
Read the full Saab 9-3 Convertible review
View the latest Saab 9-3 convertible cars for sale
Mazda MX-5 (2005-2015)
In its third-generation, the MX-5 was as brilliant as ever…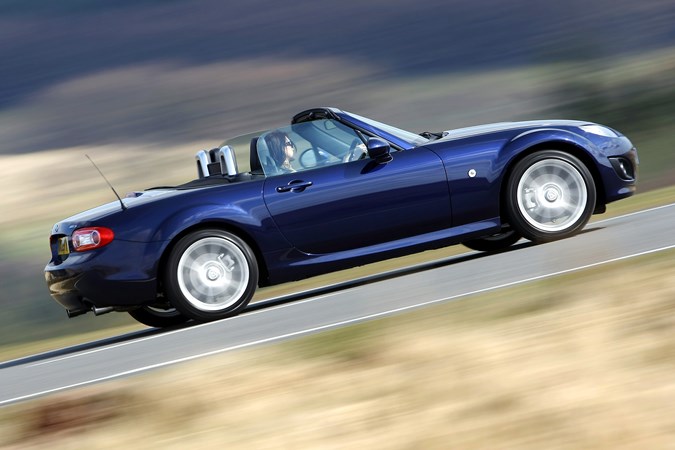 Pros:
✅ Stylish and great fun to drive
✅ Folding hard top option worthwhile
✅ Superb value for money
Cons:
❌ Can hide rust very well
❌ Not particularly economical
The Mazda MX-5 was a modern classic from the moment it was launched in 1990. It's a brilliant buy as it's ultra-reliable, easy and unintimidating to drive, and a genuine grin-a-minute delight for drivers of all abilities. It is, however, fair to say that rust is starting to make buying an original Mk1 or even a Mk2 a bit more of a challenge these days: so our tip is to go for the Mk3, sold between 2005 and 2015, and these days available for well under £5,000.
You still need to check for rust, of course – even these aren't immune. But there's less likelihood of it being terminal, and there are still plenty of well cared-for cars out there that remain pretty much immaculate. We like the 2.0-litre Sport, because it has 160hp power, a slick six-speed gearbox and a limited-slip differential for even more tenacious handling. But any MX-5 is a refreshingly purist joy to drive.
Read our full Mazda MX-5 review
View the latest Mazda MX-5 cars for sale
Audi A5 Cabriolet (2009-2017)
The grown-up choice for your money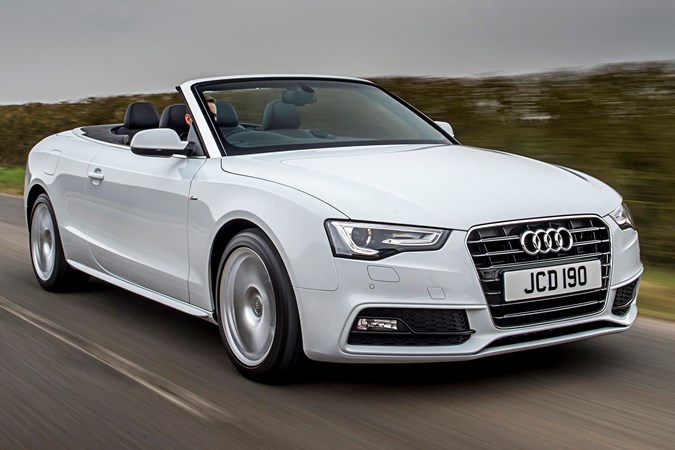 Pros:
✅ Elegant, sporty design
✅ Refined to drive
✅ Decent room for four
Cons:
❌ Most models for sale are diesel
❌ Parts prices can be expensive
Continuing the line that started with the Audi 80, the Audi A5 Cabriolet is a high-quality open-air option that has plenty of class and affordable running costs. Usable all year round, most are comfortable cruisers that are as sensible to run as an Audi A4 saloon – but there are sporty options as well. Stick a non-dating registration on your A5 and it still looks smart, contemporary and desirable.
Early models suffer problems with timing chain wear. Higher mileage cars with a poor history of oil changes should be avoided, too. Watch out for oil consumption on early models, misfiring on V6s, and timing chain noise on the 4.2-litre V8. We recommend any of the 2.0-litre TFSI models – they're quick enough, economical on long runs, and easy to maintain. As they use so many shared Volkswagen Group parts, a good specialist won't have any issues maintaining one fo you.
Read our full Audi A5 Cabriolet review
View the latest Audi A5 Cabriolet cars for sale
Mercedes-Benz SLK R171 (2004-2011)
Two seater with added refinement when driving with the roof up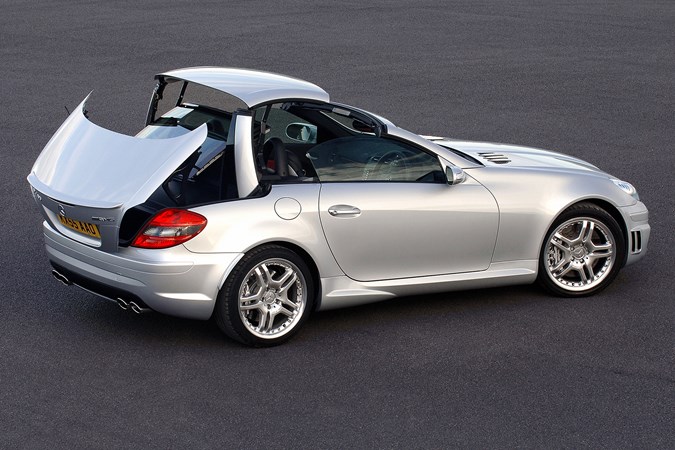 Pros:
✅ V6 models are fast and refined
✅ Eye-catching looks, compact size
✅ Better-built than predecessor
Cons:
❌ Some problems are very expensive to sort
❌ Indifferent performance from entry-level models
The second-generation Mercedes-Benz SLK brought a degree of sophistication and V6 effortlessness into a class dominated by the more sporting alternatives from Porsche and BMW. But it retained the best bits of the original – that lovely folding hardtop roof, compact dimensions and eyecatching styling – making this the mature choice for those looking for a two-seater roadster in the mid-2000s.
The good news is that the SLK (R171) is fundamentally reliable and rust-free (unlike the R170) and suffers from a few well-known and documented issues that specialists are happy to put right. Parts prices can be pricey for SLK-specific stuff, but overall, it should be cheap to run. However, the V6 and AMG models are heavy on fuel and costly to insure.
Read our full Mercedes-Benz SLK Cabriolet review
View the latest Mercedes-Benz SLK cars for sale
BMW 3 Series Convertible (2007-2013)
Four-seater convertible for those who want a folding hardtop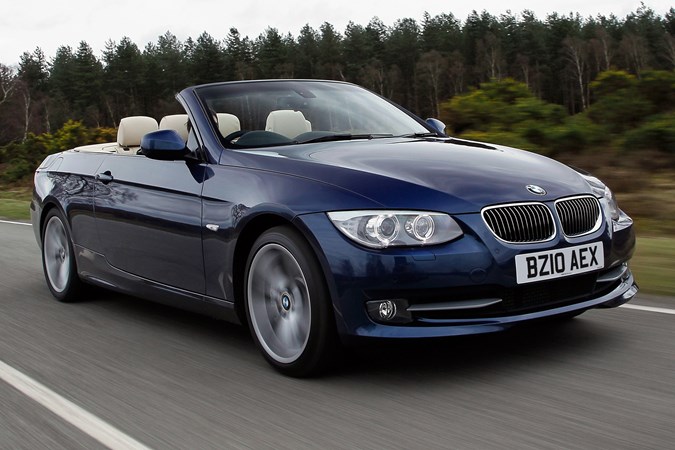 Pros:
✅ It's a 3 Series, so it's great to drive
✅ Excellent engine line-up
✅ Economy or performance – you choose
Cons:
❌ BMW reliability from this issue far from bulletproof
❌ When that amazing roof goes wrong, it's tough to fix
The BMW 3 Series Convertible (E93) arrived in 2007 and brought something new to the party – it eschewed the previous car's cloth roof and replaced it with an intricate and rather lovely folding hardtop (as was the trend back then) to give the owner the best of both worlds. Offered with the usual wide range of BMW engines and transmissions, there really is used 3 Series Convertible for everyone.
The E90-generation BMW 3 Series did see some cost-cutting compared with older models, and that's translated into long-term reliability issues. The popular 2.0-litre 320d model has a design fault with its camshaft sprocket that damages camchains on cars skimped on oil changes, while the brilliant 335i can suffer from high-pressure fuel pump failures. Finally, water ingress into the boot can get to the hood motor which leads to failure.
Read our full BMW 3 Series Convertible review
View the latest BMW 3 Series Convertible cars for sale
Volkswagen Beetle Cabriolet (2013-2018)
Retro-styled Veedub that's looking better with age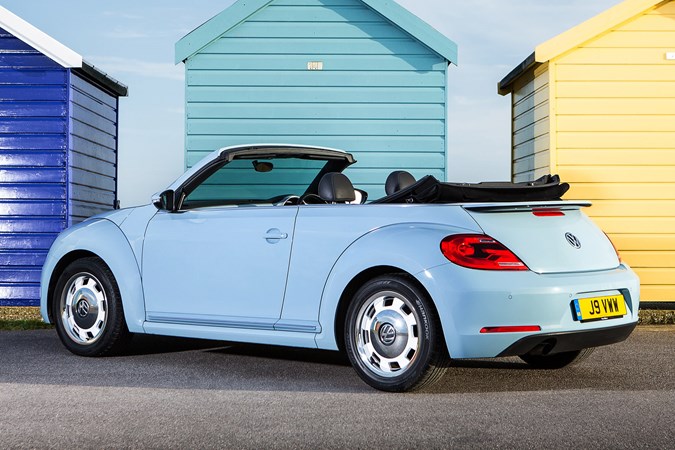 Pros:
✅ It's mainly a Golf underneath
✅ Stand-out design
✅ Great engine line-up
Cons:
❌ Not exactly a comfortable ride
❌ Less practical than a Golf Cabrio
The third-generation New Beetle Cabriolet might have carried over a very familiar look, but under the skin it was all-new and very closely based on the excellent Golf Mk6, a very highly-rated used car. Although it was better than before and very well built, the A5-Series Beetle isn't perfect – the driving position is compromised by a high seat and an oddly-offset steering wheel, and the handling, steering and ride were behind the rival MINI.
Not sure what engine to choose? A suite of seven engines was offered. The entry level engine was a 1.2-litre TSI petrol with 110hp but a low-emissions version with VW's BlueMotion Technology was also available. Then there was a 160hp 1.4-litre TSI petrol and a 200hp 2.0-litre version. Still not sure? How about a 1.6-litre TDI with 105hp or a 2.0-litre TDI with 140hp. All are good, all had their earlier reliability issues sorted – in a car with arguably more fun appeal than the Golf it's based on.
Read our full Volkswagen Beetle Cabriolet review
View the latest Volkswagen Beetle Cabriolet cars for sale
Lexus SC430 (2001-2009)
Left-field V8 powered cruiser for those who think differently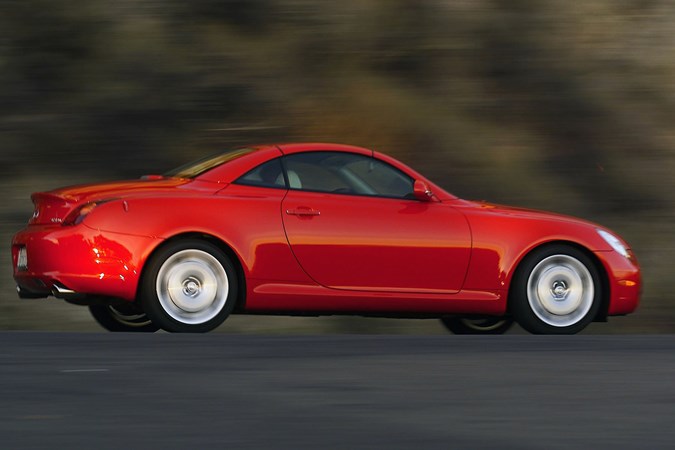 Pros:
✅ Silky-smooth V8 engine
✅ Beautifully-built inside and out
✅ Balletic folding hardtop
Cons:
❌ It chews through petrol
❌ Not exactly fun on a B-road
The Lexus SC430 is a proper left-of-centre choice, evidenced by its rarity in the UK. It's an appealing thing – a two-seater convertible that's wired up for refined cruising along rather than being hustled down twisting roads. On paper it seems a good proposition with a 280bhp V8 engine and a 0-62mph time of 6.2 seconds, but podgy handling and an unresponsive automatic transmission mean it's not going to be particularly rewarding to drive.
But hold your horses for a second – because the SC430 has a lot of positive points. Firstly, it's beautifully, gloriously built, and is packed with kit. The metal folding roof means that the SC430 is just as good as a coupe in the winter. There's minimal wind or road noise thanks to excellent sound insulation while even with the roof down it still feels superbly refined with little buffeting. All that holds it back is the odd styling and huge thirst.
Read our full Lexus SC430 review
View the latest Lexus SC430 cars for sale
MINI Convertible (2009-2015)
Fun to drive, sized for cities, and a great image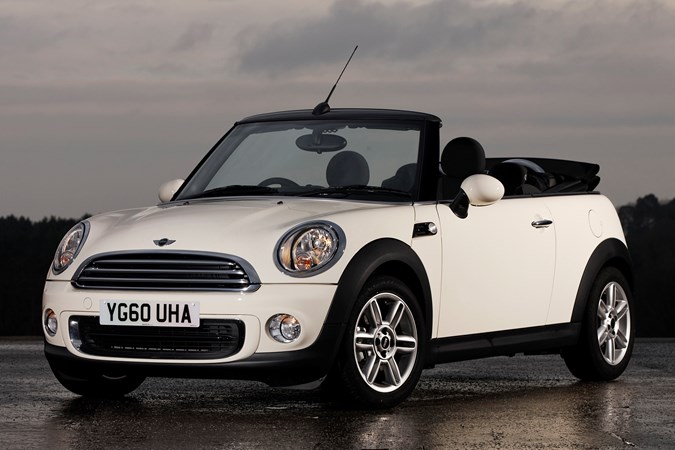 Pros:
✅ Steering and handling
✅ Cooper S performance
✅ Lots of models to choose from
Cons:
❌ Token rear seats
❌ Rattling petrol engines
With its retro-inspired styling and funky image, the MINI Convertible has a lot of kerbside appeal. The strong image of its maker, the excellent dealers and baked-in dynamics made it a shoe-in for buyers looking for an upscale convertible that was great around town, fun on B-roads, didn't cost a fortune to buy and wasn't too costly to run.
As a used car, the MINI Convertible suffers from a few drawbacks, not least the Cooper S models' well-documented engine 'death rattle' caused by a failure of the camshaft chain tensioner. Specialists fix lots of them, but it's still costly to sort – better buy one that's already been done. Other issues are less scary and include more general wear and tear problems, reflecting the car's excellent build quality. A safe, fun buy – but choose a well-maintained example.
Read our full MINI Convertible review
View the latest MINI Convertible cars for sale
Porsche Boxster (1996-2004)
Now emerged from the shadow of the 911 as a modern classic in its own right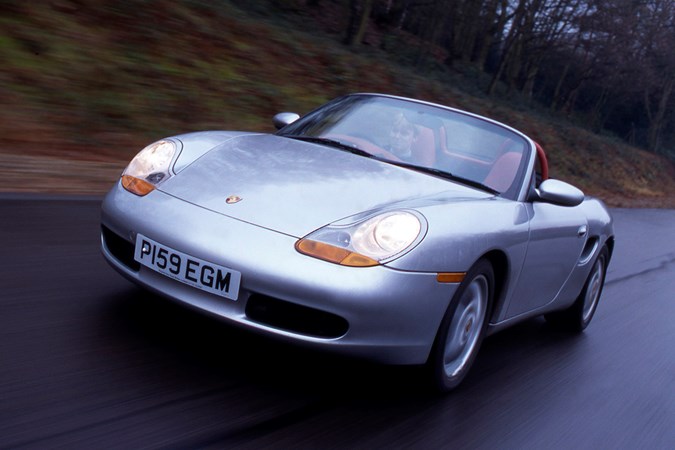 Pros:
✅ Fabulous steering
✅ Brilliant handling
✅ Boxster S has vivid acceleration
Cons:
❌ Servicing and parts are costly
❌ Standard Boxster isn't particularly quick
We'd all like a Porsche 911. But even the cheapest are nudging £20k these days. So how about a Boxster instead? The front half and interior are basically from a 996-generation 911 anyway, and the mid-engined flat-six motors are just as charismatic. Acceleration is potent and the Boxster S is a genuine performance car, with perfectly balanced handling and oodles of feedback.
Best of all, instead of paying £20k for a well-used 911, you can get early 1996-on Boxsters from less than £5,000. There are some well-known issues you need to be aware of, but experts are easily able to fix them these days – if the issues haven't already been sorted. History tells us affordable Porsches don't stay affordable forever, so now is the best time to buy a Boxster before its modern classic status starts to become more widely celebrated.  
Read our full Porsche Boxster review
View the latest Porsche Boxster cars for sale
---
Used convertible cars FAQs 
What are the disadvantages of convertible cars? 
In a nutshell it comes down to use. They're more likely to be weekend toys, with less regular maintenance and lots more time spent stood around. If they're not garaged, a convertible is way more susceptible to suffer from the ravages of UK winters, with water ingress more likely to affect one of these cars than their hardtop counterparts (where available).
Another thing to consider is that a convertible is almost always not as good to drive as their coupe or saloon equivalent. Put that down to a less rigid body and the additional weight of an often-complex hood mechanism. The question is whether any of that matters if you're just using it for cruising and posing, top down on sunny weekends. Your call.
Which is the cheapest convertible? 
Putting aside rusty project cars dragged out of a field or leaky garage, your cheapest options right now are the larger, less fashionable four-seat options, such as the Saab 9-3 or Audi 80 Convertibles. Both are excellent cars and we rate them highly, so buying the right example of either for a good price will be a very rewarding experience.
Other options are tatty examples of 1990s ragtops, such as the MGF, Mazda MX-5 or BMW Z3 – all of which, you'll find for comfortably less than £3,000. These are perfect for those who are looking for a modern classic for not a lot of money – just take care and manage your own expectations.
Are convertibles slower with the top down? 
As we're talking about maximum speed, then yes. A convertible with its roof down will generate more aerodynamic drag, which limits efficiency. That also means that on the motorway, you'll use more petrol, too. Mind you, all of this talk about top speed is irrelevant unless you're heading to Germany and want to get across it in a mighty hurry.
What should I look for in a used convertible car? 
Over and above the car-specific tips in the listings above, always, always look for signs of water ingress. And we don't just mean under the seats, the carpets and in the glovebox. Check also in the boot, under the bonnet, and literally anywhere that water can pool, causing potentially expensive damage. Remember, too, that capilliary action means that the leak can often be a long way away from the damp patch.
Also, as these cars tend to be used less, look for signs of extended inaction. Are the brakes sticky and does the handbrake work as it should? Are the electrics working as they should, and is the battery holding chage propery? Is there any underbody rust, and evdence of poor body repairs as a result of careless driving?
Should I get a hard or soft top used convertible car? 
There's no right or wrong answer to this, as it comes down to the individual quality of the car. A poorly engineered folding hardtop, like you'd find on a Vauxhall Tigra, Peugeot 206CC or Renault Megane will be a constant source of anxiety, whereas you won't give the well-engineered equivalent on a Lexus SC430 a second thought.
If you enjoy driving, you'll probably appreciate the more focused nature of a soft-top convertible car, such as a Mazda MX-5. It's probably also worth saying that ultimately a soft top that's not electrically assisted is going to be the best option for long-term reliability.
Do convertible cars hold their value?
There's a smaller pool of open-topped cars to choose from, but fewer buyers plumping for them, so there's no evidence that they hold their value better or worse than their hardtop equivalents. There are some classics, such as the MGB where the open-topped car is more the expensive option, but others like the Peugeot 205 GTI where the opposite holds true.
To maintain the best value for your convertible therefore, look after it, service it properly and keep it under cover if you can.