Ford E-Transit electric van review (2023)
Ford's first electric van surpasses every rival in every way
PROS
Built to same quality as diesel Transits
Very powerful motors
196-mile maximum driving range
Quiet, comfortable, great to drive
Much cheaper than rival models
CONS
Still expensive to buy outright
Demand likely to exceed supply
Odd brake regeneration system
Usual EV charging and range constraints
Not much use for towing
Summary
The Ford E-Transit is everything we hoped it would be – a superb large electric van from the UK and Europe's bestselling light commercial vehicle manufacturer.
Like all other large electric vans, the 2023 Ford E-Transit is based on the same basic platform as the equivalent diesel model. The difference here is in the quality of the electric transformation, the capability – meaning the driving range and the performance – and the price.
Starting at £48,045 plus VAT, the E-Transit is significantly cheaper than any rival as well as being significantly better, even after the price rises it has had since launch. It also offers tangible advantages over the diesel Transit, which might give any large van buyer reason to pause for thought.
All this means that not only is it our Electric Van of the Year for 2023, it is also our overall Van of the Year winner.
Driving range, charging and performance
Driving range continues to be the first query we have about any electric van, and the E-Transit doesn't disappoint, with a maximum claim of 196 miles per charge on the WLTP combined testing cycle. That's further than the competition can manage, in some cases considerably.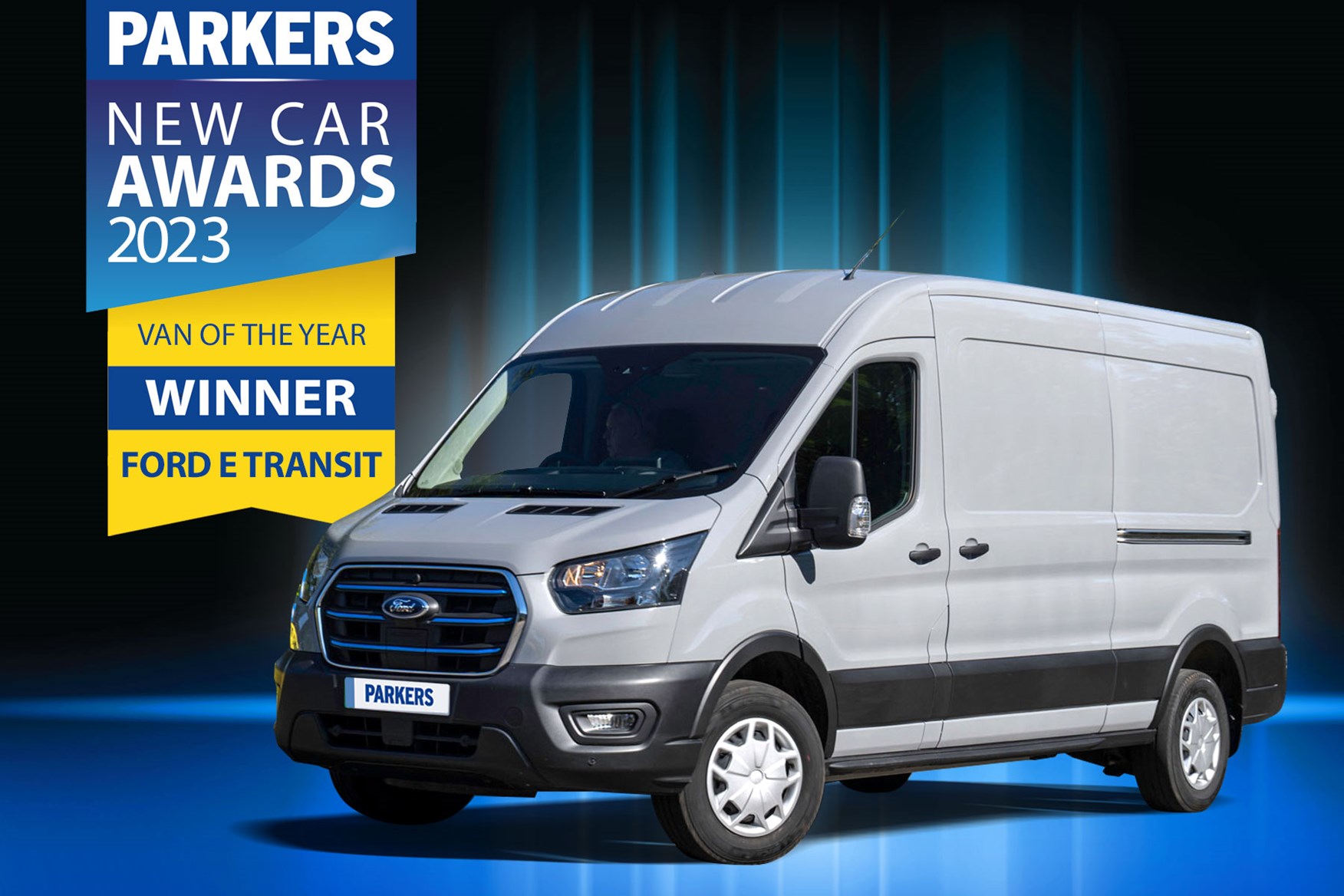 On top of this, Ford has also done a lot of its own testing to establish a 'dependable' real-world range of at least 100 miles. Which might seem like a bit of a come down compared with the official figure, but by dependable Ford means achievable in any weather, with any payload using a battery that's already withstood five years of use.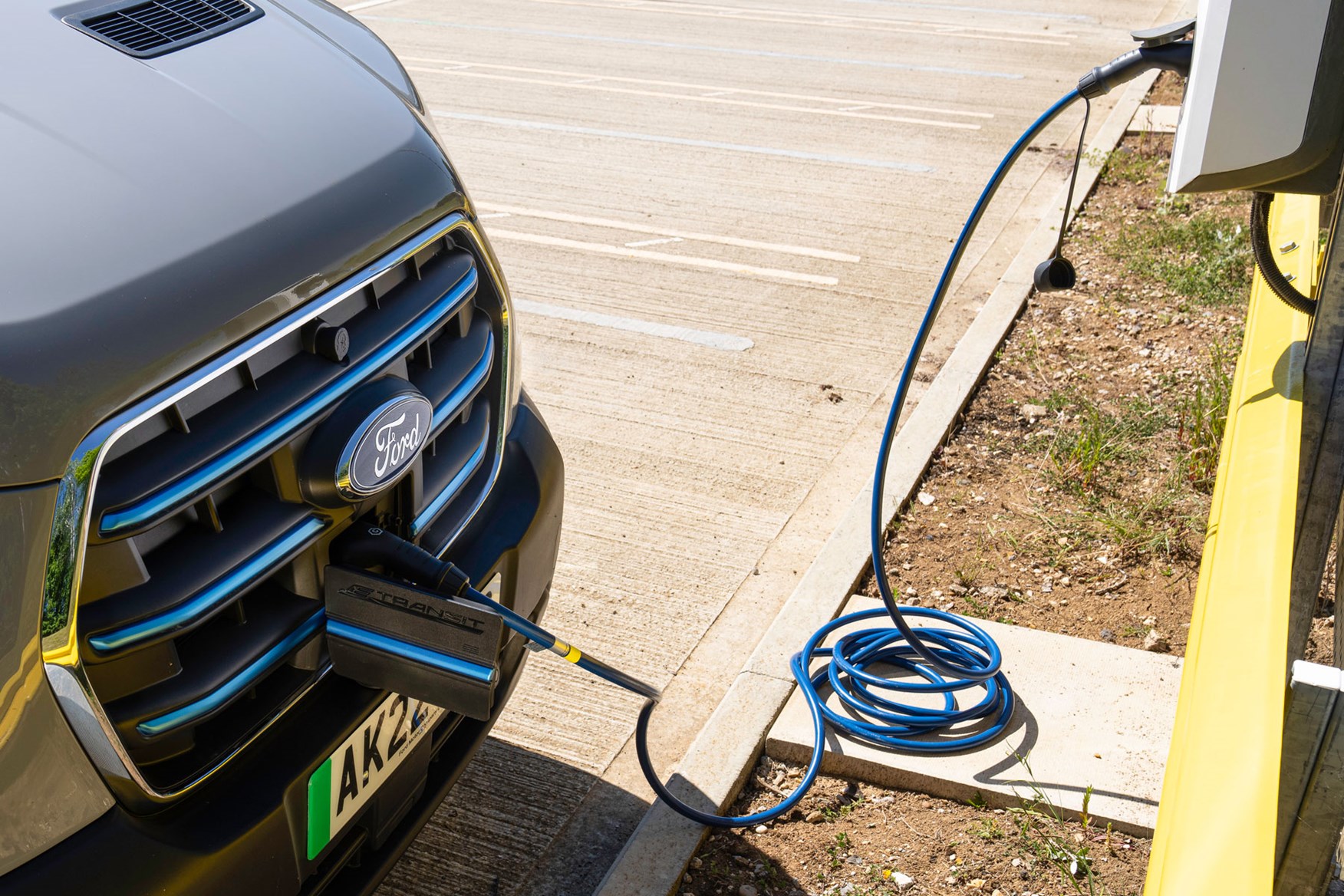 With an option for 115kW fast charging, topping the 68kWh battery pack back up to 80% can take as little as 34 minutes, while slower AC charging will bring the van back to 100% in 8 hours on wallbox with a three-phase supply or 11.5 hours on a more common single-phase connection.
Outright performance certainly isn't a problem, as the E-Transit's electric motor is available with as much as 198kW of power – that's equivalent to an enormous 269hp. A detuned version with 135kW  / 184hp is also available. We've driven both.
More different than it looks
Tested to the same extremes as any other Ford commercial vehicle – including real-world trials with working fleets – the E-Transit has undergone quite the transformation beneath the surface. There's a lot more to it than replacing the diesel engine and sticking on a blue grille.
For instance, the electric motor is mounted under the rear of the van, which means the rear suspension has been completely revised as well. New crash structures have been developed to protect occupants and the battery pack.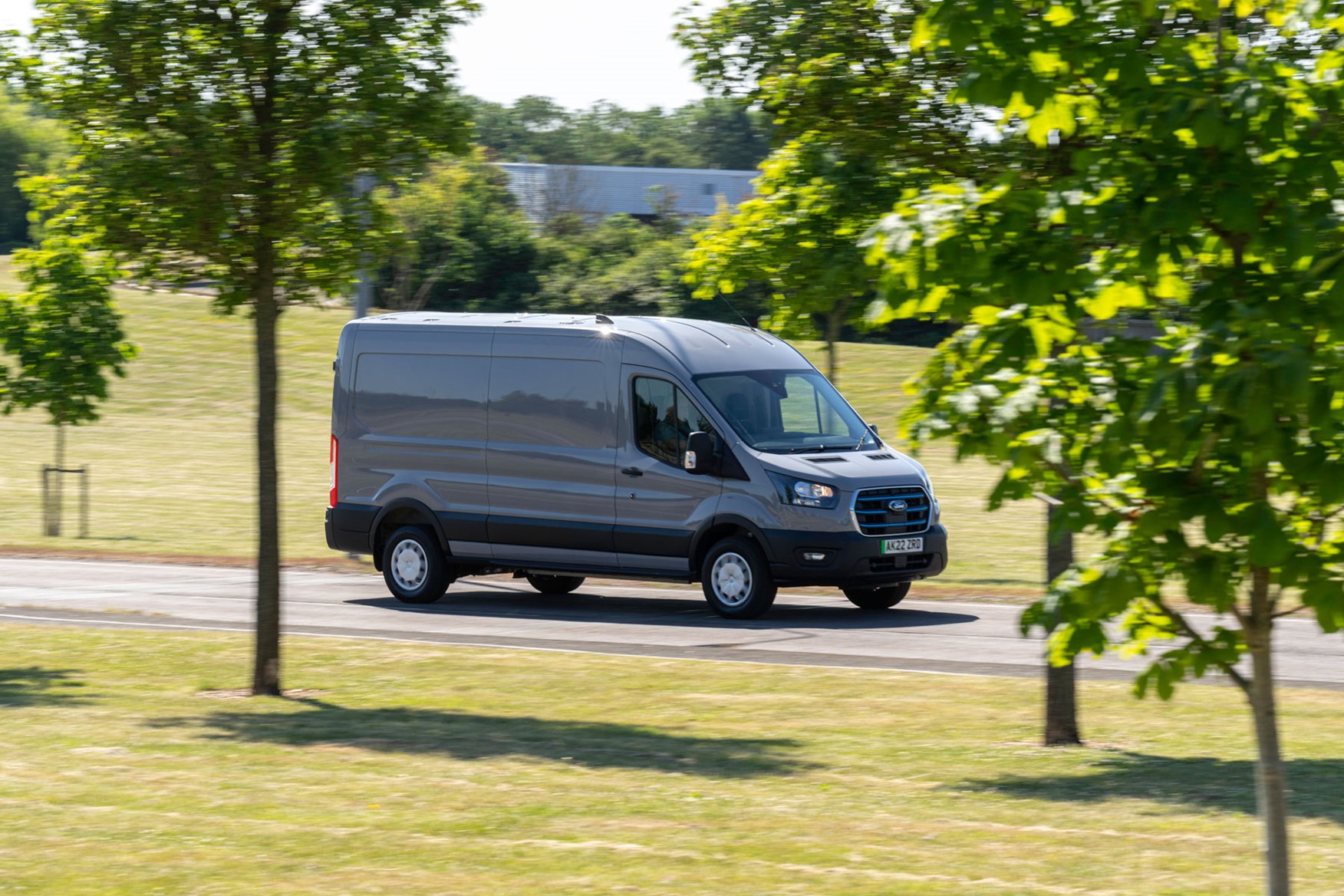 There are 25 versions available, and it comes in two specifications: Leader (also known as Base) and Trend. Both come with greater standard equipment than the diesel equivalents, with highlight features in the cab including the Ford Sync 4 infotainment system – with a ginormous 12.0-inch touchscreen – and the rotary controller for the single-speed transmission.
Rivals
Ford is one of the last brands to launch a large electric van. But it's also one of the few to do so properly.
Too many of the alternatives – most notably the Stellantis family of vans including the Fiat E-Ducato but especially the Citroen e-Relay and Peugeot e-Boxer – seem like stop-gap solutions based on very obviously converted diesel-powered products. Whereas the E-Transit feels like an authentic, fully developed variant of an already extremely strong product.
It comes across as a much higher-quality solution than the Renault Master E-Tech, and offers a far superior driving range to the Mercedes-Benz eSprinter. The closest contender is arguably one of the more obscure names in the class, the Maxus eDeliver9.
---
Verdict: is the Ford E-Transit any good?
The rest of this Ford E-Transit review goes into much greater detail, but the short and sweet answer is very much yes. In fact, at this moment in time you'd be mad to consider any other large electric van – nothing else even comes close to delivering such a complete package of pricing and performance. So much so that we suspect the biggest problem here is going to be the length of the queue to get one.
What's more, Ford has launched the E-Transit alongside a complete ecosystem of support under the new Ford Pro banner – which can provide everything from financing and telematics to servicing and charging infrastructure. Ford Pro isn't exclusively related to electric vans, but it goes a long way towards enabling the transition, whether you're in the market for one van or hundreds.
Skip to our full verdict on...
Powerful electric motors mean plenty of performance
Revised suspension design improves handing and comfort
Interesting efficiency boosting tech to extend driving range
When it comes to the driving experience, the E-Transit deserves the highest praise we can give an electric vehicle – which is to say it feels every bit as polished as a diesel Transit, and in many respects is even better.
What's the Ford E-Transit like to drive?
Refinement and performance are both excellent. Most large electric vans suffer from being noisy in the cab and some are very slow, but the E-Transit is quiet and composed at speed and reliably punchy under your right foot even when loaded. That's true for the 184hp even, while the 269hp version adds another level of oomph.
For those that are worried what this will mean for unsecured loads, especially at the hands of enthusiastic drivers, the accelerator doesn't give you all that power all at once. Instead it behaves in much the same way as the lower powered version the majority of the time, but if you push the accelerator all the way to the floor then the last little bit of travel gives you an urgent surge of speed, whether you do so from standstill or while moving for an overtake.
This means that you really have to want to make the most of the 269hp's speed and performance, but it is there when you want it. It does feel like it is a 'want' rather than 'need' though, as the 184hp model has enough to make it feel as though it has more power and performance than all its rivals.
When driving there is almost no wind or road noise, all the control weights and responses feel familiar from the diesel versions, and the whole thing exudes a sense of quality and togetherness that you only get from a thoroughly well engineered and tested OEM drivetrain solution.
The single-speed transmission takes the stress out of stop-start traffic – as with all electric vehicles it's like driving a completely unflappable automatic – while the composure and comfort make the E-Transit feel at home on faster roads and twistier ones as well.
Independent rear suspension
This composure is helped by the rear suspension, which has been completely reengineered following the need to accommodate the drive motor between the back wheels.
Not only is there a chunky new rear subframe assembly, you also get independent coil springs in place of the diesel's live axle and leaf spring setup.
Combine this notably improved ability to handle bumps with the reduced centre of gravity created by the position of the battery pack beneath the load floor, and you've got a crisp, nimble-feeling large van that's very surefooted and doesn't roll around too much in the turns.
Unladen, the van can be a little bouncy. But even a small amount of payload quickly calms this down, making the E-Transit pleasant and easy to live with.
Unusual regenerative braking system
As with other electric vans, the E-Transit can recover energy to recharge the batteries every time you lift your foot off the accelerator. The transmission can be put into an L mode in order to heighten this effect, though even with this engaged it's a far cry from the 'one pedal' driving available in some electric vehicles, where lifting off can bring them to a swift and smooth total stop.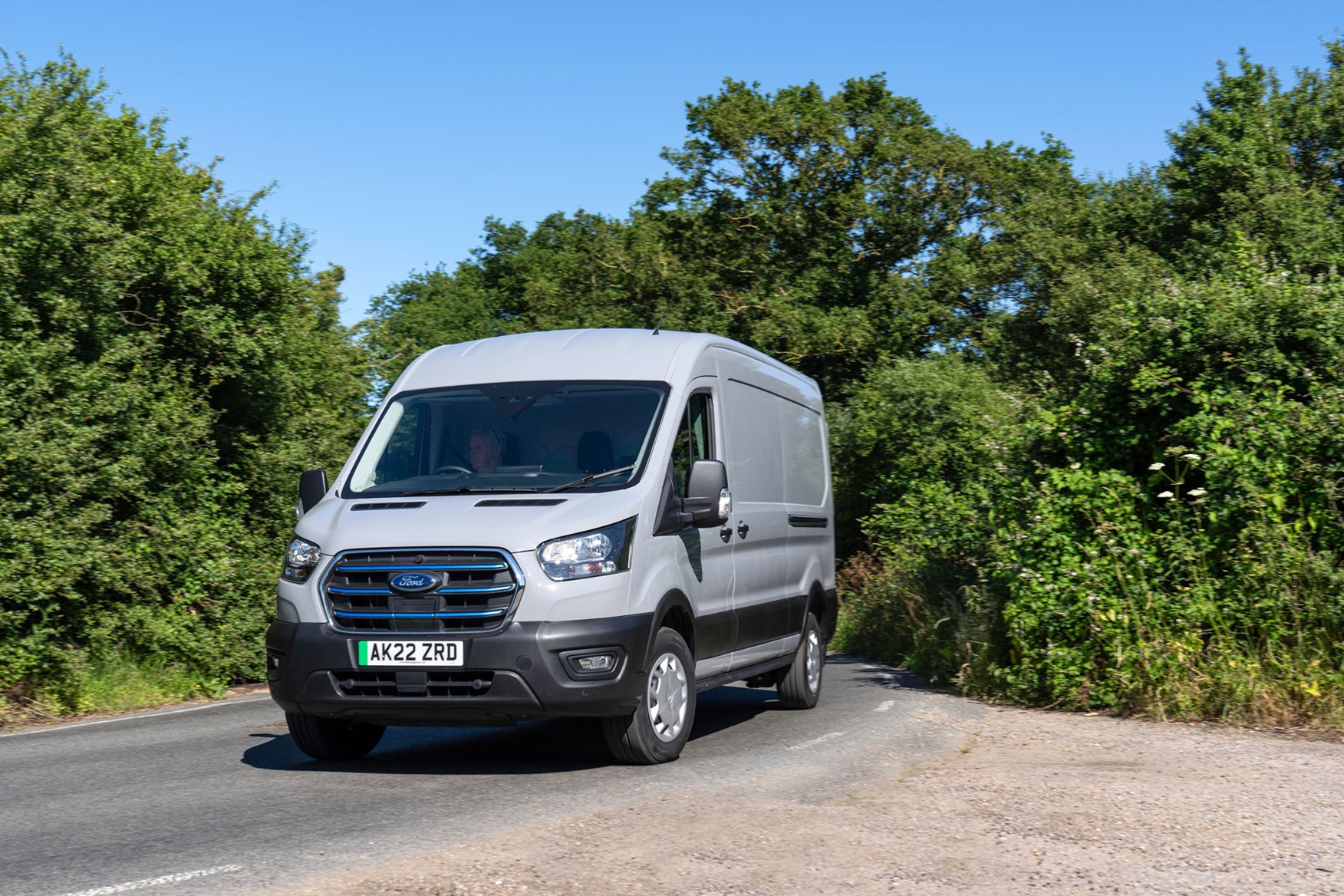 Some EVs go further by adding paddles to the back of the steering wheel that can control the level of regenerative braking. Ford has chosen a more unusual route.
If you find yourself wanting to slow down a little faster than the normal driving mode, a single tap on the brake pedal activates a regen mode halfway between the regular Drive setting and the more pronounced L setting; two taps matches the L mode, but doesn't engage it permanently – the van reverting to the standard setting as soon as you begin accelerating again.
This all works as it should – once you've got used to the process. But we can't help thinking it's a rather fussy, unnatural approach compared with a set of paddles. Something that requires a period of adjustment before you manage to make the most of it, we suspect.
On-board driver coaching
Speaking of making the most of it, the E-Transit has a couple of on-board features to help drivers maximise their own efficiency and therefore the van's potential driving range.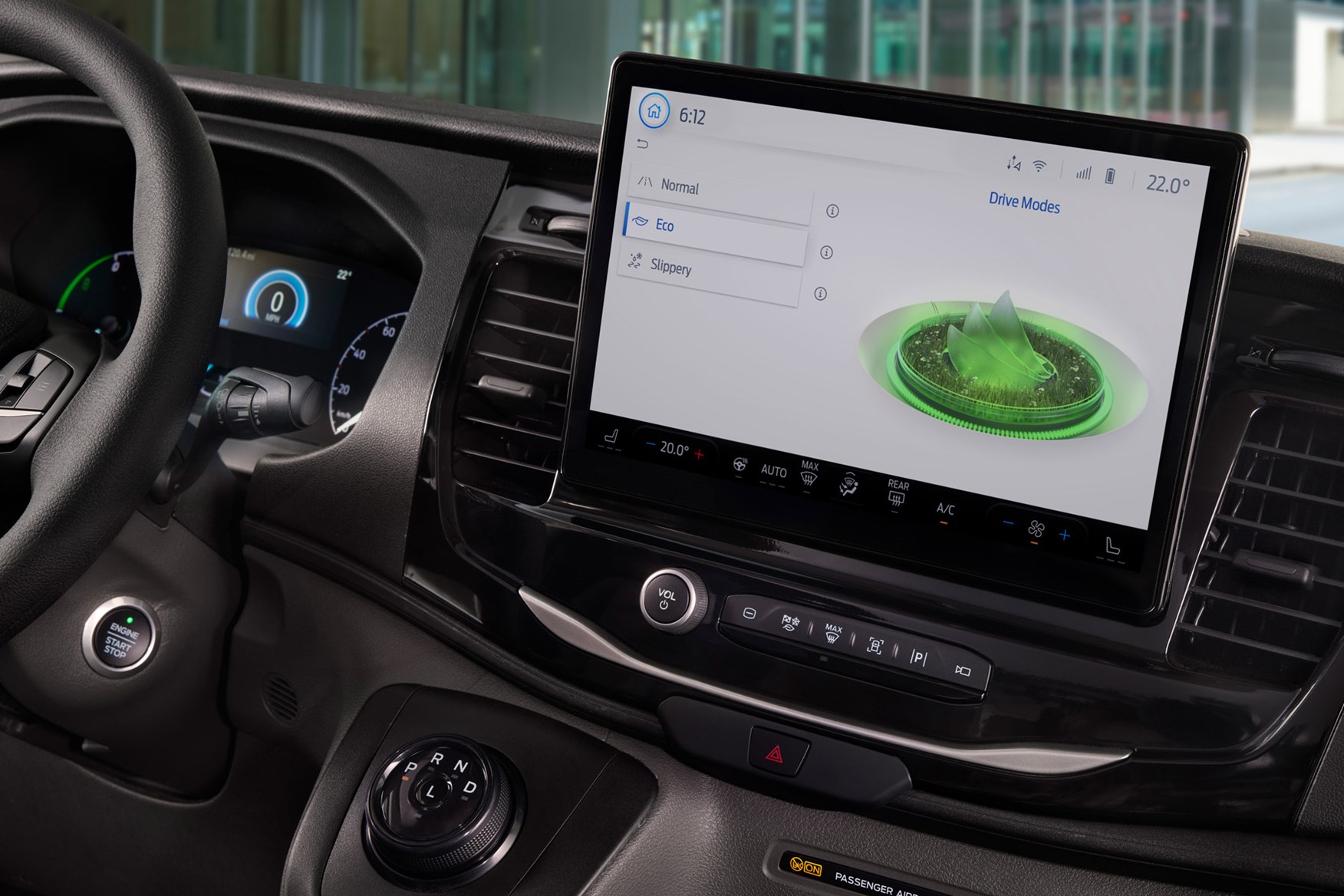 The most obvious is on the central touchscreen, where a set of percentage bar graphs give you real-time feedback on how efficiently you're managing acceleration, deceleration and speed. There is also a choice of three driving modes: Normal, Eco and Slippery.
Going further this this, however, if you do something abrupt or repeatedly inefficient, the van can also offer spoken guidance on ways to improve. We accidentally activated this while testing out the brake-tap regeneration system. Which is mildly ironic.
Huge central touchscreen
Excellent quality throughout
EV-specific features are easy to understand
The Transit already has one of the nicest large van interiors, with material quality and design a step well ahead of most rivals. The E-Transit arrives along with the latest Sync 4 infotainment system, however, which adds a massive 12.0-inch central touchscreen, further projecting the Ford ahead of most of the competition when it comes to modern connectivity features.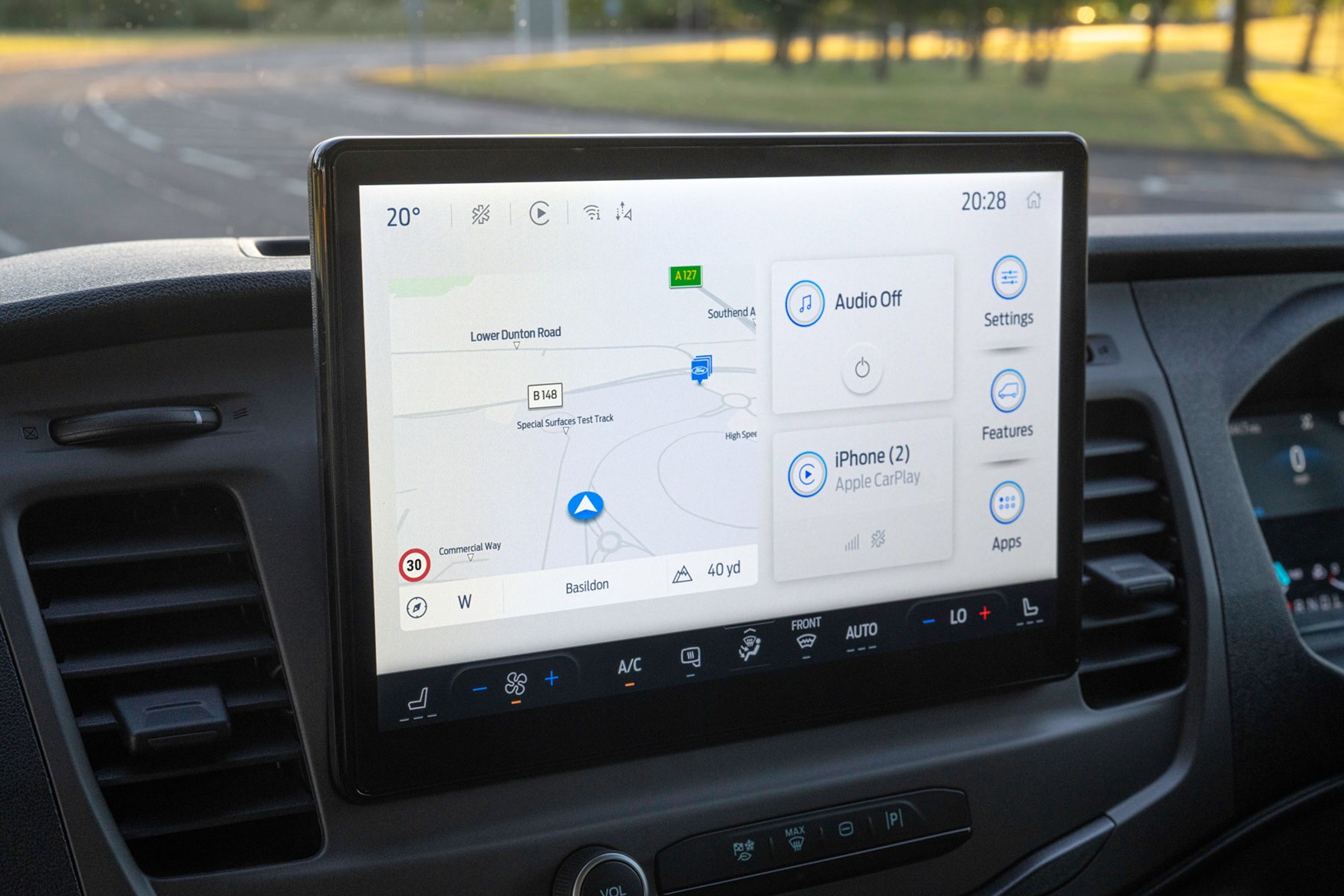 Other changes around the cab include the gearlever being replaced by a rotary dial to control the single-speed transmission, and the absence of a conventional manual handbrake. This has been replaced by an electronic handbrake, activated by a switch below the steering wheel.
The instrument cluster also gets a minor change, as the rev counter is swapped by a power-use indicator – which also helps you understand when the batteries are recuperating energy via the brake-regeneration process mentioned in the driving section above – and the fuel gauge now shows battery level.
Remaining driving range is also indicated in distance (miles or kilometres), albeit in the form of a small digital numbers at the bottom of the trip computer screen. There are other new display options within this as well, including info about how many kilowatts (kW) you're using to cover a set distance, which is a useful way of measuring and comparing electric van efficiency.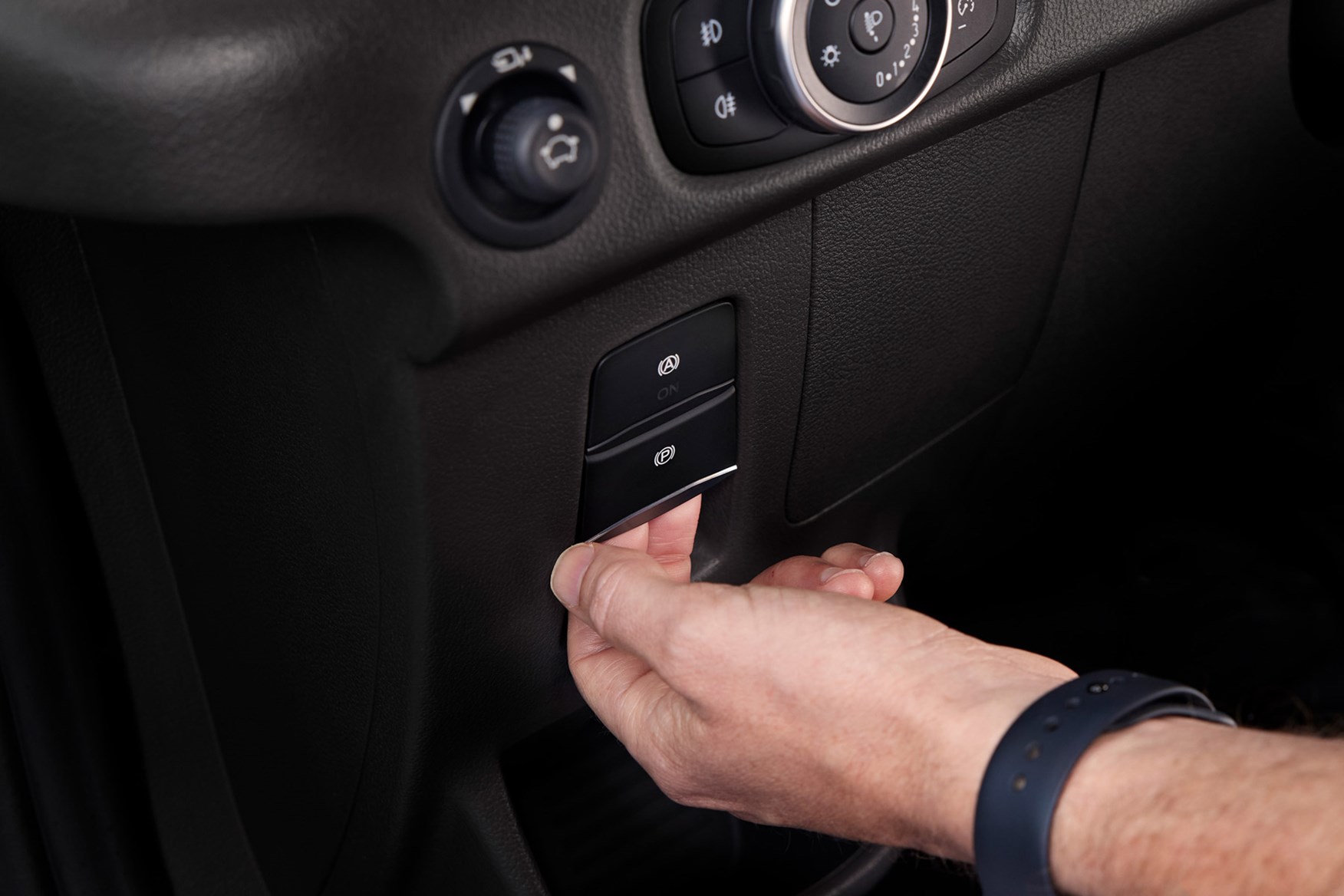 Ford Sync 4 is very impressive in use, quick to respond and easy to navigate if you have any familiarity with tablet computers or smartphones – though having all the ventilation controls integrated into the touchscreen does mean you'll have to pay a little bit more attention to how you adjust the temperature and so on. Taking that attention away from the road.
Ford E-Transit Pro Power Onboard
An optional upgrade for the electric Transit, Pro Power Onboard allows you to use the 68kWh drive battery to power electric equipment.
There are three plugs – one in the cab, two in the load area – and it delivers up to 2.3kW, enough juice to run a selection of tools but not power a house (something the American-market Ford F-150 Lightning electric pickup truck can do, thanks in part to its much larger battery pack).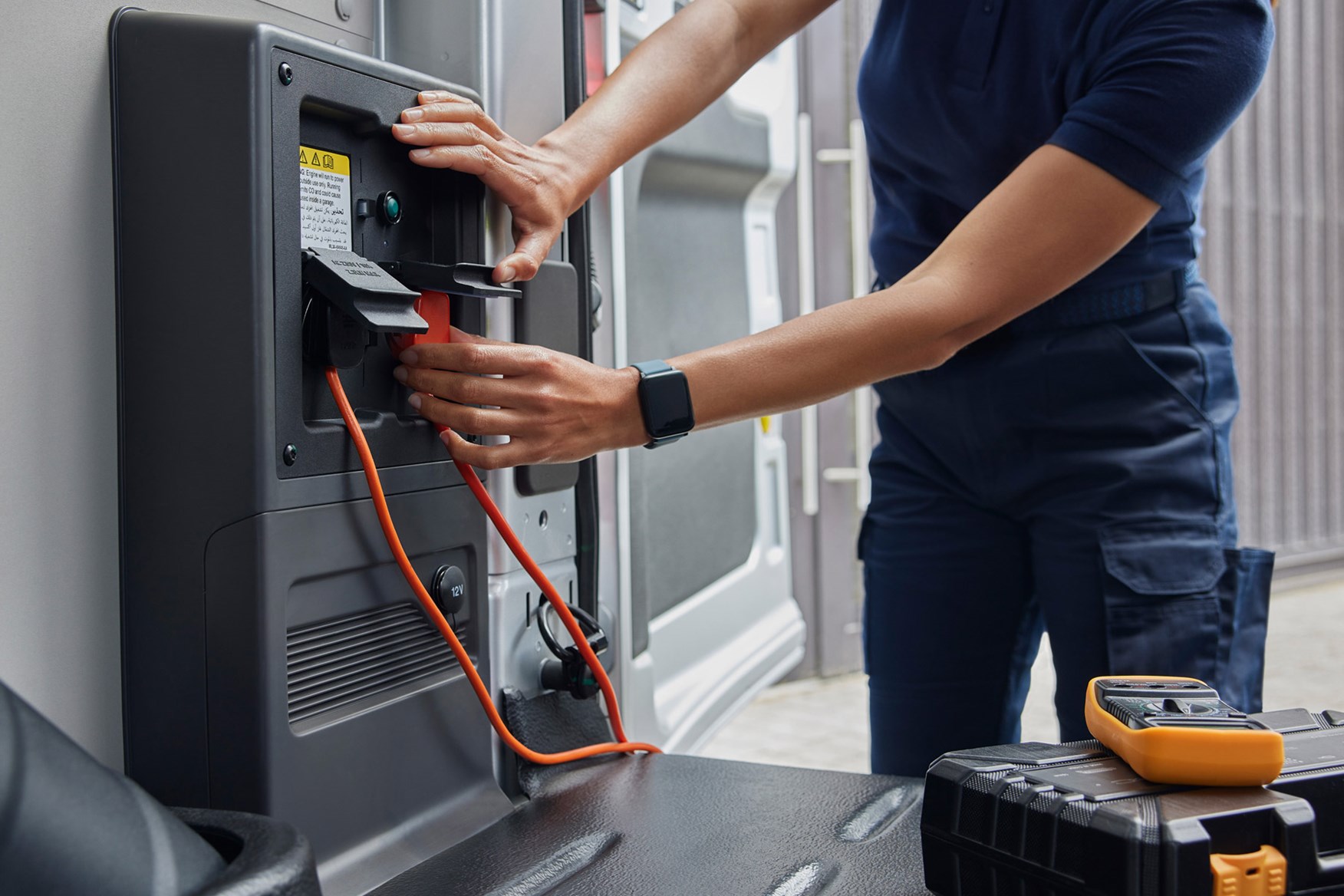 And don't worry, the van is smart enough to shut things down before you get stranded, and it will warn you ahead of time so you're not cut-off mid work job. You can even select the amount of driving range you need to retain before the shut down happens, with that range based on your own real-world driving data.
Much less expensive than other large electric vans
Should be cheaper to run than a diesel
Well equipped as standard
Though the £45,550 entry-level for the E-Transit is much less than rival models cost, it's still unquestionably a lot of money for van. That pricing excludes VAT – but currently doesn't include any discount from the UK government plug-in van grant.
Cost per mile of actually running the E-Transit will vary with your electricity tariff, and how you charge it; the public charging network can be much more expensive. If you choose wisely, however, you should still find the same distance cheaper in one of these than it would be in a diesel van.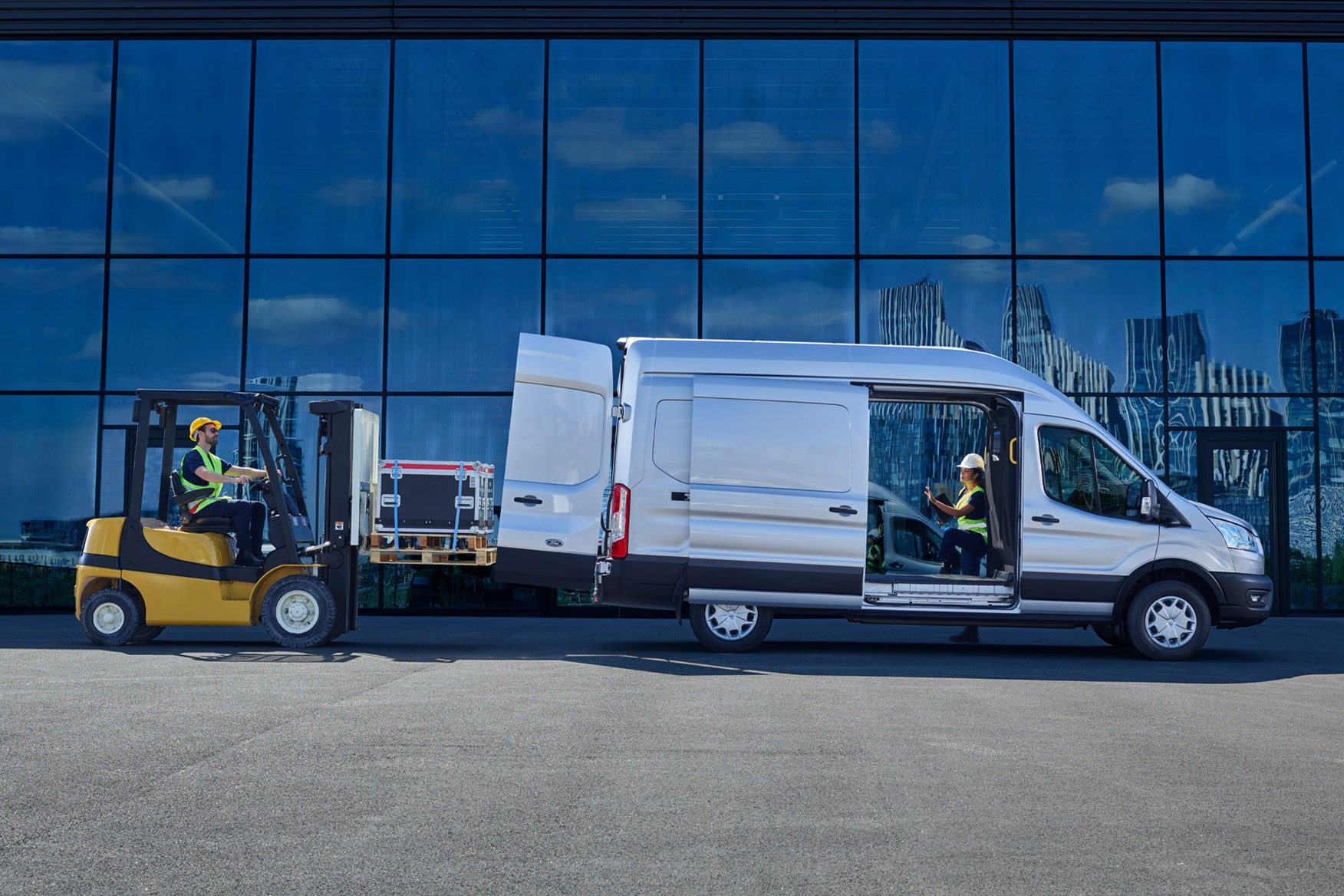 On top of this, servicing costs are lower – there are fewer moving parts to worry about – and consumables such as brake pads and discs should last longer if you make the best possible use of the regeneration process.
Ford E-Transit service intervals
Speaking of servicing, Ford's taken an unusual step of introducing unlimited mileage service intervals for the E-Transit. But you do need to take to the dealer every year.
Ford E-Transit warranty
All the regular bits of the E-Transit are covered by the same three-year warranty as any other Transit. The electric drive components get a longer eight-year / 100,000 mile warranty, for added reassurance.
Ford E-Transit standard equipment
The E-Transit comes in two trim levels: Leader and Trend. Both have slightly more standard equipment than the equivalent diesel models.
Ford E-Transit Leader standard equipment highlights:
Semi-automatic air conditioning
Powered, heated door mirrors
Heated windscreen
12.0-inch infotainment display with Sync 4
DAB radio
Android Auto
Apple CarPlay
Electric parking brake
Keyless start
Metal bulkhead
Ford E-Transit Trend standard equipment highlights (in addition to Leader):
Satellite-navigation
Moulded load-floor liner
Cruise control
Front and rear parking sensors
Automatic wipers
The Trend also has an increased number of standard safety features, detailed in the safety section below.
It's too early to say how reliable the E-Transit will be, but it's been put through the same rigorous testing process as any other kind of Transit. This is a proper, large-scale production model, not a third-party conversion.
Electric vans have fewer moving parts than diesel models, and electric vehicles are typically highly reliable. So we're not expecting any major problems here.
Trend model leads the way for safety items
Look to the options list for maximum security
Safety equipment for the Leader model is relatively limited, with electronic stability control and side-wind assist the only major active driver aids. Step up to the Trend, however, and you also get a Collision Mitigation System, Lane Departure Warning and a Lane Keeping Aid.
A vast number of additional active safety aids are available via the options list, including usefully practical things such as 360-degree systems and a permanent rear-view camera.
Both electric versions feature additional crash structures, however. Some to protect the batteries, others to replicate the structural role played by the engine that used to be under the bonnet; this area is now used to house a lot of the van's control systems as well.
As for van security, standard features aren't super impressive but Ford now offers a huge range of upgrades, especially in terms of locks. It also has some very clever electronic systems available, including fleet management capability via Ford Pro and the FordPass Pro app for smaller fleets and single vehicles.
Which Ford Transit E-Transit is best for me?
The E-Transit comes in a choice of 25 variants, so you've got some thinking to do here.
All feature the same battery pack, so that's one question dealt with. Ford is a rarity in the electric van sector by offering more than one power option, but the 184hp variant will be more than adequate for most buyers. The 269hp seems more of an indulgence than something that adds extra usability.
Both trim levels are well equipped, but you certainly get a useful number of extras for your money by upgrading to Trend, so we'd certainly be tempted to do that.
Body size will be down to how much load volume you need versus how much payload – the larger the van, the less weight it can carry.