Vauxhall Corsa-e review
Current Model
An all-new Corsa with an all-new powertrain shows promise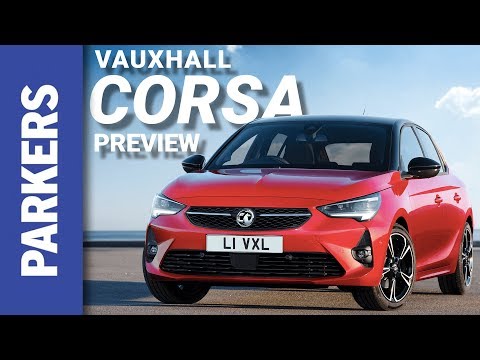 Enlarge
1

videos
Enlarge
41

photos
PROS
Vauxhall's first pure electric vehicle
Engaging handling from an all-new platform
Impresive performance and range
PROS
Vauxhall's first pure electric vehicle
Engaging handling from an all-new platform
Impresive performance and range
Vauxhall Corsa-e Hatchback rivals
Vauxhall's best-selling Corsa is available for the first time with an electric motor, promising more than 200 miles between charges and the same subtle good looks as the conventionally powered version.
The Corsa-e is the first of three fully-charged models to arrive in 2020, with the replacement for the Mokka X SUV and Vivaro van to follow. That's not all - Vauxhall says all of its cars are set to be electrified in some form by 2024.
While that sounds like a leap into the unknown it's worth remembering that the Ampera, Vauxhall's first electric vehicle (albeit it one with a petrol range-extender) debuted way back in 2011. But how has Luton's plug-powered tech evolved since then?
Few compromises from electric drivetrain
The Vauxhall Corsa-e is powered by a 50kWh lithium-ion battery made up of 216 individual cells, which can be filled to 80% in 30 minutes at a 100kW rapid charging station. Customers with a charging wallbox at home can expect a full battery in just over five hours using a three-phase 11kW/16amp charger, easily attainable overnight while the car is parked up. If using a single-phase 7.4kW AC charger, expect charging times of approximately 8hrs and 30mins.

There will also be a smartphone app to allow owners to monitor the charging status and pre-condition their vehicle prior to driving. You can also schedule your charging time for a later time after plugging it in.
That results in a 211-mile range when tested under the rigorous WLTP procedure, which Vauxhall says can be improved by up to 40% by using the car's Eco mode. On the other hand, switch up to Sport to increase the responsiveness of the throttle pedal and you can expect to knock around 10% off that range.
One power output, two levels of regenerative braking, three drive modes
Either way, 136hp and 260Nm of torque means purposeful propulsion, especially around town, where the Corsa-e can leap from 0-31mph in just 2.8 seconds, and on to 62mph in 8.1 seconds when conditions allow. Top speed is 93mph.
Helping claw back charge is the car's regenerative braking system, which offers two levels of severity depending on driver preference and prevailing traffic conditions.
Drive in D mode and you'll experience a mild level of regeneration, allowing the Corsa-e to decelerate gently. Nudge the gearlever down to B mode and this doubles the level of regeneration, working all the way down to 5mph before coasting again.

Three drive modes will also be available in the form of Eco, Normal and Sport. Toggle the button located beside the electronic parking brake switch and this varies the amount of power output available in each.
Eco mode brings a reduced power output of 82hp and 180Nm of torque, with a slower throttle response to match and a pared down climate control system.
Driving in Normal mode means you'll be driving with 110hp and 220nm of torque. Top speed remains the same, but both these detuned maps can also be overruled with full-throttle application for emergency use.
Sport mode is where you'll find the full 136hp and 260Nm of torque, along with weighted-up steering to match.
Despite the extra 300kgs worth of battery weight on board, we don't expect the Corsa-e to behave considerably differently to one with an internal combustion engine on the road.
It's longer and wider than the version it replaces, too, so expect it to feel more stable, with better ride comfort. The roofline is lower to help improve drag, but you also sit lower to the ground. In conjunction with a longer bonnet, you'll feel less like you're sitting in a people carrier compared to the old one.
The brakes have also been upgraded with larger items to compensate for the added weight.
Tech improves comfort and safety
As with the petrol and diesel powered Corsa, the electric version features a 7.0-inch multimedia touchscreen, with the optional 10.0-inch Multimedia Navi Pro available at additional cost. The latter features Apple CarPlay and Android Auto, while smartphones can be charged wirelessly too.
Once on the move, the built-in sat-nav also shows which charge points are within range if you need to plan an unscheduled stop along the way.

Two trim levels will be available, with top-spec Elite coming with larger 17-inch alloy wheels as standard and full LED matrix headlights, fitted with a new light-sensing camera for better reaction times towards approaching traffic.
Lower-spec models still come with 16-inch alloy wheels, non-adaptive LED headlights and LED taillights.
Supporting the driver is a wealth of camera and radar-based assistance systems including:
Lane keep assist
Side blind spot alert
Adaptive cruise control
Drowsiness detection
Parking sensors and rear view camera
Automatic parking assistant
Small reduction in overall cabin space
While the amount of usable bootspace remains the same as the conventional Corsa, you do lose a few of that car's 309-litres due to the electric powertrain sitting in the spare wheel well.
That said the Corsa-e is still more spacious than the previous car, which only featured 285 litres of room, and a longer wheelbase and wider track has unlocked more passenger space without adversely increasing the overall dimensions.

The Vauxhall shares this new platform with the Peugeot 208 and while there are some carry-over parts in the cabin, you have to look to find them. We recognised the bank of electric window buttons and the gearshift, plus the steering wheel, although only because the latter comes from a Grandland X.
For the passenger compartment, due to the batteries being located beneath the front and rear seats - and the central tunnel where the exhaust normally sits – you don't suffer from the raised floor as you'd find in the Renault Zoe. A brief sit in the rear seats showed us how we were able to sit behind a 6ft tall driver, offering more leg and kneeroom than a Renault Clio, with space for feet beneath the front seats – a benefit of the Coras's increased wheelbase.
Our pre-production model also had the optional panoramic roof fitted and wasn't detrimental to headroom thanks to a raised cutout behind it, just above the passenger's head.

Getting out of the Corsa might be a bit tricky though, due to the high side sills.
Prices for the Corsa-e
With a P11D price of £29,935, the Corsa-e will cost £26,490 after the Plug-in Car Grant has been applied. Production of the Vauxhall Corsa-e starts in early 2020, with deliveries in Spring. This small hatchback will be the first of the electrified Vauxhalls arriving in 2020, with the Vivaro, Viva and Mokka X successor also confirmed for this year.
We expect to see a wide range of exterior colour combinations that made the outgoing model so popular. We already know the Corsa-e will be available with the option to have a black or cream white roof, but further spec details will be confirmed.
From the front you won't be able to notice it's the electric version of the Corsa. Only the eagle-eyed will spy the wheels and subtle badging, so those who don't wish to shout about their choice of propulsion may like Vauxhall's approach.

The first 500 customers will receive a free PodPoint Wallbox charger for their home, along with a free six month subscription to the Polar network for when they're away.
The Corsa-e will also come with the firm's eight year, 100,000 mile warranty for the battery.
Parkers will be among the first to drive this exciting new electric car, so check back here for our full review.
Find out more about all electric cars here