View all Volkswagen Golf reviews

Volkswagen Golf Hatchback
Review
Current Model
It's difficult to fault the excellent Volkswagen Golf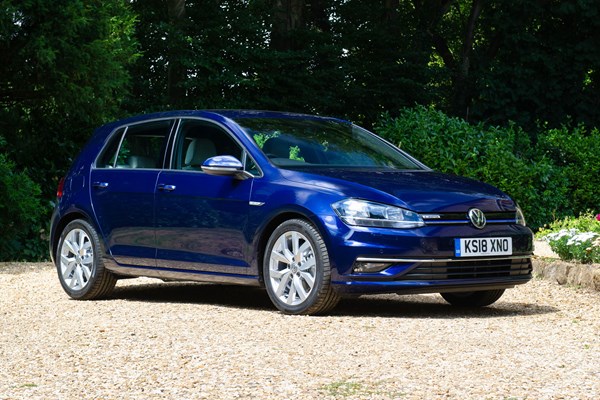 PROS
Spacious and high-quality interior
Large range of engines available
Lots of trim level choices
GTI and R provide thrills
CONS
Styling is a little dull on some models
Optional extras can be pricey
Growing range of strong competition
PROS
Spacious and high-quality interior
Large range of engines available
Lots of trim level choices
GTI and R provide thrills
CONS
Styling is a little dull on some models
Optional extras can be pricey
Growing range of strong competition
Verdict
The Volkswagen Golf hatchback is one of the best-known name badges of any car on sale. It's been available in the UK since 1974 and we're currently on the seventh generation, with a major facelift carried out in 2017 to keep the design and technology right up-to-date. It's more expensive to buy than most of its rivals, but given the range of equipment on offer, the breadth of the petrol, diesel, hybrid and electric range of powerplants and the sporty mainstays of the Golf GTI and Golf R, it's difficult to find a version of the Volkswagen that won't suit you.
Battling in the fiercely competitive lower-medium hatchback segment, the VW's up against the collective might of the Ford Focus and the Vauxhall Astra primarily. But this class also contains other talents such as the Honda Civic, Hyundai i30, Kia Ceed, Mazda 3, Peugeot 308 and Renault Megane, as well as in-house rivals in the forms of the SEAT Leon and Skoda Octavia. Those pricier Golfs will also find themselves being compared with their Audi A3 Sportback sister cars, as well as the BMW 1 Series, Infiniti Q30, Lexus CT and Mercedes-Benz A-Class.
Volkswagen Golf styling
Golfs have tended to be conservative choices, hence why the design bloodline is common to all seven iterations of the VW. As per industry norms, this version's larger than the model it replaced, but it's still a compact hatchback compared with many rivals thanks to its near-vertical tail. That hasn't hampered either cabin space or practicality, with one of the roomiest interiors in this segment, along with a 380-litre boot – that's not the largest in this segment, but the 60:40 split-folding rear seat does tumble flat for added flexibility. If you need more space there's always the pseudo-MPV Volkswagen Golf SV, or for all-out carrying ability in this family, the capacious Golf Estate. Inside you'll find the high-quality ambiance VW's become acclaimed for with an exemplary level of fit and finish, with premium-grade squidgy plastics employed for the main planes of the dashboard.

Volkswagen Golf TSI petrol and TDI diesel engines
Boasting one of the widest line-ups of powerplant permutations, you'll be struggling to not find a version of the VW Golf that satisfies your requirements. Every petrol- and diesel-engined version is turbocharged for both power and efficiency and all feature Volkswagen's BlueMotion fuel-saving measures, including stop-start. Petrol engines start with a 1.0-litre, three-cylinder TSI with 85hp and 115hp, while the rest of the mainstream range is fleshed out with four-cylinder 1.5 TSI Evos in 130hp and 150hp outputs. For those seeking the efficiency of diesel power, the 1.6-litre TDI comes in 110hp form, while the 2.0-litre version is available in outputs of 150hp or 190hp if you opt for the sportier Golf GTD.
Volkswagen e-Golf and GTE
If the ability to drive with electric propulsion is key, then there are two choices: the plug-in hybrid Golf GTE is a sportier take on the familiar theme while the e-Golf is a pure BEV (battery electric vehicle) with no conventional engine at all – the claimed range is 180 miles between recharges. The Volkswagen Golf GTE was a Plug-in Hybrid Electric Vehicle (PHEV) which combined a 1.4-litre petrol engine with an electric motor to develop 204hp. Despite the GTE moniker, it's actually a very easy-going daily drive that happens to have a sub-8.0 second 0-62mph time. It proved so popular that orders were suspended in 2018, as Volkswagen struggled to meet demand. That's strengthened the values of secondhand examples considerably.
The Volkswagen e-Golf has also proven popular with long lead times for customers who have placed an order – again, as VW struggles to ramp up battery production. We've run one in an extended long-term review, which you can read all about on Parkers by clicking the link below.
Golf GTI and Golf R hot hatchbacks
Both the Golf GTI and R versions feature 2.0-litre TSI turbo petrol engines producing between 220hp and 300hp depending upon the version chosen – good enough for a top speed of 155mph and a sub-5.0 second 0-62mph time for the quickest. Additionally, VW offers Performance derivatives of both GTI and R, with extra go-faster bits for an even more engaging drive. The GTI gets a limited-slip differential on the front axle, power up to 245hp and better brakes, while the R gets a higher top speed, larger brakes and 19-inch alloy wheels. A titanium sports exhaust is available on the latter, too.
VW upped the ante even further with a stripped-out and strictly limited edition Golf GTI Clubsport S in 2016 boasting 310hp, and a top speed of 164mph.
Facelifted Volkswagen Golf from 2017
Spring 2017 saw the arrival of the mildly facelifted Golf hatchback range. Visually the alterations are limited to new bumpers and lights which employ a higher proportion of LED technology. But, nonetheless VW is calling this the most significant mid-life update in the Golf's 40-year history – which just goes to show the pace of change in the modern car industry - and that most of the changes are under-the-skin.
As such, the facelift focuses largely on technology – in terms of both infotainment and safety. There's a 9.2-inch Discover Pro touchscreen option, for example, that together with the available Active Info Display fully digital instrument cluster (VW's version of Audi's Virtual Cockpit) completely modernises the interior. Discover Pro even features a rudimentary gesture control system that allows you to 'swipe' certain functions without touching anything at all.
Should you buy a Volkswagen Golf?
That wide range of power options is combined with a variety of trim levels to help tailor your Golf even more to your liking. The specification hierarchy is complex and includes a large number of performance-oriented versions. All versions are well-equipped with air-con complete with rear-passenger air-vents, height-adjustment on both front seats, a colour touchscreen for the infotainment system with DAB radio and Bluetooth connectivity, and seven airbags.
There's also a wealth of extra-cost options to pore over to tailor your Golf closer to your specific needs, be it enhancing safety or upgrading the multimedia system. In short, there's a reason it's called the 'People's Car' – there's a Golf for everyone, and whichever version you choose, you know it's going to be a safe and hugely competent choice.

Read on for the full Volkswagen Golf Hatchback review