Volkswagen Golf
Welcome to the Parkers Volkswagen Golf portal page. If you are looking to buy or lease and want to know more before deciding, you're in the right place. You'll find expert reviews, cars for sale and the latest lease deals.
Popular reviews
Read the Parkers detailed new and used car reviews of all of the models in the Volkswagen Golf range. Here you'll learn all you need to know including practicality, running costs, performance, safety and handling plus lots more.
Discover cars for sale
If you're looking to buy a used Volkswagen Golf or are just looking to browse our cars for sale, you'll be able to choose from a wide selection here. In the Parkers cars for sale section, you can choose by price, location or specific model variation to tailor your choices.

What is the Volkswagen Golf?
What a remarkable journey the Volkswagen Golf range family of cars has had over 45 years and (almost) eight generations – from a brave and bold replacement for the elderly VW Beetle to a car that's still regarded as being the best of its type even though its replacement is imminent.
We expect to see the all-new Mk8 Golf before the end of 2019, but the current Mk7 is still dominating all-comers despite approaching seven years on sale. As good as the likes of the Ford Focus, Kia Ceed, Mazda 3 and Vauxhall Astra and dozens of others are, they're not Golf good.
At-a-glance 2019 Volkswagen Golf specs
Top speed: 93-155mph
0-62mph: 4.5-11.5 seconds
Fuel economy: 32.8-58.9mpg
Emissions: 108-164g/km of CO2 (0g/km for e-Golf)
Boot space: 380-1,620 litres
Which versions of the Volkswagen Golf are available?
In today's world of restricted bodystle options, the Mk7 VW Golf is – for this generation at least – rather broad in its range of options.

The lion's share of sales go by way of the five-door Volkswagen Golf Hatchback, but unusually these days, there's also a three-door version (don't expect that when the Mk8 comes along). Orders for those bodies started in 2012 with a follow-up to the capacious Volkswagen Golf Estate arriving the following year.

Next to arrive in 2014 was the MPV-like Volkswagen Golf SV, an unusual-ye-roomy five-door, five-seater that ousted the previous Golf Plus.
Last to reach showrooms was a version of the Estate with an SUV makeover – the Volkswagen Golf Alltrack. It's similar in recipe to its sister car, the Skoda Octavia Scout, but not as popular in the UK.

Where the Golf also trumps its rivals is with the sheer breadth of powertrain options available. As well as efficient, turbocharged TSI petrols and TDI diesels, there's also a plug-in hybrid (PHEV) Golf GTE (although currently it's unavailable) as well as the fully electric e-Golf.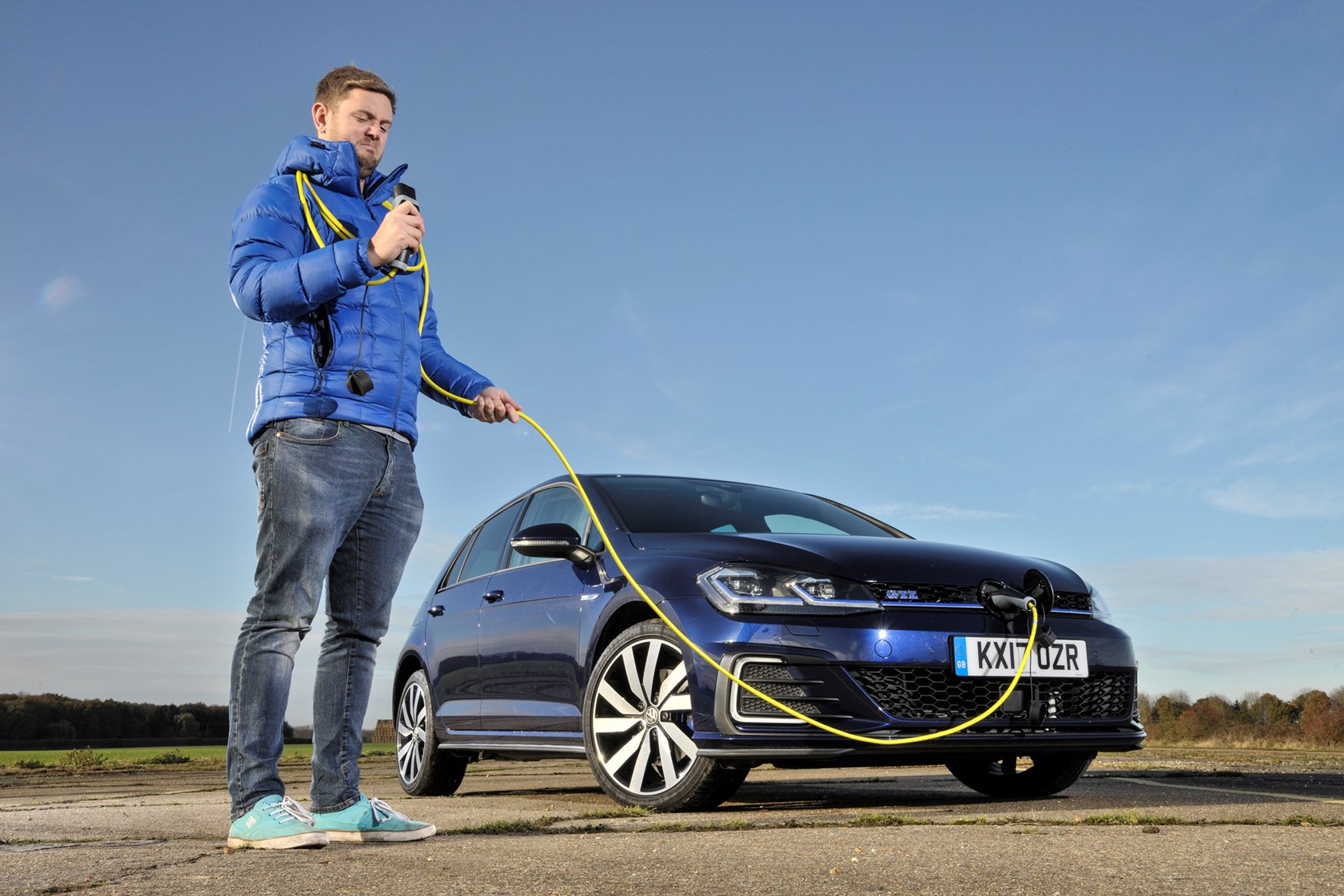 Plus, as was ever thus, a wealth of performance options…
What are the Volkswagen Golf GTI and Golf R?
Even if you've no interest in cars whatsoever, is it really possible not to have the faintest idea what a Volkswagen Golf GTI is? No, we don't think so, either.
It wasn't the first hot hatch on sale, but starting in 1976 when limited imports of left-hand drive Mk1 GTIs first reached Britain, it began the process of popularizing the genre.

Things have progressed significantly since then, with today's GTIs producing at least 230hp, but familiar touches such as the tartan upholstery, red exterior detailing and the dimpled gearknob remain.
GTIs are no longer the quickest of the Golf family, though. Since the Mk4, we've been treated to Golf R models (strictly speaking, the first ones were the Golf R32, but the lineage began there). The current Golf R is an astonishingly accomplished machine: 310hp, 4Motion four-wheel drive and a 0-62mph time of just 4.5 seconds for automatic examples illustrates how well-rounded a performance car the Golf can be.
Styling and engineering
Since Marcello Gandini penned the crisp lines of the Mk1 Golf of the early-1970s, certain themes have continued on each subsequent models, not least the thick, hockey stick-shaped rear roof pillars and the high-set tail lamps.
Inevitably the car's grown to include more space for passengers as well as raft of safety equipment, but the Golf remains one of the more compact small family car ranges on sale.

Underneath the bodywork is a modular platform called MQB that can be stretched lengthways and widthways to accommodate a variety of different models across the whole Volkswagen Group. Nevertheless, the most closely related of the Golf's cousins are the Audi A3, SEAT Leon and Skoda Octavia, all of which are also due for replacement during 2020.
Is it good to drive?
At whichever end of the range you choose a Mk7 Golf from, you're buying a car that's designed to make its driver – and passengers – feel good. Most models as superbly comfortable, which is complemented by the plush interiors. Even at the cheaper end of the range, the Golf still feels special.

In sheer excitement terms the performance models aren't as dazzling as they once were in terms of dishing-out thrills, but they remain deeply impressive ways of covering long distances – on windy roads or otherwise – tremendously quickly.
Either way, you walk away from a Golf wondering why none of its rivals are so well-rounded.
How much does the Volkswagen Golf cost?
Well, it's not cheap – if you're looking for a bargain then a car wearing a VW badge is not your first port of call. They're not luxury products, but they do feel a step above the mainstream and the prices – both on-the-road and via finance schemes – reflect that.
If you're looking for value and are willing to sacrifice a little plushness and perhaps some badge kudos, then the Leon and Octavia do a very similar job for significantly less money.
Find out what Volkswagen Golf drivers think of their cars with our comprehensive owners' reviews.
Search 7,015 Volkswagen Golf cars for sale
Search 16 Volkswagen Golf lease deals
Volkswagen Golf Model History
Sixth-generation Volkswagen Golf (2009-16)

One of the most confusing generations of Golf is that of the Mk6 as it only affected certain bodysyles within the range. Not only that, the Mk6 was essentially a heavily facelifted Mk5 – they share the same windows, for instance – but with a more traditional Golf-like crisper styling.
As it was essentially a facelift the three- and five-door Golf Hatchbacks arrived first, with the revised Golf Estate following shortly afterwards. It was that more spacious version that really gave the game away, though as behind the nose section, the bodywork was identical to that of the Mk5 wagon.
They were replaced in 2013, but another version lived on until 2016 – that was the revitalised Volkswagen Golf Cabriolet, a model which appeared in 2011. Strictly speaking, it was a model that was never supposed to have been part of the plan as both the Beetle Cabriolet and folding hard-top Eos should have rendered it unnecessary, but they weren't the commercial successes VW had hoped.
Once more, GTI and R (32 suffix dropped as it no longer had a 3.2-litre V6 engine) models continued, including of the Cabriolet at eye-wateringly high prices initially, but the 2011 Jetta Saloon finally received completely unique bodywork, not that many British buyers were persuaded by its charms.
Read our user-generated sixth-generation Golf owners' reviews and find examples for sale.
Fifth-generation Volkswagen Golf (2004-14)

Somewhat pudgy in appearance, the Mk5 Golf was nevertheless a hoot to drive and came in an enormous array of engine types and bodystyles, once again topped by GTI and R32 performance derivatives.
Three- and five-door Volkswagen Golf Hatchbacks arrived in 2004, with a Golf Estate arriving the following year. That wagon owed more stylistically to the four-door saloon version – resurrecting the Volkswagen Jetta name – as it had a chrome grille and a bodyside crease that the hatches did without.
Also available from 2005 was the Volkswagen Golf Plus, sort-of Renault Scenic rival with five seats and a taller body rather like an MPV – it continued in production even when the Mk6 Golf arrived.
Discover what drivers think of their fifth-generation Golfs in our owners' reviews and look at used cars for sale.
Fourth-generation Volkswagen Golf (1998-05)

In a year when we witnessed the worthy-but-unexciting Mk4 Vauxhall Astra and were wowed by the Mk1 Ford Focus, Volkswagen unleashed the Mk4 Golf. Not as exciting to drive as the Focus, it wasn't that far behind and it had the bonus of feeling special – significantly more upmarket than the Ford.
Three- and five-door Volkswagen Golf Hatchbacks arrived first, with the sharp-looking Golf Estate arriving the following year along with the four-door saloon counterpart, this time called the Volkswagen Bora.
There was even a refreshed Volkswagen Golf Cabriolet in 1998, but cheekily this was little more than a facelifted version of the Mk3 soft-top with the nose from the newer range.
This-generation Golf also spawned the quirky Volkswagen New Beetle, which initially proved surprisingly popular as car buyers were gripped by its retro-inspired looks.
A huge engine range sprawled-up to a 3.2-litre V6 in the high-performance R32 which was a relief after a lukewarm reception to the disappointing Mk4 GTI.
Are Mk4 Golfs reliable choices? Read our owners' reviews to find out and look for used models for sale.
Third-generation Volkswagen Golf (1992-99)

At the time, the gargantuan Golf Mk3 wasn't especially well-received by press or public alike. Bigger, heavier, and with podgy styling, it looked less like a Golf than any model before or since. Plus, the base-level GTI versions had just 115hp.
Still, things improved with time, not least because shortly after the launch of the three- and five-door Volkswagen Golf Hatchback, it was available with a potent 2.8-litre V6 engine, badged VR6.
More was to come, too: 1994 saw the arrival of only the second all-new Volkswagen Golf Cabriolet, as well as a capacious Golf Estate – why VW hadn't bothered with a Golf wagon before remains a mystery.
Fans of the four-door Golf had a new name to conjure with – Volkswagen Vento was the name chosen for the heavy-set saloon.
Considering a third-generation Golf? Then read our owners' reviews.
Second-generation Volkswagen Golf (1984-92)

Replacing a car that becomes iconic in its own production run is a difficult task, but one that history shows us VW managed with the Mk2 Golf.
Only available as a three- and five-door Volkswagen Golf Hatchback – four-door saloon versions continued to be called VW Jetta – the range was a sprawling one, with an array of largely petrol engines topped by 8- and 16-valve versions of the Golf GTI.
More was to come with the supercharged Golf Rallye G60, a left-hand drive special that now commands high premiums on the used market, but Britain missed out on perhaps the most coveted model of all – the high-riding Golf Country – a crossover before the term had been coined.
Syncro four-wheel drive versions were available, as were an economical range of diesels including the catalyst-equipped Umwelt as well as the Golf Ecomatic fitted with an early stop/start system.
First-generation Volkswagen Golf (1974-92)

Crisp and beautiful, the Mk1 Volkswagen Golf Hatchback in three- and five-door forms was the perfect repost to the ancient VW Beetle, the car it was designed to succeed, but which lived on in Europe until 1978.
A couple of years after launch we saw the first performance-focused GTI, although it was 1978 before it arrived in the UK with right-hand drive. Still, it was worth the wait.
Perhaps the most remarkable version was the Karmann-built Golf Convertible (a British market-only name, even though the car was physically badged as Cabriolet!) – launched in 1980 it remained in production until 1992, being sold alongside the much newer Mk2 Hatchbacks.
Conservative buyers were wooed by the more traditional style of the Volkswagen Jetta. It wasn't much more than a Golf saloon, but the nose was distinguished by rectangular headlamps instead of the Golf's round examples.