Browse thousands of used Volvo XC90 cars for sale with Parkers. Our search filters help you find the best secondhand models from our selection of used Volvo XC90 cars for sale.
Results

1

to

10

of

920

2013/62
83,833 miles
Automatic
Diesel

P D Nagington Ltd,

Market Drayton

2006/56
87,000 miles
Automatic
Diesel

2015/15
45,216 miles
Automatic
Petrol

2017/66
27,900 miles
Automatic
Diesel

2018/67
26,013 miles
Automatic
Diesel

2016/66
28,517 miles
Automatic
Petrol/PlugIn Elec Hybrid

Volvo Cars Cardiff,

Cardiff

1,000 miles
Automatic
Diesel

Volvo Cars Cardiff,

Cardiff

2013/13
89,999 miles
Automatic
Diesel

Imperial Car Supermarket Northampton,

Northampton

2015/65
33,865 miles
Automatic
Diesel

Imperial Car Supermarket Northampton,

Northampton

2018/18
16,225 miles
Automatic
Diesel

Imperial Car Supermarket Northampton,

Northampton
Disclaimer
Telephone numbers starting with 08XX will cost you 7p per minute plus your phone company's access charge. Calls to other telephone numbers will only cost your phone company's access charge.
What is the Volvo XC90?
The XC90 sits at the top of Volvo's car range and is the flagship SUV that heralded a new era of cars from the hitherto sensible Swedish brand better known for the safety of its cars.
Where before there were boxy estate cars beloved of antiques dealers and Home Counties sorts, the new generation of Volvos now have a healthy kick of Scandinavian style but retain the practicality that made Volvo famous.
The new Volvo XC90 launched in 2014 as a seven-seat, full-sized SUV to compete with the Audi Q7, BMW X5 and Land Rover Discovery. Read on for our full guide to the XC90 range.
Top speed: 134-140mph
0-62mph: 5.8-7.9sec
Fuel economy: 26.2-83.1mpg
Emissions: 56-192g/km
Boot space: 775-1951 litres
Which versions of the Volvo XC90 are available?
There is only one bodystyle of Volvo XC90 available - the five-door SUV with three rows of seating for up to seven passengers. The third row pops down for a 775-litre loadbay when equipped as a five-seater, shrinking to 397 litres when in full taxi-spec seven-seat guise.
Brits can choose between a D5 diesel engine with 235hp and a pair of petrols - the 250hp T5 and 310hp T6. At the top of the range is the clever-clogs T8, with its plug-in hybrid system and a combined power output of 303hp. It's both extremely quick and - on paper - extremely efficient, especially if you do mostly short hops where you can charge the battery fully so you can drive the XC90 as an EV.
In line with other Volvos, you can spec your XC90 as a Momentum or Momentum Pro, an R-Design or R-Design Pro, or Inscription or Inscription Pro trim level, each peg up the ladder bringing more and more luxury equipment. Even the most basic Volvo XC90 is well equipped though (as it should be for a premium SUV costing north of £50k).
Volvo XC90 styling and engineering
The XC90 is the car that kicked off the modern Volvo revolution and to these eyes it's a design that's lasted well, blending the broad-shouldered stance of 1990s Volvos with a slick new, understated chic. It's especially clever because the XC90 is in fact a very large car, yet hides its bulk well.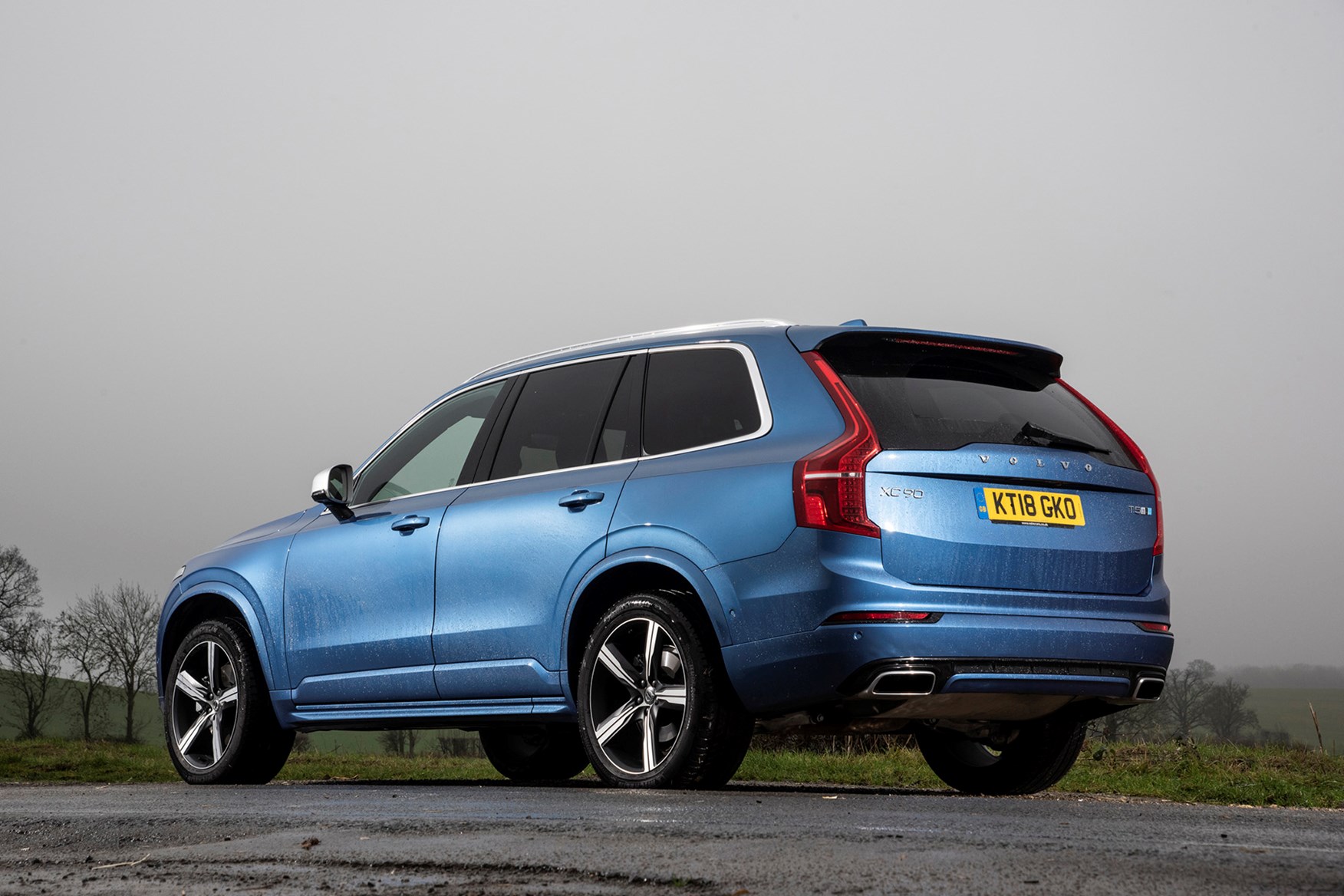 All large Volvos share the same hardware underneath the skin and all XC90s sold in the UK have all-wheel drive, hence the AWD badge.
It is not possible to buy a manual Volvo XC90; all come with the brand's eight-speed automatic transmission, in keeping with its lofty premium positioning.
Is the Volvo XC90 good to drive?
Yes it is. The moment you step into the XC90's cabin you'll enter an oasis of cool Swedish calm. This is a very relaxing ambience in here, with an impressively uncluttered dashboard thanks tot he large portrait-oriented Sensus touchscreen that controls nearly all the functionality.
Volvo has long had a reputation for comfortable seats and the pampering pews in the XC90 continue that tradition. They're in keeping with a hushed and quiet milieu - this is an SUV to waft around in.
Even on quite large wheel sizes, the XC90 rides comfortably and only when you extend the downsized 2.0-litre engines do you occasionally regret the fact that the Volvo does without the V6s and V8s that rival models muster. Do people spending upwards of £50k care about engine noise? Probably not, judging by how many Volvo XC90s we see on the roads…
How much does the Volvo XC90 cost?
The Volvo XC90 is not a cheap car, particularly in range-topping T8 specification – at which you'll be looking at paying upwards of £70k. They hold their value, though, with low levels of depreciation for most models.
Volvo normally offers finance packages meaing this expensive seven-seater can cost less than £500 a month on a lease deal on its Personal Contract Hire scheme. Be sure to shop around for different deals as the XC90 enters its twilight years.
See what drivers of the Volvo XC90 have to say about their crossover in our disarmingly honest owners' reviews.
Parkers has thousands of used Volvo XC90 cars for sale in our classified listings. Find your next secondhand model in our ads – we've everything from family cars and hatchbacks to executive saloons and sports cars.