With more than 1,000 used Volvo XC60 cars for sale on Parkers, finding a version that suits you is easy using our search filters. If it's a new Volvo XC60 for sale that you're after, we have scores to pick from.
Results

1

to

10

of

1,314

2010/60
95,000 miles
Automatic
Diesel

Barclay Motor Company,

Hopwood

2010/60
83,494 miles
Automatic
Diesel

Robins & Day Assured Romford,

Romford

2017/67
20,515 miles
Automatic
Diesel

Motorpoint Widnes,

Widnes

2017/66
32,933 miles
Automatic
Diesel

2009/59
97,434 miles
Manual
Diesel

2017/17
29,000 miles
Manual
Diesel

2015/65
45,423 miles
Automatic
Diesel

County Motor Works,

Chelmsford

2016/16
29,886 miles
Automatic
Diesel

Peter Vardy Carstore,

Glasgow

2015/15
49,271 miles
Automatic
Diesel

Ford Middlesbrough,

Middlesbrough

2017/17
22,857 miles
Automatic
Diesel

Motorpoint Chingford,

Chingford
Disclaimer
Telephone numbers starting with 08XX will cost you 7p per minute plus your phone company's access charge. Calls to other telephone numbers will only cost your phone company's access charge.
What is the Volvo XC60?
The Volvo XC60 is a mid-size SUV that tussles with the BMW X3, Mercedes-Benz GLC and Audi Q5 in a fiercely competitive segment.
The first-generation XC60 arrived in 2008 and quickly became one of the company's best-selling cars; the second-generation model, launched in 2017, has the unenviable task of following the original. Volvo has, however, left nothing to chance – and it has improved the XC60, now one of three SUVs in its line-up, in every department. The result is arguably one of the best cars in the class and, importantly, it's also one of the safest cars on sale.
Top-speed: 127-140mph
0-62mph: 5.5-8.4 seconds
Fuel economy: 28.0-100.9mpg
Emissions: 46-181g/km
Boot space: 468-1,432 litres
Which versions of the Volvo XC60 are available?
The XC60 is a five-seat SUV that sits between the XC40 and XC90 in Volvo's line-up – and it feels every inch a scaled-down XC90. The engine line-up consists of four-cylinder petrols and diesels, with the entry-level D4 producing a useful 190hp and 400Nm of torque. However, this version is only available in front-wheel-drive XC60s; if you want all-wheel drive, you'll have to opt for the higher-output B4 or B5 diesels. In any case, all come with an eight-speed automatic transmission.
Petrol engines include the 250hp four-cylinder T5, offered in FWD and AWD XC60s, and the 310hp four-cylinder T6. The XC60 T8 Twin Engine is the greenest model in the line-up, on paper at least – and it's also the quickest. It pairs a supercharged and turbocharged engine with a rear-mounted electric motor to deliver a combined 390hp, granting it the capability to sprint from 0-62mph in just 5.5sec. It'll get up to 140mph, too – at least it does for now, because Volvo has announced that as of 2020, its cars will be limited to 112mph in a bid to improve road safety.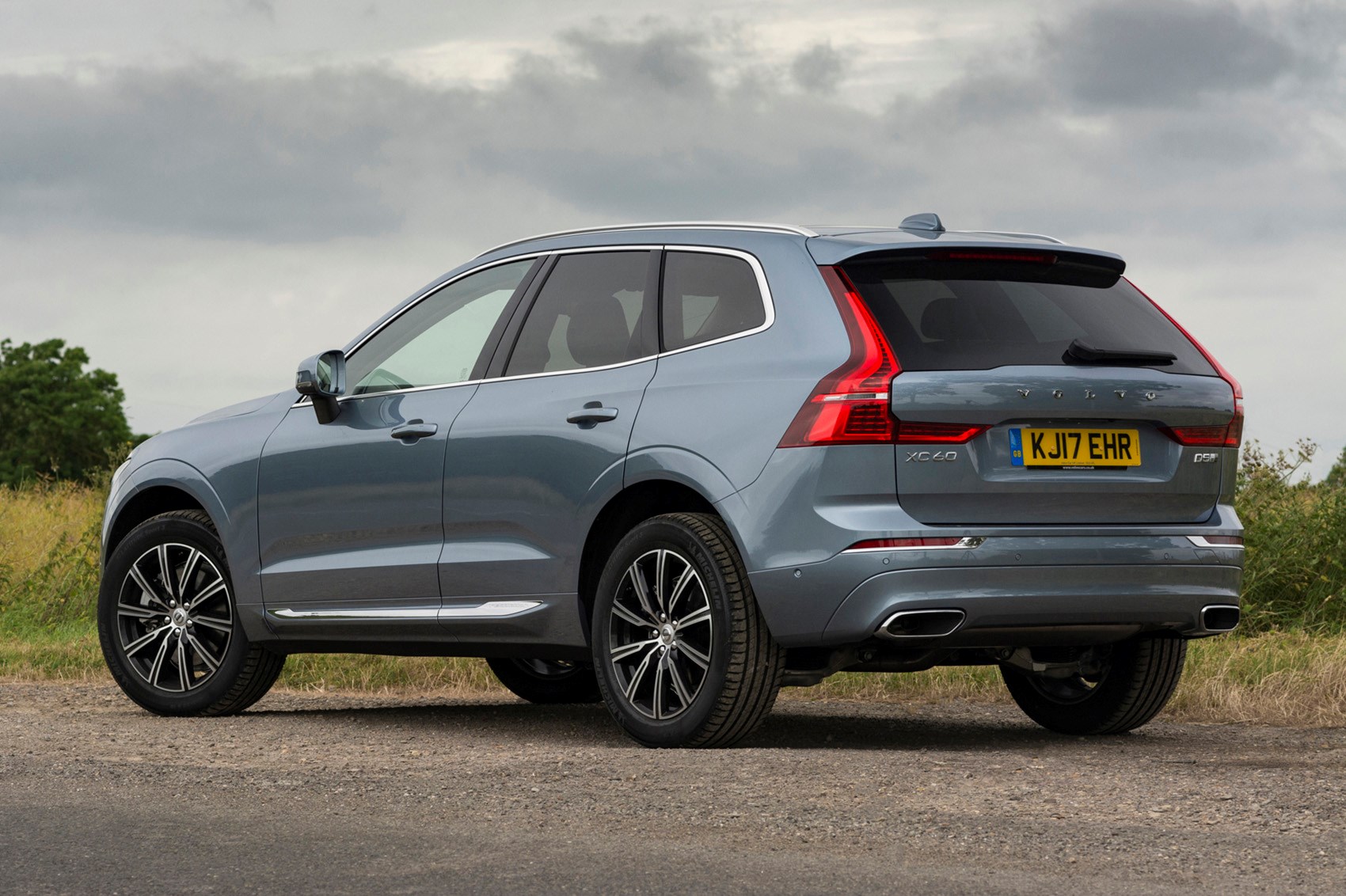 It's possible to drive the T8 on electric power for up to 23 miles, but you'll have just as much fun making use of the aptly-named 'Power' mode. There's even a Polestar version of the T8, which is more powerful and fractionally quicker.
Trim levels include Momentum, Momentum Pro, R-Design, R-Design Pro, Inscription and Inscription Pro and the flagship high-performance Polestar Engineered XC60.
Volvo XC60 styling and engineering
After nearly a decade on sale, the original XC60 was beginning to show its age – but the new version has an understated elegance that is otherwise absent from a segment that can be bold and brash. It's based on the same Scalable Product Architecture (SPA) first seen on the XC90 and developed with safety, space, connectivity and electrification in mind. It looks fantastic in Inscription trim, too, with 19-inch rims filling the arches and an array of subtle but effective cosmetic upgrades. The XC60 is also suitably smart inside, with a sophisticated and uncluttered cabin that's beautifully finished and loaded with neat touches.
How does the Volvo XC60 drive?
The XC60 has never been the sharpest SUV to drive and this latest version feels more focused on comfort than ever before. Not that this is a bad thing; with the optional air suspension, the ride quality is excellent, even if you opt for the huge 22-inch alloy wheels available on the R-Design Pro and Inscription Pro models. Thanks to its lowered suspension, 30 percent stiffer springs and thicker anti-roll bars, the R-Design does the best impression of a performance SUV – but there's no doubt that the XC60's primary focus is to transport its occupants in comfort and safety.
There's no flawed choice in the Volvo's engine range but the automatic transmission and all-wheel drive system does sometimes blunt the XC60's responses; the eight-speed automatic, in particular, can struggle to pick the right gear and stick to it. The T8, thanks to its electric motor, is otherwise far keener and more responsive than the alternatives.
How much does the Volvo XC60 cost?
Prices are roughly on a par with the Audi Q5, BMW X5 and Mercedes-Benz GLC, but there's a mammoth difference between the entry-level Momentum D4 and the flagship Polestar Engineered hybrid T8. Thankfully, each trim level offers a generous level of equipment, with even the Momentum trim packing an impressive array of safety features, an excellent touchscreen and a host of comfort and convenience goodies. Some of the desirable optional extras are rather expensive, mind. In any case, there's something deeply satisfying about ferrying your family in one of the world's safest cars.
Find out how XC60 drivers rate their cars with our user-generated owners reviews.
Parkers has thousands of used Volvo XC60 cars for sale in our classified listings. Find your next secondhand model in our ads – we've everything from family cars and hatchbacks to executive saloons and sports cars.