If you want a long-distance motorway cruiser, the chances are you're already looking a a nearly-new or used BMW 5 Series as well as the Mercedes-Benz E-Class and Audi A6, and there are thousands of BMW 5 Series for sale on Parkers; saloons, estates and fastbacks. Dating back to the 1970s, the 5 Series was the first BMW to establish the three-digit, 'series' naming style, and it also established the German brand's position as the ultimate driving machine for company car drivers. Go back to 1989, and the E34 set the template for modern BMWs with excellent build, amazing handling in the dry, and powerful straight six and V8 engines. The Touring expanded the range into a practical estate car, too. The E39, released in 1995, could be the best used BMW 5 Series of all, and featured class-leading diesels with incredible performance and economy - but its E60 replacement in 2003 added safety, technology and striking looks to the otherwise conservative BMW, tempting a new generation of buyers and presenting a competitive used car that can still hold its own against many brand new models. 2010's F10 got even more versatile, with a five-door fastback Gran Turismo. In 2017 the current generation returned to saloon and estate models, and a nearly-new BMW 5 Series can offer significant discounts over new prices.
Read more
Results

1

to

10

of

1,799

2011/61
80,000 miles
Automatic
Diesel

2009/09
120,000 miles
Automatic
Diesel

Kestrels Motor Company,

Halstead

2011/11
99,559 miles
Automatic
Diesel

Leigh Cars Ltd,

Southend-On-Sea

2016/16
44,800 miles
Automatic
Diesel

webuycarsformore.com,

Newcastle Upon Tyne

2017/17
10,366 miles
Automatic
Diesel

Motorpoint Birtley,

Birtley

2018/18
33,984 miles
Automatic
Petrol

Stratstone BMW Leeds,

Leeds

2017/67
31,569 miles
Automatic
Diesel

Stratstone BMW Derby,

Derby

2019/19
2,891 miles
Automatic
Diesel

2018/68
12,818 miles
Automatic
Petrol

2018/68
5,408 miles
Automatic
Petrol
Disclaimer
Telephone numbers starting with 08XX will cost you 7p per minute plus your phone company's access charge. Calls to other telephone numbers will only cost your phone company's access charge.
What is the BMW 5 Series?
A staple of the executive car market, the BMW 5 Series is one of the brand's most profitable cars and has been part of the Munich firm's range since 1972 - more than eight million have been sold since then.
Now in its seventh generation, the current 5 Series (codenamed G30) was launched in 2017, tackling two familiar arch-rivals, the Audi A6 and Mercedes-Benz E-Class. Other competitors include the Jaguar XF and Volvo S90. Always one of BMW's most well-crafted cars, the latest 5 Series ranks as one of the finest iterations yet, with smart styling, a rich interior and the best driving experience in the sector.
Top-speed: 137-155mph
0-62mph: 3.2-8.5 seconds
Fuel economy: 26-62mpg
Emissions: 49-246g/km CO2
Boot space: 530-1,700 litres
Which versions of the BMW 5 Series are available?
As has been the case since 1992, it is available in two derivatives: a four-door 5 Series Saloon or an estate-bodied 5 Series Touring. It is also offered in iPerformance plug-in hybrid and M5 performance guises, but both of these only come in saloon form. By far the best-selling 5 Series are the four-cylinder versions, particularly the 520d, which usees a 2.0-litre turbocharged diesel engine.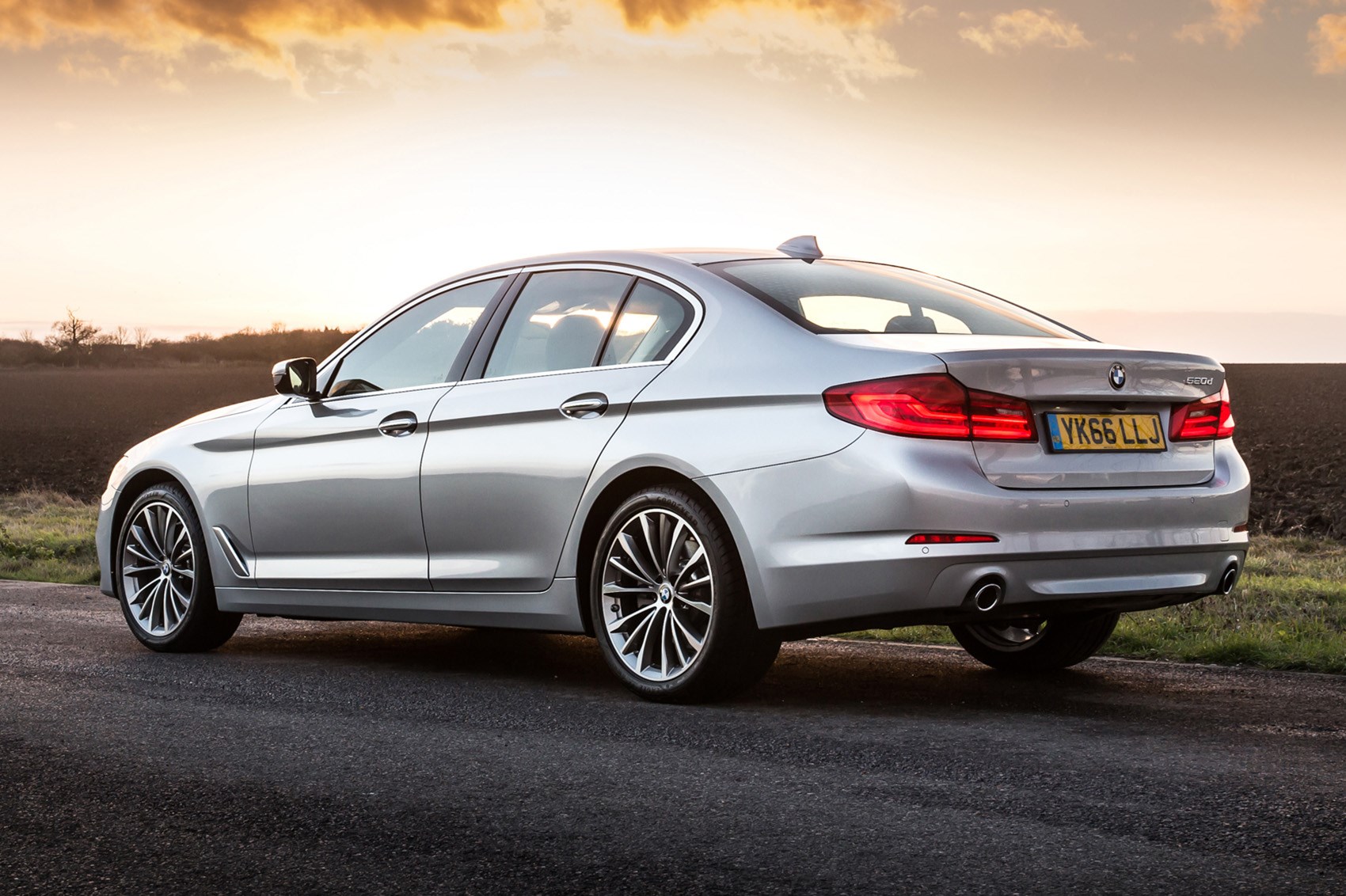 The 530e, which pairs a 2.0-litre turbo petrol with electric hybrid drive, is also proving popular. The 3.0-litre six-cylinder petrol and diesel models are lovely, but these days are niche offerings. Only 520d, 530d and 540i versions are available with xDrive four-wheel drive; other versions are rear-wheel-drive only. Model variants open with SE, and the alternative is M Sport: BMW keeping things simple with just two core models. M Sport is easily the best-seller in the UK.
What is the BMW M5?
The sublime BMW M5 sits at the top of the 5 Series range. Only available as a four-door saloon, it packs a 4.4-litre turbocharged V8 engine that produces a remarkable 600hp. Because it has so much power, xDrive four-wheel drive was deemed necessary, for the first time on an M5. To please the purists, it has a two-wheel-drive mode so you can still enjoy rear-drive, tail-out action on a track. It's faster in four-wheel drive mode, though: 0-62mph takes just 3.4 seconds.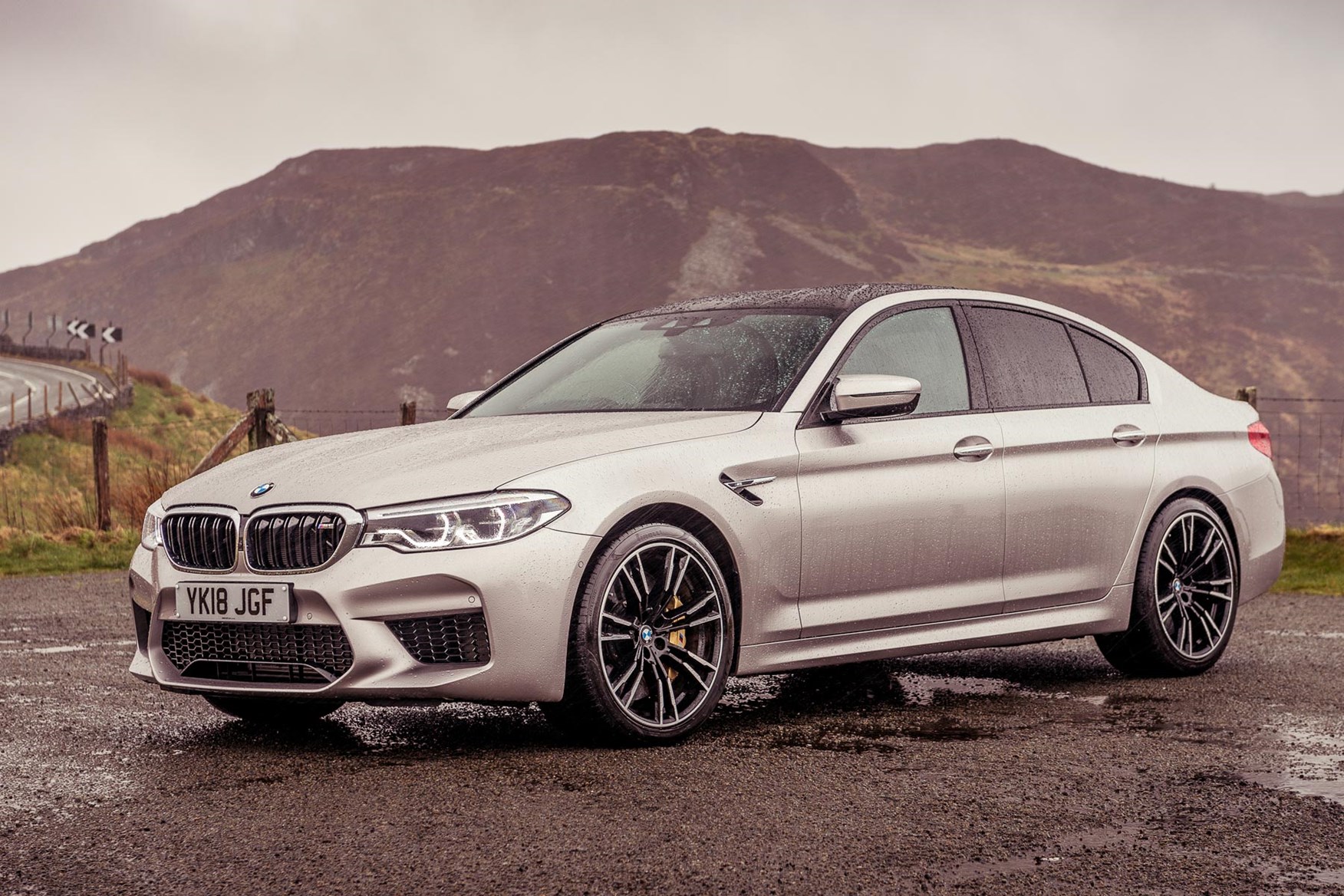 A staggeringly accomplished driver's car, the latest M5 is a real return to form after its slightly disappointing predecessor. And if the standard car isn't quite fast or focused enough for you, an M5 Competition version adds 25hp and even more excitement.
Styling and engineering
The BMW 5 Series is based on a platform used on a number of BMWs, including the high-end 7 Series among other larger models. The 5 Series doesn't contain the exotic carbon fibre used in the 7 Series, but it's otherwise closely related. Pleasingly, BMW hasn't (yet) spoiled the 5 Series by adding on the gigantic front kidney grilles introduced on many of its newer models. Hopefully, it will continue to refrain, because the current 5er is a very refined and stylish car, with appealing lines and an elegant profile.
It looks particularly distinctive in M Sport guise, with bigger wheels and more aggressive bumpers. The interior is built to a very high standard and premium materials give a luxurious finish. BMW's infotainment system is made even easier to use these days with touchscreen capability, while comfort front and rear is top notch (even if rivals are still a little larger in the back).
How does it drive?
The 5 Series has a tradition for setting the standard in the executive car class for driver satisfaction. The latest car is no exception. Even the core 518d and 520d are enjoyable, with effective and rattle-free diesel engines, plus a chassis that is standard-setting through the corners and impressively comfortable and confident on the motorway. Go for the 520d if you can: it's no less economical but 1.5 seconds faster from 0-62mph.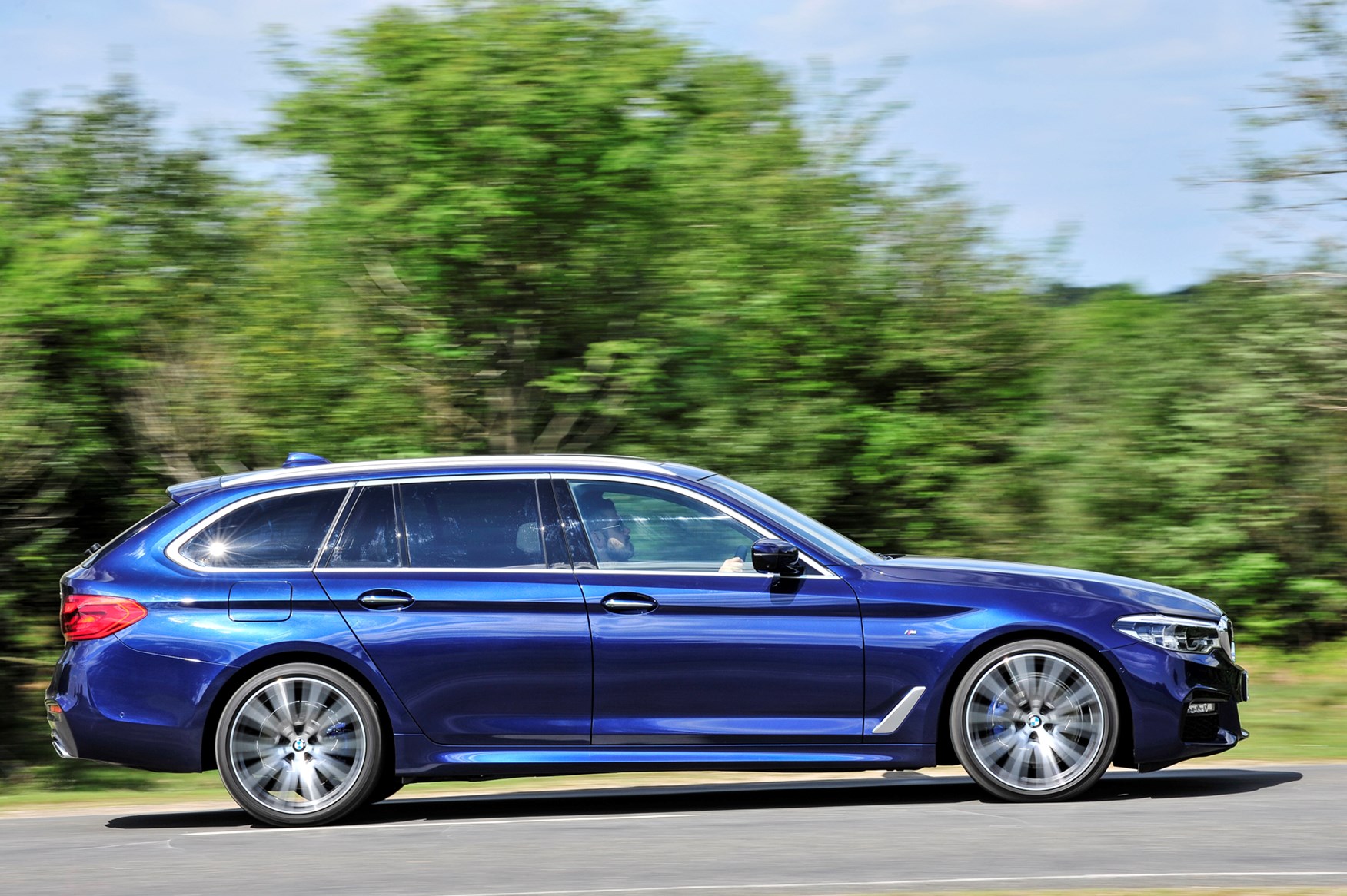 Adding yet more power adds to the appeal, and xDrive models feel little different to cheaper rear-drive versions – apart from the extra confidence and ability they bring in the winter. As mentioned, the M5 is virtually flawless and when driven in full electric guise, the 530e iPerformance is the epitome of smooth-rolling refinement.
How much does the BMW 5 Series cost?
BMW 5 Series prices start from less than £37,000; that's for the 518d SE – an extra £1,610 for the 190hp 520d seems good value to us. M Sport trim costs £3,000 more and, where available, xDrive is £2,000 extra. These days, all 5 Series are well equipped as standard, with LED headlights, leather interior and automatic transmission all standard. M Sport upgrades focus on interior and exterior styling, including an M-branded bodykit.
The Mercedes-Benz E-Class costs roughly £1,000 more than a comparable 5 Series. Surprisingly, Audi A6 prices currently start from almost £2,000 more than the 5 Series; it's traditionally been a bit cheaper, but Audi has yet to roll out a sub-200hp version to compete with the 150hp 518d.
Find out what 5 Series drivers think of their cars with our comprehensive owners' reviews.
Parkers has thousands of used BMW 5-Series cars for sale in our classified listings. Find your next secondhand model in our ads – we've everything from family cars and hatchbacks to executive saloons and sports cars.